These Italian Stuffed Peppers are filled with lean ground turkey, chicken Italian sausage, brown rice and flavored with everything you love about Italian cooking! They can be prepped ahead of time for an easy dinner during the week or you can make a batch to have stocked in the freezer for tasty healthy dinners. This is one of the most delicious ways to take classic stuffed peppers to a new level!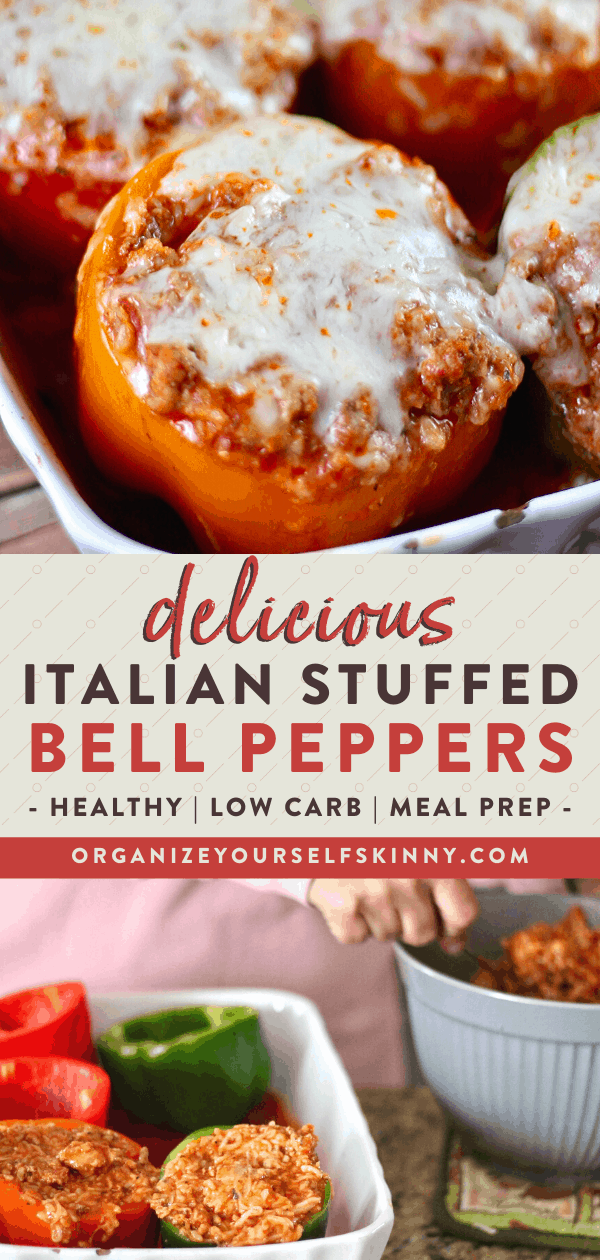 One quick scan of my blog and you can see that Italian foods have a special place in my heart…and stomach.
Growing up with my Mom's Italian side, I developed a love for all things Italian. The food, all our family traditions, and even leopard print!
I think it's funny that leopard print is now back in style cause I'm like "hasn't it always been?"
Anyway, there's nothing more comforting than the smells of Italian food cooking in the kitchen. I truly believe if heaven had a smell, it'd be my mom's sauce cooking.
That's exactly what you get when these Italian stuffed peppers are cooking. A piece of Italian heaven!
Traditional stuffed pepper recipes call for ground beef, rice, a basic tomato sauce, and some cheese. Not overly exciting.
I decided to give an old classic Italian flare by using Italian spices, marinara sauce, and Italian cheeses. I also wanted to lighten it up by using lean ground turkey and chicken Italian sausage. This elevated the Italian flavor even more.
Frequently Asked Questions About Stuffed Peppers
Before I jump into this recipe, I wanted to answer a few questions I received from some of my readers about these delicious Italian stuffed peppers…
Can I Substitute Ground Beef And Pork Sausage Instead?
Yes, of course!
I like using ground turkey and poultry sausage to lighten up the calorie load but you can certainly use beef and pork too. Just make sure to account for the extra calories.
However, if you're trying to reduce calories and fat, then I highly recommend giving the ground turkey and chicken sausage a try because it is truly delicious and you'd never know it's lightened up!
Can I Use Meat Sauce or Other Italian Sauces With This Recipe?
Personally, I recommend using a marinara or a smooth tomato sauce. The recipe has chunks of meat in it already and that might not work well with a chunky meat sauce.
You can also use a homemade sauce like this slow cooker marinara if you have some in the freezer.
However, you can use jarred sauce if you don't have any homemade available. My favorite jarred sauce for this recipe is Rao's Marinara!
Does It Matter What Color Bell Pepper I Use To Make Stuffed Peppers?
No, I've used them all and they all taste great! I usually just purchase a bulk pack or whatever is on sale.
What Else Can I Use Instead Of Brown Rice?
Quinoa works great in stuffed pepper recipes! You can use the same amount of quinoa as you would brown rice.
That's the substitution I make most often but you can also use other grains like bulgur or farro.
Can You Meal Prep These Italian Stuffed Peppers?
Yes, you can! You can do this a few different ways:
Assemble the stuffed peppers, cover with foil, and place it into the refrigerator. When you're ready to cook, continue with the recipe. Keep in mind you might need to add 10 minutes or so to the recipe since they will be cold when they go into the oven. This can stay in the refrigerator for 2-3 days!
Cook the rice and meats ahead of time. Store in the refrigerator and then assemble the rest of the peppers when you're ready to eat. You can also freeze the cooked meats and rice if you're not going to eat within 2-3 days. If you do freeze, then simply thaw it out and then continue with the recipe.
Assemble stuffed peppers completely and freeze. You can either flash freeze on a sheet pan and then wrap individually in plastic wrap and freeze in a couple of large freezer bags. Or, freeze in a disposable pan! I prefer to let the peppers thaw somewhat before cooking them but they can be cooked straight from the freezer. If you cook them straight from the freezer, then you'll need to add an extra 30 – 45 minutes of cooking time.
Cook peppers completely and enjoy them all week or freeze. I think these Italian stuffed peppers get better as the days go on. So, make them on Sunday to enjoy as dinners or lunches during the week. You can also freeze into portions and then warm them up in the microwave.
Italian Stuffed Peppers
Time to start prepping these peppers! Here are the ingredients you'll need to make this Italian dinner recipe:
Bell peppers
Olive oil (divided)
Italian poultry sausage links (casings removed)
Ground turkey
Worcestershire sauce
Italian seasoning
Garlic powder
Onion powder
Salt
Black pepper
Marinara sauce (divided)
Grated Romano cheese
Mozzarella cheese
Cooked brown rice
How To Make Stuffed Peppers (Italian Style)
Okay, let's get to the recipe!
Start by cooking the chicken Italian sausage in a large pan. You want to make sure to get fresh sausage, not the pre-cooked kind. I go right to the meat counter and ask for 4 links of chicken Italian sausage. This way you can just purchase what you need!
Remove the casings and cook in olive oil over medium-high heat. As the sausage cooks, break it into smaller bite-sized pieces.
Then, you'll remove the sausage and set it aside.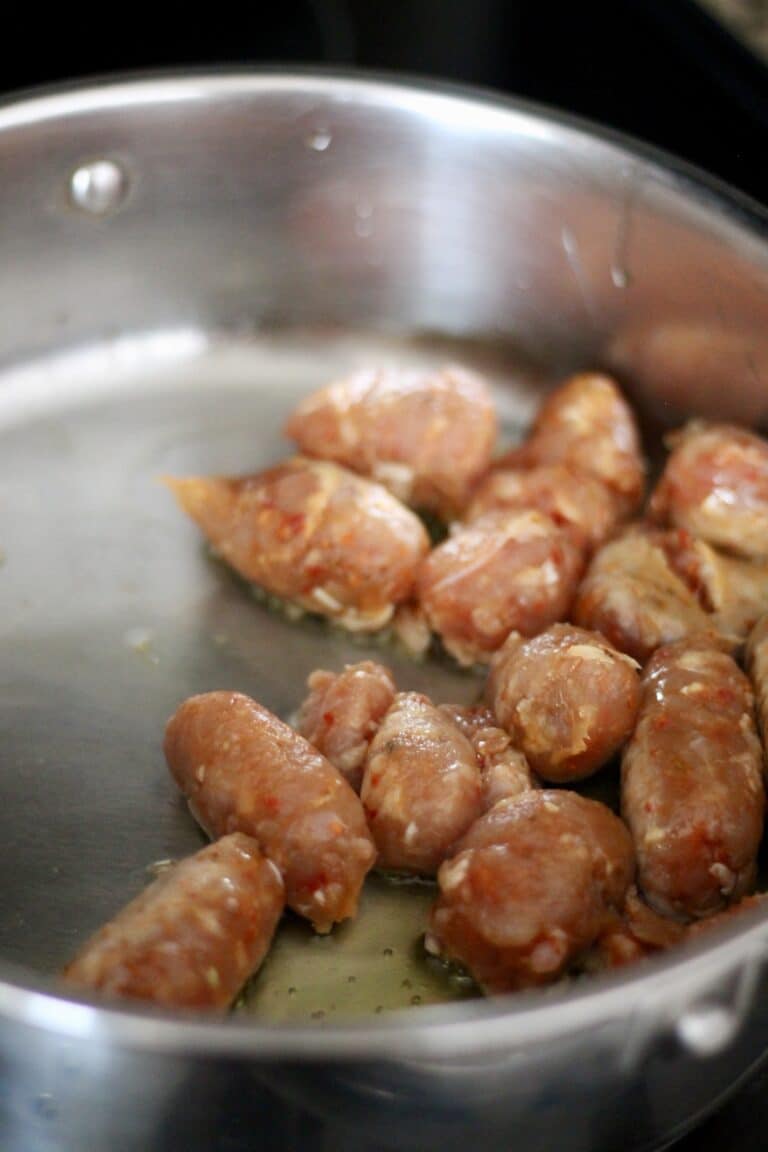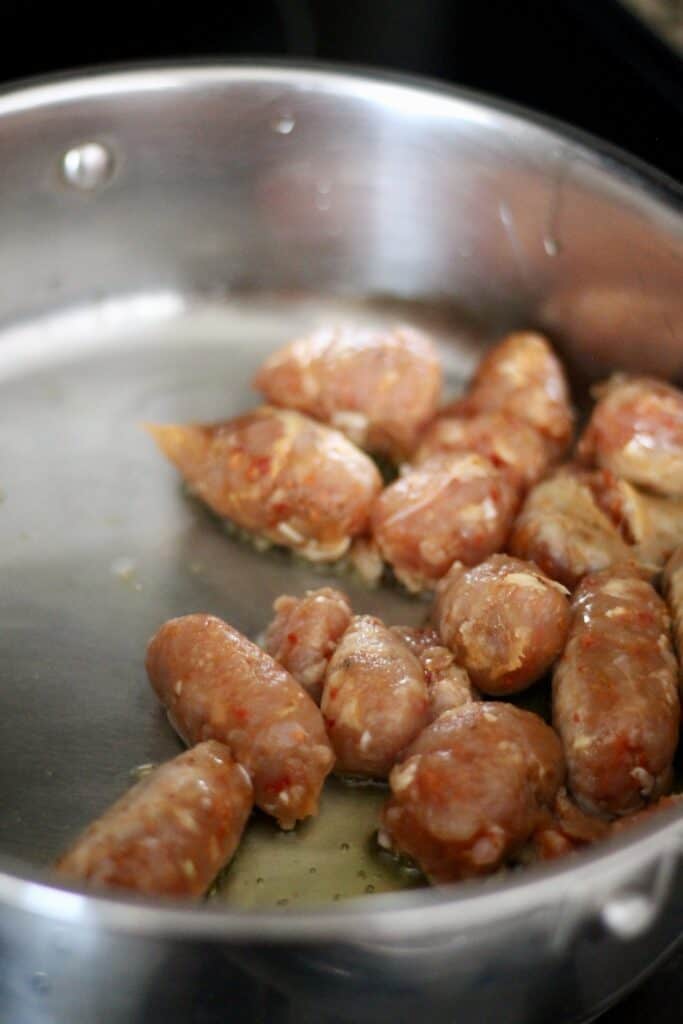 In the same pan, cook the ground turkey the same way you did the sausage and also break it down into small bite-sized pieces.
After about 4-5 minutes, stir in the seasoning mix! This is the same seasoning mix I love to use for my turkey meatballs. It includes 1 teaspoon of Italian seasoning, garlic powder, onion powder, and 1/2 teaspoon salt and black pepper.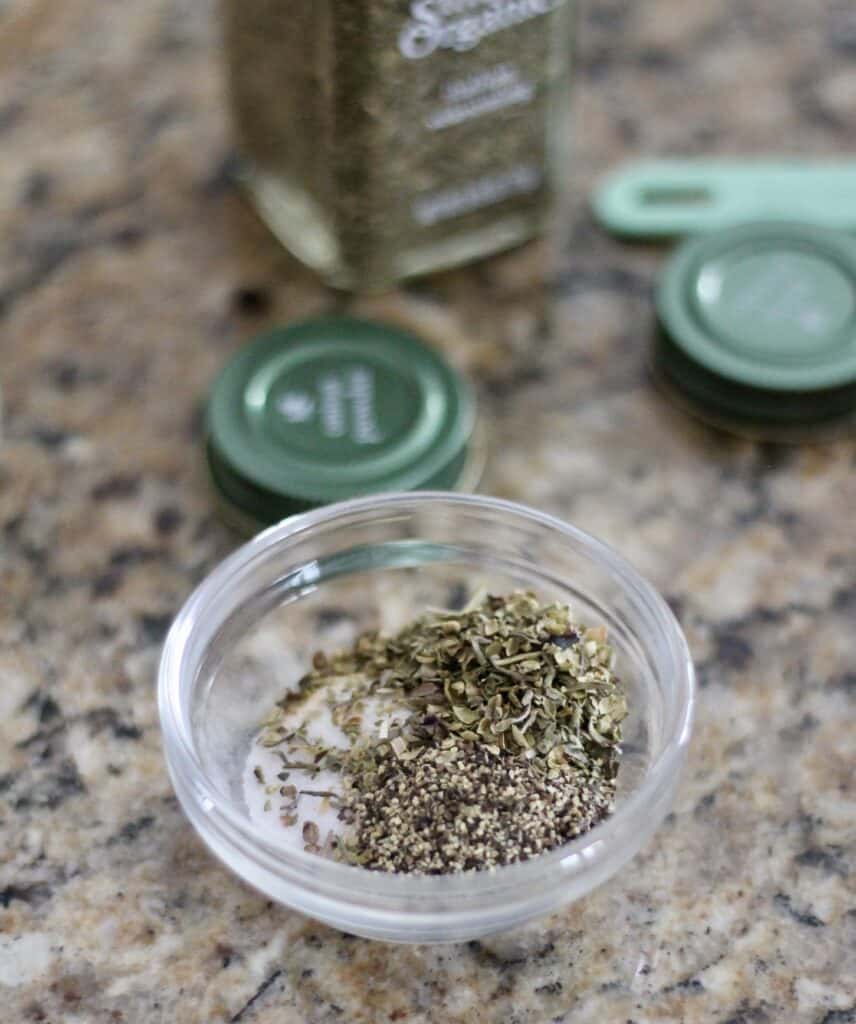 When the ground turkey is cooked completely, then add it to the bowl with the cooked sausage.
Add in the marinara sauce, rice, and cheese.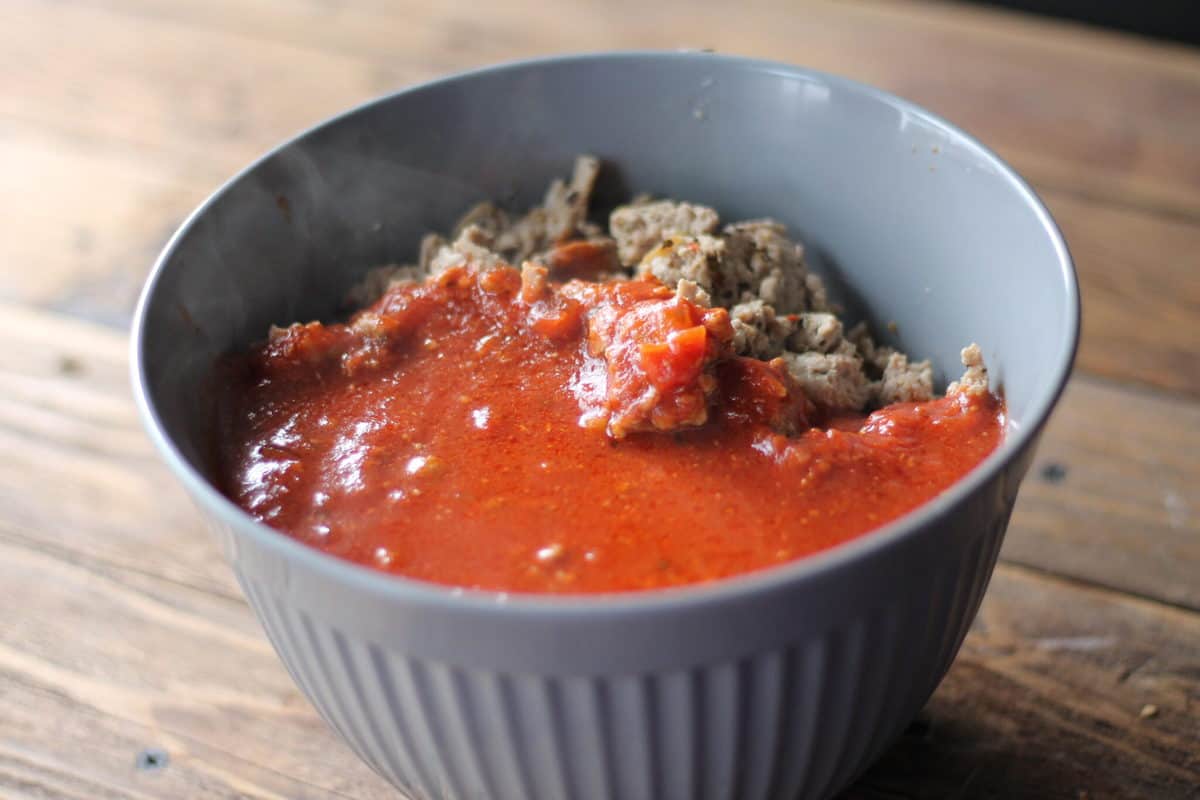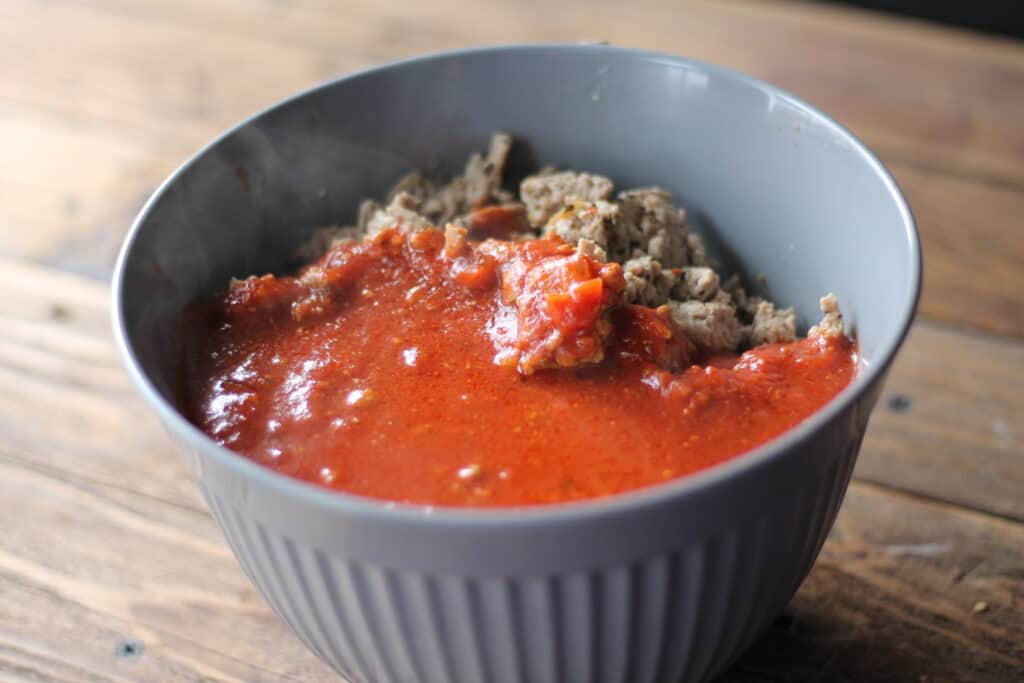 Stir everything until it's all mixed together.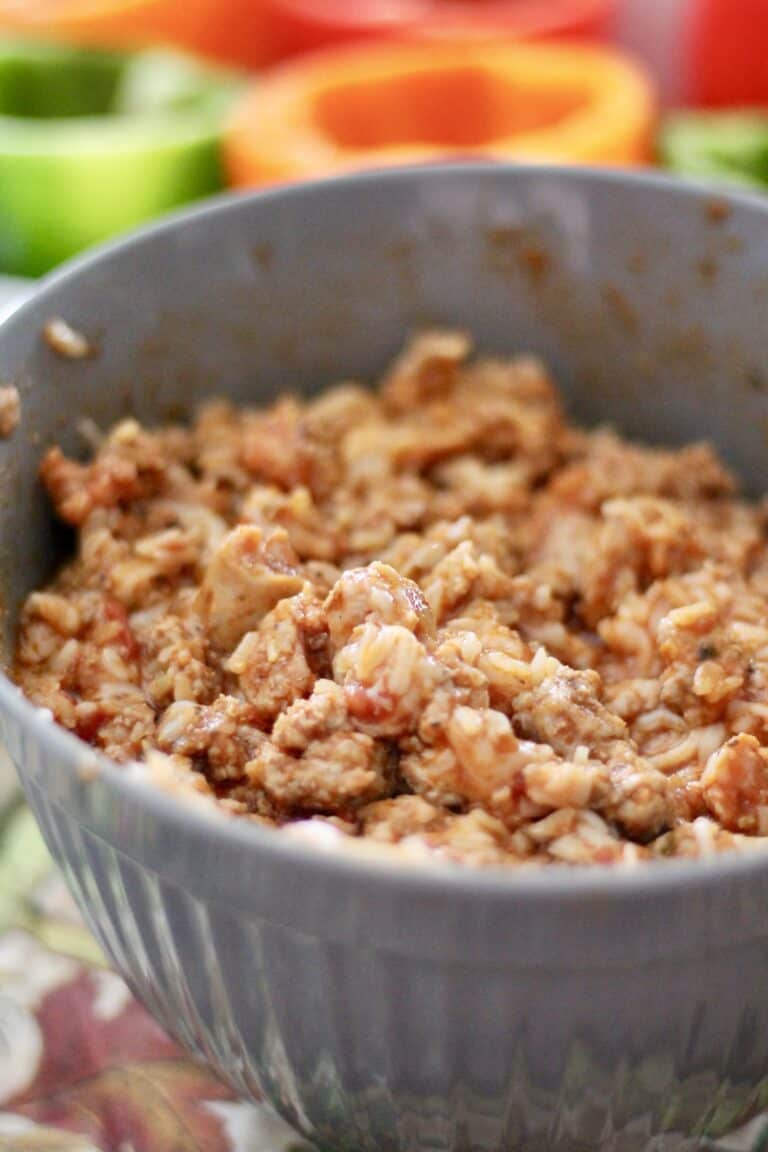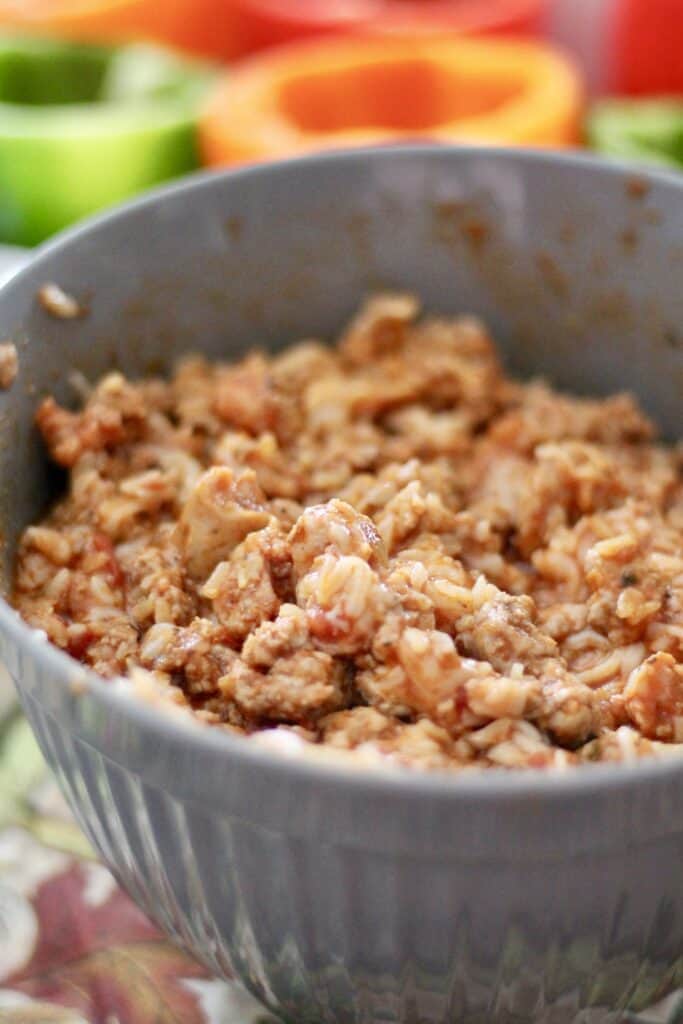 Time To Stuff The Peppers
Before I do this, I put about 1/2 cup or so of sauce on the bottom of a 9 x 13 ceramic dish to have a little extra sauce to scoop on top of the peppers when they're done.
I like to use 6 large peppers for this recipe. Typically, I don't have any leftover filling but if I do, then I just put it in the baking dish with the sauce on the bottom.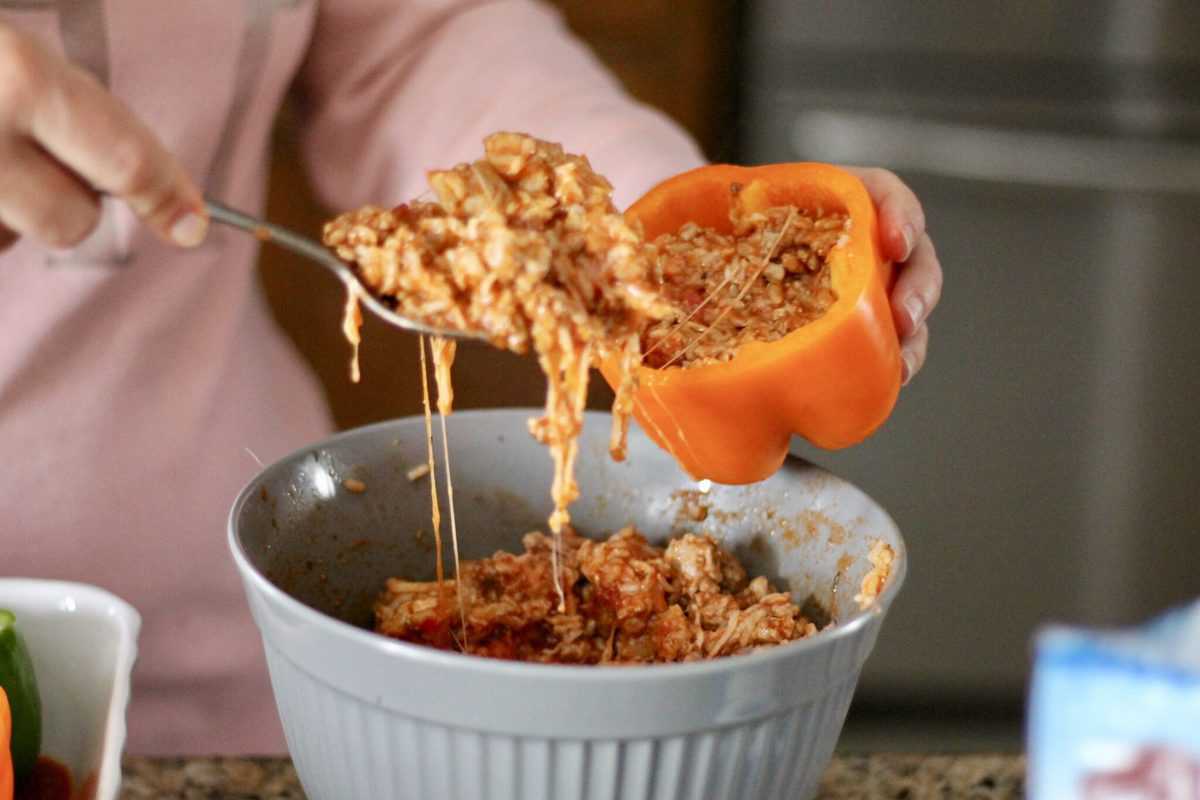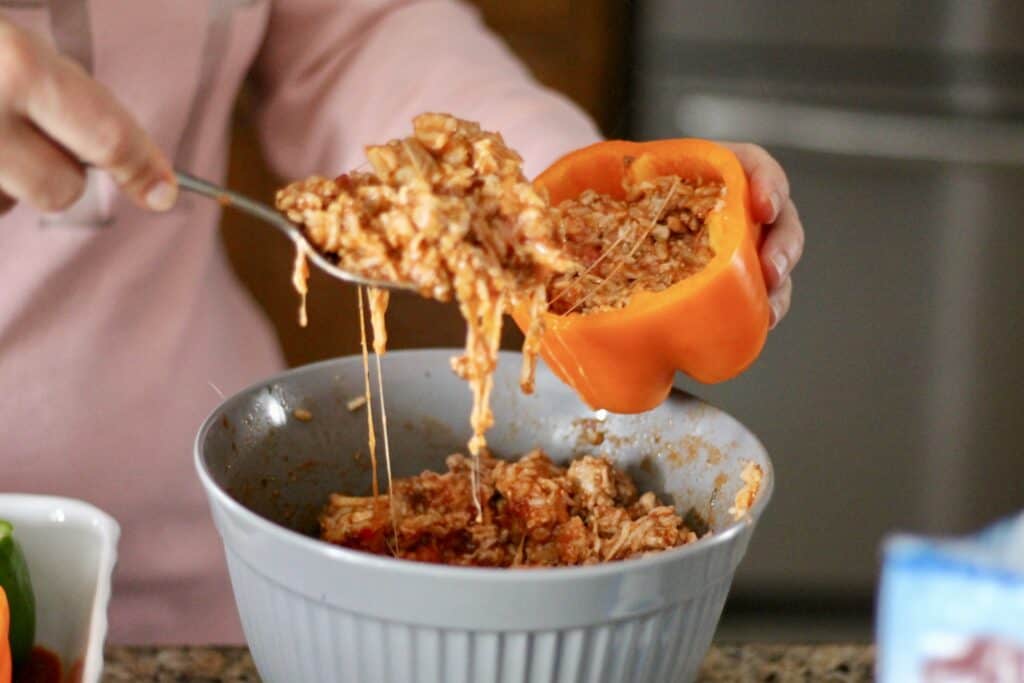 After I fill up the peppers, I pack the filling in using a spoon but make sure to leave a little space for the cheese!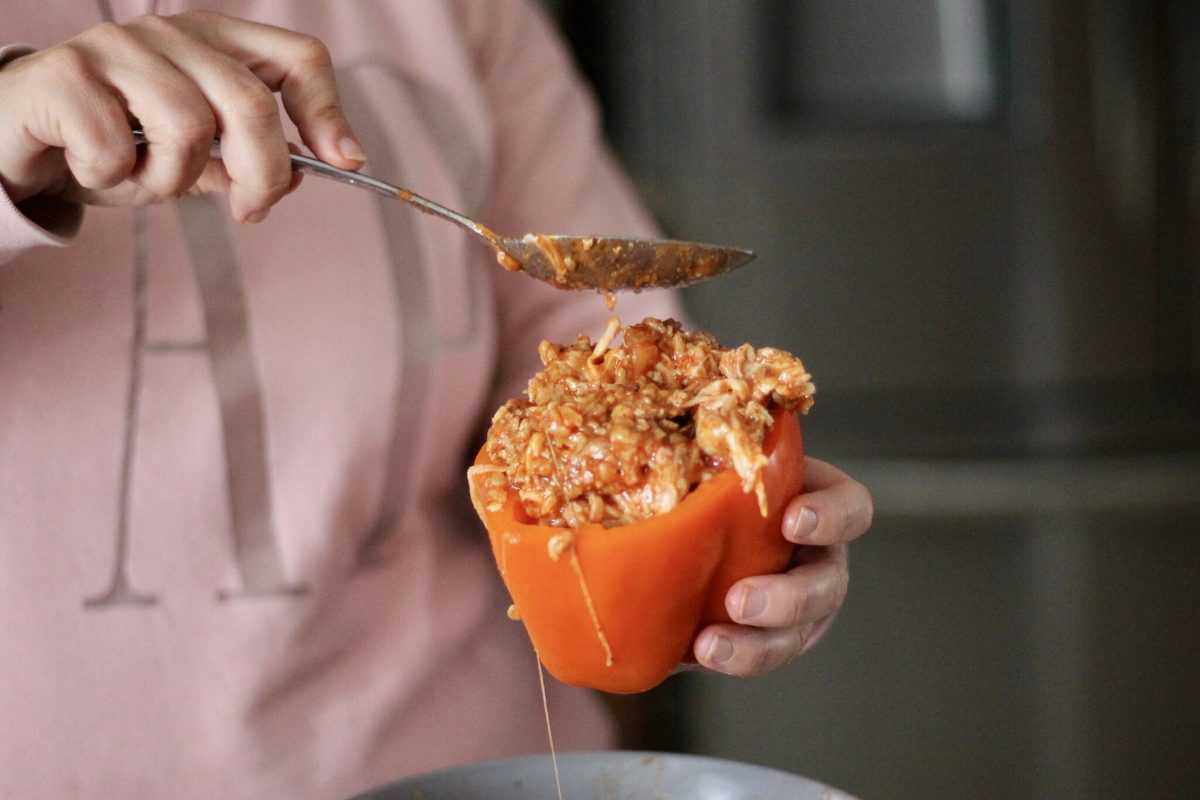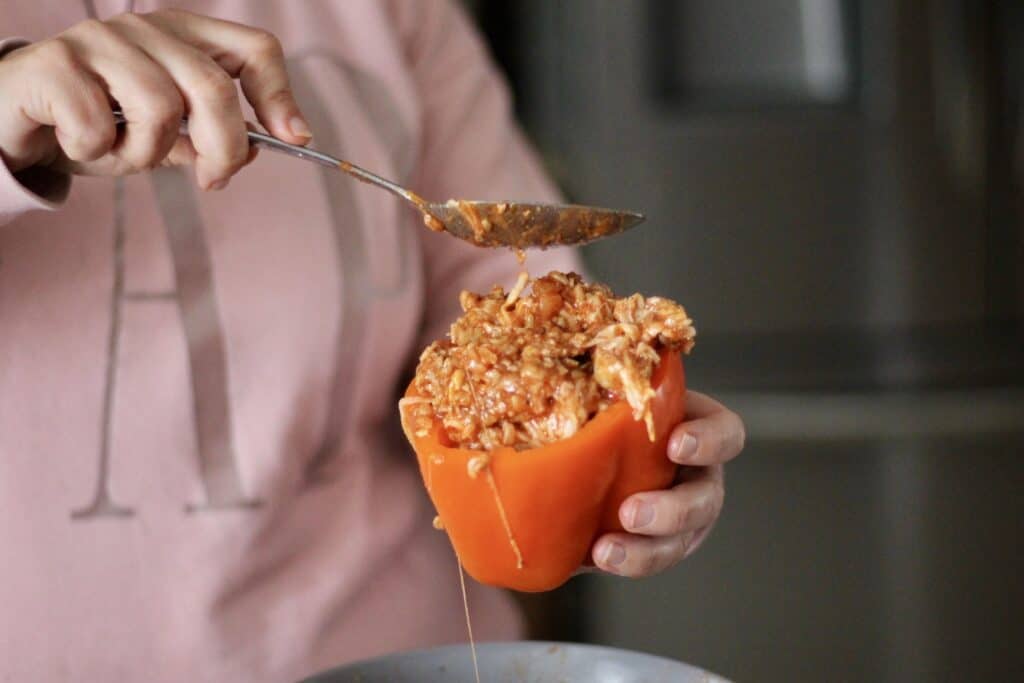 Then, I arrange all the stuffed peppers in the dish, sprinkle the rest of the cheese on top and cover with foil.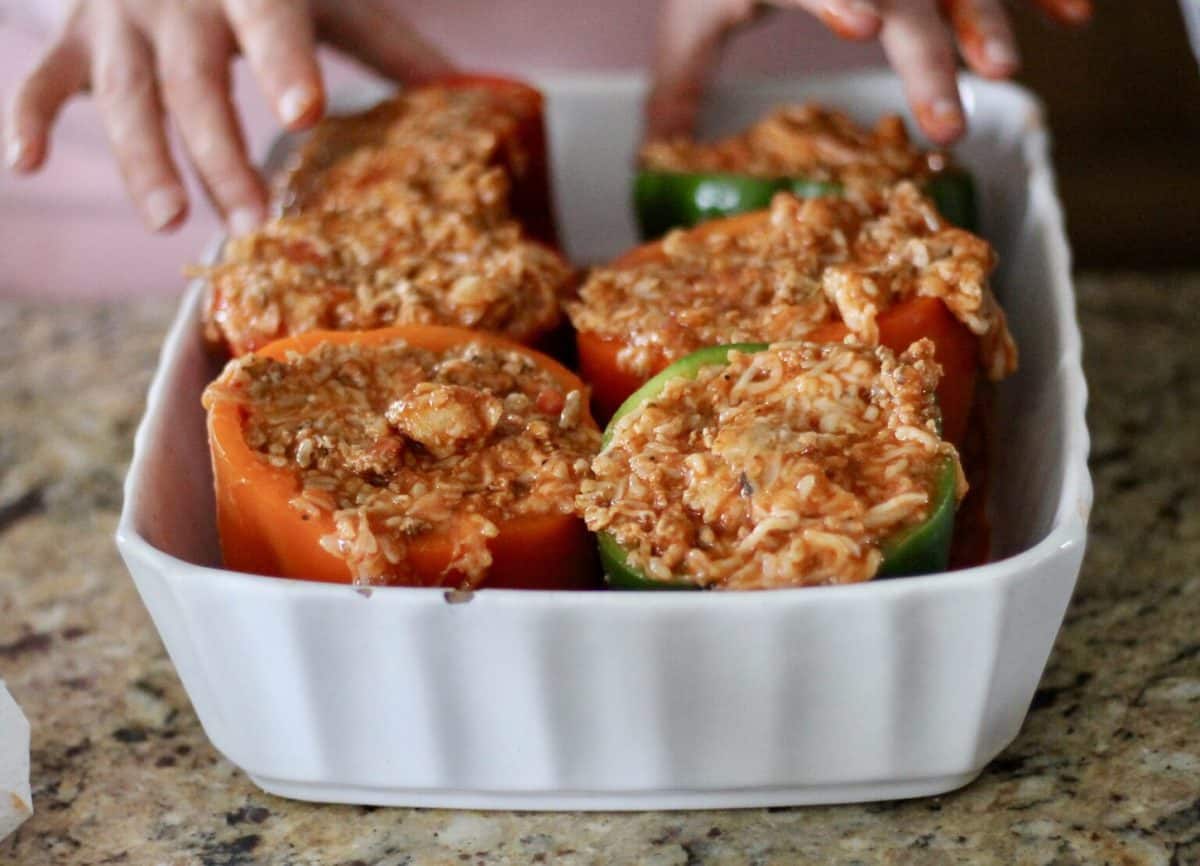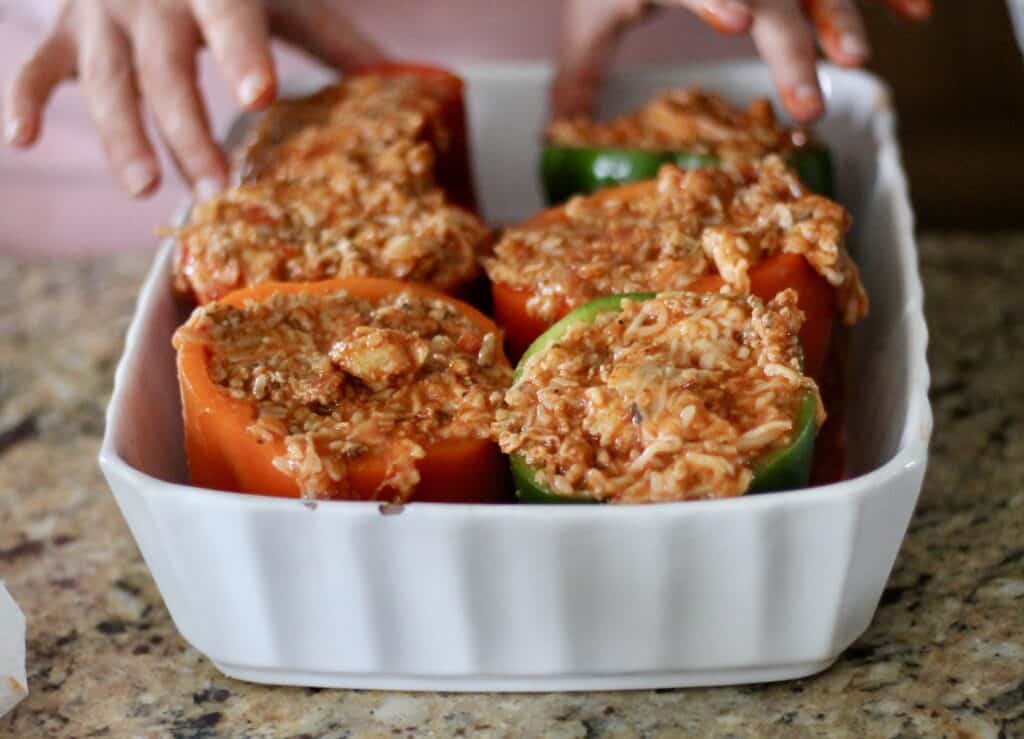 Place the baking dish into a 400-degree oven to bake for about 50 minutes.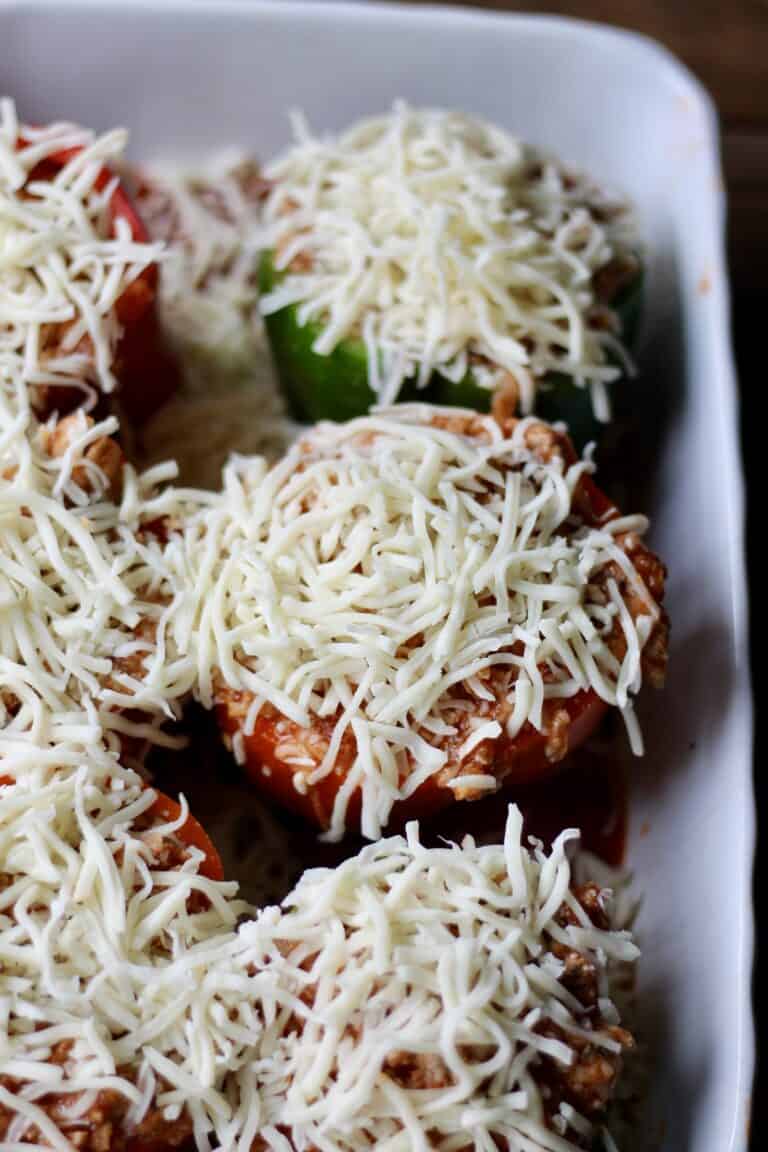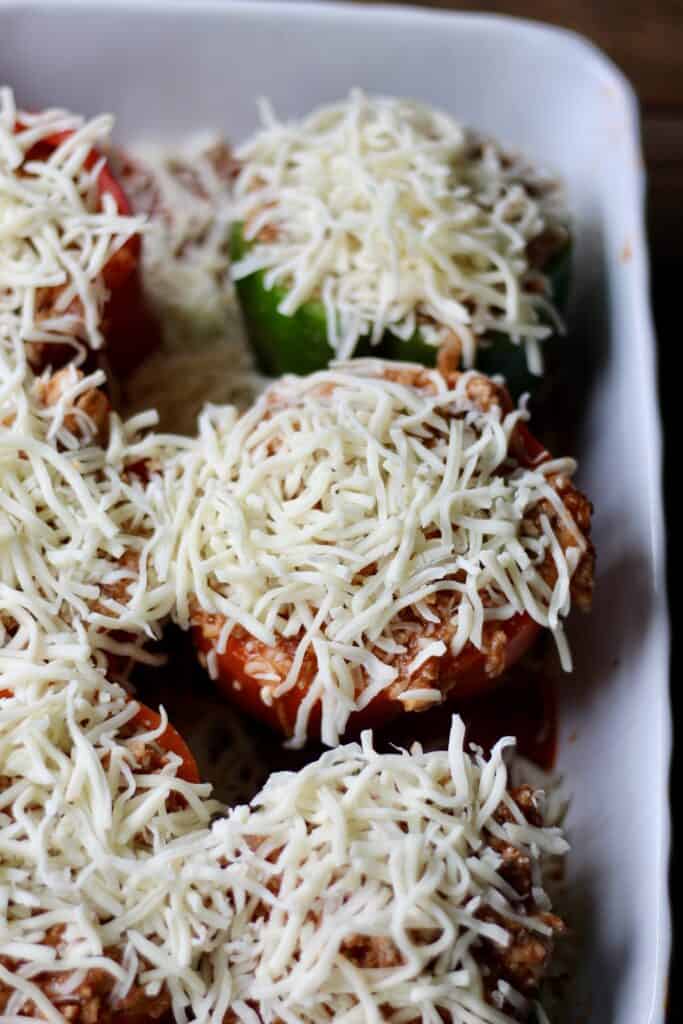 More Cooking Tips
Make sure to taste for seasoning as you continue to cook. If it needs a little more salt, then add in 1/4 teaspoon, give it a couple stirs and see if that does the trick.
Cook the rice in chicken broth to give it more flavor.
Saute onions, peppers, and/or mushrooms to add with the mix.
Spice it up by using a hot sausage and/or adding some red pepper flakes to the mix.
Shred your own mozzarella for maximum ooey-gooey cheesiness. You can also use fresh mozzarella! In this case, chop into small cubes before adding it to the mix.
Add some freshly chopped basil and other herbs.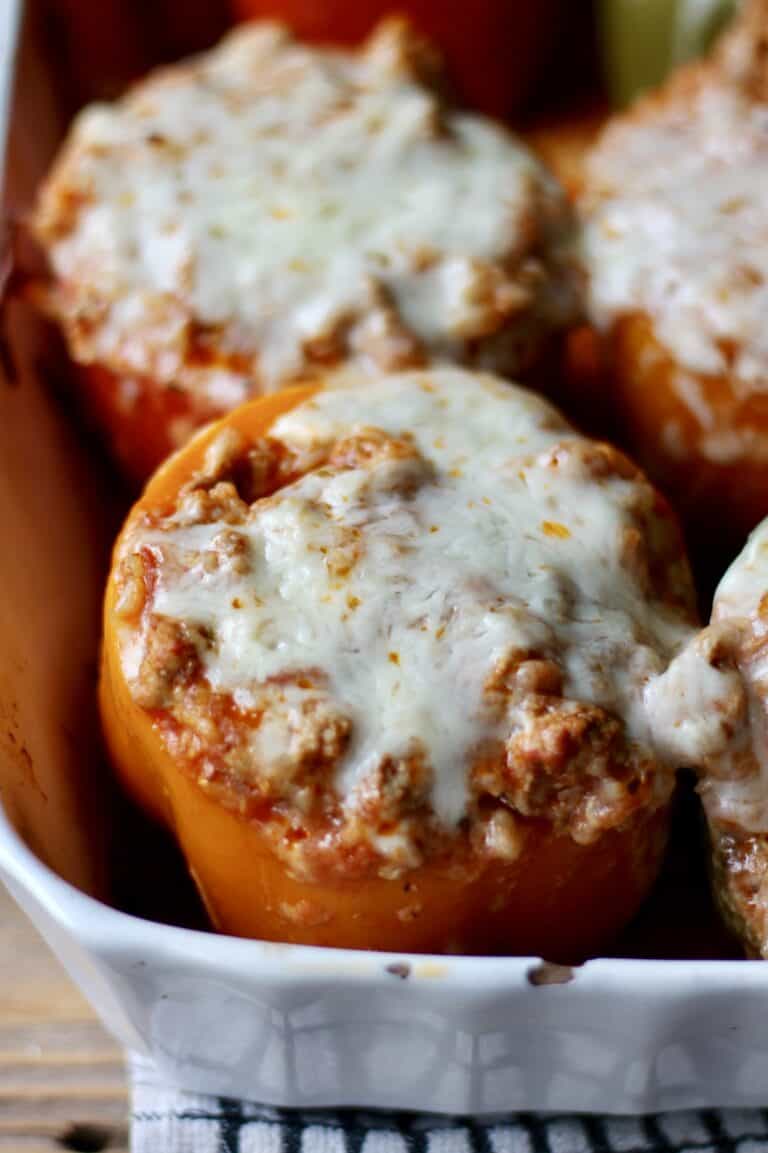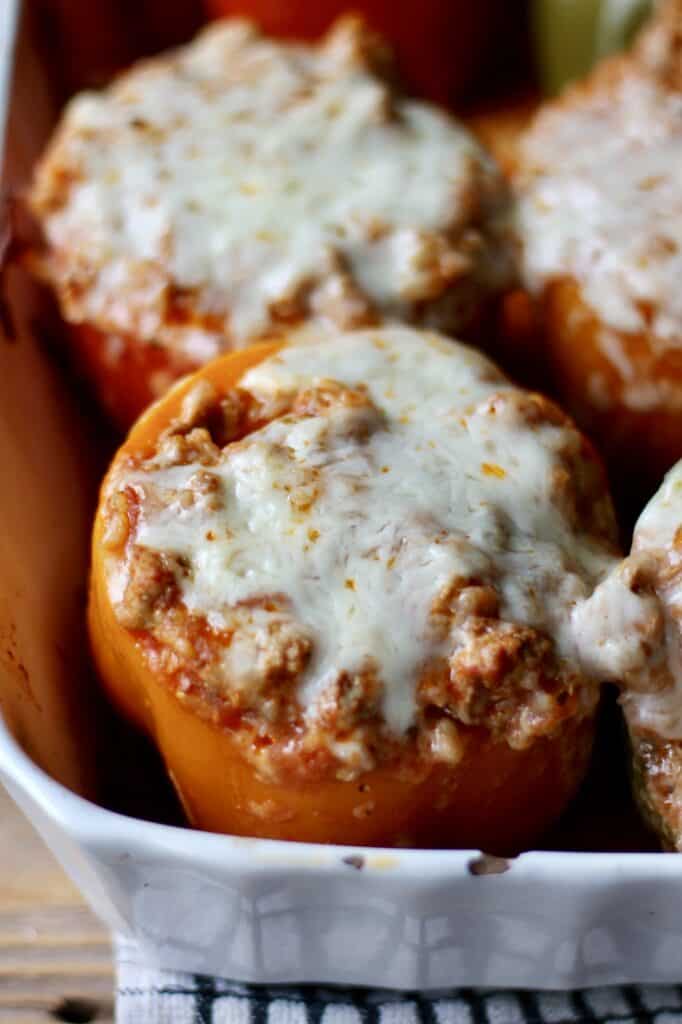 What To Serve With This Italian Dinner Dish
The Italian stuffed peppers are beyond delicious on their own. But, if you want to serve it as a whole meal, they go great with a side Ceasar salad and a slice of garlic bread.
You'll love having this for a delicious Sunday dinner or if you make it ahead of time, then a quick and easy weeknight meal!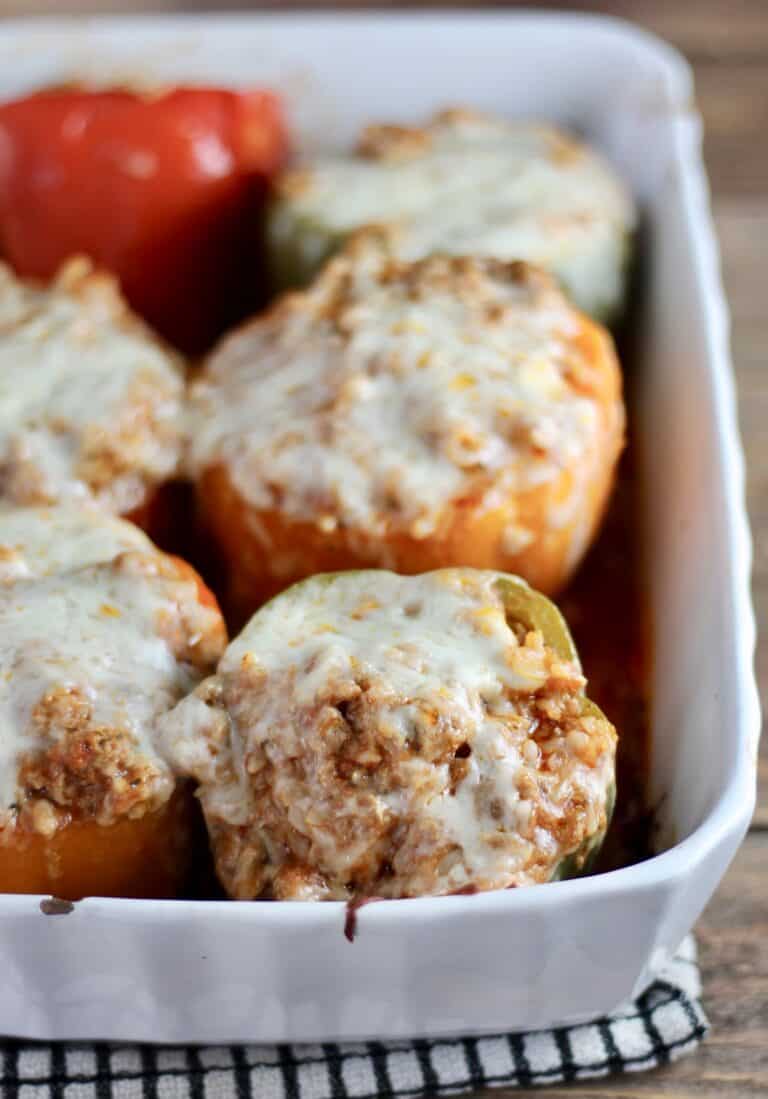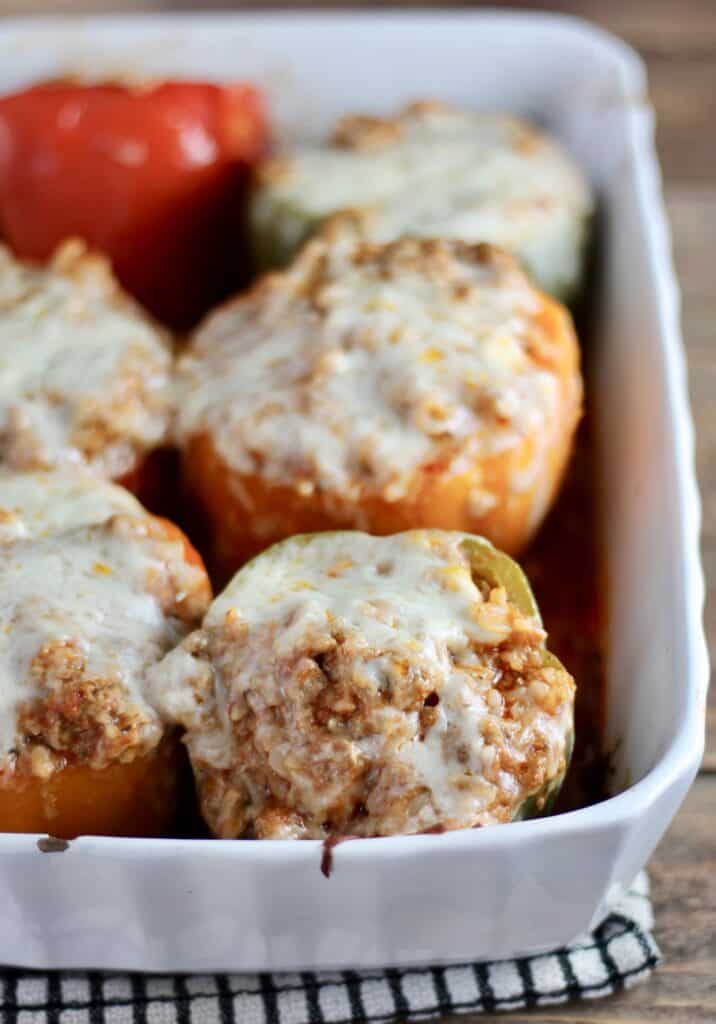 More Italian Dinner Recipes
These seasoned stuffed peppers became a family favorite and that made me so happy! If you are looking for a couple of more Italian themed recipes, take a look at this list: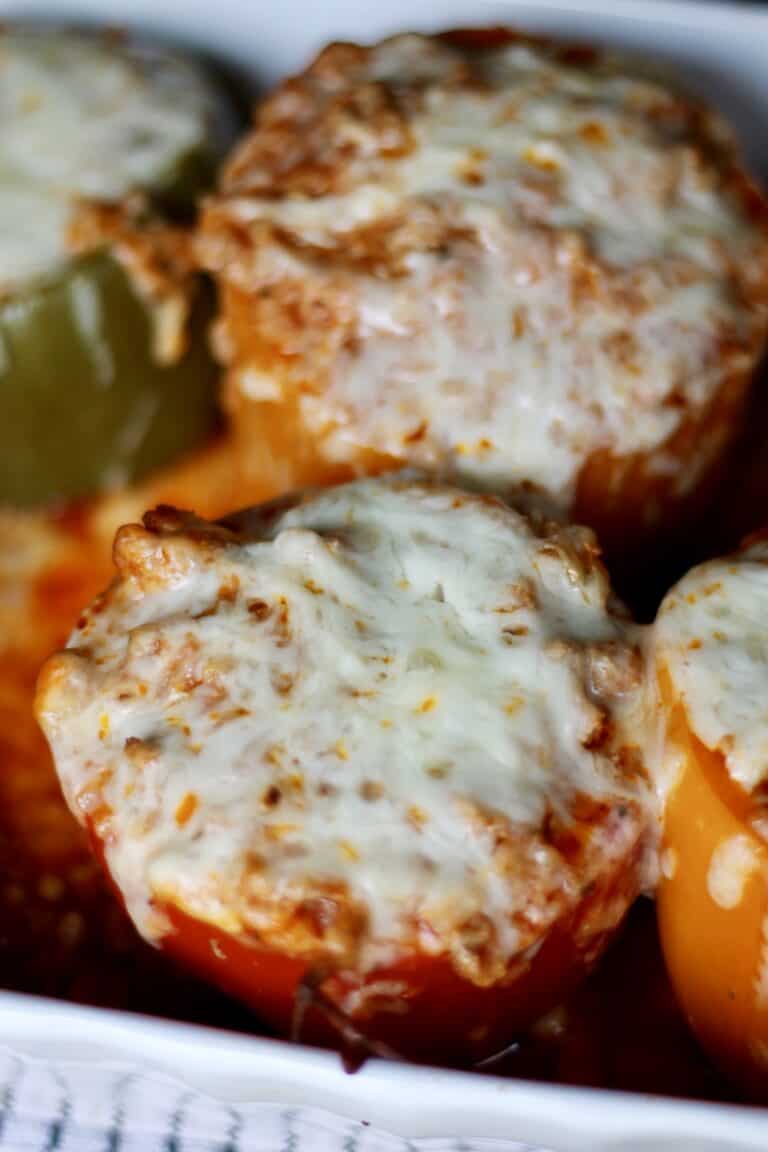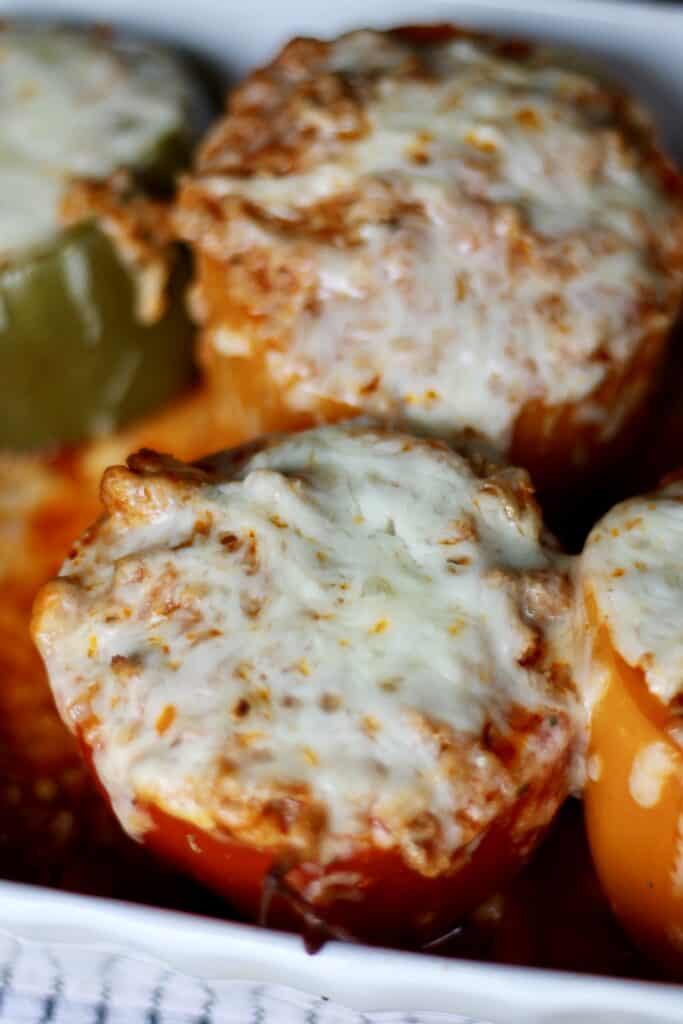 Make these Italian Stuffed Peppers to serve as a hearty dinner meal for your family! Share a picture and tag me on Instagram or Facebook if you decide to make this!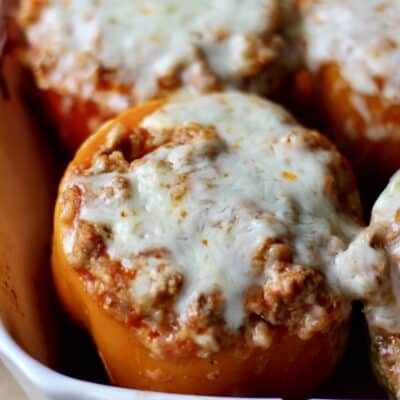 Ingredients
6

bell peppers

2

tablespoons

olive oil

divided

4

Italian poultry sausage links

about .75lbs, casings removed

1

lb

ground turkey

1

tablespoon

Worcestershire sauce

1

teaspoon

Italian seasoning

1

teaspoon

garlic powder

1

teaspoon

onion powder

1/2

teaspoon

salt

1/2

teaspoon

black pepper

1 1/2

cups

sauce

divided

1/3

cup

grated romano cheese

1.5

cup

mozzarella cheese

1.5

cups

cooked brown rice
Instructions
Preheat oven to 400 degrees

Remove and discard the tops, seeds, and membrane. Set aside.

In a large pan heat 1 tablespoon olive oil over medium heat and cook the sausage. Break up into small pieces as it cooks. Remove from pan and place into a large bowl.

In the same pan heat the last tablespoon of olive oil over medium high heat and cook the ground turkey. Again, break up the turkey as it cooks. After about 5 minutes stir in the Worcestershire sauce, Italian seasoning, garlic powder, onion powder, salt, and pepper. Continue cooking until no longer pink.

Place the cooked turkey in the bowl with the cooked sausage. Stir in the 1 cup sauce, rice, grated romano and 3/4 cup mozzarella cheese. Mix until all the ingredients are combined.

Add the rest of the sauce to the bottom of a 9 x 13 ceramic baking dish.

Stuff each of the peppers with the rice mixture and place into the baking dish. Add any leftover rice mixture to the pan. Sprinkle the rest of the mozzarella cheese on top of the stuffed peppers.

Cover with foil and bake for 50 minutes.

Serve hot.
Nutrition
Serving:
1
g
|
Calories:
392
kcal
|
Carbohydrates:
23
g
|
Protein:
31
g
|
Fat:
20
g
|
Saturated Fat:
7
g
|
Fiber:
3
g
|
Sugar:
5
g