These Stuffed Peppers with Quinoa and Sausage are protein-rich, lean, and delicious. The melted ooey gooey cheddar cheese takes these peppers to the next level.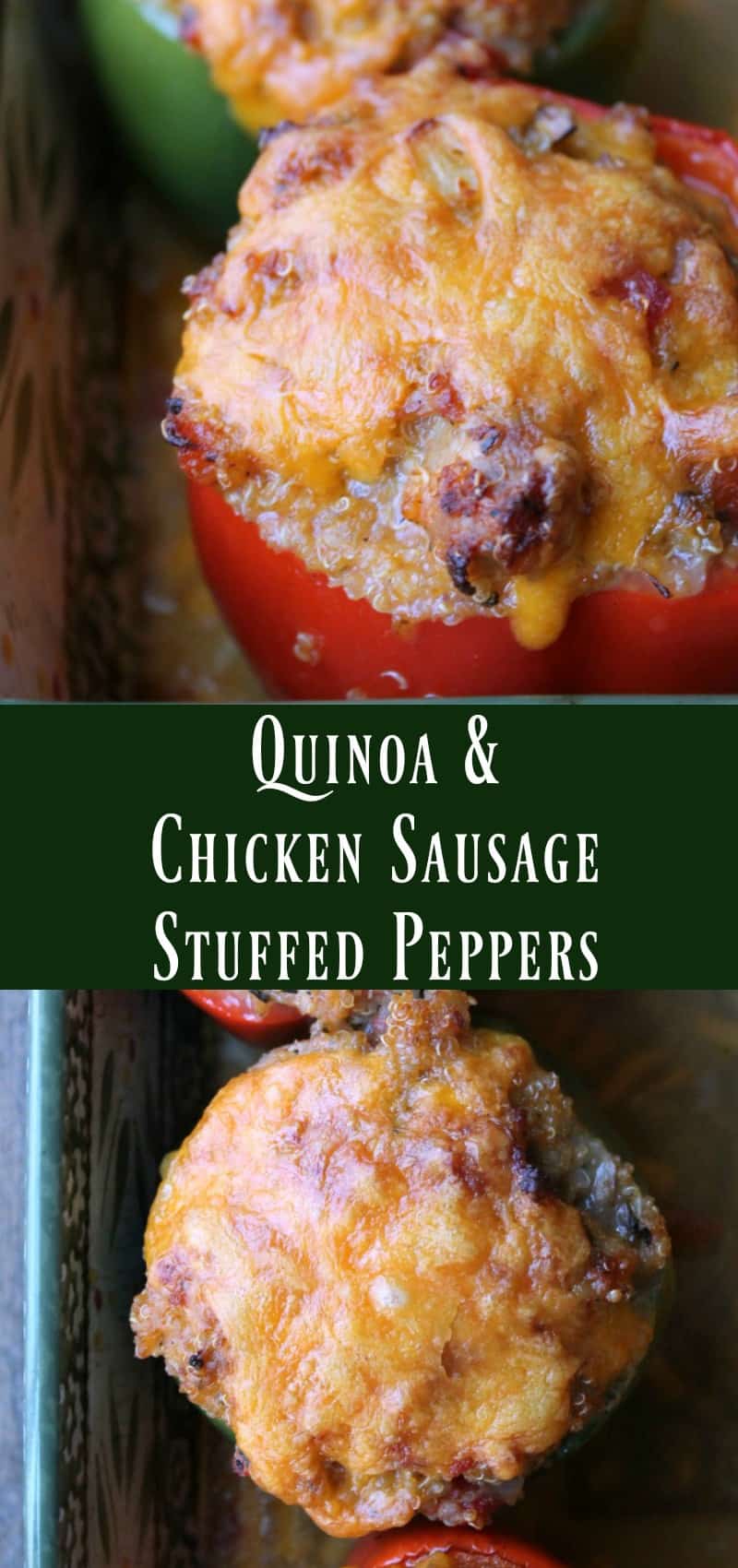 Portion control is the most important part of my weight loss strategy. In fact, I think it's more important than meal prep. Don't get me wrong, meal prep is important, and helps with portion control, but if I don't keep my food under control then it won't matter. I can exercise till I pass out and I'll still gain wait. It's just the way my body is.
In the 5+ years I've spent on my weight loss journey I've learned that food matters more than anything else. Exercise is still very important but if I want to lose weight or maintain my weight then I need to keep my calories and portions in check.
One reason I love making stuffed peppers is because they're naturally portion controlled. Each pepper is a serving so I don't need to measure out or worry if I'm taking to much. I know if I eat another stuff pepper then I'm eating a double serving and most likely too much.
It's not like that with pasta. Nope, I need to measure out pasta. But let's be real for a second. 99% of the time I'm not getting out my measuring cup to take the perfect portion of pasta. I should be but I'm not. If I'm making a diet freezer meal like this one yes I do. However, when I make a pasta or rice recipe I will eyeball the portion. Of course I do my best to keep it under control but I'd be willing to bet more, often than not, I'm taking to much.
With stuffed peppers the portion is figured out ahead of time and what you see is what you get. No guessing.
This new Stuffed Peppers with Quinoa and Sausage is delicious and will easily become a family favorite. I decided to use quinoa in place of rice because it's gluten-free and filled with protein and fiber. Don't get me wrong I love rice but I try to switch out rice for quinoa as much as I can because it keeps me full longer and is easier on my tummy. Not to mention it taste delicious and, in my opinion, you can't tell the difference.
If you're not sure how to cook quinoa here's my quick tutorial.

Also, I used chicken Italian sausage in place of pork sausage because it's lower in fat and calories and tastes just as good.
Stuffed Peppers with Quinoa and Sausage
I started by cooking the sausage. Once the sausage browned, but still a little pink, I stirred in the mushrooms and onions. As the ingredients continue to cook I broke up the mushrooms and sausage into small pieces. Once the vegetables softened I stirred in the garlic and cooked for 1-2 more minutes. I decided to grate the garlic for this recipe. I do this often in recipes because then you get the flavor of garlic without all the chunks. You can also use a garlic press but I used this microplane grater.
Then I stirred in the seasonings, quinoa, diced tomatoes, romano/parmesan cheese, and sharp cheddar cheese. I know sharp cheddar cheese might seem like a weird choice for this Stuffed Peppers with Quinoa and Sausage recipe but my boyfriend suggested it. I was going to use provolone or mozzarella but I must admit the sharp cheddar brings a great flavor. Cheddar makes everything better.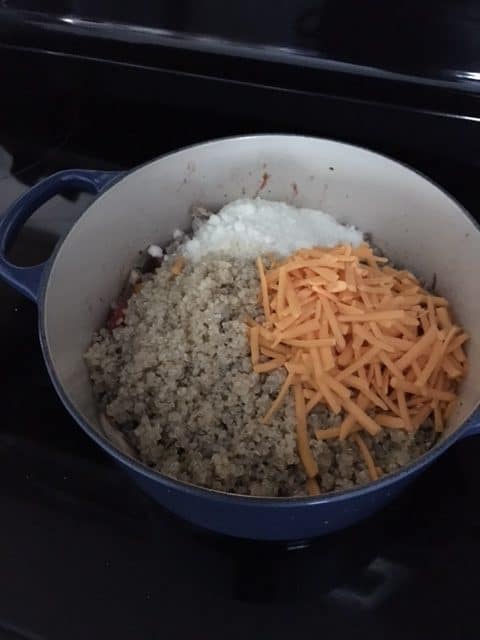 Then I mixed it all together and tasted for seasoning. Start with 1/2 teaspoon of salt and after you taste it add more if needed. I used 1 teaspoon of salt total.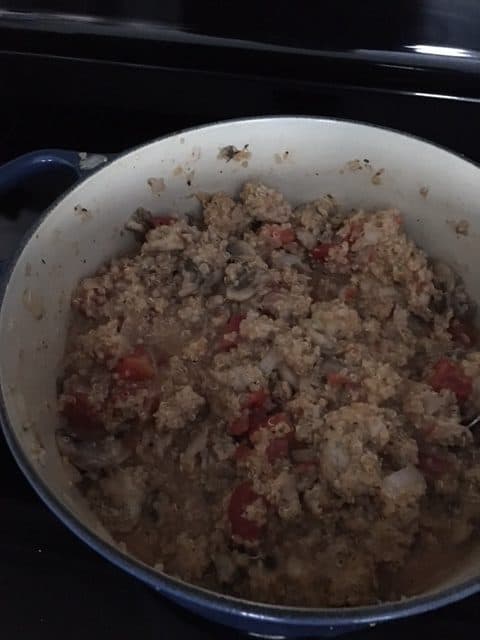 I stuffed a total of 8 bell peppers. Originally, I planned on 6 but as you can see this recipe makes a lot so I ended up with 8 stuffed peppers total.
After the peppers were stuffed I put them in a 9 x13 dish and sprinkled some more cheese on top. Oh, I also put a little chicken stock on the bottom of the dish. Then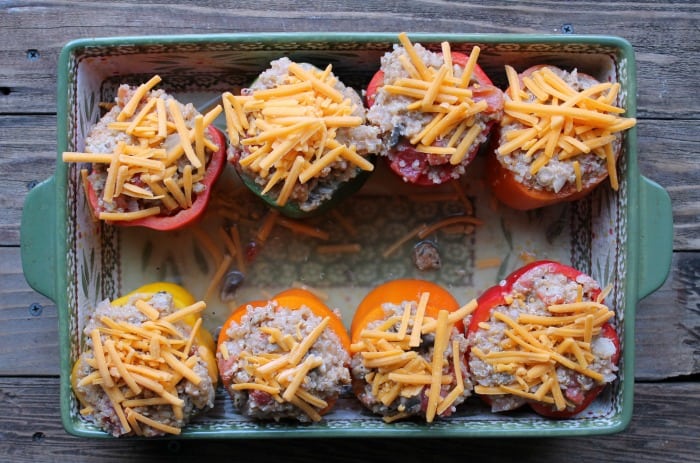 TheseStuffed Peppers with Quinoa and Sausage are stuffed to the max with all kinds of tasty goodness.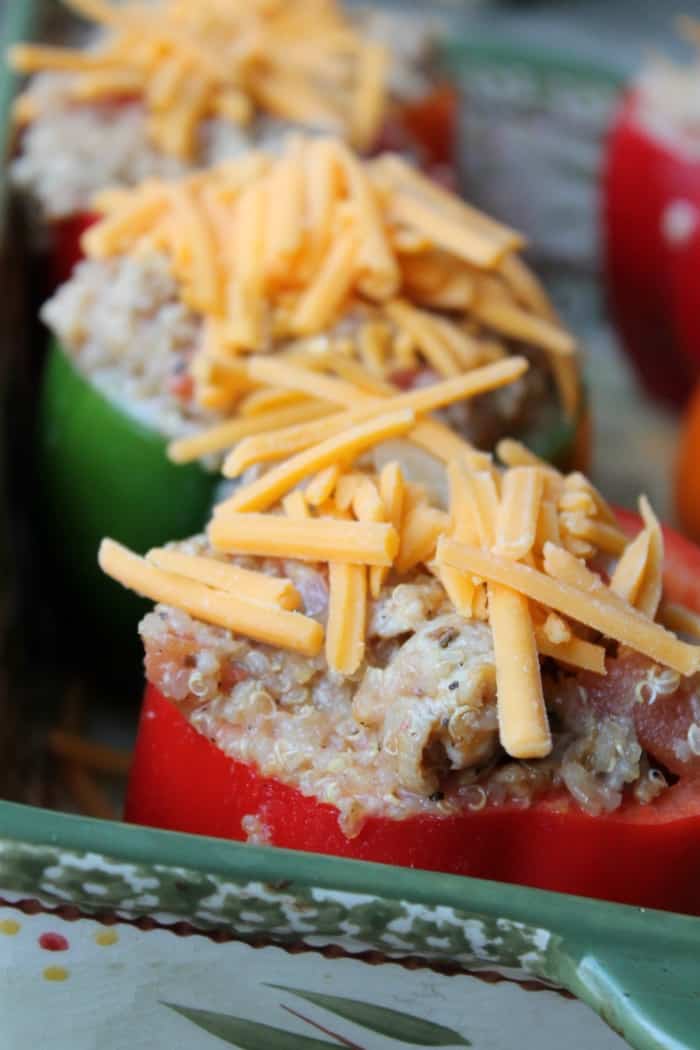 A quick note again about the cheese. My favorite sharp cheddar cheese to use is Sargento extra-sharp traditional cut shredded cheddar cheese. It has a bold sharp flavor and melts great. If I couldn't fine it I would buy a block of extra sharp shredded cheese and shred it myself.
Then I covered the peppers and baked these beauties for 40 minutes in a 400 degree oven.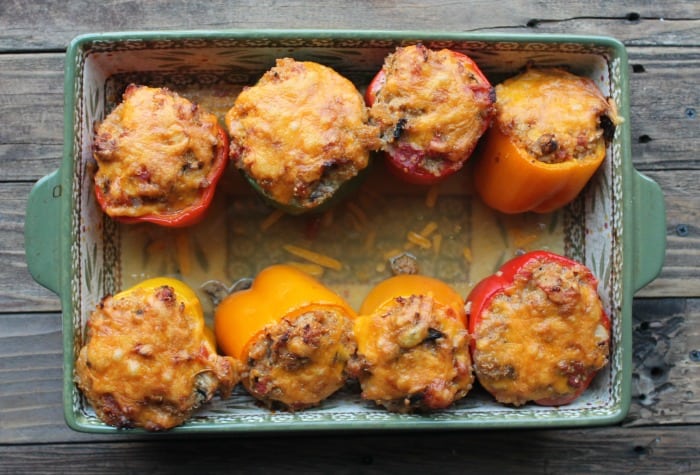 OMG these smelled AMAZING as they cooked. The peppers became tender and the cheese melted beautifully.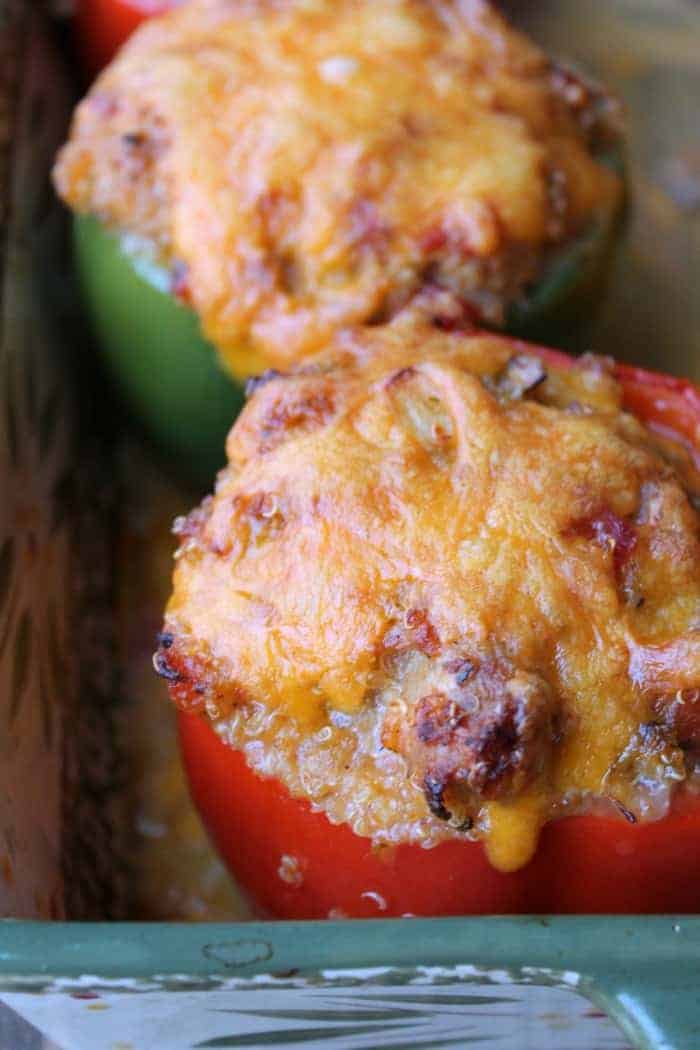 The stuffing was creamy and extremely flavorful.
Each stuffed pepper is 334 calories, 10 grams of fat, 8 grams of fibers, and 24 grams of protein! Whoa! This Stuffed Peppers with Quinoa and Sausage recipe could easily be in the running for the best portion-control recipe ever. Haha..just saying. YUM!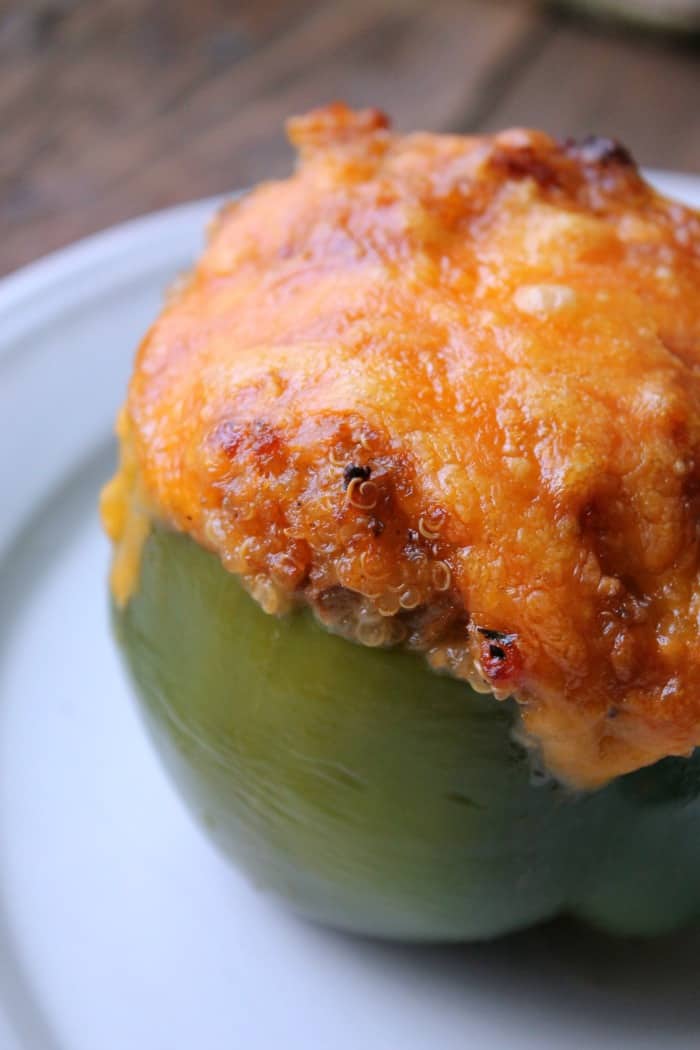 I should also mention that this Stuffed Peppers with Quinoa and Sausage recipe keeps great in fridge all week and can be frozen. You can freeze before or after cooking the peppers. If you freeze prior to cooking then when you are ready to prepare the peppers I recommend letting them thaw completely in the refrigerator before sticking in the oven. You might need to add on some cooking time if the peppers are cold.
If you like these Stuffed Peppers with Quinoa and Sausage recipe then check out these recipes:
Stuffed Peppers: Cheeseburger-style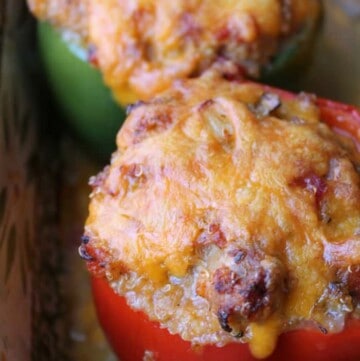 Ingredients
1

tablespoon

olive oil

1.5

pounds

chicken Italian sausage links

about 6 links, casing removed.

1

10-ounce package sliced mushrooms

1

medium onion

diced

4

cloves

garlic

grated

1

teaspoon

Italian seasoning

½ - 1

teaspoon

of salt

1

teaspoon

ground black pepper

3

cups

cooked quinoa

½

cup

grated romano/parmesan blend cheese

1

14.5 ounce canned diced tomatoes, drained

1 ½

cup

shredded sharp cheddar

divided

8

bell peppers

tops cut off and seeds removed.

1/2

cup

chicken stock
Instructions
Preheat oven to 400 degrees.

In a 4 - 6 quart pot, over medium heat, heat up the olive oil.

Add in the chicken sausage links and break apart with a spatula as they cook.

After the sausage is browned, but still a little pink, stir in the mushrooms and onions. Break the mushrooms into pieces with a spatula and cook the vegetables until soften.

Stir in the italian seasoning, 1/2 teaspoon of salt, pepper, quinoa, romano/parmesan blend cheese, drained diced tomatoes, and 1 cup of shredded cheese. Stir all the ingredients together and let it simmer for about 5 minutes. Give the stuffing a taste for seasoning and if it needs more salt stir it in.

Stuff each pepper to the top with stuffing. Divide the rest of the shredded cheese among the stuffed peppers.

Place the stuffed peppers into a 9 x13 dish and pour the chicken stock on the bottom.

Bake for 40 minutes or until peppers are tender and stuffing is heated through.

Serve hot.
Notes
Sugar: 2 grams
Make-ahead tips
The peppers can be made completely ahead of time and kept in the refrigerator for up to 5 days. You can also freeze them prepared up to 3 months.
If you freeze the peppers before you bake them then make sure to thaw completely before baking in the oven. You could put in frozen but will need to add on considerable time for them to cook fully. If they are thawed then proceed with cooking instruction but you might need to add on a few minutes if the peppers are cold.
Nutrition
Serving:
1
g
|
Calories:
334
kcal
|
Carbohydrates:
25
g
|
Protein:
24
g
|
Fat:
10
g
|
Saturated Fat:
2
g
|
Fiber:
8
g