Stuffed Peppers filled with all the makings of a juicy cheeseburger. This might be one of the best stuffed stuffed pepper recipes ever. Not to mention it's portion-control so you can easily fit this into your healthy meal plan!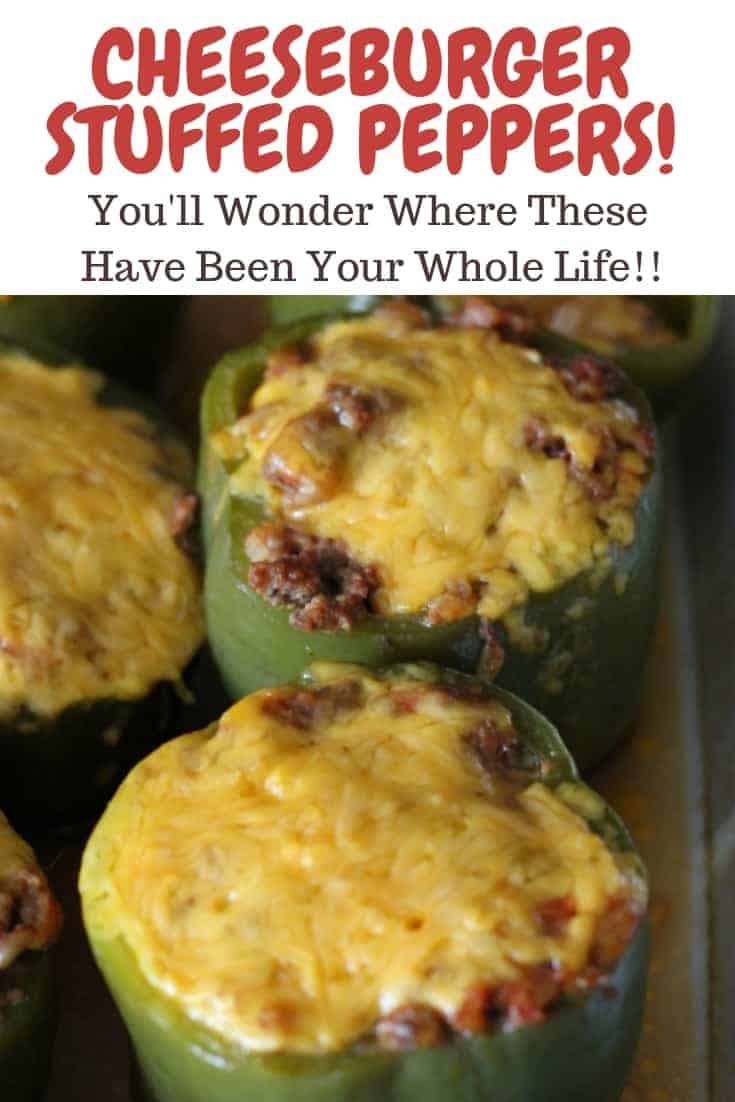 Lean ground beef cooked with hamburger spices, ketchup, mustard, cheddar cheese, and rice. Then stuffed and cooked in a green bell pepper makes for a new twist on cheeseburgers – the ultimate American comfort food. This might be the best stuffed peppers recipe ever and I'm not just saying this!
My inspiration, for this dish, came from not wanting to make tacos (again) for dinner. I had a 1lb package of ground beef and wanted to prepare something different. I also had a big package of green bell peppers to use up. Combine those two things with a hunk of nice cheddar I had in the fridge and I immediately thought of cheeseburger stuffed peppers. All the other ingredients I had on hand so preparing this recipe was very easy. So easy, that I actually made this stuffed pepper recipe on a weeknight after work. However, don't fret this recipe can easily be made ahead of time.
Simply prepare the stuffed peppers up until baking. Then you can store in the refrigerator for up to 2-3 days. You can also freeze these ahead of time but you'll have to add on a little more time. Just make sure the stuffed peppers are hot all the way through.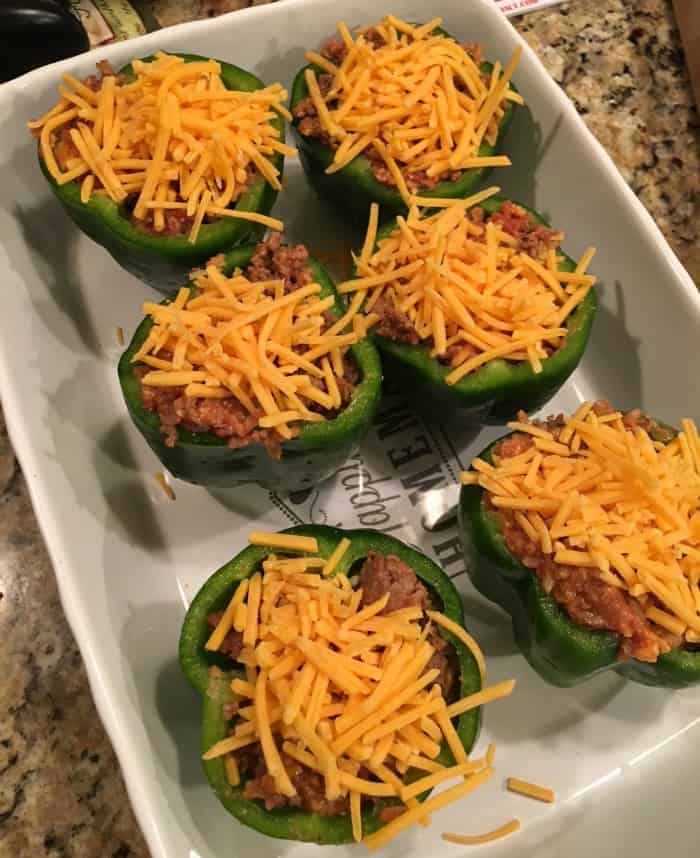 I used the same recipe for the ground beef that I use in my Grilled Cheeseburger Wrap recipe but just added a little extra seasoning because of the rice. Then I stirred in some shredded cheddar cheese, tomato sauce, and a little beef stock. This stuffed peppers recipe is DELICIOUS. I stuffed the filling into 6 bell peppers. I used green bell peppers but obviously use any color you like. Also if you want to keep this gluten-free use quinoa instead of rice.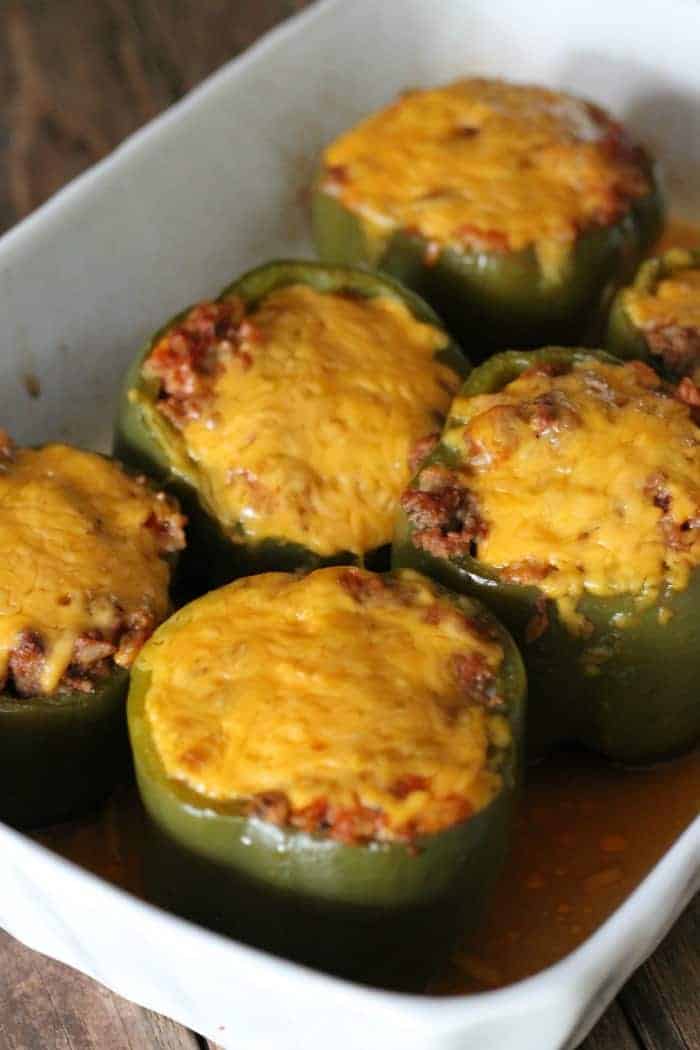 These cheeseburger stuffed peppers were delicious, kid friendly, and perfect portion control. You get all the flavors of a juicy cheeseburger without the white bun and added calories.
I should also mention if you want to cut calories and fat then consider using ground turkey in this stuffed peppers recipe. I've made it with beef and ground turkey and both are delicious.
Check out these other stuffed peppers recipes:
Stuffed Peppers with Quinoa and Sausage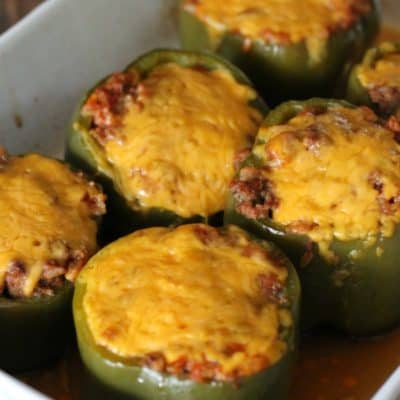 Ingredients
1

lb

lean ground beef

¼

teaspoon

salt

¼

teaspoon

pepper

2

tablespoons

worcestershire sauce

1

tablespoons

ketchup

1

tablespoon

mustard

I used a spicy horseradish mustard

1

teaspoon

onion powder

1

teaspoon

granulated garlic

2

tablespoons

grated parmesan cheese

1.5

cups

shredded cheddar cheese

1.5

cups

cooked brown rice

1

cup

beef broth or stock

divided

1

8-ounce can tomato sauce

6

medium bell peppers
Instructions
Preheat oven to 400 degrees

In a large skillet, over medium heat, cook the ground beef till just a little pink, about 5-7 minutes. Season the beef with salt and pepper then break up into small pieces as it cooks.

Stir in Worcestershire sauce, ketchup, mustard, onion powder, granulated garlic, parmesan cheese, ¾ cup of shredded cheese, rice, and tomato sauce. Stir until all ingredients are combined and heated through. Remove from heat and set aside.

Cut the tops of the bell peppers and clean out seeds and membranes. Stuff each bell pepper with ground beef mixture, top the peppers with the remaining cheese, and line up in a casserole dish. **note I had just enough ground beef mixture to fill the peppers. Depending on the size of your peppers you may have a little less or more.

Pour the beef broth into the bottom of the casserole dish. Cover tightly with foil and bake for 40 – 50 minutes or until cooked and hot all the way through. Serve with a pickle or some relish and enjoy.
Notes
Sugar: 9
Make ahead instructions
These peppers can be prepared up until baking then wrapped in plastic wrap and frozen until ready to cook. Thaw overnight in refrigerator and continue with cooking instructions. They made need a little longer. Or you can cook completely, let cool, and wrap and freeze. When ready to eat, unwrap, and heat up in oven or microwave.
Nutrition
Serving:
1
g
|
Calories:
415
kcal
|
Carbohydrates:
33
g
|
Protein:
26
g
|
Fat:
22
g
|
Saturated Fat:
6
g
|
Fiber:
7
g