A juicy burger is one of the foods most people think they need to sacrifice on a healthy diet. I'm here to make your day and tell you that's absolutely not true. I'm going to show you how to craft the most delicious healthy burger recipe. I'll even share my secret seasoning I use all the time!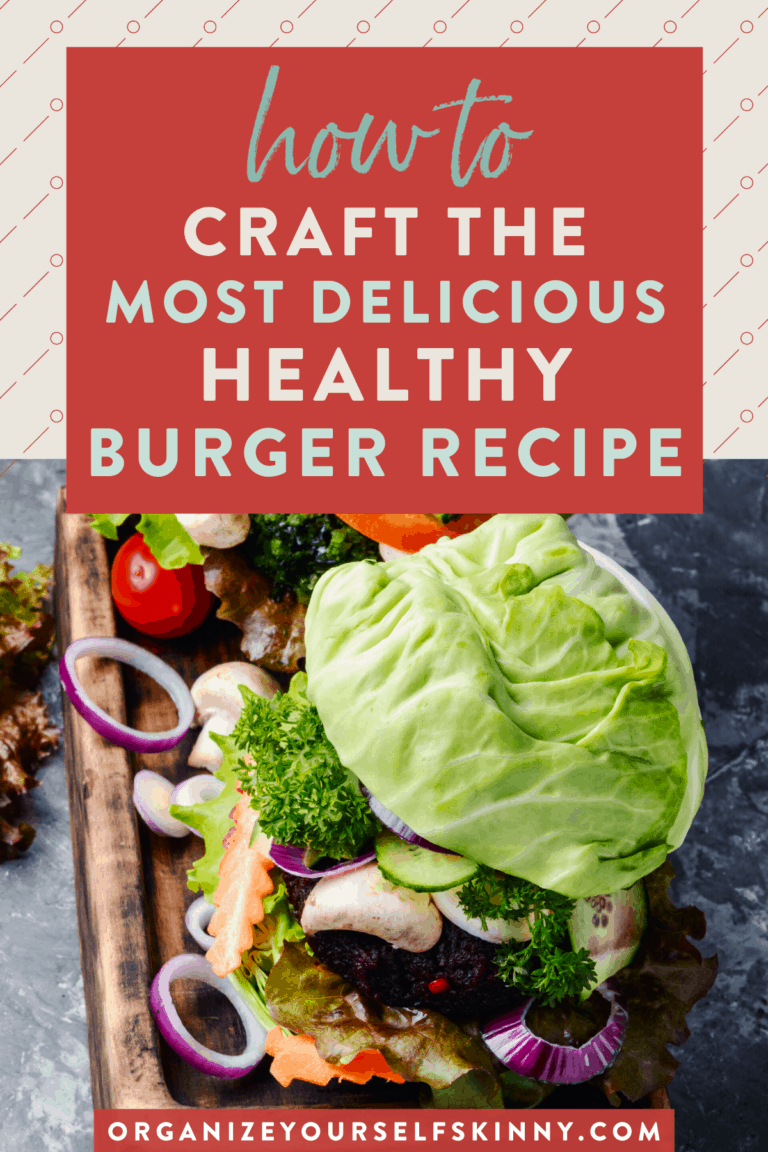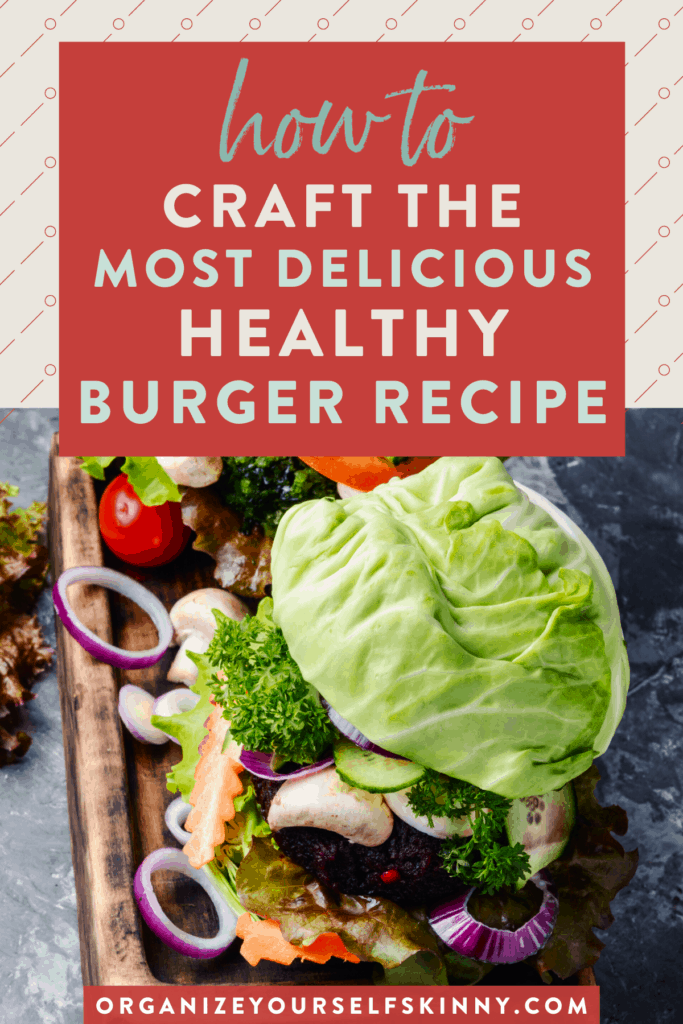 You might be thinking the first thing I'm going to tell you to do to make a healthy burger is to use ground turkey. Sure, you can use ground turkey to lower the fat and calories but I'm not going to talk about turkey burgers today – I'll save that for later in the month because, to be honest, I make a mean turkey burger!
But, today I want to talk about the real deal – a big, juicy, beef burger.
To be honest, I was never a huge burger fan. I know, I know, it's a bit weird. It's not that I don't like them but I just never craved them. However, a couple of years ago, I went to a craft burger restaurant and ordered a burger that was beyond amazing. It was one of the best burgers I've ever tried!
Of course, it wasn't the healthiest burger but dang it was good. Anyway, from there I started to crave delicious burgers. Obviously, if I wanted to make burgers a part of my life, I needed to get creative putting together healthier versions.
My Best Tips To Making The Perfect Hamburger
In the last couple of years, I've learned many tricks to craft the most delicious healthy burger recipes. And, not to pat myself on the back, but, dare I say, that the burgers I make today could rival any craft burger made in a restaurant.
In fact, one of the things I've learned about enjoying our junk food favorites is to make healthier versions at home. To be honest, 99.9% of the time it tastes just as good (if not better!) as anything we can get from a drive-thru or fancy restaurant.
With these tips, you can certainly keep burgers a regular part of a healthy meal plan too. 
Okay here are my top "not so secret" tips to help you craft the most delicious healthy burger recipe.
Using High-Quality Beef
The first important thing is to start with high-quality beef. I use organic grass-fed beef with all my burger recipes.
Grass-fed beef is naturally lower in fat and calories than conventional beef. Grass-fed means that cows spend their days eating grass in the pastures which means they get to roam free and eat the food they were meant to eat. Organic means the cattle were never given any antibiotics or growth-promoting hormones.
It's important to me to be purchasing beef that comes from cattle who get to eat what nature intended them to and they've never been given any hormones or drugs.
Also, high quality organic grass-fed beef tastes better than conventional beef in my opinion. I can't tell you the number of times I've served hamburgers to friends and family and they can't believe how delicious the beef is. I tell them right away it's because I use high-quality beef, which to me, feels like that makes the biggest difference from the start with a healthy burger recipe.
Where To Purchase Organic Grass-Fed Beef
In my area, I can find grass-fed organic beef quite easily at local grocery stores like Wegmans, Aldi's, and even BJ's Wholesale. The prices at these stores are between $6 – $8 a pound.
I also purchase ground beef quite frequently from Butcher Box Meat Delivery. Their prices are around $7.50 a pound. So again, it's pricier than conventional beef but I think it's worth it. You can also get chicken, pork, and all cuts of beef from Butcher Box. You can learn more in my Butcher Box Review.
All the beef I've received from Butcher Box has been top-notch and super tasty. It's a great service if you don't have access to high-quality meats and/or just want the convenience of having meat delivered to your door!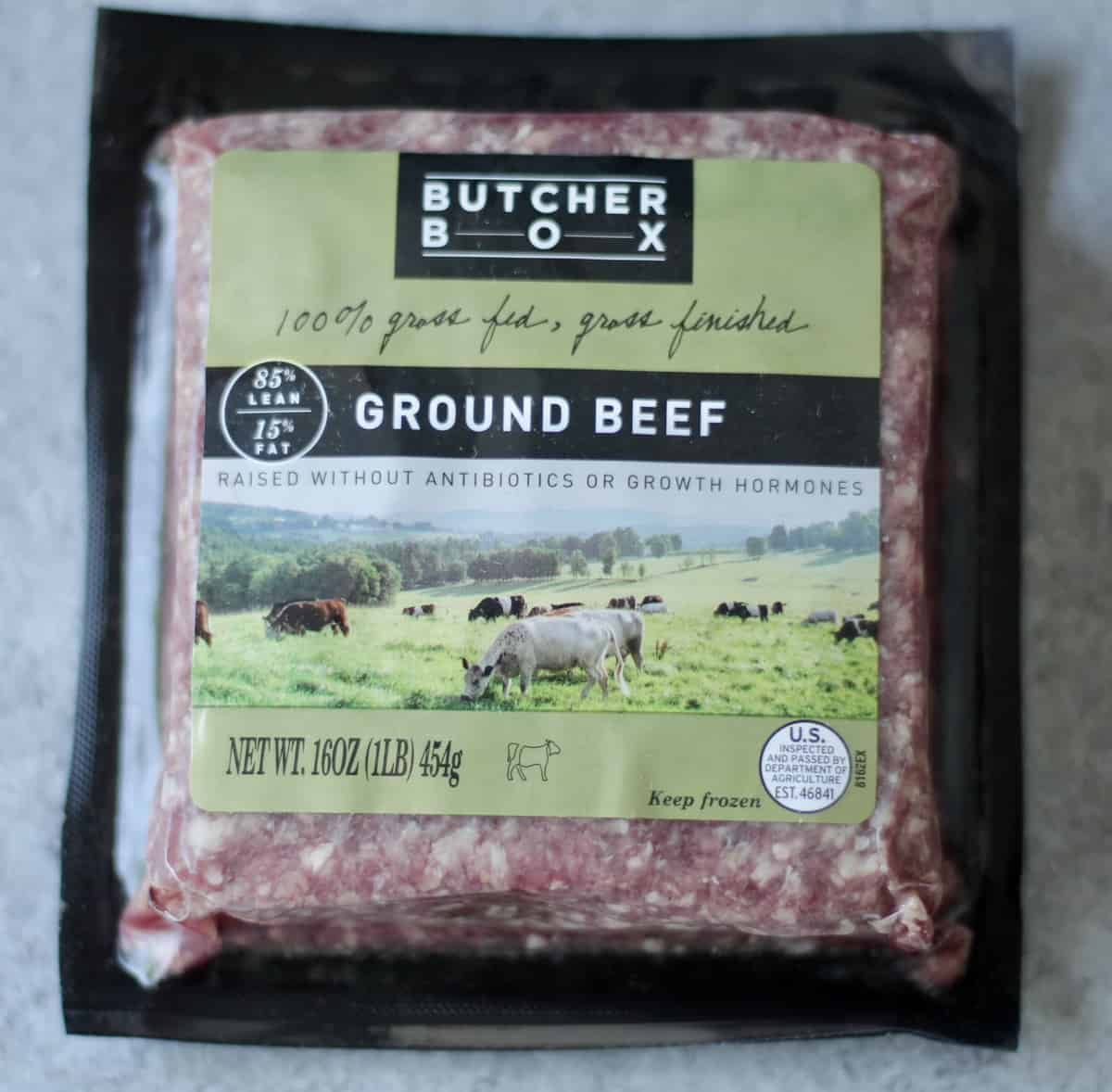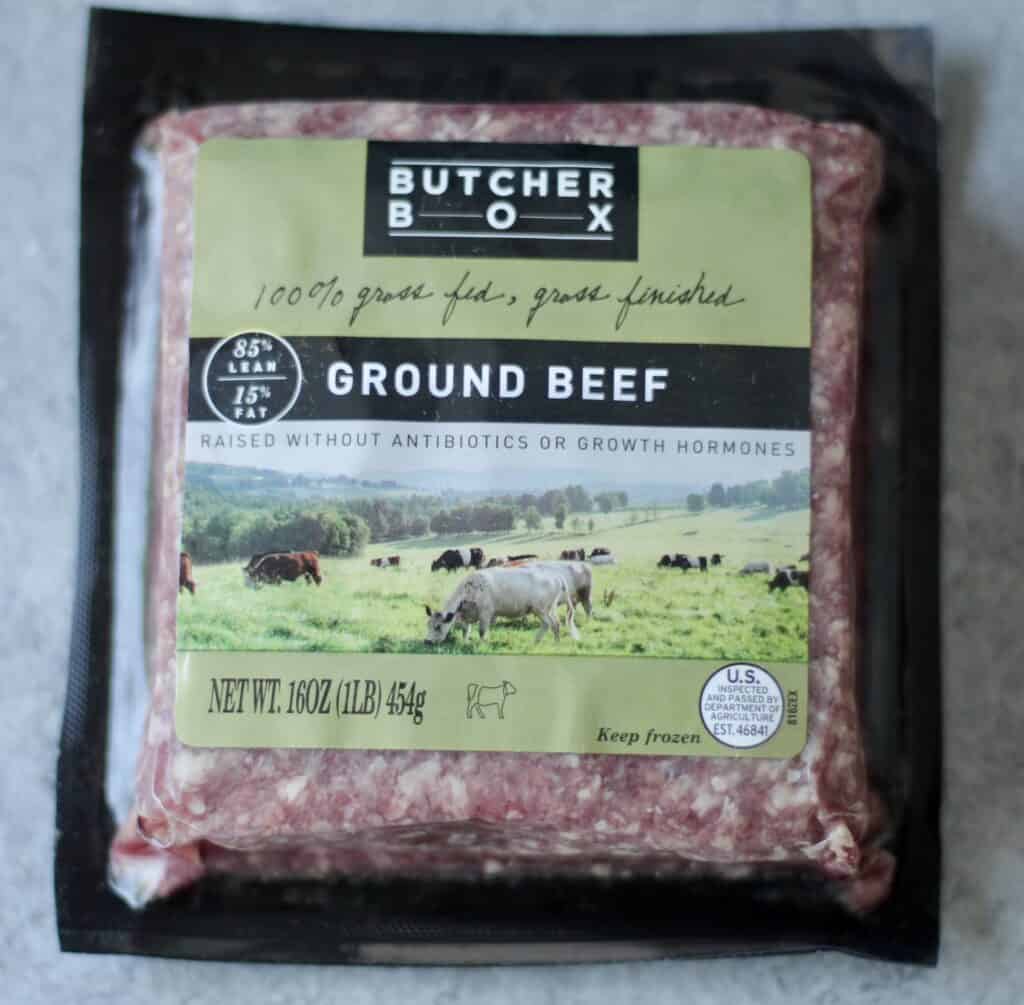 Use 85/15 or 90/15 ground beef
Typically 85/15 ground beef is made up of ground round and 90/10 is ground sirloin. These numbers mean lean meat to fat ratio. The more fat a burger has, the juicier it will be.
In my experience and opinion, 85/15 is the perfect lean meat to fat ratio. This gives the perfect amount of fat to lean meat to prepare a juicy burger that is a little lower in fat. Butcher Box ground beef is 85/15 and I've also seen this ratio at grocery stores. If you can't find this ratio, then ask your local butcher. They will be able to prepare ground beef with an 85/15 ratio!
1 (4-ounce) serving of 85/15 ground beef is 240 calories, 17 grams of fat, 21 grams of protein, and 0 carbs.
1 (4-ounce) serving of 90/10 ground beef is 200 calories, 10 grams of fat, 22 grams of protein, and zero carbs.
If you're worried about fat and calories then obviously the 90/10 is going to be your better option. However, if you are more focused on carbs and protein, then either will work fine. If you have a choice, I definitely recommend the 85/15 because this will give you a juicier tastier burger than the leaner ground beef.
Make Your Own Patties
When I'm putting together craft burgers I like to purchase ground beef and make my own patties. I know you can purchase patties already made but in my experience I feel that making my own patties creates the best burger.
Pre-made patties are usually flattened and I like the burgers I make to be on the thicker side. Again, I think this is the best way to keep the hamburger patties juicy and with the best flavor.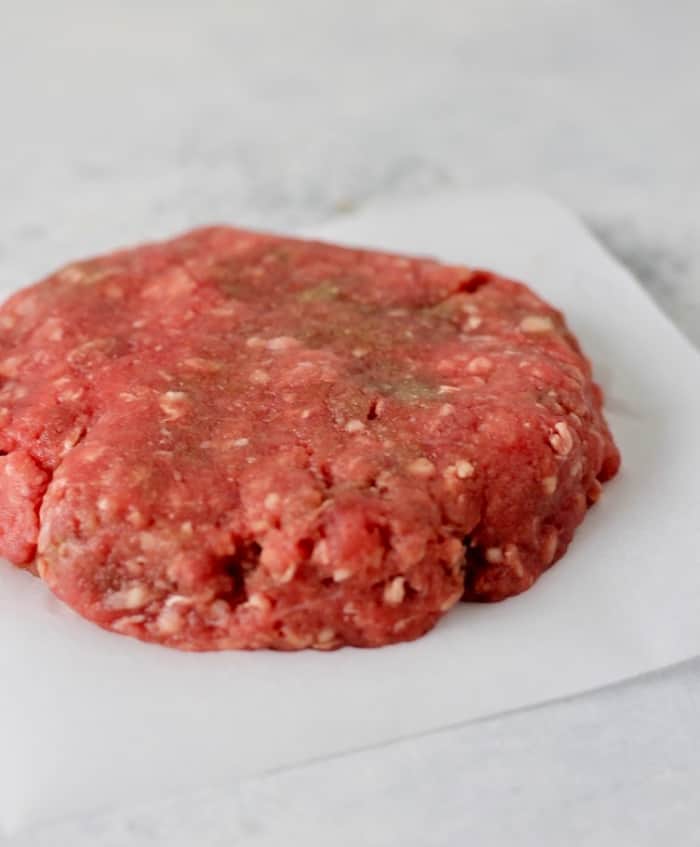 Use Your Own Seasoning Blend
Okay, now that we have the ground beef out of the way, let's talk about seasoning.
Seasoning absolutely matters. I can't tell you the number of times I ordered a $15 burger from a restaurant only to be totally disappointed after that first bite and tasting zero salt or seasoning.
Now with a basic burger, you're not looking to change or take any flavor away from the beef but, instead, you want to enhance the flavor.
The most important seasoning I use in this healthy burger recipe is a couple of teaspoons of Worcestershire sauce. This is really one of my secret ingredients! Worcestershire sauce enhances the flavor of the beef and gives it a rich taste.
Then, I add the seasonings. I'll add 1 teaspoon of garlic powder, 1 teaspoon of onion powder, ½ teaspoon of salt and ½ teaspoon of pepper. This plus the Worcestershire sauce creates burger magic!
Add Some Half And Half, Milk, Or Cream
Another secret tip I've learned to make the juiciest burgers is to add a couple of tablespoons of half and half, milk, or cream. I know this adds the fat and calories some but it's not going to break the bank. Plus, it's really helpful especially if you're using lean ground beef.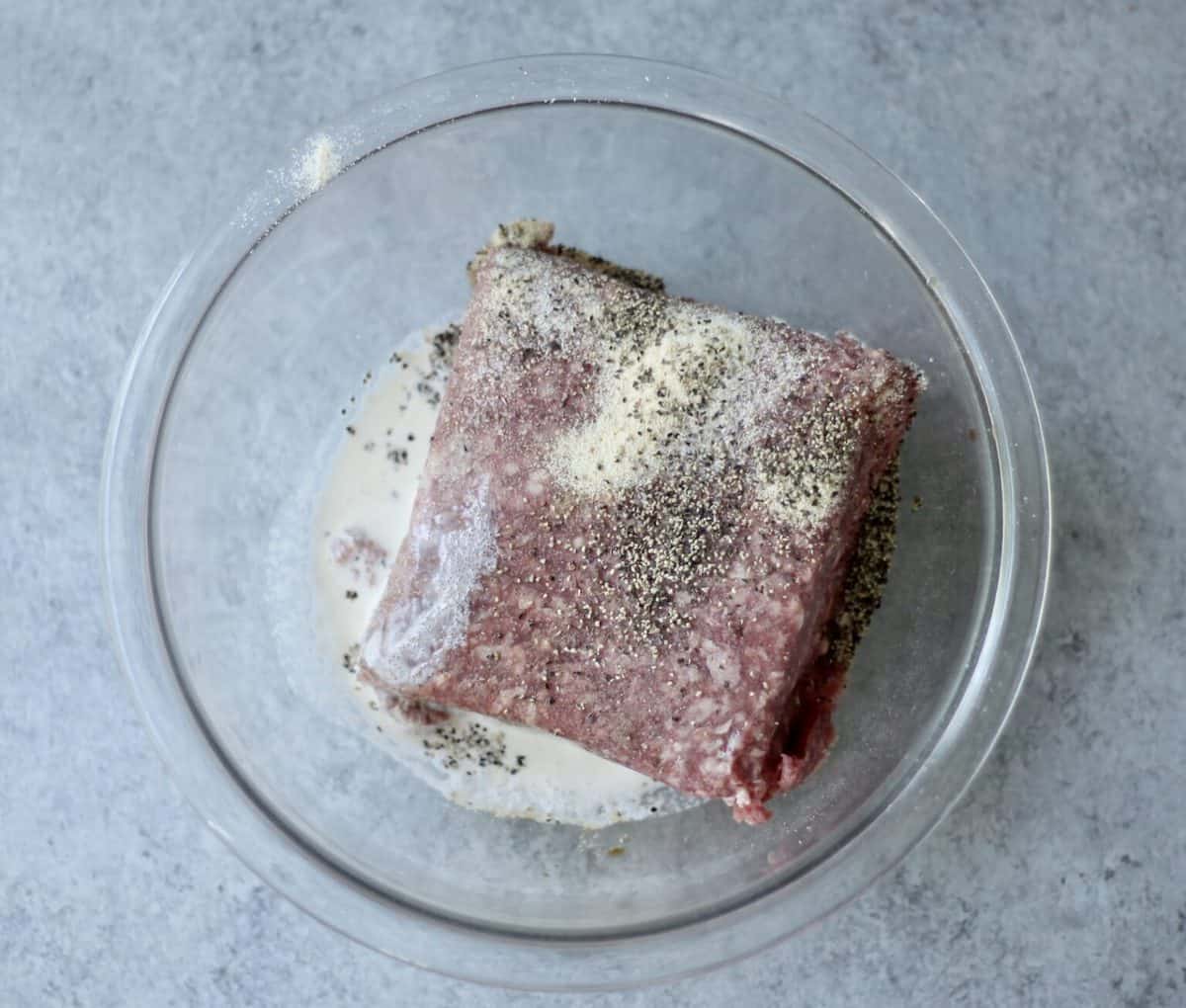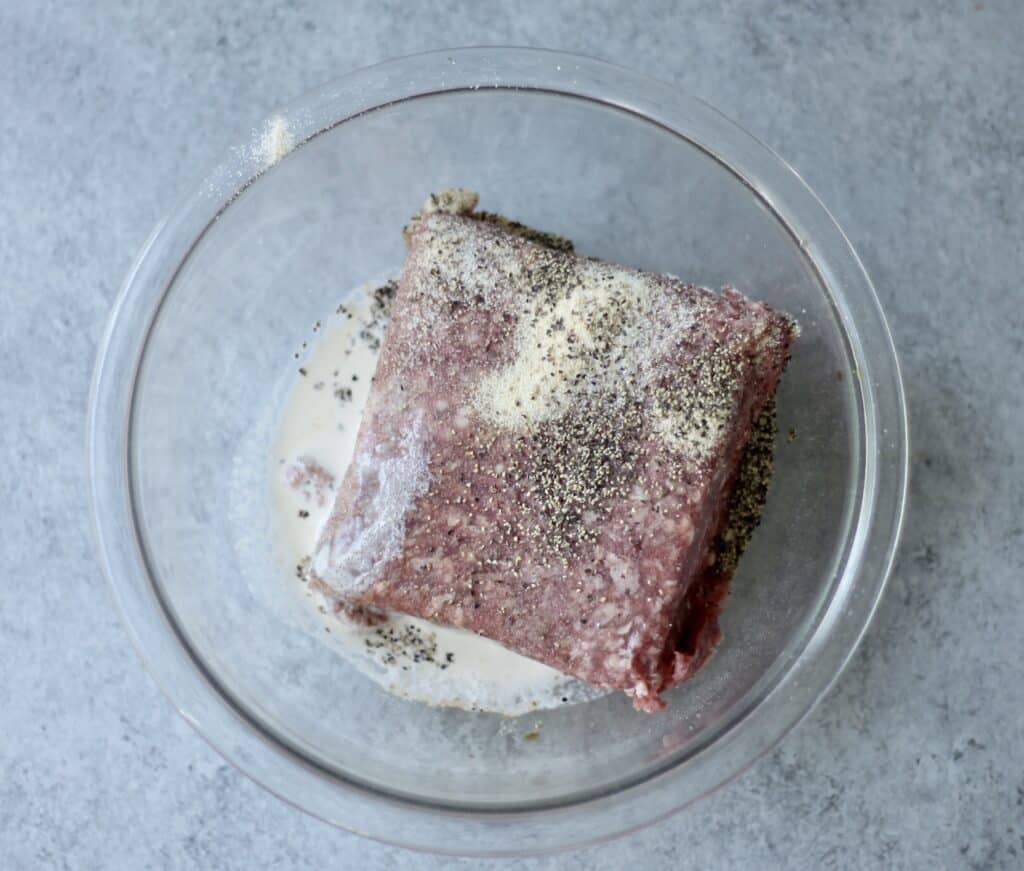 How To Cook The Best Healthy Burger Recipe At Home
Of course, you can cook burgers in a frying pan or even in the oven. But, my favorite way to get the tastiest burger recipe is on the grill. I have both an outdoor grill and indoor grill pan and I love using both for burgers!
If you don't own a grill pan, then I strongly recommend getting one. My husband bought me this Lodge pan grill pan last year and it's one of my most used kitchen tools. If you live in an area where you can't grill all year long, then this is a good investment.
Don't Overcook The Burgers
This might go without saying but you don't want to overcook your burgers because it won't matter what you add to it, you'll end up with tasteless hockey pucks.
You want to keep the burgers between medium-rare and medium. My family prefers a medium temperature for our burgers.
This is where a meat thermometer comes in handy. 😉
The internal temperature for a medium-rare burger is 145 degrees. The amount of time you'll cook the burgers to reach this temperature is about 3-4  minutes on each side.
The internal temperature for a medium burger is 160 degrees. To get to this temperature, you'll need to cook the burger 5-6 minutes on each side.
Of course, this all depends on the thickness of the burger so that's why it's good to have a thermometer. Especially, when you first start to make burgers.
Other tips when cooking:
Don't press down on the burger as it cooks. This releases all the juices and this means all the flavor. Just let the burger cook and only flip once.
Let the burgers rest for a minute before serving. This gives the juices time to settle. If you serve right off the grill, then the juices will run right out of the burger.
Choose Your Bread Wisely
The bread you choose to hold the burger is going to really make the difference between a delicious burger or not so much. Bread does add carbs and calories. You can an extra 200+ calories just with the type of hamburger roll you choose.
So here are my tips to keep the carbs and calories under control:
Go bunless. There's a restaurant near my house that serves a bunless burger and it's one of their most popular recipes. When you go bunless, then the burger is really the star of the show. You also can get creative with all the different toppings where you won't even miss the bun.
Enjoy your burger open-faced. When I need a bun of sorts, this is my go-to option. Basically, I rest the burger and all it's toppings on the bottom of a bun and enjoy. This allows me to still enjoy some bread but cut the carbs in half.
Use 100 calorie buns or flats. There are many different 100 calorie flatbread/bun options you can use for your burgers. I personally like the Whole Foods Brand and Arnold's brand.
Use a lettuce wrap. This is kind of the same as going bunless but instead using butter lettuce or a large lettuce leaf to wrap the burger in.
Put on top of a grilled portobello mushroom. This has recently become my new favorite way to enjoy burgers! Simply brush the mushrooms with olive oil, add some salt and pepper, and grill for a few minutes until tender. Then, add your cooked burger and all the fixings.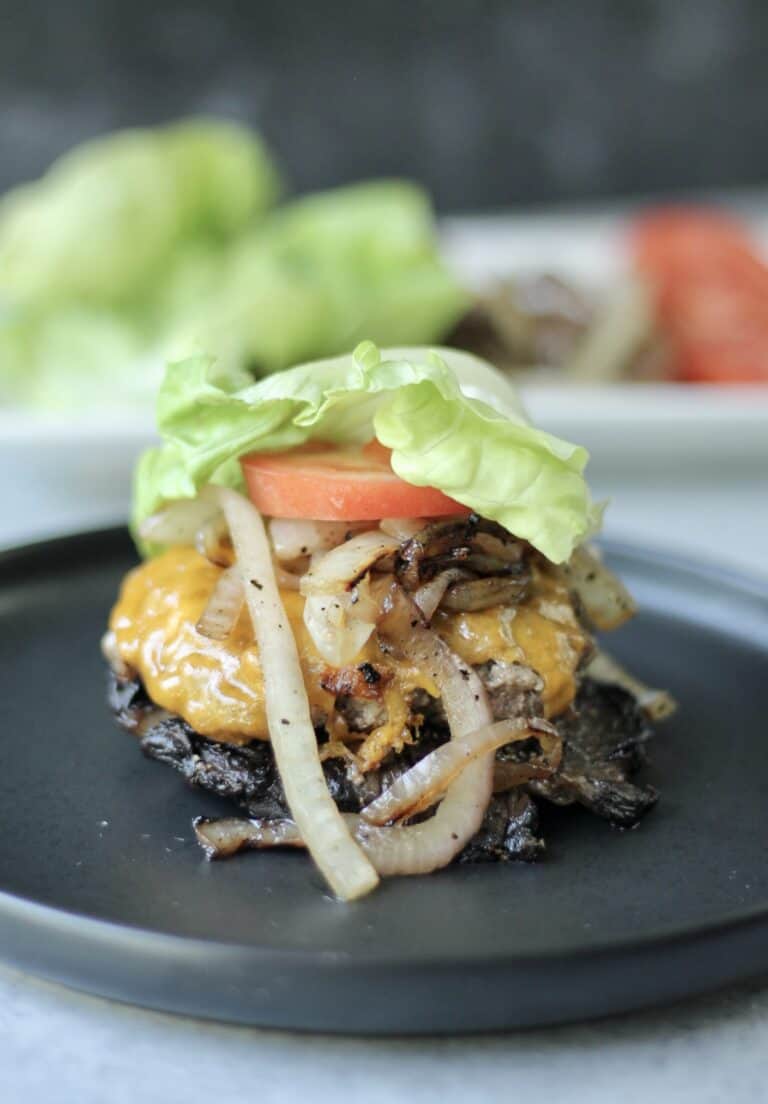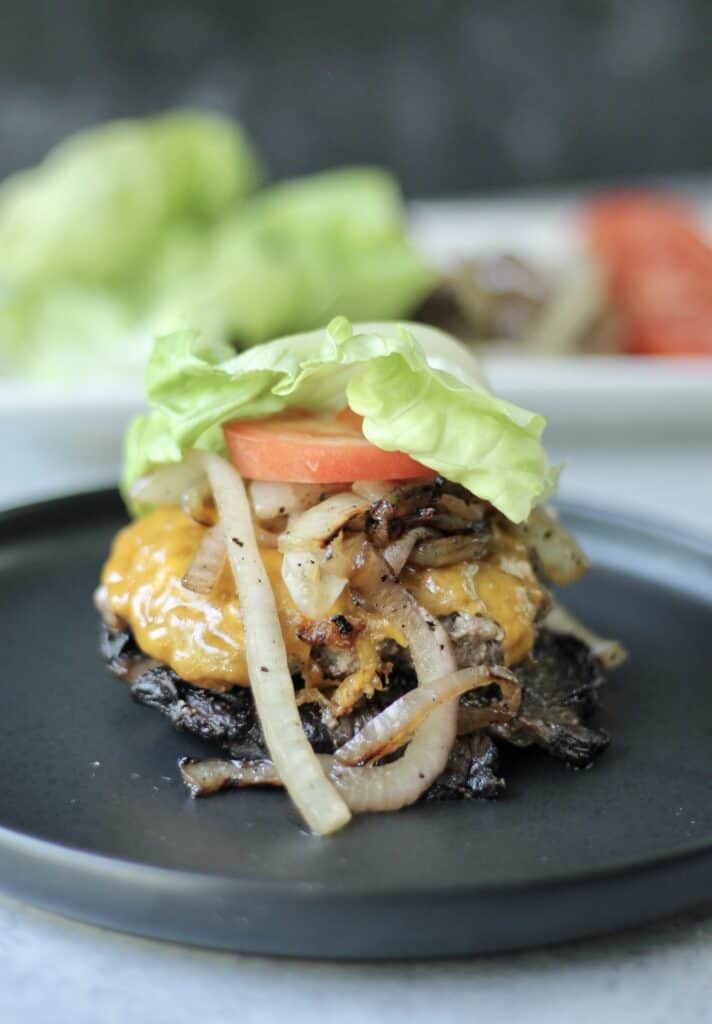 Choose Condiments Wisely
What's a burger without all the fixings? Just a lonely burger.
Just like the bread, you can easily add 100 calories or more with the different condiments you choose. Here are some of my ideas to keep calories and carbs under control while still dressing up your burger.
Use thinly sliced cheese. If you want to prepare a cheeseburger then reach for the packages of thinly sliced cheese found in most grocery stores. Typically you can find all sorts of cheeses! Each slice of cheese is only 40 calories so this a great way to get your cheese fix without the extra calories and fat.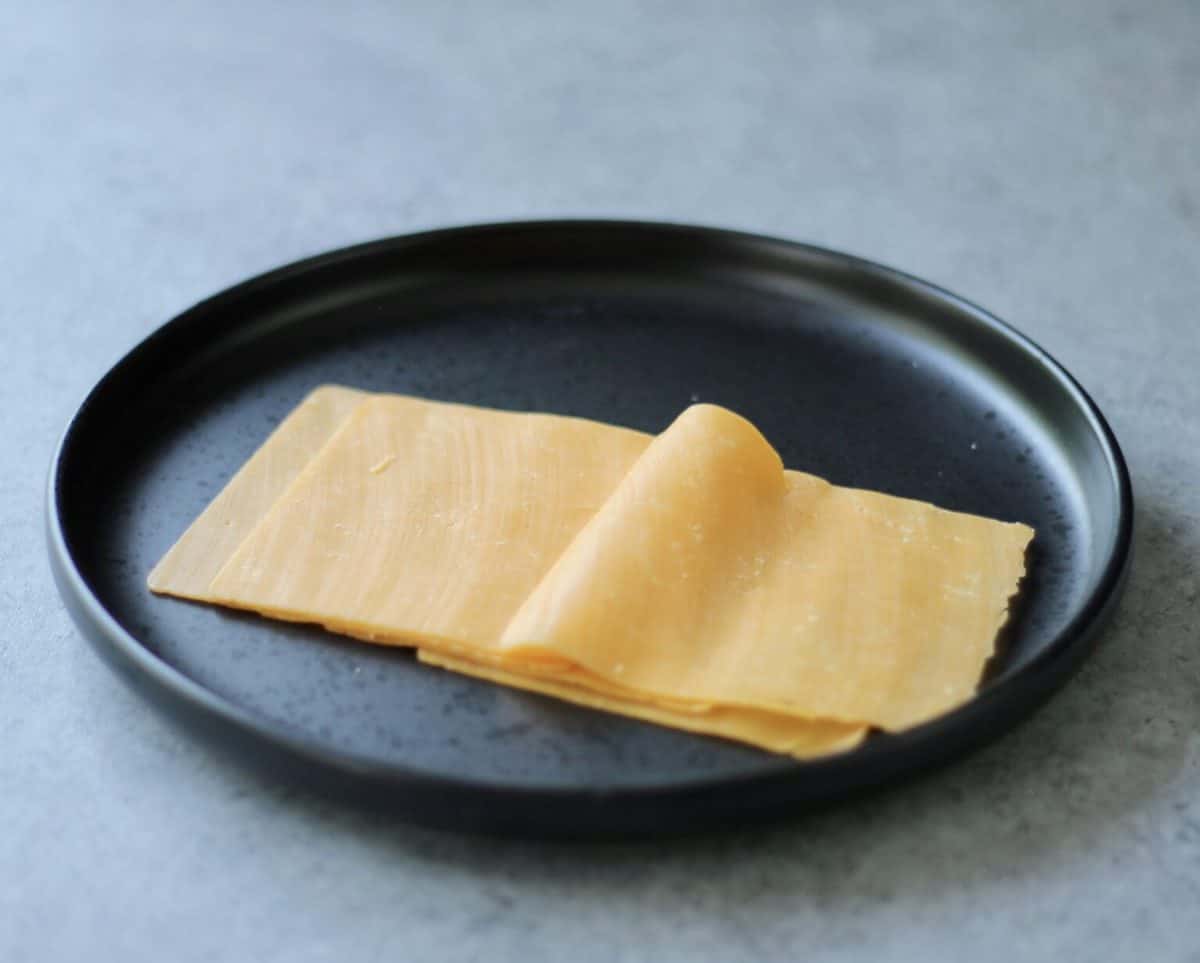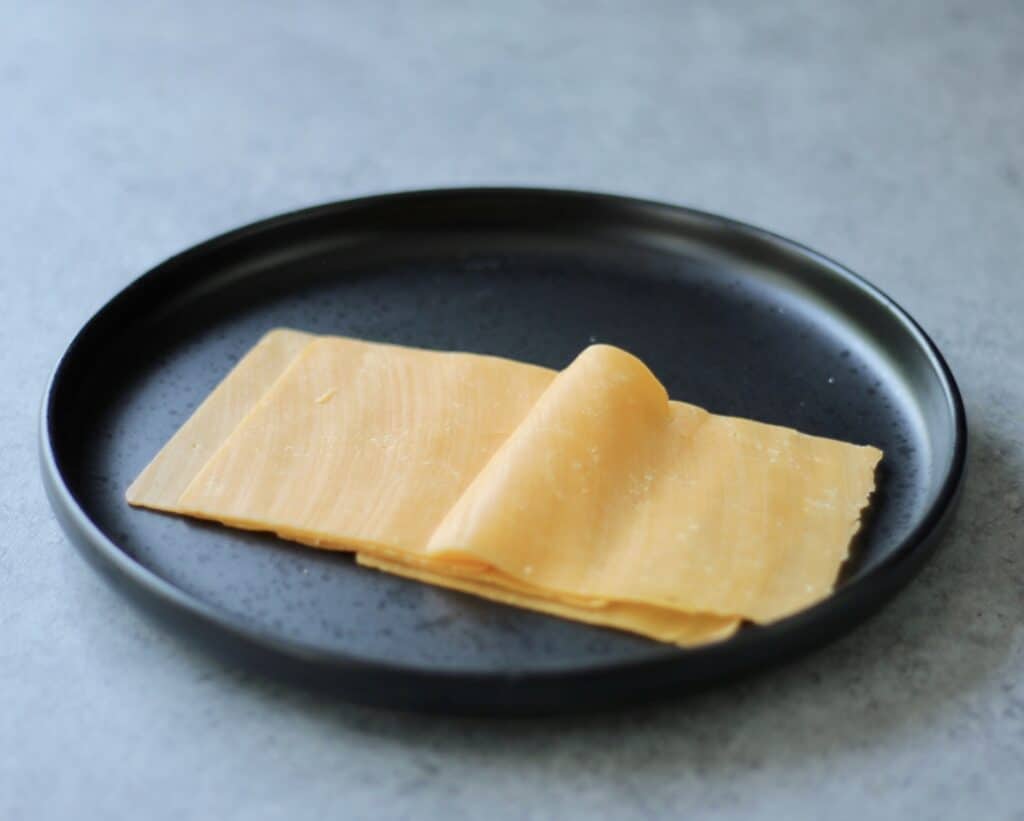 Measure out the mayo. Whether you use light mayo or the regular stuff, make sure to grab a tablespoon and measure it out. 1 tablespoon of mayonnaise is just about 100 calories which can turn into a lot of added calories if you just slather it on without paying attention.
Turn to less fatty spreads. Mustard is basically zero calories and no fat so this can be used quite liberally. Ketchup is low in calories but can be high in sugar and carbs so make sure to read the label. You can also use spreads like hummus or tzatziki if you want a greek flair.
Load up on the veggies. Vegetables are a great way to add a lot of bulk without a lot of added fat and calories. And, think beyond lettuce and tomatoes. You can add spinach, hot peppers, bell peppers, all kinds of onions, avocado, and basically any veggie you want. I like to grill up a whole bunch of veggies before adding them to my burger.
Make Your Burgers Ahead Of Time
This hamburger recipe can be made ahead of time in a couple of different ways.
If you know you're going to eat the burgers within a few days, you can make the patties and keep them in the refrigerator. It's helpful to put parchment in between the burgers to keep them from sticking together.
You can also make the patties in bulk ahead of time and freeze. You can see my full instructions on how to freeze hamburger patties in this post.
Using all of these tips I know you can craft the perfect healthy burger!
The Most Delicious Healthy Burger Recipe
Are you ready? I am! Here's my super easy burger recipe and all the ingredients you will need to make it: 
Ground beef (85/15)

Worcestershire sauce

Garlic powder

Onion powder

Salt

Pepper

Milk or cream
Trust me, people will go crazy over these burgers.
How To Make The Best Homemade Burgers
Put all the ingredients into a medium bowl and mix together. Divide the meat into 4 sections and then form them into patties.
Turn the grill onto medium-high heat and let it warm up for about 5-7 minutes. Place the patties on the grill and cook for 3-4 minutes on each side for a medium-rare burger patty or 5-6 minutes on each side for medium. 
Remove from grill and let the burgers rest for about a minute.
Put together your perfect burger with your choice of sauces and condiments! 
The Perfect Sides To Serve With Burgers
What's a burger without a delicious side dish? I LOVE to eat these chili-spiced roasted sweet potatoes with my hamburger and it's the perfect meal.
Here are some other side dishes I highly recommend serving:
Roasted Balsamic Vegetables
Try this healthy burger recipe the next time you decide to fire up the grill and make homemade hamburgers. Share a picture and tag me on Instagram or Facebook if you decide to make this!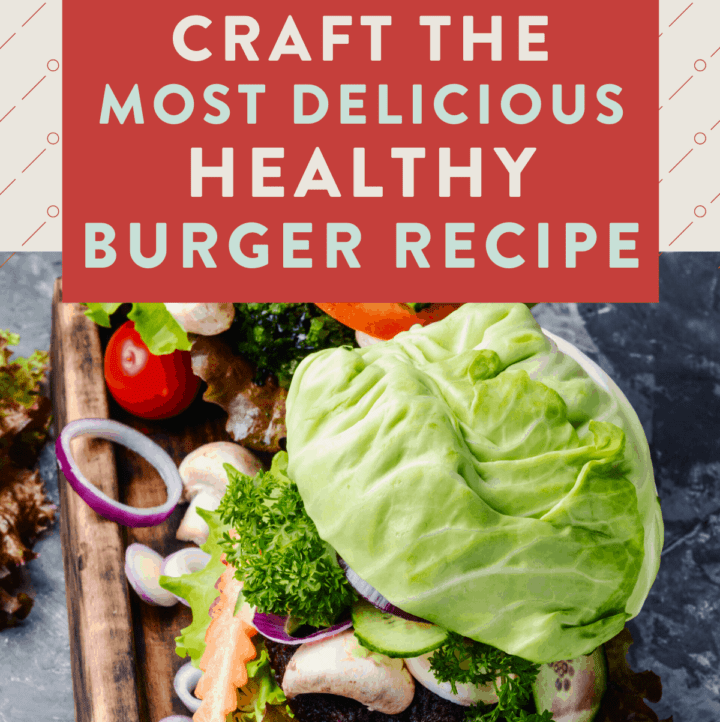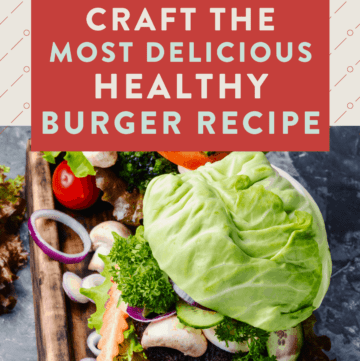 How to Craft The Most Delicious Healthy Burger Recipe
This is my secret recipe for creating the best burger recipe, minus all the fat and calories! You'll never guess what the seasoning is made of.
Print
Pin
Rate
Ingredients
1

lb

85/15 ground beef

2

teaspoons

Worcestershire sauce

1

teaspoon

garlic powder

1

teaspoon

onion powder

½

teaspoon

salt

½

teaspoon

pepper

2

tablespoons

milk
Instructions
Put all the ingredients into a medium bowl and mix together. Divide into 4 sections and then form into patties.

Turn the grill onto medium-high and let it warm up for about 5-7 minutes. Place the patties on the grill and cook for 3-4 minutes on each side for medium-rare or 5-6 minutes on each side for medium.

Remove from grill and let the burgers rest for about a minute.

Put together your perfect burger with toppings of your choice.
Nutrition
Serving:
1
g
|
Calories:
267
kcal
|
Carbohydrates:
2
g
|
Protein:
22
g
|
Fat:
19
g
|
Trans Fat:
8
g
|
Sugar:
1
g