Can you freeze stuffed peppers? Yes, you can! This tutorial will share the different methods and answer all your questions for freezing stuffed peppers to make it easier to have a clean eating healthy dinner at a moment's notice.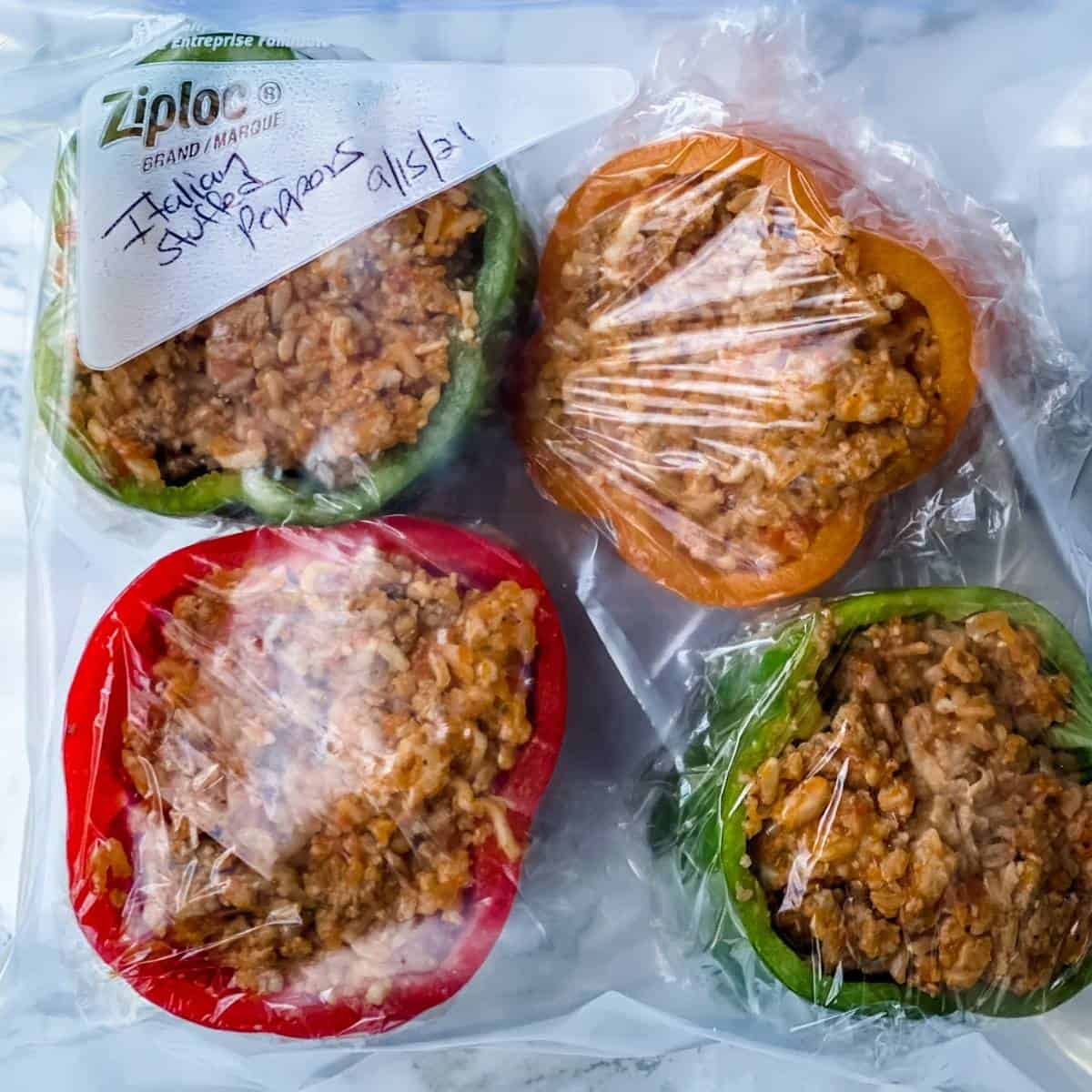 Stuffed peppers are one of my favorite clean eating recipes to make ahead of time. They are easy to prepare, portion-controlled, and filling. So, if you're looking to stock your freezer with healthy dinner recipes, then look no further than stuffed peppers.
More reasons to love freezing stuffed peppers ahead of time.
You can freeze stuffed peppers raw or cooked. Whether you're planning for future dinners or have leftovers, both can go into the freezer.
They hold their delicious flavors and texture after being frozen and reheated. I've frozen all kinds of stuffed pepper recipes with success!
Make-ahead gluten-free options. If you have a gluten sensitivity or allergy, you know how helpful it is to have lunch or dinners prepared and ready to cook or eat. You can also make stuffed peppers dairy-free, Paleo, or Keto-friendly by swapping ingredients.
How to Freeze Stuffed Peppers?
There are three different methods I use to freeze stuffed peppers ahead of time.
Method 1: Assemble the recipe and freeze.
This freezer method works great when you want to make a large batch and stock up on ready-to-cook stuffed peppers. Often, I'll make 2-3 different recipes when I'm stocking up.
There are two different ways to use this method.
Assemble the stuffed pepper recipe into a casserole dish, cover tightly with aluminum foil, and freeze. You can use a disposable dish or a ceramic dish. This technique works well when you're planning an entire dish to feed a large family or crowd.
Of course, you can also freeze into smaller dishes if you don't need six to eight stuffed peppers at a time. This is helpful if you're single or have a smaller family.
Since this method uses a baking dish, it does require more freezer space. So, if you don't have a lot of freezer space, these other methods might work better.
Method 2: Assemble the recipe and freeze the stuffed peppers individually.
This storage method is my favorite for freezing stuffed peppers because I only need to cook the number of peppers I want. So, if it's just me, then I only need to cook one.
Prepare and stuff the pepper with the filling. If the recipe requires sauce or broth in the pan or shredded cheese on top of the peppers, I will add both ingredients the day I plan to cook it.
Wrap each stuffed pepper in a double layer of plastic wrap and then place the peppers into a large ziploc freezer bag. Of course, don't forget to label the freezer bag.
This method is a great way to have fully assembled stuffed peppers ready to cook without taking up a lot of space in the freezer.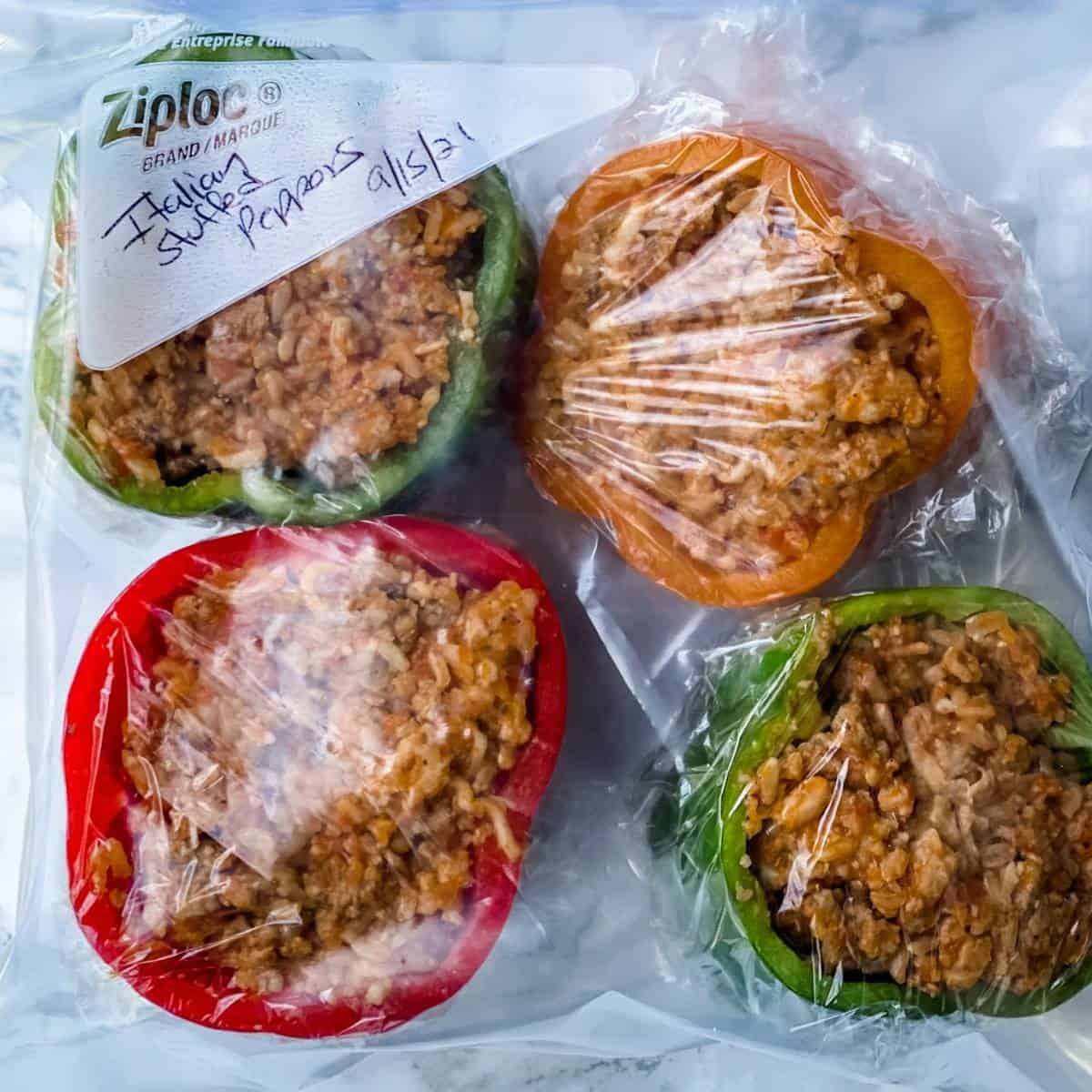 Method 3: Freeze the stuffed pepper filling.
If you have limited freezer space, then the following method will be an excellent option for you. 
Prepare the filling for the stuffed peppers.
Let the filling cool, and then place it into an airtight container or large freezer bag. If you're using a freezer bag, flatten it out to take up less space in the freezer.
On cooking day, you need to make sure to purchase the bell peppers and any other ingredients. You also have to take time to assemble the rest of the recipe.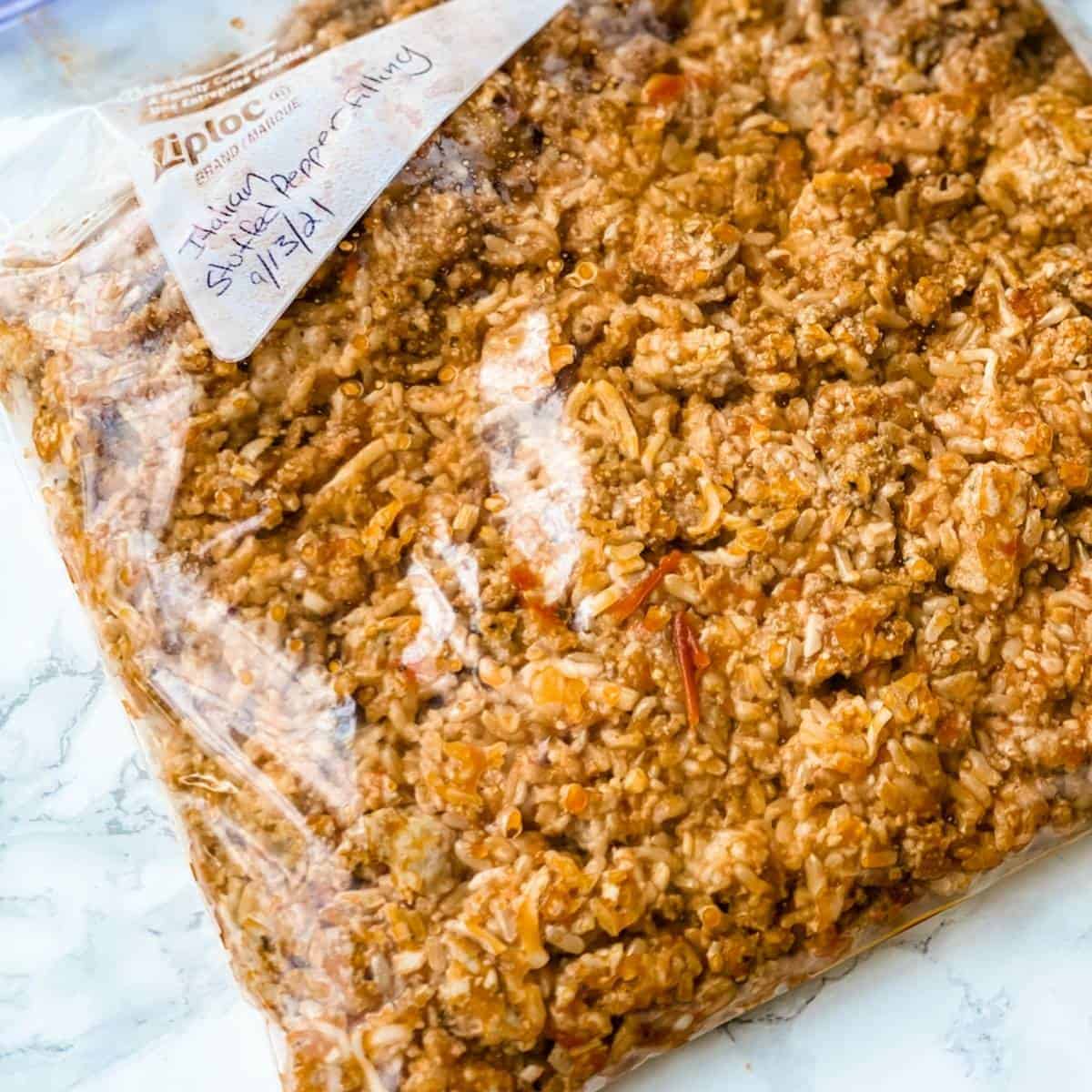 Method 4: Cook the stuffed peppers entirely before freezing.
I use this freezing method if I want to stock up on healthy dinners that I can heat and eat.
Cook the stuffed pepper recipe completely.
Let the peppers cool.
Place into airtight containers and freeze.
I like to freeze 2-4 stuffed peppers into smaller containers rather than freeze the entire recipe into one big container, making it easier to have smaller servings ready to eat for lunch or dinner.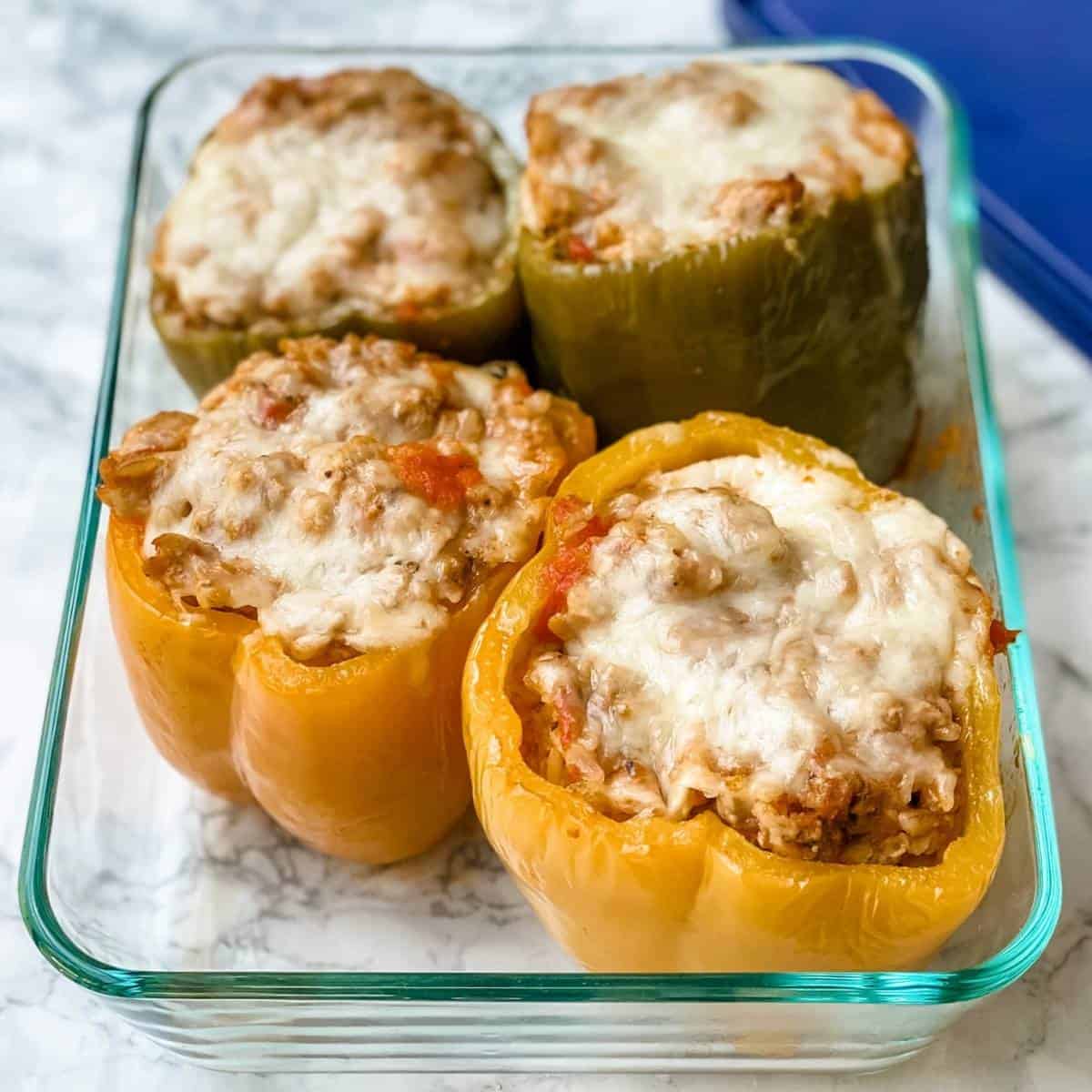 How to reheat frozen stuffed peppers?
You can cook frozen peppers straight from the freezer. Follow the instructions and add another 20-25 minutes to the cooking time. Going from freezing to a hot oven can cause the dish to crack, so If you freeze the peppers in a casserole dish, set the baking dish out for about 15-20 minutes at room temperature before cooking. 
For wrapped peppers, remove them from the plastic wrap and line them up in a baking dish. If the recipe calls for sauce or broth, then pour that into the bottom of the dish first. Cover with foil and bake for an extra 20-25 minutes. If you're using cheese, uncover the peppers in the last ten minutes of cooking, add the cheese, cover back with foil and continue cooking until the cheese melts and the peppers cook all the way through.
To reheat the frozen stuffed pepper filling, take the bag out of the freezer and let it thaw overnight in the fridge. Then place the filling into a microwave-safe bowl and heat on high for 3-4 minutes or until the filling is no longer frozen and is warm to the touch. You don't need the filling hot. Scoop the filling into the stuffed peppers and continue with the recipe.
You can reheat frozen cooked stuffed peppers in the microwave or oven. In the microwave, Place the pepper in a microwave dish or plate and reheat from 3-4 minutes or until hot. In a 350 degree oven, place the stuffed pepper into a baking dish and cook for 20-30 minutes or until hot.
Stuffed peppers can also be reheated and cooked using a slow cooker. See the individual recipes for instructions.
Other freezer and reheating tips
If the stuffed pepper filling requires cooking it prior to filling the peppers, then make sure to cool it before freezing. This step will prevent freezer burn or ice crystals.
Use flat bottom bell peppers. Flat bottoms will keep the peppers upright and from tipping over in the casserole dish.
Drain liquid from the stuffed peppers. This tip is more relevant when you freeze cooked stuffed peppers. You might notice that after reheating, the peppers could release extra liquid. Don't worry; this does not affect the taste. Simply drain the liquid and enjoy. 
FAQs
Do I need to par-cook bell peppers before stuffing them?
No, you do not need to cook the bell peppers before stuffing and freezing them. I've made numerous stuffed pepper recipes, and each one results in a tender, delicious pepper.
How long will stuffed peppers last in the freezer?
Stuffed peppers will last up to 3 months in the freezer. Honestly, I've enjoyed stuffed peppers that frozen for much longer, but a good rule of thumb is to enjoy them within three months.
My Favorite Stuffed Pepper Recipes
Italian Stuffed Peppers
Italian Stuffed Peppers filled with lean ground turkey, Italian Poultry sausage, brown rice, and flavored with everything you love about Italian cooking! They can be prepped ahead of time for easy meals during the week, or you can make a batch to have stocked in the freezer for tasty, healthy dinners. 
Check out this recipe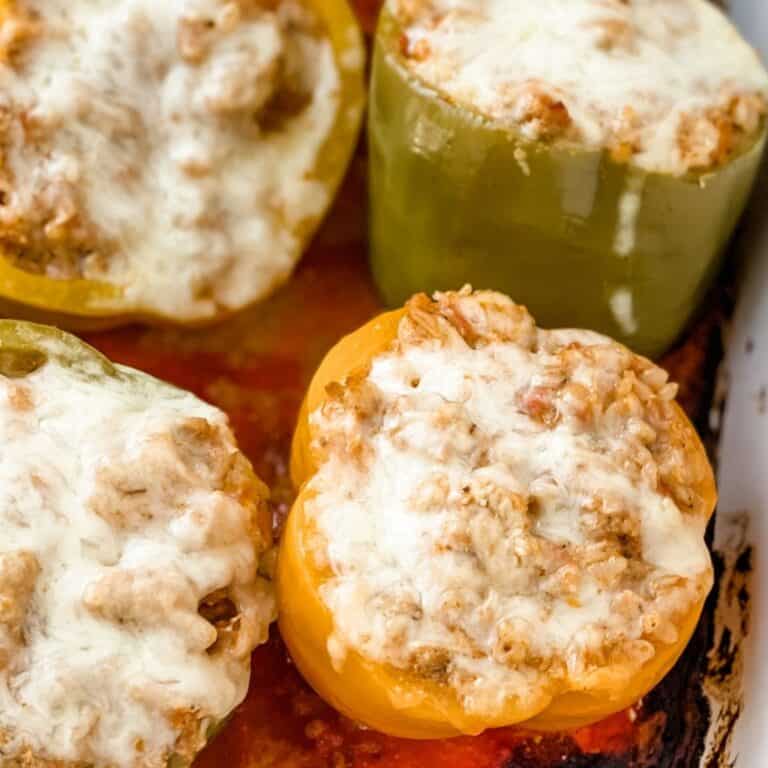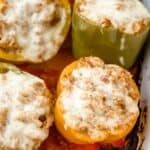 Cheeseburger Stuffed Peppers
Cheeseburger Stuffed Peppers made with ground beef, cheddar cheese, brown rice, and seasonings is a delicious heathy twist on juicy cheeseburgers. This tasty ground beef recipe comes together into a perfect portion-controlled dinner that is gluten-free and can easily fit into your weekly meal plan!
Check out this recipe
Taco Stuffed Peppers
Taco Stuffed Peppers is a healthy Mexican-inspired recipe that's easy to make, and the whole family will love it! Seasoned ground turkey, black beans, salsa, and brown rice stuffed into a bell pepper for a perfectly portioned-out healthy dinner recipe. Make this Mexican stuffed pepper recipe on Sunday for the week, or freeze ahead for future meals.
Check out this recipe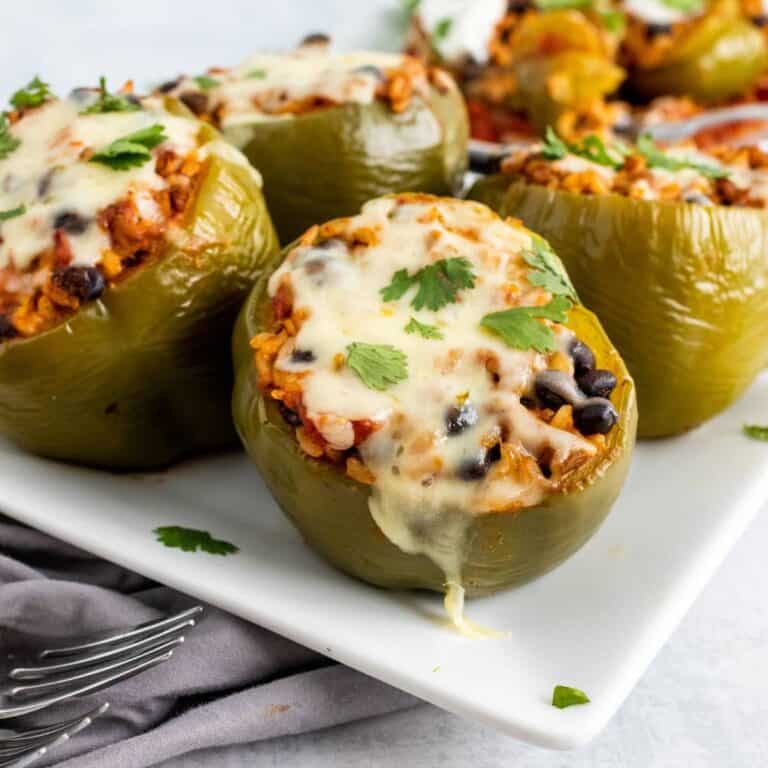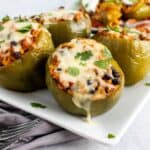 Crockpot Stuffed Peppers
These stuffed bell peppers are the perfect thing to put together for a healthy dinner. Simply prep the ingredients and let your crockpot do all the work!
Check out this recipe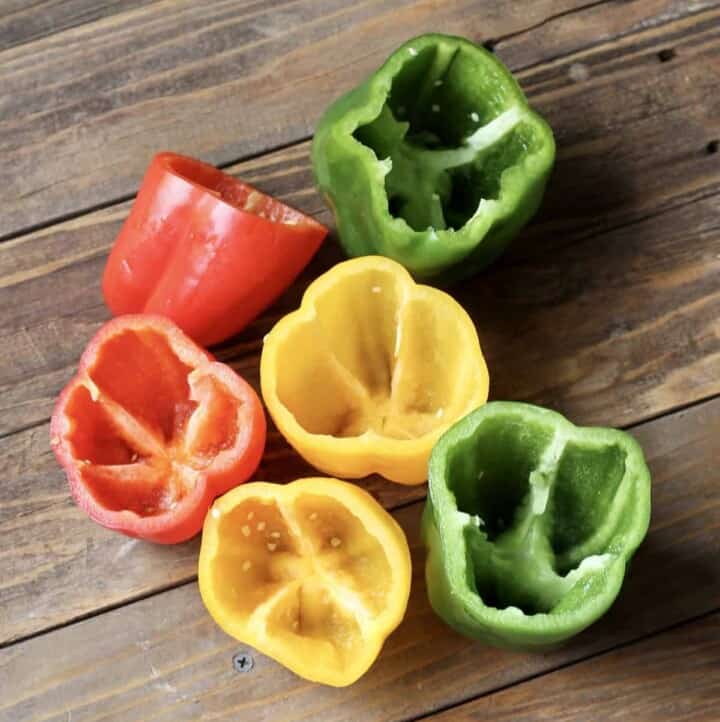 I hope this guide helps you learn how to freeze stuffed peppers. If you decide to make and freeze one of my favorite stuffed pepper recipes, let me know on Instagram and tag it #organizeyourselfskinny.