Mexican stuffed peppers are filled with lean turkey, mexican seasonings, black beans, and pepper jack cheese. Everything you love about tacos stuffed into a bell pepper!

This is my first time ever making stuffed peppers. Instead of trying a classic stuffed pepper recipe I decided to spice it up with Mexican stuffed peppers. Basically, I just took a mixture of taco meat, beans, salsa, greek yogurt, cheese and shoved it into a bell pepper. Then I poured some enchilada sauce over the peppers and baked. Mexican stuffed peppers, yo!
These Mexican stuffed peppers were delicious, easy to prepare, and my kids loved them! I have to say I was a little skeptical at first. Probably because as my youngest was watching me stuff the peppers she says "Mommy those look disgusting you're not going to make us eat that, are you?" I say "Yes you are going to try them" in which she goes running out of the kitchen crying. I tried to get it on video but she ran to fast and I couldn't get the camera on my phone to work fast enough. It was hilarious! Seriously, my kids act like I am trying to feed them toad boogers and lizard tongues. This is not Chopped.
As the Mexican stuffed peppers cooked she found her way back into the kitchen and says "Mmmm mommy that smells good, okay I will try a little". Well I am happy to say not only did both of my girls try it but they loved it. Mommy wins again.
I had no idea that stuffed peppers were so incredibly easy to prepare and versatile. I mean you can literally fill them with any kind of grain and meat filling and I am sure it would turn out great. My mind is already going at full speed thinking of all the different combinations I can come up with. I see a risotto and fresh mozzarella stuffed pepper recipe in my future.
What I really love about these Mexican stuffed peppers is they are portion control and a great way to eat your veggies. I mean I cannot think of a better way to increase vegetables than to use a pepper as an edible bowl – genius!
This Mexican Stuffed Peppers recipe makes 8 good size stuffed peppers. The filling for these peppers can be made ahead of time and frozen. Depending on the size of your family I recommend freezing into 2 portions (4 stuffed peppers) that way you have enough for 2 different dinners. Thaw completely before stuffing the peppers then continue with recipe. You will have to add another 20 -25 minutes of cooking time if the filling is cold.
Some people freeze the peppers already stuffed. I ask my readers about this and got mixed reviews. A lot of people said the peppers turned out mushy and some said they were fine. Personally, I do not like the peppers stuffed and frozen ahead of time – I found them to be watery and mushy. Since the filling can be made ahead of time and frozen I think this can still be considered a make ahead meal. You can stuff fresh peppers the night you want to make them and don't need to worry about mushy peppers. Making the filling is the most time consuming and messiest part of the recipe anyway.
Since I published this post I've made a couple more delicious stuffed pepper recipes. Check them out:
Stuffed Peppers: Cheeseburger-style
Stuffed Peppers with Quinoa and Sausage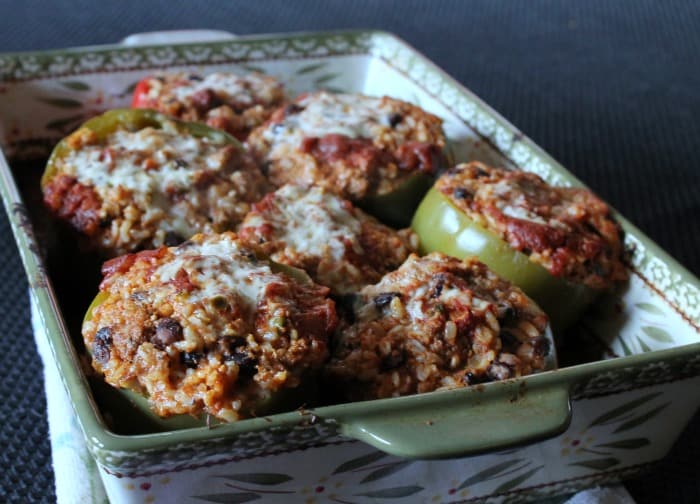 Ingredients
Cooking spray

1

pound

ground turkey

1

can black beans

drained

1

packet taco seasoning

1/2

cup

water

2

cups

pepper jack cheese

1/2

cup

salsa

2

cups

cooked brown rice

1

cup

tomato sauce

1/2

cup

greek yogurt

8

green bell peppers

tops cut off and seeds removed

2

cups

enchilada sauce
Instructions
Preheat oven to 400 degrees.

In a large pan, over medium heat, cook ground turkey until it is cook through and no longer pink. Stir in black beans, taco seasoning, and water. Cook for 5 minutes or until bubbly and mixture has slightly thickened.

Remove from heat. Add 1 cup cheese, salsa, rice, tomato sauce, and greek yogurt. Stir until well combined.

Stuff peppers with mixture. Pour bottom of a 9 x 13 with 1 cup of the enchilada sauce. Arrange stuffed peppers side by side in pan and drizzle with the rest of the enchilada sauce. Sprinkle evenly with the rest of the cheese.

Cover tightly with foil and bake, at 400 degrees, for 40 -50 minutes or until inside is hot and peppers are cooked. Serve hot.

The filling for these peppers can be made ahead of time and frozen. Thaw completely before stuffing peppers then continue with recipe. You will have to add another 20 -25 minutes of cooking time if the filling is cold.
Notes
Make Ahead Instructions
The filling can be made completely and frozen ahead of time. Thaw and stuff peppers the night your will eat them. Add 20 - 25 minutes onto the cooking time if filling is cold.
Nutrition
Serving:
1
g
|
Calories:
380
kcal
|
Carbohydrates:
41
g
|
Protein:
23
g
|
Fat:
16
g
|
Fiber:
9
g
|
Sugar:
10
g