A taco bar is an easy and fun dinner idea for feeding your family or to serve a party crowd. It's customizable, uncomplicated, and everyone loves tacos!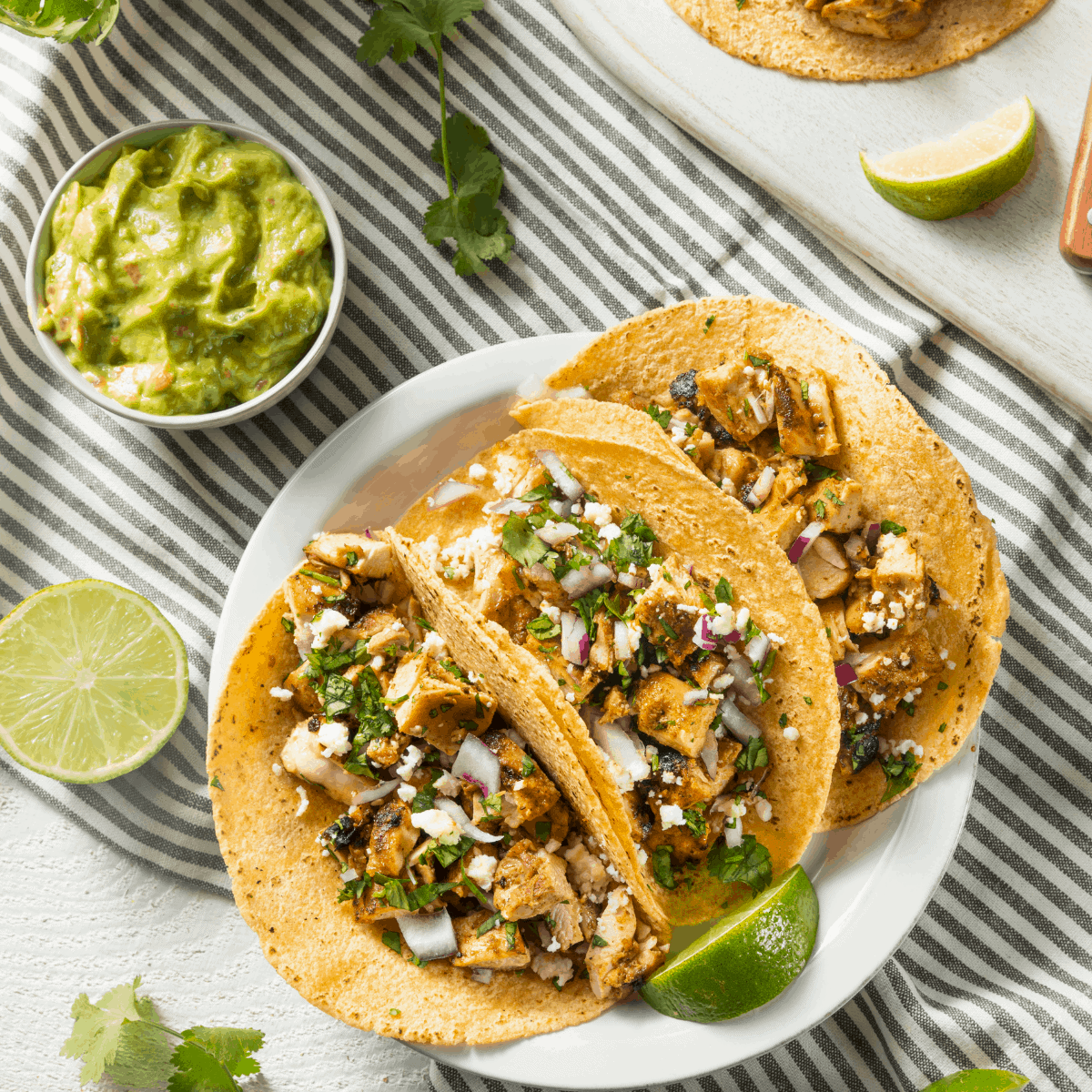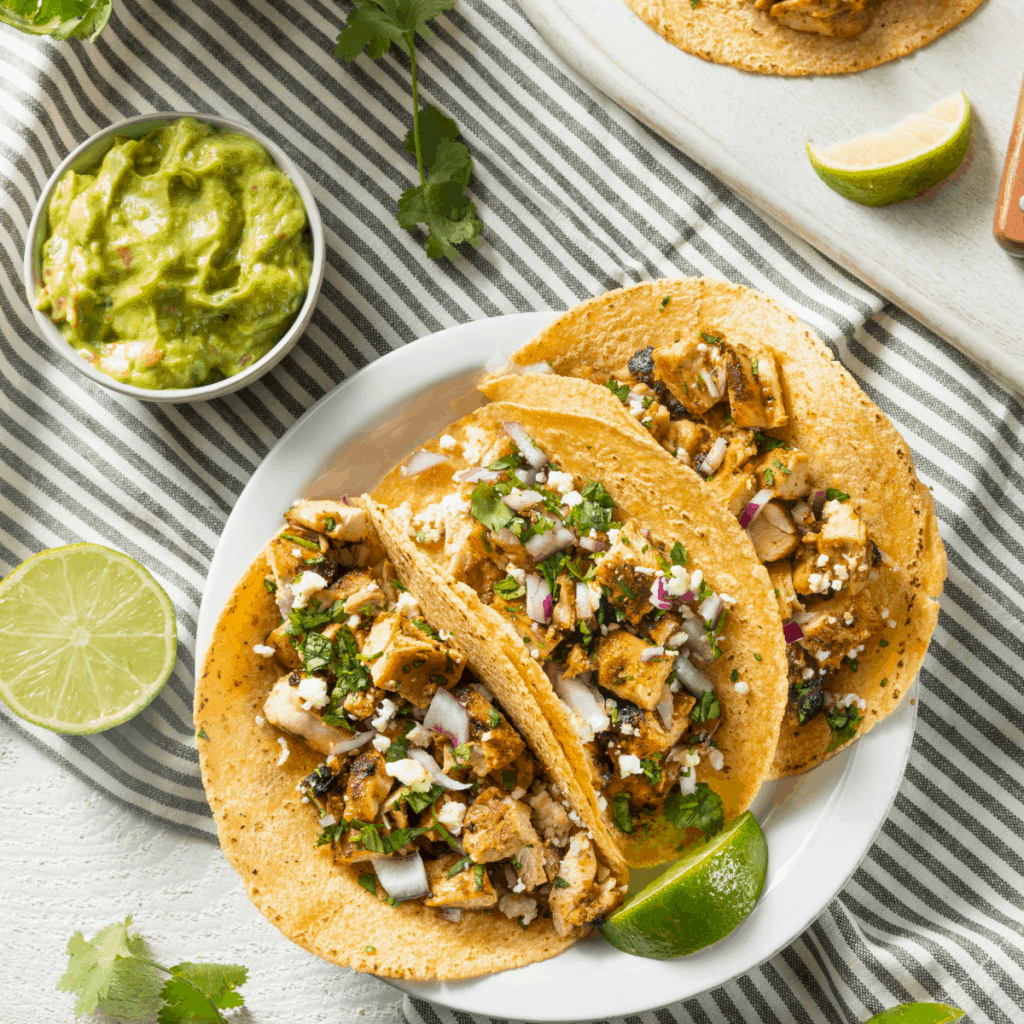 This post contains affiliate links. I am an affiliate for Amazon Associates, and other brands, and earn a small commission on qualifying purchases. You're by no means obligated to use my links but, if you do, thank you for supporting Organize Yourself Skinny.
In the past, my old standby when feeding a crowd was take-out pizza. It's easy, and nobody complains.
But, we host a lot of gatherings and can only eat so much pizza. So, about a year ago, I got the idea to get creative and put together a buffet with taco meat, slow cooker salsa chicken, shredded Mexican beef, condiments, and spicy side dishes. It was a hit! 
Now, whether our kids are having friends over, or our family is coming over for a birthday dinner, or we are hosting a big football party, one of my favorite ways to feed a crowd is with a taco bar. 
Reasons You'll Love a DIY Taco Bar
It's super easy to coordinate and prepare. The hardest part (which isn't even that difficult) is cooking the taco filling. After that, just set up the ingredients buffet style and let your guests craft their perfect plate.
Affordable. Taco ingredients are easy on the wallet.
Healthy options. Whether it's swapping out ground turkey for beef or greek yogurt in place of the sour cream, you can make many substitutions to satisfy health-conscious guests.
Can be made ahead of time. You can prepare any taco filling 1-2 days ahead of time. Or use your crockpot for cooking the meat while you take care of other things.
Leftovers don't go to waste. Whether you use ground beef, turkey, chicken, or shredded beef, don't worry about leftovers because it all freezes excellently. I'll give more meal prep tips below.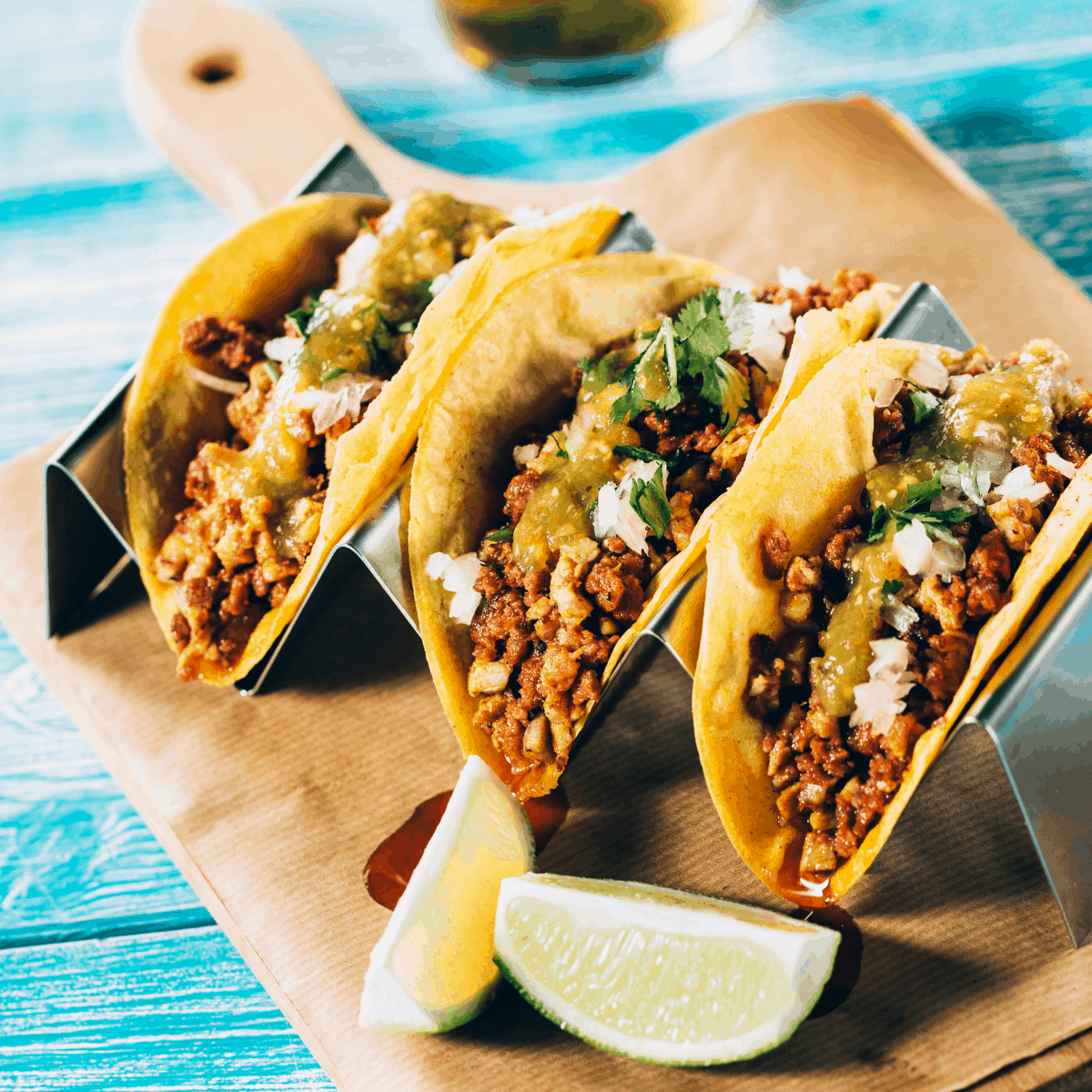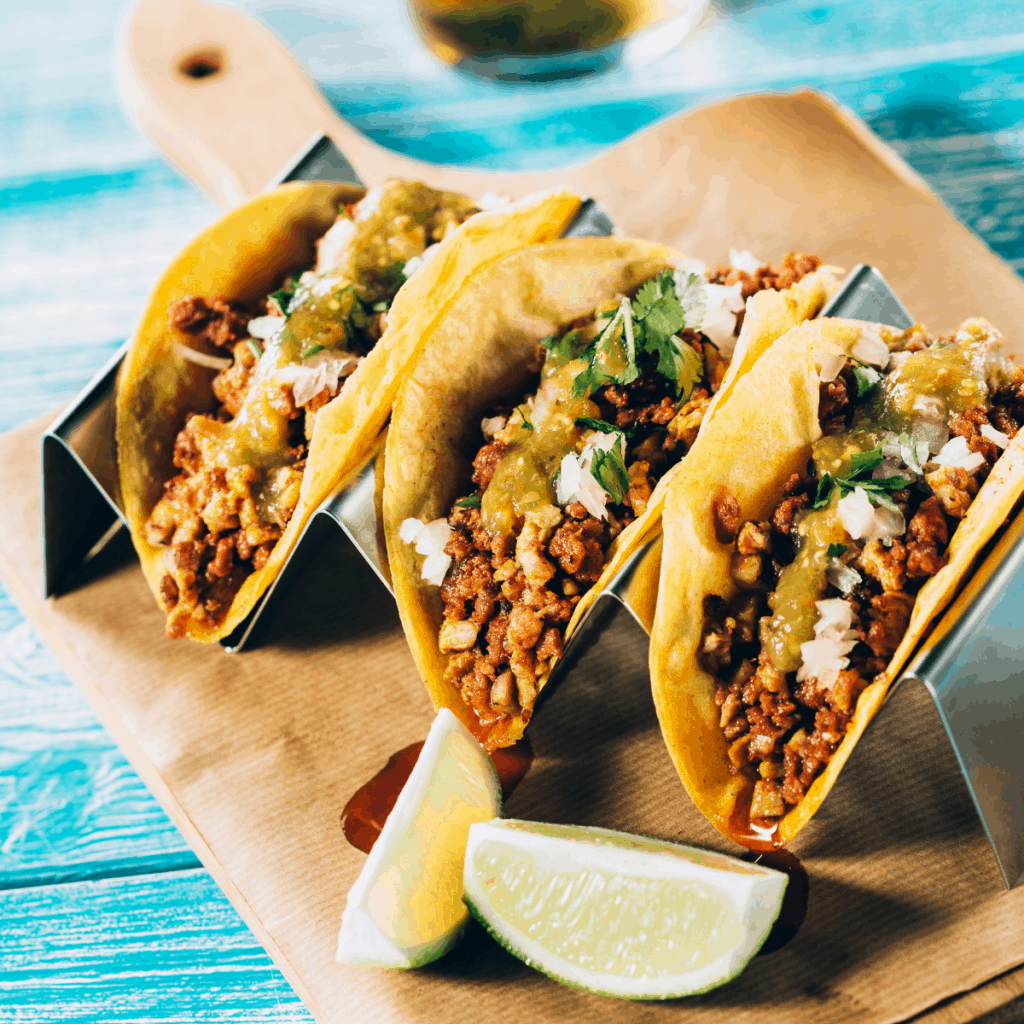 Ingredients
The taco bar ingredients you'll need depends on the number of people and the type of dinner. 
For example, setting up a taco buffet to feed four teenage girls will look different from going all out for a Cinco De Mayo Party. I'll give some taco bar ideas, and then you can adjust them to fit the gathering.
Start with the fillings.
When I'm cooking for a small group of people, I'll make one meat filling; I'll choose 2-3 taco meat recipes for a party. Of course, keep in mind any vegan or vegetarian guest.
Whether you make taco meat on the stove or in the slow cooker, I recommend using this homemade Whole30 taco seasoning. 
Taco meat filling ideas:
To get the best tasting recipes, you need to start with the highest quality ingredients. My favorite resource for organic grass-fed beef, organic chicken, and heritage breed pork is Butcher Box. If you want to learn more about this online meat delivery company, read my Butcher Box Review.
For vegetarian or vegan options, I like to use:
Ground meat substitutes
Quinoa and beans seasoned with homemade taco seasoning. 
Seasoned black beans or pinto beans
Grilled or roasted vegetables
Have a variety of shells
Depending on the size of the crowd, I like to have between 1-3 shell options.
You can choose between:
Hard shells – yellow corn and blue corn are a favorite.
Soft tortilla shells – white flour tortillas are a popular choice, or choose from various low-carb options.
Lettuce wraps – Romaine or butter lettuce leaves are perfect for keto, paleo, and other low-carb eating styles.
Rice bowl – If guests prefer eating with a fork, then serve rice to create taco bowl recipes.
Have your condiments ready
This is the fun part! If you want to see, adults act like children in art class, put them in front of a taco bar and various condiments. People love putting together their creations!
Here are some condiment ideas:
The basics – Is it a taco without sour cream, salsa, lettuce, and shredded cheese? No, so make sure to have all those ingredients.
You can switch it up with different salsa flavors or use different shredded cheese varieties (Mexican blend, Monterey jack, pepper jack, or cheddar).
Other must-have extras:
Guacamole or avocado slices
Pico de gallo
Hot sauce
Pickled jalapeno's (this is my favorite)
Hot sauce
Refried beans
Chopped cilantro
Chopped tomato
Chopped onion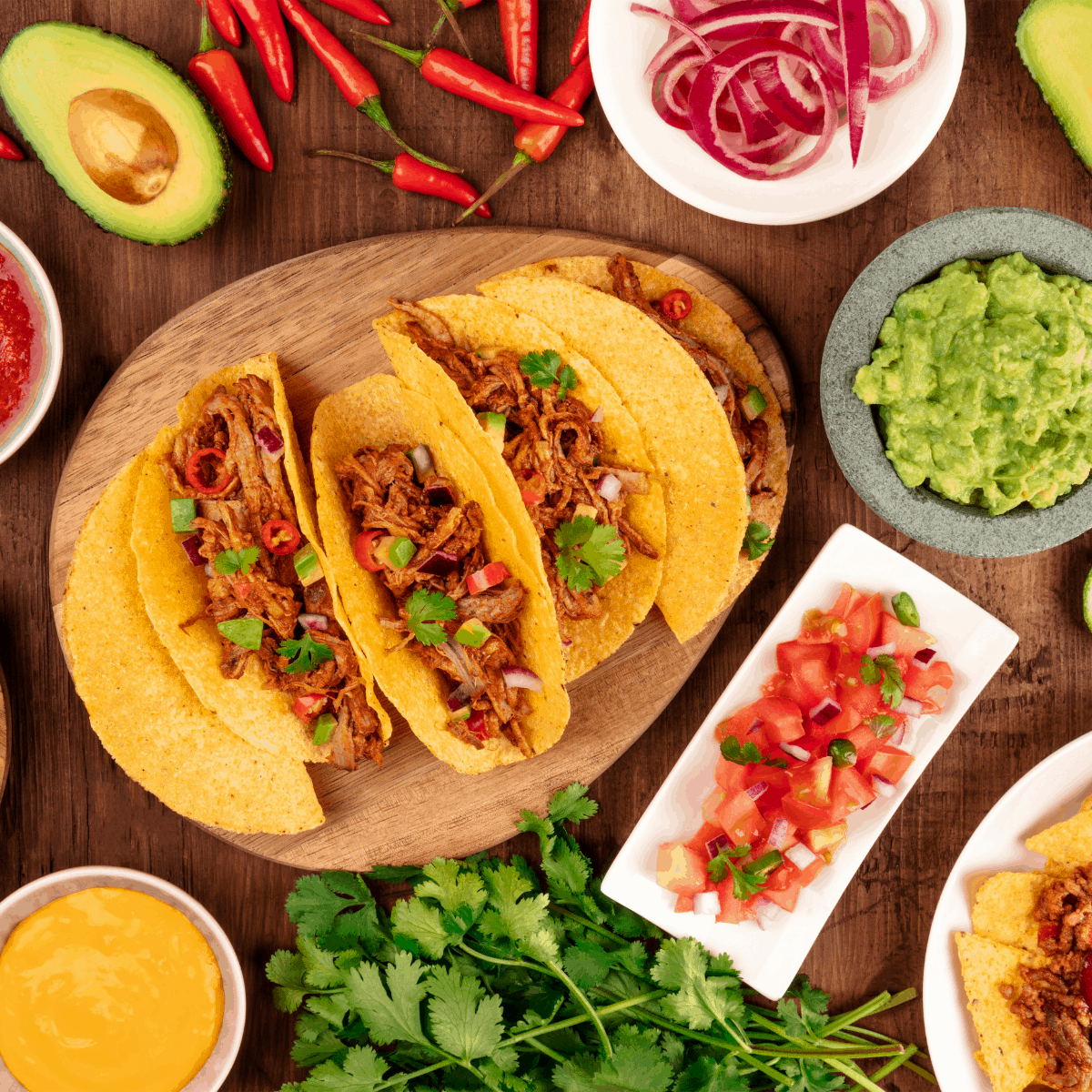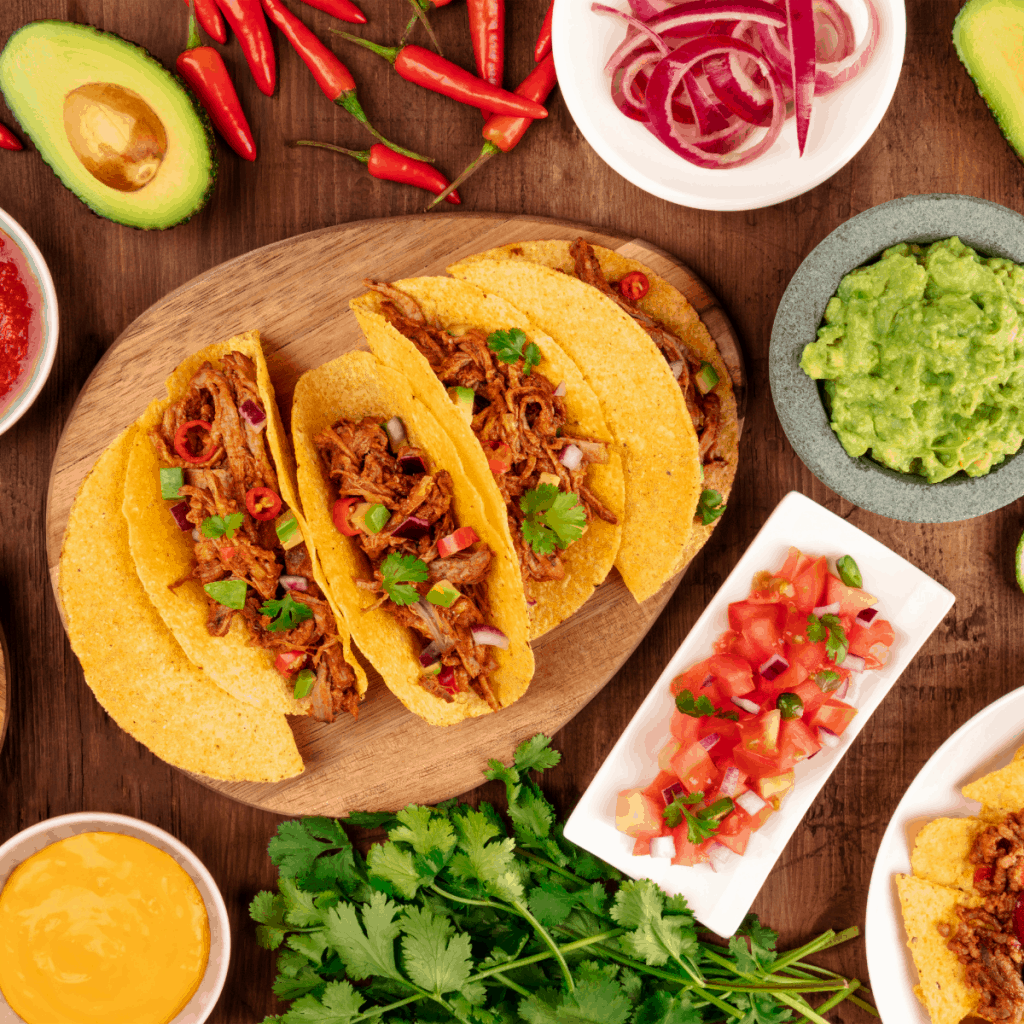 How to set up a DIY taco bar?
Break out your favorite Mexican-themed serving dishes, bowls, and platters to keep the party festive.
Set up all of the ingredients buffet style in the order that everyone will craft their tacos. 
Start the bar with the taco meat, shells, and other fillings. For example, if you're serving any beans or rice, then put those by the meat fillings too. 
The next in line are the condiments. 
Some people like to add sour cream, Greek yogurt, or other spreads before the meat, so it's helpful to have those next to the meat and shells.
Any condiment that is sprinkled or spooned on top should be last—for example, shredded cheese, chopped tomatoes, onions, and other toppings.
Sides should go after the taco fixings. An exception would be appetizers or desserts that could go on a separate table. But rice, salads, and other sides can be a part of the taco bar buffet.
What sides go well with tacos?
When I'm planning a Cinco De Mayo Party or another Mexican-themed party, I'll make sides that pair perfectly with a taco bar.
Here are my favorites:
Supplies
FAQs
How do you keep tortillas warm?
There are a few different ways to keep tortillas warm for taco night. If you use tortillas often, then I recommend purchasing a tortilla warmer. I wouldn't say it's necessary, but I think it comes in handy when you need to keep tortillas warm for a crowd. 

Another way is to use your slow cooker. Place a damp dishcloth into the slow cooker. Wrap the tortillas in a piece of foil and set them down in the middle of the cloth. Put the lid on and set the slow cooker temperature to warm, and let them heat until you're ready to serve.

My favorite way to keep tortillas warm is in the oven. Wrap the tortillas in foil. Set the oven temperature to 250 degrees and place the tortillas into the oven until you're ready to eat. It only takes about 10 minutes for the tortillas to heat up.
Can I keep taco meat in the Crockpot?
Using a crockpot is a great way to keep the taco meat warm for a party. Twenty minutes before adding in the cooked taco meat turn the slow cooker on to warm up. This slow cooker tip keeps the meat at temperature. After cooking the taco meat on the stove, then place it into a slow cooker. 

I don't recommend placing cold taco meat into the slow cooker to warm up. It will take too long to get to temperature, and this can lead to unsafe bacteria growth. Also, it might not get warm enough in time for the party. My advice is to warm it up before putting it in the slow cooker to stay warm.

You can also entirely make taco meat in the slow cooker and set it to warm after it's done cooking.
How many tacos does 1lb of ground beef make?
Of course, it's going to depend on the size of the shell and the condiments you add, but in general, 1lb of meat will provide 8 (2 ounce) servings.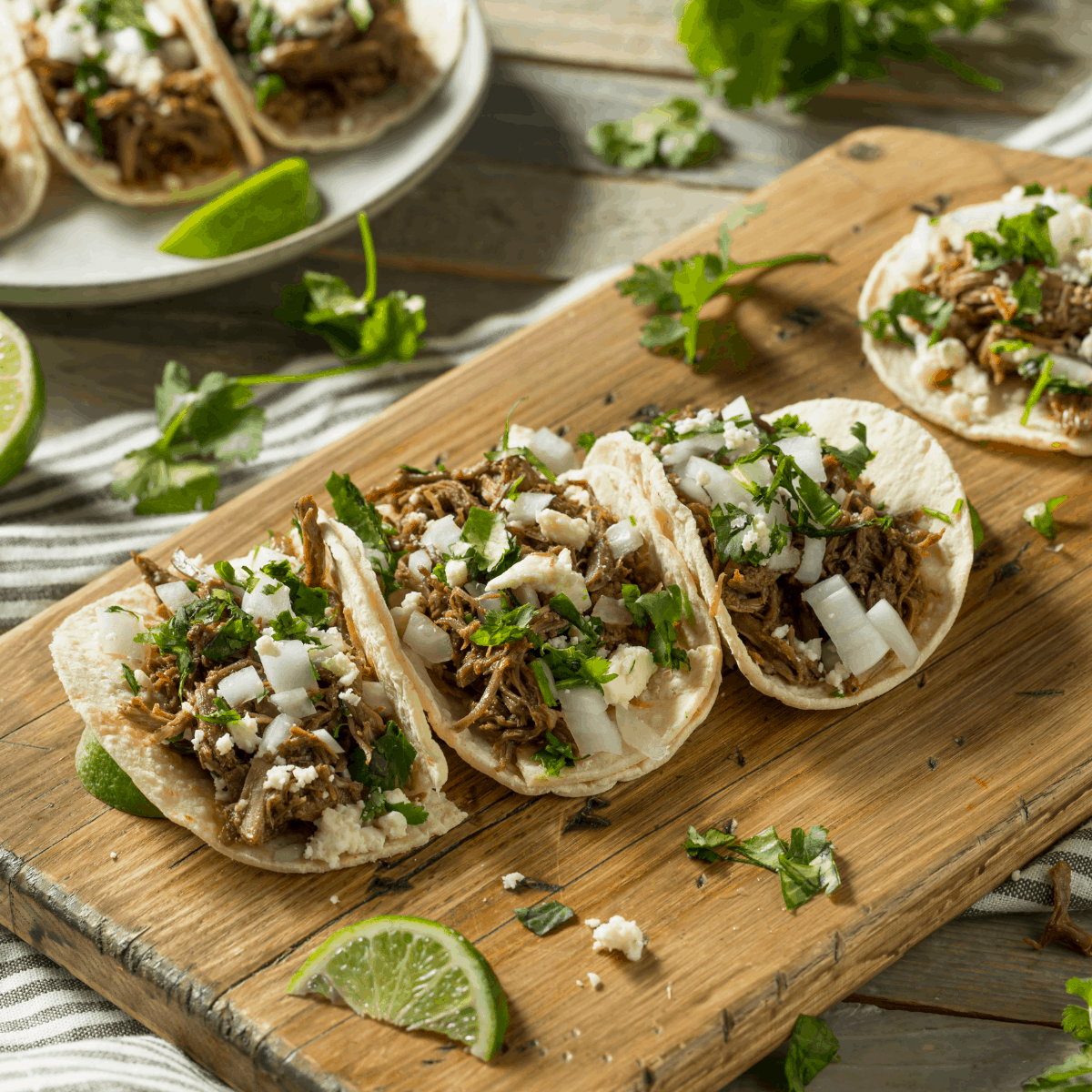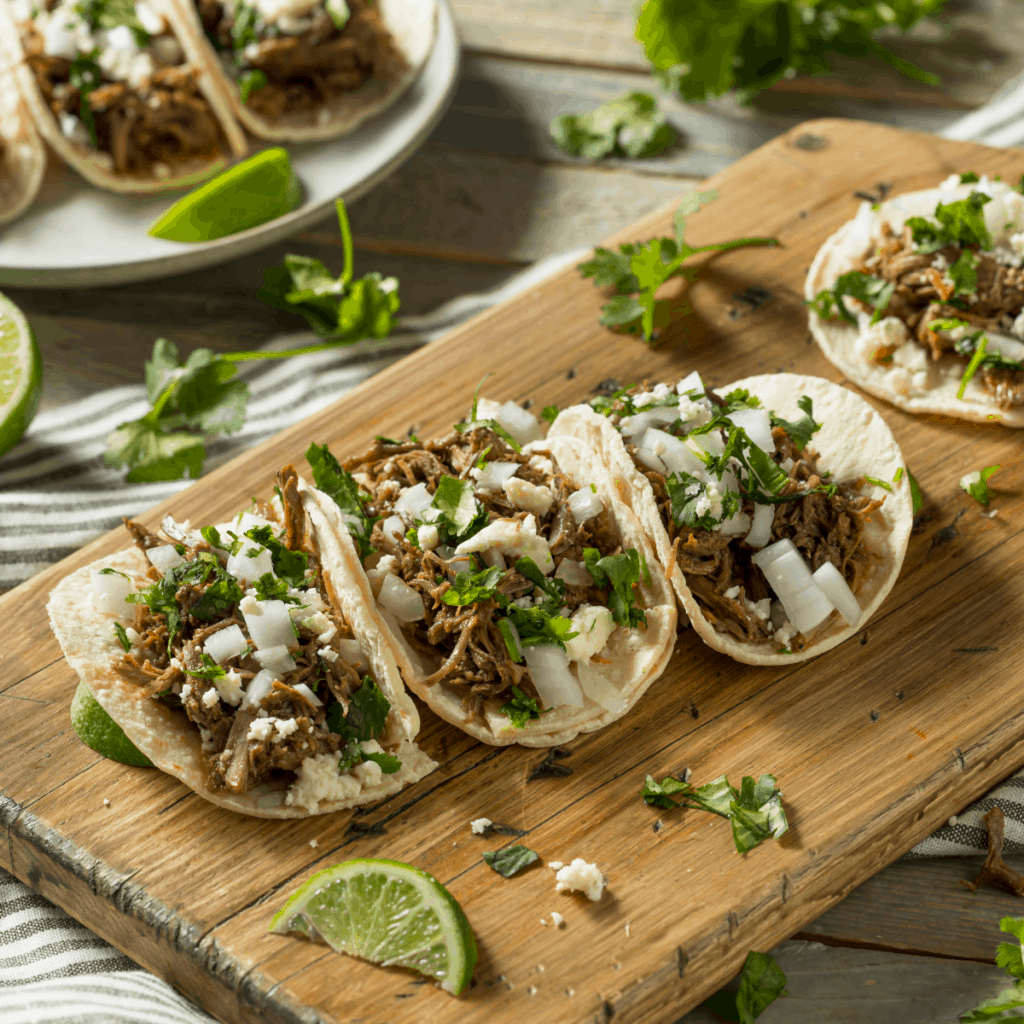 Healthy Substitutions
Can healthy and tacos even go in the same sentence? Yes! It's easier than you think. And, believe it or not, most people don't even notice, and the ones that do are always appreciative!
Here are my best tips for lightening up taco night.
Substitute ground turkey for beef. This swap cuts fat and calories in half. And, after you add the seasonings and condiments, you'll never know the difference.
Or serve up chicken tacos. After eating spicy shredded Mexican chicken in a warm tortilla, you might never eat beef tacos again.
Swap plain Greek yogurt for sour cream. You'll still get all the creaminess but without all the fat.
Use a lettuce wrap. We all love shells and tortillas, but you can slash or altogether remove the carbs by using a lettuce wrap instead.
Or go gluten-free. Corn taco shells and many tortilla brands are available in gluten-free.
Use low-fat and low-calorie toppings. Salsa, salsa verde, pico de gallo, and other taco toppings are very low in fat and calories, so using extra of those and less of the higher fat ones will help make a delicious healthy taco.
Keep the meat filling and condiments portion-controlled. This is the best way to enjoy a taco filled with all of your favorite ingredients but doesn't break the calorie bank. 
How to store taco meat?
To store
You can store taco meat in the refrigerator using glass storage containers. Heat up using the stove or in the microwave. Enjoy the meat in your favorite Mexican-inspired recipes.
To freeze
You can freeze leftover taco meat in freezer bags, containers or using portioned-out silicone trays like these Souper Cubes.
When you're ready to use the meat, thaw it overnight in the refrigerator and then reheat it in the microwave or on the stovetop.
Have you put together a taco bar yet? If so, I'd love for you to share your tips in the comments. We all learn from each other's experiences. Also, it would be awesome if you could share a picture on Instagram and tag it #organizeyourselfskinny. I can't wait to see it!