This lightened-up taco dip is super easy to make and requires no cooking! It can even be made 1-2 days ahead of time making it perfect for when you're short on time. Trust me, this dip is ALWAYS the star of the show!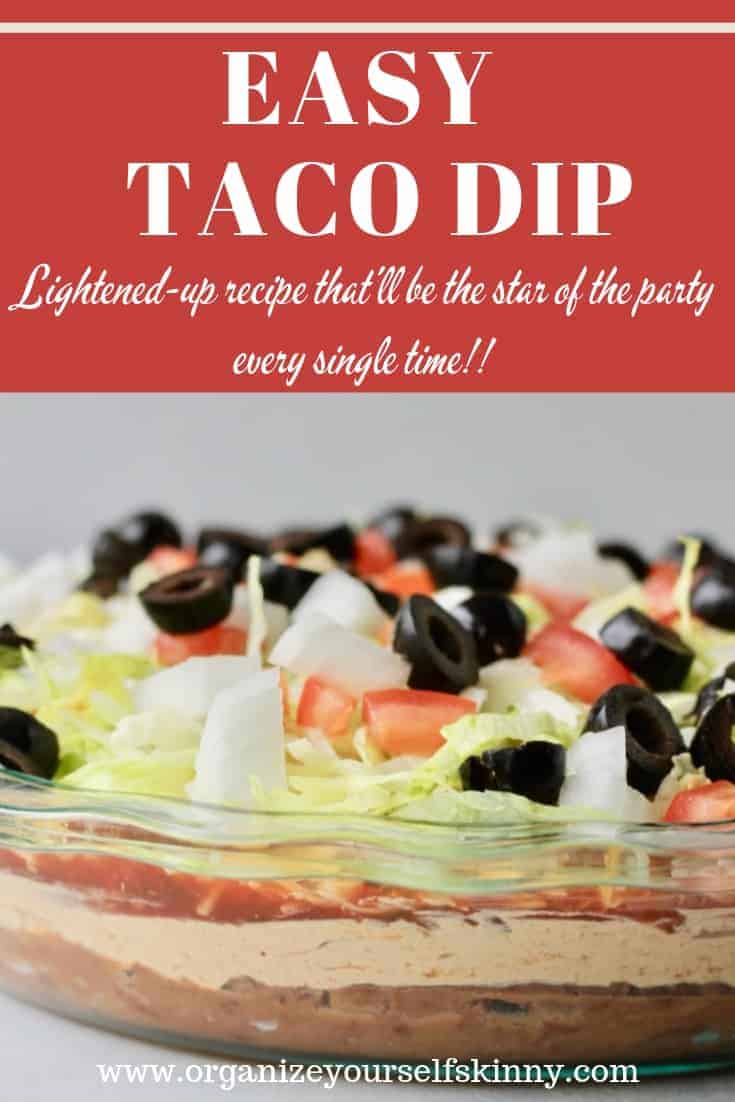 I'm no stranger to party dips. My artichoke and spinach dip is my most requested appetizer recipe. Anytime I'm invited to a party, that's what I'm asked to bring. Even my girlfriend's daughter asked me to make it for her sweet 16th birthday party just a few weeks ago. I also make a stuffed banana pepper dip that comes in at a close second. The last time I made that I swear the pan was practically licked clean.
Another appetizer I enjoy making is taco dip. To be honest, taco dip is one of my favorite appetizers to make but I never do because everyone always requests the other two. Anyway, I decided to whip up this easy taco dip a couple weekends ago to bring to a friends house for a little get together. I wanted to show I'm more than just the artichoke dip girl. Plus, I wanted to get more appetizer recipes on my blog so it was a win win!
The verdict? Everyone loved it! My friends were snacking on this recipe all night. They couldn't believe it was a lighter recipe.
Here are 3 ways I make a healthier taco dip.
I use high quality ingredients. For this recipe I used organic refried beans (I like Eden Organic), organic salsa, Simply Organic taco seasoning, and all organic vegetables. It's safe to say this is a 90% organic taco dip. If I would've used organic cream cheese and sour cream then I could say it's 100% organic.
I use low-fat cream cheese and lite sour cream. Typically, I'm not one to use low-fat anything but in this recipe I found that you don't notice the difference because of the taco seasoning and other ingredients. So, to cut calories and fat, I opted for the lower fat versions. I did use full fat shredded cheese but you could use low-fat if you wish.
Use vegetarian refried beans. This means the beans are not cooked in animal lard.
This taco dip recipe can also be called a Mexican layered dip or layered taco-dip or 5 layered taco dip. Or add a couple more layers and you have a 7-layer dip. The sky is the limit when you're preparing a taco dip.
Here are some other layers you can add to taco dip:
Guacamole. Of course guacamole can be a little finicky so I'd add some lemon to keep it from turning brown. Also, you might want to add this layer the day you serve. Either homemade or store-bought guacamole will work great.
Taco meat. If you want to make this a heartier dip, and don't mind cooking, then add a layer of taco meat to this dip. 1/2 a pound of cooked taco meat should be enough.
Pickled Jalapeños. A layer of chopped pickled jalapeños on top of the refried beans is super tasty.
Other taco dip variations:
Switch up the cheese. My mother-in-law uses sharp cheddar and I love it. I've also made it with shredded pepper jack and that's delicious too. Or use a mixture.
Spice it up or down. You can use hot salsa or mild depending on how spicy you want the taco dip to be. You can add some hot sauce to the beans or spicy taco seasoning. It's totally up to you.
Leave out a layer. Don't like refried beans? No problem, leave it out. Would rather use taco sauce instead of salsa? Go for it! Taco dip is very forgiving. Add what you want and leave out what you don't.
Tools and supplies I use for taco dip:
Alright, let's get to the taco dip recipe I prepared.
Taco Dip
For this taco dip I used a 9 inch glass pie plate. To be honest, I wanted to use my 9 x 13 glass pan but I couldn't find it. So, if you want to make this in a larger dish you can. The layers will be thinner but the taste will be the same.
I spread the refried beans into the bottom of the pan. The reason I used the beans as the first layer is because they are thick and it'd be very difficult to spread refried beans over salsa. Actually, it'd be impossible so if you're using refried beans they need to be the bottom layer.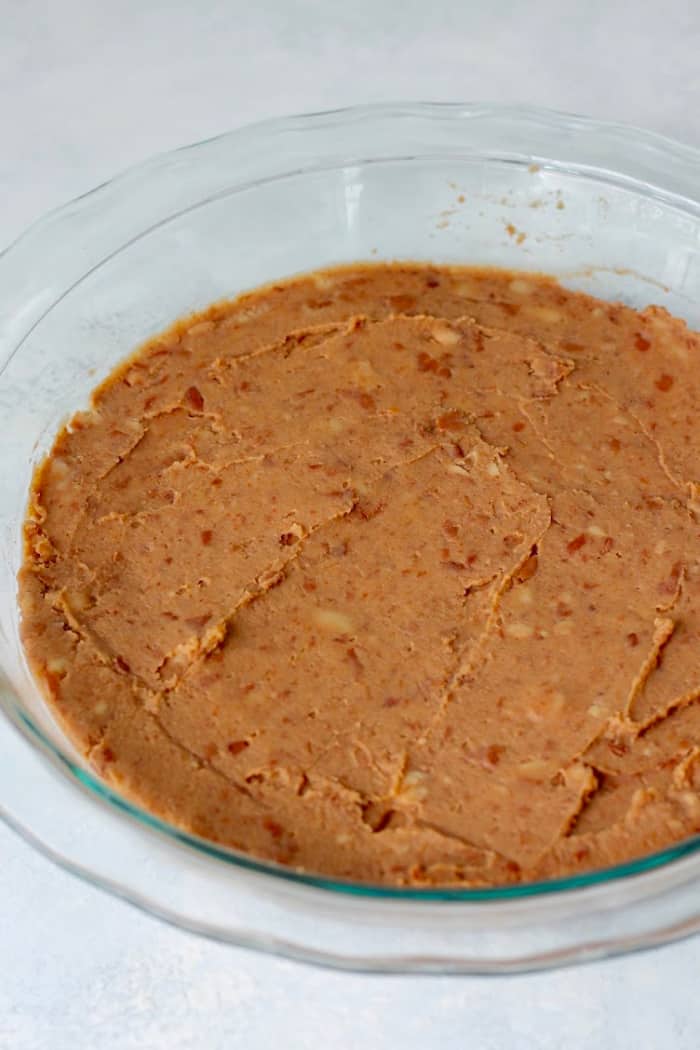 Then I spread the cream cheese mixture on top of the refried beans. Let me back up a little bit.
My favorite taco seasoning is Simply Organic Southwest seasoning. If you want it to be a spicier then try out their Spicy Taco seasoning. Of course, you can use homemade seasoning too. You'd need about 3-4 tablespoons taco seasoning.
Before you mix the cream cheese, sour cream, and seasoning you need the cream cheese to be softened. So, remember to take it out a couple hours before you make it. Don't try to microwave it. Just trust me on this one. Also, you could probably make this without sour cream but I like using it because it keeps the mixture creamy after it chills in refrigerator.
If you have a hand mixer then I recommend using it to mix the cream cheese, sour cream, and seasoning together. This helps to mix it smooth and evenly. You could just mix it by hand but you might have to work a little harder to get all the lumps out.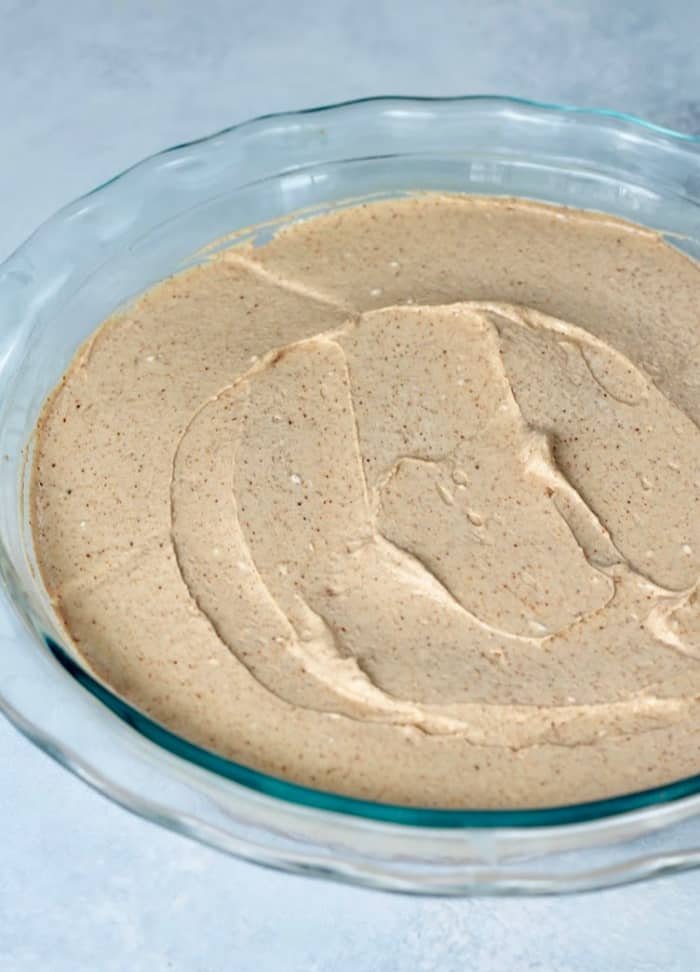 See how nicely this layer sits on top of the refried beans? Also, this is why I like using glass dishes, so everyone can see the pretty layers.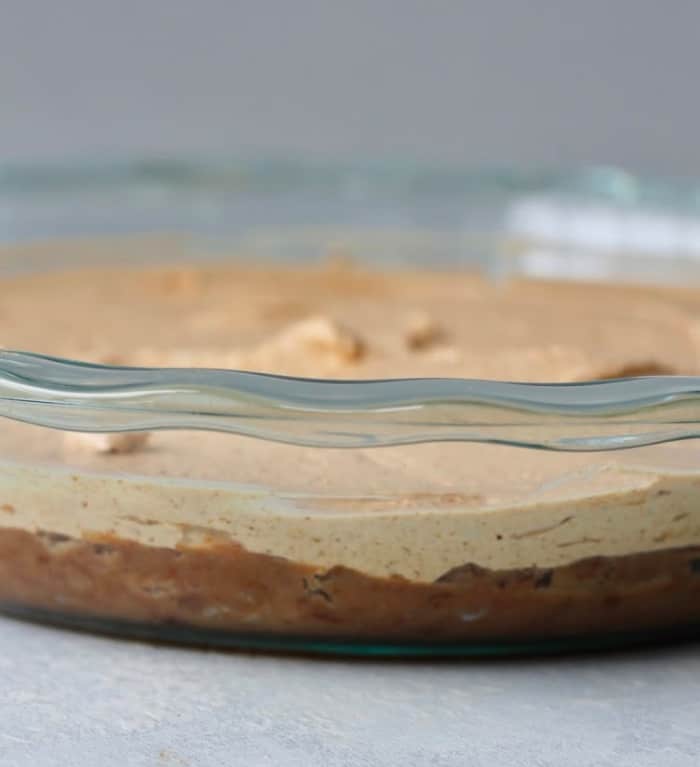 The next layer is salsa, you can also use taco sauce. You want to be careful when spreading out this layer because it can start to mix in with the cream cheese mixture. I used about 1-cup for this layer but if I were to make this in a 9 x 13 dish I may use a little bit more. Measure with your heart 🙂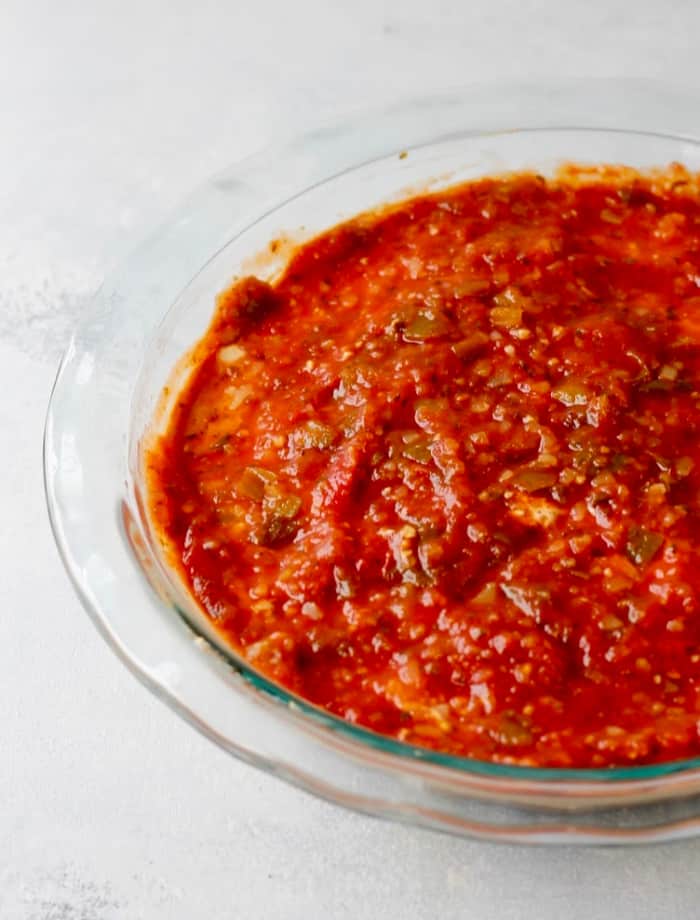 Now for the cheese layer. In an ideal world, where I don't gain 5lbs from looking at cheese, I'd smother a ton of cheese over the top. However, because I try to be a good girl, even when eating taco dip, I measure the cheese. So, this layered got 1 1/2 cups of shredded Mexican cheese.
A couple cheese tips. If you have time, shredded your own cheese – it makes a difference. Try mixing sharp cheddar and pepper jack. Oh baby!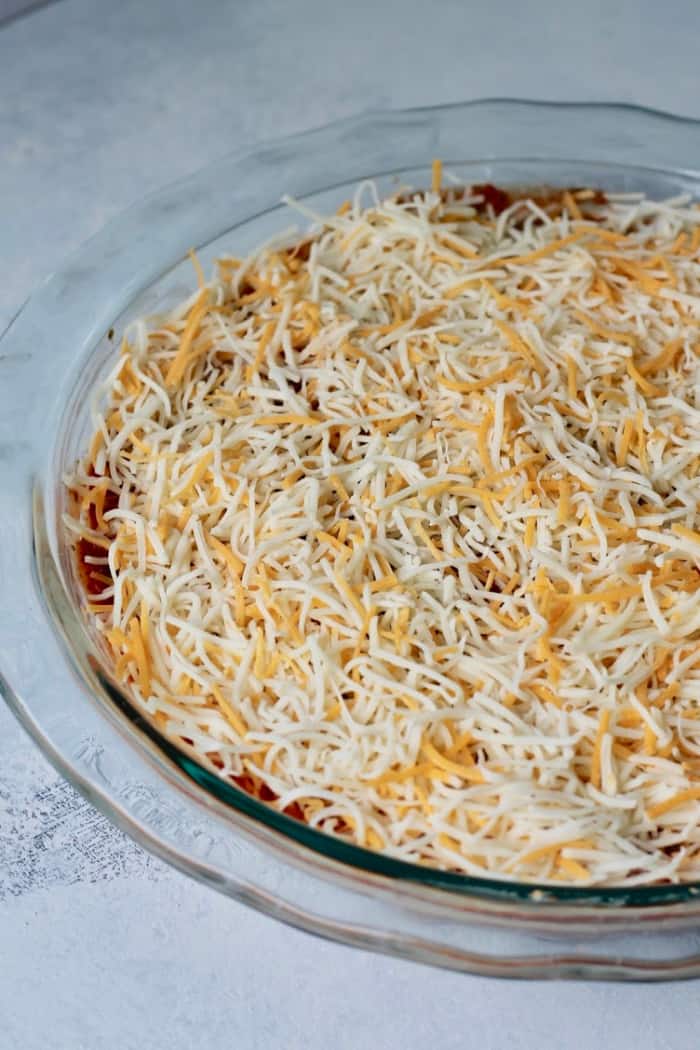 Now for the final layer. Right before you're ready to serve this taco dip add the shredded lettuce and any other fixings. You could add everything the night before, cover it, and put it in the refrigerator but if you want to make it a couple nights before then I suggest adding the lettuce and stuff before you serve it. You just don't want to take the chance of the lettuce looking brown and soggy.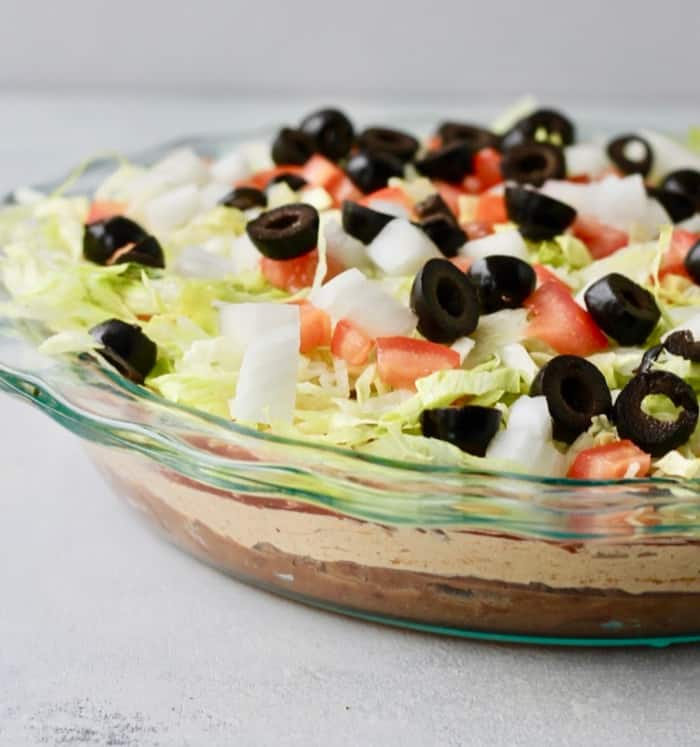 Doesn't this look pretty? Of course, you can serve this with tortilla chips but I also suggest bringing some veggies. Bell peppers and carrots go great with this taco dip.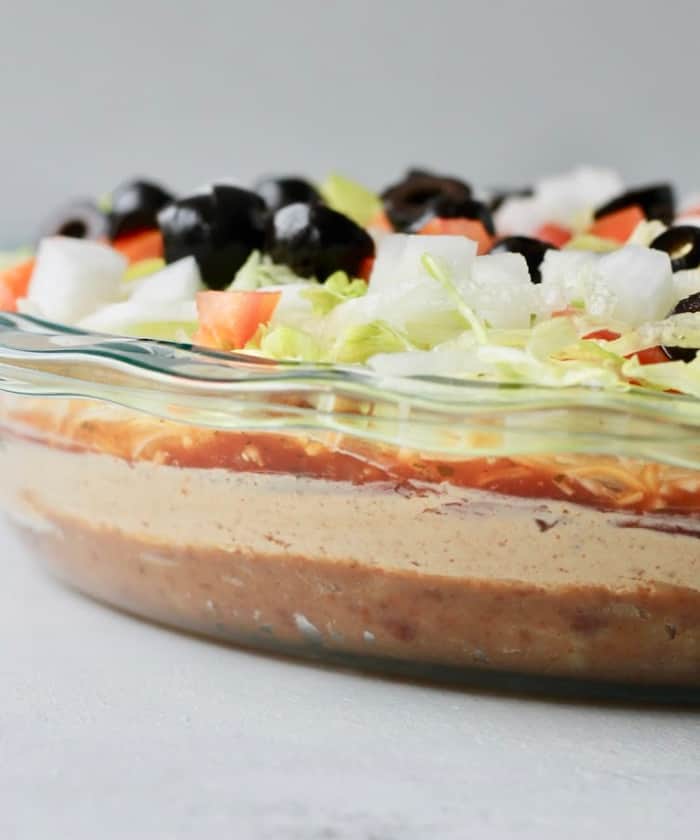 I calculated this dip to have about 16 (1/4 cup) servings give or take. This taco dip is addicting so my advice is to measure out a quarter cup, a serving of chips, and as much veggies as you want. Don't just grab from the dish or you'll eat the entire taco dip and not even realize it…just saying, it could happen.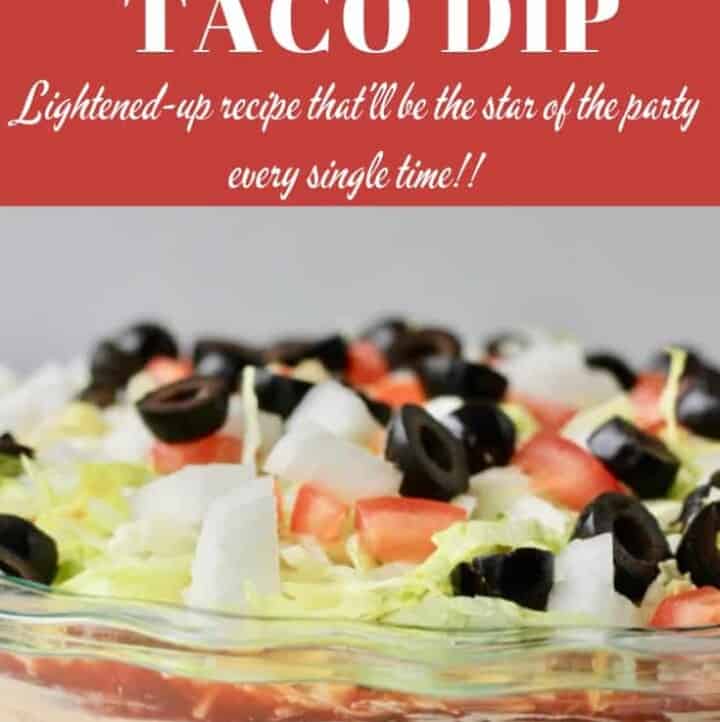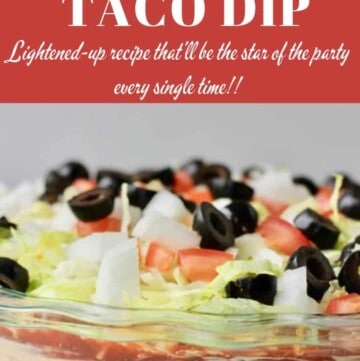 Taco Dip
This easy taco dip is a party favorite. Make this for your next gathering and watch it be the star of the show!
Print
Pin
Rate
Ingredients
1

8-ounce block of low-fat cream cheese, softened

1

8-ounce container lite sour cream

1

1.13 ounce Simply Organic Taco Seasoning

1

16-ounce can spicy refried beans

1

cup

salsa

1 1/2

cups

shredded Mexican cheese

2

cups

shredded lettuce

chopped onion

diced tomatoes

sliced black olives
Instructions
In a medium bowl, mix together the cream cheese, sour cream, and taco seasoning. Use a hand mixer if you have one, if not, then mix well with spatula or spoon. Set aside.

Spread the refried beans on the bottom of a glass 9-inch pie plate. You could also use a 9 x13 dish.

Next, on top of the beans, layer the cream cheese mixture, salsa, shredded cheese, and lettuce.

Sprinkle onions, diced tomatoes, and sliced black olives on top.

Serve with vegetables or tortilla chips.
Notes
sugar: 3
Meal prep tips
This dip can be made 1-2 days ahead of time. Add the lettuce and other toppings when you're ready to serve.
Nutrition
Serving:
1
g
|
Calories:
124
kcal
|
Carbohydrates:
10
g
|
Protein:
6
g
|
Fat:
7
g
|
Saturated Fat:
4
g
|
Fiber:
2
g