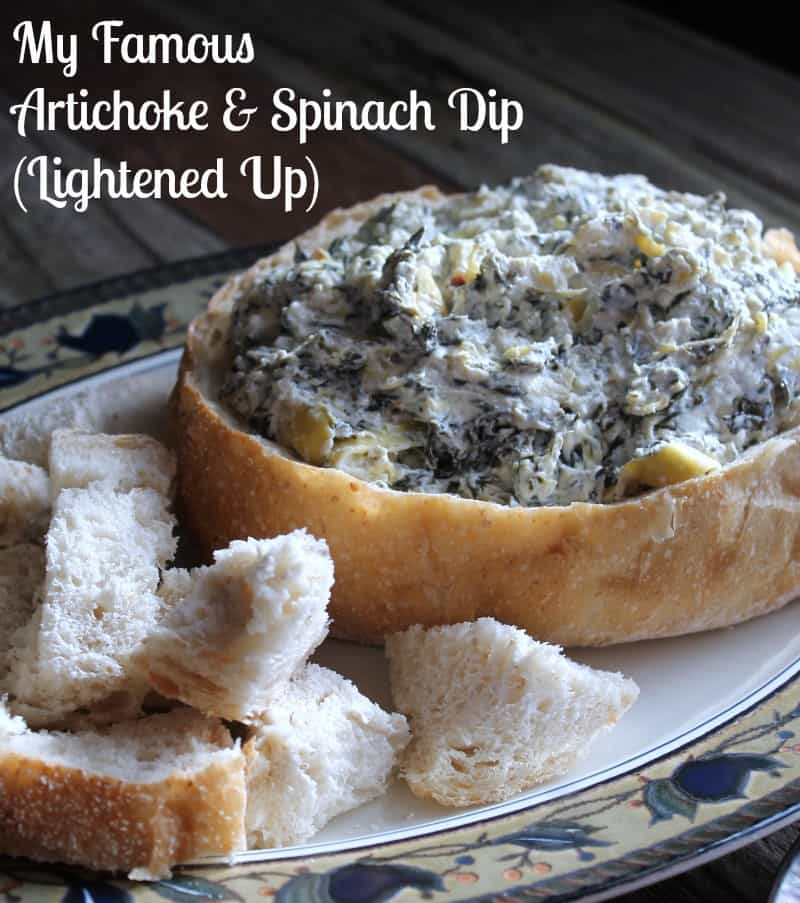 Everybody has a signature recipe they bring to parties – mine is artichoke and spinach dip. I have been making this dip for over a decade! My friends and family LOVE LOVE this dip. Whenever I get invited to a party I get asked to bring this dip and by the end of the night there is never a bite left. It is always a HUGE hit.
I don't even remember how I created this recipe. All I know is I loved the artichoke and spinach dip at the Olive Garden and wanted to make a recipe that tastes just like it. Who knew I would be so influenced by my time working as a waitress at the Olive Garden? See my other OG copycat recipes pasta fagioli and zuppa toscana. I am not sure if this artichoke and spinach dip taste exactly like the one at the OG but it does not matter because it is awesome. I have heard from many people that this is one of the best artichoke and spinach dips they ever tasted. Warms my heart 🙂
Anyway, I have prepared this recipe sooo many different ways over the years. I have used fresh spinach, frozen spinach, canned artichoke hearts, frozen artichoke hearts, fresh garlic, granulated garlic, full fat cream cheese, fat-free cream cheese, different cheeses, and just recently started to add a little onion powder. I have tested this recipe 1000s of times! The recipe I am going to share with you today is the version I have settled on and make whenever I am asked to bring this recipe.
To reduce the fat but keep the flavor I use ½ full fat cream cheese and ½ low fat cream cheese. This gives it a nice flavor and balance. I have tried to use all low fat or fat cream cheese and it did not taste good. I prefer thawed chopped frozen spinach to fresh spinach. Mostly, because I don't need to cook it and it is easier. With a 10-ounce package of frozen spinach I always know I am using the same amount. In my recipe, I like canned artichoke hearts in brine or water. I purchase quartered because they are easier to chop up. Do not get marinated artichoke hearts. They will completely change the flavor of the dip.
I just recently started to use plain greek yogurt in this recipe. Up until then I use full fat sour cream. I do like the plain greek yogurt. There is not much of a taste difference in the dip and it reduces the fat.
For the spices you can use fresh garlic or granulated garlic. I started using granulated garlic about a year ago and love the flavor it brings. If you would prefer to use fresh garlic then grate about 5 cloves and put it in during the first cooking time. I love the onion powder in this dip. If you don't want to use it then just leave it out. I never used fresh onion in this recipe so I am not sure what that would taste like. I always add a pinch of red pepper flakes too. People love that little kick they get from it.
My favorite cheese to use is grated Romano. I have used Parmesan and a Parmesan/Romano blend but prefer just plain Romano. Parmesan is a little strong for this dip. But experience with different cheese if you like.
Cooking this dip is easy. Place the cream cheese, greek yogurt, thawed spinach, and chopped artichoke hearts into a small casserole dish. I use an 8-inch ceramic dish. If you use a glass dish keep an eye on it because the dip will cook faster. Also, make sure all the water is squeezed out of the spinach. You don't want soupy dip.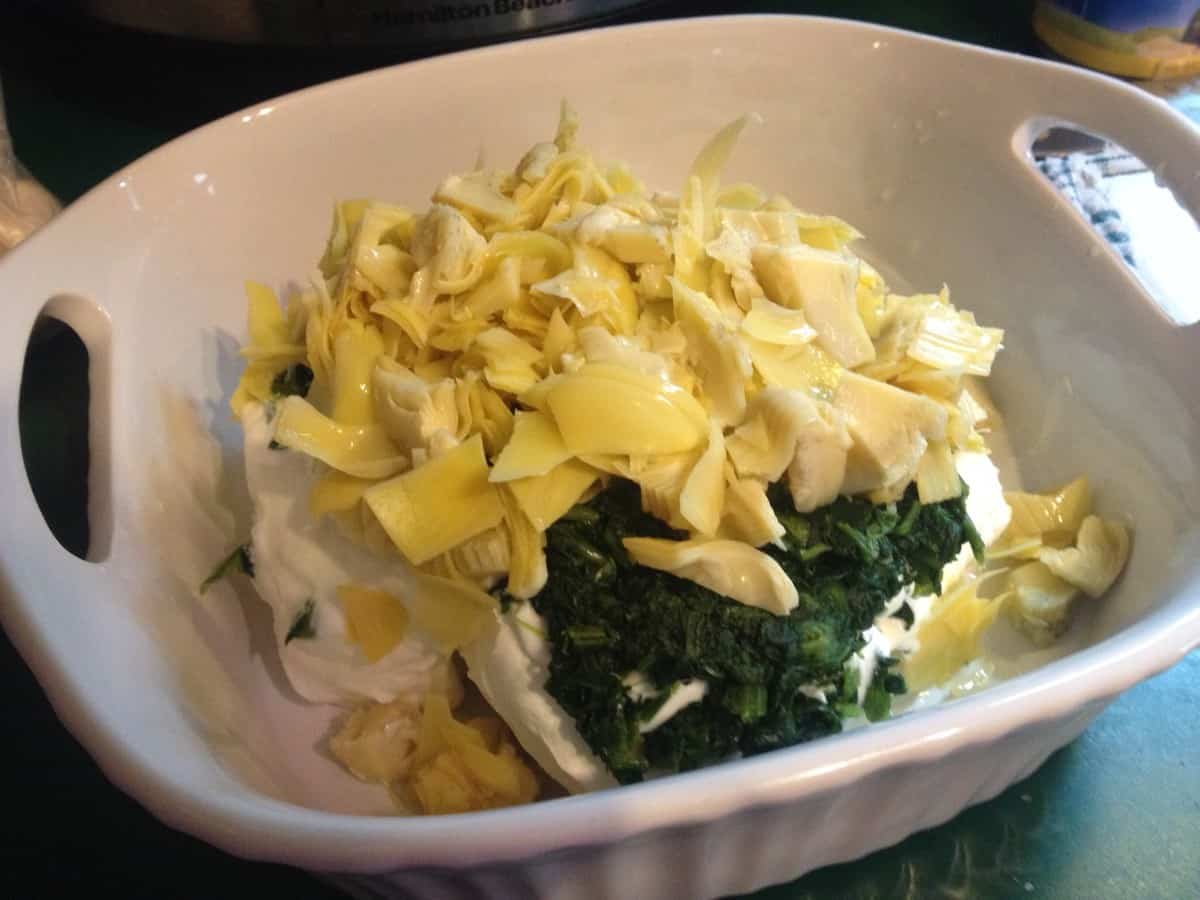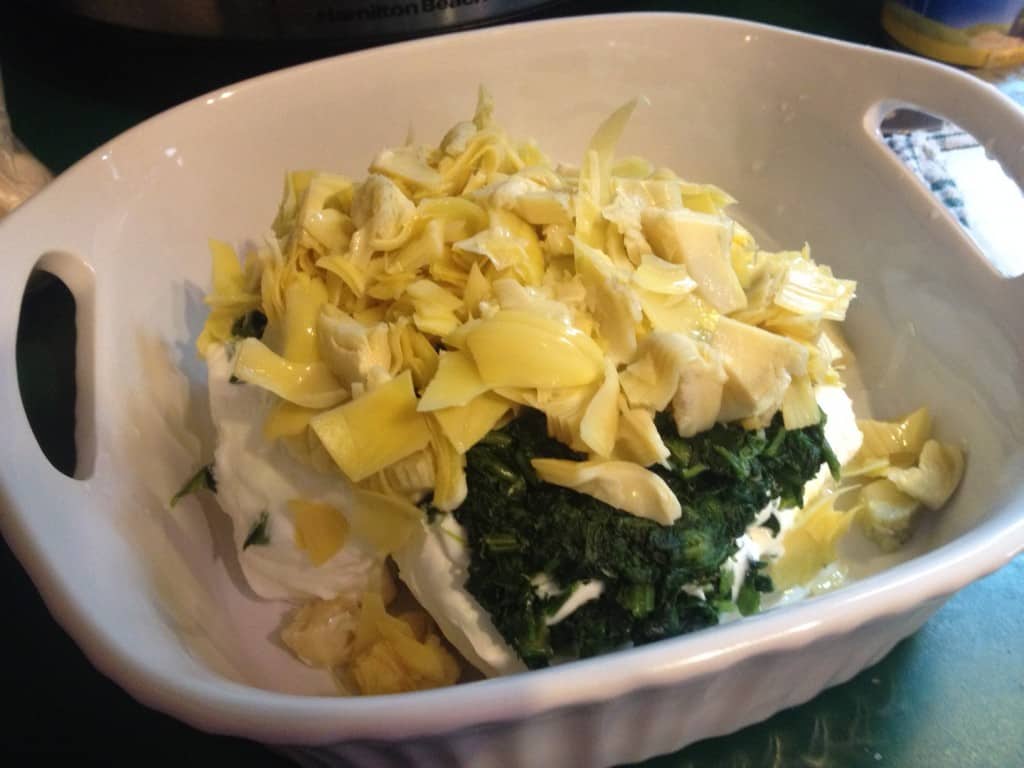 After it cooks for 30 minutes stir it up until the cream cheese, sour cream, and vegetables are all blended together. Then stir in the Romano cheese and spices until completely blended. Give it a quick taste for salt. I usually don't need to add salt to this recipe because of the cheese however sometimes I will add a little. Just give it a taste and see what you think.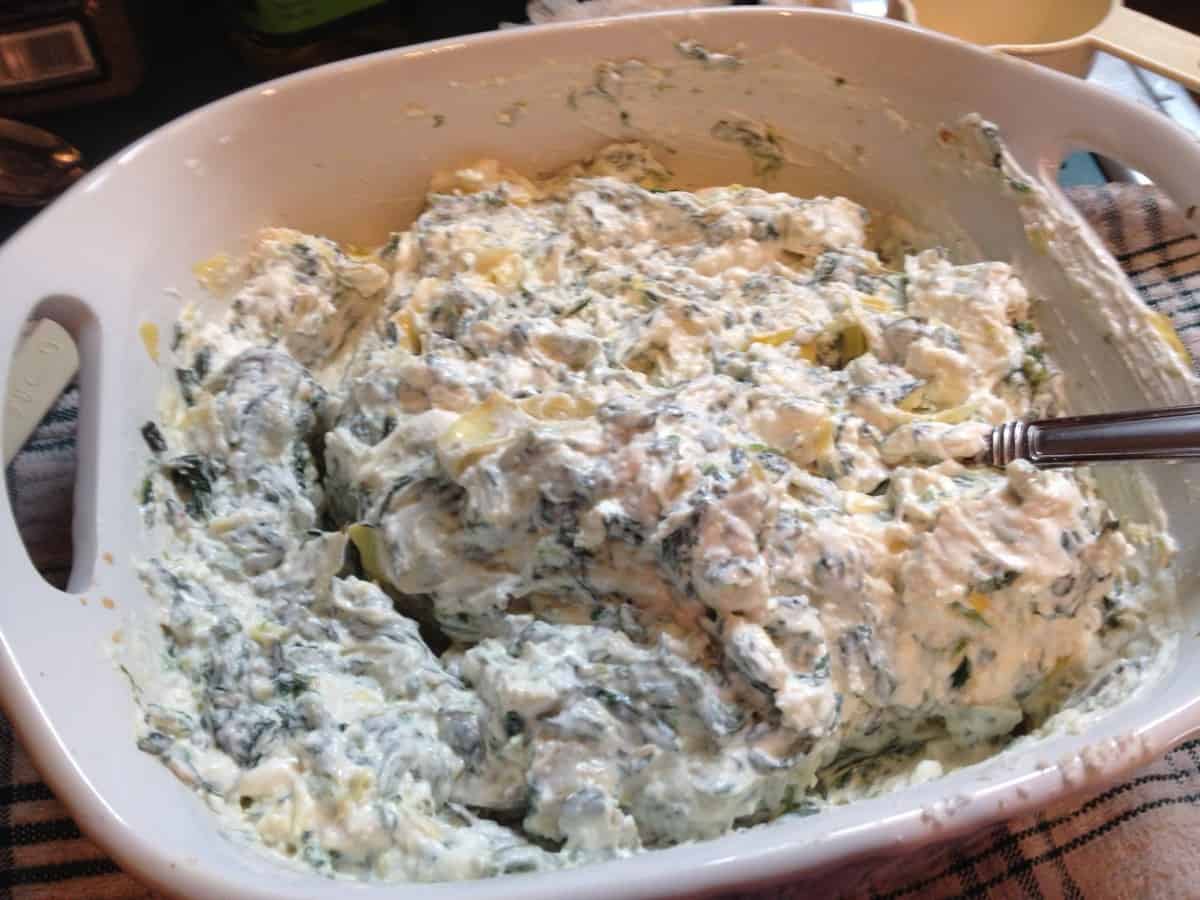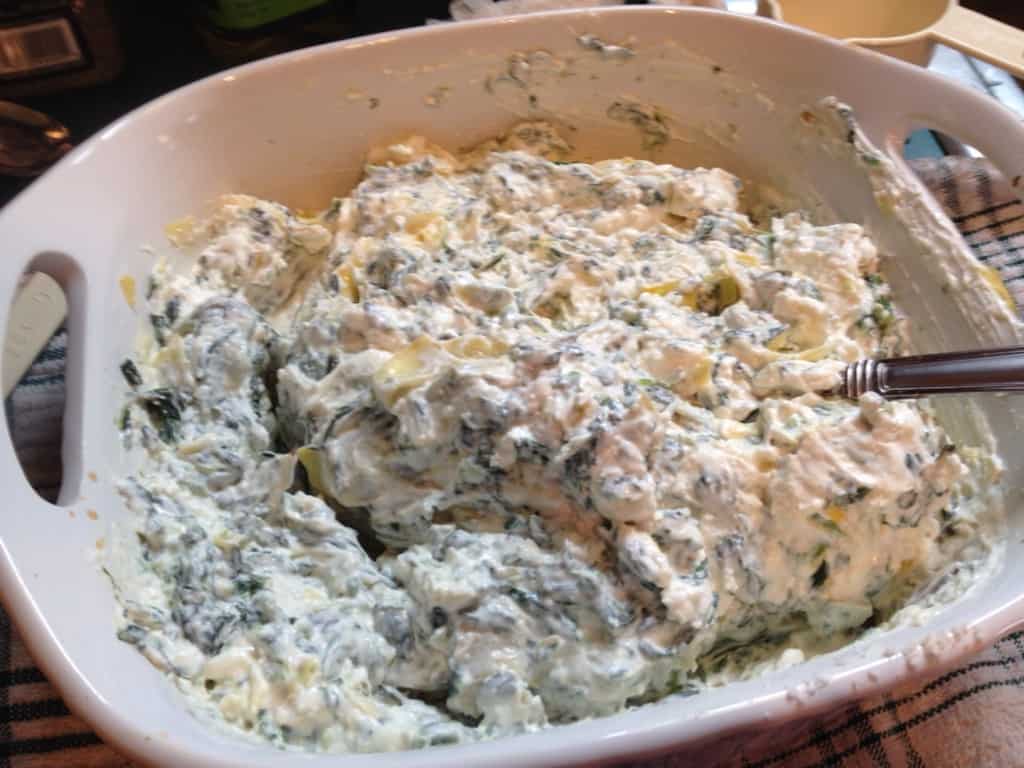 Then bake for another 30 – 40 minutes or until hot and bubbly. Serve hot or warm in a bread bowl. A 1/4 cup serving of this dip is 114 calories and 3 weight watchers points plus.
Trust me you will be the hit of the party with this dip. Let me know if you make it! I would love to hear how it went.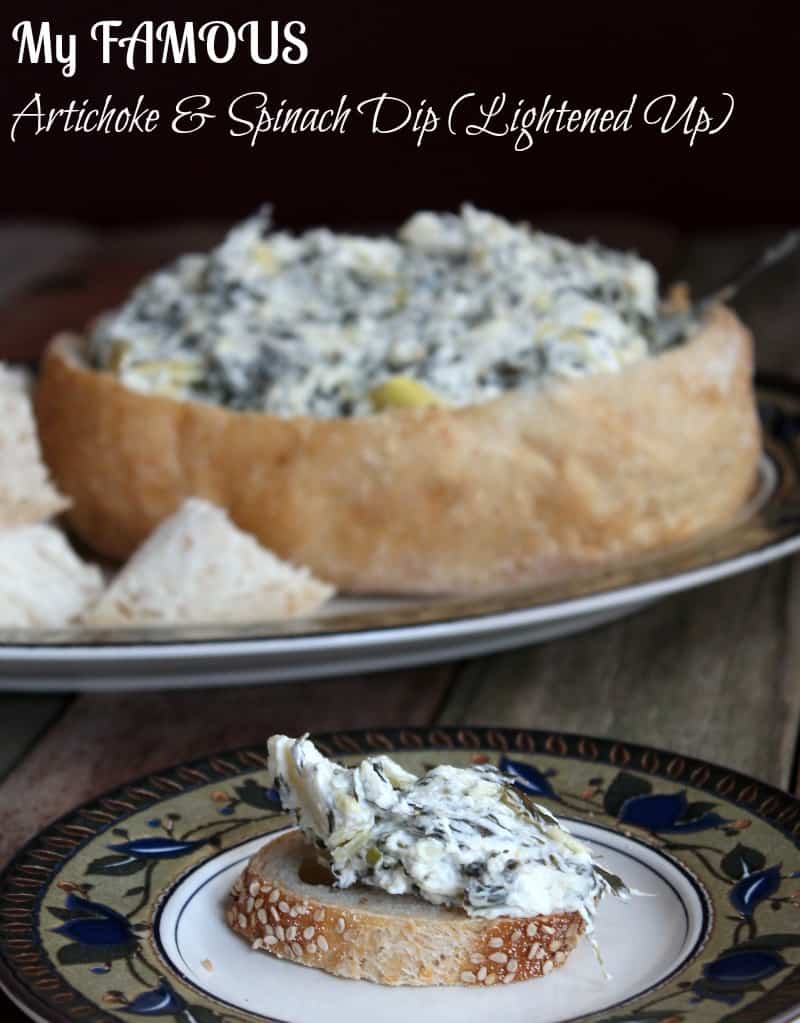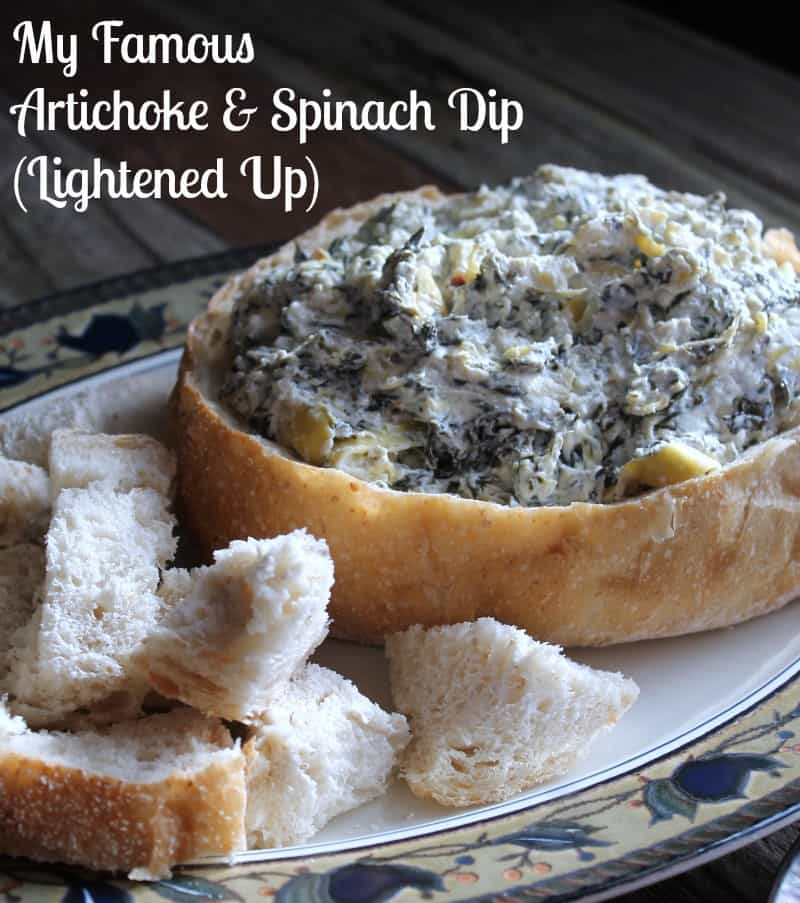 Ingredients
1

8- ounce package of cream cheese

1

8-ounce package of 1/3 less fat cream cheese

6

ounce

container of plain greek yogurt

or 3/4 of a cup

1

10 -ounce package frozen chopped spinach, thawed and completely drained

1

14-ounce can of quartered artichoke hearts, drained and roughly chopped

1/2

cup

grated romano cheese

1

teaspoon

granulated garlic

1

teaspoon

onion powder

pinch

of crushed red pepper
Instructions
Preheat oven to 350 degrees.

Place the cream cheese, greek yogurt, spinach, and artichoke hearts in a 8-inch ceramic casserole dish. Cook for 30 minutes.

Stir together until cream cheese, yogurt, and vegetables are all blended.

Stir in romano cheese, granulated garlic, onion powder, and crushed red pepper until blended.

Cook for another 30 – 40 minutes or until hot and bubbly. Serve hot or warm with bread, pita, or pretzels.
Notes
Make ahead instructions
This dip can be made 2-3 days ahead of time and stored in the refrigerator. Heat up in a 350 degree oven for 20-25 minutes or until heated through.
Nutrition
Serving:
1
g
|
Calories:
114
kcal
|
Carbohydrates:
10
g
|
Protein:
4
g
|
Fat:
8
g
|
Fiber:
1
g
|
Sugar:
3
g