Everything you love about pizza transformed into an ooey-gooey delicious party dip! This Easy Pizza Dip is so good that your friends and family will never know that it's been 'lightened' up.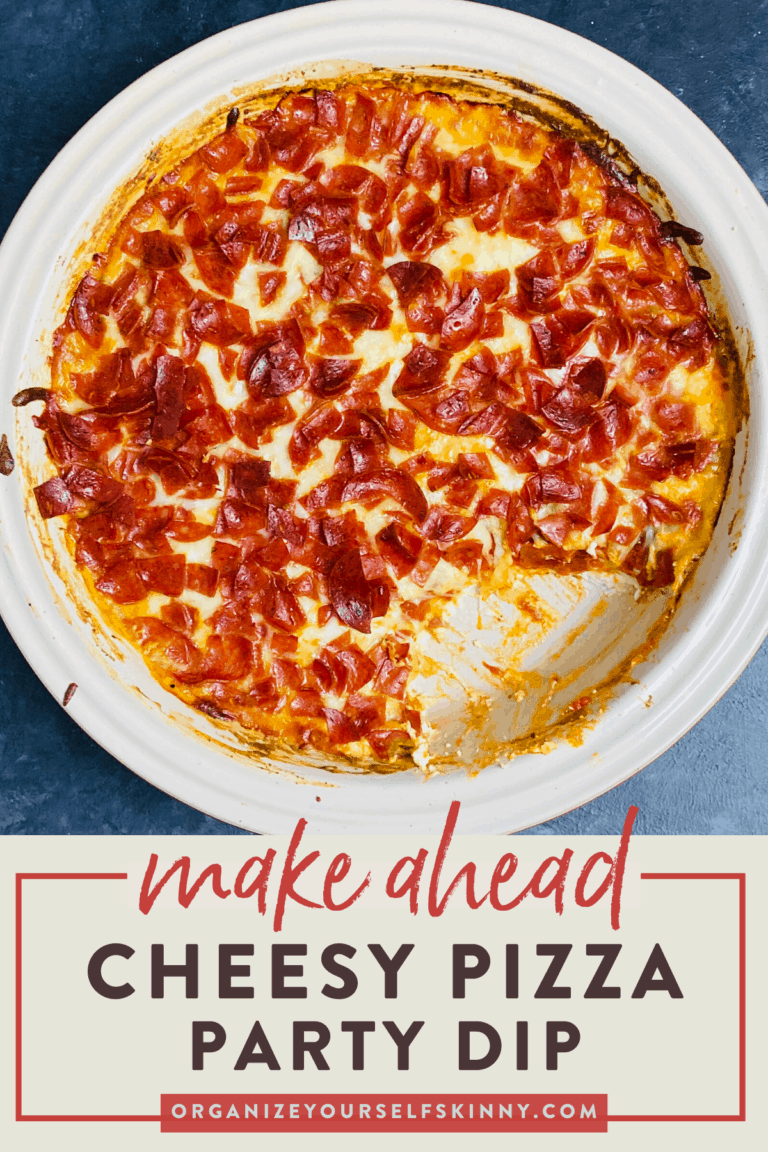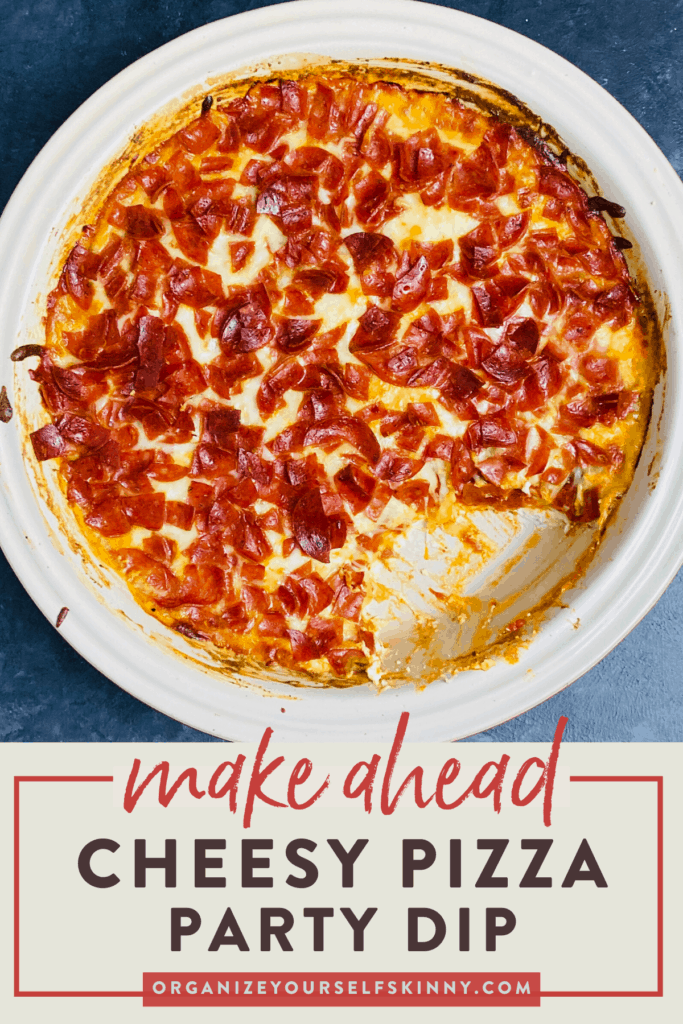 I. Love. Pizza.
Who doesn't?!?
Pizza was one of the first recipes I tried to remake into a low carb recipe that would fit into my weekly meal plan. With so many parties coming up, I decided to try to turn my low carb pizza recipe into a dip and I have to say, it's a winner!
This pizza dip requires simple ingredients and is so easy to make.
Even better? People go absolutely bonkers for this dip – almost like it's the first time they have tried pizza! It's a hit at every party I bring it to. The best part is that nobody ever knows that I use turkey pepperoni. This truly is the perfect party dip.
FAQs
Before I share this delicious recipe with you all, here are some questions I wanted to answer about this pepperoni pizza dip recipe…
Can I make this pizza dip recipe vegetarian?
This recipe is simply a base. Just like any pizza you can add any of your favorite toppings to this. Peppers, onions, mushrooms, or pickled jalapeños would be delicious. So, yes this dip recipe can easily be vegetarian.
What are some low-fat pepperoni alternatives?
Cooked chicken sausage would be amazing in this pizza dip recipe. Or maybe some seasoned ground turkey and cheddar cheese for a cheeseburger pizza creation. Or what about cooked turkey bacon? Seriously, anything you put on pizza can go on this pizza dip.
What can I serve with this pepperoni pizza dip?
Serve it with baguette bread, crackers, or pita chips. The dip itself is low carb and you can keep it that way by enjoying it with chopped up veggies. I recommend serving it with all the above to show your low carb friends that you love them too 🙂
Ingredients
These are the ingredients you will need to make this party dip:
Cream Cheese – high in fat and low in carbs
Sour Cream – contains probiotics that help with the digestive tract
Romano Cheese – best for those who are lactose-intolerant
Mozzarella Cheese – provides high amounts of calcium
Tomato Pizza Sauce – packed with lycopene (an antioxidant)
Turkey Pepperoni – lower in saturated fat than regular pepperoni
Other seasonings you need for this recipe are garlic powder, onion powder, Italian seasoning, and salt.
You will also need a 9-inch pie pan but you can use an 8 or 9-inch casserole dish, too. I sometimes like to use a disposable pan if I'm bringing it to a party.
How To Make Easy Pizza Dip
Once I set the oven to preheat at 350 degrees, I start this cream cheese dip just like I do with the spicy sausage dip.
The first thing I do is put the cream cheese (both the regular and reduced fat) and sour cream in the baking dish and cook for about 25 minutes. This helps melt the combo, which makes it super easy to stir in all the spices and grated cheese.
I've tried making this with cream cheese that I left out to softened on the counter but I'm never able to mix it easily this way. Putting it in the oven first is the best way I've found to make this easy pizza dip (and all the other cream cheese-based dips I make).
Cooking Tip: To lighten up this recipe, use half light cream cheese, part-skim mozzarella, and turkey pepperoni. Also, make sure you measure out all of the cheeses and pepperoni to assure that the calories and fat are kept under control.
After the cream cheese mixture is melted, I mix in all the seasonings and grated cheese.
I've noticed many pizza dips don't call for adding any seasoning to the cream cheese base but from my experience, this dip tastes so much better when you add a little garlic powder, onion powder, salt, and grated cheese.
If you want to spice things up, mix in a little bit crushed red pepper or spicy jalapeños in with the cream cheese.
Trust me, it's scrumptious!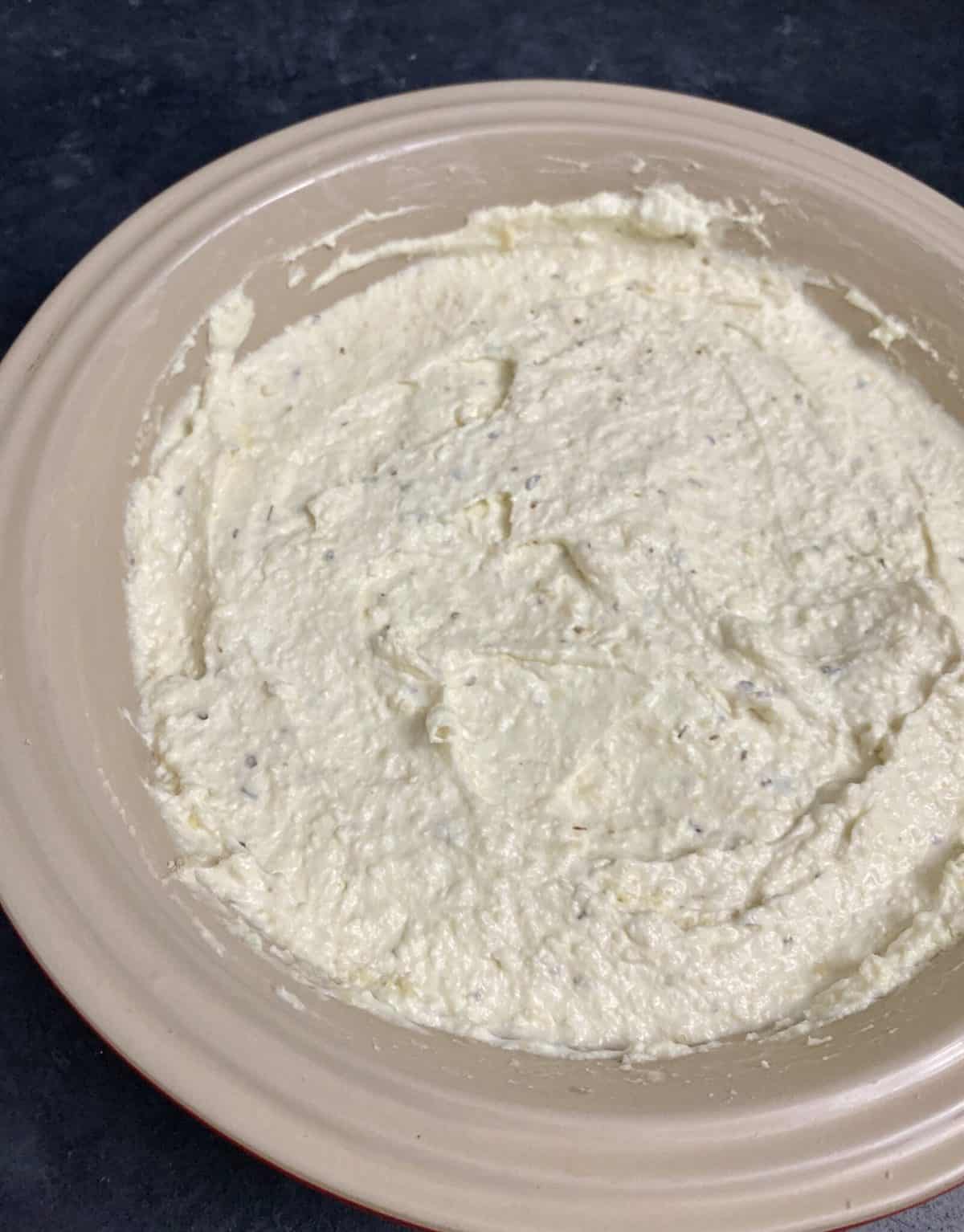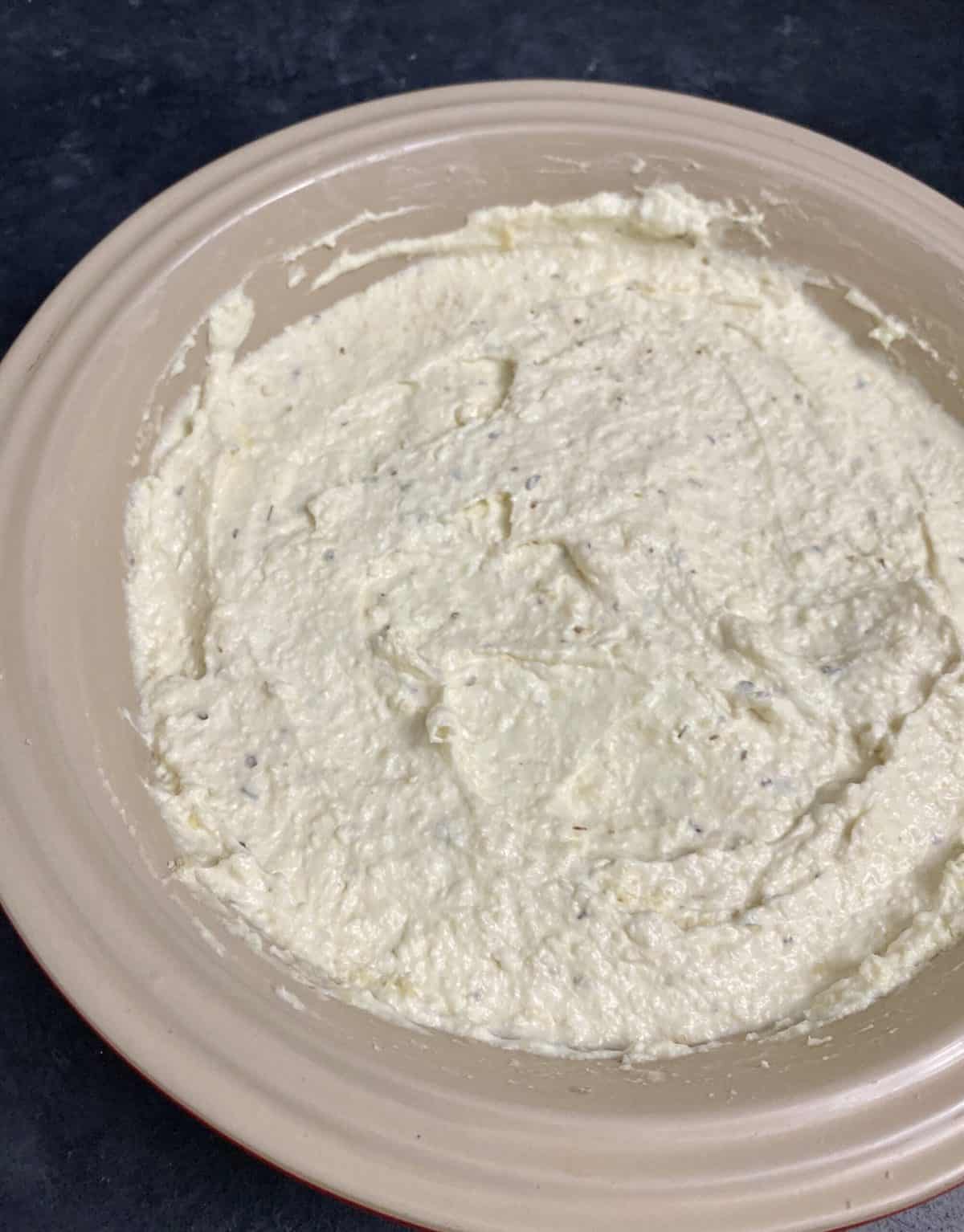 Then, I add a 13-ounce container of pizza sauce. I strongly recommend using a high-quality sauce such as Rao's Homemade Margherita Pizza Sauce. It's a little pricier than the others but it makes a difference. It's also an awesome low carb, sugar-free alternative.
If you don't have pizza sauce, then you can use jarred spaghetti sauce. Again, I like Rao's brand – marinara is my favorite! I use this all the time on homemade pizza and it's great.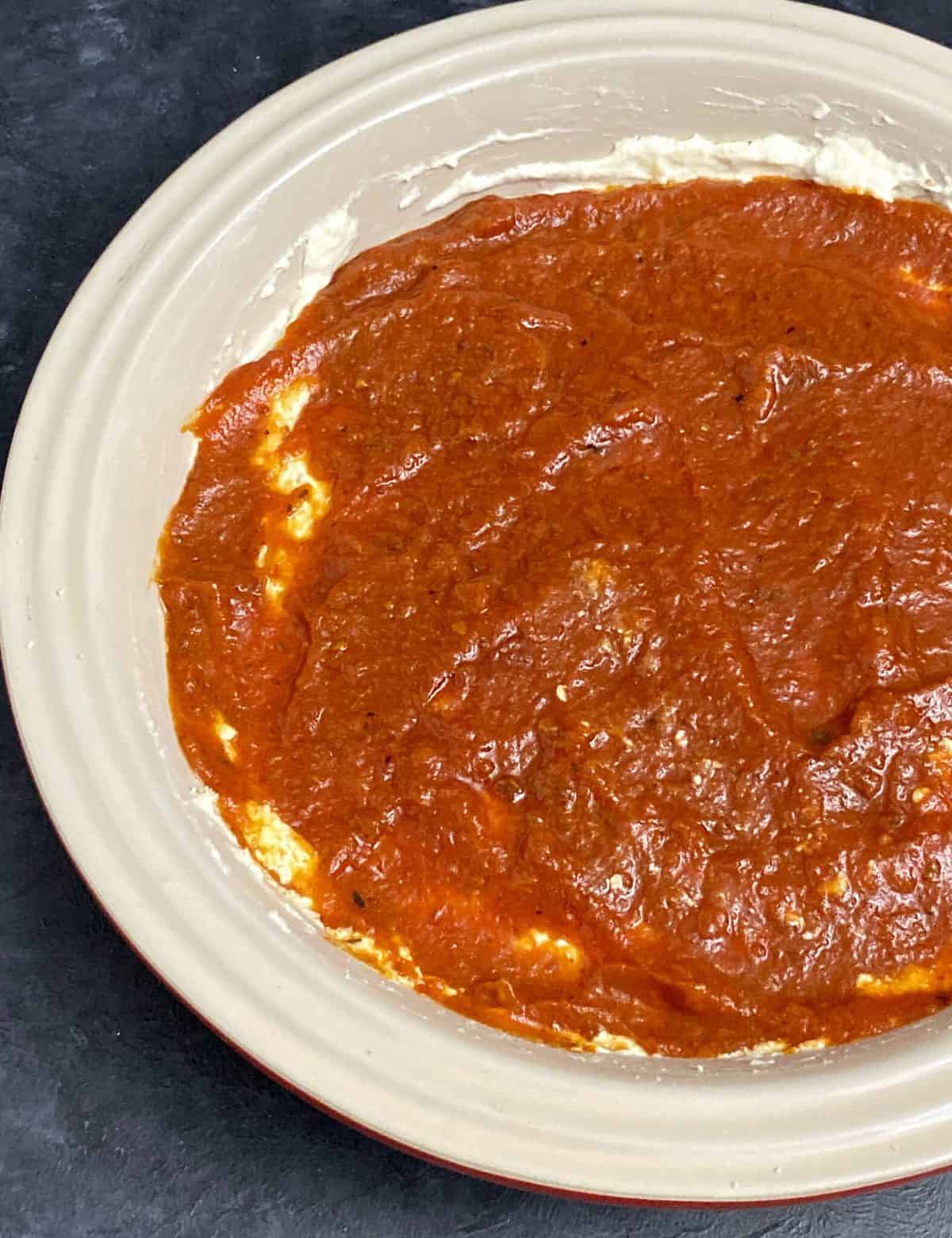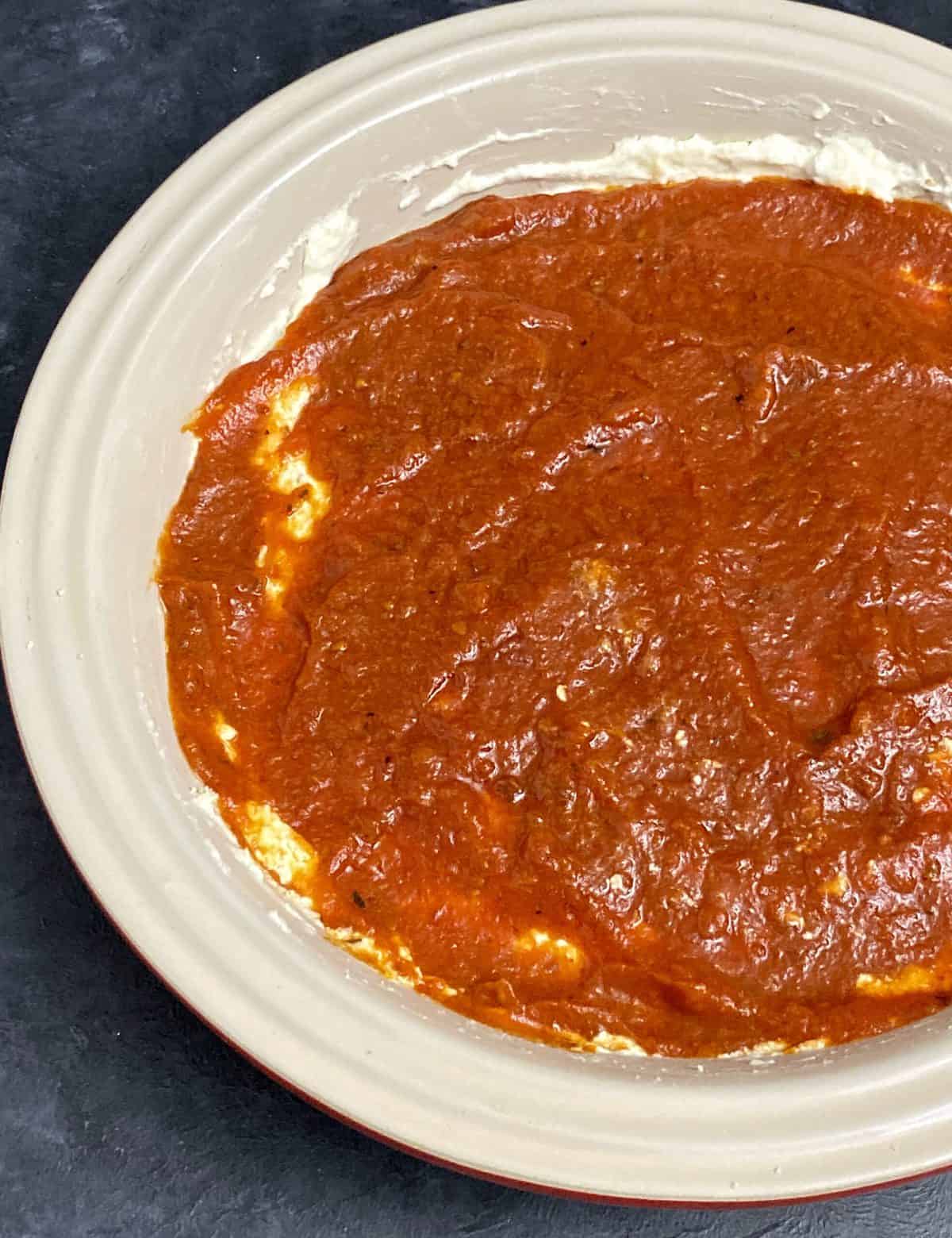 After you've spread the pizza sauce, sprinkle 2 cups of part-skim mozzarella cheese and romano cheese on top. Then, layer the turkey pepperoni slices in an even layer.
Cooking Tip: Cut the pepperoni into smaller pieces. This makes it so there's a piece of pepperoni with each bite. When you use whole pepperoni slices, all of the pepperonis will usually be eaten first before the dip is gone.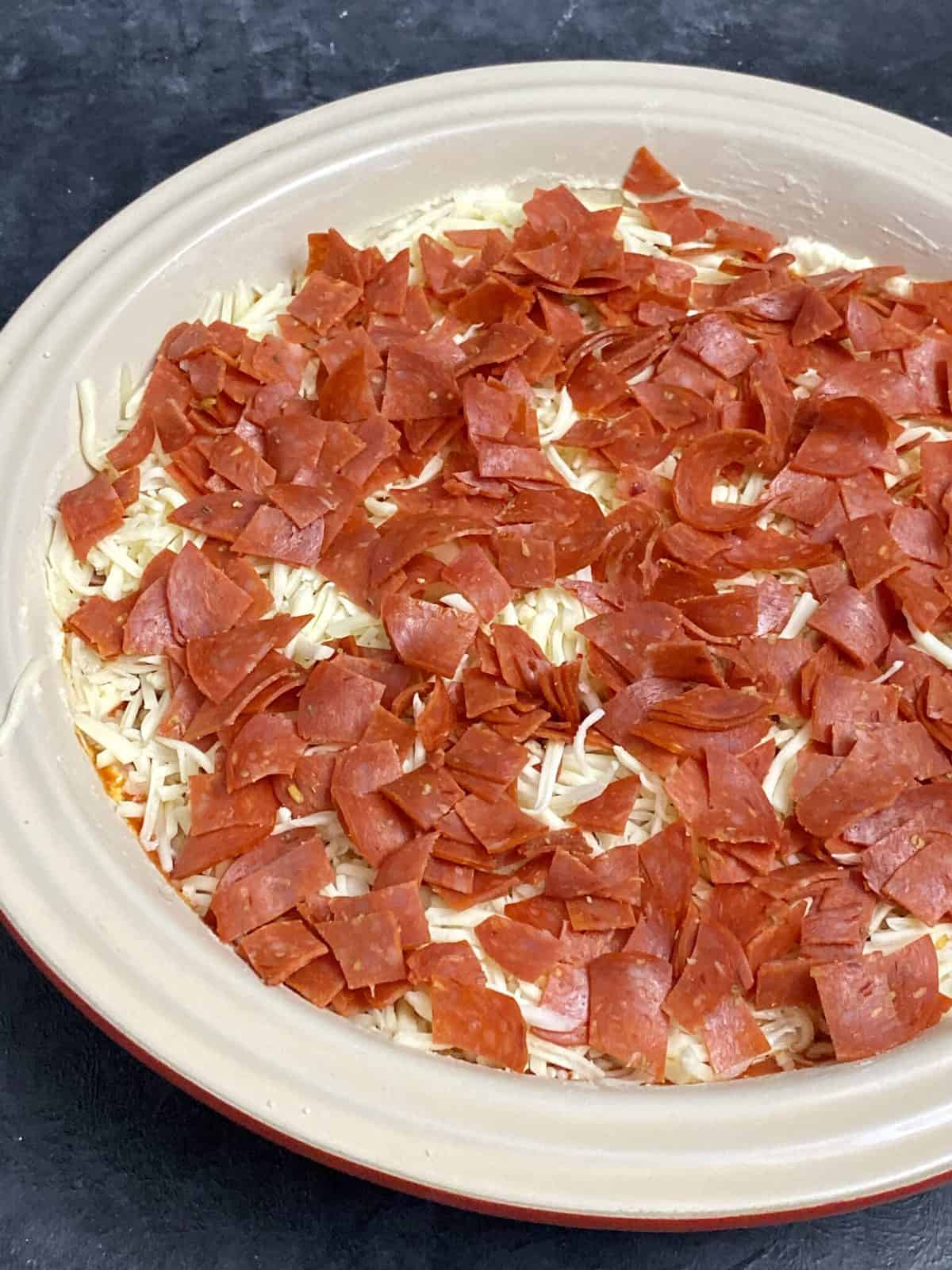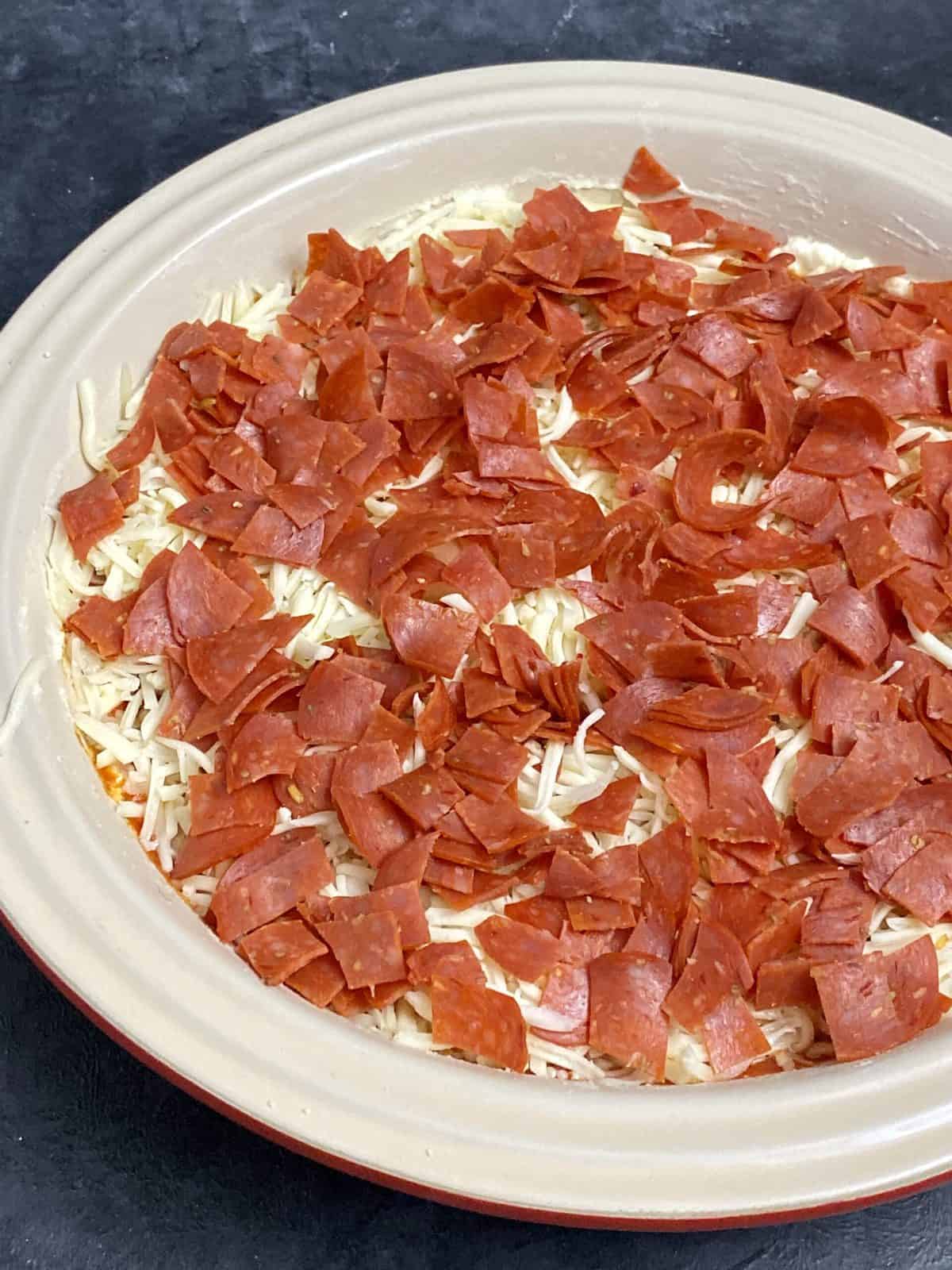 Once you have the pizza dip ready to go, stick it in the oven at 350 degrees for 25 – 30 minutes. You want to make sure you pull it out when it's nice and golden on the edges and the cheese is bubbly.
Just like a pizza!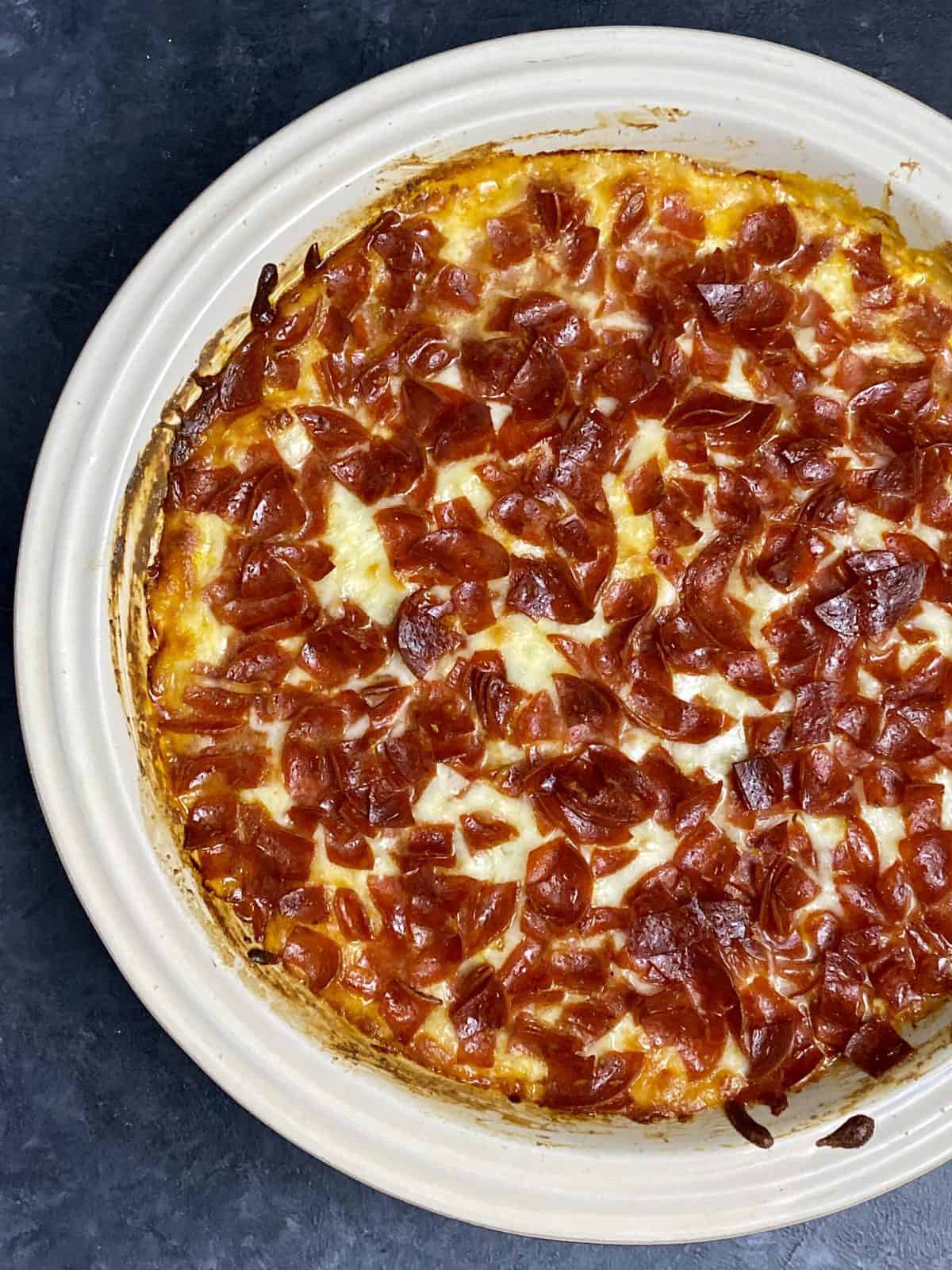 Make-ahead Tips
To prep this pepperoni dip, assemble all of the ingredients into a 9-inch casserole dish, cover with plastic wrap, and refrigerate. When you're ready, cook in a 350-degree oven until the dip is hot and bubbly.
If you are cooking this straight from the refrigerator, then let the dish sit on the counter for about 5 minutes to bring it up to room temperature. You don't want to risk the dish breaking because of the difference in temperature.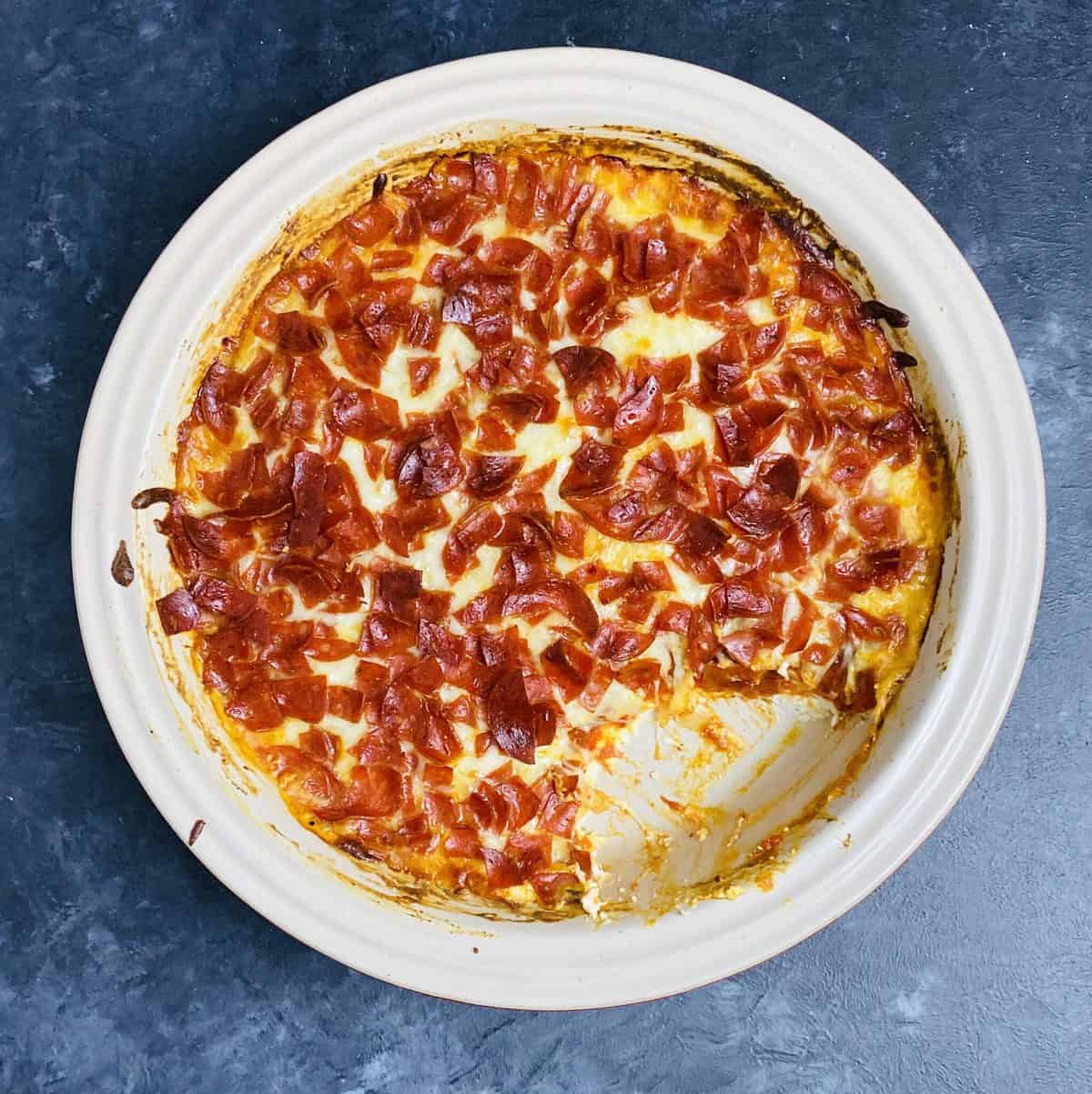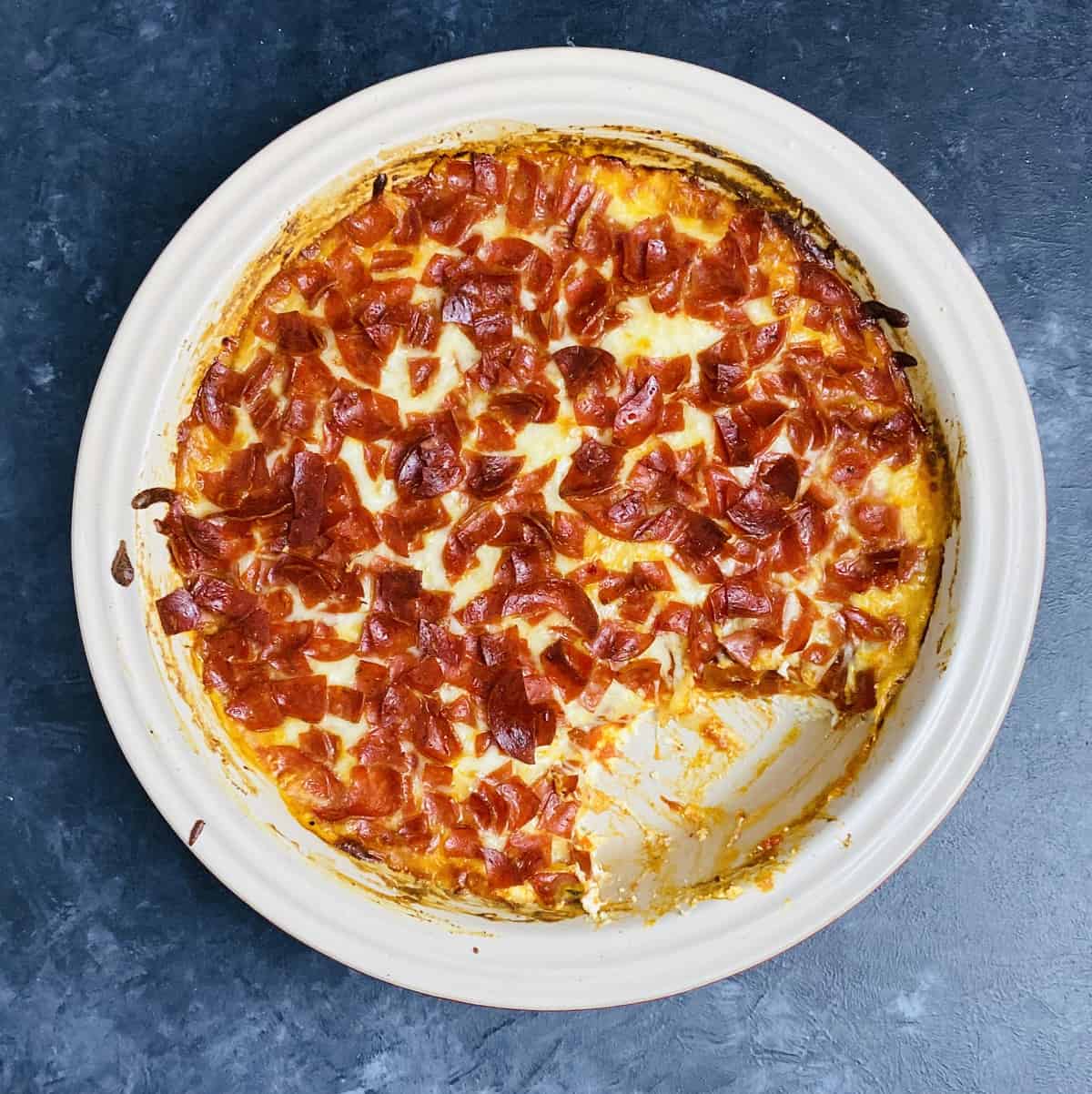 Other Party Dip Recipes
Here are some of my (and everyone else's) favorite party dip recipes to make at your next get together:
Take this Pepperoni Pizza Dip to have the perfect party dip for your next party. Share a picture and tag me on Instagram or Facebook if you decide to try it!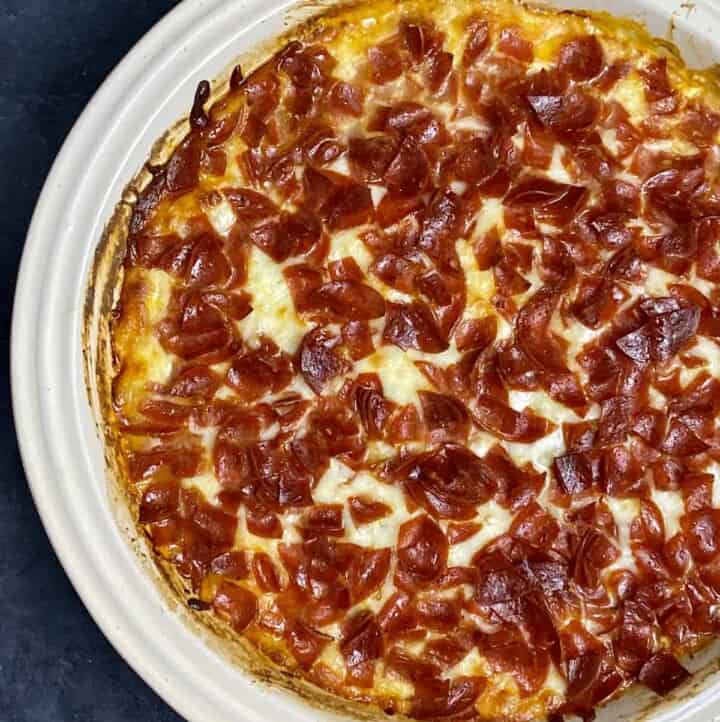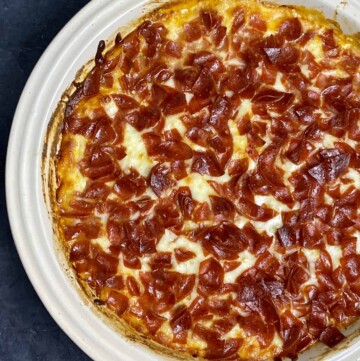 Easy Pizza Dip
Everything you love about pizza transformed into an ooey-gooey delicious party dip! This Easy Pizza Dip is so good that your friends and family won't even question whether or not it's 'lightened' up.
Print
Pin
Rate
Ingredients
1

8 ounces brick low-fat cream cheese, soften

1

8 ounces brick regular cream cheese, soften

1

8 ounces container light sour cream

1/2

teaspoon

garlic powder

1/2

teaspoon

onion powder

1/4

teaspoon

salt

1/2

teaspoon

Italian seasoning

1/2

cup

grated parmesan or Romano cheese

1 1/2

cups

high-quality pizza sauce

2

cups

shredded part-skim mozzarella

1

4.5 ounces package turkey pepperoni, chopped
Instructions
Preheat oven to 350 degrees

Place the cream cheese and sour cream into a 9-inch pie plate and bake for 25 minutes.

Right in the pie plate mix in the garlic powder, onion powder, salt, Italian seasoning, and grated parmesan. After it's mixed spread the cream cheese mixture evenly in the pie plate.

Spread pizza sauce over the cream cheese layer.

Sprinkle mozzarella over top.

Top with pepperoni.

Bake in the oven for 30 minutes or until hot and bubbly.

Let cool for 5 minutes.

Serve with bread, chips, crackers, or vegetables.
Notes
Make-ahead tips
This recipe can be assembled a day or two before. Store in the refrigerator. When you're ready to cook continue with recipe.
Nutrition
Serving:
1
g
|
Calories:
254
kcal
|
Carbohydrates:
8
g
|
Protein:
14
g
|
Fat:
19
g