At only 206 calories for 1/4 cup, this 7-Layer Greek dip will be the new big hit at the next party you attend. Throw in some pita chips along with some freshly chopped veggies and this party dip will be the only thing the guests will be talking about!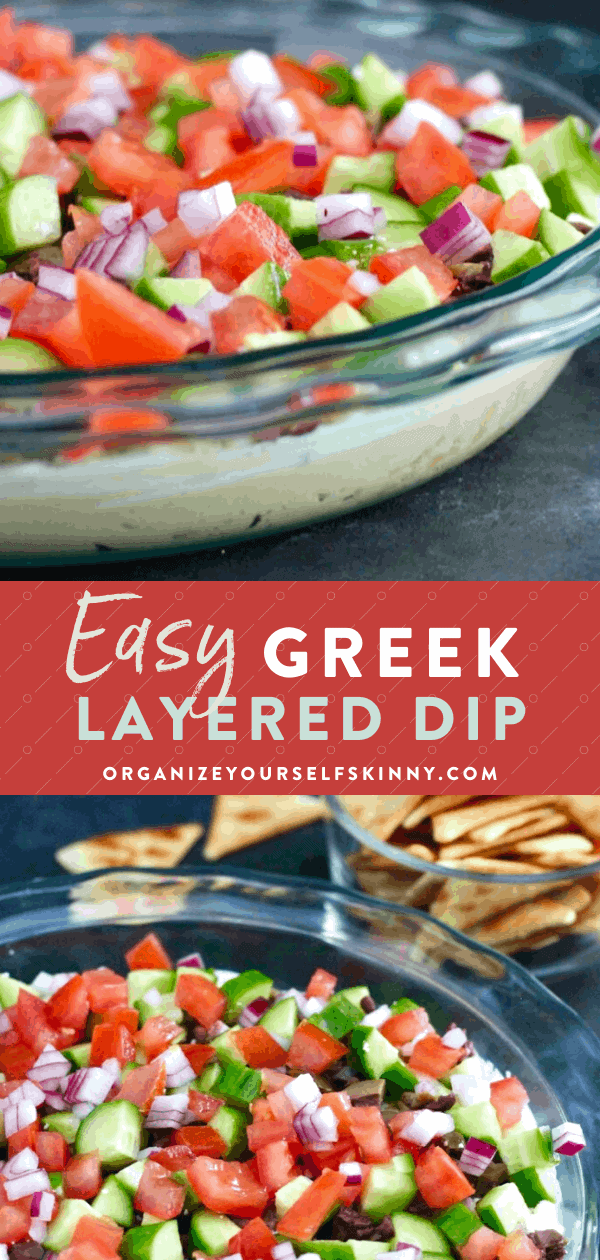 Easy Greek Dip
Many times when you throw a party or attend one, you will always find the same kinds of snacks, especially the dips.
I was introduced to this greek dip last year during the holidays and it blew my mind. One of my close girlfriends brought it to one of our holiday parties and everyone was hooked, especially my husband. It's safe to say that this is one of his favorite party dips.
It's incredibly easy to make and requires no cooking so it's perfect when you need to throw a quick appetizer together.
Frequently Asked Questions About Greek Dip
What are the layers in the greek dip?
There is a certain way to layer this dip that the veggies will stay fresh as well as hold the dip together. You really are missing out if you don't get at least a taste of each ingredient in one whole bite.
This party dip contains 7 different layers:
Hummus
Tzatziki
Feta Cheese
Cucumbers
Tomatoes
Red Onions
Olives
If I'm working quickly and don't feel like layering each ingredient perfectly, I'll often make it into a four-layer dip, with a mix of cucumbers, tomatoes, red onions, and olives making the fourth layer at the top.
What can I serve with this greek 7-layer dip?
The best thing about this dip is that it pairs perfectly with a variety of delicious foods. You could serve this greek layer dip with:
Grain-free tortilla chips
Pita Chips
Carrots
Cucumbers
Radishes
Sliced Ezekial Bread
You can even load this dip up in a wrap but I'll share more info about how to do that towards the bottom of this post.
Can I make this ahead of time?
Yes! You can make this dip up to 3 days ahead of time but you can also make it that day for a party.
Personally, I recommend making it the day before so the layers get a chance to settle into each other. But again, it's not a huge deal to make it the same day as the party.
If you make it ahead of time, cover it tightly with plastic wrap and refrigerator.
Now that we've got the answers to your questions, it's time to put this greek dip together!
7-Layer Greek Dip
This recipe is a great healthy option for any party season. It uses protein-rich hummus, yogurt-based Tzazki, just enough feta cheese for that tangy bite, and topped with fresh vegetables.
These are all of the ingredients you will need to make this greek dip:
Roasted garlic hummus – packed with plant-based protein and a great vegan snack option.
Tzatziki – contains greek yogurt which helps with probiotics and supports the digestive system.
Feta Cheese – has vitamin B and healthy fatty acids
Cucumber – low in calories and contains antioxidants that can aid in weight loss
Tomato – reduces risk of heart disease and is packed full of vitamin C and K
Greek olives – high in vitamin E and is good for heart health
Red onion – helps control blood sugars and boosts digestive health
For this dip, I used a 9-inch glass pie plate but I've also made it in a 9×13 pan as well. The layers will be a little thinner but the taste is definitely still there. I do recommend glass so your guests can see all the pretty layers in this dip.
How To Make This Greek Dip:
First Layer – Hummus
This dip starts with a nice layer of hummus at the bottom.
If you have the time, you can certainly make your own hummus for this dish but using store-bought is easier if you're in a pinch. My favorite go-to hummus flavor is roasted garlic but roasted red pepper would taste just as good.
I say go ahead and use your favorite flavor!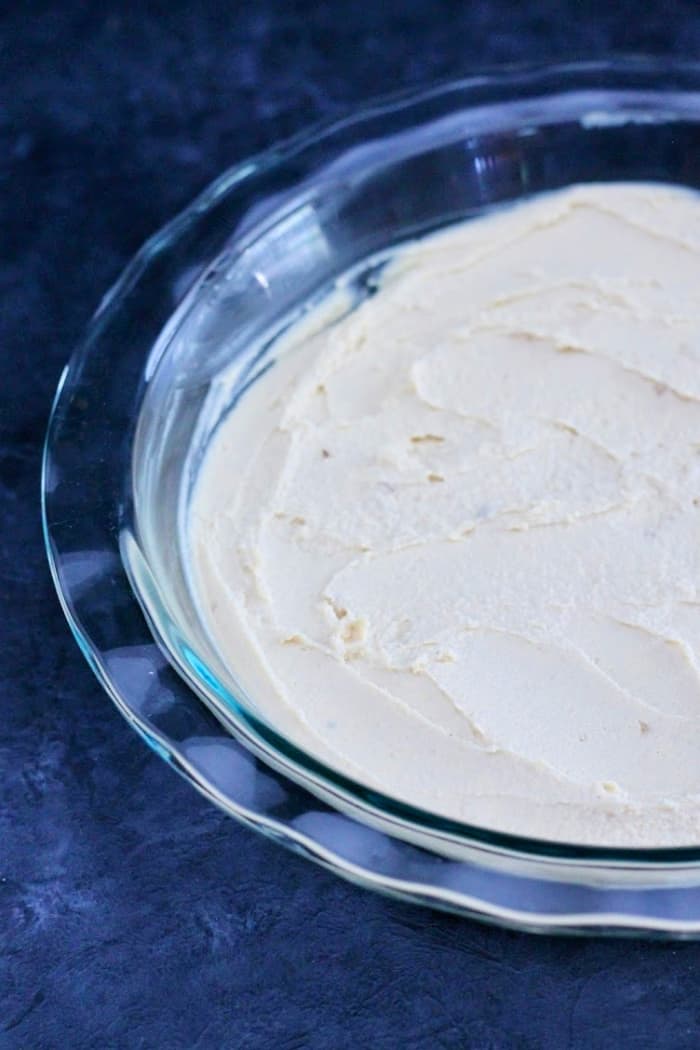 Second Layer – Tzatziki Sauce
Next, you would layer 10 ounces of tzatziki sauce on top of the hummus. Again, you could make your own Tzatziki but just like the hummus, I would purchase store-bought to keep this recipe super simple. I won't tell 🙂
My friend's recipe didn't call for Tzaziki but I decided to add it because I think it adds another tasty layer to this dip.
Third Layer – Feta Cheese
Then we have my favorite cheese: feta! Feta adds an awesome flavor to just about any recipe but it really gives this dip the nice tangy kick it needs. Getting that bite of feta cheese is amazing!
I used about 1 cup of plain crumbled feta cheese over the top of the tzatziki sauce.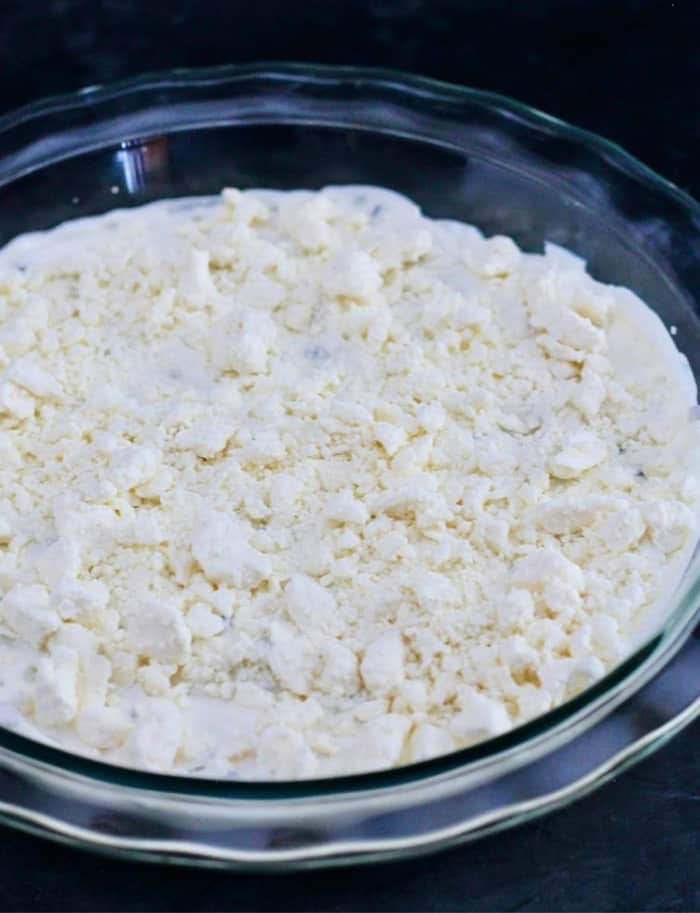 These next couple of layers are all the fresh cut-up vegetables and black olives. Again, you can do these all mixed together, or you can make each of these a separate layer.
Fourth Layer – Cucumbers
I used 1 cup of chopped cucumber. I decided to leave the skin on for color, nutrition, and because honestly, I was too lazy to peel it. If you want to peel the cucumber, then go ahead.
Fifth Layer – Tomatoes
The fifth layer includes 1 cup of chopped tomatoes – I use vine-ripened tomatoes. Those have the best texture and flavor in my opinion.
Sixth Layer – Red Onion
You will also need to add 1/2 cup of chopped red onion. I was a little nervous to add this ingredient in because I didn't want the flavor of the onion to overpower the dip – the other ingredients are already strong flavors.
I have to say that I really liked the addition of red onion and I'm glad I decided to leave it on. It went great with the other flavors and vegetables. However, if red onions aren't for you, you can leave it out of this party dip.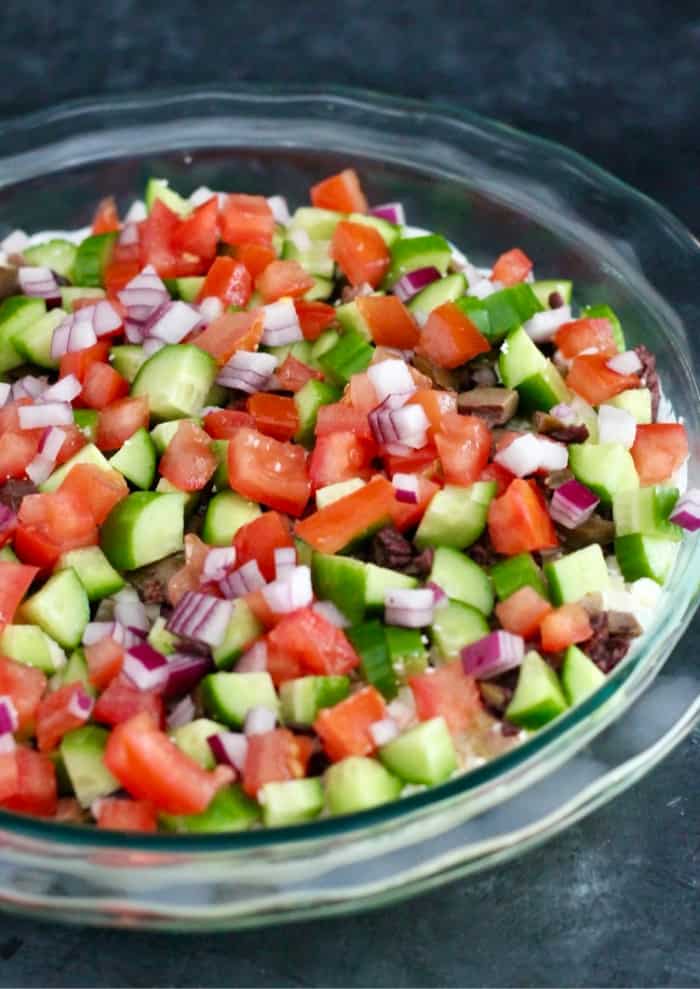 Seventh Layer – Olives
For the olives, you want to use kalamata greek olives or any greek olive mix you can find at the store.
If you can, and I strongly recommend it, try to find pitted olives because this will save you a ton of time. I went right to the Mediterranean bar at Wegmans to get the olives I used. Even if you get pitted, I would suggest feeling for pits because you don't want a guest to chip their tooth on an olive pit.
I used 1/3 cup chopped greek olives and this was more than enough. A little goes a long way in this recipe!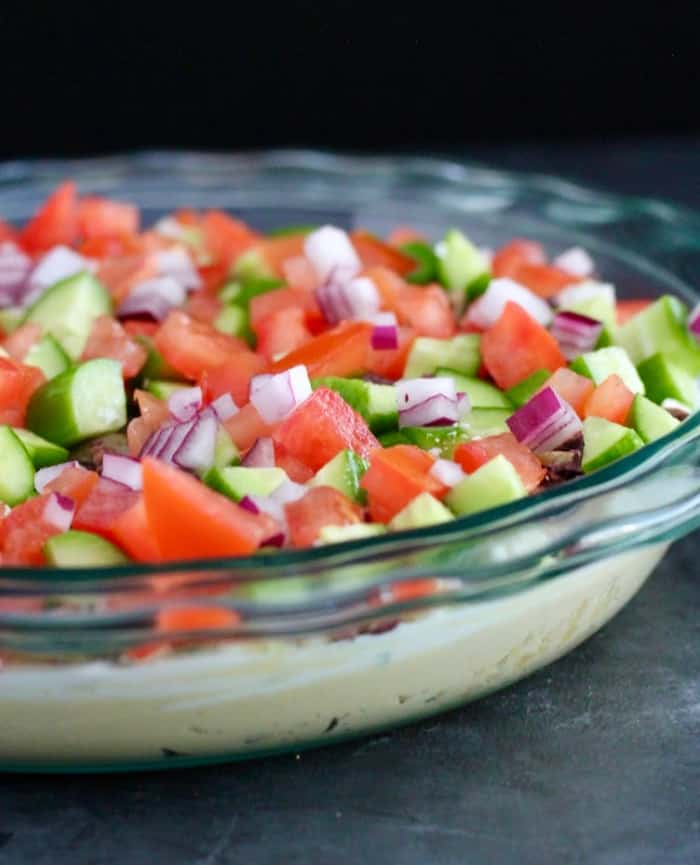 There you have it, a 7-layer greek dip. This can be served with some cut-up vegetables but my favorite way to eat this is with crackers or pita chips.
Leftover Ideas for Greek Dip
If by some chance you have any leftovers from the party (no promises!), this dip goes great in wraps or as a side dish. Add in some chopped chicken or sliced turkey to make it protein-rich unless you prefer to keep it vegetarian.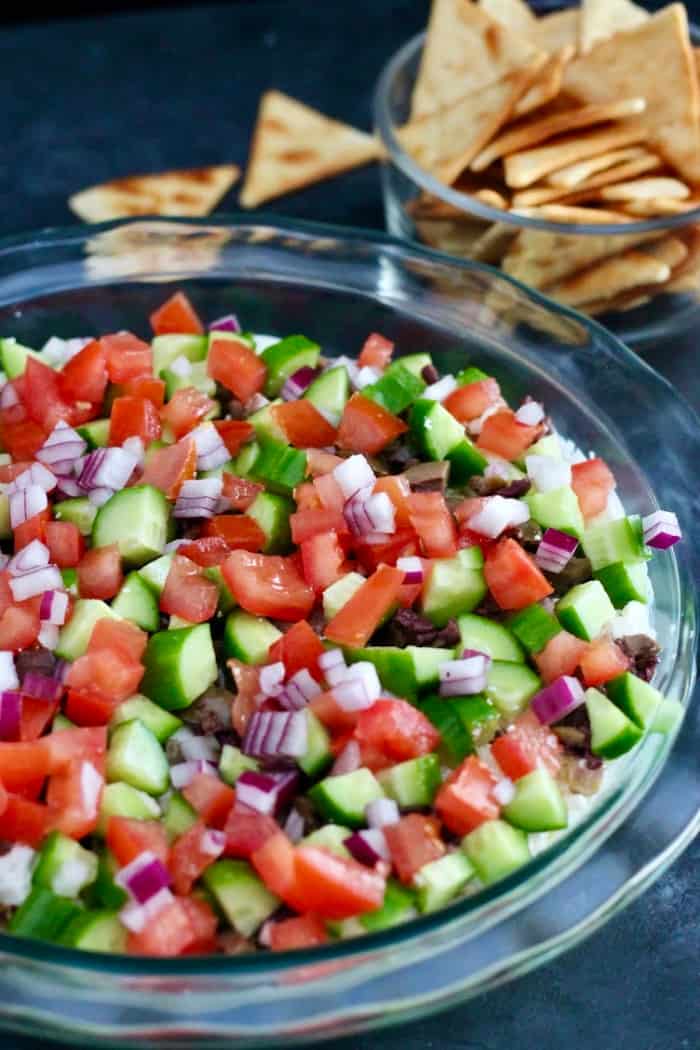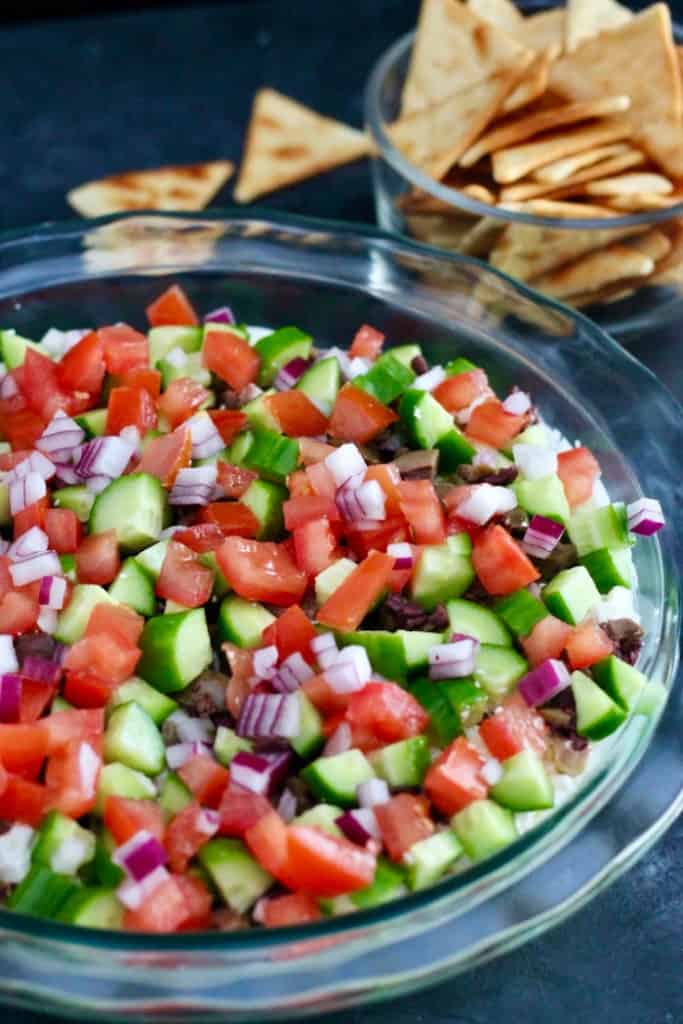 Try Some Of These Other Party Dips
If you are wanting to really WOW at your next party with some healthy party dips, take a look at some of these dips I've replicated but with my own twist to them:
Make your own healthy dish next time you are invited to a party and take this 7-Layer Greek Dip to eat with your friends. Share a picture and tag me on Instagram or Facebook if you decide to try it!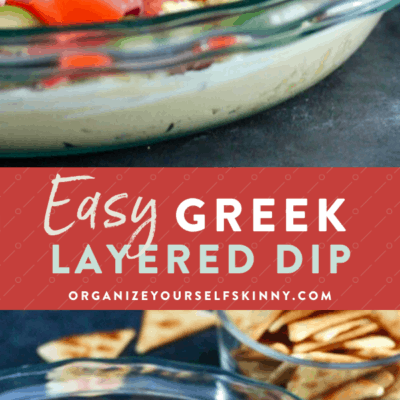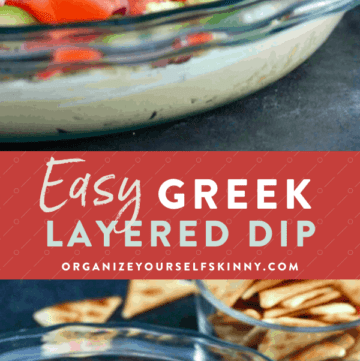 Greek Dip
At only 206 calories for 1/4 cup, this 7-Layer Greek dip will be the new big hit at the next party you attend. Throw in some pita chips along with some freshly chopped veggies and this party dip will be the only thing the guests will be talking about!
Print
Pin
Rate
Ingredients
1

16 ounces container roasted garlic hummus

1

10 ounces container Tzatziki

1

cup

crumbled Feta Cheese

1

cup

chopped cucumber

1

cup

chopped tomato

1/3

cup

chopped greek olives

1/2

cup

chopped red onion
Instructions
Spread the hummus onto the bottom of a 9-inch pie plate.

Then layer Tzatziki, feta cheese, cucumber, tomato, olive, and red onion.

Chill for 2-3 hours to allow flavors to combine.

Serve with cut-up vegetables and/or crackers.
Notes
Make-ahead instructions
This Greek dip can be made up to 3 days ahead of time.
Nutrition
Serving:
1
g
|
Calories:
206
kcal
|
Carbohydrates:
13
g
|
Protein:
9
g
|
Fat:
13
g
|
Saturated Fat:
4
g
|
Fiber:
2
g
|
Sugar:
3
g