This hot and delicious Reuben dip is made with chopped corned beef, sauerkraut, swiss cheese, and thousand island dressing. It's everything you love about a classic Reuben sandwich but transformed into a hot creamy party dip!
If you're hosting or attending a St. Patrick's day party then this Reuben dip is a must. Trust me, you'll be the hit of the party!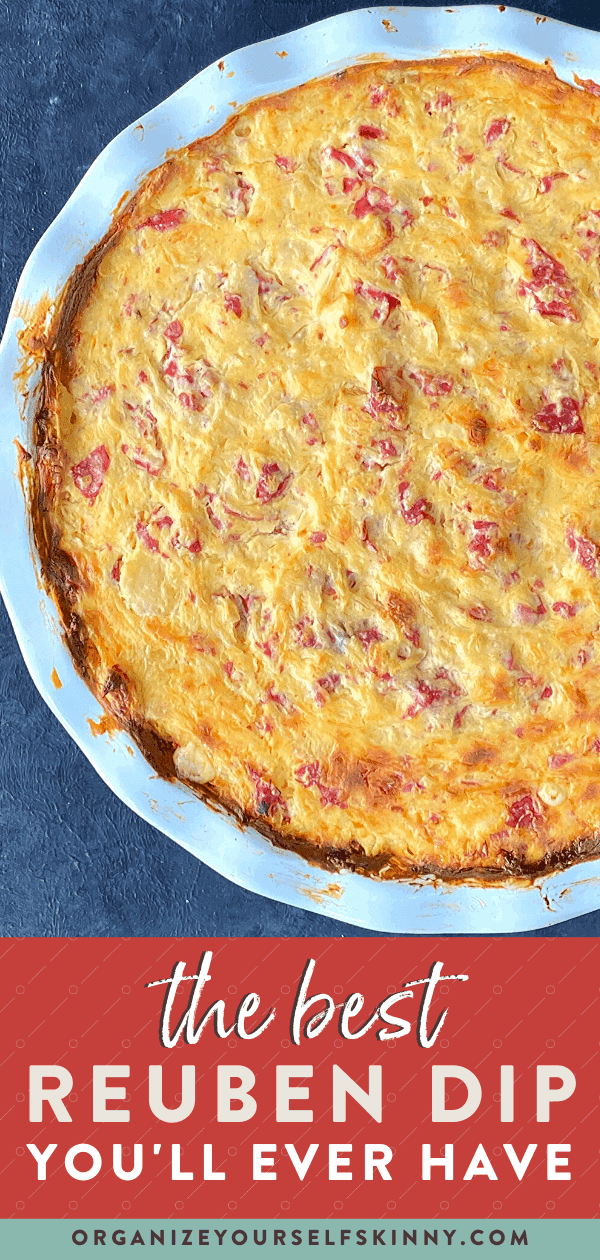 I don't know when I became the "party dip girl," but over the last year I've really enjoyed creating fun unique party dip recipes like this Easy Pizza Dip and this Make-Ahead Spicy Sausage Dip.
Either way, no matter which dip you decide to make, you really can't go wrong.
With St. Patricks Day right around the corner, I wanted to share one of my newest hot party dip ideas inspired by the famous Reuben sandwich!
I've Never Heard Of A Reuben: What Is It?
Before I jump into this recipe, you might be wondering what a Reuben is and what it consists of.
A Reuben is a classic sandwich made with corned beef, sauerkraut, melted swiss cheese, and thousand island dressing piled high on some toasted rye bread.
Sounds amazing, right?
Because of the ingredients it is made with (especially the corned beef), this is a very popular recipe to serve up on St. Patricks Day. Truth be told, the Reuben was actually developed by a German immigrant – so it's not Irish at all!
Just a little fun fact for you 😉
Regardless, it's unique flavors and perfect cut of meat make it many people's favorite go-to dish on this shamrock holiday.
Oven-Baked Hot Reuben Dip
Now, it's time for my favorite part – cooking!
For this recipe, here is a list of ingredients you'll need:
Regular and low-fat cream cheese
Sour cream
Fresh sauerkraut
Swiss cheese
Sliced corned beef, chopped
Russian dressing (also called Thousand Island)
Salt
Pepper
That's it!
How To Make Reuban Dip From Scratch
This Reuben dip is so easy to make!
Like many of my other party dips, it starts with a base made of cream cheese and sour cream. Some recipes call for mayonnaise but I prefer the consistency of cream cheese in all of my party dips.
Before I mix all the ingredients together. I first stick the cream cheese and sour cream into the oven for 20 – 30 minutes to melt it down. This is an extra step but it makes it so much easier to mix and blend in the rest of the ingredients.
While the base is in the oven, I work on the rest of my ingredients.
Prep The Rest Of The Ingredients
For this dip, you can use deli or fresh cooked corned beef. I prefer the deli just because it's easier, but one of these days I'm going to make my own corned beef and then make this recipe!
For the deli corned beef, I use about 3/4 a pound and I have them slice it on the thin side. Then, I chop it up into bite-sized pieces and put it to the side to add to the cream cheese mixture later.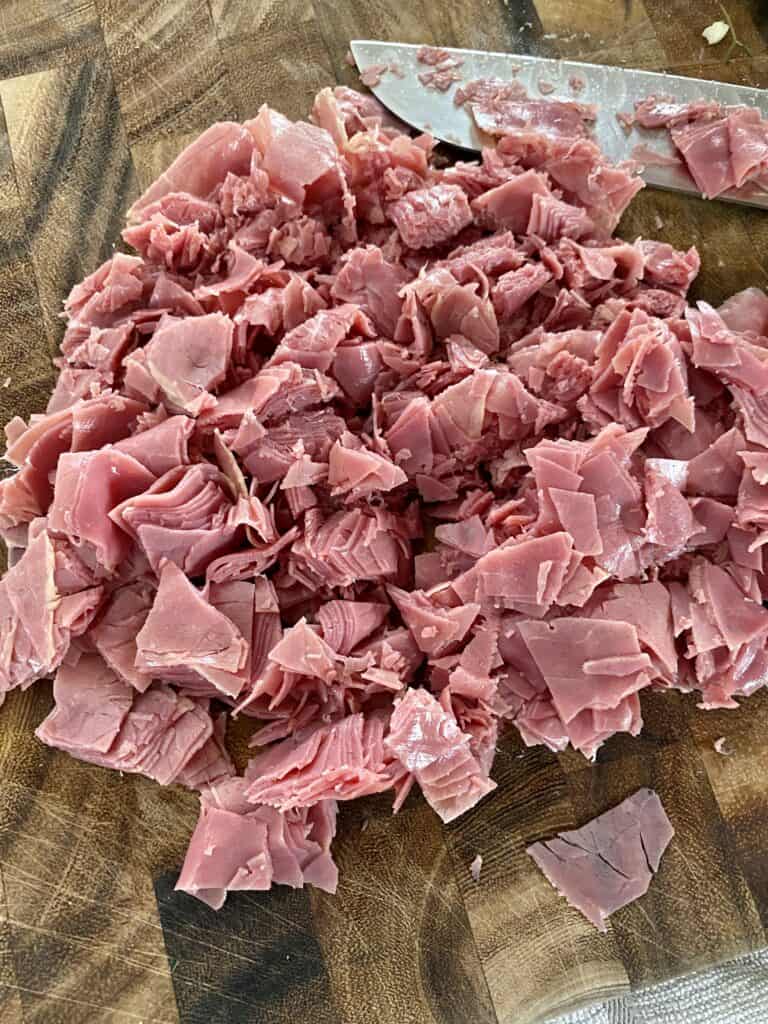 While you're at the deli, don't forget about the swiss cheese! If you have time to shred your own cheese, go for it, but if you don't check the assorted cheese section at the store.
When it comes to the sauerkraut, I definitely lean towards using the fresh kind!
The one I bought is in a plastic bag sold in one of the refrigerator sections of the grocery store. Typically, it's right in the meat section by the smoke sausage. A lot of recipes call for canned but I prefer the flavor of the fresh.
I use the whole 2lb bag in this recipe (we love the stuff) but you can use less if you want. It's very important to drain the sauerkraut (fresh or canned) prior to going in with the other ingredients. There's a lot of liquid and it can ruin the dip if not drained.
As for the dressing, you just need a little bit of thousand island dressing (which is also called Russian dressing just in case you're having a hard time finding it). It adds that little bit of zing the dip needs against the meat and the strong flavor of sauerkraut.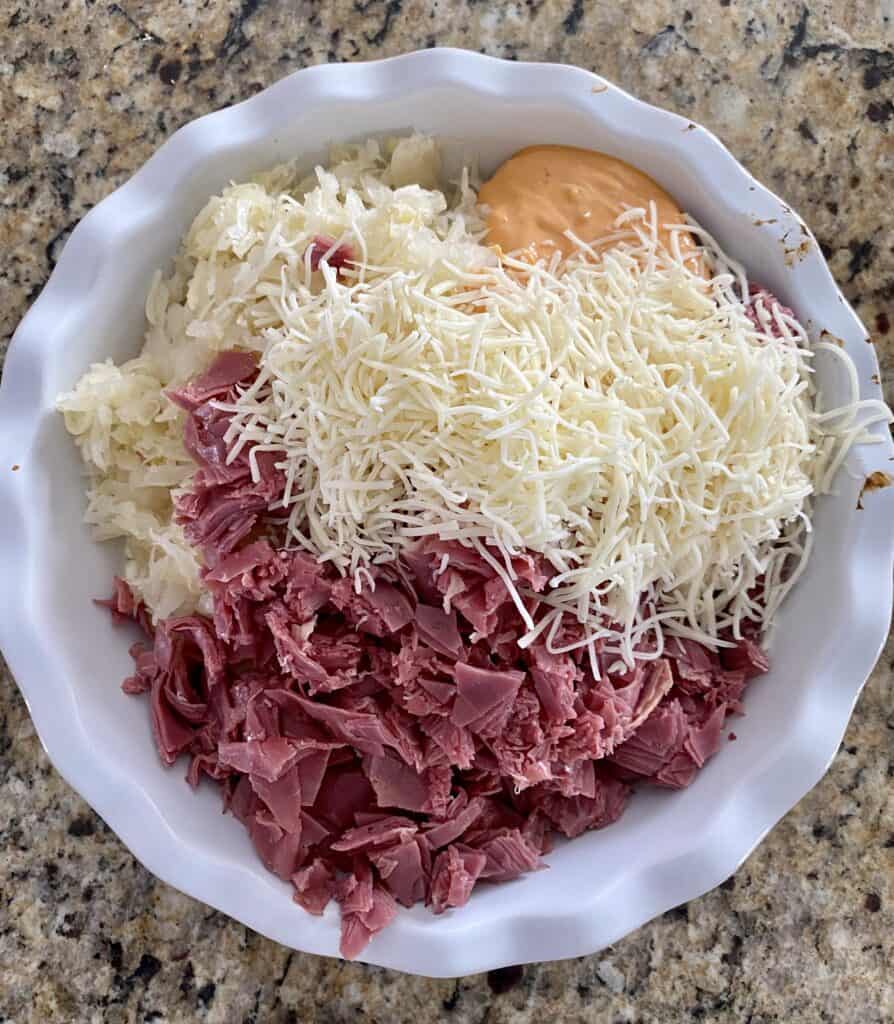 It'a Time To Bake This Hot Party Dip
After the cream cheese mixture is softened, I mix in the rest of the ingredients and put it back into a 350 oven for 25 to 30 minutes or until it's hot and bubbly.
I like to cook this dip either in a pie plate or in a 9-inch casserole dish. I also purchase disposable casserole dishes if I'm bringing it to a party so I don't have to worry about remembering my dish tray.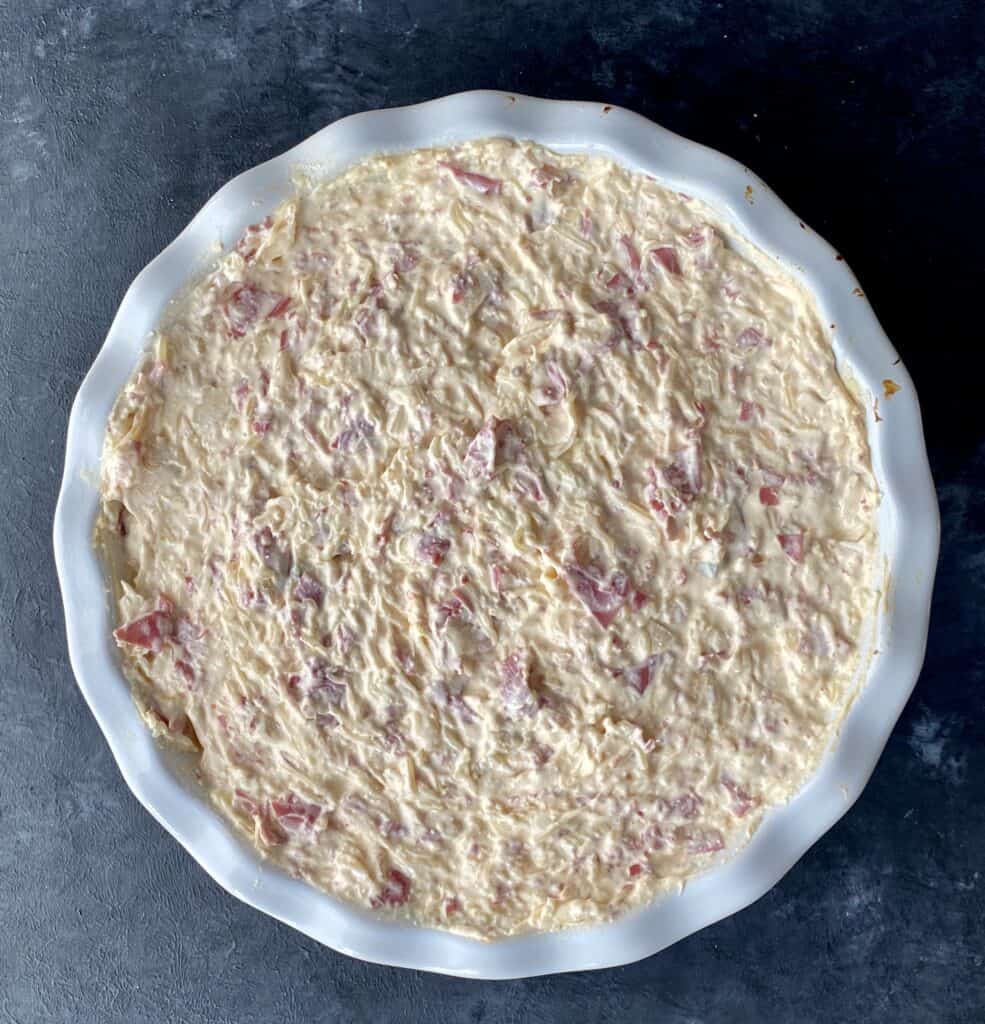 How To Make Reuben Dip Healthier
Whenever I share appetizer or dessert recipes, I think it's important to mention that these types of recipes (even lightened up) are treats and should be treated as such.
Try to keep the portions under control and pay attention to how it'll fit in with the rest of your calories for the day. With that said, I lighted up this dip by using 1/2 full fat cream cheese, 1/2 low-fat cream cheese, and light sour cream.
I also made sure to measure out the rest of the ingredients!
What To Serve With A Hot Reuben Dip
You serve a Reuben sandwich on rye bread, so this hot dip tastes great with rye Triscuit crackers or with chunks of toasted rye bread. If you want to really wow your party guests, you can serve this Reuben dip inside of a rye bread bowl!
If you're wanting a low carb option, I recommend serving this with carrots, peppers, or other raw vegetables. Rye pretzels are awesome with this, too.
Make This Dip Ahead Of Time
As always, I try to come up with recipes that can be prepped in advance to make all of our lives easier.
Just like all of my dips, the flavors in this dip get better the next day, so I recommend trying to make it the day before. You can either mix all the ingredients together and then bake it on the day you'll serve it, or cook it completely and then warm it up in the oven at 350 degrees for 20 minutes or so until heated thoroughly.
When you reheat it, make sure to cover it with foil so the top doesn't brown too much or burn before the middle is heated through.
I usually just cook the dip completely and then warm it up the next day when I serve it.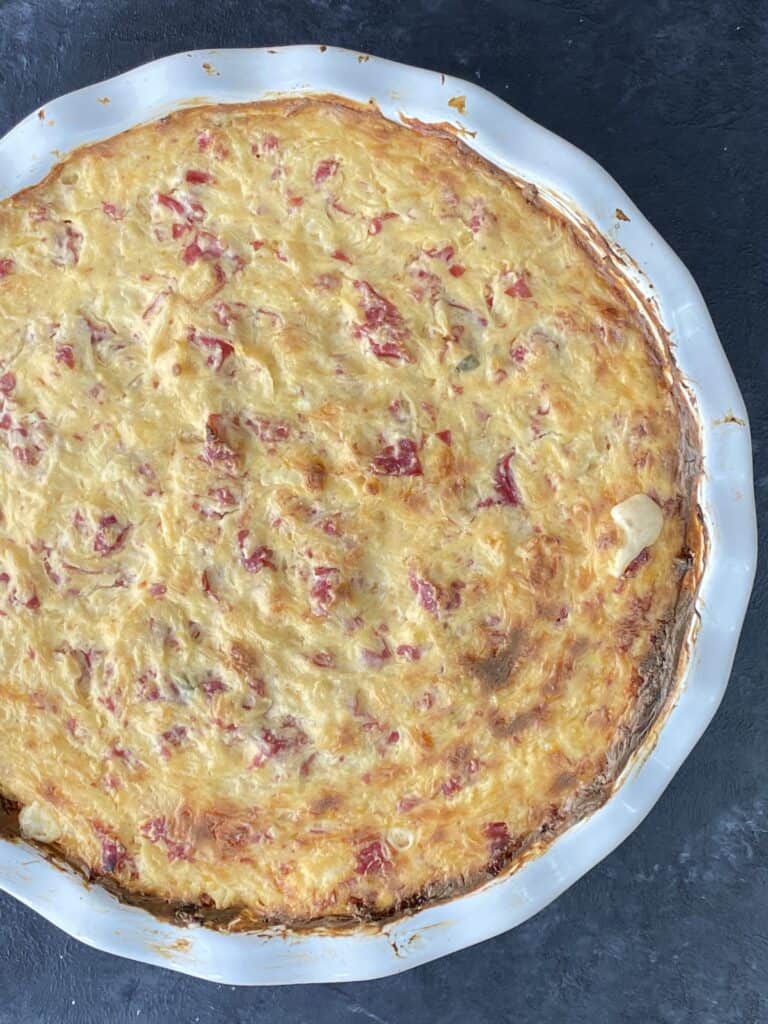 More Healthy Party Dips
If you are looking to bring an array of party dips, look no further! Try some of these yummy dips at your next soiree:
Now that you have all the fixings to make this yummy Reuban Dip, share a picture and tag me on Instagram or Facebook if you decide to make this!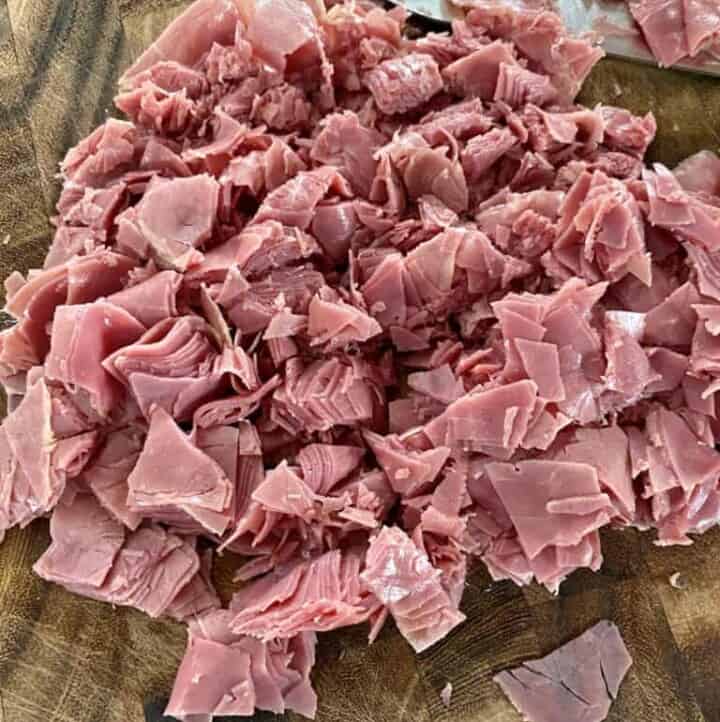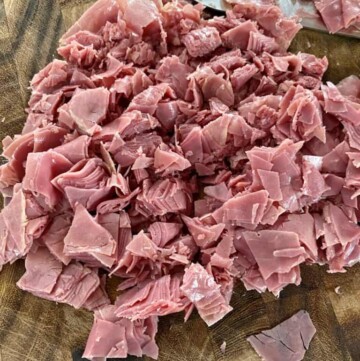 Reuben Dip
This hot reuben dip is everything you love about the sandwich version! A cheesy flavored base is peppered with chopped corned beef, sauerkraut, and thousand island dressing for an irresistible treat.
Print
Pin
Rate
Ingredients
1

8-ounce block cream cheese

1

8-ounce block low fat cream cheese

1

8-ounce container light sour cream

1

2lb package fresh sauerkraut, drained

1 ½

cups

shredded swiss cheese

3/4

lb

thin-sliced deli corned beef

chopped

½

cup

Russian dressing

also called Thousand Island

1/2 - 1

teaspoon

salt

1/2 - 1

teaspoon

pepper
Instructions
Preheat oven to 350 degrees.

Place both blocks of cream cheese and sour cream into a 9 inch pie plate, or casserole dish. Bake for 20 - 30 minutes or until cream cheese is soft.

Carefully stir in the corned beef, sauerkraut, swiss cheese, dressing, salt, and pepper.

Bake for another 30 minutes until hot and bubbly.

Serve with rye crackers or keep it low carb and serve with vegetables.
Nutrition
Serving:
1
g
|
Calories:
214
kcal
|
Carbohydrates:
7
g
|
Protein:
11
g
|
Fat:
16
g
|
Saturated Fat:
9
g
|
Fiber:
2
g