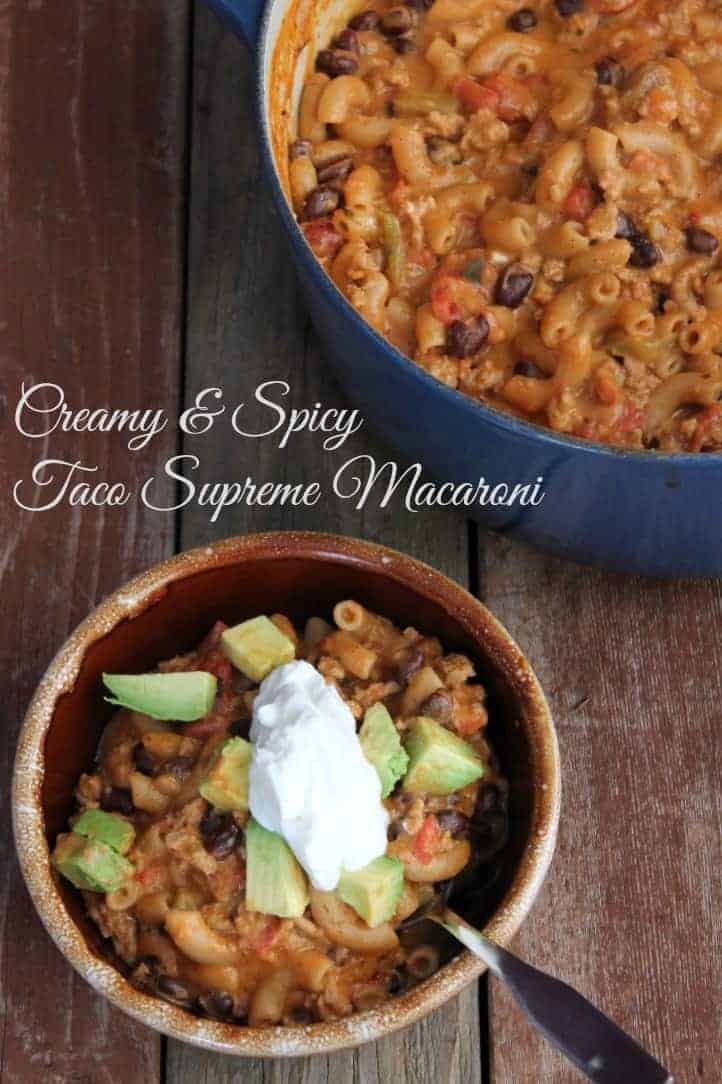 Whenever I discover a recipe my family enjoys I get to work creating 1-100 different variations. If it ain't broke don't fix it – just maybe switch it up a bit. That is exactly what I did with my Turkey Chili Mac I made a few weeks ago. It was a huge hit so I decided to play around with the base recipe and see what else I can come up with.
My first variation is this new Creamy & Spicy Taco Supreme Macaroni. Oh mama! I could eat this every day for weeks. It is delicious and beyond comforting. I kept the base recipe somewhat the same. I used the same amount of ground turkey, macaroni, and beef broth. I stuck with ground turkey to keep the fat content under control. I also felt the amount of macaroni is perfect in this recipe. There is just enough pasta to satisfy a comfort food craving while also keeping the calories in check. I did switch up the spices, cheese, and added in a few other ingredients.
I started by using a packet of Simply Organic spicy taco mix. You can use any taco seasoning or make your own but I really love the Simply Organic mix. Plus it is easy and when I put together a recipe I always try to think about the easiest, yet still healthy, way to make something.
To live up to it's taco supreme name I included salsa, green chilis, and black beans. For the creamy and cheese part I whipped up and stirred in a cheese sauce made with 1% milk, cream cheese, and shredded Monterey jack cheese. After it was done I sprinkled some chopped avocado on top and a dollop of plain greek yogurt. Taco supreme at it's finest!
Please note, after it is done cooking it will seem a little soupy or more of a chili consistency. Give it about 5 minutes and it would thicken up and turn into a creamy delicious spicy bowl of taco supreme comfort!
If you don't want it as spicy then use a mild taco seasoning and salsa. This recipe can be adapted to meet your tastes. Just think about how you like to make your tacos and make this macaroni dish the same way.
You will get about 8 (1 cup) servings from this recipe. If you have leftovers don't worry because it freezes great. I recommend freezing in individual servings for easy lunches or dinners. Also, each serving is 373 calories and 9 weight watchers points plus. Enjoy!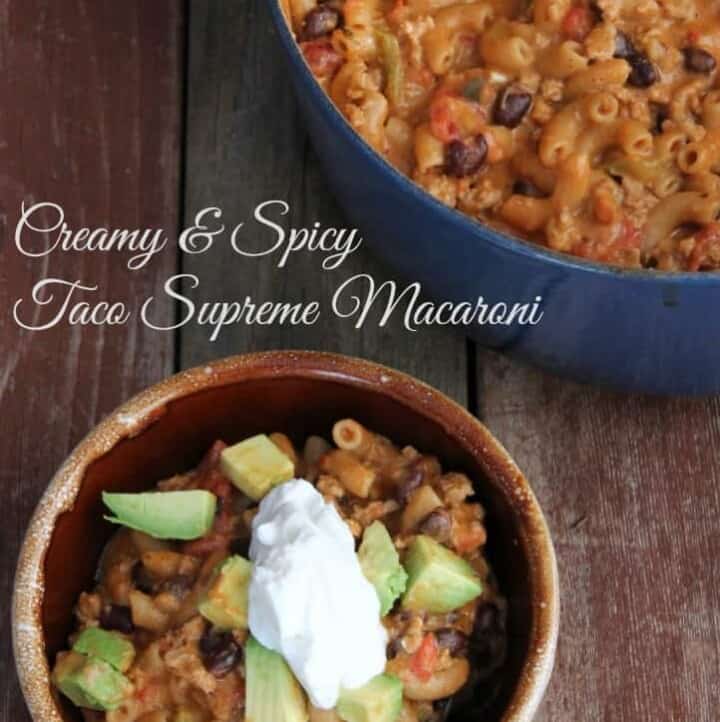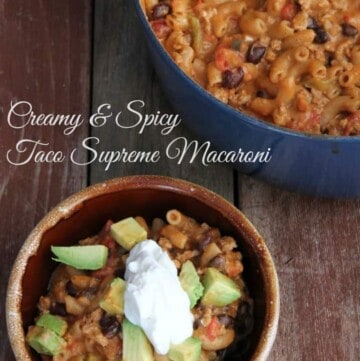 Ingredients
1

tablespoon

olive oil

1

lb

ground turkey

1

1.13 ounce packet Simply Organic Spicy Taco Seasoning

3

cups

beef broth

1

14.5 ounce can diced tomatoes with green chilis

1

4 ounce whole green chilis, drained and chopped

2

cups

dry elbow pasta

1

cup

salsa

1

15.5 ounce can black beans, drained and rinsed

½

cup

1% milk

4

ounces

cream cheese

1

cup

shredded Monterey jack cheese
Instructions
Heat olive oil, on medium heat, in a 6 quart dutch oven (or soup pot). When olive oil is hot add in the ground turkey and cook until browned and no longer pink.

Stir in the taco seasoning and cook for another 3 minutes.

Pour in beef broth, diced tomatoes, chilis, and pasta. Bring to a boil then simmer for 10 minutes or until the pasta is done cooking.

While the pasta is cooking make the cheese sauce. In a small pot, heat up the milk over low heat. Stir in the cream cheese and continue to cook until it is melted. Stir in the Monterey jack cheese and stir until all the cheese is melted and forms a cheese sauce.

After the pasta is cooked stir in the black beans, salsa, and cheese sauce. Cook the taco macaroni for another 10 minutes on low or until it starts to thicken up. Stir every few moments or so. Remove from heat and let it sit for about 5 minutes. The taco macaroni will thicken as it sits.

Serve with your favorite taco fixings.
Notes
Make ahead instructions
This recipe can be made completely ahead of time and stored in the refrigerator or freezer. If you freeze I recommend freezing in individual servings to make for easy lunches and/or dinners.
Nutrition
Serving:
1
g
|
Calories:
373
kcal
|
Carbohydrates:
37
g
|
Protein:
22
g
|
Fat:
15
g
|
Fiber:
9
g
|
Sugar:
9
g