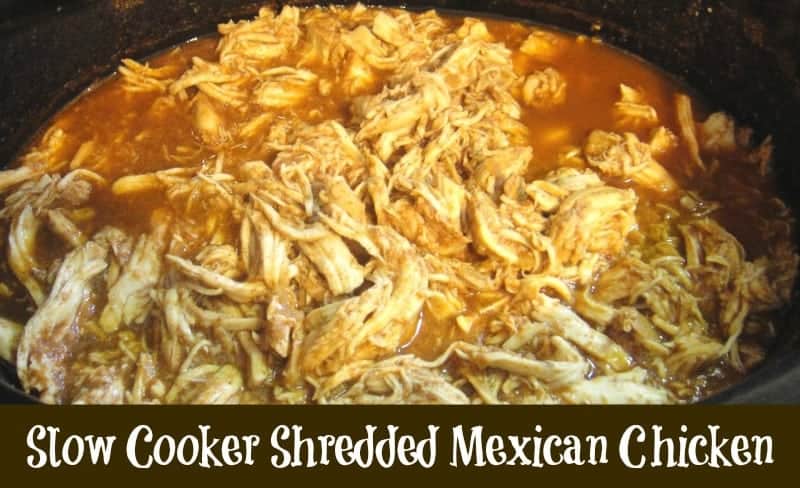 Having  shredded chicken already prepared and waiting in the freezer is one of the many strategies I use to have nutritious food available for fast weeknight dinners. This also helps with making the dinner hour much less stressful because I do not need to spend the extra time preparing and cooking the chicken after a long day at work. All I need to do is incorporate it into whatever recipe I am using that night. For this reason, and because I hate handling and cooking raw meat (especially chicken), I try to batch cook shredded chicken 1-2 times a month.
The best way I have learned to batch cook shredded chicken for the freezer is by using my slow cooker. Prior to using a slow cooker I would either cook the chicken in a pan or boil it. Once it was cooked I would then chop or shred the chicken. While both of these methods worked fine I found using a slow cooker to be more productive as it allows me to set it and forget it. This way I can use the stove and my time for other meals I want to put together. Additionally, the slow cooking method makes it easier to cook larger batches of shredded chicken then if I were to cook it on the stove.
This recipe is for a Mexican flavored shredded chicken and was adapted from one of my favorite slow cooker cookbooks Slow Cooker Revolution by American's Test Kitchen
. The chicken turned out moist and with just the right amount of flavor. This was my first time making shredded chicken in the slow cooker and from now on will be my preferred cooking method.
You can use this chicken meal starter in recipes such as tacos, enchiladas, tostadas, Mexican lasagna, burritos, etc. Tonight I used it in chicken quesadillas and they were scrumptious. Really the sky is the limit on the number of ways you can use this shredded chicken. Basically, with having this chicken portioned out in your freezer you are ready to put together a healthy quick weeknight meal on a moment's notice.
Now doesn't that sound nice?

Make Ahead Meal Starters: Slow Cooker Mexican Shredded Chicken Filling
Author:
Organize Yourself Skinny
Recipe type:
Freezer Meal, chicken recipe, make ahead recipe
Ingredients
1 (15 ounce) can of tomato sauce
1 cup of low sodium chicken broth
2 tablespoons dried onion flakes
2 teaspoons dried minced garlic
3 tablespoons chili powder
2 teaspoons ground coriander
2 teaspoons ground cumin
1 ½ teaspoons sugar
½ teaspoon salt
½ teaspoon pepper
4 medium to large chicken breasts (about 3 pounds)
Instructions
Mix tomato sauce, chicken broth, and spices in slow cooker. Stir slightly until combined.
Add chicken to the slow cooker and coat evenly with the sauce mixture.
Cook on low for 6 hours.
Take chicken breasts out of slow cooker, place in a medium to larger bowl, and shred with two forks then return to slow cooker. Mix together with the sauce until all the chicken is coated then serve.
Notes
Make Ahead Instructions

This recipe is a wonderful recipe to make ahead of time for the freezer. Just make recipe completely then cool and freeze into portions. Thaw overnight in the refrigerator and warm in microwave and or on stove if needed. Then use in your favorite recipes.
Nutrition Information
Serving size:
1 4 ounce serving
Calories:
129
Fat:
2
Carbohydrates:
2
Fiber:
0
Protein:
24
Freezing Instructions
Let the chicken cool slightly then portion out into freezer containers and/or freezer bags and place into the freezer.
Reheating instructions
Take out night before and let the chicken defrost in the refrigerator. You can also defrost/or warm up in the microwave, or on the stove. Then just use in your favorite recipe.