The popular pot luck Dorito taco salad recipe layered into a delicious portion-controlled lightened-up mason jar salad!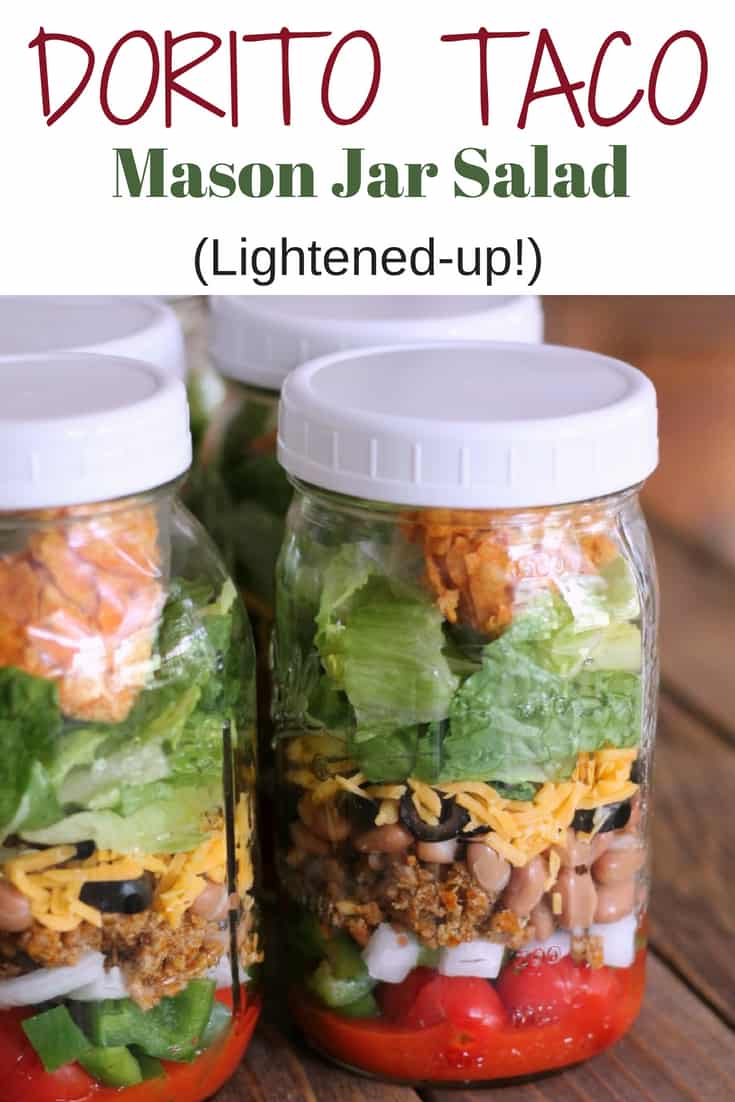 Alright, I'm not one to put Doritos on my weekly meal plan buuutttt I'm all for everything in moderation and I've been eyeballing this Dorito Taco Salad for a long time! So, this week, I decided to create this popular salad into a lightened-up mason jar salad!
Let's talk a little bit about this salad before I get into my recipe. The Dorito Taco Salad made it's way onto the scene as a potluck recipe people would bring to parties. It has all the taco fixings but mixed into a salad and garnished with Doritos. Anything garnished with Doritos gots to be good!
In my opinion, what makes this salad unique is the dressing. You'd think a taco salad would simply use salsa or taco sauce as the dressing. Nope. Some wonderful person decided, at some point, to use Catalina dressing instead. Honestly, I think this is what kept me from trying the Dorito Taco salad. It's not that I don't like Catalina but I'm more of a olive oil and vinegar girl. Plus I love my protein power mason jar salad and I'm a creature of habit. Anyway, I decided to take a break from my usual salad and give the Dorito Taco Salad a try!
Before I get into the recipe nitty gritty let me just say this Dorito Taco Salad is super tasty!! Like, really good!
Dorito Taco Salad Recipe
Okay, let's chat about the different ways I lightened this recipe up without losing any flavor or awesomeness.
First, I used ground turkey instead of beef. This cut the fat and calories substantially. I made 1lb of ground turkey. However, I only used 1/4 cup of cooked taco meat per salad so there was a little leftover. You can freeze it or use on a taco pizza later in the week. For the seasoning I like Simply Organic Southwest taco seasoning but any will do.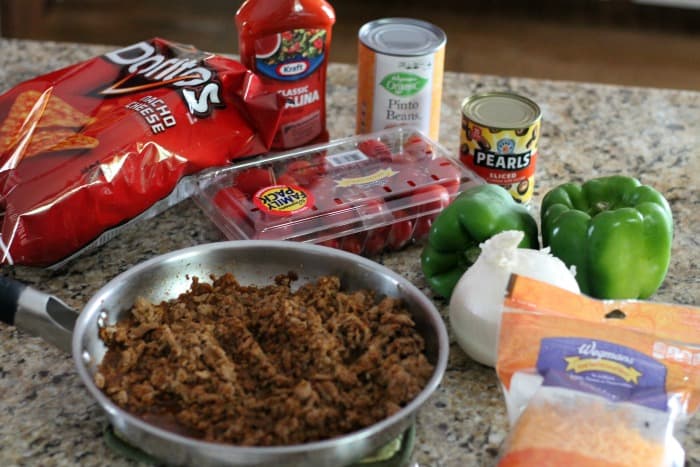 Let's go through each layer.
I used 2 tablespoons of Kraft Catalina dressing per jar. I actually looked for another brand of Catalina such as an organic brand but couldn't find one so I stuck with Kraft. I didn't use the light version because I prefer the taste of regular dressing. Not to mention, Catalina is already on the lower calorie side with only 90 calories per 2 tablespoons.
For the tomatoes I used cherry tomatoes (5 per jar). You can certainly chop up a bigger tomato but I prefer to use cherry tomatoes in my mason jar salads.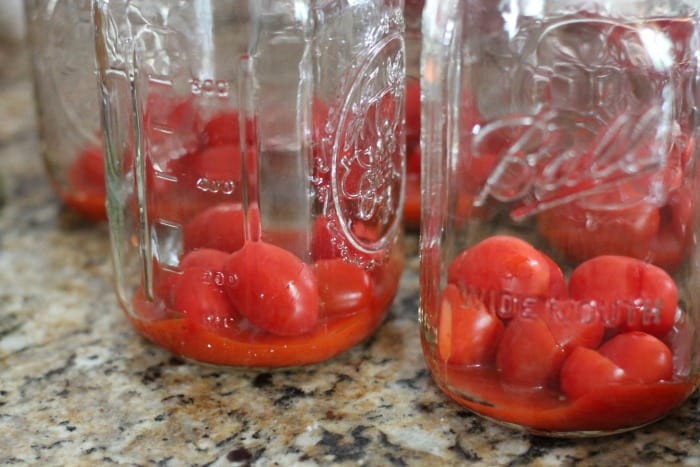 Next I added chopped green peppers and white onions. You can add more or less depending on your taste.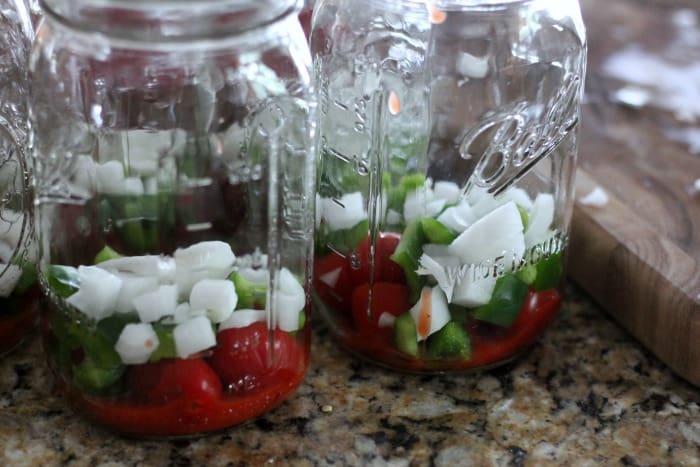 Then I added 1/4 cup taco meat per jar and then split a 15-ounce can of pinto beans and 4-ounce jar (both drained) of sliced olives between all the jars.
Can I just say that I love beans in any salad? I do! Typically, I put chickpeas in my mason jar salad but this time around I opted for pinto beans and they were delicious. I love the flavor and texture these beans brought to the Dorito Taco salad. Not to mention they add a great oomp of protein too. Also, the black olives are super tasty. At first I was on the fence with black olives but I'm glad I included them because they really added to the salad.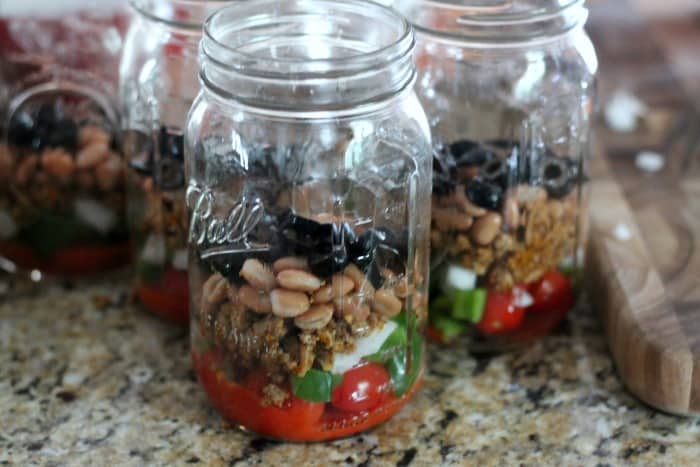 Next I added the sharp shredded cheese and chopped romaine. You can use Mexican cheese but the sharp cheddar gives it a nice bite. I highly reccomend sticking with romaine because it is a taco salad – I don't think mesclun greens would go well.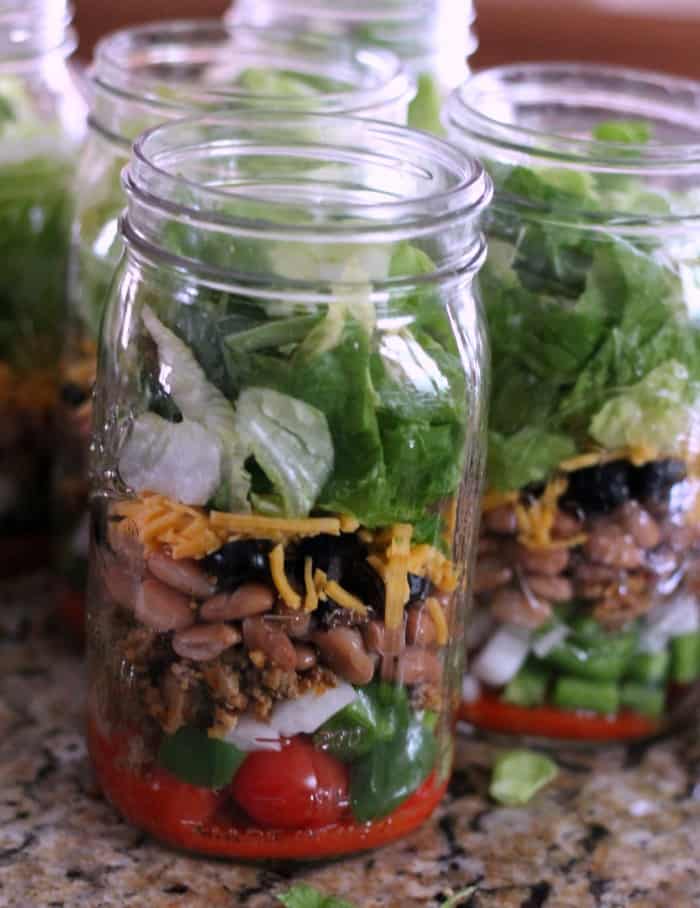 Now it's time for the fun part! Doritos!
Of course this is a healthy lifestyle blog so before I go hog wild on Doritos I should put out a couple disclaimers. First, it's important to keep the Dorito portions under control. I measured out 6 Doritos per salad. Second, if you can't control yourself with an opened bag of Doritos in the house then purchase a couple small lunch size bags instead of a big bag.
While I don't think eating Doritos on a regular basis is a good thing I do think you can enjoy a few in moderation.
So for the purpose of this recipe, 6 Doritos a day for lunch this week isn't going to make or break your weight loss efforts. Also, if you've been craving something salty and cheese this might be the perfect recipe to curb that craving. See, I got you!
Now, let's go over a technical tip for using Doritos in a mason jar salad recipe. I placed the 6 Doritos into a snack size plastic bag, crushed up the chips, and then placed on top of the romaine. I do not recommend putting the Doritos on top of the romaine without being in a bag because they will either get soggy or stale.
After the Doritos are in the jar put the lid on and tightly close it. You can get plastic mason jar lids from any retailer or from Amazon. Purchase a 2-pack off (16 lids total) Amazon for less than $11.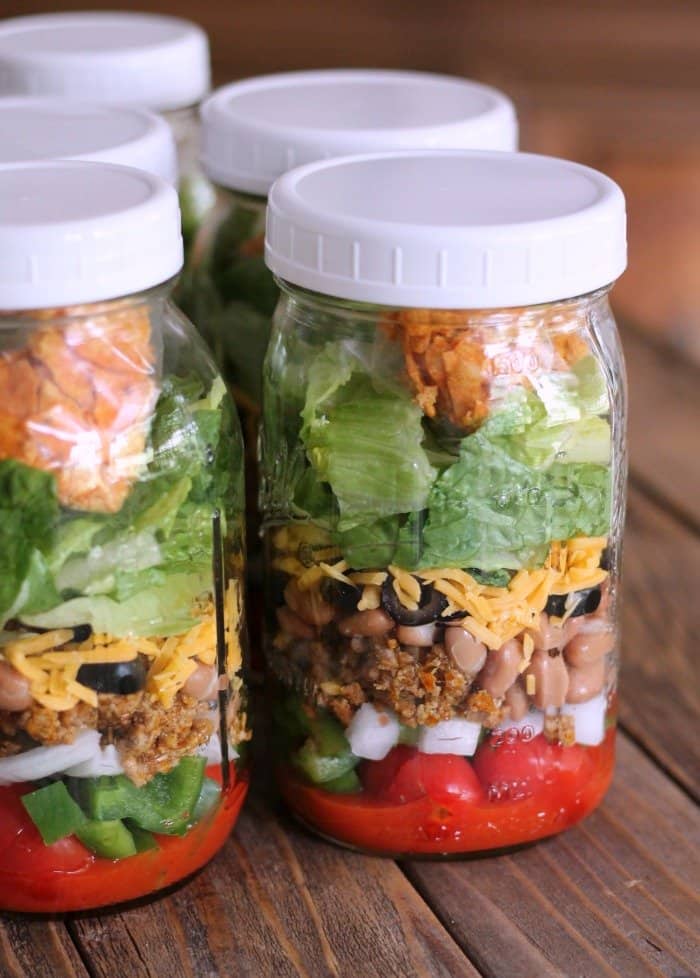 When you're ready to eat take the Doritos out of the jar, put the lid back on and shake vigorously, and then pour into a bowl. Stir the crushed Doritos into the salad and enjoy.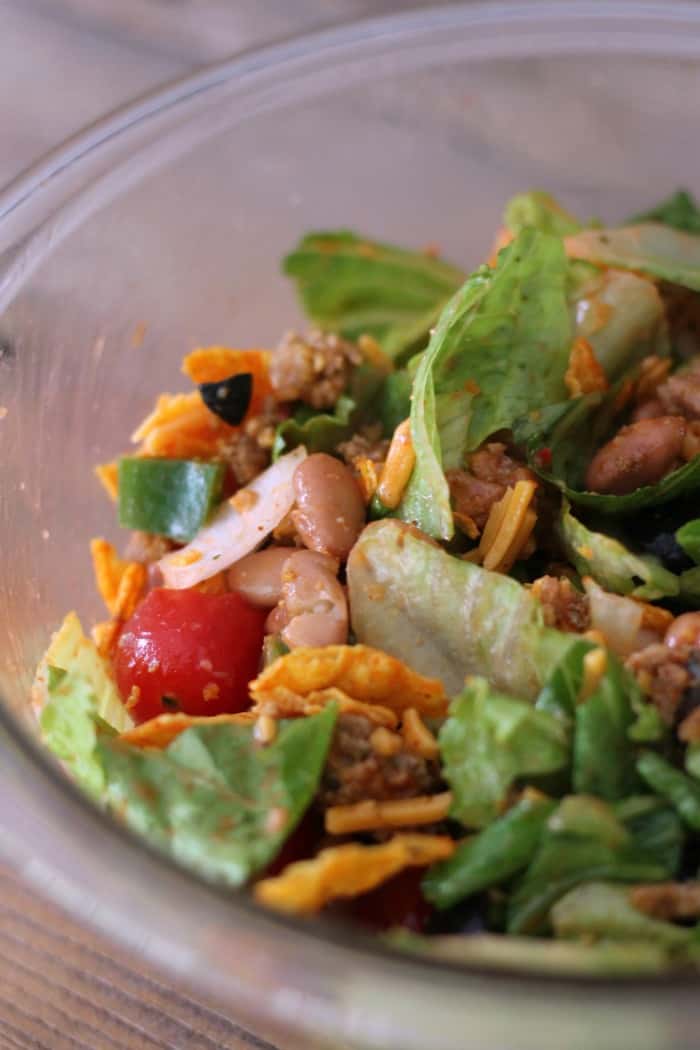 If you're looking to make this salad for potluck then simply mix all the ingredients together into a big bowl, crush the Doritos over top, and enjoy! I recommend putting the dressing on once you get to the party.
However, if you want to enjoy this salad all week for lunch then prepare 5 Dorito Taco mason jar salads on Sunday! They will last all the way to Friday!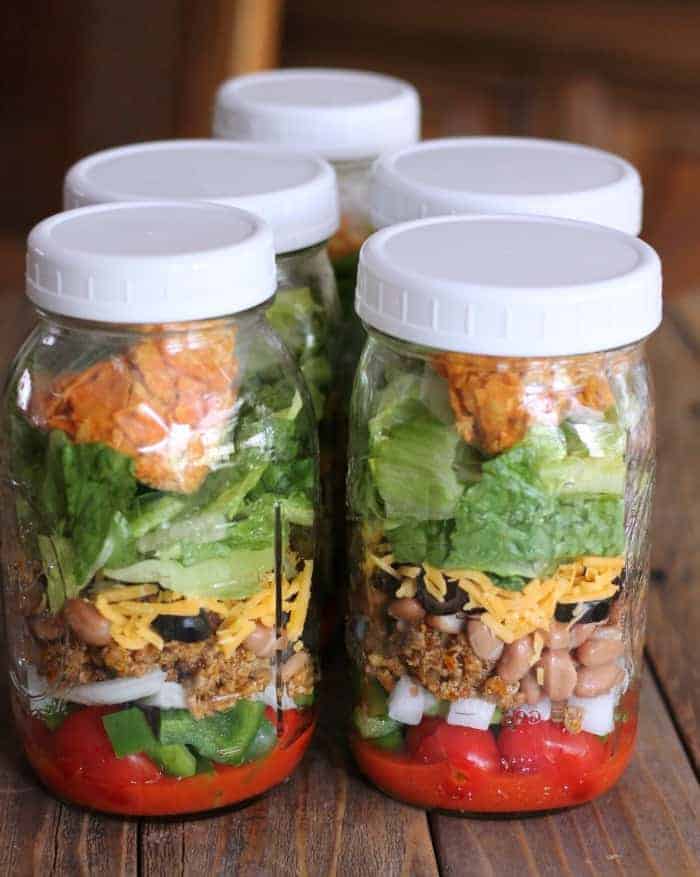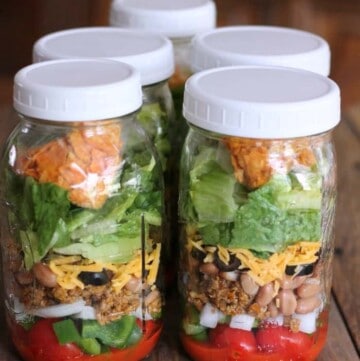 Ingredients
5

32-ounce mason jars and lids

1

lb

ground turkey

1

packet Simply Organic Southwest Taco Seasoning

or any taco seasoning

10

tablespoons

Catalina dressing

15

cherry tomatoes

2

green bell peppers

chopped

1/2

of a medium onion

chopped

1

15-ounce can pinto beans, drained

1

4-ounce can sliced olives, drainied

10

tablespoons

shredded cheddar cheese

10

cups

chopped romaine

5

snack size plastic bags

30

Doritos
Instructions
Cook the ground turkey with seasoning packet according to packet directions. Let cool.

Then divide ingredients between mason jars. Start with salad dressing and then continue with tomatoes, bell peppers, onion, pinto beans, 1/4 cup taco meat, olives, shredded cheddar cheese, and end with romaine lettuce. **there will be leftover taco meat. Use on a another recipe or freeze for a later use.

Place 6 Doritos into each of the snack bags and crush into small pieces. Place each of the Dorito bags on top of the romaine.

Put the lid on and close tightly,

To eat, remove the Dorito bag from jar. Close lid, shake the salad up vigorously, and dump into a bowl. Sprinkle Doritos on top of the salad and enjoy.
Notes
sugar: 24
Make-ahead instructions
These mason jar salads can be made 5 days ahead of time.
Nutrition
Serving:
1
g
|
Calories:
422
kcal
|
Carbohydrates:
35
g
|
Protein:
23
g
|
Fat:
25
g
|
Saturated Fat:
6
g
|
Fiber:
7
g
This Dorito Taco Salad is absolutely delicious and super filling. You can enjoy this for lunch or dinner!