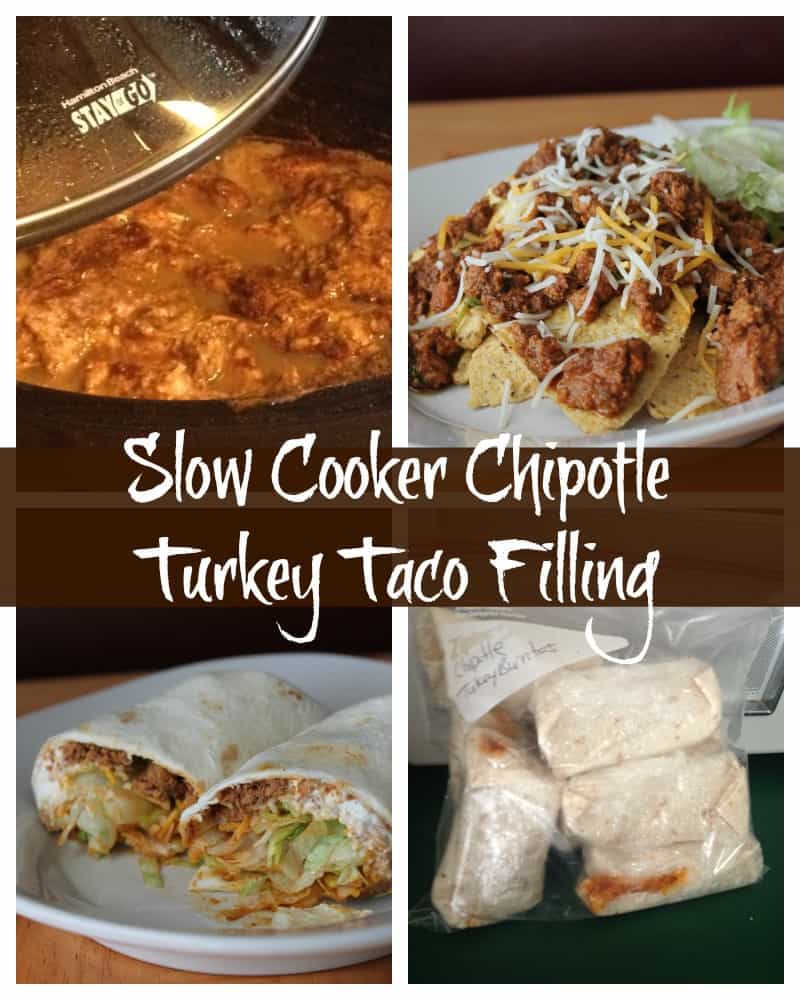 It is no surprise that we love tacos over here in my neck of the woods. However, up until this week we only ate basic taco filling or this slow cooker recipe. I decided I needed to switch it up a bit so I looked for a recipe that would add a different kind of flavor to our favorite Mexican recipes.
I came across this chipotle turkey taco filling recipe in my Slow Cooker Revolution
cookbook. I was a little apprehensive about making it because I know adobo canned chilis can be too hot for the kids and Matt is not keen on ground turkey. Honestly, I think it is all is his head but nonetheless it is one of my culinary challenges when trying to make healthy dinners. Anyway, despite the potential for dinner time rebellion I decided to give it a shot.
The result was that Matt, my oldest, and I loved it. They must have said 5-6 different times "wow this is awesome". Unfortunately, it was a little too spicy for my 5 year old. So I guess it just depends on the spice level your family likes. If they are spicy eaters then try this one out. You could also play around with the recipe and reduce the chipotle chilis a bit. Adapt to suit your needs.
A quick tip that I have learned, when cooking with canned chipotle chilis, is to freeze the leftover chipotle chilis in separate bags, with no more than 2 in a bag. Typically, because most recipes call for a small amount you will have the majority of the can leftover. Also, it will be helpful to remove the seeds before you freeze them. This way the adobo chipotle chilis are recipe ready.
This filling can be used for nachos, tacos, burritos, pizza, and anything else I can think of.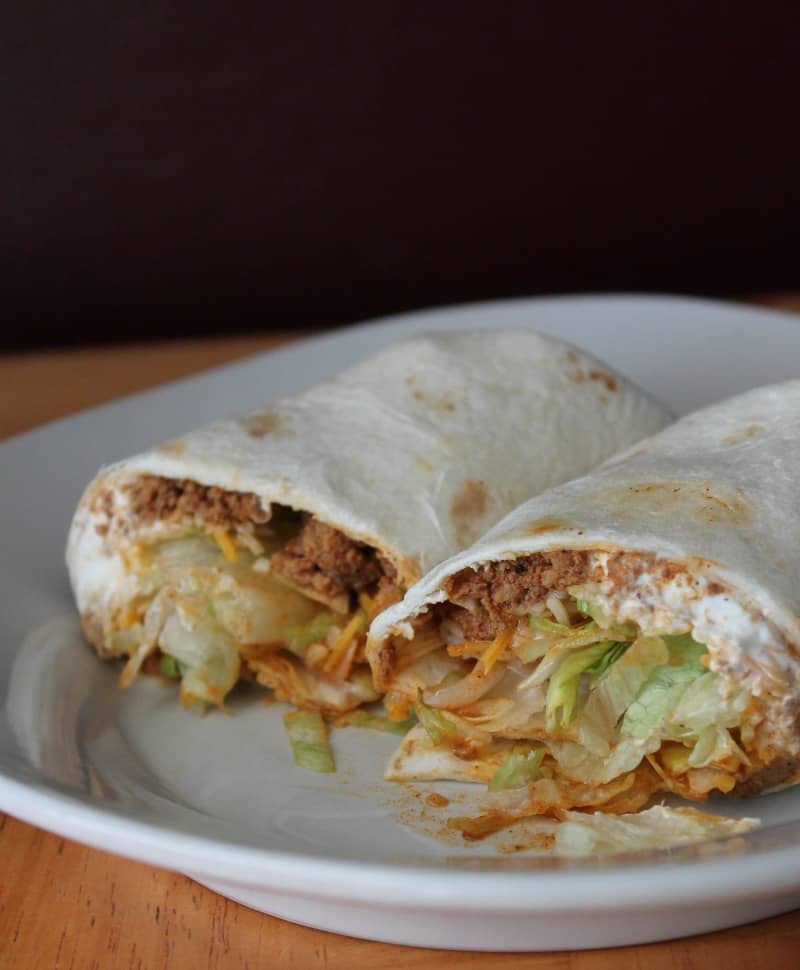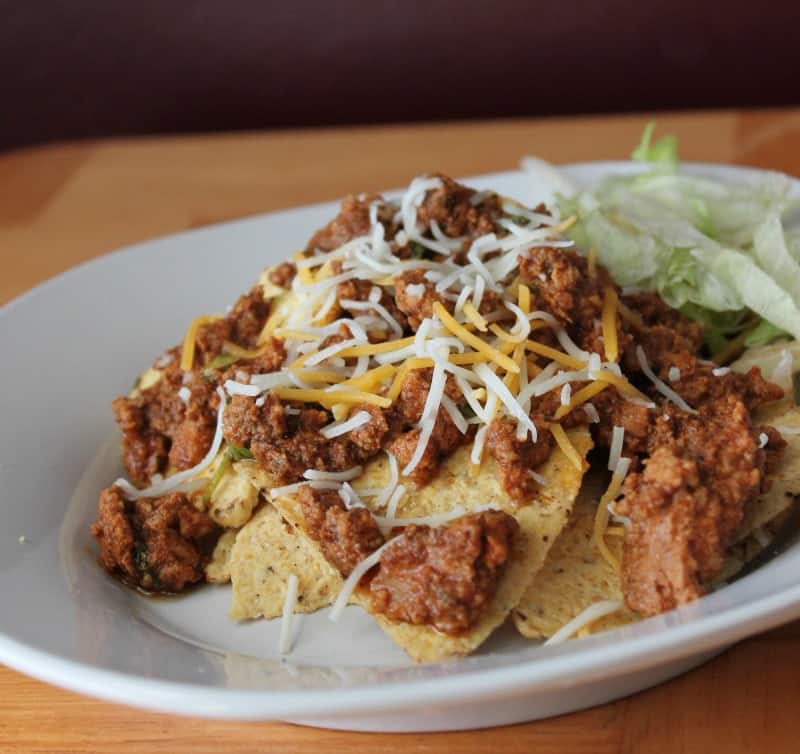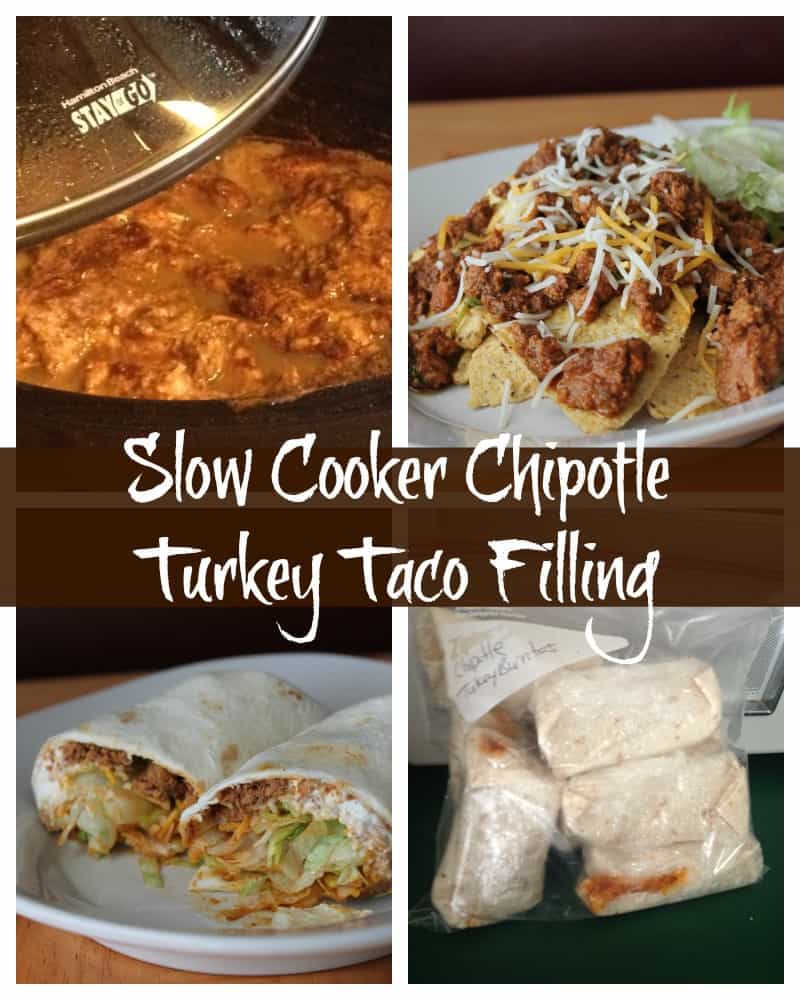 Ingredients
2

medium onions

minced

6

garlic cloves

minced

¼

cup

of chili powder

3

canned chipotle chilis in adobo sauce

seeds removed and minced (this equals to about 2 tablespoons), add a little more if you like it real spicy.

1

teaspoon

dried oregano

2

tablespoons

canola oil

1 8

ounce

can of tomato sauce

2

teaspoons

dark brown sugar

2

slices

whole wheat bread

¼

cup

1% milk

2

lbs

ground turkey

I used 93/7 ground turkey breast

½

teaspoon

salt

¼

teaspoon

pepper

¼

cup

cilantro

3

scallions

white and part of the green sliced thin

Juice from half of a lime
Instructions
In a microwave safe bowl, combine the onions, garlic, chili powder, chipotle chilis, oregano, and oil. Stir until all the ingredients are combined with the oil. Microwave on high for 5 minutes, stirring once at 2 ½ minutes. The onions will be translucent and there will be an aroma from the spices and chilis. Place mixture in the slow cooker.

Stir tomato sauce and sugar into the slow cooker.

In a medium bowl combine the milk and bread slices. Use a fork or your hands to mash it up into a paste. Add the turkey, season with salt and pepper, and then mix it until it combines with the milk paste.

Stir turkey into the slow cooker mixture and break up any large pieces. You want the turkey combined with the liquid. Cook for 4-6 hours on low. Mine cooked for the full 6 hours using a 6 quart slow cooker.

When it is done cooking, using a spatula or spoon, break the turkey filling up into as small pieces as possible. Stir in cilantro, scallions, and lime juice.
Nutrition
Serving:
1
g
|
Calories:
167
kcal
|
Carbohydrates:
7
g
|
Protein:
16
g
|
Fat:
9
g
|
Fiber:
2
g
|
Sugar:
4
g
Make Ahead and Freezer Cooking Instructions
This recipe can be made ahead and frozen in a couple different ways. First, you could make it completely and then portion it out and freeze to use later on in tacos, nachos, or other Mexican dishes.
Second, you can put this together as a slow cooker freezer kit – which is what I did. To make this recipe as a Slow Cooker Freezer Kit follow step one, then add the tomato sauce and sugar to the bowl. Let the mixture cool completely. While the mixture is cooling follow step 3. Next, place the chipotle mixture into a gallon size freezer bag then add in the turkey mixture. Place half of a lime (wrapped in plastic wrap), cilantro, and scallions in a separate smaller bag. Label both bags and freeze. To keep bags organized and together I will put them together in a plastic shopping bag.
When ready to cook, take the freezer kit out 24 hours or more prior to going into the slow cooker and let it thaw in the refrigerator. You don't want it to be completely frozen when going into the slow cooker because of safety reasons. Also, you want to make sure the liquid is covering the meat for proper cooking. After it is cooked follow the last step. Don't worry about the texture of the lime, cilantro, and scallions after thawing. The flavor still tastes the same.
Kitchen Essentials
I used the Hamilton Beach Set 'n Forget 6-Quart Programmable Slow Cooker
along with the Slow Cooker Revolution
cookbook for this recipe.