Both cooking and freezing rice can often seem much more challenging than it actually is. As brown rice, in particular, is part of my healthy diet staple, this post will walk you through both cooking and making frozen brown rice perfectly.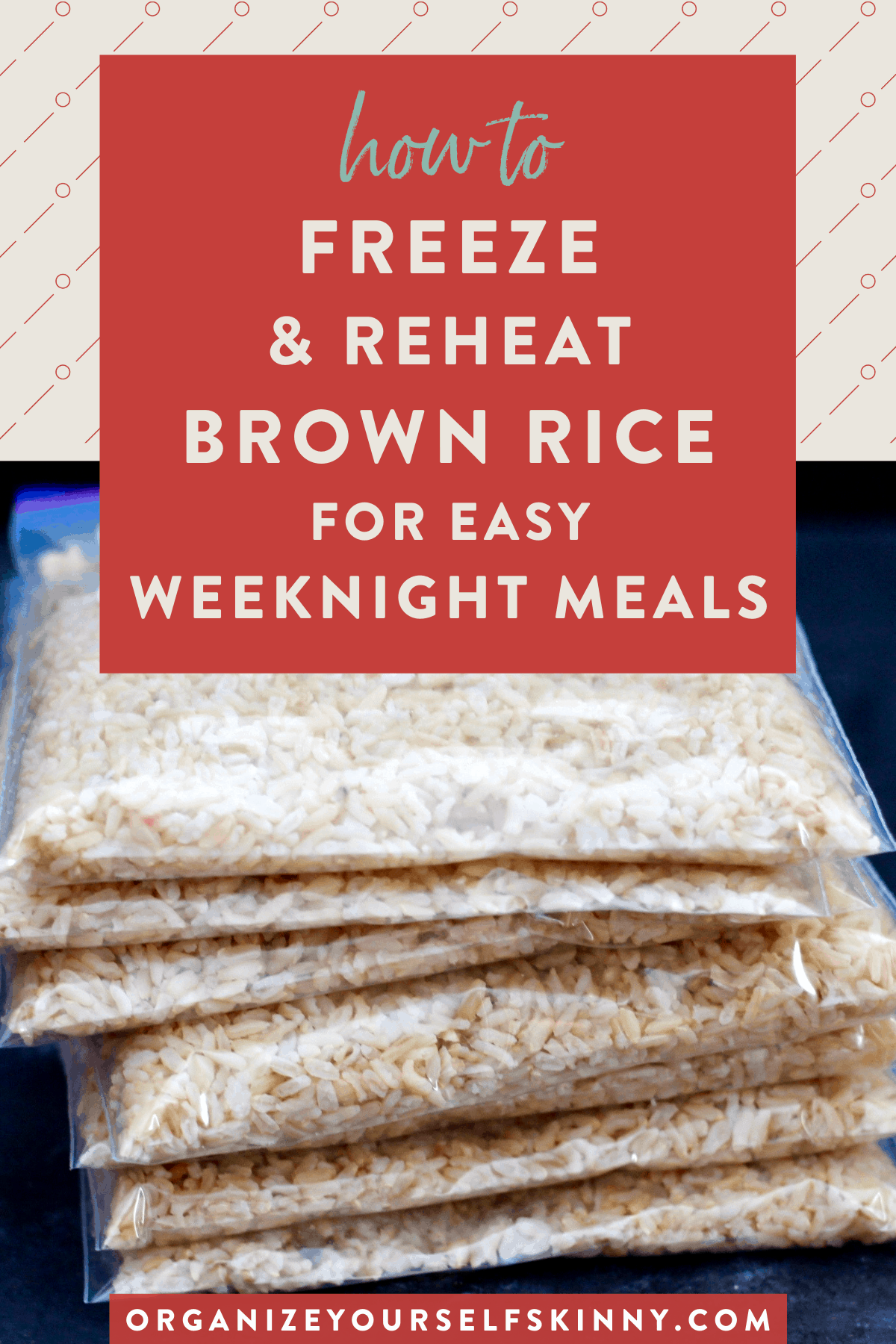 When I'm asked what the number one secret to weight loss and a healthy lifestyle is, my answer is always the same: meal prep. I believe in this concept so strongly that my entire website is dedicated to it!
Throughout my healthy eating journey, having brown rice incorporated in my diet has been tremendously helpful. In this post, we'll talk about the health benefits of brown rice, how to cook it, and why you should keep some stocked in your fridge.
Health Benefits of Brown Rice
There's a reason frozen brown rice is constantly in my freezer—it packs quite the nutritional punch! Here are just a few health benefits brown rice offers:
A healthy source of fiber, with 3.5 grams for a single cup.
Surprisingly decent amount of protein. You'll get 5 grams in a cup.
It's a good source of B vitamins. B1, B3, B6, and B5 are all present.
88% of your daily manganese is in a serving of brown rice. This nutrient is crucial for a healthy metabolism and bones.
27% of your daily selenium needs are in a cup of brown rice. Selenium is another nutrient important for a healthy metabolism.
So, Is Brown Rice Healthy?
We just talked about all the reasons brown rice is awesome for you, so of course, it's totally healthy, right?
Well…yes. And also no.
Let me explain: when consumed in proper serving sizes, brown rice can provide all those fantastic benefits outlined above. However, you have to keep the portions reasonable. It's still a starchy, carb-heavy food, so don't get too wild with it.
Cooking and Freezing Rice in Bulk
When I talk about meal prep or freezer cooking, many people assume that I completely prepare and then freeze meals. This actually rarely happens! More often than not I utilize this cooking technique to have ready-made meal starters and everyday staples so that we can have easy, healthy dinners during the week.
You can read more about my approach to meal prep in this guide here.
Brown rice is one food that I always have on hand for sides or to include in a recipe. Here are some of my favorite recipes I make alongside brown rice:
Even though brown rice rather simple to cook rice using a rice cooker, it still takes over an hour until it's ready. I don't know about you but when my kids are hungry screaming for dinner I am not going to sit around waiting for the rice to cook.
The good news is that rice freezes beautifully resulting in no need to cook a batch from scratch every night. Follow my simple tips below to always have prepared fluffy delicious rice straight from the freezer.
Tips to Help Freeze and Reheat Brown Rice
These tips are things I've learned over many, many years of making batches of brown rice and freezing it. If you're wondering how to reheat frozen rice, don't worry. It's all covered below!
Make a large batch of rice. My rice cooker allows me to make 8 cups of brown rice at a time. Of course, you could make the rice on the stovetop though using a rice cooker is so much easier. Rice cookers are relatively inexpensive and, in my opinion, a must-have for busy parents who want to easily incorporate rice into their meal plans.
Cooking tips:
To add more flavor to brown rice you can use chicken broth, vegetable broth, or even beef broth.
Spray the rice cooker insert with cooking spray prior to putting the rest of the ingredients in. This prevents rice from sticking to the insert and burning.
4 cups of dry brown rice makes 8 cups of cooked rice. Cooking time is about 90 minutes but can vary depending on the brand of rice.
You'll need about 5 1/2 cups liquid for 4 cups of dry brown rice. Depending on the rice brand, you might need to add more liquid. Once the rice is done cooking if it tastes a little firm then add in 1/4 cup and let it sit on warm for another 20 minutes.
When the rice is done cooking allow to it to cool slightly. You still want the rice to be warm when you package it up. This helps retain its moisture and will result in nice fluffy and fresh rice when you reheat it.
Portion the rice out and place in freezer bags. I measure my rice into 1 1/2 – 2  cup portions because that's typically what I use in my recipes and meal plans. The great thing about freezer cooking and creating your own freezer meals is you are in control of the portions. A space saving tip is to flatten the rice in the freezer bags. This makes the rice stackable or able to fit into small spaces.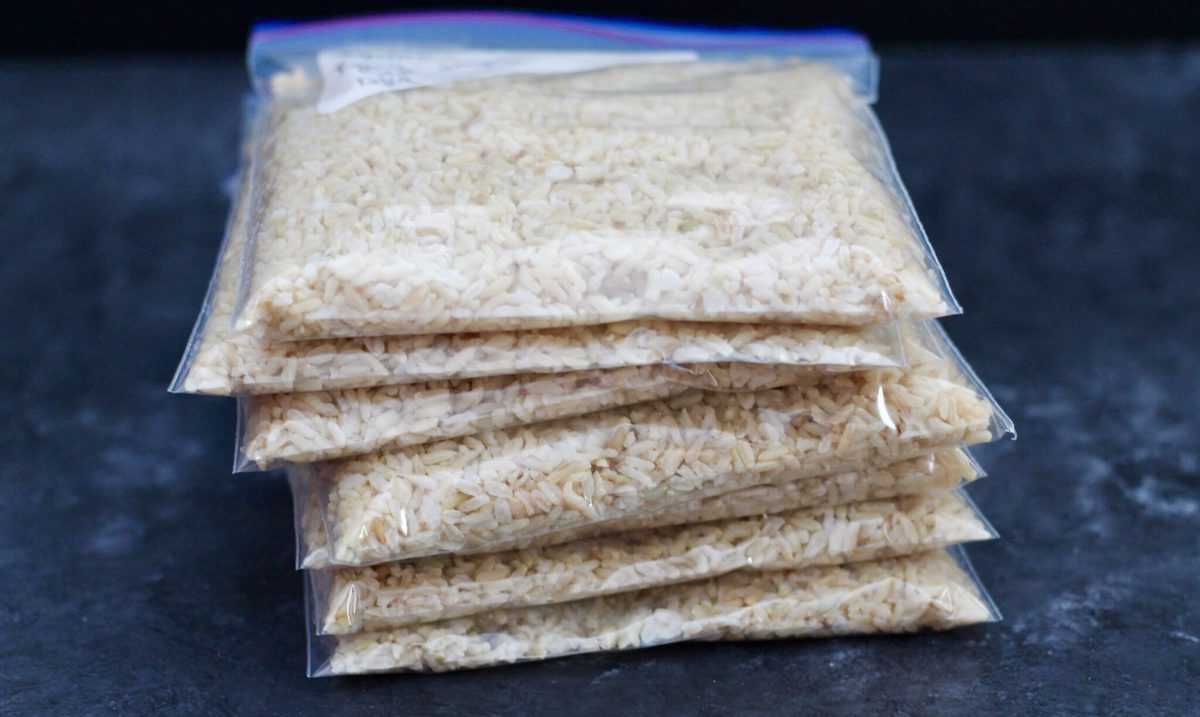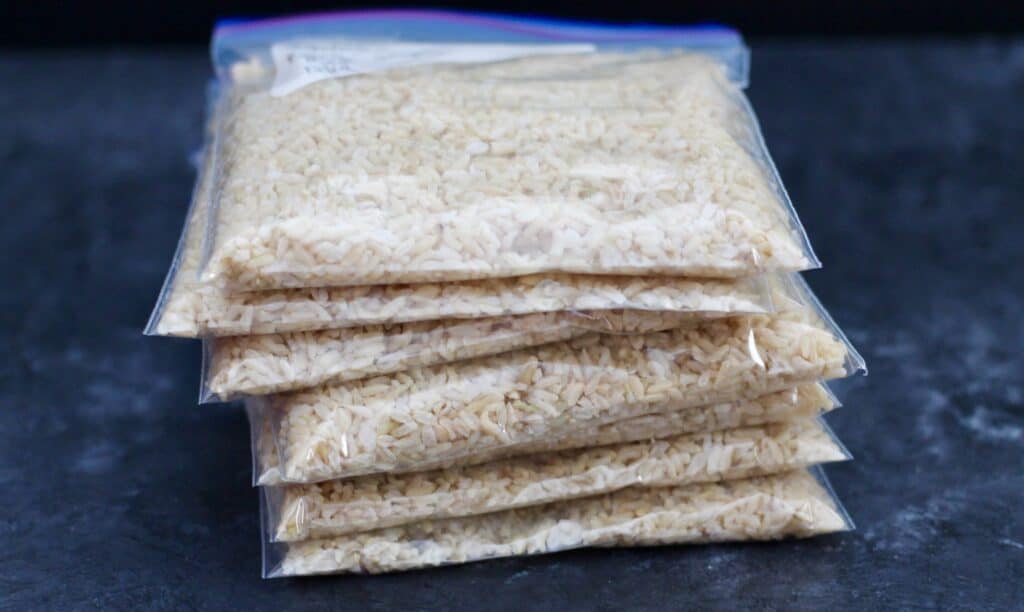 Put packaged rice into the freezer. Cooked rice will last approximately 3-4 months in the freezer.
When ready to eat defrost rice in the microwave. First, I run the bag under warm water to remove the rice and place in a microwave safe bowl. Next I will warm it up in the microwave for about 2-3 minutes more or less depending on the amount of rice. Some people warm up the rice in the bag but I prefer to use a bowl because I do not want to take the chance of the bag melting.
Eat as is or use in any recipe that calls for cooked brown rice. My favorites are Chicken Curry, Turkey "Fried" Rice, and Black Bean and Rice Burritos.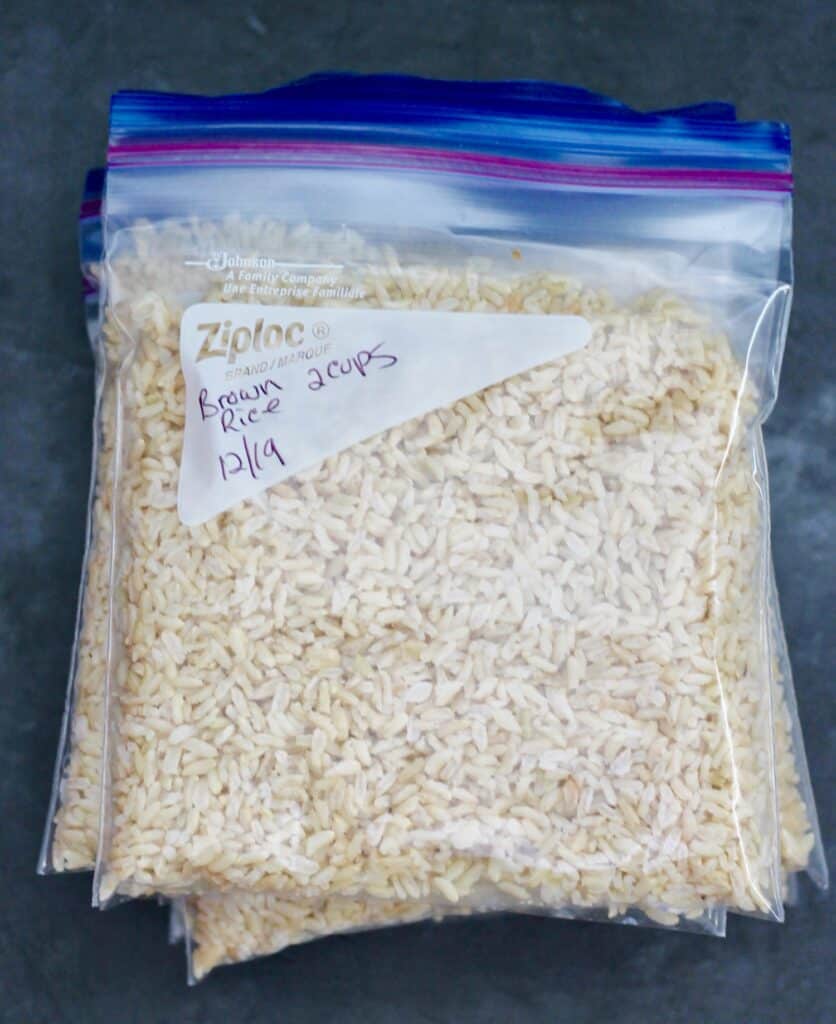 While I prefer brown rice, these tips will work for both white and brown.
Freezing Rice Will Save You Time and Money
Trust me, freezing rice is a very basic and easy freezer cooking technique that you will find saves you time, money, and encourages you to eat better when trying to put together lunches and dinners during the week.
What are some of your tips for freezing rice?  In what ways has this helped you put together healthy meals for yourself and family?

How to Cook Brown Rice in Rice Cooker
These simple instructions will show you how to successfully cook fluffy brown rice in the rice cooker.
Author:
Organize Yourself Skinny
Ingredients
4 cups brown rice
5½ cups chicken broth, vegetable broth, or water.
½ teaspoon salt
Cooking spray
Instructions
Spray the insert of the rice cooker with cooking spray.
Place the rice, liquid, and salt in the rice cooker and give a stir.
Set to brown rice.
When it's done fluff with fork and either use in recipes or freeze.
Notes
Cooking tips


Some brown rice can take a little longer to cook and, possibly, need more liquid. If rice is still a little firm after it's cooked add in ¼ cup of water and let it sit for about 20 minutes or so.


Brown rice can be made ahead of time and frozen. After it's slightly cooled, portion out into freezer bags, flatten out, and freeze. To warm up, take the rice out of the bag and place into a freezer safe bowl and warm up for 1-2 minutes or until hot.