Sheet Pan Steak Fajitas are a family favorite! Tender flavorful steak and vegetables cook together on one pan for a quick delicious dinner during the week. You can also meal prep this on Sunday for an easy lunch all week and it's the perfect dinner for busy families!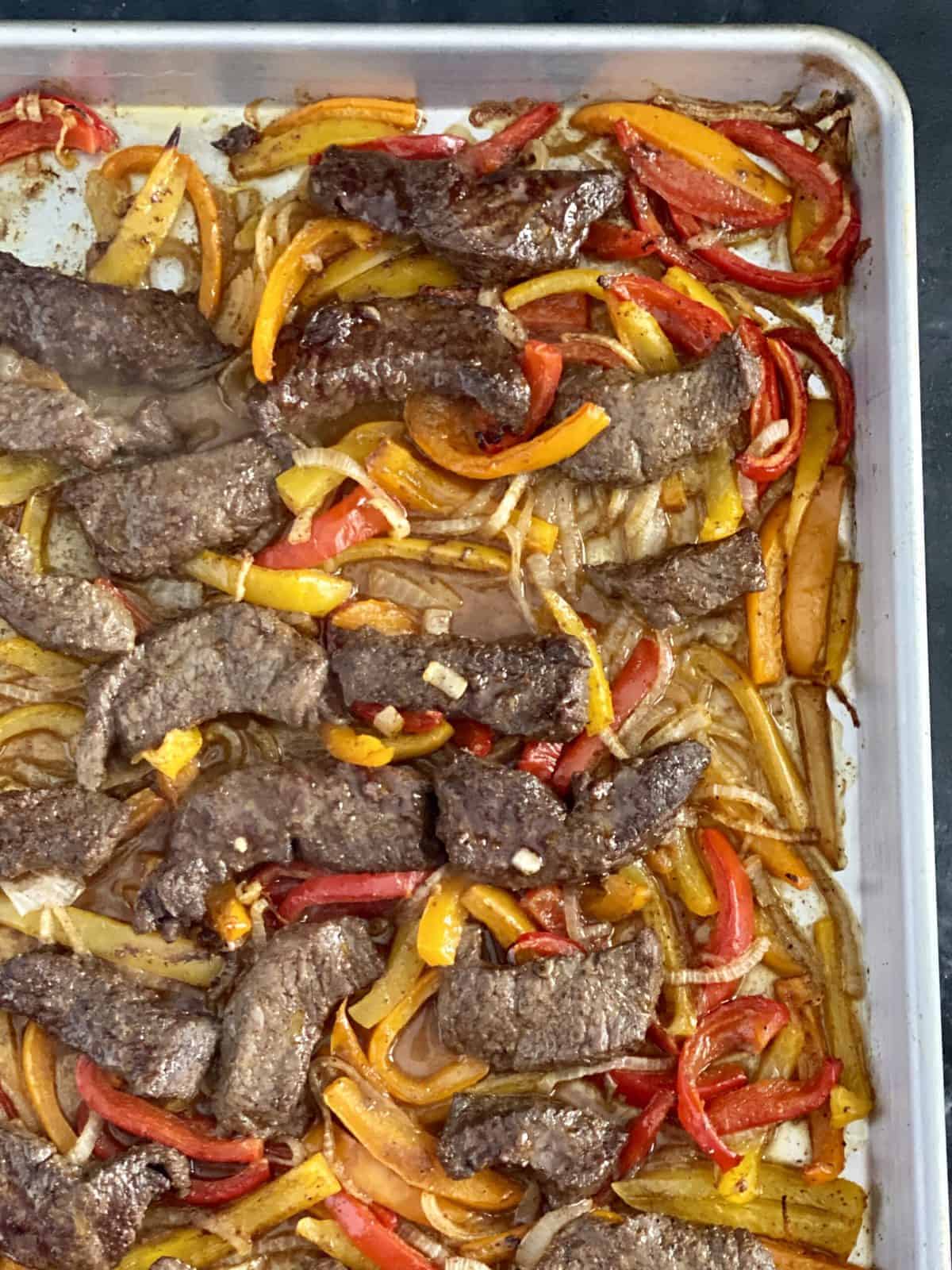 I've really been into making sheet pan dinners lately. I don't need to dirty up the kitchen and everything is just made in one pan. Super easy to make and with minimal effort? Definitely a complete win for this working mom!
You can make these steak sheet pan fajitas during the weekend and have them ready to eat during the week for a super-fast meal. Dinner can be ready in less than 40 minutes (and clean up in less than five!)!
Of course, this is an easy meal prep idea as well. You can portion out the fajitas into meal prep bowls or store in containers for everyone to take what they want for lunch over the week.
I'm happy. My family is happy. Plus, we all get to eat fajitas! It's a win-win situation.
See my easy steak fajitas, crockpot steak fajitas, crockpot chicken fajitas, and baked chicken fajitas for more fajita ideas.
Frequently Asked Questions About Fajitas
Before we get into exactly how to make these sheet pan fajitas with steak, here are some commonly asked questions about this meal.
How do you cut vegetables for fajitas?
How to Cut Peppers
For fajitas, the best way to cut the peppers into that classic strip shape is to:
Cut off the top and the bottom of the bell pepper.
Standing upright, slice down one side to expose the core of the pepper and remove it.
Lay the pepper flat, slice don vertically to get thin slices to add to your steak fajita.
How to Cut an Onion
Once you've peeled the onion, cut it in half vertically (from stem to root) and lay one half of the onion flat.
Cut off the top and bottom and turn the onion away from you so that the ends are pointing to the sides.
Make thin, vertical cuts down the onion to add to your steak fajitas.
Can you only use steak for fajitas?
Nope! You can use any kind of protein you are in the mood for. I would recommend using chicken or shrimp if you are not wanting to use steak as your protein.
What sides do you eat with steak fajitas?
Some of my favorite side dishes to eat with this Mexican dinner are:
Now, it's time to start cooking!
Steak Sheet Pan Fajitas Ingredients
These are some of my go-to ingredients when I make fajitas:
Red, yellow and orange bell peppers – packed with antioxidants and vitamin C + B6
White onion – benefits heart health and helps control blood sugar
Steak – helps provide iron to the body and is a great source of protein
Limes – defends the body from infections and reduces inflammation
Cilantro – packed with folate, potassium, and manganese
Other seasonings and condiments you will need is olive oil and homemade fajita seasoning.
How To Make Steak Fajitas
Preparing this recipe is so simple!
The first thing I do is slice up the vegetables nice and thin so they can cook completely. Plus I find it much easier to make and eat fajitas when the vegetables are cut thinly.
For the veggies, I use a mix of red, yellow, and orange peppers. You can usually find these in a bulk pack at Wegmans. I also like to use white onion or red onions if the other ones aren't available.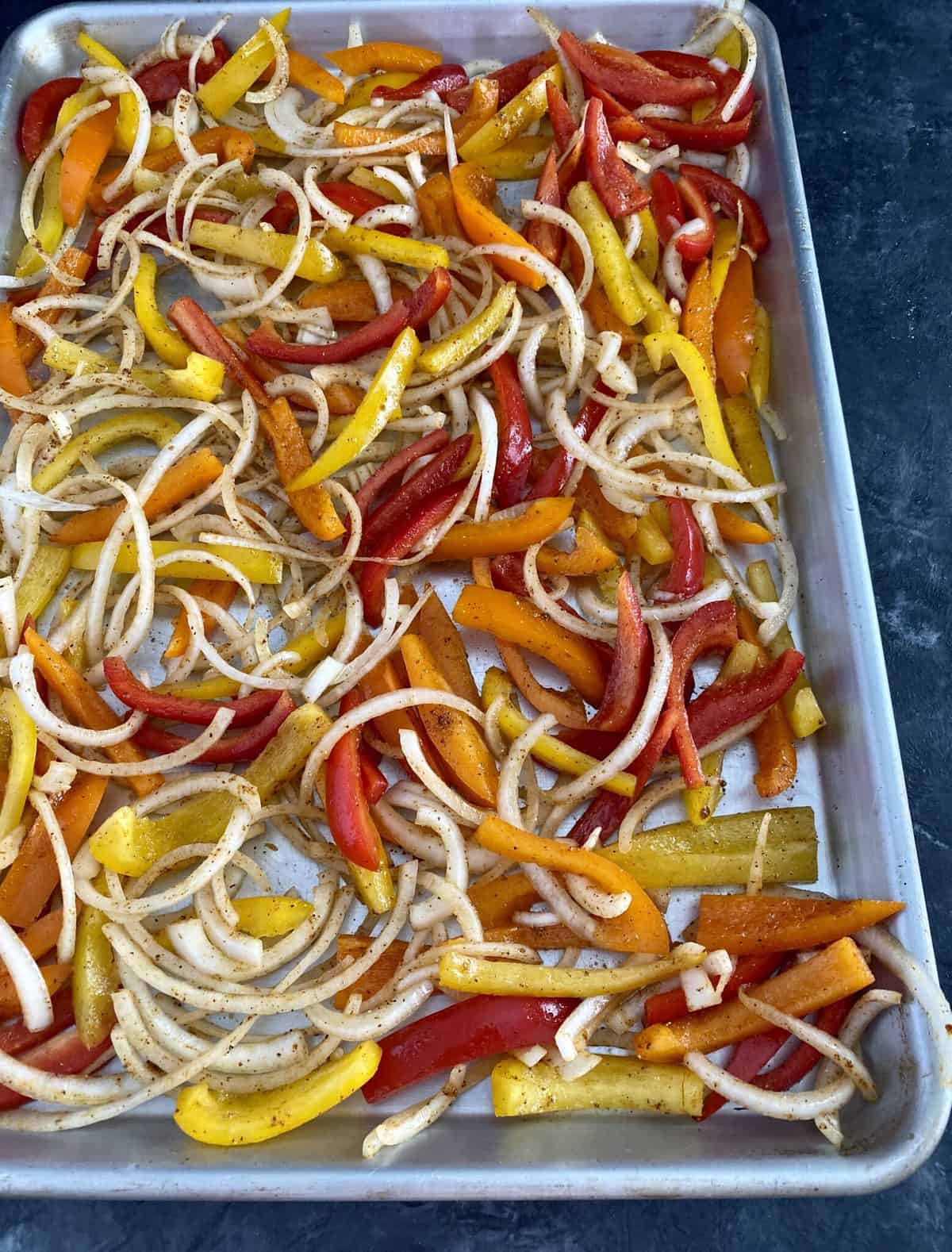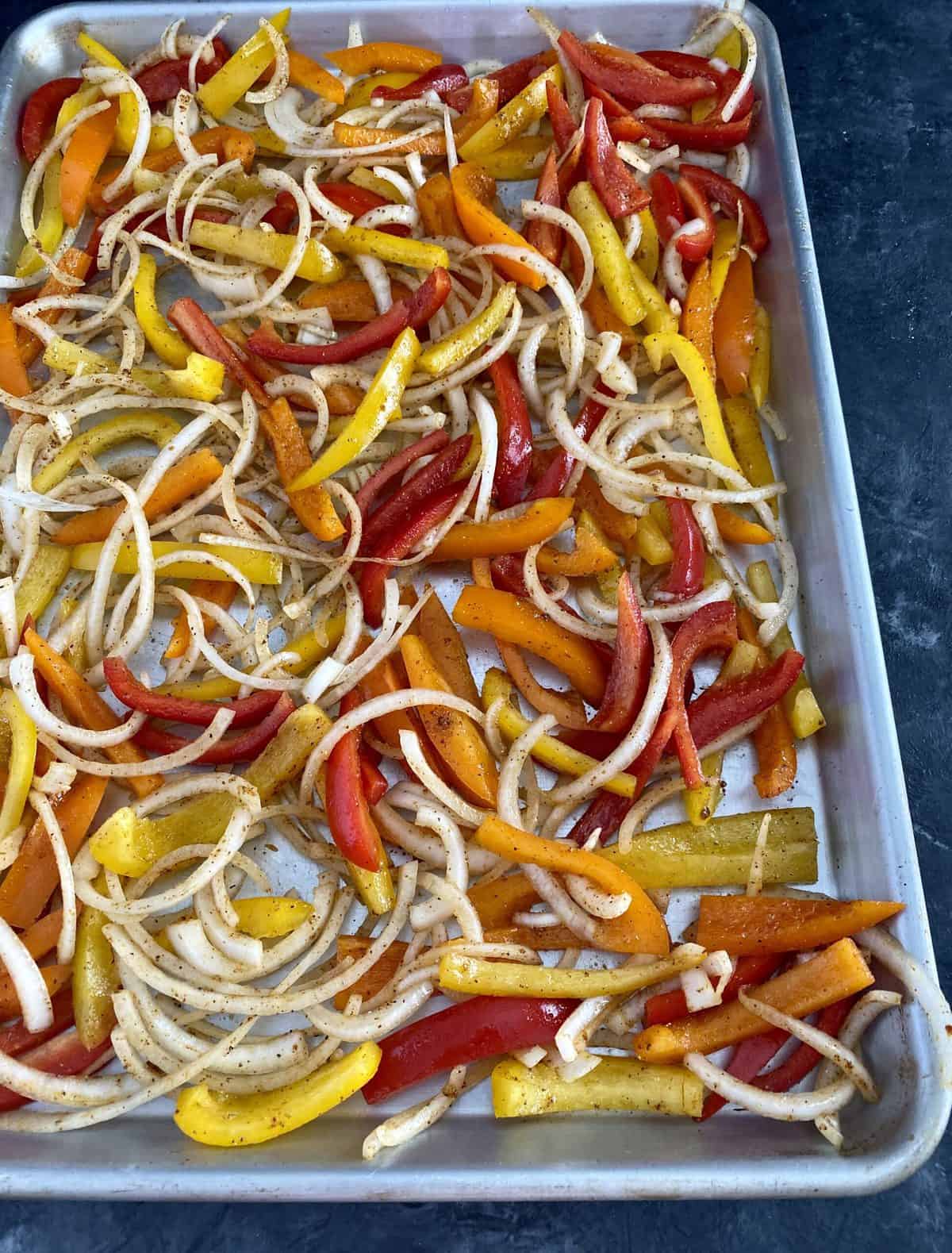 After all of the vegetables are cut, I put them into a large mixing bowl with 1 tablespoon of olive oil and 1/2 of the Simply Organic Fajita packet. I mix this with a large spoon and make sure all the vegetables are coated with oil and seasoning.
My favorite fajita seasoning is Simply Organic Fajita Seasoning. You can find this in the organic food section of the grocery store or with all the other spices. I also order it from Thrive Market. Of course, if you have a great homemade recipe, then use that!
After everything is seasoned, I place the vegetables on the sheet pan and cook the peppers and onions in a 400-degree oven for 20 minutes.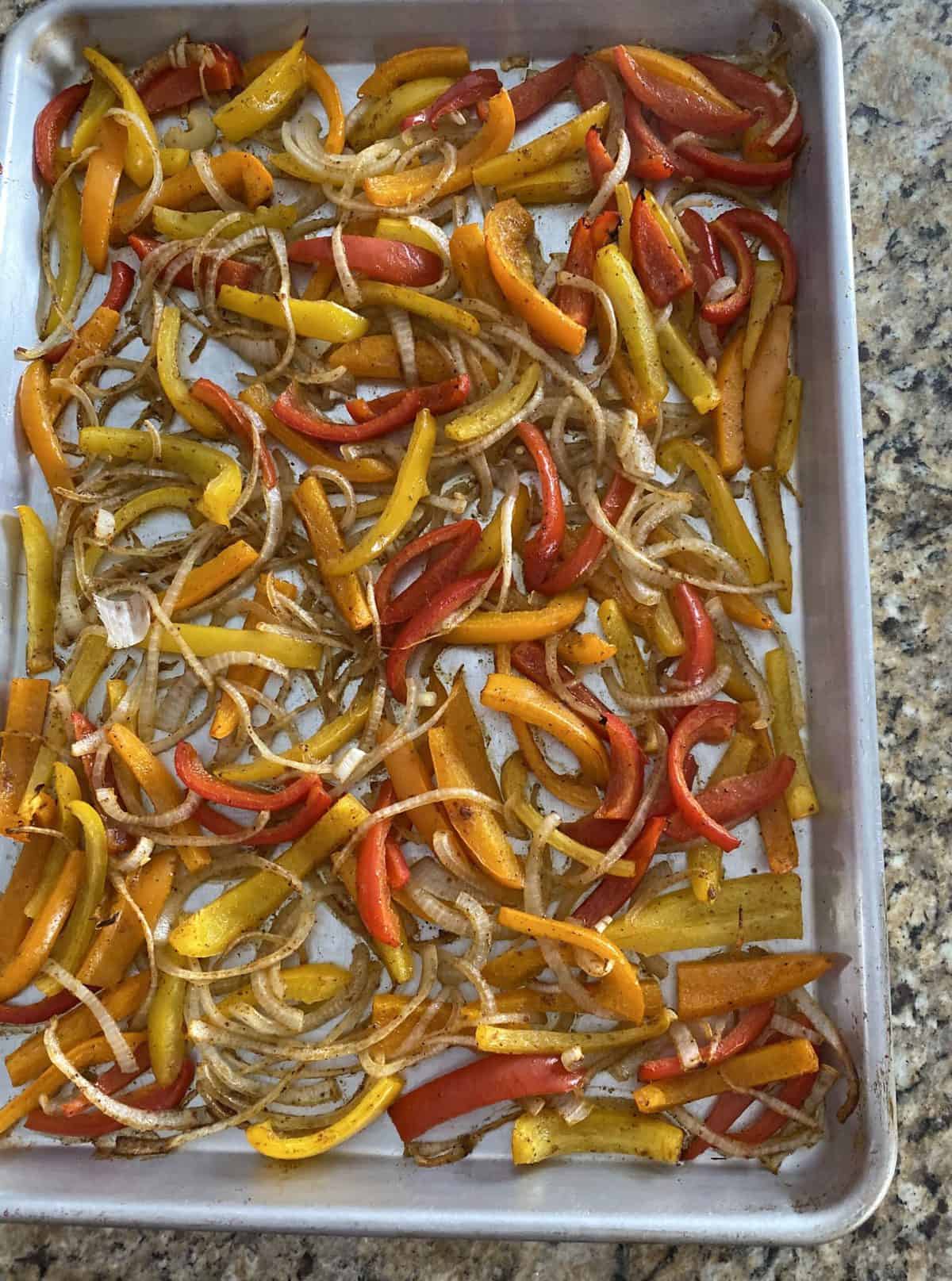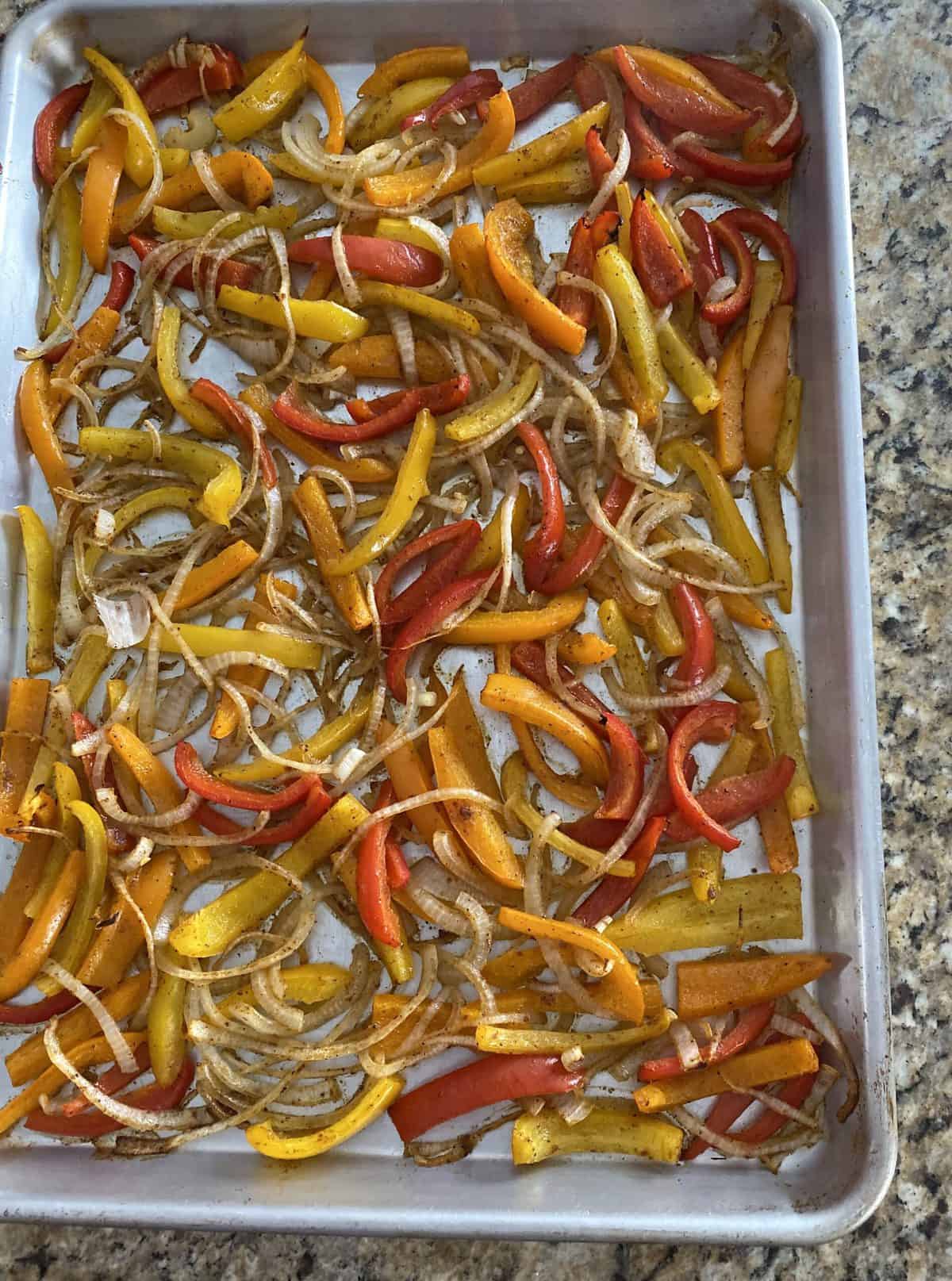 How To Cook The Steak For The Fajitas
While the peppers and onions are cooking, I'll slice up the steak into 1/2 inch slices or so. You don't want them really thick because then they'll take longer to cook. Also, thicker slices are harder to eat in a fajita – typically they come slipping right out within the first bite.
The Best Steak for Fajitas
A lot of sheet pan steak fajita recipes call for flank steak but I find that cut to be too tough for sheet pan dinners. I do use it if I'm making crockpot steak fajitas because this cut gets very tender after time in the crockpot.
My favorite cuts for sheet pan steak fajitas are top round, sirloin, or filet. I know these are a more expensive cut of beef but that is what I've found to work so far. Plus, with all the veggies, I can stretch 2 (5-ounce) steaks between 4 people.
Cooking Tip: The best way to cut a raw steak is to freeze the steak for about 10-15 minutes so it's a little firm. You don't want it to be completely frozen but firm.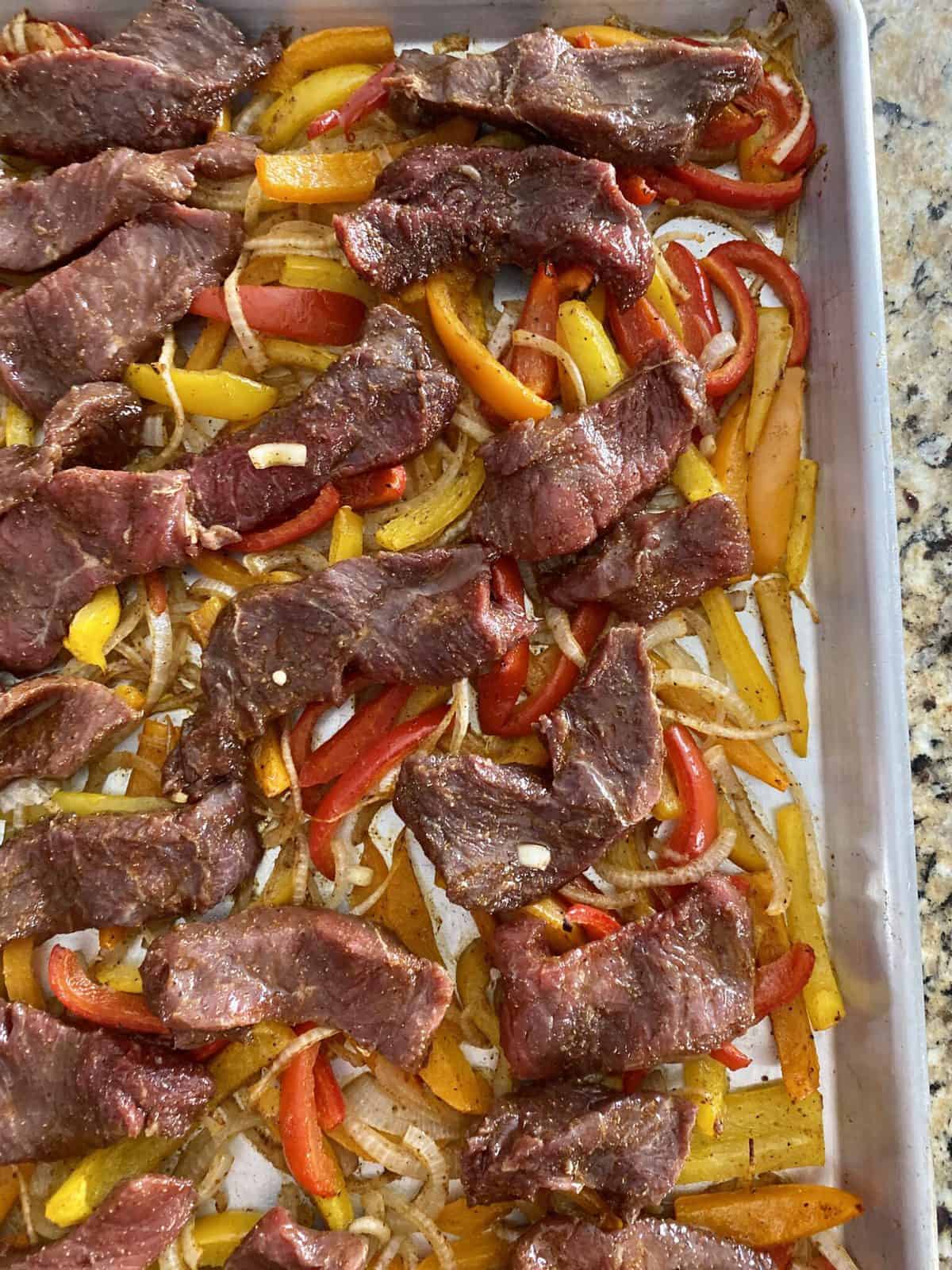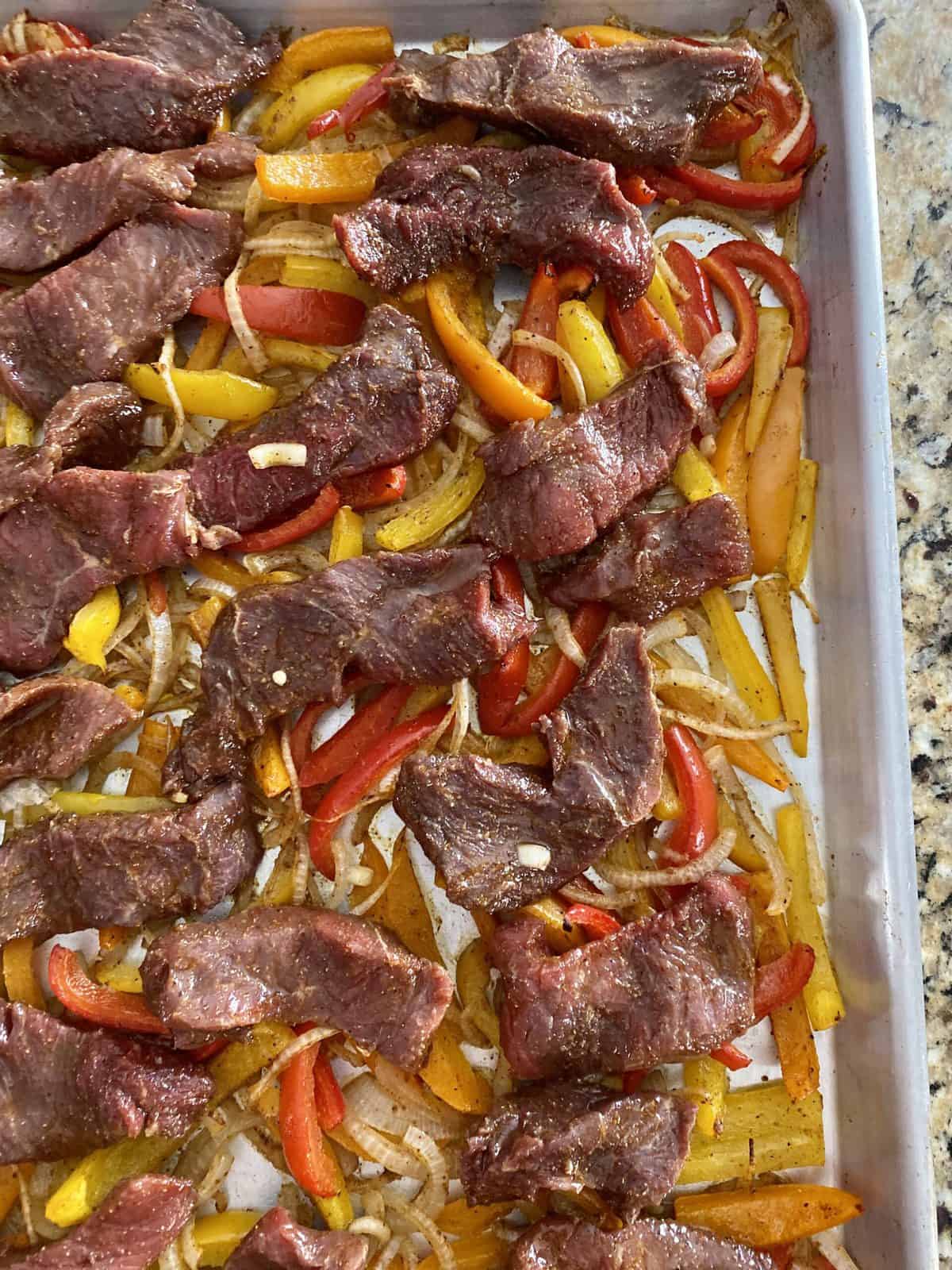 Season the Steak and Veggies
Place the steak into the same bowl used for the peppers. Then sprinkle the rest of the fajita seasoning packet and 1 more tablespoon olive oil. Mix together until the seasoning and oil is evenly distributed.
Cooking Tip: Another note with this recipe is you could marinate the steak in this seasoning for a couple of hours or a whole day ahead of time to really soak up all of that seasoning. Same with the vegetables! This makes it super easy meal prep. Just toss it on a sheet pan and cook it up when you're ready to eat.
After the peppers and onions have cooked for 20 minutes, place the steak on top of the peppers and onions. Cook in a 400-degree oven for 12 minutes. Keep an eye on the steak because you don't want it to overcook!
At 10 minutes, switch the oven to broil to get a little char on the veggies and steak. You don't have to do this but I think it adds to the flavor BUT, keep an eye on it because you don't want it to burn.
How To Serve These Beef Fajitas
After the fajitas are done cooking, squeeze some fresh lime over the top and sprinkle fresh cilantro over top. This gives it a bright fresh flavor. I love cilantro but my husband hates it so I add it on my own plate when I'm ready to eat 😉
My family loves to eat this with warm tortillas. I just pop them into the microwave with a damp paper towel on top of the tortillas and heat for 30 – 40 seconds. You can also wrap the amount using in foil and place in the oven during the last few minutes of cooking time.
If you are trying to keep this as a low carb dinner, you can serve these beef fajitas with lettuce cups or eating them as is. You could also make a fantastic fajita salad too.
I also love to serve these with avocados, sour cream (or plain greek yogurt), pepper jack cheese and jalapeños.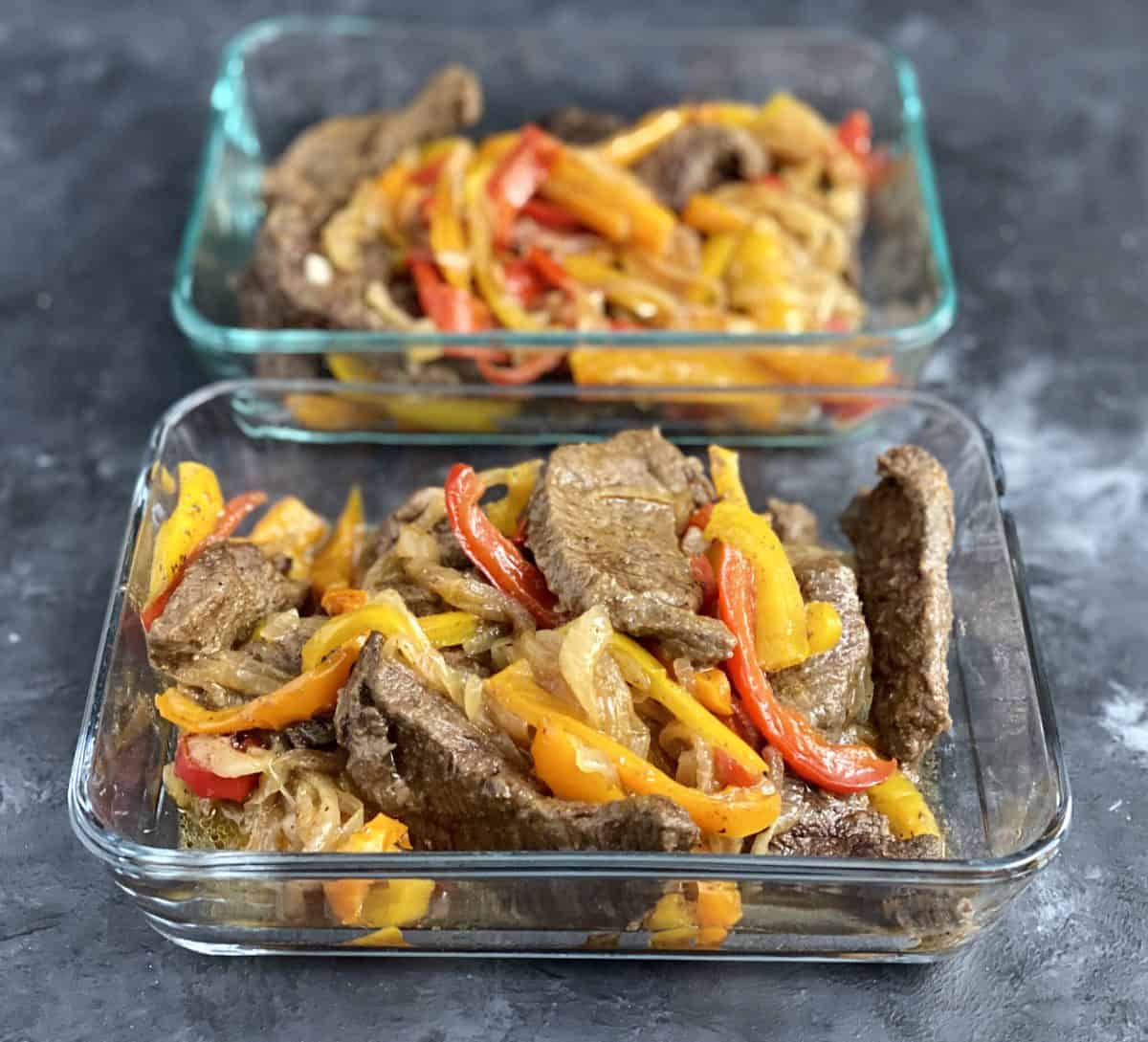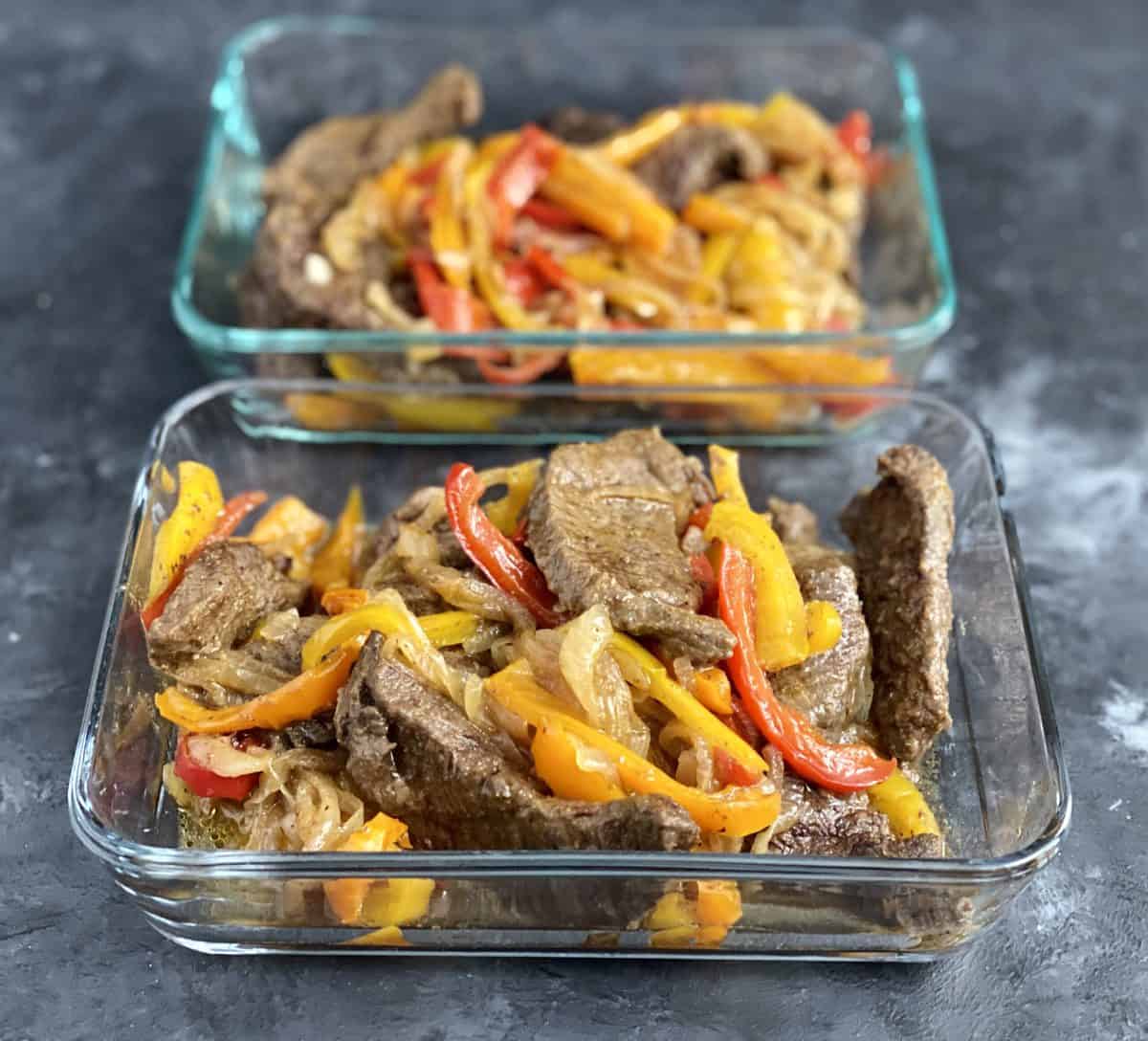 Try These Sheet Pan Dinners
If you are looking to try some more, take a look at some of these sheet pan dinners:
OR you can take a short cut and check out this roundup I put together of Sheet Pan Dinners for Lazy People Who Want To Eat Healthy!
Make this Steak Sheet Pan Fajitas one night this week for a quick dinner with minimal effort and cleanup. Share a picture and tag me on Instagram or Facebook if you decide to try it!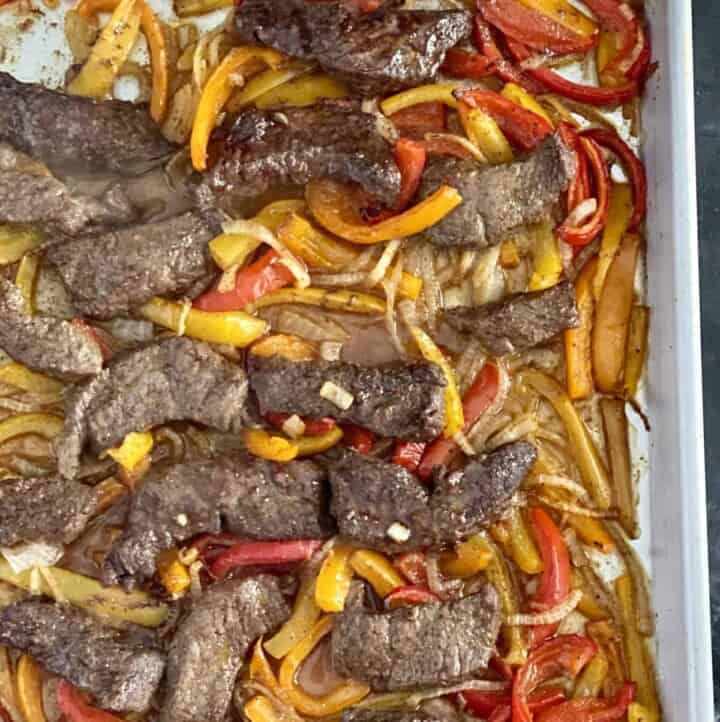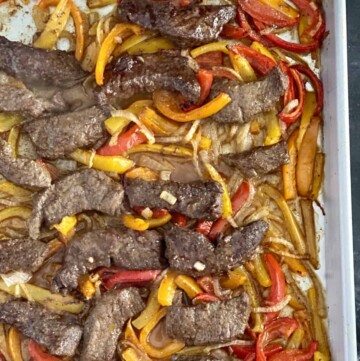 Sheet Pan Steak Fajitas
These sheet pan steak fajitas are easy to make and will be devoured by absolutely everyone! Make these steak fajitas for a family dinner or as weekly meal prep.
Print
Pin
Rate
Equipment
Large baking sheet

Knife

cutting board
Ingredients
1

red bell pepper

1

yellow bell pepper

1

orange bell pepper

1

White onion

10

oz

Steak – top round

sirloin, or filet

1

1-ounce packet of fajita seasoning

1

tablespoon

of olive oil

Limes and Cilantro for garnish
Instructions
Slice peppers and onion into thin slices.

Cut the steak into 1/2 inch thick slices.

Toss the peppers with half of the fajita seasoning and olive oil.

Spread them out onto a sheet pan and cook at 400 degrees for 20 minutes.

Toss the steak slices with the remainder of the seasoning and oil.

Place the steak on top of the peppers and onions and cook together for 12 minutes at 400 degrees.

Switch the oven to broil to get char on the veggies and steak. Keep an eye on it because you do not want it to burn.

Squeeze a lime over the top and sprinkle on chopped cilantro.

Enjoy with tortillas, lettuce wraps or over a bed of lettuce along with your favorite toppings.
Notes
Tip on Cutting Steak: The best way to cut a raw steak is to freeze the steak for about 15  – 20 minutes so it's a little firm. You don't want it to be completely frozen but firm.
Nutrition
Serving:
1
g
|
Calories:
387
kcal
|
Carbohydrates:
29
g
|
Protein:
22
g
|
Fat:
21
g
|
Saturated Fat:
3
g
|
Fiber:
5
g
|
Sugar:
1
g