Sheet pan dinners are a great way to eat healthy when you're to lazy to cook! All you need to do is throw the ingredients on a pan and let your oven do the rest of the work.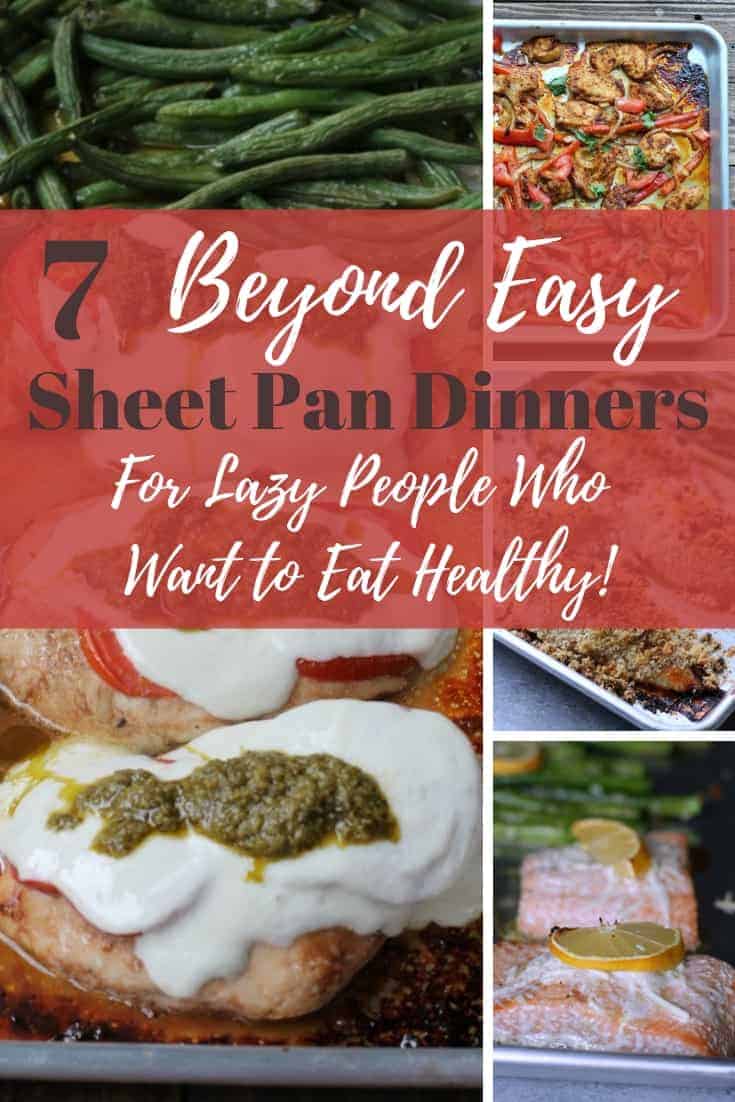 I often call myself a productive person stuck in a lazy person's body. It's true! I know from reading my blog you might think otherwise but truthfully I have to work really hard at sticking to a healthy lifestyle. Trust me, there are many days the couch is begging me to snuggle and pizza is asking to be ordered. It takes effort, and strategy, to make healthy choices day after day.
One of those strategies are super easy meals – specifically sheet pan dinners! I'm telling ya, if you don't like to cook or time is limited then these one pan dinners can make a huge difference during the week.
Here are all the reasons I'm obsessed with sheet pan dinners:
Doesn't require a lot of meal prep.
First, let's talk about meal prep because you know I love meal prep too. Sheet pan dinners are typically a protein (chicken, beef, or fish) and then some veggies. Typically, all I need to do is prep the protein (ex. trim and/or marinate chicken) and prep the vegetables (clean and chop). Then just store it until you're ready to cook. You can meal prep 3-4 sheet pans dinners in about 1/2 hour.
Easy preparation.
Let's say you don't have time to meal prep these dinners – no worries! Sheet pan dinners take barely any time to get ready for the oven. Sure trimming chicken or chopping vegetables could be a little time consuming but honestly you can purchasing both ready to cook. Keep it easy! Then all you need to do is throw it on a sheet pan and dinner will be ready within 40 – 45 minutes!
Easy clean up.
Sheet pan dinners are 1 pan so that makes clean up super easy.
Use up what you have on hand.
I'll give you some of my favorite sheet pan dinner recipes below but you can get creative with whatever you have on hand. This is a great way to use up vegetables or any type of chicken. It's also a great way to use up sauces, dressings, or other marinades. I put some staples to have on hand at the bottom of this post.
Healthy!
Sheet pan dinners are baked in the oven and we all know this is a much healthier way to cook food. They also include tons of veggies and lean proteins. Of course, there are other factors that come into play but overall you can keep these dinner lean, clean, and very healthy.
So if you're looking for a way to prepare healthier foods with minimal effort then sheet pan dinners are the way to go.
Sheet Pan Dinner Supplies
Of course, the most important tool to have is a sheet pan. In my experience, a large baking pan works great. I used to have smaller ones but the bigger ones work better for obvious reasons. I purchased a 2-pack Nordic Ware 17.88 x 12.88 x 1.06 baking sheet pan a couple years ago. You can get them bigger but I think this size works just fine to prepare sheet pan dinners. All the pictures you see below are using these baking sheets. You can purchase the same 2-pack from Amazon for under $24. 
You'll also need tongs, spoons, or spatulas to turn meat over and move around the vegetables. This is a great kitchen tool set by OXO. It's a little on the pricey side but if you're just starting out with cooking then this set has everything you need. Of course, you can just purchase a set of tongs or spatula too.
Last, besides any marinades or seasonings, you'll need olive oil. This is more for the vegetables. I don't get fancy at all with cooking vegetables in the oven. I simply drizzle with olive oil and then season with salt or pepper. That's it.
Cooking Sheet Pan Dinners
Most sheet pan dinners cook between 40 -45 minutes in a 375 degree oven. In my experience, I found this to be the perfect temperature and time to get the meat and vegetables cooked at the same time. If the meat needs a longer cooking time then I'll cook the meat first and then add vegetables later on. Once you make a few you'll find what meat/vegetable combination works for you.
Sheet Pan Dinner Recipes
Here are some of my favorite sheet pan dinner recipes. Keep in mind, there are many nights I don't even use a "recipe". I'll simple throw some seasoned chicken, broccoli, and potatoes on a sheet pan and call it dinner!
Of course, if you want pasta or rice to go with any of these sheet pan dinners you can certainly make them. However, if you're trying to lose weight then make sure to choose healthier options and pay attention to portions.
Balsamic Honey Chicken and Broccoli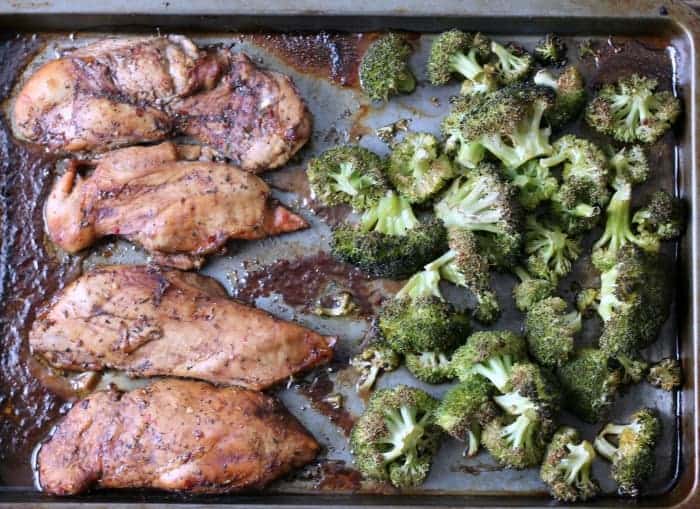 Honey Mustard Chicken and Brussel Sprouts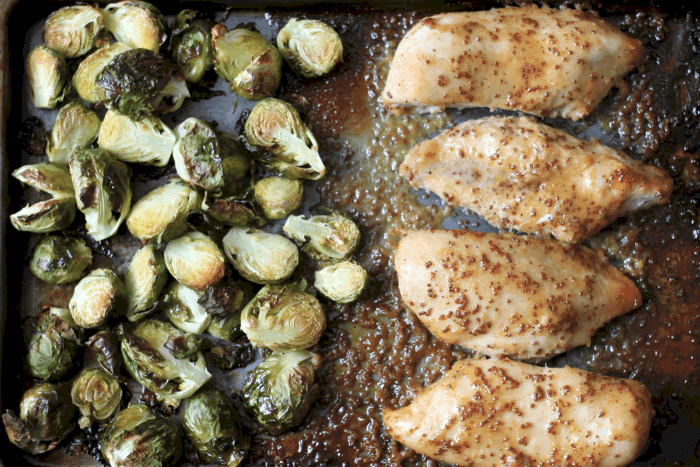 Chicken Fajita Sheet Pan Dinner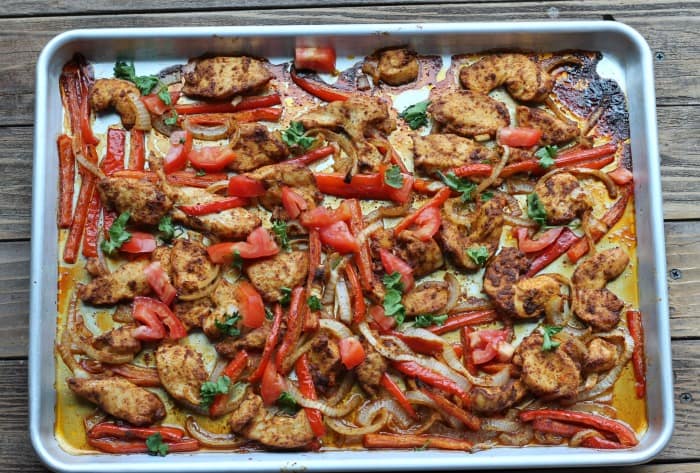 Balsamic Chicken Caprese Sheet Pan Dinner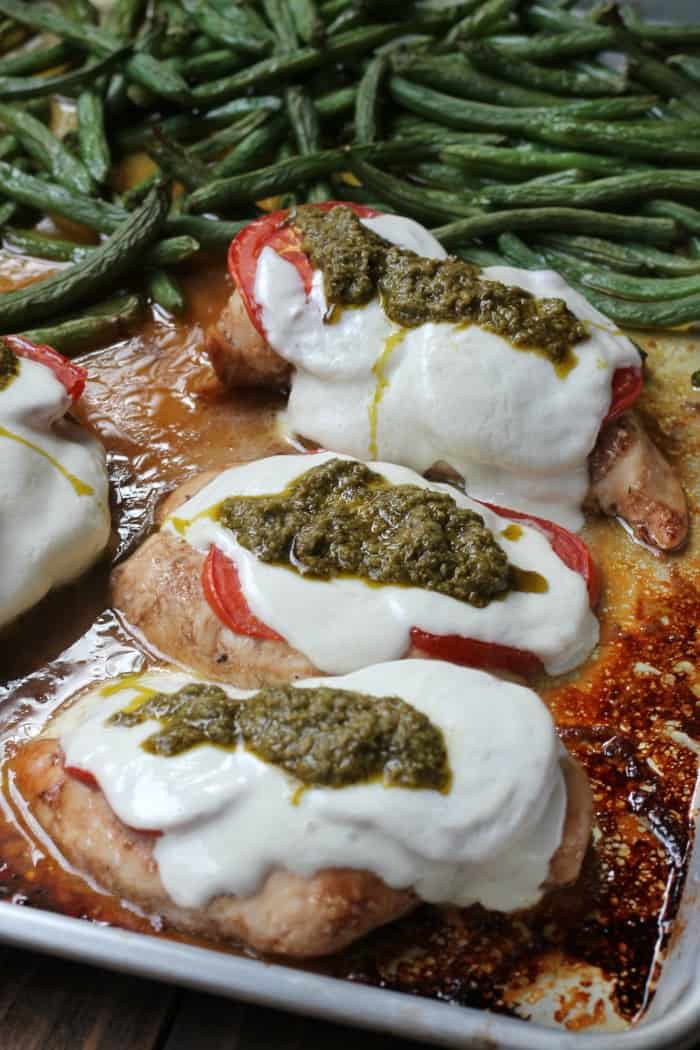 Chicken Sausage and Peppers Sheet Pan Dinner
Greek Chicken and Vegetables Sheet Pan Dinners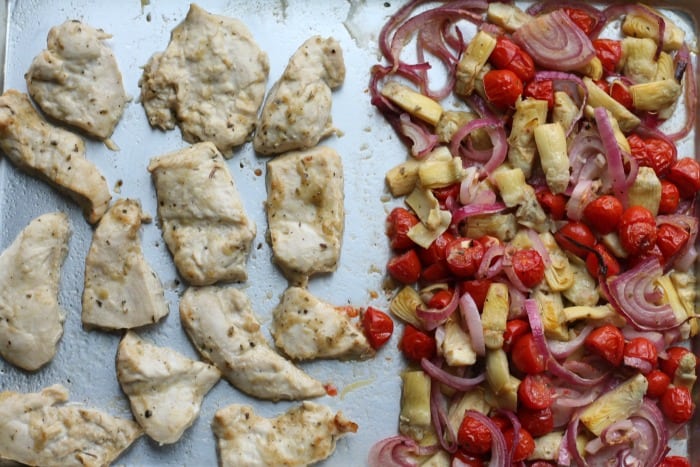 Lemon Garlic Salmon with Asparagus Sheet Pan Dinner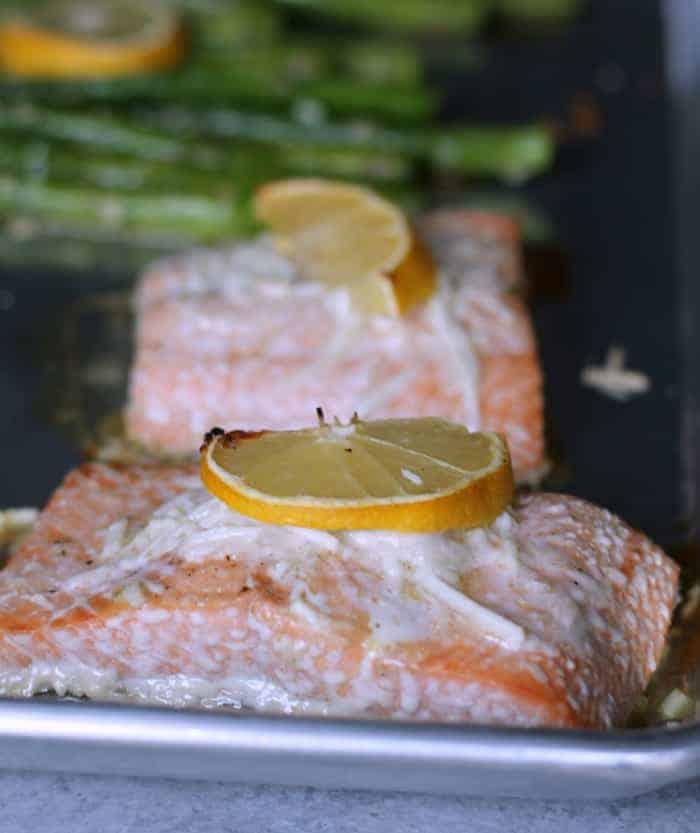 Creating Your Own Sheet Pan Dinners
Like I said, sheet pan dinners are very versatile and super easy to make. You don't even really need a recipe only a few staples.
Here are some ideas.
Protein:
Skinless Chicken breasts
Skinless Chicken thighs
Salmon
Ground beef or turkey for mini meatloaves or meatballs. Check out this best turkey meatball recipe!
Vegetables:
Broccoli
Cauliflower
Green Beans
Bell Peppers
Onions
Brussel Sprouts
Sweet Potatoes
Yukon Gold Potatoes
*potatoes cook best when sliced or diced
Seasonings:
Simply Organic taco or ranch seasoning (or make your own)
Cajun seasoning
Italian seasoning
Marinades
Italian, balsamic, or any oil and vinegar dressing
barbecue sauce
teriyaki sauce
You can create a variety of sheet pan dinners using all of these staples.
If eating healthy is a priority but you're to lazy, or busy, to spend a lot of time in the kitchen then sheet pan dinners is definitely an option you should consider.
What's your favorite sheet pan dinner recipe?