This baked salmon and asparagus recipe is low-carb, easy to prepare, and so delicious. Simple ingredients for a fast weeknight dinner.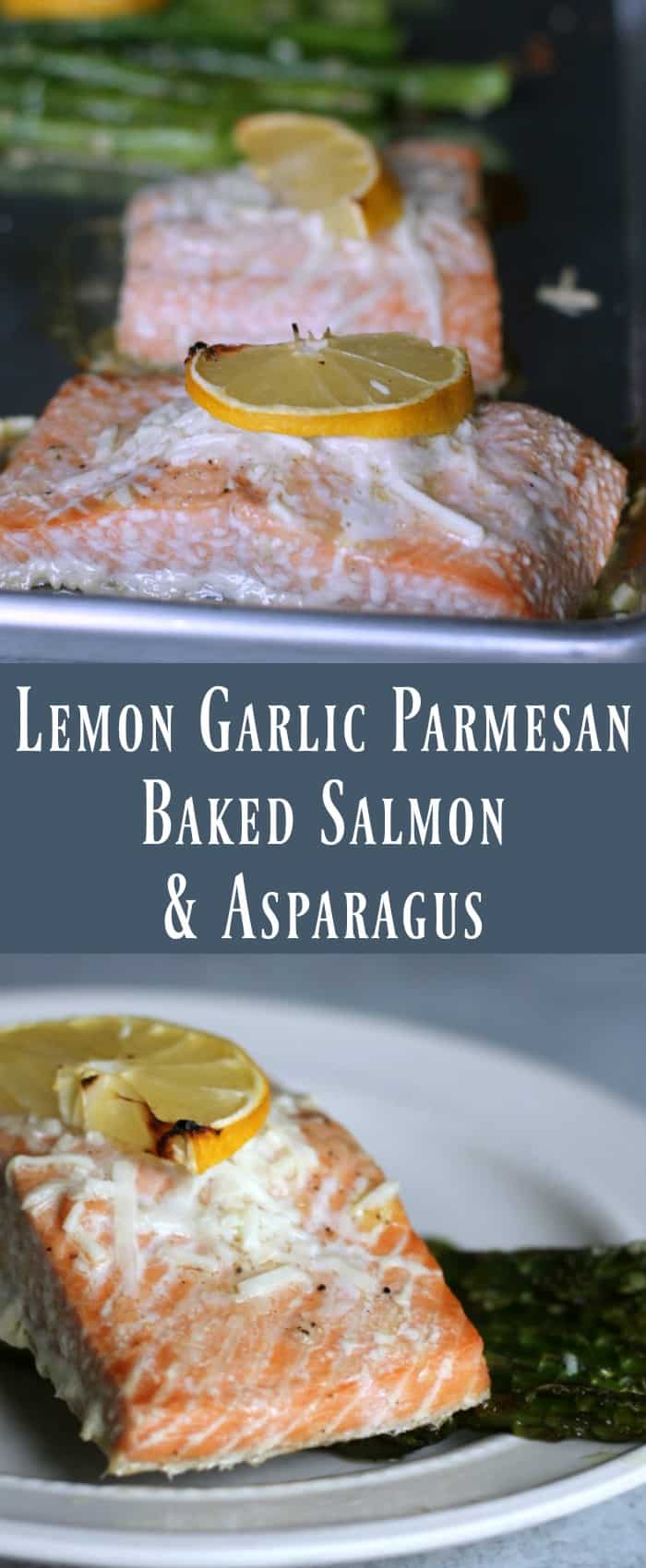 Since discovering sheet pan dinners it's become clear that most foods can easily be prepared in the oven using a sheet pan. Just take a protein and a vegetable, drizzled olive oil over top, and roast for 20 – 45 minutes and presto you have a healthy delicious dinner made in very little time. I should also mention that it's a great way to cook up large batches of low-carb meals for the week.
Here are some favorites so far:
Baked Greek Chicken and Vegetables Sheet Pan Dinner
Chipotle Chili Honey Baked Shrimp
Baked Balsamic Chicken and Broccoli
This time around I decided to create a sheet pan dinner using salmon and asparagus. Salmon is one of my favorite seafoods but it's often an afterthought when putting together my meal plan. I never think to make salmon until I'm at the grocery store walking past the seafood counter.
Last week, instead of saying "I'll make it next week" I decided to pick up 4 salmon filets and put together this recipe. I also grabbed a bunch of asparagus because it's in season and my kids love asparagus. They're not fond of salmon but that's okay I enjoyed the leftovers for lunches this week.
This is the easiest recipe ever, and you can have it on the table in less than 30 minutes, making it perfect for during the week. If you enjoy a low-carb lifestyle then this recipe is perfect as is but feel free to add some brown rice or quinoa if you like.
All you need to do is lay the salmon and asparagus on a sheet pan. By the way this is the sheet pan I use. In a small bowl mix together the olive, garlic, and a pinch of salt and pepper. Then brush the olive oil mixture on both sides of the salmon and toss the rest over the asparagus.
A quick note about the salmon. I used filets with the skin and then baked skin-side down. You can remove the skin you want prior to preparing the recipe or take it off after it cooks. Whatever is easier for you.
Sprinkle shredded parmesan over top of the salmon and asparagus. Last, cut a lemon into slices and lay on top of the salmon and asparagus.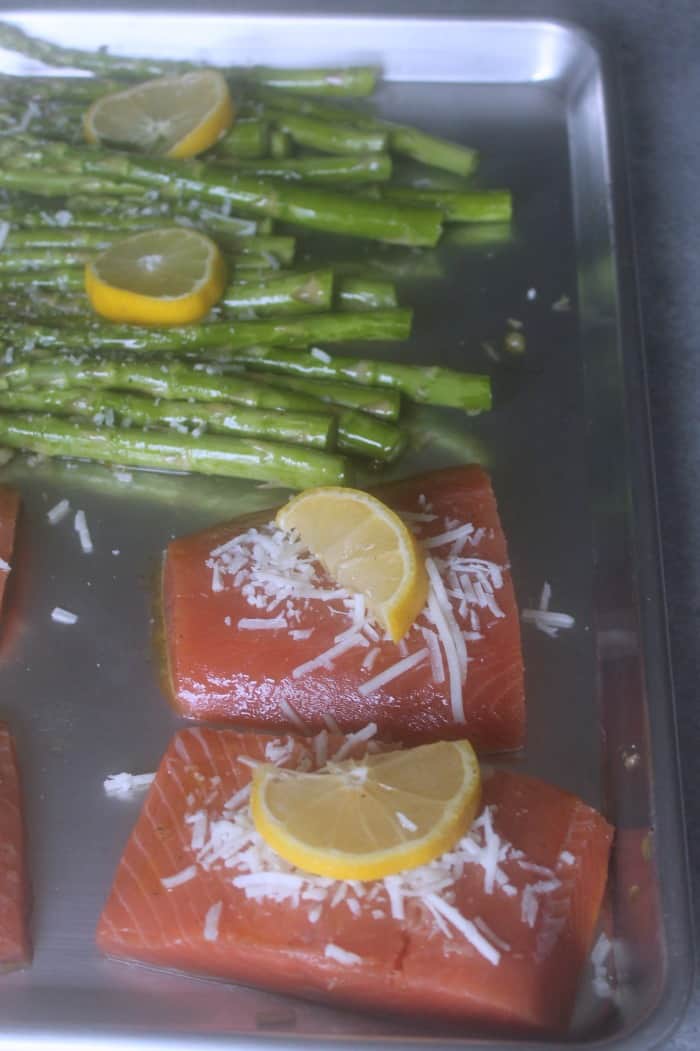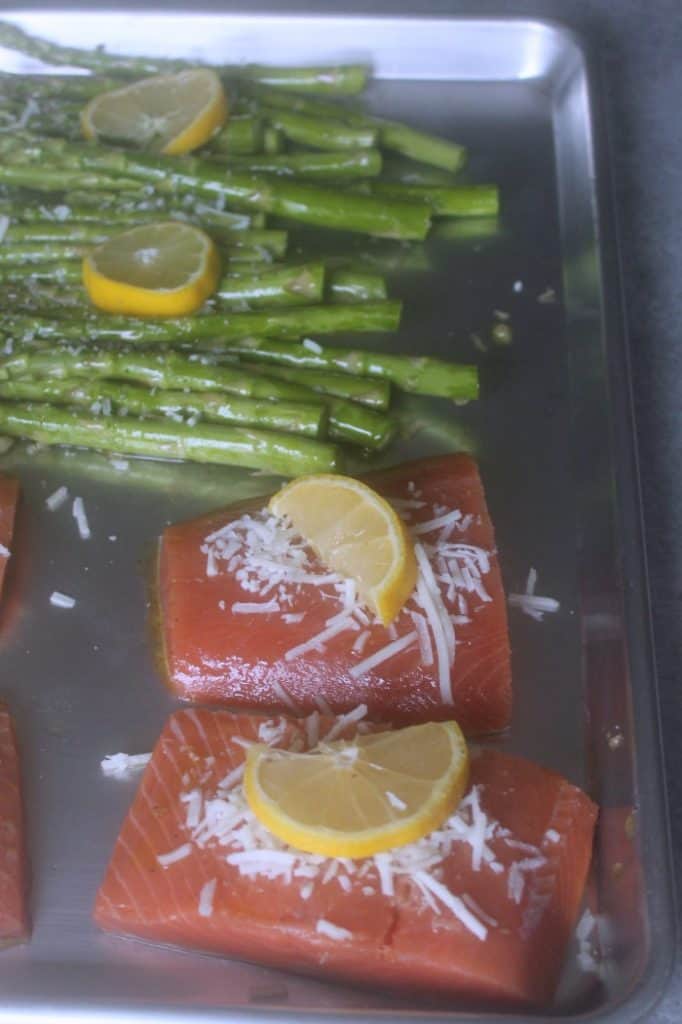 Bake for 20 minutes in a 400 degree oven and whoolah dinner is served!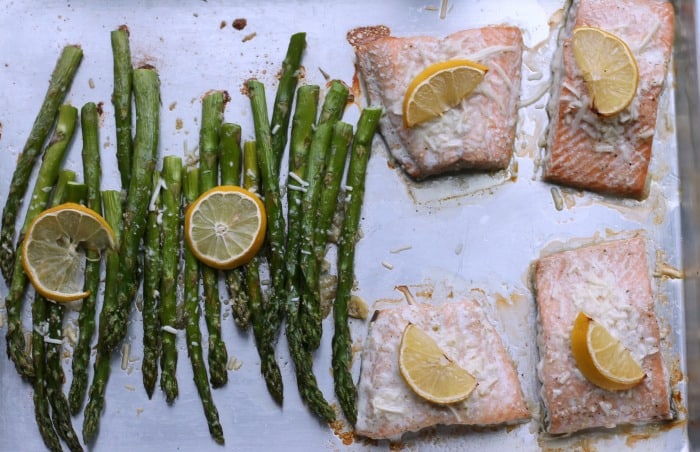 This is absolutely delicious. Simple and no frills but taste fancy. Maybe because I tend to eat salmon at restaurants more than home but this to me was a restaurant quality dinner.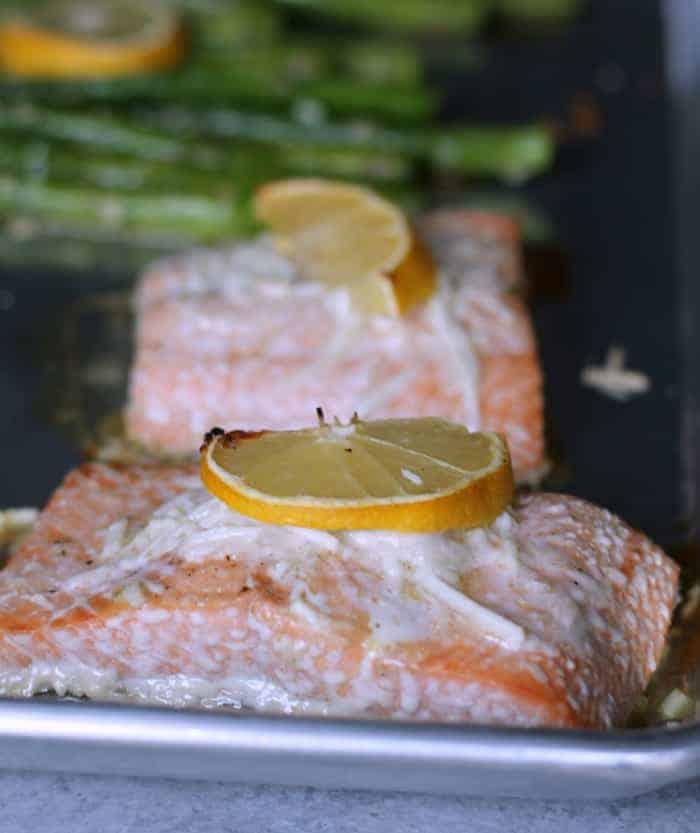 After it was done cooking, and cooled slightly, I squeezed the lemons over top of the salmon and asparagus. This gave it a fresh lemony kick.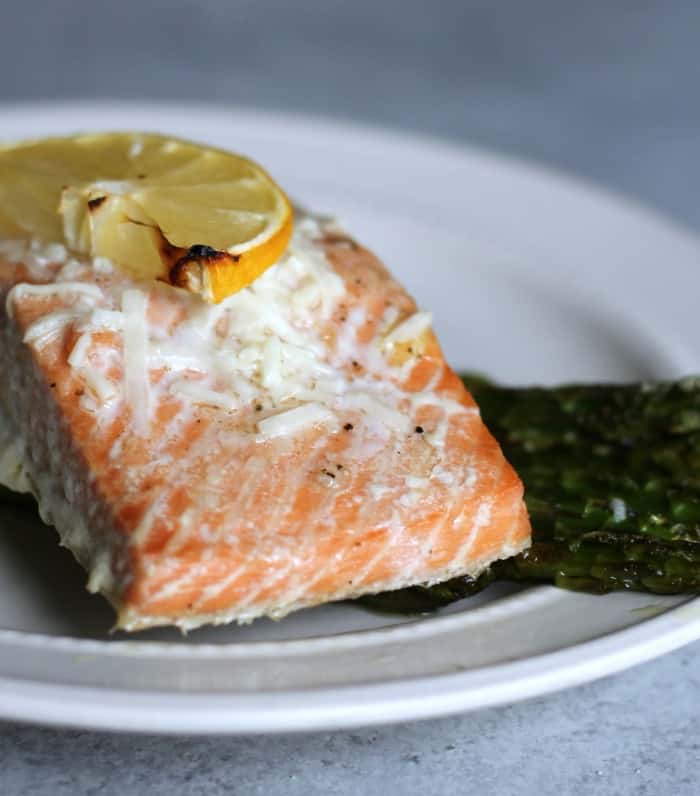 This low-carb meal will fill you up without causing bloat.The salmon provides healthy fats and lots of protein with the asparagus giving a nice fiber boost.
I enjoyed it for dinner and a couple lunches last week. I stored it in these glass pyrex containers and warmed it up in the microwave. One night I ate a salad with it and felt completely full. If you're looking for more healthy low-carb dinner ideas then put this recipe on the list.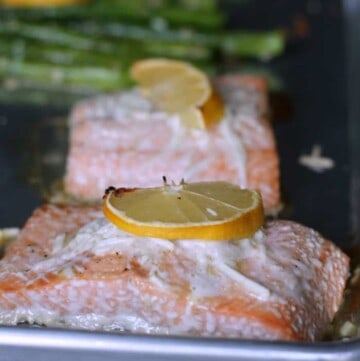 Ingredients
3

tablespoons

extra virgin olive oil

3

garlic cloves

grated

salt and pepper

3

tablespoons

shredded parmesan cheese

1

lemon

4

3 ounce salmon filets

1

lb

asparagus
Instructions
Preheat over to 400 degrees.

In a small bowl mix together the olive oil, garlic, salt, and pepper.

Brush salmon on both sides with the oil mixture. If the salmon's skin is still on then place on the sheet pan skin side down.

Place the asparagus next to the salmon. Toss asparagus with leftover oil mixture.

Sprinkle salmon and asparagus with shredded parmesan.

Slice the lemon into slices and place over the salmon and asparagus.

Bake for 20 minutes or until salmon is cooked and flakes easily. ** the salmon I made cooked perfectly in 20 minutes.

Serve hot.
Notes
sugar: 2
Make-ahead instructions
This can be made completely ahead of time and stored in the refrigerator 2-3 days.
Nutrition
Serving:
1
g
|
Calories:
329
kcal
|
Carbohydrates:
5
g
|
Protein:
27
g
|
Fat:
21
g
|
Saturated Fat:
4
g
|
Fiber:
2
g