Shrimp marinated in chipotle peppers, adobo sauce, and honey then quickly baked to deliciousness. This is the high-protein low carb easy weeknight dinner you've been craving.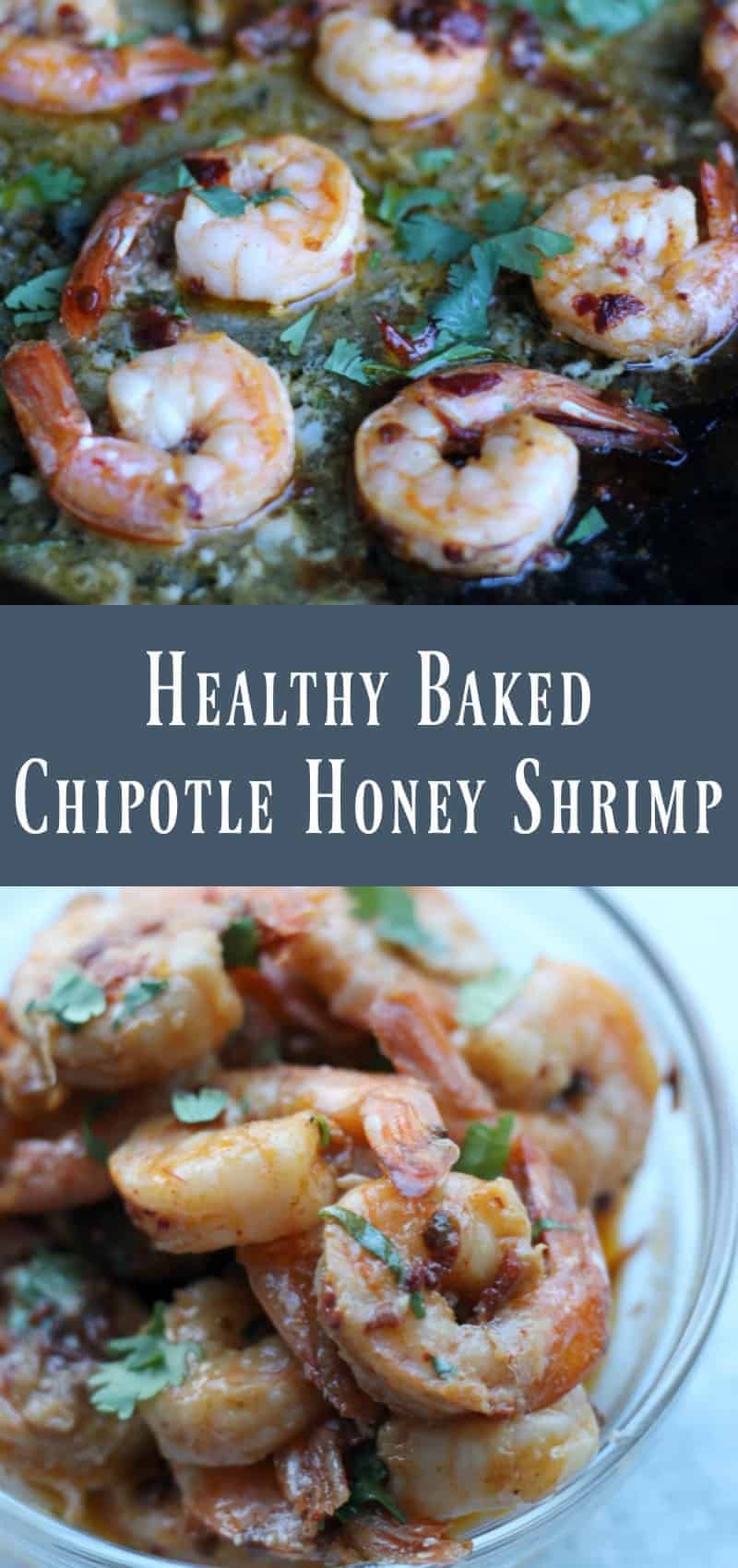 I'm in love with this new shrimp recipe! Originally, I had different ideas for this shrimp but now, for the life of me, I can't remember what that was. It had something to do with chili flakes and maybe some lime but it really doesn't matter because the recipe you see here today I'm positive blows that one out of the water.
And it's sooooo simple to make. The marinade uses ingredients I had stashed away in the freezer and pantry. I had leftover chipotle peppers in adobo sauce frozen from another recipe and I always have honey laying around. Since I already bought the lime and shrimp I was ready to create.
Chipotle peppers in adobo sauce are smokey and can be super spicy. Like so spicy you can barely enjoy the recipe. The best way to get flavor without too much spice is to remove the seeds. The peppers are a little squishy but just get in there and remove the seeds with your hands or a spoon. If you want extra spice then leave some in. I like to use the adobo sauce as well for extra flavor.
To create this marinade I added canned chipotle peppers, some of the adobo sauce, honey, olive oil, garlic, and some salt and pepper to the shrimp. I gave it a couple stirs until all the shrimp was coated. This recipe includes lime and cilantro too. The lime is added to the shrimp right before it goes into the oven and the cilantro after it's done.
I recommend marinating the shrimp for at least 1-2 hours or overnight.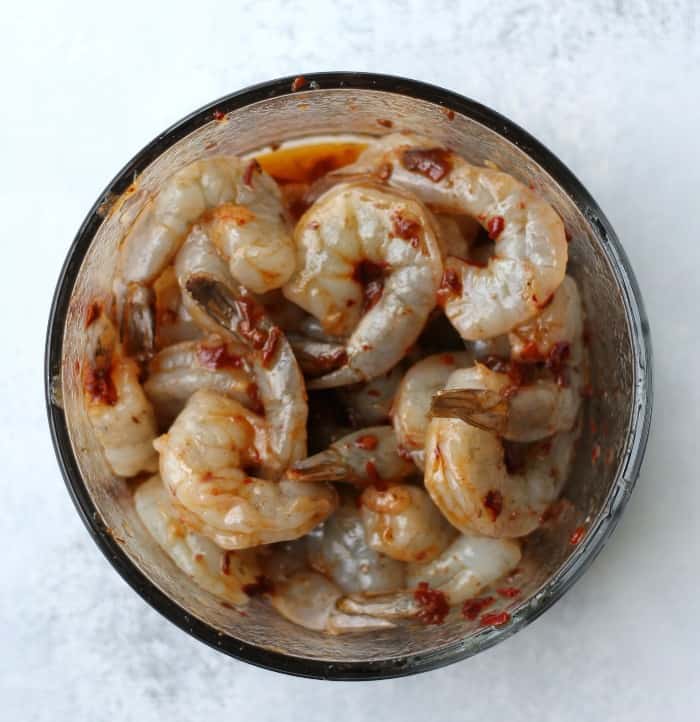 This shrimp cooks QUICK! It's a great recipe to prep on Sunday to enjoy on a busy Monday or Tuesday. If you have rice made ahead of time and "steam in a bag" vegetables you can have dinner on the table in like 15 minutes. And this recipe taste fancy so your family will think it took a lot of effort. My advice – let them think that 🙂
After the shrimp is done I sprinkled the cilantro over top.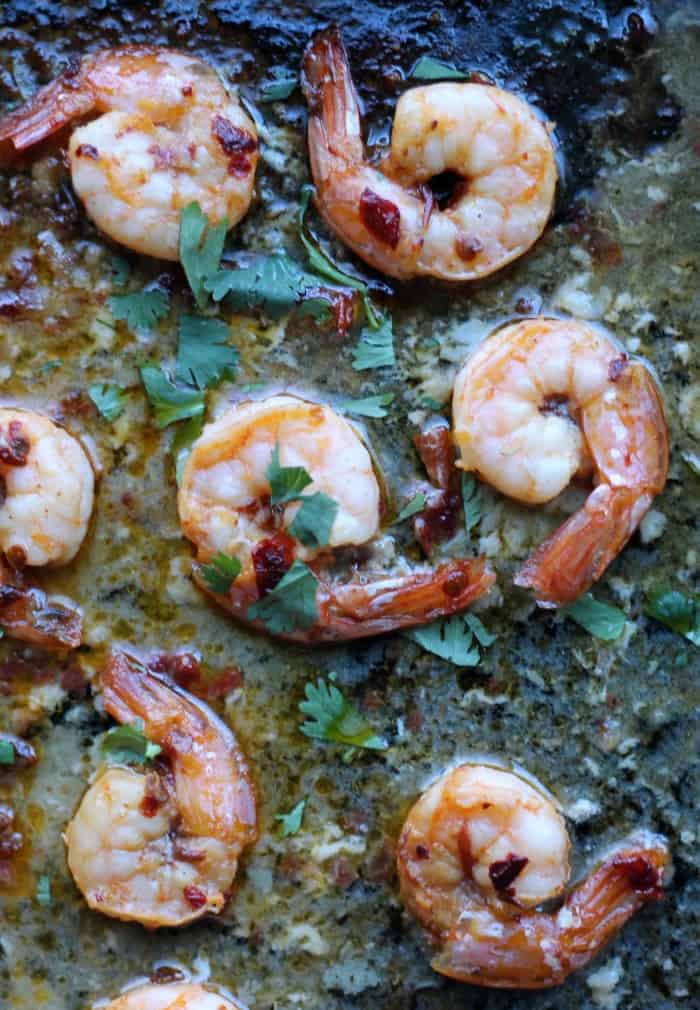 There's a lot of good juices in this pan so definitely plan to pour some over the shrimp after it's been plated.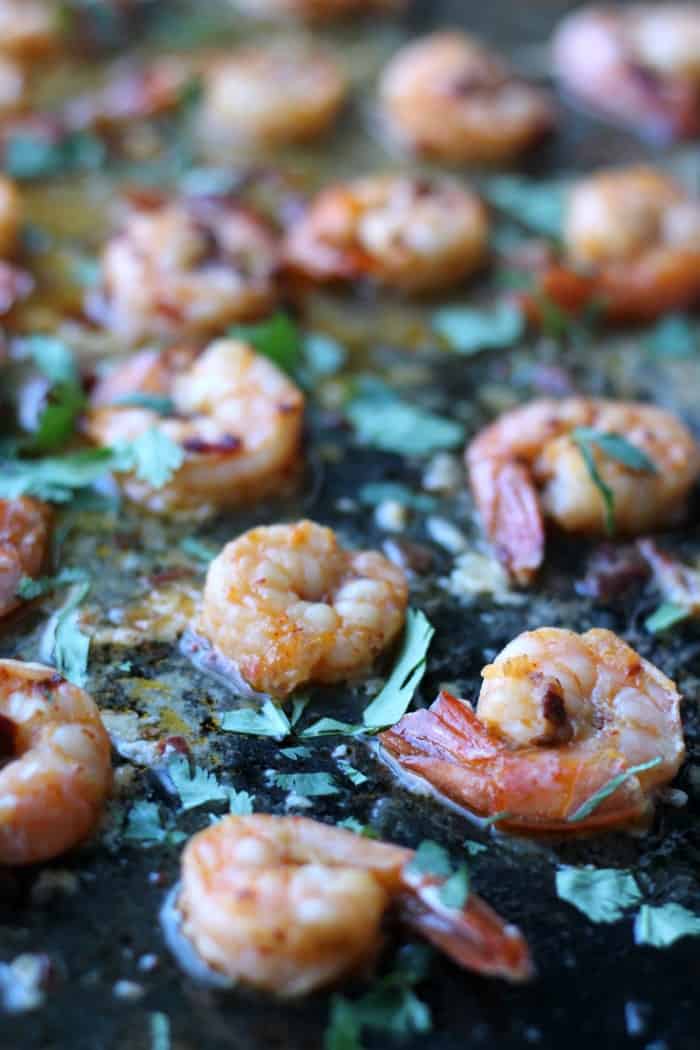 I enjoyed my shrimp with steamed sugar snap peas and it was delicious. And so filling. Shrimp has a ton of protein so it might not seem like you're eating enough but I promise you'll feel full and satisfied.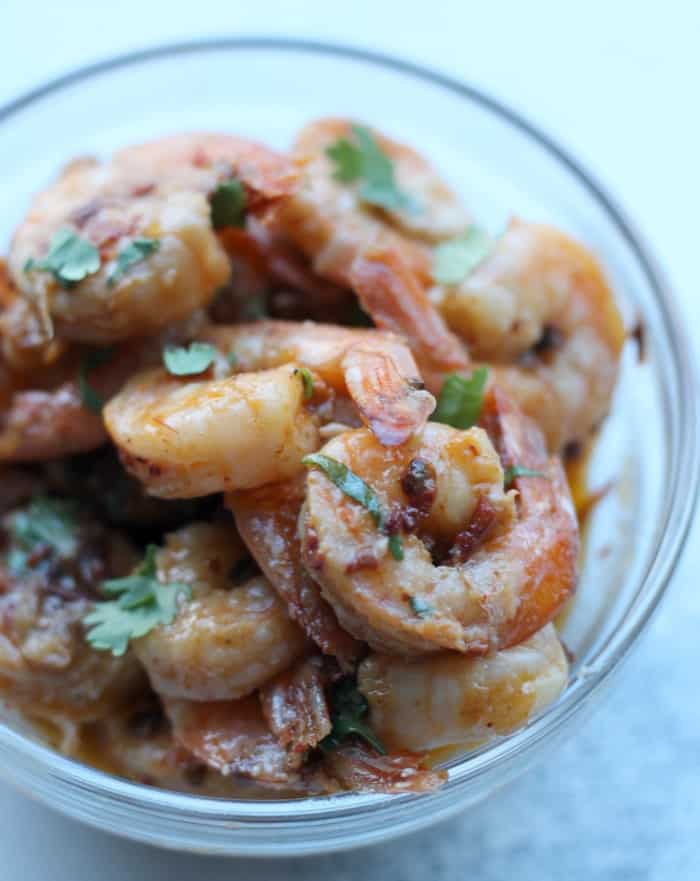 This healthy shrimp recipe is tasty, easy to make, and can be prepped ahead of time. It also taste good the next day. I put the leftovers in a couple meal prep containers along side sugar snap peas and green beans and enjoyed it on two seperate nights for dinner. Both nights it was great.
This shrimp would taste wonderful in a salad or even in tacos. My youngest recommended the tacos!
If you try this recipe, or any of my others, please take a picture and share it on Instagram using hashtag #organizeyourselfskinny.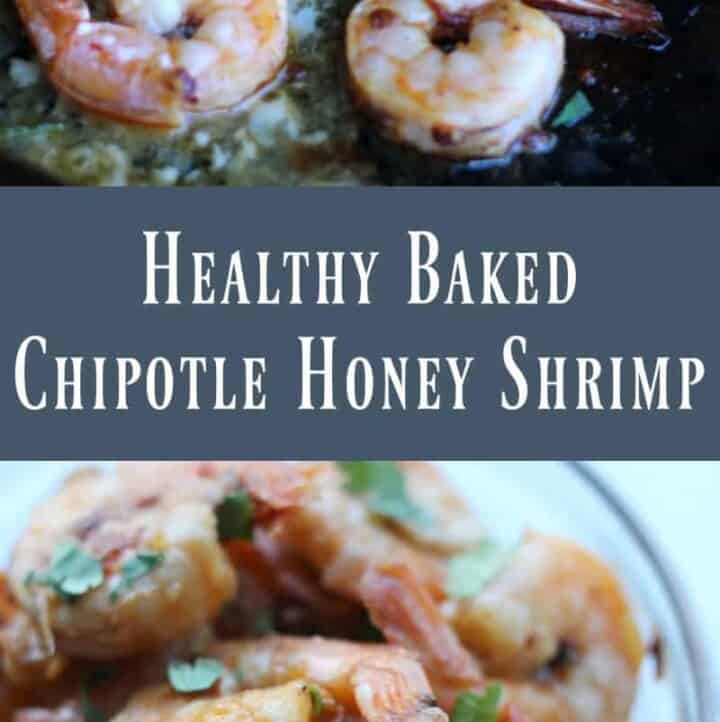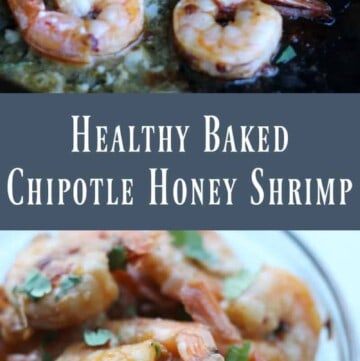 Ingredients
1

lb

medium shrimp

cleaned

2

canned chipotle peppers

seeds removed and chopped

2

tablespoons

adobo sauce

3

tablespoons

olive oil

2

garlic cloves

grated

2

tablespoons

honey

1/2

teaspoon

salt

1/4

teaspoon

pepper

juice of 1/2 a lime

cilantro
Instructions
Place the shrimp in a medium bowl and add the chipotle peppers, adobo sauce, olive oil, garlic, honey, salt, and pepper. Mix together until the shrimp is coated with the marinade. Let the shrimp sit in the marinade for 1 hour or overnight night.

Preheat oven to 425 degrees

Stir lime juice in with the shrimp and then spread shrimp out on a sheet pan and bake for 10-12 minutes or until shrimp is pink and plump.

Sprinkle with chopped cilantro and enjoy.
Notes
Sugar: 9
Make-ahead instructions
Shrimp can be marinated up to 2 days ahead of time. Squeeze the lime juice on before it goes into the oven. You can also prepare the shrimp completely and store in the refrigerator to enjoy during the week on salads or with vegetables.
Nutrition
Serving:
1
g
|
Calories:
116
kcal
|
Carbohydrates:
11
g
|
Protein:
28
g
|
Fiber:
1
g