Skinless chicken breasts coated with shredded coconut and then baked until crisp and delicious. This recipe is easy to make and tasty on a salad, with vegetables, or in a wrap.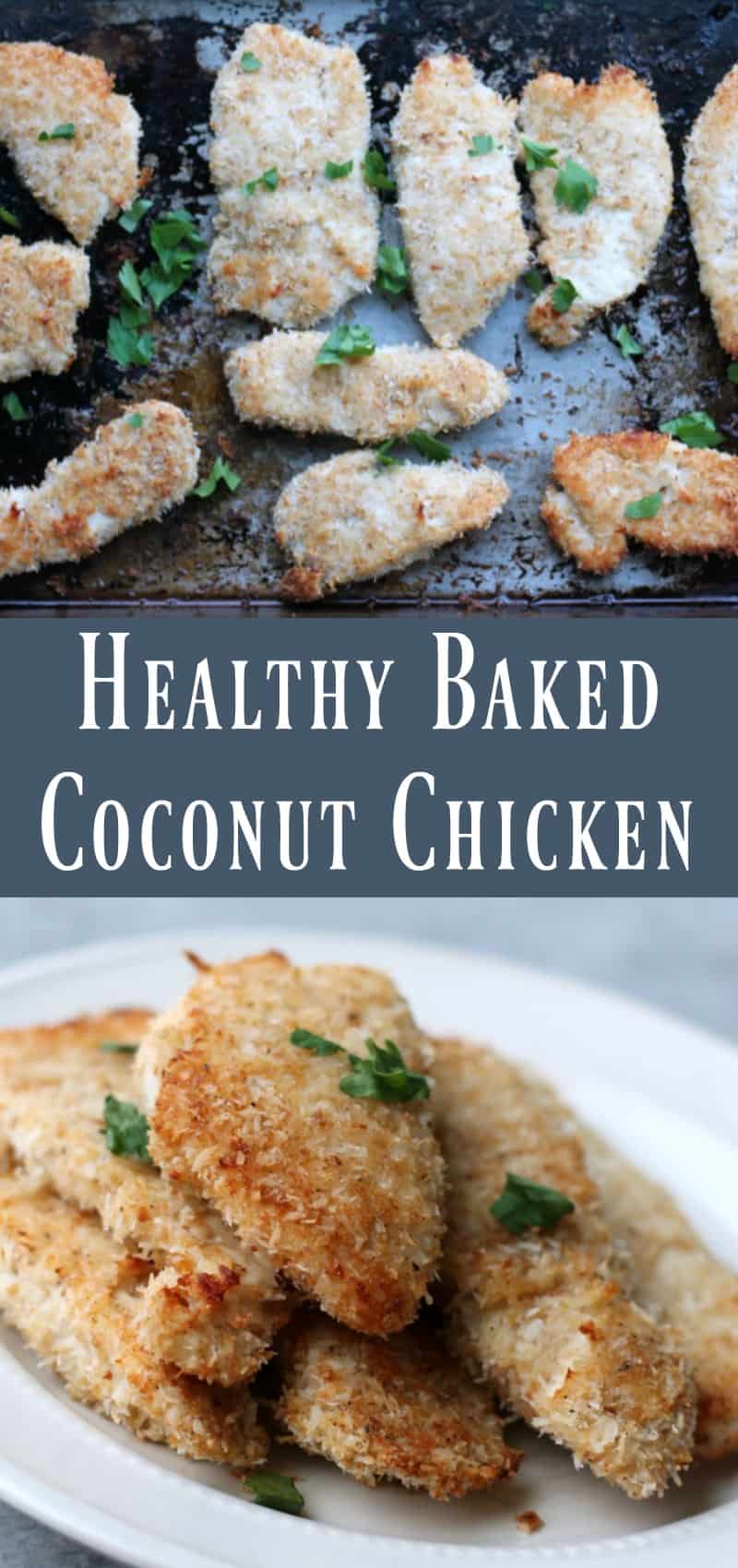 Let me tell you this is one of my favorite chicken recipes to date. In the last couple months I've been a chicken recipe making queen. I've made a Baked Chicken Parmesan, Baked Chicken Cheddar Ranch, Baked Chicken Taco Parmesan, Baked Honey Mustard Chicken, and a Baked Balsamic Honey Chicken. Basically, I found a new love for baked chicken recipes. They're easy to make and healthy. But this recipe, in my opinion, takes the cake.
I've wanted to make coconut chicken for a couple months now. I truly don't know what took me so long because seriously this is one of the easiest recipes ever – not mention super tasty!
I started by cutting the chicken into chunks or strips and marinating it in unsweetened coconut milk. I used the kind you find in the dairy section alongside the other milk. My favorite brand is So Delicious but use any brand you like, just make sure it's unsweetened. Also, cut up the chicken any way you like. I like strips because it's easier to grab and goes great on a salad or in a wrap. I marinated the chicken for about 1 hour but to save time you can marinate it overnight in the refrigerator.
Marinating the chicken in coconut milk adds to overall coconut flavor and prevents it from drying out.
For the coating I mixed together finely shredded unsweetened coconut and unseasoned breadcrumbs. As I was researching this recipe I noticed other bloggers used sweetened coconut. I used what I keep in my pantry and I thought it turned out wonderful.
You definitely want to use finely shredded. I love this brand. Finely shredded sticks much better to the chicken. If by some chance you can't find finely shredded then give the coconut a couple pulses in the food processor. But you should be able to find finely shredded in the store. I find the "Let's Do Organic" brand in the nature food section at my grocery store. You can also purchase it from Amazon.
When baking chicken in the oven I prefer regular breadcrumbs over panko. Many people suggest panko for the crunch but I can never get it to stay on the chicken.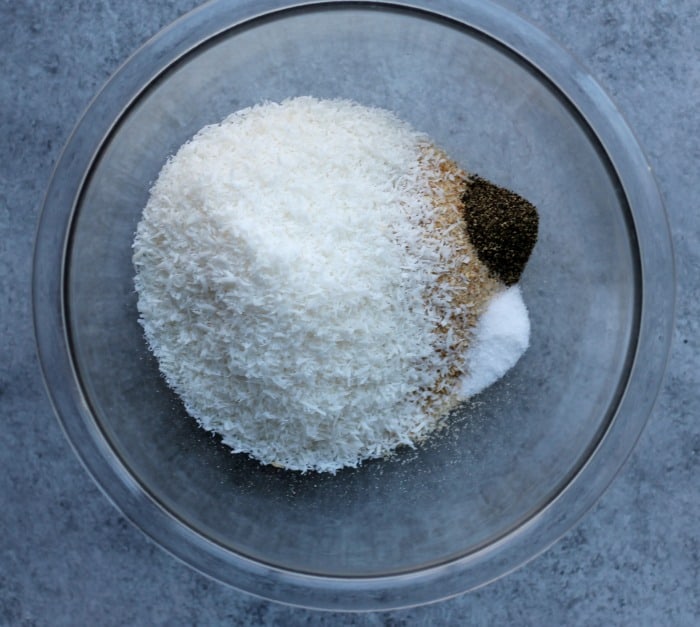 My original plan was to dip the chicken in egg before coating with the breadcrumbs. However, the chicken was wet enough from the coconut milk so the bread crumbs and coconut stuck great.
Another trick to this dish is to coat the pan with coconut oil. I melted 1 tablespoon in the microwave and then brushed it all over the pan. This added another layer of coconut flavor. So there's really 3 layers of coconut flavor:
Coconut milk
Finely shredded unsweetened coconut
coconut oil
All three work together nicely to give this baked chicken a delicious coconut flavor that isn't overpowering.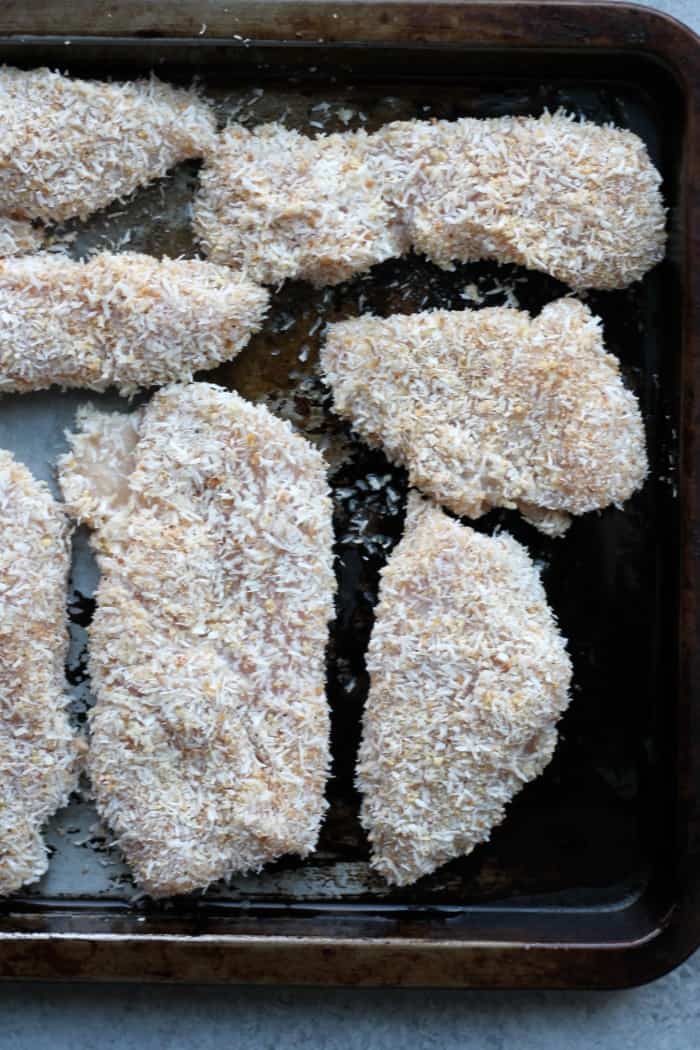 I baked the chicken in a 375 degree oven for 30 minutes flipping over at the 15 minute mark. Keep in mind I have an electric oven so your baking times might vary. You want to make sure the chicken is cooked through (165 internal temp).
As this chicken cooked the smell of coconut filled the air. I was very excited to give it a taste.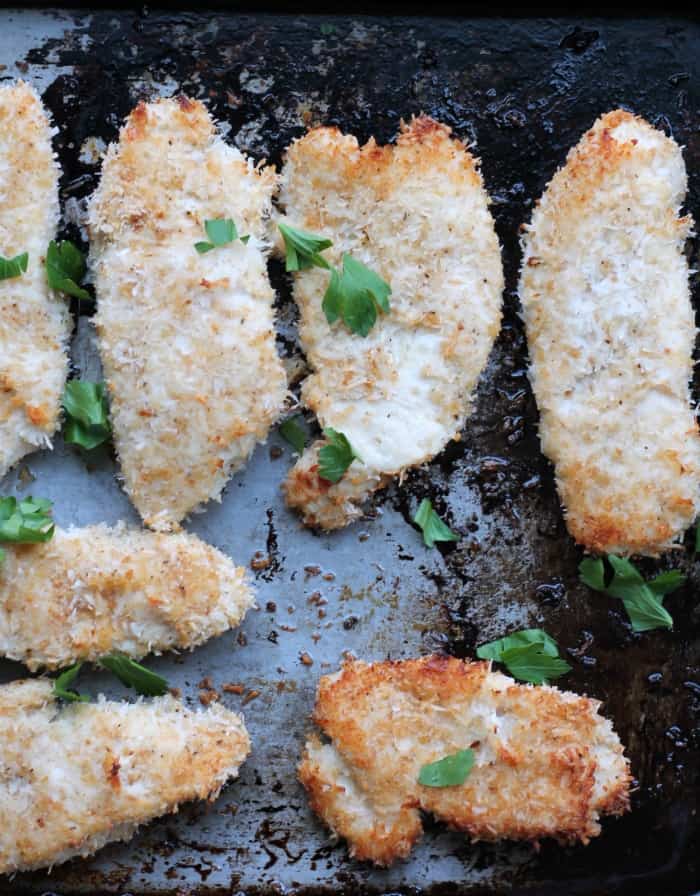 This chicken is delicious. The flavor is outstanding and the chicken itself is tender and juicy – no dry chicken here!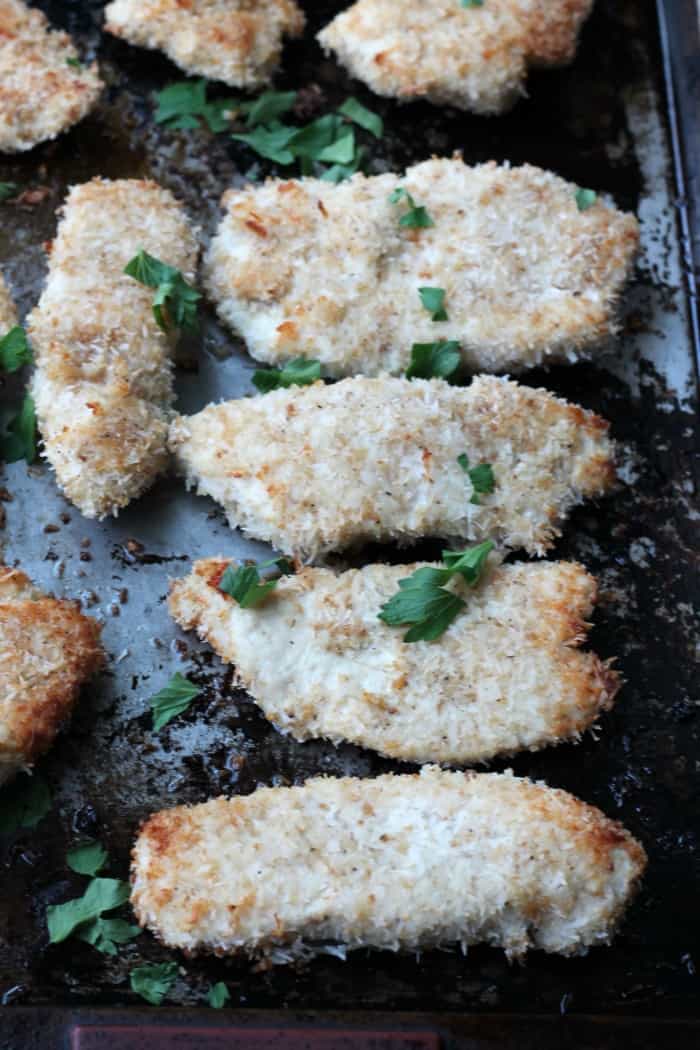 I enjoyed this Baked Coconut Chicken with vegetables the night I made it. The next day I had it on its own. I was worried the coating would be soggy the next day but it had nice texture and was super tasty. You can enjoy these chicken tenders with your favorite dipping sauce too.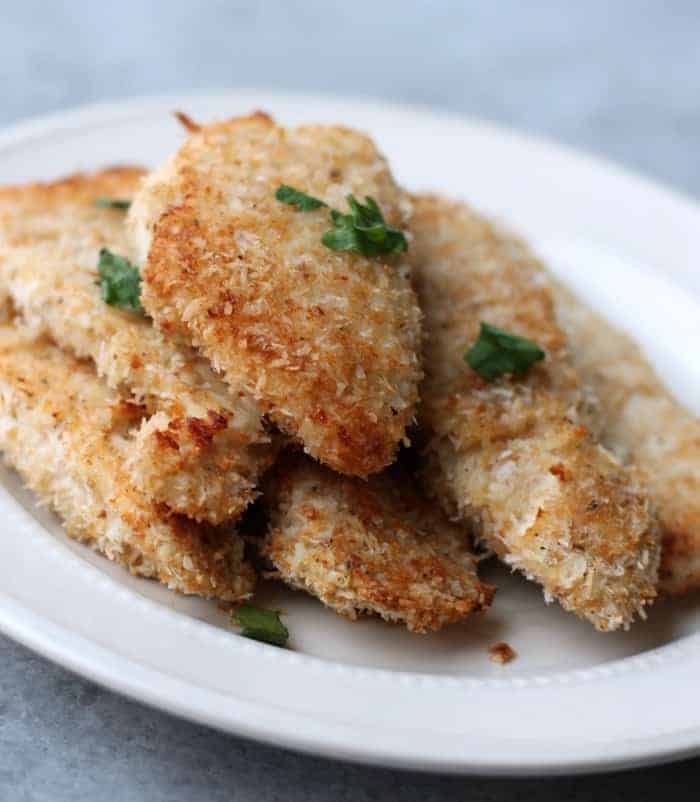 If there are leftovers then stick the chicken tenders in the freezer for a future lunch or dinner. Thaw in the refrigerator and then warm up in the microwave or oven. I recommend portioning out into small bags to use during the week for salads and other lunches.
I hope you try this Baked Coconut Chicken. If you do share it on Instagram using hashtag #organizeyourselfskinny.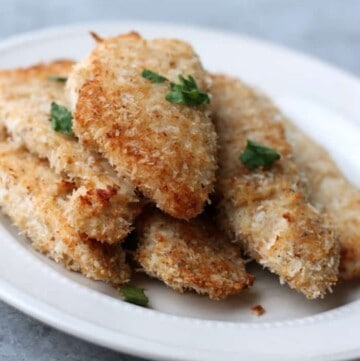 Ingredients
1.5

lbs

skinless boneless chicken breast

trimmed and cut into strips

1

cup

unsweetened coconut milk

1/2

cup

unseasoned breadcrumbs

1

cup

finely shredded unsweetened coconut

1/4

teaspoon

salt

1/4

teaspoon

pepper

1

tablespoon

coconut oil

melted
Instructions
Marinate chicken breast in the coconut milk for 1 hour or overnight.

Preheat oven to 375 degrees.

In a medium to large bowl combine the breadcrumbs, coconut, salt, and pepper.

Brush coconut oil on a baking sheet.

Dip the chicken into the breadcrumb/coconut mixture and coat both sides. Place each piece of chicken on the baking sheet.

Bake for 30 minutes. Flip the chicken over at the 15 minute mark.

Serve warm or hot. In my opinion this chicken tastes good cold too.
Notes
Sugars: 0
This chicken can be prepped 2 days ahead of time in the breadcrumb/coconut coating. You can also cook this completely and store in the refrigerator (up to 5 days) or freezer (up to 3 months) for future meals.
Nutrition
Calories:
240
kcal
|
Carbohydrates:
7
g
|
Protein:
39
g
|
Fat:
6
g
|
Saturated Fat:
4
g
|
Fiber:
1
g