This baked chicken parmesan recipe starts with tender chicken cutlets dredged in tasty breadcrumbs, smothered in sauce and cheese, then baked to perfection. Seriously, this might be the best healthy chicken parmesan recipe ever! You'll hardly know it's baked.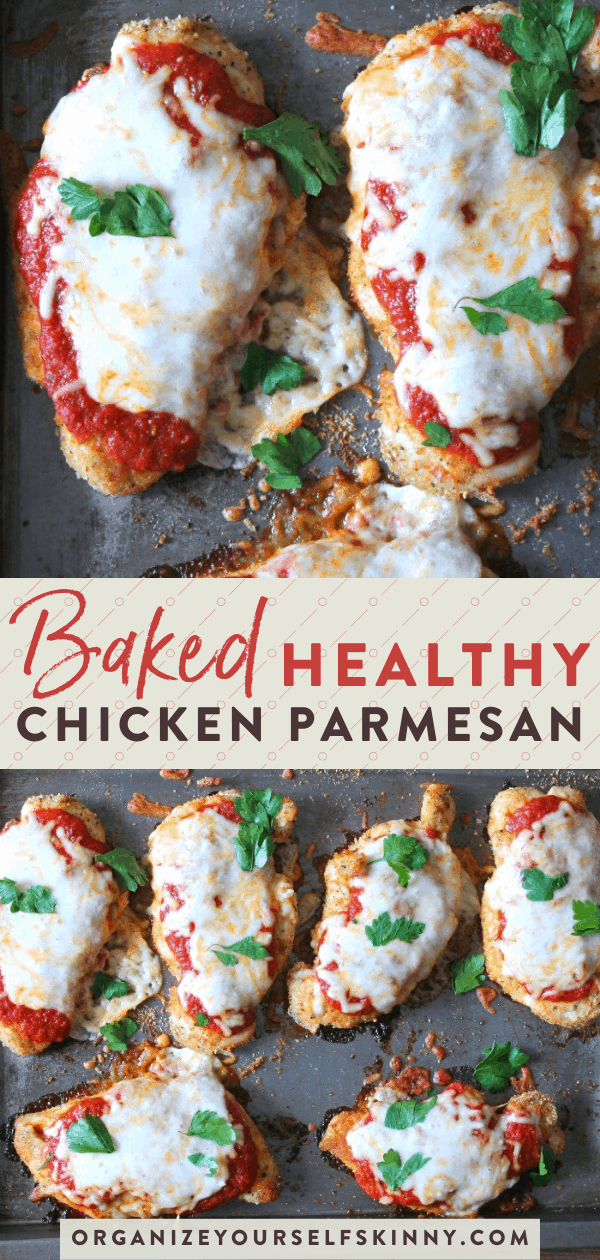 It doesn't get any more Italian-American than a delicious chicken parmesan recipe. Mama Mia! YUM! This is one of my favorite recipes to make for family dinners—it's impossible for my family not to run to the table when there's chicken parmesan on the table.
What they don't always realize, however, is that this is a baked chicken parmesan that has just a fraction of the fat and calories of its fried counterpart.
Baked Chicken Parmesan
I've been making this simple baked chicken parmesan recipe for YEARS!
I had every intention to share it forever ago, but for some reason every time I made it I either screwed it up, kids were screaming for it, or I forgot to take pictures. You think my kiddos would know by now that I need to photograph all food prior to it being consumed. Umm, hello?
Also, I have to admit…I never had a recipe for my healthy chicken parmesan. I just dipped in breadcrumbs, slathered it with sauce and cheese, and then threw it in the oven. Easy.
Well, my baked chicken parmesan is da bomb (yup I say that) and since I want to share this recipe I decided to pay attention and take notes (AND a video!) while I made it last week.
Insider's tip: I suggest a glass of red dry wine while you make this. Not that I drink wine during the day…well sometimes…but only on Sundays. 🙂
Video: Healthy Chicken Parmesan
If you're more of a visual person, here's my quick video tutorial to watch this delicious recipe come to life.

How to Make Baked Chicken Parmesan
Let's talk about how to make this yummy recipe. Like all things, it starts with ingredients.
Baked Chicken Parmesan Ingredients
Baked chicken parmesan requires 4 main ingredients:
Chicken
Breadcrumbs
Sauce
Mozzarella cheese
Of course, a recipe is only as good as the ingredients used so I'm going to talk about each of these ingredients and share what I use and recommend for the perfect baked chicken parmesan.
Chicken
Let's talk about the chicken first. My favorite chicken to use is an organic chicken breast that I purchase from Wegmans or Whole Foods. In my experience, it has the best flavor and texture.
I also like Harvestland natural chicken breasts that I find at BJ's Wholesale or Tops. The bottom line is the higher quality the chicken is, the better the baked chicken parmesan turns out.
I use thin cutlets for chicken parmesan. I try my best to purchase them already prepared into cutlets because I'm lazy and don't like handling chicken more than I need too.
However, if I can't find chicken cutlets then I will pound them into cutlets using a meat mallet. When I do this, I put the chicken into a Ziploc bag or in-between two pieces of plastic wrap.
If the breasts are really big, you can cut them in half using a sharp knife. Regardless, you want the chicken breasts to be on the thinner side. You also want the chicken breasts to be close to the same size because this helps the baked chicken parmesan to cook evenly.
Breadcrumbs
Now for the breadcrumbs. When you're creating a healthier version of a classic, flavor is everything. In the past, I used seasoned Italian breadcrumbs. Those are good and will work to create a tasty recipe but one time I created my own seasoning for the breadcrumbs and never went back.
My absolute favorite seasoning mix to use in breadcrumbs for baked chicken parmesan is Italian seasoning, granulated garlic, onion powder, salt, pepper, and parmesan cheese. YUM! This is such a basic mix but it's so good!
If you do use seasoned Italian breadcrumbs then stir in some grated cheese to elevate the flavor.
I do not recommend using Panko breadcrumbs. In my experience, they don't coat the chicken completely and the coating falls off as it bakes.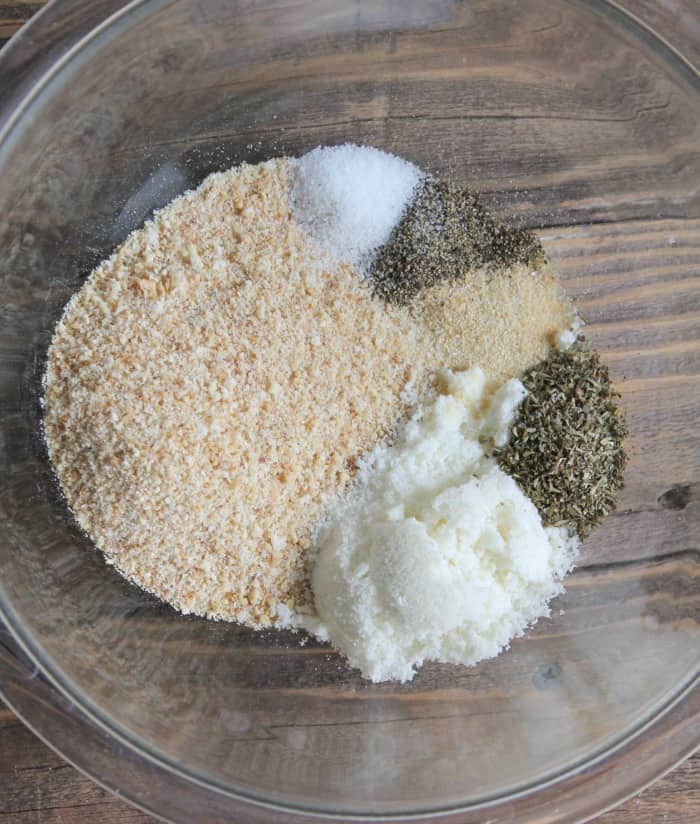 Stir all the ingredients together and then coat both sides of the chicken with the breadcrumbs. Typically, I use 6 chicken cutlets about 2lbs of chicken. If I have leftover breadcrumbs I just toss it.
Oil
Next, let's chat about the oil part of this recipe. A traditional chicken parmesan recipe is fried in oil and then smothered in sauce and cheese. Since we are trying to make this a healthy chicken parmesan, we are going to skip the frying part.
However, coating the baking sheet with olive oil will keep the chicken from sticking and also give the chicken a nice brown "fried" look. Seriously, in my opinion, it's better than fried.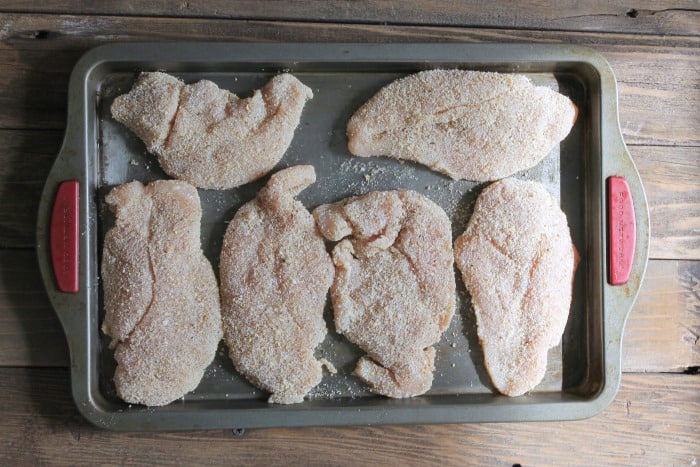 Now the chicken parmesan is ready to go in the oven.
Place the chicken in a 375 degree oven for 15 minutes and then flip over and baked for another 15 minutes.
Take the pan out of the oven and spread 2 tablespoons of sauce and 2-3 tablespoons of shredded mozzarella cheese on each chicken breast. Stick back in the oven for 10- 15 minutes or until the sauce is hot and cheese is melted. Super easy.
Sauce
Let's talk about the sauce. This time around I used sauce I had leftover from the weekend but you can use any jar sauce you like. There is no shame in using jarred sauce.
My only recommendation is to use a high-quality one to make your baked chicken parmesan extra flavorful. My favorite jarred sauces is Rao Marinara Sauce. It's a little on the pricey side but you can find a big jar of it, for a great price, at Costco or BJ's Wholesale store.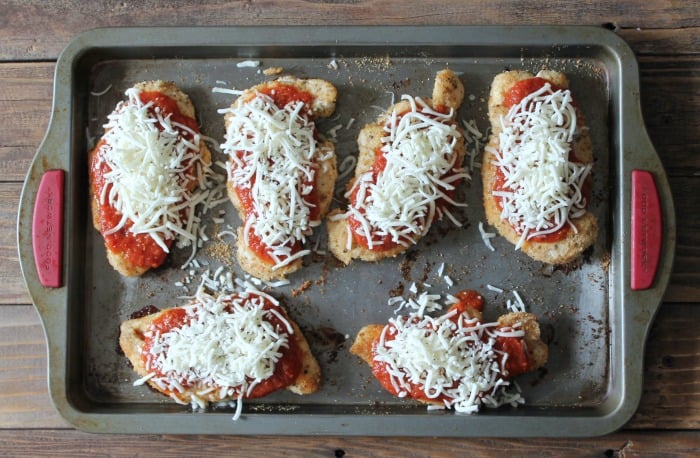 If you prefer extra sauce, feel free to use more. Personally, I think this is the perfect sauce, cheese, and chicken ratio.
Remember, healthy eating is about portion control. That's one of the ways you can still enjoy the foods you love.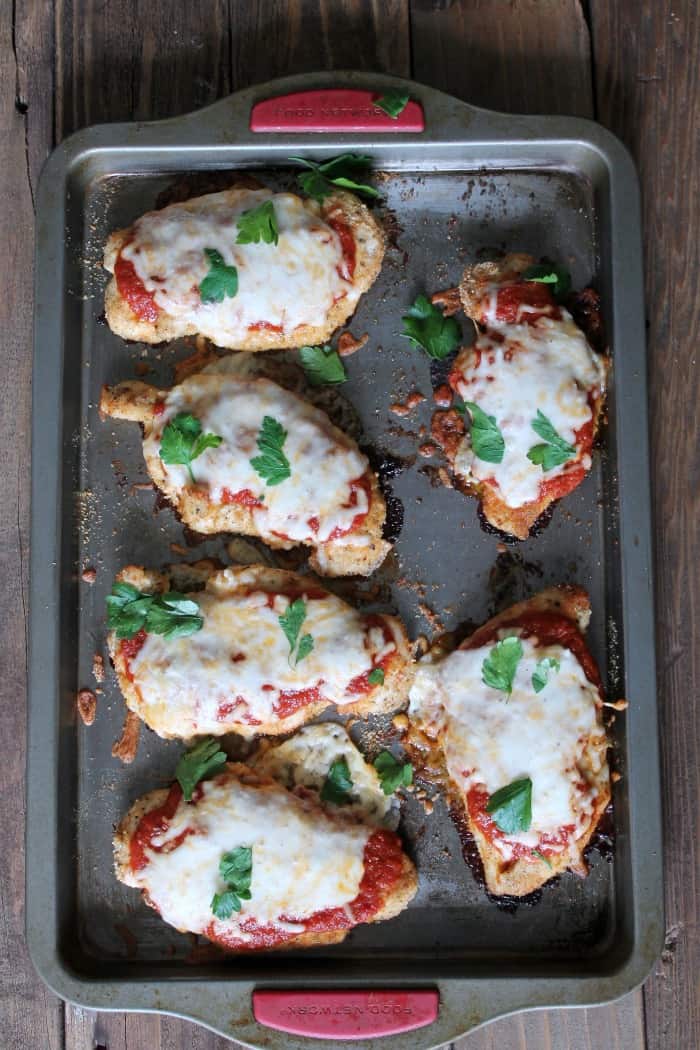 What to Serve With Baked Chicken Parmesan?
Of course, classic chicken parmesan is served with spaghetti and sauce. Since this is a healthy chicken parmesan recipe I recommend serving it with whole-grain pasta and a small salad.
However, in my old age, I like to keep things on the low carb side so often I'll skip the pasta and enjoy it with some vegetables or simply a big salad.
If you love your carbs, you can even serve this on a garlic roll as a chicken parmesan sandwich or sub. Yum!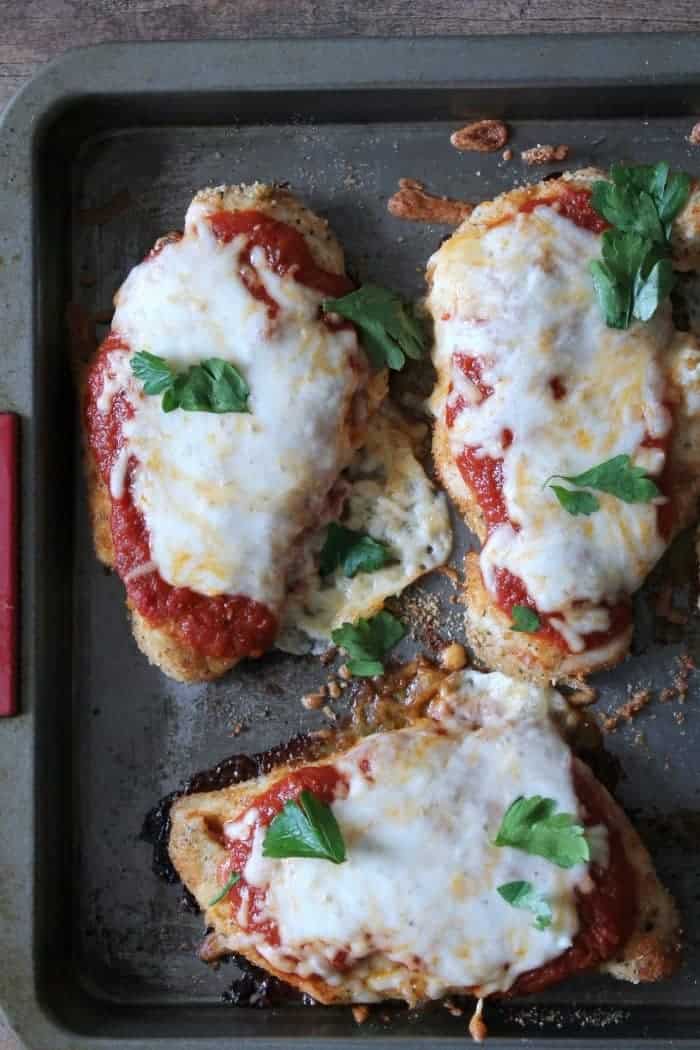 Tips for Baked Chicken Parmesan
Let's just sum up what we talked about for a delicious healthy chicken parmesan recipe.
Use high-quality chicken breasts.
All the chicken breasts should be the same size and thickness to make sure everything bakes evenly.
Make your own seasoned breadcrumbs. Remember don't use panko because they'll fall right off the chicken.
Oil your baking sheet, this is how you get perfectly brown "fried" chicken breasts.
If you don't use homemade sauce then pick up a jar of high-quality sauce like Rao's marinara. The flavor of the sauce will make a big difference in the results. For example, if you use a roasted garlic marinara that will taste different than a plain marinara.
This is an easy chicken parmesan recipe and it's so delicious. You won't miss it being fried and honestly I bet you will like it better. You can enjoy this Italian loved classic without all the guilt.
Supplies
Mixing Bowls – This set of 3 glass mixing bowls from Pyrex are great to have on hand for this recipe and many others.
Meat Tenderizer – You absolutely need one of these if you want to create thin cutlets for your chicken parmesan.
Cheese Grater – Just in case you want to great your own shredded mozzarella.
Baking Sheets – It couldn't be baked chicken parmesan without baking sheets. If you don't have a couple, I recommend getting some for this dinner and many other sheet pan dinners.
More Baked Chicken Recipes
Healthy Baked Chicken Parmesan
This baked chicken parmesan recipe starts with tender chicken cutlets dredged in tasty breadcrumbs, smothered in sauce and cheese, and baked to perfection. Seriously, this might be the best baked chicken parmesan recipe ever! And it's healthy!
Author:
Organize Yourself Skinny
Ingredients
½ cup unseasoned wholegrain breadcrumbs
2 tablespoons grated parmesan (or romano) cheese
1 teaspoon Italian seasoning
½ teaspoon granulated garlic
½ teaspoon onion powder
½ teaspoon salt
½ teaspoon ground pepper
1 tablespoon olive oil
2lbs chicken cutlets
¾ cup sauce
¾ cup mozzarella cheese
Instructions
Preheat oven to 375 degrees.
In a medium bowl mix together the breadcrumbs, parmesan cheese, granulated garlic, onion powder, salt, and pepper.
Coat a sheet pan with the olive oil.
Dredge each chicken cutlet in the breadcrumb mixture and place on the sheet pan. Discard the rest of the breadcrumb mixture.
Bake the chicken for 15 minutes. Turn over and bake for another 15 minutes.
Remove the pan from the oven and spread 2 tablespoons of sauce and 2 tablespoons of shredded mozzarella cheese on each chicken cutlet.
Place back in the oven and cook for 10 - 15 minutes or until sauce is hot and cheese is melted.
Serve hot.
Notes
Sugars: 2


Make-ahead instructions
You can dredge the chicken ahead of time in the breadcrumbs and store in a container in the refrigerator. Or you can make the chicken parmesan completely ahead of time, store in the refrigerator or freezer, and then reheat in the microwave.
Nutrition Information
Serving size:
1 chicken breast
Calories:
242
Fat:
7
Saturated fat:
3
Carbohydrates:
12
Fiber:
1
Protein:
34
Get Instant Access to My Best Meal Prep Tips & 20 Delicious Make-ahead Recipes!
Sign up now to receive your FREE ecookbook that I created exclusively for my email subscribers! That's you!