Chicken dipped in a mixture of ranch seasoning and panko breadcrumbs then baked till crispy makes for the perfect delicious easy weeknight meal. Serve this with a salad and you have a high protein lower carb lunch or dinner.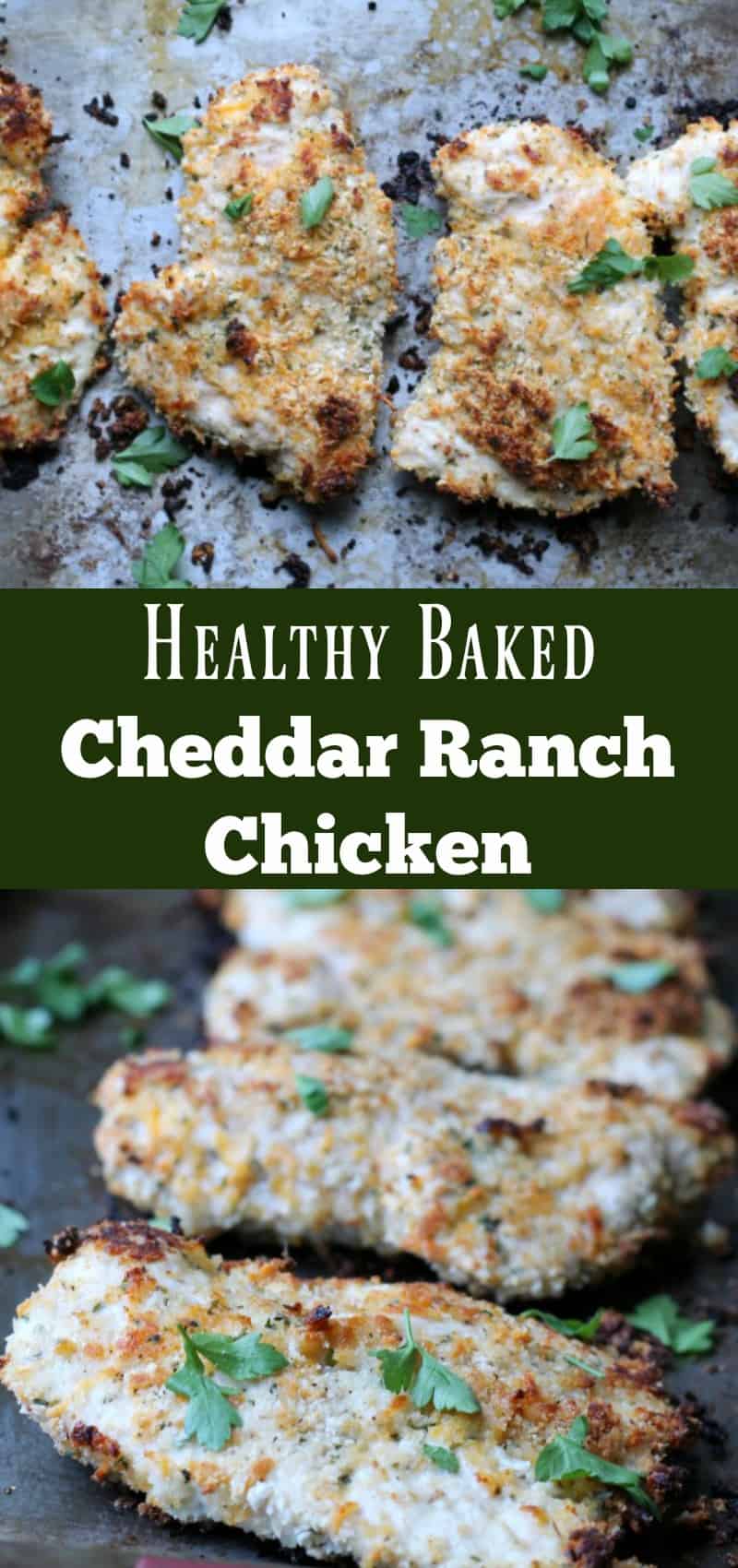 Did your mom ever make Shake 'N Bake? You know, throw some chicken breasts into a bag with seasoned breadcrumbs, bake it, and then serve with let's say…Rice a Roni? I have no shame in admitting I still love Rice a Roni. Yes I blow up from the sodium but I guess that's just the cost of doing business. Anyway, there's a reason Shake 'N Bake was (and still is) so popular. It's easy and taste good. Busy parents have no desire to come home and cook a complicated dinner from scratch. Nope they (we) want to shake it, bake it, and eat it.
This is why I love recipes like the one I'm going to share right now. It reminds me of the baked chicken I enjoyed in my younger years but with a healthier homemade twist. I use the convenience of a ranch seasoning packet and mixed it with plain panko breadcrumbs and shredded sharp cheddar cheese.  My preferred brand when choosing a store-bought ranch seasoning packet is Simply Organic. If you want to keep this completely homemade then you can make your own ranch seasoning. I've used this recipe before and it's good. But for this recipe I used store-bought because it was easy.
I went back and forth between panko breadcrumbs and regular. I've used both for this recipe and I think each brings their own twist to the chicken. Panko is a courser breadcrumb and creates a different type of crunch but it tends not to stick as well to the chicken. Regular breadcrumbs I find stick better when baking chicken. However, both are good and can be used interchangeably in this recipe. This time around I used panko breadcrumbs.
This is what the breading looks like when it's all mixed up.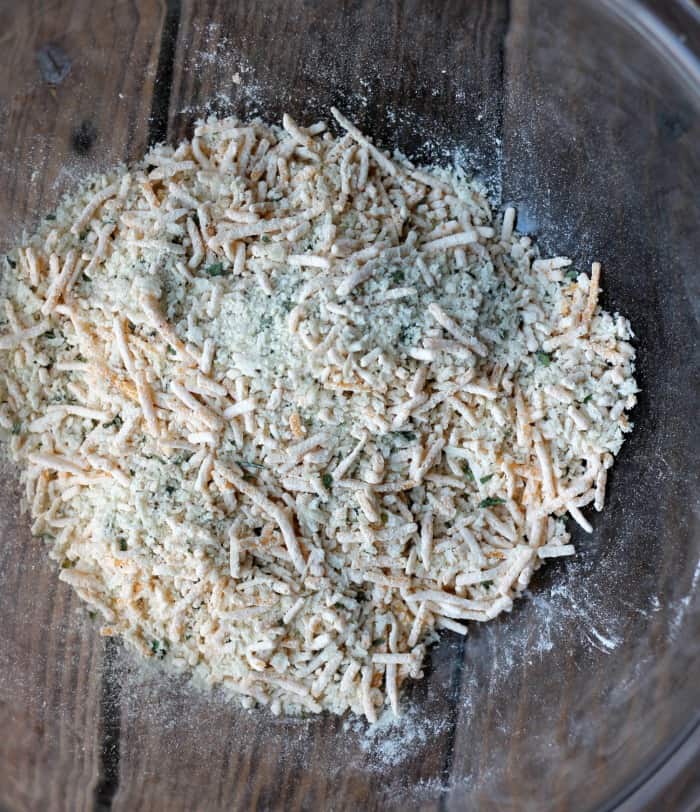 To help the coating stick I dipped the chicken in egg white before dipping into the breadcrumb mixture. I used up all of the breadcrumb mixture on 1.5 lbs of chicken breasts. The little that was left I just divided among the chicken breasts and pressed down.
I should also mention that I sprayed the pan with cooking spray and brushed 1 tablespoon of olive oil on the pan before placing the chicken breasts on. This help to get a crisp crust on the chicken.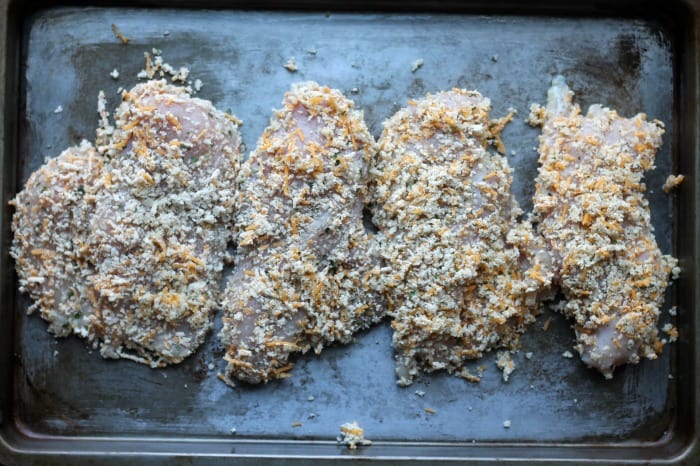 I baked this cheddar ranch chicken recipe in a 375 degree oven for 15 minutes and then flipped and baked for another 15.
The chicken smells delicious as it bakes and comes out crisp and ready to enjoy on a salad or with a side of rice and vegetables.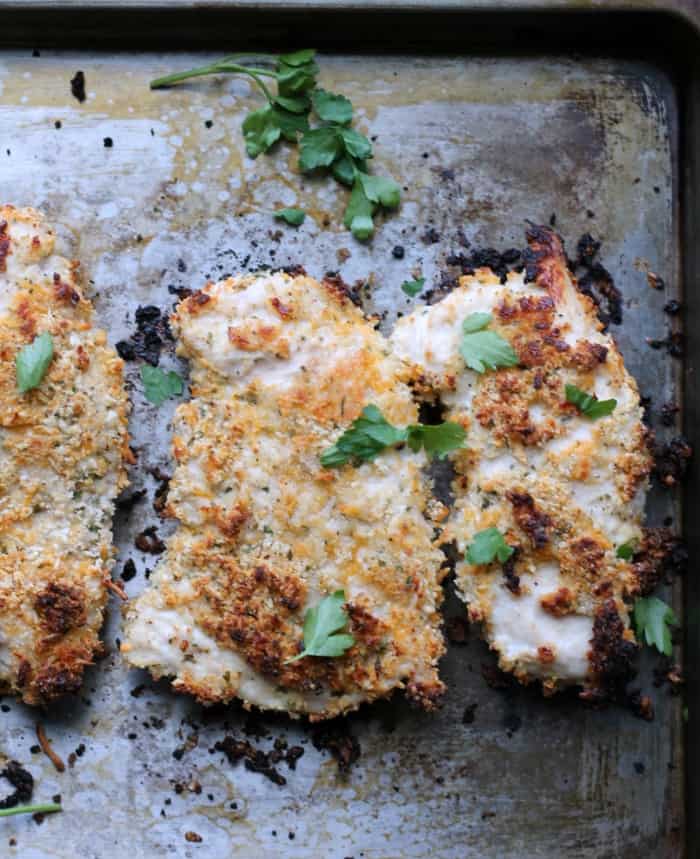 Some of the cheese gets a little charred and those bites are scrumptious. Think about the overly browned pieces of cheese and sauce on the crust of a pizza. Oh mama!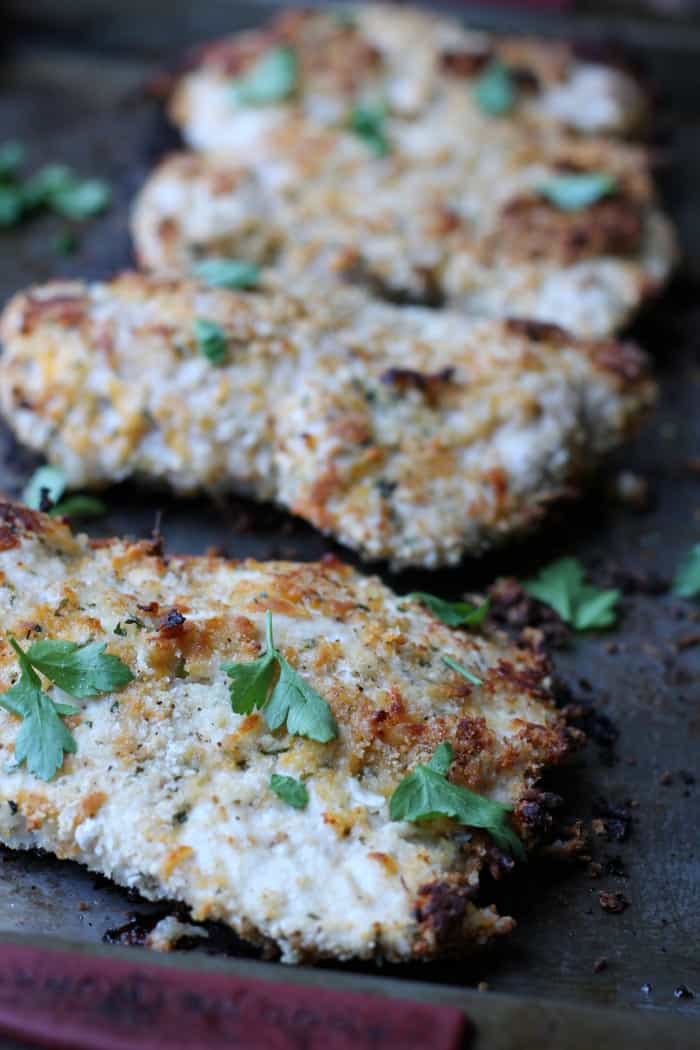 I kept leftovers in the refrigerator to use in a salad or eat with vegetables for lunch during the week. Typically, I eat the chicken cold but if I want it warmed up, and to crisp the crust, I will stick it in the oven for 10 minutes or so. I use these pyrex glass containers to store the chicken in the refrigerator.
If you are looking for an easy healthy chicken recipe to add to your weeknight menu then try this Cheddar Ranch Baked Chicken. It delicious, kid-friendly, and goes with just about anything.
**1.5 pounds of chicken will serve 6 people. Cut larger breasts in half to create more portions.

Healthy Baked Cheddar Ranch Chicken
Author:
Organize Yourself Skinny
Ingredients
1 (1.5 ounce) packet Simply Organic Ranch Dressing mix
½ cup panko breadcrumbs
½ cup shredded cheddar cheese
1.5 pounds chicken breasts
1 egg white
1 tablespoon extra virgin olive oil
cooking spray
Instructions
Preheat oven to 375 degrees
In a medium bowl mix together ranch dressing mix, breadcrumbs, and shredded cheddar cheese.
In a small bowl place the egg white. One at a time, dip the chicken breast into the egg white and then dip into the breadcrumb mixture.
rub olive oil on the sheet pan or spray with cooking spray. Place chicken on the sheet pan.
Place any leftover breadcrumb mixture onto the chicken.
Bake for 15 minutes, carefully flip over, and then bake for another 15 minutes or until the chicken is cooked through.
Serve on a salad or with rice and vegetables.
Notes
Sugar: 3


Make-ahead instructions
This recipe can be made completely ahead of time and stored in the refrigerator. Or you can make the breadcrumbs mixture and trim chicken ahead of time so it's ready to go the night you want to prepare the recipe.
Nutrition Information
Serving size:
⅙ of recipe
Calories:
276
Fat:
13
Saturated fat:
5
Carbohydrates:
7
Fiber:
0
Protein:
30
Get Instant Access to My Best Weight Loss Tips & Strategies!
Sign up now for a free step-by-step 7-day email course that I created exclusively for my email subscribers! That's you. I will teach the best habits, strategies, and insider tips so you can enjoy a lifestyle that encourages and supports weight loss! Stop relying on willpower and take control back over your life! You can do this. Let me help!