Healthy one-pan baked honey mustard chicken with delicious roasted brussel sprouts.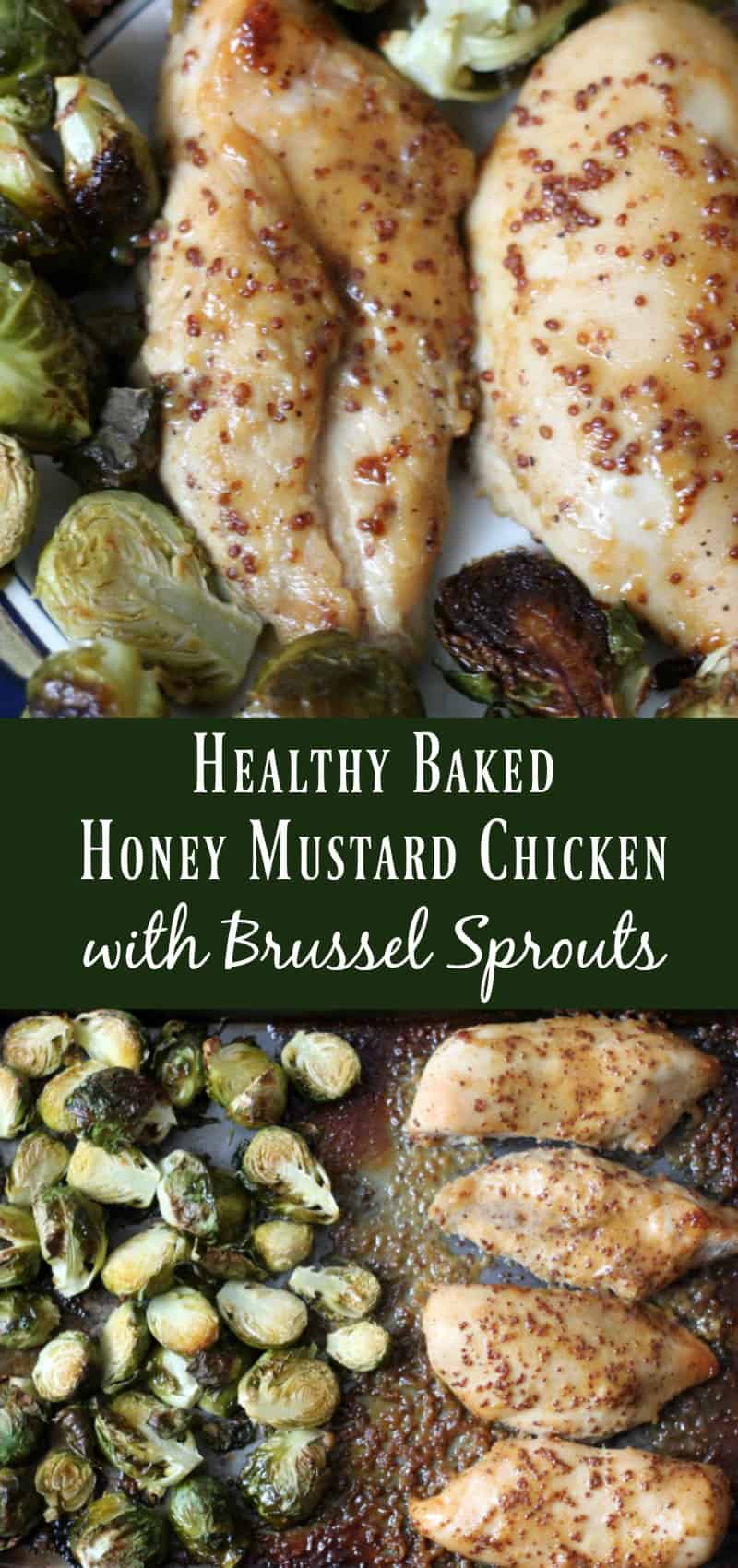 Sheet pan dinners are all the rage right now. Most of us have probably been making dinner this way for years but now that we have Pinterest we have a name for it…along with a million recipe variations. What did we ever do without Pinterest?
I love using my sheet pan for easy weeknight chicken dinners. Everything goes on one pan and 30 -40 minutes or so later we have dinner. Typically, I prepare chicken ahead of time in the marinade or breadcrumb coating on meal prep day so during the week all I need to do is place it on a pan and bake.
Oh and I'm not ashamed to admit that I purchase vegetables, like brussel sprouts, already washed and trimmed. One time I bought brussel sprouts in bulk and I swore I never would again. It took me forever to prep and wasn't worth the small savings – at least in my opinion.
Okay let's get to the recipe. This Honey Mustard Baked Chicken is easy to make and beyond flavorful. I paired it with brussel sprouts because it seemed to go well together. Use whatever vegetable you like.
I mixed together whole grain mustard, dijon mustard, honey, grated garlic, salt, and pepper. That's it. You can use any mustard you like but I opted for whole grain and dijon because that's my favorite. A quick note on whole grain mustard. I found it very difficult to located and I live in Buffalo, NY. Maybe I wasn't looking in the right place spot but I had to go to 2 grocery stores before I found it. First, look where all the mustards are. If you don't find it there then check the specialty or natural foods section. When all else fails try a different mustard. Spicy brown mustard works good too.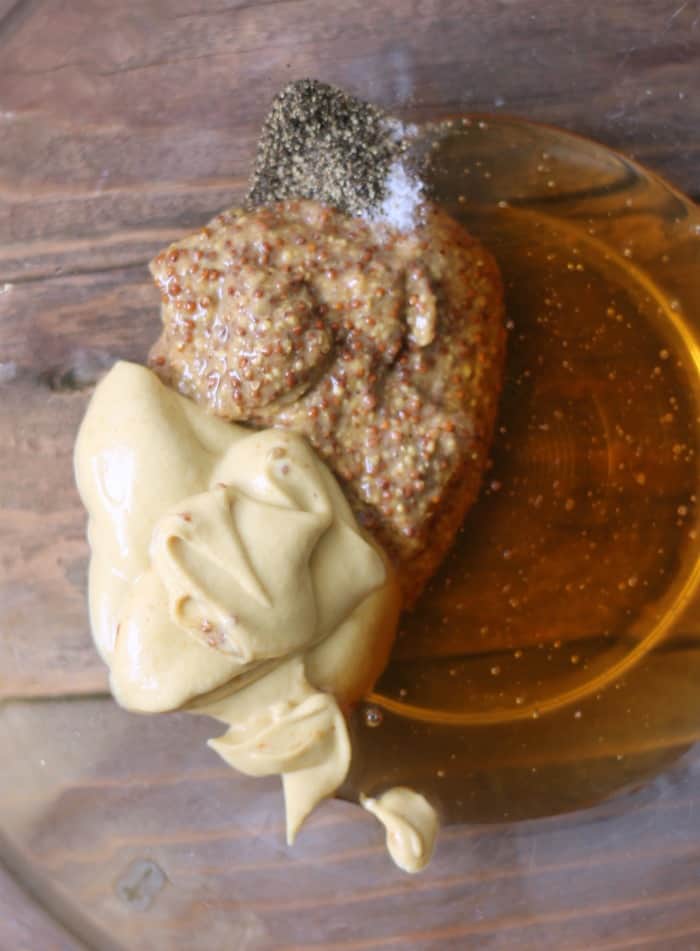 Use a whisk or a fork to blend the marinade together.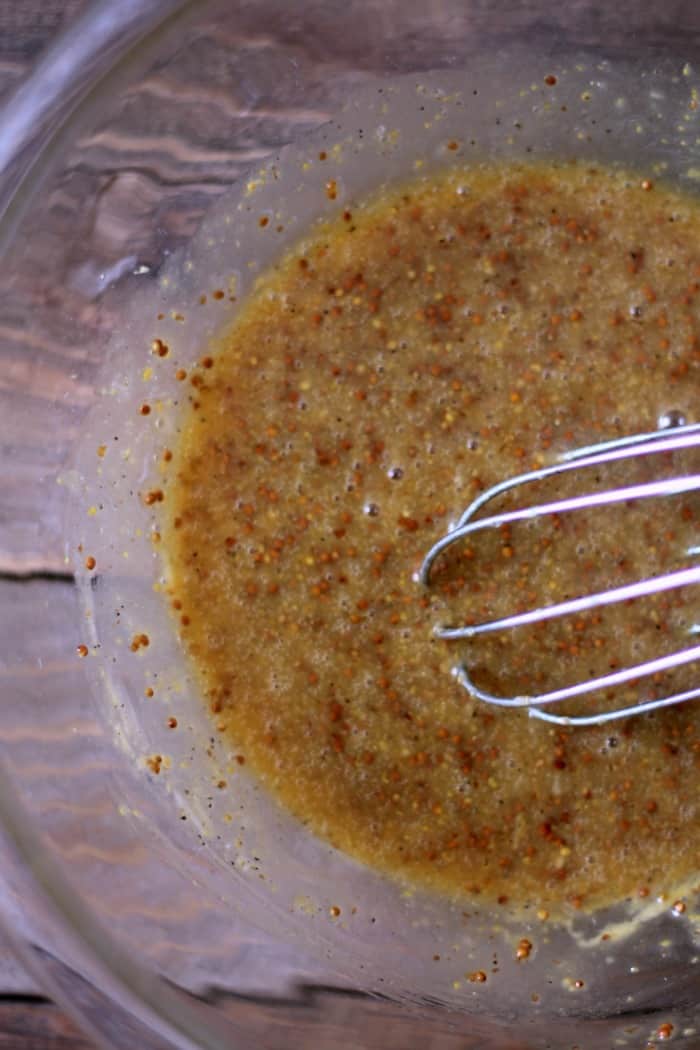 Then place the chicken breast in the marinade. I used 4 chicken breasts that were about 4-6 ounces each. If the chicken breasts are too thick then pound them out before marinating. The skinnier the chicken breast the faster it will cook. You can also save some of the marinade to drizzle over top after he chicken is cooked. Obviously, save the marinade BEFORE putting the raw chicken in.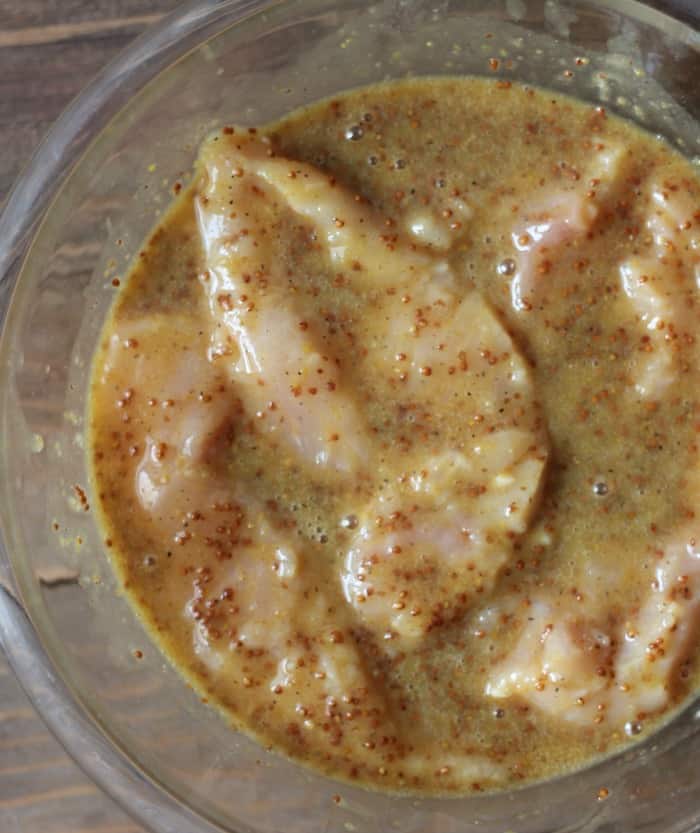 If you want to prepare this ahead of time then pour the marinade over the chicken and refrigerate until ready to bake. The longer you marinate the better. I recommend overnight but at least a few hours. Oh I should also say that you can grill this chicken too. Lots of options here.
When ready, place the chicken on the sheet pan and drizzle the marinade over top. Put the brussel sprouts on the other side of the pan. Sprinkle a little oil over the the brussel sprouts. Have you tried roasted brussel sprouts before? If not, you're in for a treat. If so, then you know this is the only way to eat them.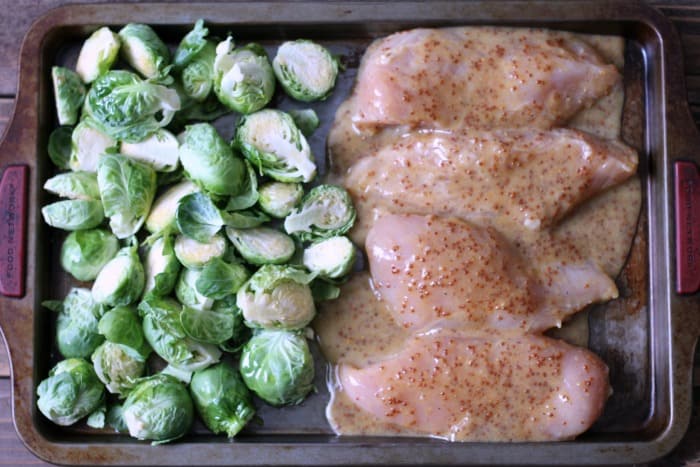 Bake for 30 – 40 minutes in a 375 degree oven. Now, this might be more or less depending how big the chicken breasts are and your oven. Sooo just make sure you cook the chicken till no longer pink in the middle and juices run clear. You want it to be 165 fahrenheight.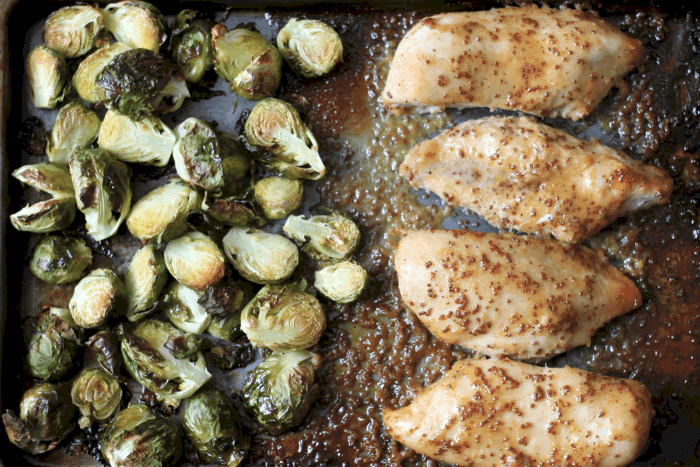 Of course you can serve this with rice or quinoa but honestly I think it's perfect with just the chicken and brussel sprouts. You get tons of protein and fiber which will keep you full and happy for hours.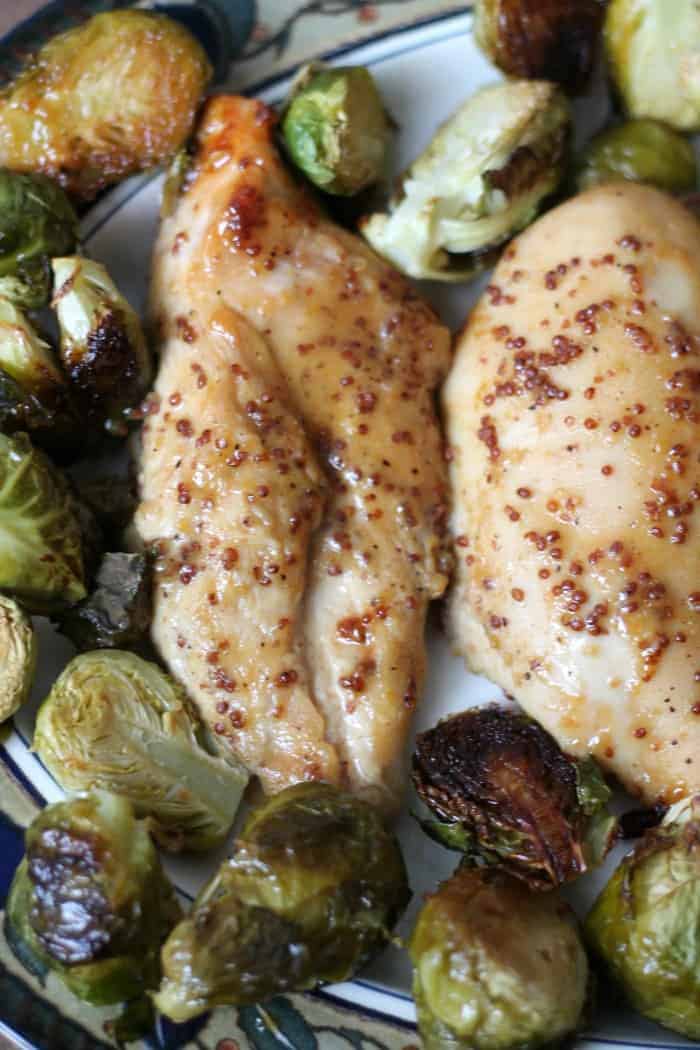 Leftovers kept great in the refrigerator and made for a tasty lunch the next day. This is a healthy low carb chicken recipe you can prepare on the weekend to easily make during the week. If you do make this Honey Mustard Baked Chicken make sure to share it on Instagram using hashtag #organizeyourselfskinny or share it in the OYS FB Group.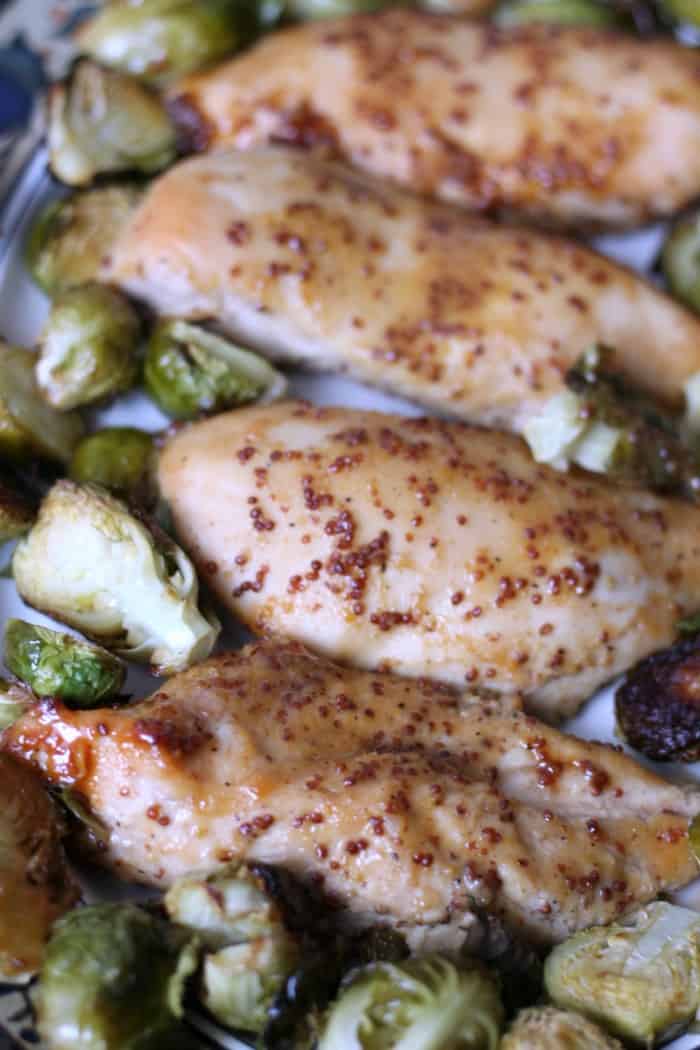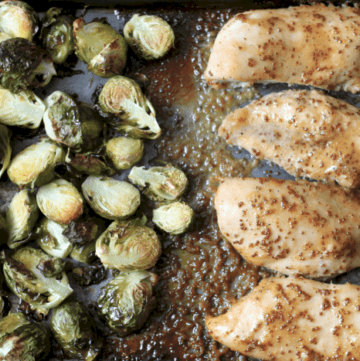 Healthy Baked Honey Mustard Chicken Breast with Brussel Sprouts
Print
Pin
Rate
Ingredients
1/4

cup

honey

1/4

cup

whole grain mustard

1/4

cup

dijon mustard

2

garlic cloves

grated

1/4

teaspoon

salt

1/4

teaspoon

pepper

4

skinless boneless chicken breasts

about 1.5 lbs

1

lb

brussel sprouts

cleaned and trimmed
Instructions
In a medium bowl whisk together honey, both mustards, garlic, salt, and pepper.

Place chicken breast in marinade and let it sit for about 3 hours or overnight.

Preheat oven to 375 degrees.

Place the chicken and brussel sprouts on opposite ends of the sheet pan.

Bake for 30 -40 minutes or until the chicken is no longer pink in the middle and juices run clear. The middle temperature should be 165 degrees.

Serve with rice, quinoa, or as is.
Notes
Sugar: 21
Make-ahead instructions
The chicken can be marinated up to 2 days ahead of time. Continue with recipe when ready to cook. You can also cook this meal completely and keep stored in the refrigerator.
Nutrition
Serving:
1
g
|
Calories:
435
kcal
|
Carbohydrates:
34
g
|
Protein:
60
g
|
Fat:
5
g
|
Fiber:
6
g