Chicken tenders baked in taco seasoning and breadcrumbs then smothered with delicious taco sauce and melted pepper jack cheese. This easy healthy recipe gives taco night a whole new twist!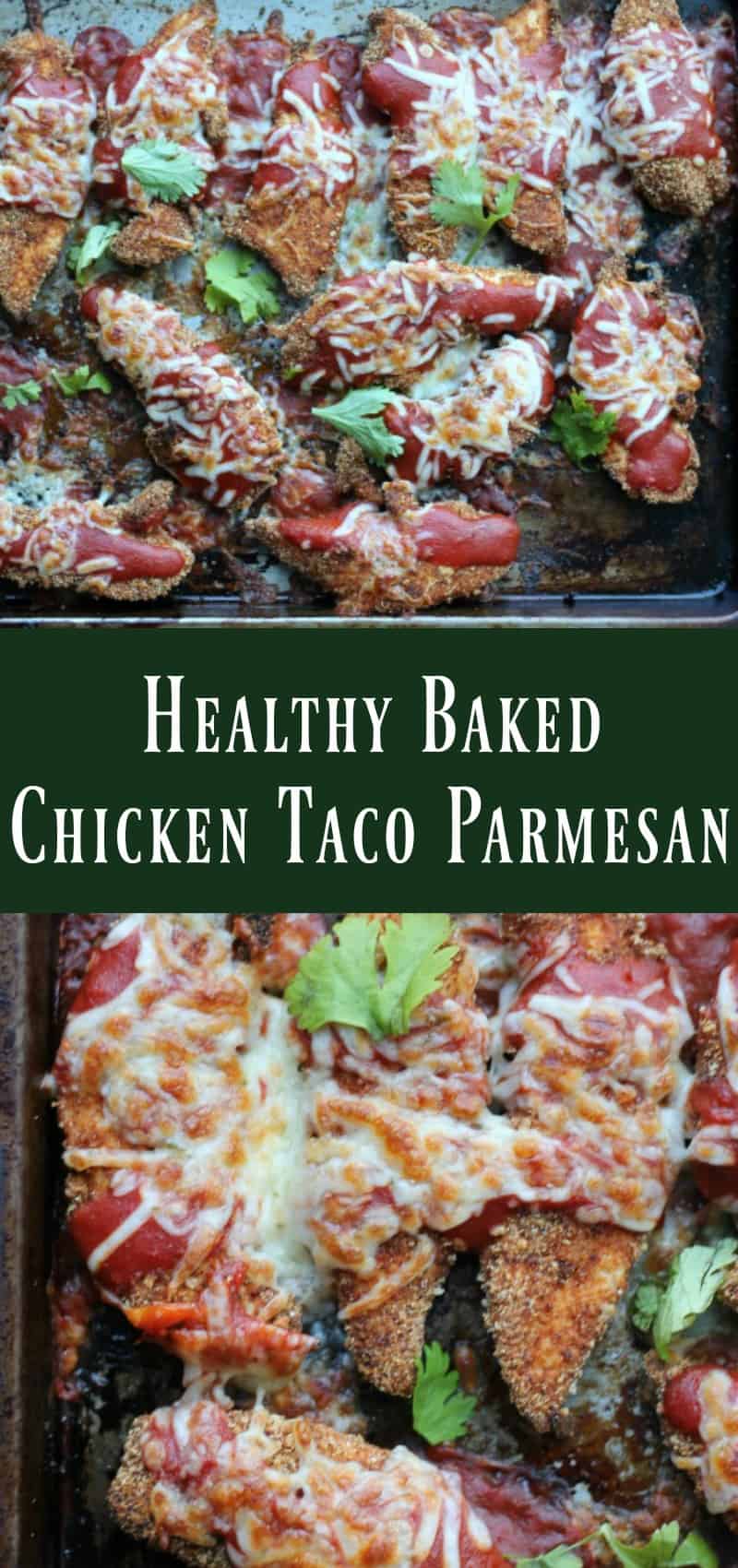 It's no secret that I like easy family-friendly recipes. I'm a busy work at home single mom with two little girls I need to keep fed and happy. And as much as I appreciate a fancy recipe I save those for when I have more time (haha) or better yet when I can enjoy it at a restaurant prepared by someone else. Most of the recipes I make are easy to prepare and don't require a lot of ingredients.
It's also no secret that I'm not above using store-bought convenience foods such as taco seasoning and taco sauce. Yes I know I can make these items but most days I'd rather give myself a break and grab a jar (or packet) from the pantry. Just keeping it real. In my defense, I will say that I am a label reader and try my absolute best to purchase high quality ingredients and organic whenever possible. So even though I will pick up a jar of sauce from the store I do have standards for the store-bought items I feed my family.
Where am I going with this? Oh. The recipe. I say all of this because this Chicken Taco Parmesan recipe is one of the easiest tastiest recipes you'll ever make. Obviously, it's inspired from the beloved Italian Baked Chicken Parmesan I made a couple months ago but with a taco twist.
Here's what I did.
I started with a packet of Simply Organic Southwest Taco Seasoning and mixed it with 1/2 cup of unseasoned breadcrumbs.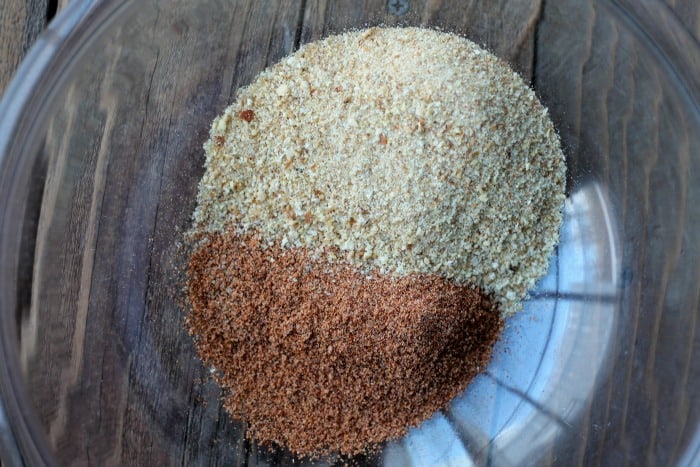 Then I dredged 1.5 lbs of chicken tenders into the breadcrumb mixture. I used chicken tenders because for some reason my kids are more likely to eat chicken when it's cut into tenders rather than left whole. Hey, whatever works. You can easily use chicken breasts with this recipe.
Before I laid them on the sheet pan I brushed 1 tablespoon of olive oil over the pan. This is a little trick I learned to get crispy "fried-like" chicken without a lot of oil or fat.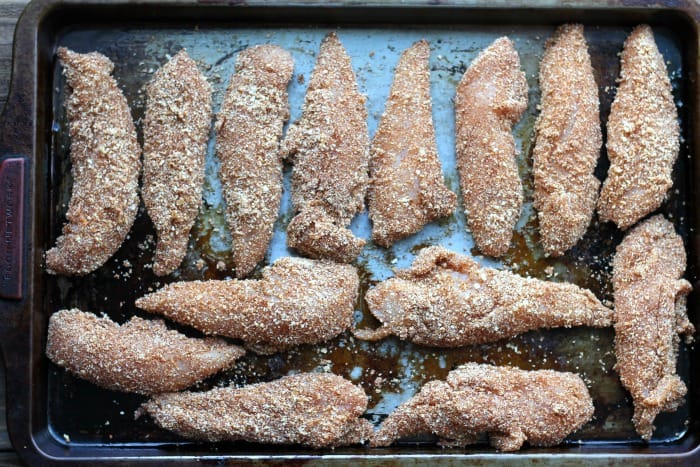 Then I placed the chicken in a 375 degree oven for 30 minutes flipping halfway. After the chicken was cooked I drizzled 3/4 cup of tomato sauce over top and sprinkled with 3/4 cup shredded pepper jack cheese. I stuck the chicken back in the oven under the broiler until it looked like this. It only took a few minutes.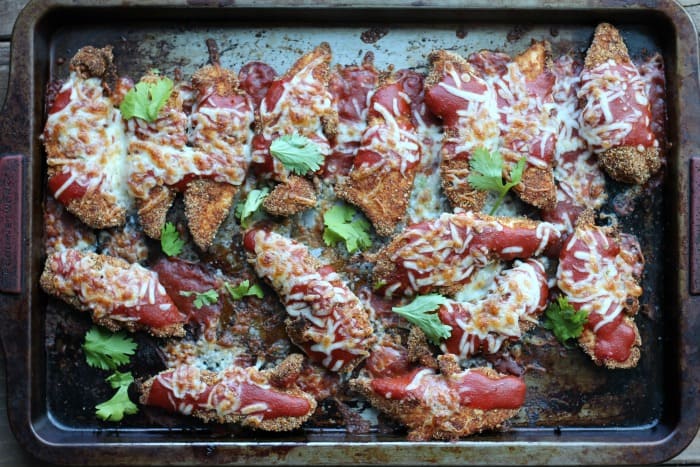 I used jarred Ortega medium taco sauce for this recipe. You could also use salsa which I think would taste great. Or make your own sauce. Whatever Mexican-inspired sauce you want to use will work.
I highly recommend using shredded pepper jack cheese because it melts beautifully. However, if all you have is taco cheese or nacho cheese then that will work fine too. But I do think pepper jack is best for this recipe.
These chicken taco tenders smothered in sauce and cheese are delicious! I made rice and green beans to go with these tenders. I also enjoy some with a salad for lunch the next day.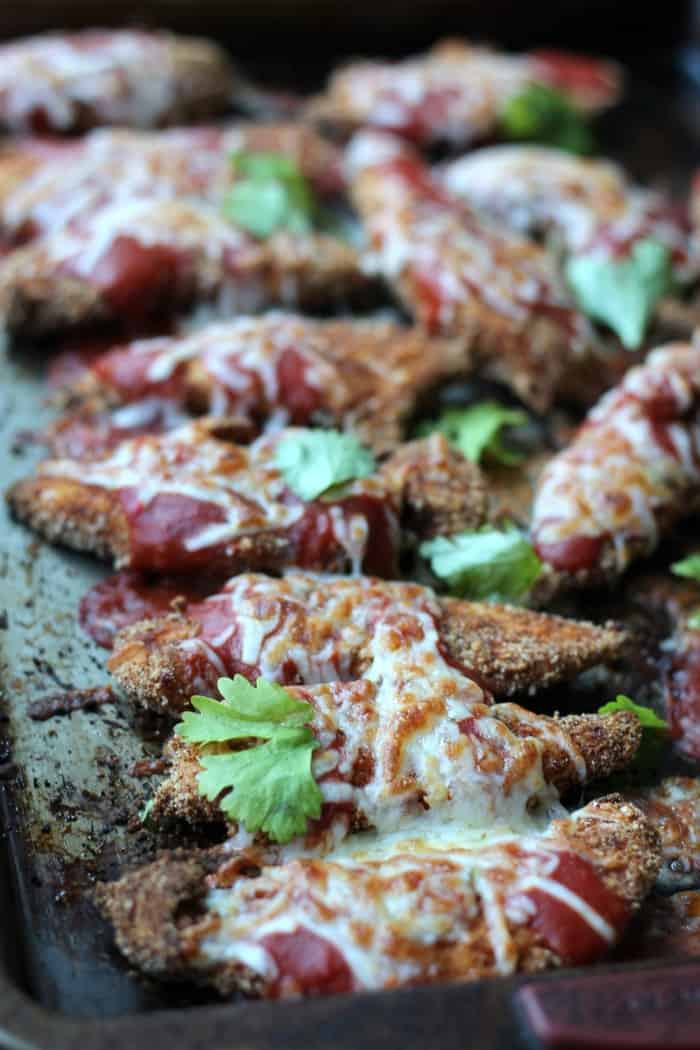 If you want to make this recipe ahead of time I suggest breading the chicken and storing it in the refrigerator for when you're ready to make it. Or bake it completely and store in the refrigerator. You could also bake the chicken without the sauce or cheese and then freeze for a future meal. Take out the amount of chicken you want and warm it up in the oven or microwave, kinda like the chicken tenders you buy at the store.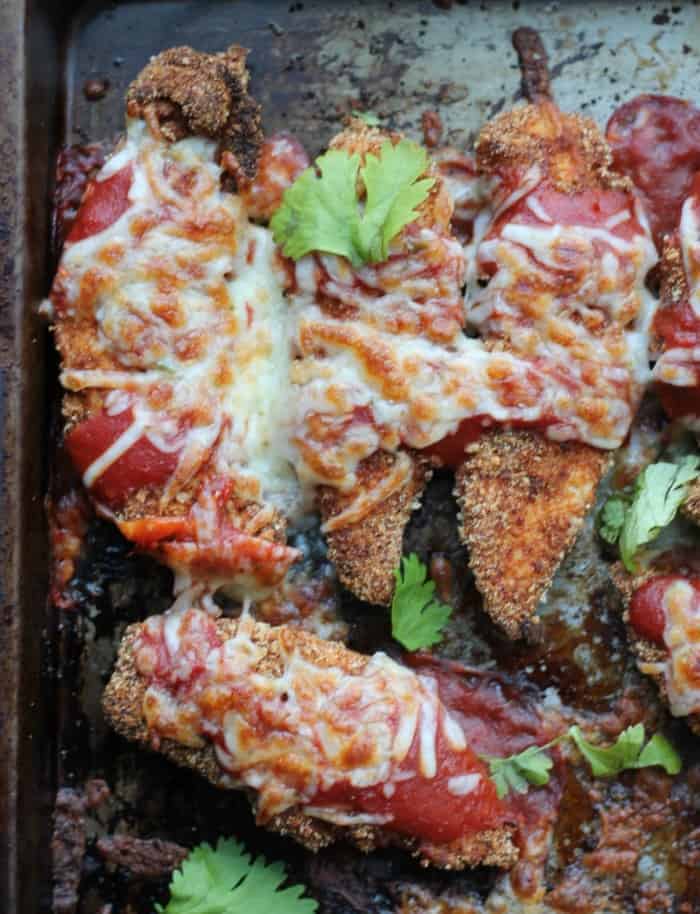 If you make this recipe I would love for you to share it with me on Instagram using hashtag #organizeyourselfskinny.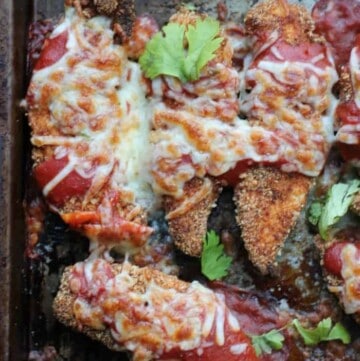 Ingredients
1

1.13 ounce packet taco seasoning (I used Southwest Taco Seasoning by Simply Organic)

1/2

cup

unseasoned breadcrumbs

3/4

cup

taco sauce

1.5

pounds

boneless skinless chicken tenders

3/4

cup

shredded pepper jack cheese
Instructions
Preheat oven to 375 degrees.

In a medium bowl mix together the taco seasoning and breadcrumbs.

Dredge the chicken in the breadcrumb mixture.

Brush 1 tablespoon of olive oil on a sheet pan.

Lay the chicken tenders on the sheet pan.

Bake for 30 minutes turning the chicken over at around the 15 minute mark.

Remove chicken from oven and turn the broiler to high.

Drizzle taco sauce and sprinkle the cheese over top of the chicken tenders. Place under the broiler and cook until the cheese is melted.

Serve with salad and/or rice.
Notes
sugar: 2
Make-ahead instructions
This recipe can be made completely ahead of time and stored in the refrigerator. You can also bread the chicken ahead of time and then bake when you are ready to eat. Another option is to cook the chicken tenders without sauce or cheese and freeze ahead of time. Warm in the oven or microwave when you are ready to eat.
Nutrition
Serving:
1
g
|
Calories:
359
kcal
|
Carbohydrates:
16
g
|
Protein:
49
g
|
Fat:
10
g
|
Saturated Fat:
3
g
|
Fiber:
1
g