Meal Prep
Meal prep, or food prep, is one of the most effective tools when trying to eat healthier foods. In fact, when someone asks me for weight loss advice preparing meals ahead of time is the first thing we talk about.
In this guide, I'm going to give my best tips and resources to get you started with meal prep right away.
Okay, let's get started.
What is weekly meal prep?
Meal prep is preparing food on the weekend (when you have time) so you can have healthy meals for the rest of the week (when time is limited).
I think we can all agree that it's easier to eat healthy when healthy foods are available. However, it's not just about eating healthier or losing weight (although that's a huge perk) meal prep reduces stress.
When meals are ready ahead of time you're not scrambling at dinnertime. Imagine the beauty of coming home after a long busy day and dinner is planned and ready. It's wonderful!
Preparing meals ahead of time also saves you money.
First, you're no longer ordering out because there's healthy food ready to eat in the refrigerator.
Second, ingredients are prepped ahead of time so they're more likely to get used. Not to mention, you only purchase the ingredients needed.
Let's do a quick recap. Meal prep helps us save money, reduces stress, AND is key to losing weight.
Does that sound good to you? It sure does to me.
How to Meal Prep
Learning how to meal prep for the week can be such a game-changer for you – it was for me.
Honestly, I didn't even know it was called meal prep when I started back in 2010. All I knew was that if I wanted to eat healthy then I needed to make our meals on the weekend to eat throughout the week.
Having meals ready to eat was the main reason I was able to lose 40lbs as a busy working mom. However, like I said, meal prep changed my life in other ways too. My life became less stressful, I had more time during the week, and I saved money by taking the time to prepare meals ahead of time.
Before I share some tips and recipes there is one thing I want you to understand…
There's no right or wrong way to prep food for the week. It comes down to doing what works best for your lifestyle. And that can change as the seasons of your life change. Some weeks you'll have time to prep all your meals and other weeks you'll be able to only make a few things.
My biggest piece of meal prep advice is to start with the meal that will make the biggest difference in your week if made ahead of time.
Do what works for you!
Here's a quick look at how I plan a meal prep day.
Step 1: Look at my schedule and put together a meal plan.
I focus mostly on my busy days and plan out lunch or dinner ideas that will make it super easy for me during the week.
For example, if I know Tuesday is going to be a very busy day and night for me then I'll plan a Slow Cooker meal I can start in the morning that'll be ready to eat when we get home.
Step 2: Put together a grocery list and plan a day to shop.
My biggest piece of advice with this step is to don't meal plan, grocery shop, and meal prep on the same day.
If you do then it will get overwhelming quick.
Try to do each one on separate days. For example, I'll put together my meal plan on Thursday, grocery shop on Friday or Saturday, and then meal prep on Sunday morning.
Step 3: Decide how to prepare the recipe ahead of time.
For example, do I just want to trim chicken and cut vegetables for a dinner recipe or maybe assemble the ingredients for a slow cooker dinner during the week? Do I want to cook a recipe completely so we can just heat and eat during the week? Again, there's no right or wrong, it's about what works for you.
Step 4: Carve out 2-3 hours on Sunday to prepare meals and snacks.
Of course, you can prep any day of the week you want but I've always found it best to meal prep on Sunday for the week.
Step 5: Eat the meals.
I know this sounds basic but there are times, for whatever reason, the meals you prepped don't get eaten. When this happens I take a look at why.
Did I forget to take something out of the freezer? Was I not in the mood for it? Did I screw up my schedule? What stopped me from eating the recipes?
Then I just make changes for the following week.
More tips
Keep it simple. Meal prep doesn't need to be complicated, and it shouldn't be. There are no awards going out for the prettiest most complicated recipes you can make ahead of time. Keep it simple. I'll eat the same things for breakfast and lunch so I only need to prep 2 recipes. Then I'll just focus on my busiest nights for dinner and make sure those get prepped.
Get it done early. One of the biggest complaints I hear about meal prep is that it takes too much time. I get it you don't want to spend an entire Sunday making food. My advice then is to plan to wake up early and get started right away.
I start prepping meals for the week by 8:am and always done by noon at the latest. Then I have my entire Sunday to do what I want. Plus, keep in mind that the small about of time you spend on Sunday preparing meals for the week will save you 4x that during the week.
Give yourself time to find your groove. Whenever starting a new habit there's going to be bumps in the road. Don't give up because something didn't work out the first time around. Keep at it because it will get easier as you get more experience.
If you're looking for additional information then you'll find these posts helpful.
Meal Prep Ideas When Cooking for 1-2 People
Meal Prep Containers
One of the top questions I get is "what containers do I use".
Over the years I've used every container available. I started with the basic plastic containers and then evolved to the glass containers I use today. My advice is to use what you have and then build your collection over time.
I've put a couple of posts together on this topic so I'll link to those below.
However, I just want to highlight my favorites.
The Best Containers for Once a Week Prep
Ello Rectangle Containers – these are great for meal prep bowls or to store food in for the week. You can get in a set of 5 containers.
Ello Round Containers – these are great for soups, overnight oats, snacks, and any foods to store for the week.
Ello containers actually come in a variety of sizes so I recommend checking out their website. Their containers are super durable and also have a silicone covering that protects the glass from breaks and chips. These have become my favorite glass containers to use.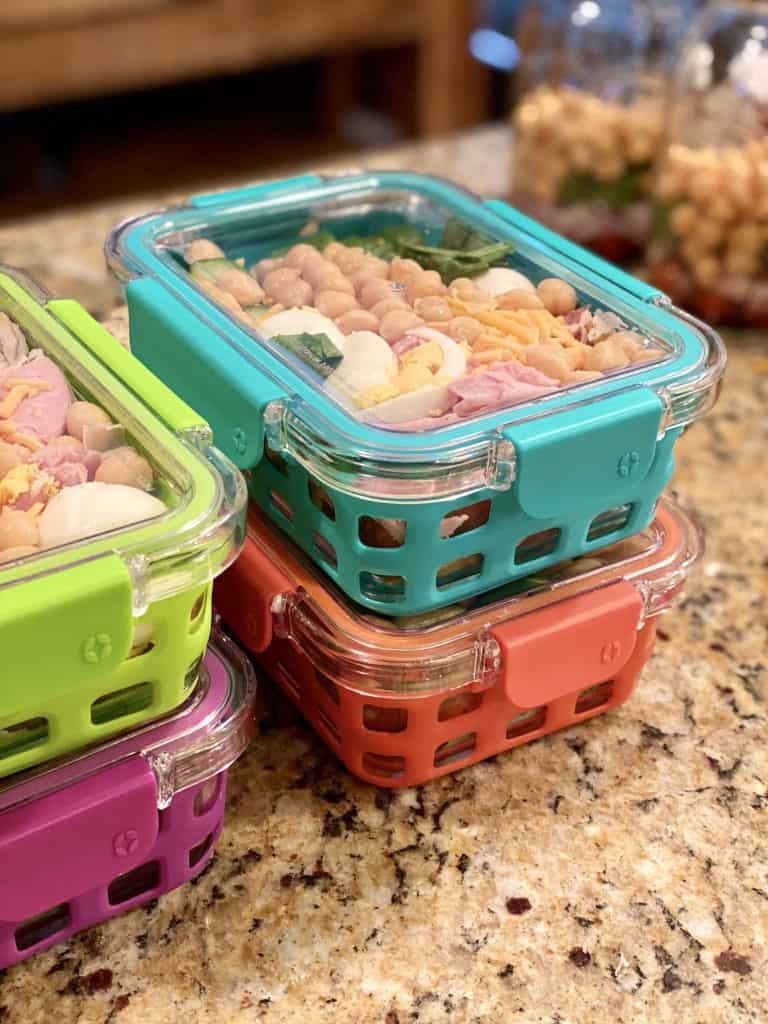 Mason jars – Mason jar salads are one of my favorite meal prep recipes. I've been making them every single week for the past 7-8 years.
I use the 32-ounce wide-mouth mason jars for these salads. But I also use 16-ounce mason jars for smoothies, overnight oats, yogurt parfaits, and a variety of foods. If you decide to use mason jars make sure to pick up a pack of plastic lids.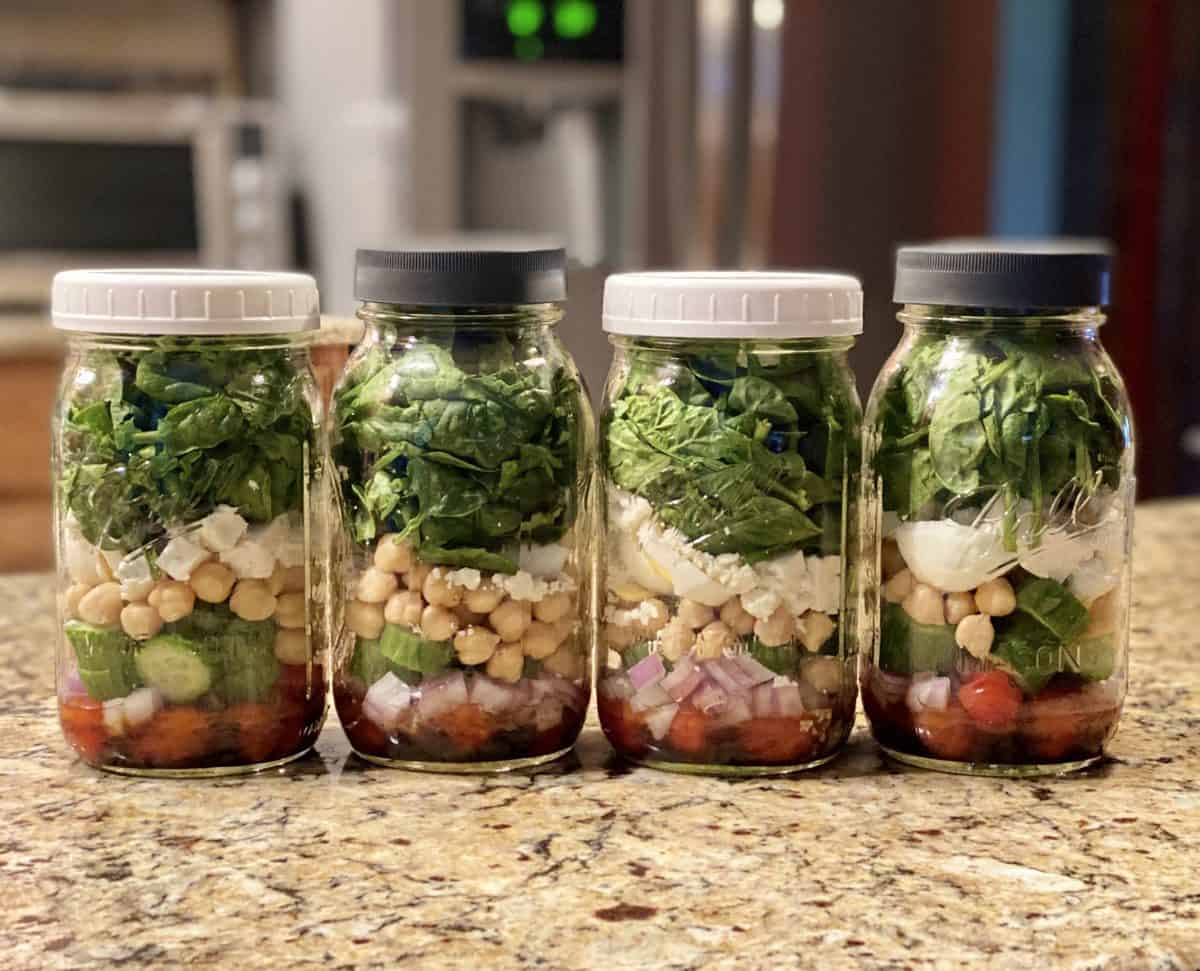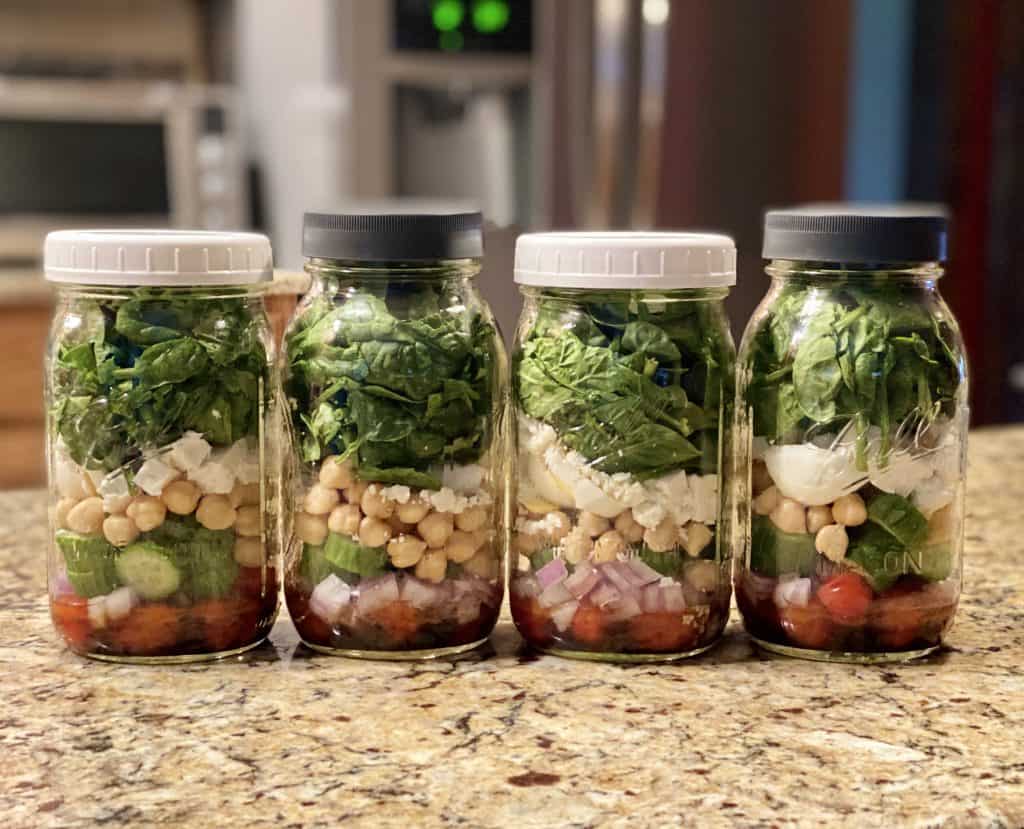 Check out these posts for more container options:
Where to buy meal prep containers
Most containers can be purchased at major retail stores like Target and Walmart. However, with meal prep becoming more popular containers are getting harder to find in stores.
Fortunately, most containers can be found online.
Amazon sells 32-ounce mason jars, 16-ounce mason jars, and plastic lids. I find the prices to be high on Amazon so if you can, check out your local retail and grocery stores first for mason jars.
The first set of Ello containers I purchased was from Target. It was the last box and I haven't seen the same box there since. All Ello containers can be purchased directly from their website. They offer free shipping with orders over $35.
Ello containers can also be purchased from Amazon. They do have the set I have but it's a little pricier than I purchased at Target. Also, the Amazon prices are higher than what's on the Ello website.
So, if you like Ello containers I recommend purchasing directly from their website because the prices are cheaper than Amazon and there's more of a variety.
Like I've said, food prep was the #1 game-changer that helped me finally get my eating under control and lose weight.
If my meals were not made ahead of time I'd never sustain a healthy lifestyle. Seriously! I'm a busy woman and during the week I need to grab and go.
If I don't have healthy portion-controlled meals in the refrigerator you can bet I'm heading to the drive-thru or grabbing some random snack I found in the back of my pantry. It's the truth.
Taking time on Sundays to prep food and snacks for the week was essential to losing weight. If your goal is to eat healthier and lose weight then I strongly recommend reading these posts;
Make-ahead Weight Loss Recipes
Food Hacks to Remember at the Start of Your Weight Loss Journey
How to prepare food ahead of time for specialty diets?
A specialty diet such as keto, vegan, or even clean-eating can be difficult to sustain if you don't take time to plan out and make-ahead meals.
Here are guides I put together to help you succeed with these eating styles:
Easy Recipes to Make Ahead for The Week
In my experience, all recipes can be made ahead of time in one way, shape, or form.
Here's a list of my best tutorials and recipes to get you started right away.
Tutorials
How to Prep Ahead Chicken Breast Recipes
Recipe ideas
Healthy Lunch Ideas to Make-ahead
The Best High Protein Snack Ideas to Make-ahead
Meal Prep Bowls
Meal prep bowls are the same concept as mason jar salads. I wanted to put these in their own section because if you're looking to cook once and eat all week then meal prep bowls will work great for you.
Here is a list of my favorite meal prep bowl recipes:
Dijon Mustard and Chicken Bowl
Asian Shrimp Bowl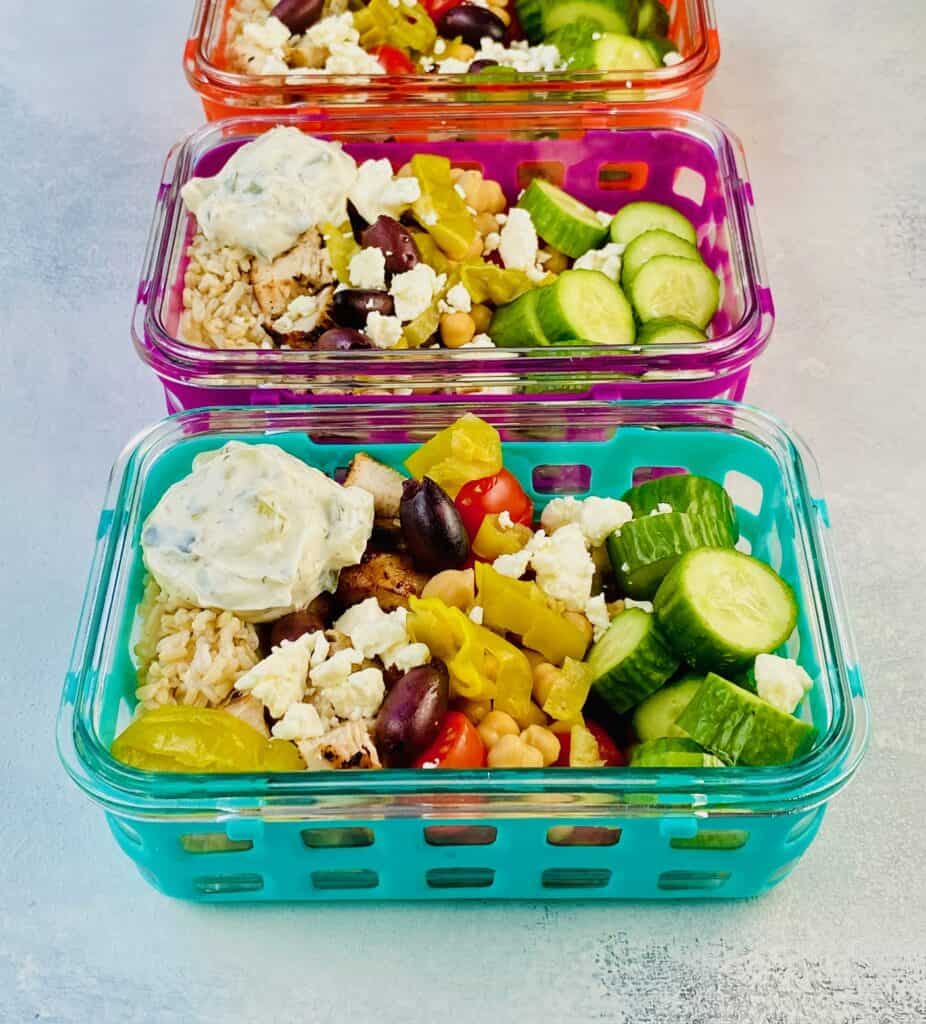 Batch Cooking or Freezer Cooking
Another idea is to have ingredients or meals in the freezer. This is helpful because you can stock up ahead of time and then pull from those meals week after week.
Truth be told, batch cooking was how I started to prepare food ahead time.
Every other Sunday I'd make breakfast and dinners for 2-3 weeks. Then on the other Sundays, all I needed to do was make mason jar salads.
Taking the time once a month or so to stock your freezer will reduce the time you spend putting recipes together on meal prep day.
Here are some of my easy freezer cooking tutorials.
3 Different Ways to Freeze Kale
How to Freeze and Reheat Brown Rice
Chicken Freezer Meals for the Slow Cooker
The Best Healthy Freezer Meals to Batch Cook
The Best Freezer Casseroles That Are Secretly Healthy
Make-ahead Freezer Meals: 6 Favorite Dinner Kits
The Best Breakfast Freezer Meals
Easy Freezer Meals for New Moms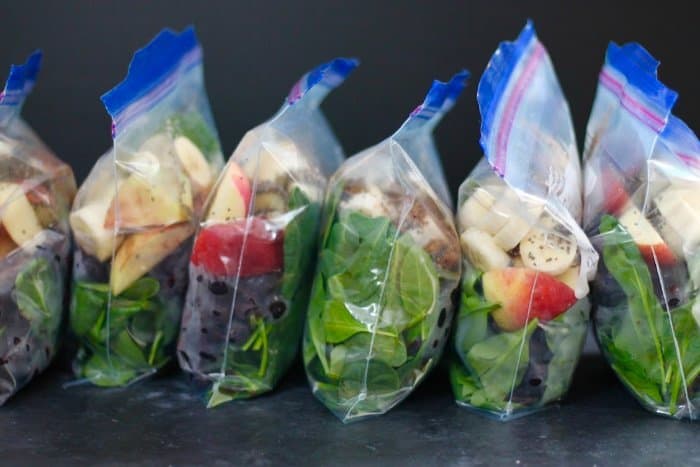 Okay, that's some of my best tips and resources for learning how to meal prep.
Grab my free Quick-start Meal Prep Guide to get started this weekend. Read it over and then purchase your supplies, pick a few recipes from the guide, and get to it. I would love for you to share the recipes you make on Instagram or in the Facebook group. Don't forget to tag me @organizeyourselfskinny