Meal prep is the most important habit a person can acquire when trying to eat healthier foods. In fact, when someone asks me for weight loss advice preparing meals ahead of time is the first thing we talk about.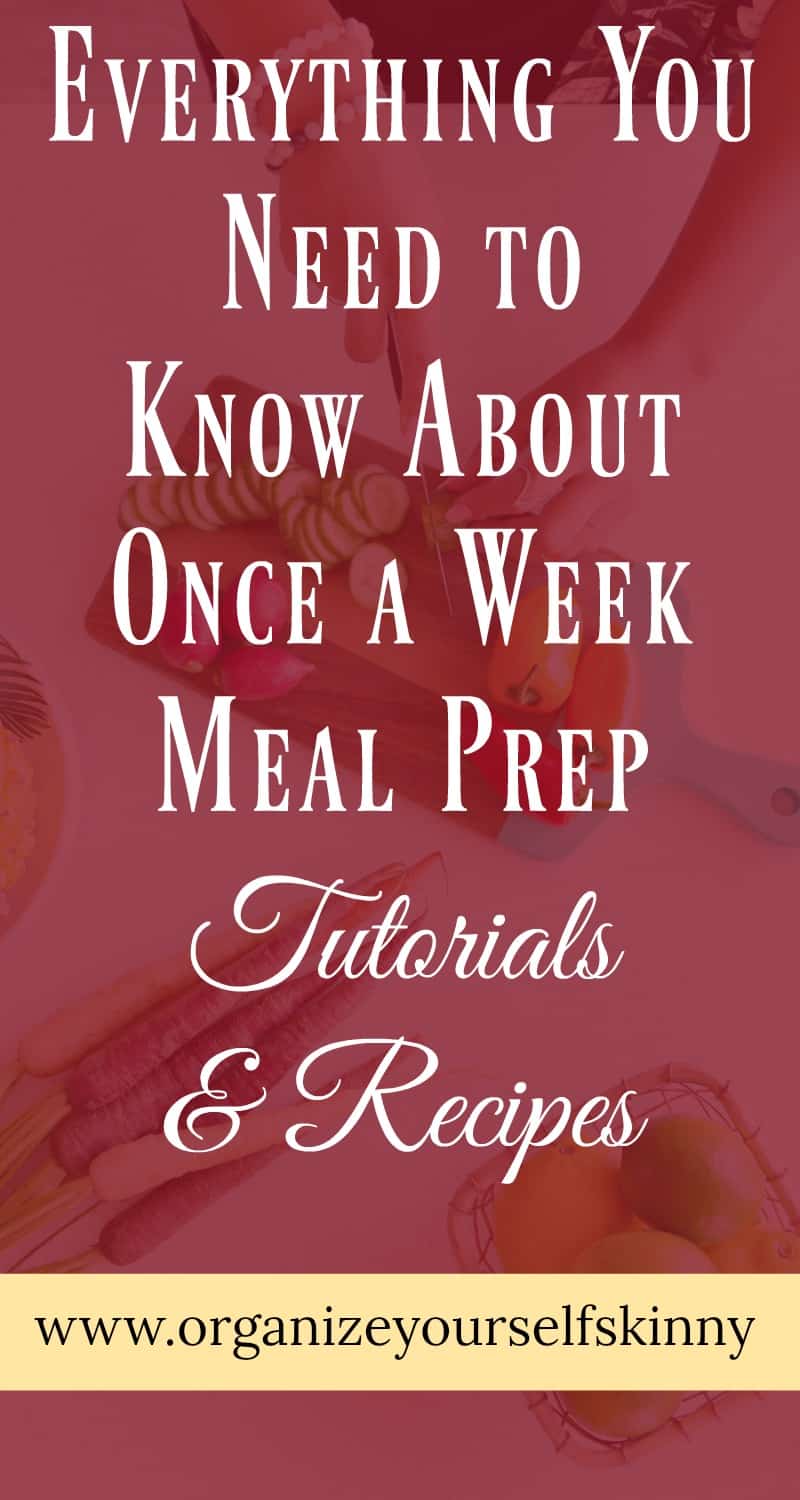 What is weekly meal prep?
Basically, it's preparing food on the weekend (when you have time) so you have healthy meals during the week (when time is limited). Eating healthier is much easier when healthy foods are available. However, it's not just about eating healthier or losing weight (although that's a huge perk) meal prep reduces stress.
When meals are ready ahead of time you're not scrambling at dinnertime. Imagine the beauty of coming home after a long busy day to dinner ready. It's wonderful!
Preparing meals ahead of time also saves you money. First, you're no longer ordering out because there's healthy food ready to eat in the refrigerator. Second, ingredients are prepped ahead of time so they're more likely to get used. Not to mention, you only purchase the ingredients needed.
Let's do a quick recap. Meal prep helps us save money, reduces stress, AND is key to losing weight.
Does that sound good to you? It sure does to me. 
Over the years, I've written a lot on meal prep. Everything from beginner tips to healthy meal prep recipes to everyday meal prep hacks can be found on Organize Yourself Skinny.
To get you started with preparing meals ahead of time I've organized my best meal prep posts. Everything you could ever want to know about meal prep can be found here. I hope you find this helpful.
Honestly, even if you've been at this meal prep thing for a while, and you know it all, I'm sure you'll find some nuggets of wisdom throughout these posts. I started to meal prep back in 2010 and I'm still learning something new all the time. 
To save this post for future reference pin it here.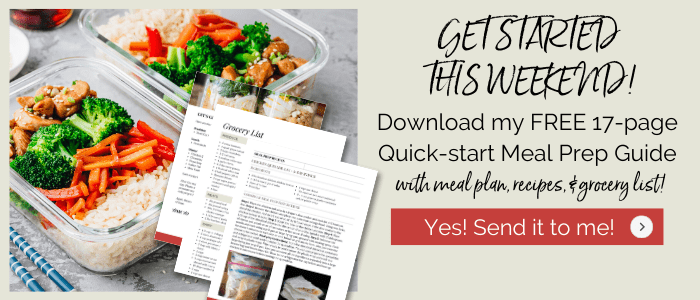 How to Meal Prep
If you're looking for a general understanding, information on meal prep basics, and an idea of what a typical meal prep day looks like then you'll find these posts helpful.
Beginner Meal Prep: The Best Guide For Getting Started
How to Get Started With Meal Prep
How to Prep Food on Sunday for the Entire Week
The Ultimate List of Food Prep Containers
4 Steps to Get Organized Before You Sunday Food Prep Day
5 Kitchen Essentials I Use Every Week to Prepare Meals Ahead of Time
My 4 Favorite Ways to Avoid Food Prep Burnout
3 Ways to Start the Food Prep Habit When You Just Don't Have the Time
5 Ways to Stay on Track With Once a Week Food Prep
9 Habits of People Who Prep Meals Ahead of Time Like a Boss
How to Use Meal Prep For Weight Loss
If my meals were not made ahead of time I'd never keep a healthy lifestyle. Seriously! I'm a busy woman and during the week I need to grab and go. If I don't have healthy portion-controlled meals in the refrigerator you can bet I'm heading to the drive-thru or grabbing some random snack I found in the back of my pantry.  Listen, I'm not proud of that either but it's the truth.
Taking time on Sundays to prep food and snacks for the week was essential to losing weight.  If you're starting a weight loss journey and need help with food then take some time to read through these posts.
My Best Meal Prep Ideas to Eat Healthier and Lose Weight
7 Food Prep Hacks to Remember as You Start Your Weight Loss Journey
5 Meal Prep Recipes to Include When Starting Your Weight Loss Journey
4 Ways to Get Creative With Once a Week Food Prep and Losing Weight.
7 Simple Food Prep Hacks That'll Help You Save Money and Lose Weight
3 Ways Make-ahead Meals Helped Me on My 100 lb Weight Loss Journey
Healthy Meal Prep Ideas
Now let's talk recipes and other healthy meal prep ideas. In my experience, all recipes can be made ahead of time in one way, shape, or form. However, there are some recipes that are easier to make than others. For example, mason jar salads and overnight oats can be put together in less than a half-hour where soups, casseroles, and other recipes take longer.
To get started, check out these two tutorials. Mason jar salads and overnight oatmeal recipes are easy healthy meal prep recipes, perfect for the beginner. You can have breakfast and lunch ready for the week in under 30 minutes.
The Ultimate Mason Jar Salad Tutorial ← includes all my mason jar salad recipes. If you're not feeling a mason jar salad, yet still want a salad, then try preparing a make-ahead salad bar.
Step by Step Guide to Overnight Oats Tutorial ← includes all my overnight oats recipes.
Along the same concept as mason jar salads are meal prep bowls. The shrimp recipes do require some cooking but the chicken bowls can be made with store-bought rotisserie chicken.
Here are some other meal prep ideas and recipes that will help get healthy meals on the table fast during the week.
5 Foods I Make in The Instant Pot on Meal Prep Day
4 Mason Jar Meal Prep Ideas That Are Not Salads
42 Breakfast Make-ahead Recipes
10 Quick Snacks for Once a Week Food Prep Day
25 + Recipes You Can Make With Make-ahead Shredded Chicken
Another idea is to have ingredients or meals in the freezer. This is helpful because you can stock up ahead of time and then pull from those meals week after week. Taking the time once a month or so to stock your freezer will reduce the time you spend putting recipes together on meal prep day. Here are some of my easy freezer cooking tutorials.
3 Different Ways to Freeze Kale, Spinach, and Other Greens Ahead of Time
How to Freeze and Reheat Brown Rice
6 Different Ways to Freeze a Bulk Package of Chicken Ahead of Time
I'm not the only blogger who talks about once a week food prep. Here are a few super helpful posts from my blogger friend Steph over at Confessions of a Meal Planning Addict.
5 Types of Food Prep to Fit Your Lifestyle
How to Prep and Freeze Instant Pot Suppers
5 Ways to Simplify Once a Week Food Prep Down to One Hour
Have I convinced you to give meal prep a try? I hope so because it can completely change your life for the better. I know all of this information can be a little overwhelming. My advice is to start with the beginner's meal prep post. Read it over. Then purchase your supplies, pick a few recipes, and then get to it. Don't expect perfection for the first couple of times. Just like with anything else, meal prep takes practice. You'll find what recipes and ideas work best for your lifestyle.
Last, make sure to grab my free Quick-start Meal Prep Guide to get started this weekend.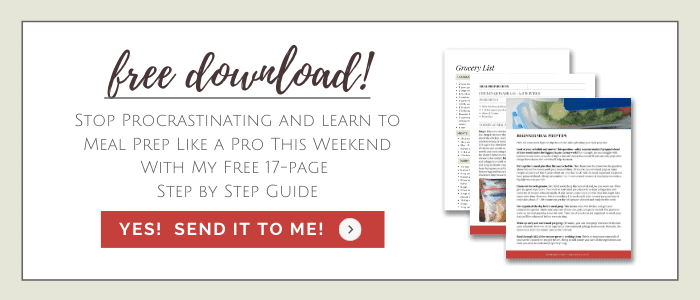 Get Instant Access to My Best Meal Prep Tips & 20 Delicious Make-ahead Recipes!
Sign up now to receive your FREE ecookbook that I created exclusively for my email subscribers! That's you!