If you're struggling to stick with a healthy diet or often without a lunch at work, then meal prep bowls can be the solution. This post will cover the basics of meal prep bowls, common questions, and my favorite recipes.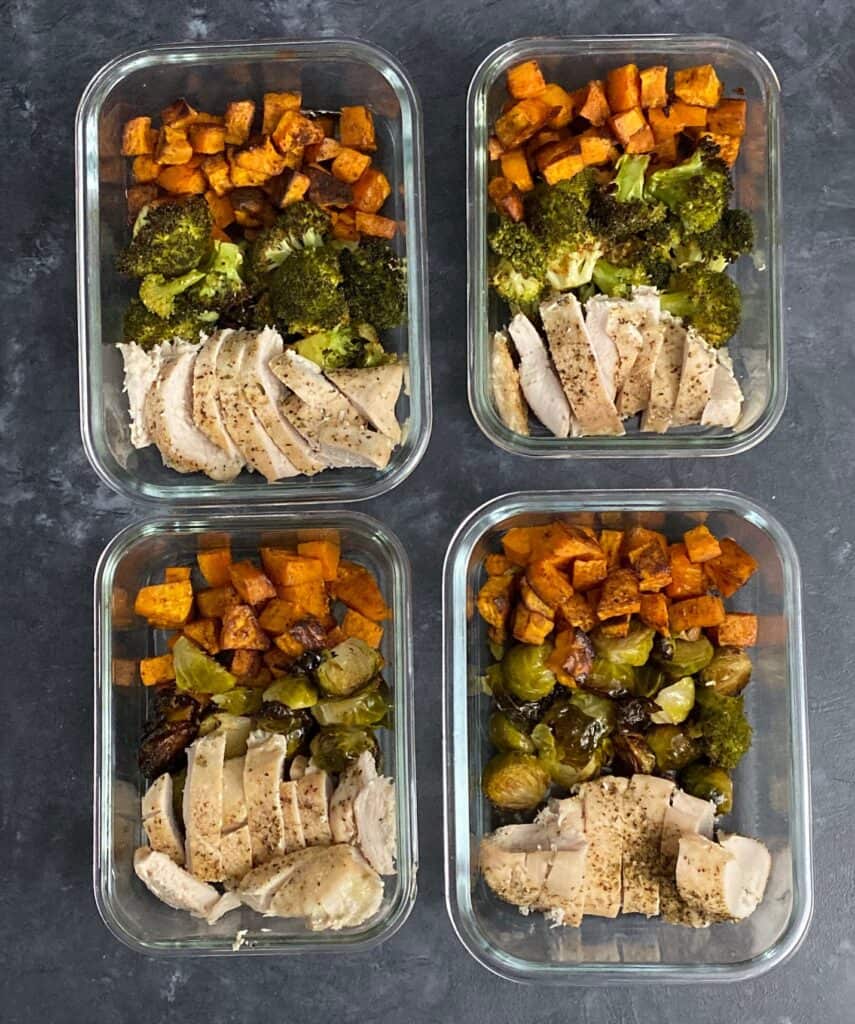 This post contains affiliate links. I am an affiliate for Amazon Associates and other brands and earn a small commission on qualifying purchases. You're by no means obligated to use my links but, if you do, thank you for supporting Organize Yourself Skinny.
Meal prep bowls have been a part of my lifestyle for quite some time. Essentially, I make 1-2 recipes and then divide between 4-5 containers to eat during the week.
If I want more variety, I'll make a few basics and then switch the meals up with different sauces.
Regardless, meal prep bowls make it easy to have healthy lunches and dinners available every day.
Check out my Sunday meal prep for the week and meal prep for weight loss tutorial for more helpful information. See all of my meal prep tutorials.
Jump to:
Reasons You'll Love Meal Prep Bowls
Cook once and eat all week. If cooking during the week keeps you from eating healthier meals, adding meal prep bowls to the meal plan will be helpful. You can have a week's worth of lunches ready in less than an hour.
Portion-controlled – Figuring out the nutritional information ahead of time will help you stay on track with your weight loss goals.
Reduces your stress – When meals are ready, then more time is added back into your week. Now instead of worrying about what to eat, you can focus on other priorities.
Versatile – You can keep it comfortable and make the same meals every day or switch it up which different protein, grains, and sauces. Meal prep bowls can work for any eating style.
FAQs
What is a meal prep bowl?

A meal prep bowl is essentially a recipe (or batch of ingredients) that's split into 4-5 individual servings (bowls) for the week. This easy meal prep method creates individual portion-control meals ready to eat. 

Meal prep bowls can be consumed hot or cold; it depends on the recipe along with your preference. 
How to keep a meal bowl fresh?

Invest in glass meal prep containers. Containers have come a long way since I started to meal prep. In the beginning, I used mostly plastic but then eventually moved to glass containers. 

From my experience, glass containers keep food fresh the longest. They are also easy to wash, and most fit nicely into lunch bags.

Keep the meal components separate. Instead of mixing all of the ingredients as you would for a finished meal, you'd place them next to each other in the container.

When you're ready to eat, just mix the ingredients, heat up (if needed), and enjoy. 

This tip helps pasta, rice, and other grains stay fresh because it's not soaking up the sauce and getting mushy.

If you can't separate grains and proteins, then keep any sauce off to the side as much as you can. This tip does wonder with keeping meals fresh.

Of course, some recipes like casseroles or bakes have all of the ingredients mixed. Good thing, casseroles and bakes reheat surprisingly well so you don't need to separate ingredients

If you're not sure how a recipe would work in a meal prep bowl, my advice would be to make that recipe for dinner but keep a portion out to test.

Leave out the avocado or other perishables that brown quickly. Avocado soaked in lemon will hold up for a few days in a meal prep bowl. However, it's sometimes hit or miss. If you want a bright green fresh avocado, then cut it up in the morning or afternoon you plan to eat it.

How long does cooked chicken keep in a meal prep bowl?

This question comes up a lot with meal prep in general. According to USDA cook chicken can stay fresh for up to 4 days in the refrigerator. 

Also, make sure the chicken is cook properly before placing it in a meal prep bowl.

I've been making chicken meal prep recipes for about ten years, and I've never had any issues with eating cooked chicken that's been in the refrigerator. Of course, follow your judgment. If it smells or tastes funny, then don't eat it.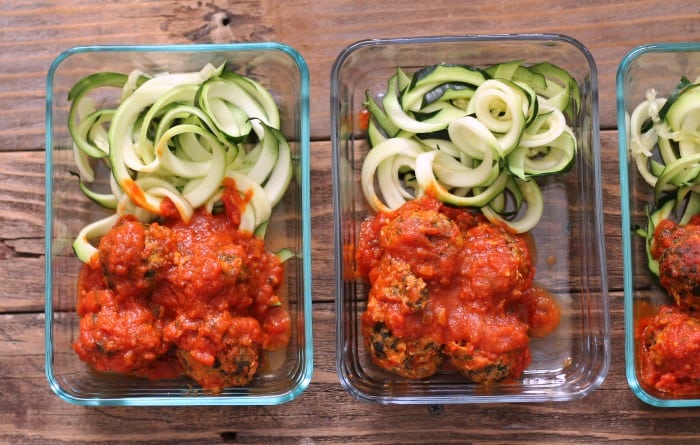 How to add variety to meal prep bowls?
The easiest way to prepare meal prep bowls is to make one recipe and divide it into 4-5 bowls for the week. However, this means you're eating the same recipe every day.
If you want variety, here are some suggestions.
Cook one protein but add in different sauces, veggies, and grains.
For example, cook a basic shredded chicken recipe and then switch up the meal prep bowl with different ingredients.
Use different grains, pastas, and vegetables to add more variety to these bowls. I love brown rice and quinoa to include more fiber. Roasted butter potatoes or sweet potatoes are also delicious in meal prep bowls.
Make a few different proteins – grill or bake chicken breasts, steak, and pork to use in meal prep bowls. Add those alongside a grain, veggie, and sauce for a nice variety.
Prepare a couple of different recipes.
Use part of the recipe for a meal prep bowl and then eat the rest for dinner or freeze for a meal later on. Do this with a 2-3 different recipes.
How to Make a Meal Prep Bowl
A basic meal prep bowl includes a protein, starch, vegetable, and sauce. Of course, a meal prep bowl can reflect any eating style, including gluten-free, low carb, keto, paleo, or Whole30.
Cook a recipe and divide it into portions. This method is the easiest way to prepare a meal prep bowl. Again, separate the grains and sauce to keep the recipe fresh-tasting. Casseroles and bakes are fine to stay together.
Cook ingredients using a sheet pan. This cooking method is a great way to prepare healthy components of a meal prep bowl easily.
Toss chicken and vegetables in olive oil with some salt and pepper, then spread on a sheet pan. Roast for 25 minutes or until the chicken cooks thoroughly.
Separate among the containers and refrigerator.
You can add variety using different marinades or seasoning with the meats and cooking other vegetables and potatoes.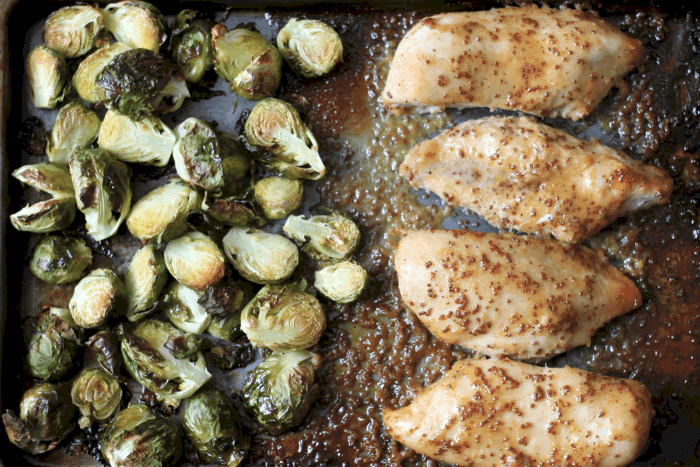 Use your slow cooker – Making a batch of shredded meats is easy using a slow cooker. After the meat cooks, add ½ cup to each meal prep bowl alongside a starch, vegetables, and a sauce. This slow cooker salsa chicken or Mexican shredded beef is delicious in taco bowls.
How to Store and Reheat
After you put the meal prep bowls together, they should be refrigerated. Depending on the ingredients, bowls will stay fresh for up to 4-5 days.
You can consume some meal prep bowl recipes cold.
If you need to reheat the meal prep bowl, remove the lid, mix the ingredients (if required), and microwave for 2-3 minutes or until heated.
Meal Prep Bowl Recipes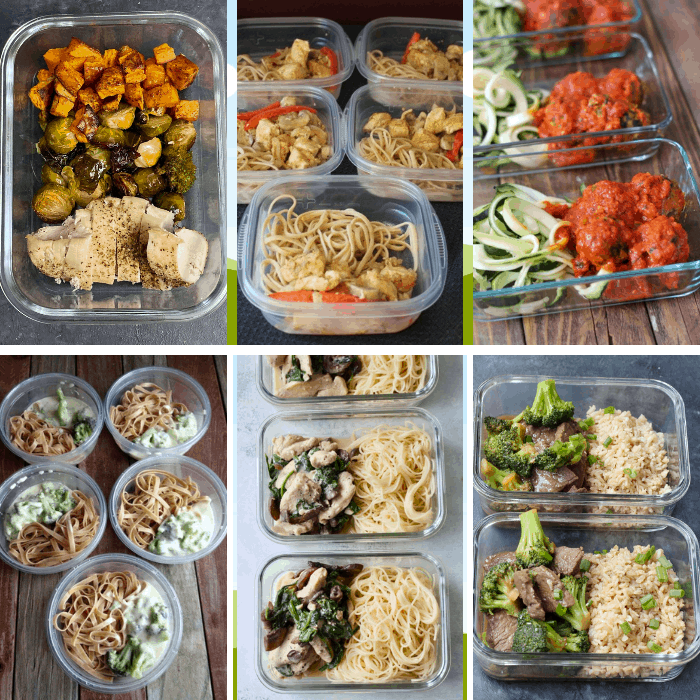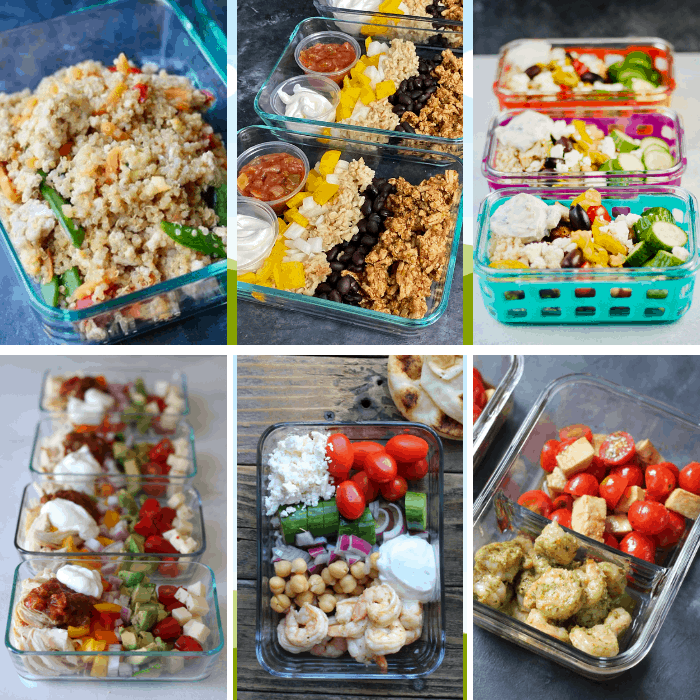 If you want more meal prep information, check out these posts
Have you tried making meal prep bowls? If so, I'd love for you to share your favorite recipes. Also, it would be awesome if you could share a picture on Instagram and tag it #organizeyourselfskinny. I can't wait to see it!