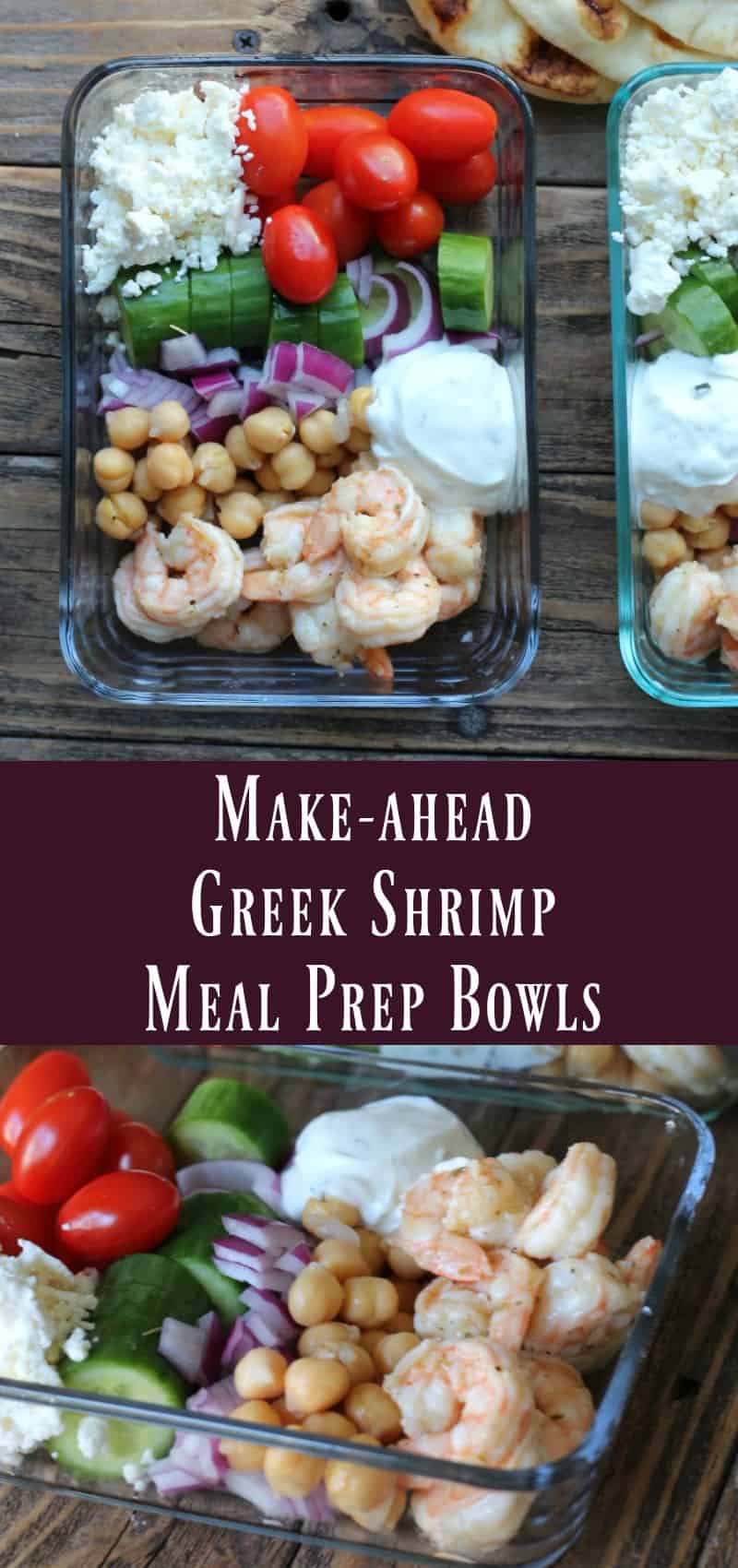 If you haven't noticed I've been into low carb lately – and also meal prep bowls. Here's the thing, when I eat low carb I feel better and when I prep food ahead of time life is better. Therefore combining low carb and food prep seems only natural. A month or so ago I put together this low carb chicken burrito bowl, a couple weeks later came this Asian peanut shrimp bowl, and now we have this absolutely delicious Greek shrimp bowls.
Let me just say I love these Greek shrimp bowls. Actually, I love anything with feta and greek dressing but this recipe is over the top with the addition of Tzatziki  sauce. Yum yum yum!
These bowls are super simple to put together.
Let's start with the shrimp. All I did was cook 1 lb of medium shrimp in 1 tablespoon of olive oil. Of course, I removed the shells and cleaned them up first. I drained any liquid and then set the shrimp aside.
Next I made the homemade greek dressing. I used the same dressing I did for the baked Greek chicken and vegetables but added 1/2 tablespoon of honey for a little extra sweetness. This dressing is delicious and super easy to throw together. However you certainly could use store-bought if that's what you have on hand.
I used 2 tablespoons to toss the cooked shrimp in and then stored the rest in the refrigerator using a mason jar.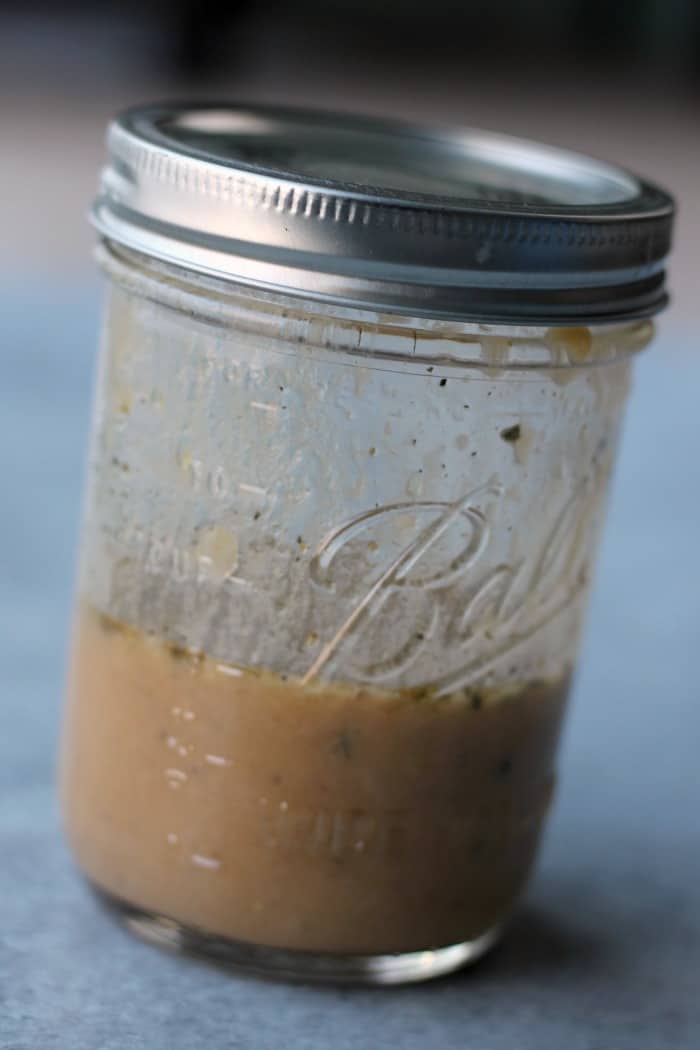 Here's the cooked shrimp in the dressing.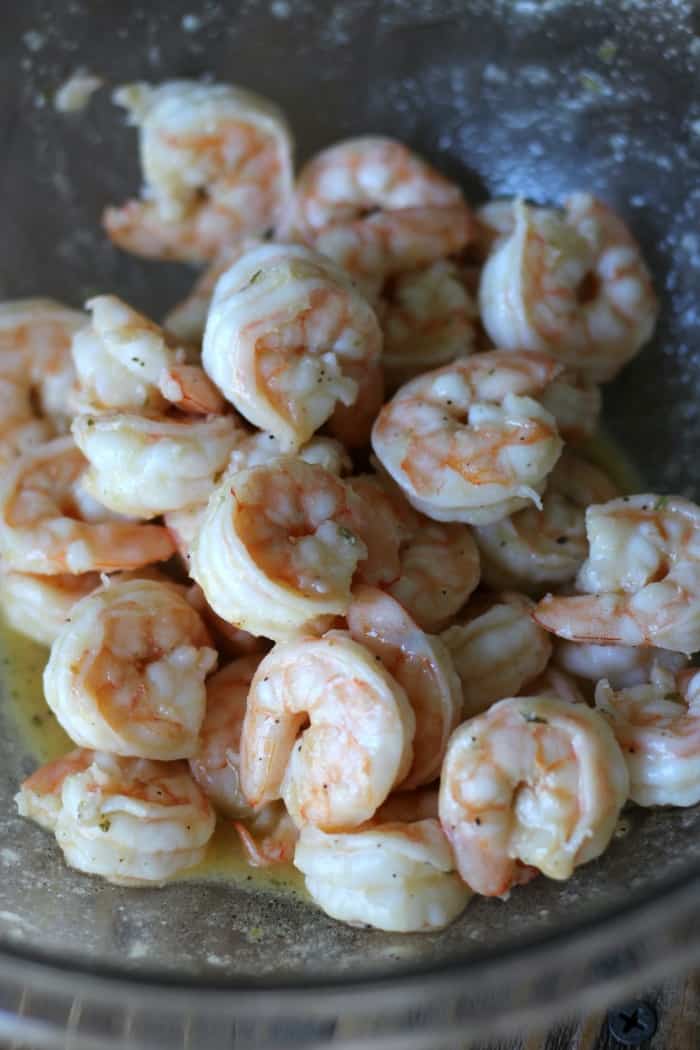 Then I put the bowls together. I used 3-cup Pyrex glass rectangle containers – these are great for meal prep! You can get a 6-pack on Amazon for less than $30.
For these bowls I used the shrimp along with grape tomatoes, cucumber, red onion, chickpeas, feta cheese, and Tzatziki sauce. Okay, let's chat about Tzatziki sauce. Tzatziki sauce is made with yogurt, cucumber, garlic, olive oil, and other ingredients. You can make it homemade but I opted to purchase it from Wegmans. I absolutely loved the addition of Tzatziki sauce to these bowls – it's DELICIOUS!
I layered the ingredients next to one another and then placed a couple tablespoons of Tzatziki sauce on one side of the bowl and feta on the other. When I ate these Greek shrimp meal prep bowls I drizzled a little extra dressing on top and then mixed everything together.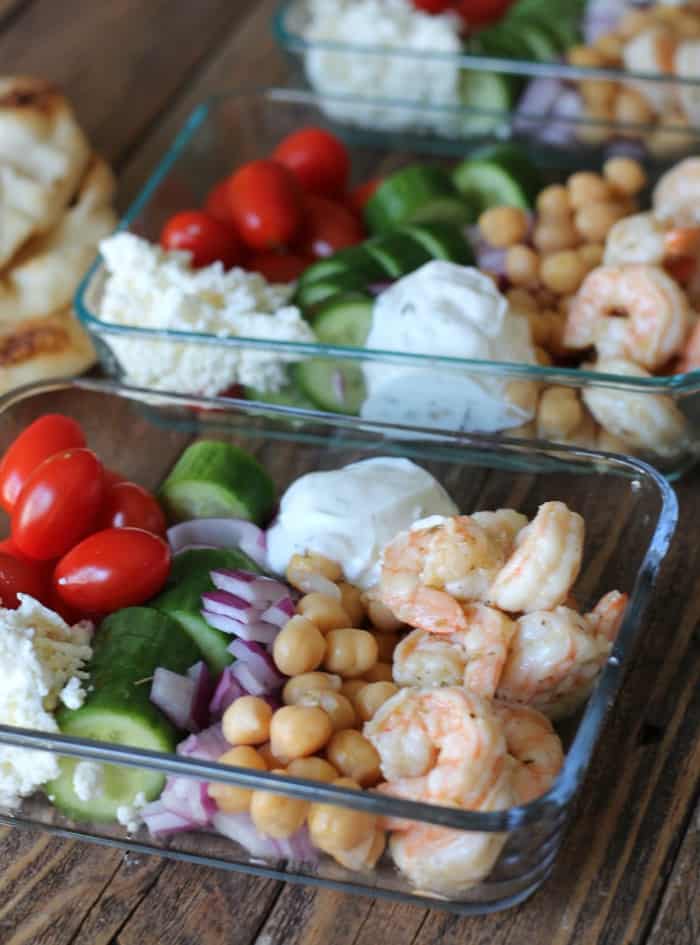 You can enjoy this healthy Greek shrimp bowl with pita bread. I had mini Naan bread in the freezer so I warmed it up and used that. It was like eating greek shrimp tacos. Seriously, this meal is definitely a new favorite of mine. I loved it. So easy to prepare and all the ingredients kept great all week. I enjoyed the shrimp all the way until Friday. I know some people might worry about shrimp being in the fridge longer than 3 days so if that's you then only make 3 bowls at a time. My bowls were delicious on the 5th day and I was completely fine. But use your judgement.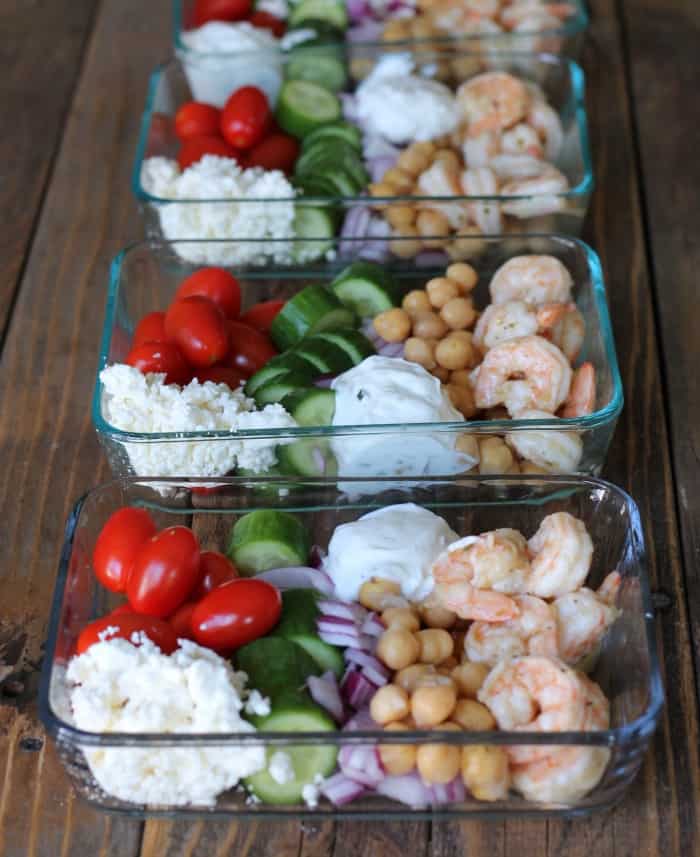 If you're looking for a tasty low-carb meal prep recipe then you must give this healthy Greek shrimp bowl recipe a try. You'll love having these ready during the week.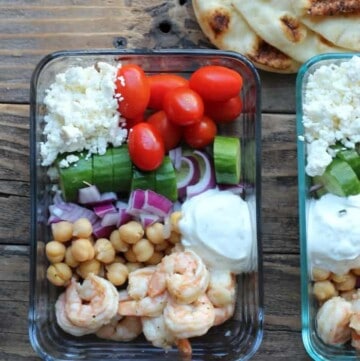 Ingredients
1

lb

medium shrimp

shelled and cleaned

1/2

cup

extra virgin olive oil

1/4

cup

red wine vinegar

1

tablespoon

dijon mustard

2

garlic cloves

grated

1/2

teaspoon

oregano

1/2

teaspoon

dried basil

1/2

teaspoon

onion powder

1/4

teaspoon

salt

1/4

teaspoon

black pepper

1/2

tablespoon

melted honey

5

baby cucumbers

1

pint

grape tomatoes

1

15-ounce can chickpeas, drained

1/2

medium red onion

diced

10

tablespoons

Tzatziki

10

tablespoons

feta cheese

Naan or pita bread **Optional
Instructions
Heat 1 tablespoon olive oil in a large pan and cook shrimp until it's pink and opaque, about 5 minutes. Remove from heat, drain any extra liquid, and place in a bowl

Mix together the dressing. In a 16-ounce mason jar (or any jar) mix together olive oil, red wine vinegar, dijon mustard, garlic, spices, and honey.

Toss cooked shrimp in 2 tablespoons of dressing. Store remaining of the dressing in the refrigerator.

Divide the shrimp and the rest of the ingredients among 5 bowls. Place the vegetables and shrimp next to each other and then put Tzatziki sauce on one side and feta cheese on the other.

Cover the bowls and store in the refrigerator 3-5 days.

Drizzle a little extra dressing over top when you're ready to eat.
Notes
Sugar: 5
Make-ahead instructions
These Greek shrimp bowls can be made up to 5 days ahead of time.
Nutrition
Serving:
1
g
|
Calories:
370
kcal
|
Carbohydrates:
23
g
|
Protein:
34
g
|
Fat:
19
g
|
Saturated Fat:
4
g
|
Fiber:
6
g