This chicken burrito bowl is filled with all the flavors of your favorite burrito minus the carbs! Meal prep 4-5 on Sunday to enjoy all week!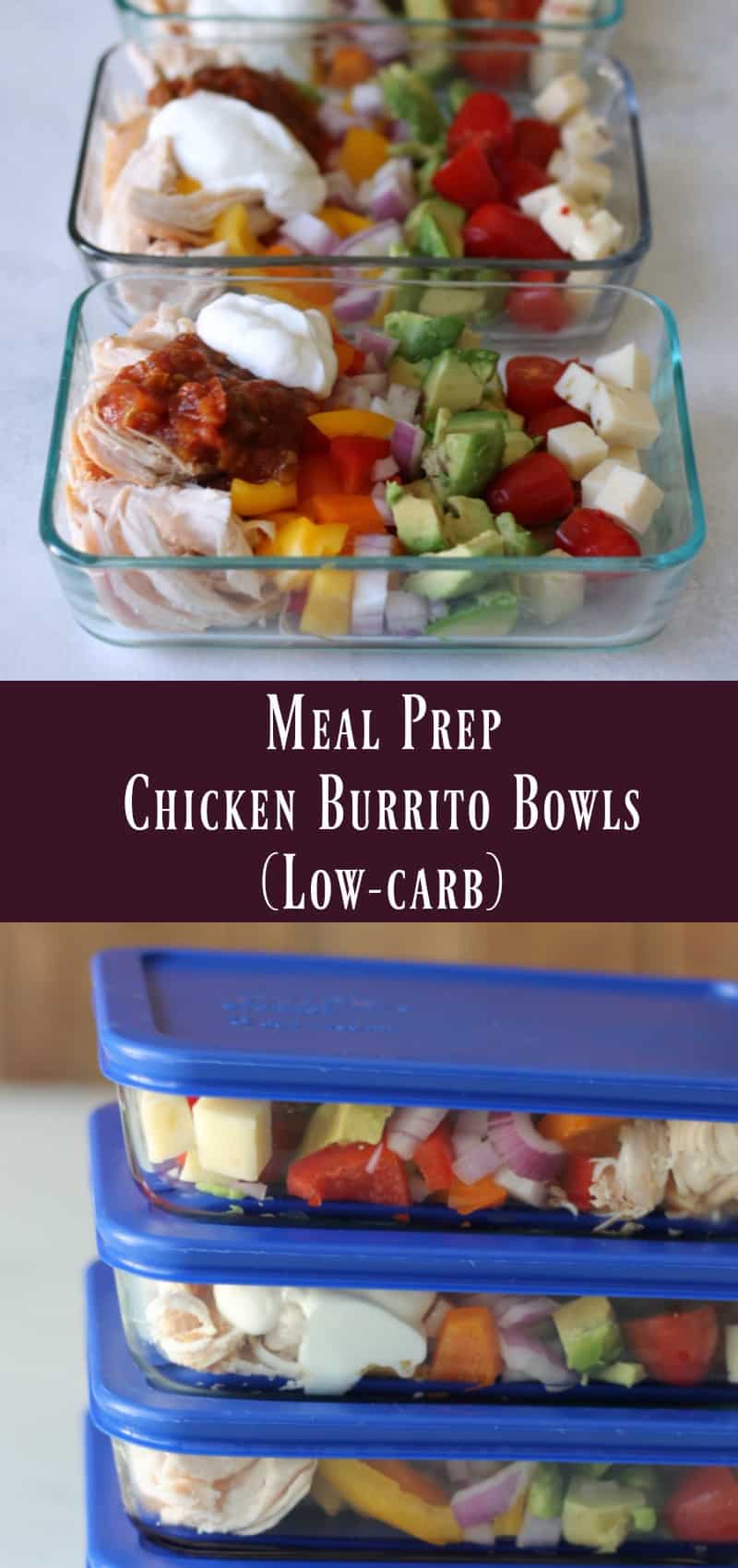 Summer is almost here and I know for many of us that means we're searching for easy no-cook recipes that are waistline friendly. If you're nodding yes then this low-carb chicken burrito bowl is going to be a meal plan staple. I have to say this is more of a recipe idea than a recipe in itself. However, I decided to share it because I know my readers like easy throw together meals like this one. I gots you!
Chicken Burrito Bowl Recipe
Let's start with the chicken. I kept this super simple by using a rotisserie chicken I picked up from the store earlier that day.
All I did was shred up the breast meat and then put the rest in the refrigerator. You could use any chicken you like for this chicken burrito bowl. I think my Slow Cooker Mexican Chicken or Salsa Chicken would work great. But if you don't have time then just grab a rotisserie chicken from the store.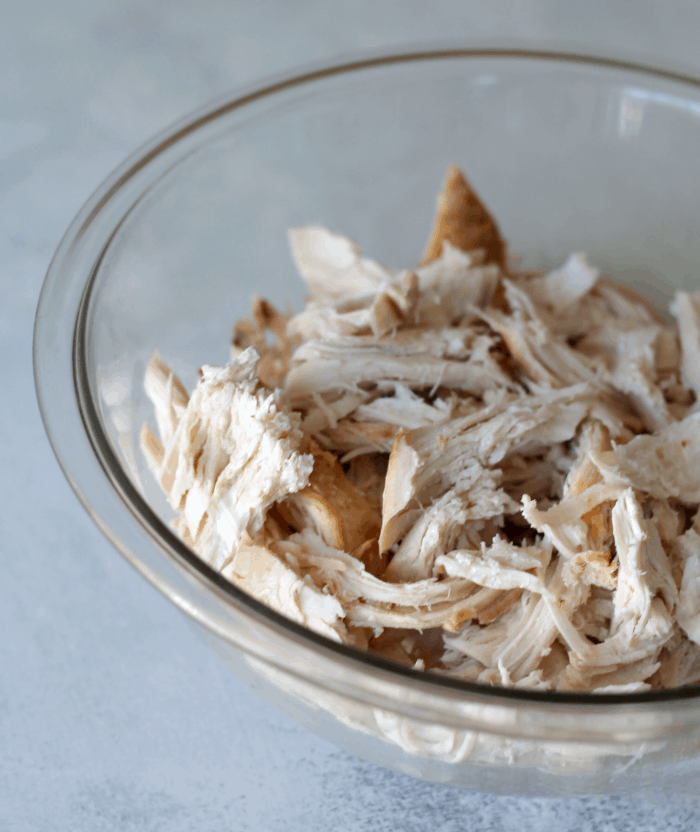 I put about 1/2 cup or so of shredded chicken in each container. Let me back up real quick and talk about containers I used. I like glass pyrex containers for recipes like this – you can also layer the ingredients into a mason jar. In my experience glass works best in keeping vegetables and meat fresh all week. For these bowls I used 3-cup pyrex rectangle glass containers.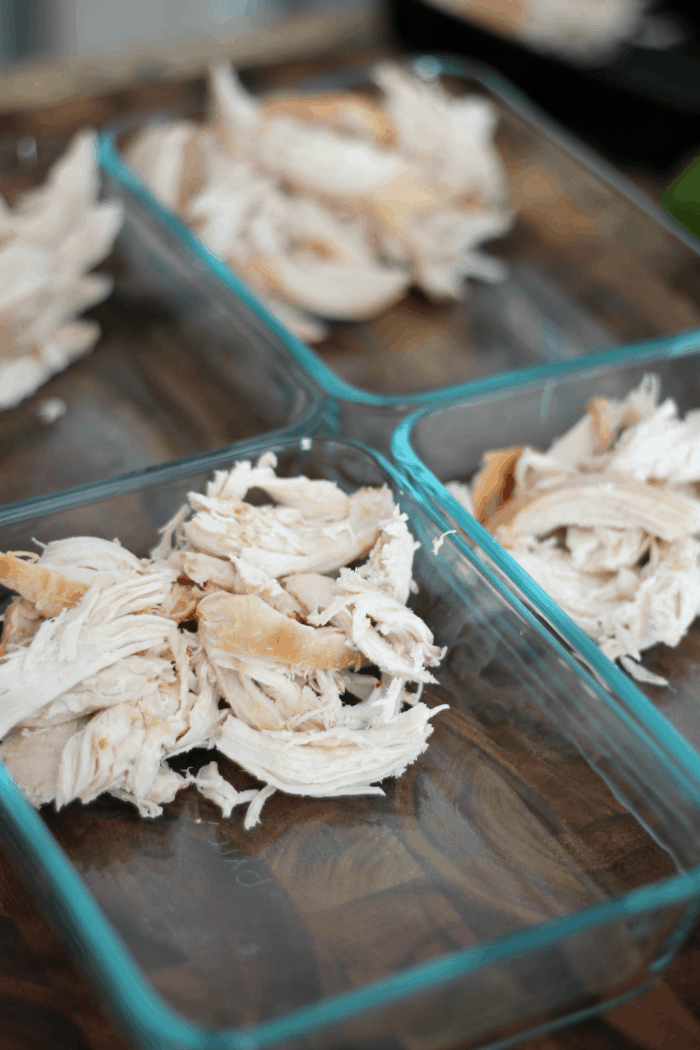 Back to the chicken burrito bowl recipe. After dividing the chicken I added bell peppers, red onion, avocado, cherry tomatoes, and pepper jack cheese to the bowls.
Let's discuss the ingredients. You can use any pepper or vegetable you like. Whatever you enjoy in a burrito put it in. I was going to include black beans but wanted to keep the recipe on the low-carb side so I left them out. I keep the avocado from turning brown by squeezing a whole lime over it and placing then placing next to the onions. You could mash up the avocado with lime and salsa and turn it into a guacamole – that would help too.
For some reason onions help to keep avocado fresh. I'm not sure why but it works for me. Also, like I said, using glass containers helps too. If you're worried about the avocado then don't use it or cut it up when you're ready to eat.
For the cheese I used 1 pepper jack cheese stick per bowl and chopped it into chunks. I love using cheese sticks in recipes because it easier to keep portions under control while still enjoying my beloved cheese.
As you can see I didn't use rice or quinoa in this chicken burrito bowl. If you want to add in either of those ingredients that's up to you. You can also crumble a few tortilla chips over the top if you need a little carb crunch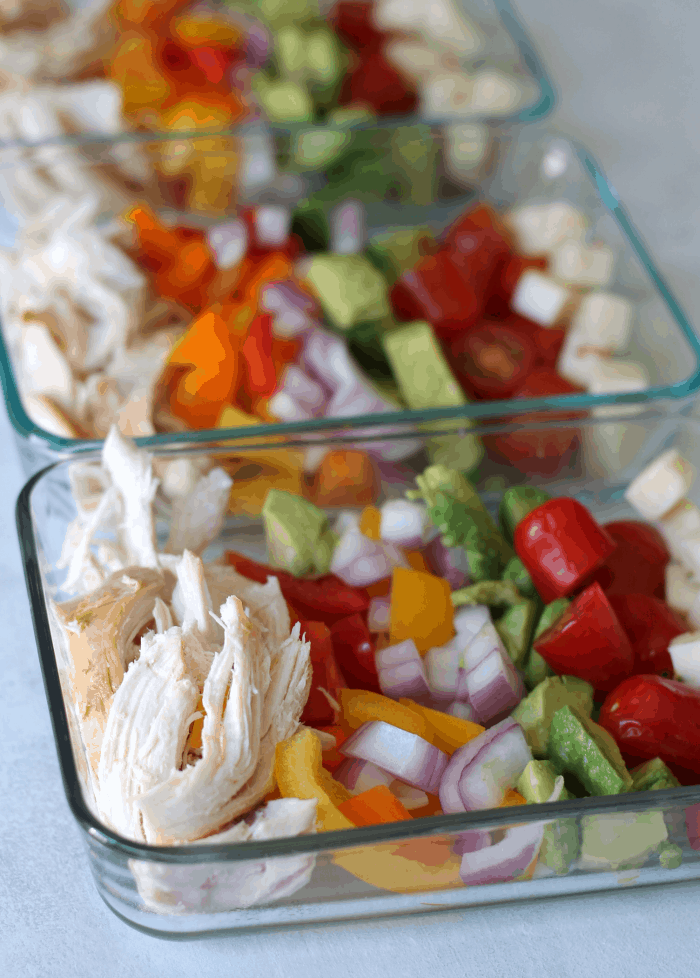 The last 2 ingredients I added to the chicken burrito bowl were 1/4 cup plain greek yogurt and 1/4 salsa. Of course you can use sour cream, just make sure to account for the extra calories. I use medium salsa but use whatever you like.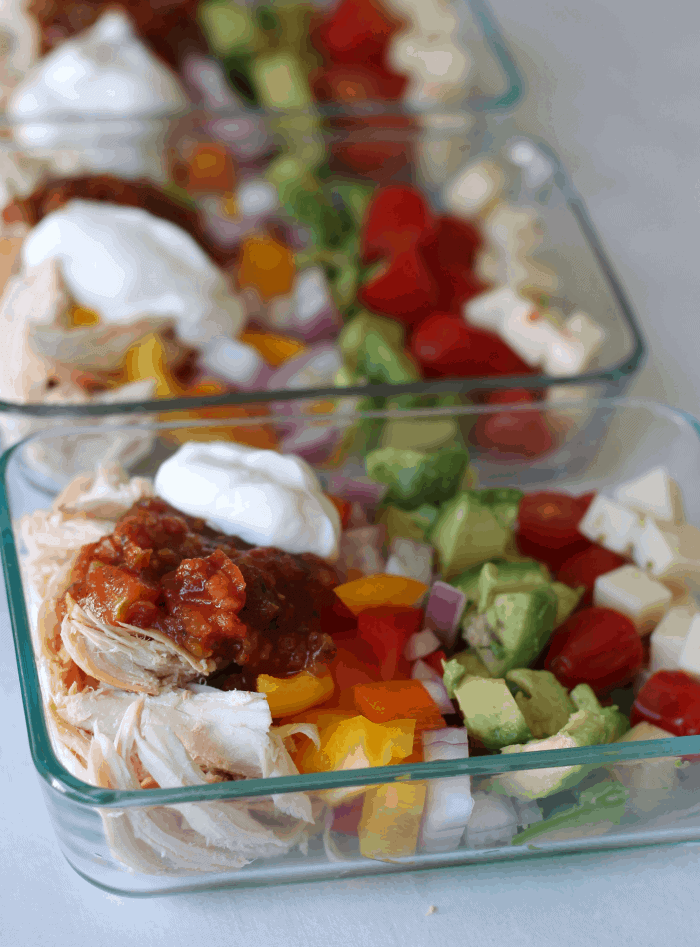 Originally, I was going to put the salsa and sour cream next to the other ingredients but, as you can see, there wasn't room. Not to worry, all the ingredients did fine with both plopped on top. When you're ready to eat the chicken burrito bowl just mix it all together and enjoy.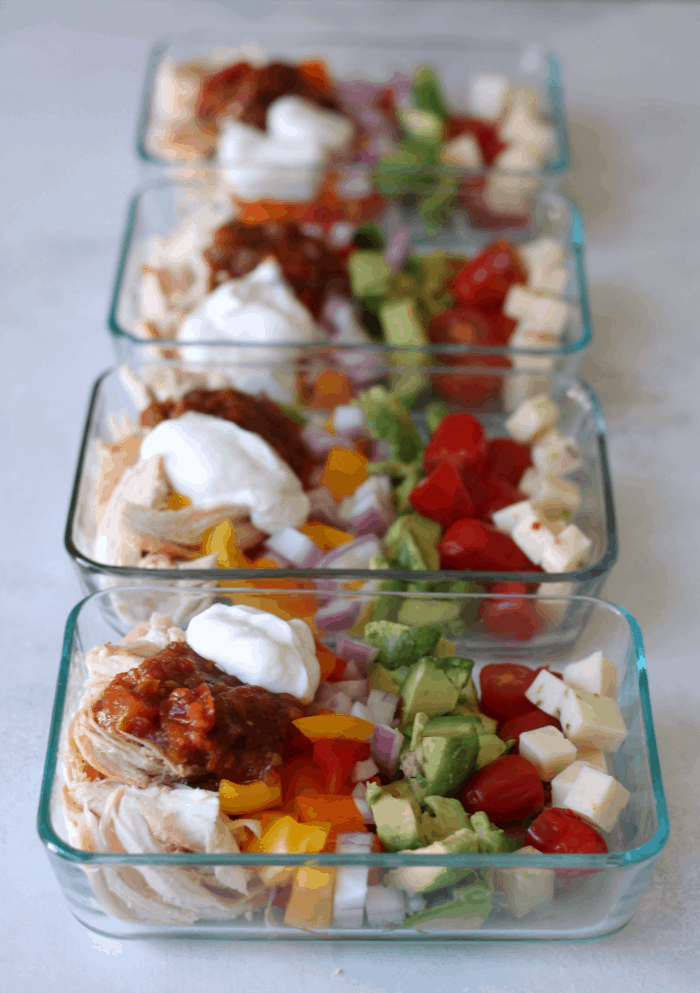 These chicken burrito bowls took about 20 minutes to prep on Sunday. After I was done, I place the lids on and stacked the containers in the refrigerator.
I love having a chicken burrito bowl prepared and ready to eat. They're filling and delicious! And because I keep the bowls low-carb I don't end up with belly bloat 20 minutes later like I would eating a normal burrito.
This chicken burrito bowl recipe makes 5 bowls. I know you only see 4 containers in the pictures but that's because I ate one before taking the pictures. Oops 🙂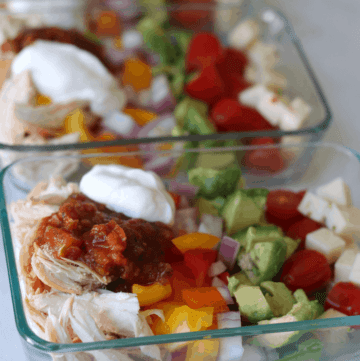 Ingredients
2.5

cups

shredded chicken

3

bell peppers

seeded and chopped

1

medium red onion

chopped

1

lime.

2

avocados

seeded and chopped

25

cherry tomatoes

halved

5

pepper jack cheese sticks

1 1/4

cups

plain greek yogurt

1 1/4

cup

salsa
Instructions
Squeeze lime juice over chopped avocado. Divide the ingredients among 5 (3-cup) rectangle glass containers. Place the chicken, peppers, onion, avocado, tomatoes, and pepper jack cheese next to each other in the containers. Add 1/4 cup greek yogurt and 1/4 salsa on top of the chicken in each container. Place the lids on and store in the refrigerator up to 5 days.
Notes
Sugar: 12 g
Make-ahead instructions
These bowls can be made up to 5 days ahead of time.
Nutrition
Serving:
1
g
|
Calories:
353
kcal
|
Carbohydrates:
22
g
|
Protein:
22
g
|
Fat:
21
g
|
Saturated Fat:
5
g
|
Fiber:
8
g