Following a low carb diet is made easier when meals are prepped ahead of time. In this post, I'm sharing my best low carb meal prep ideas, tips, and recipes.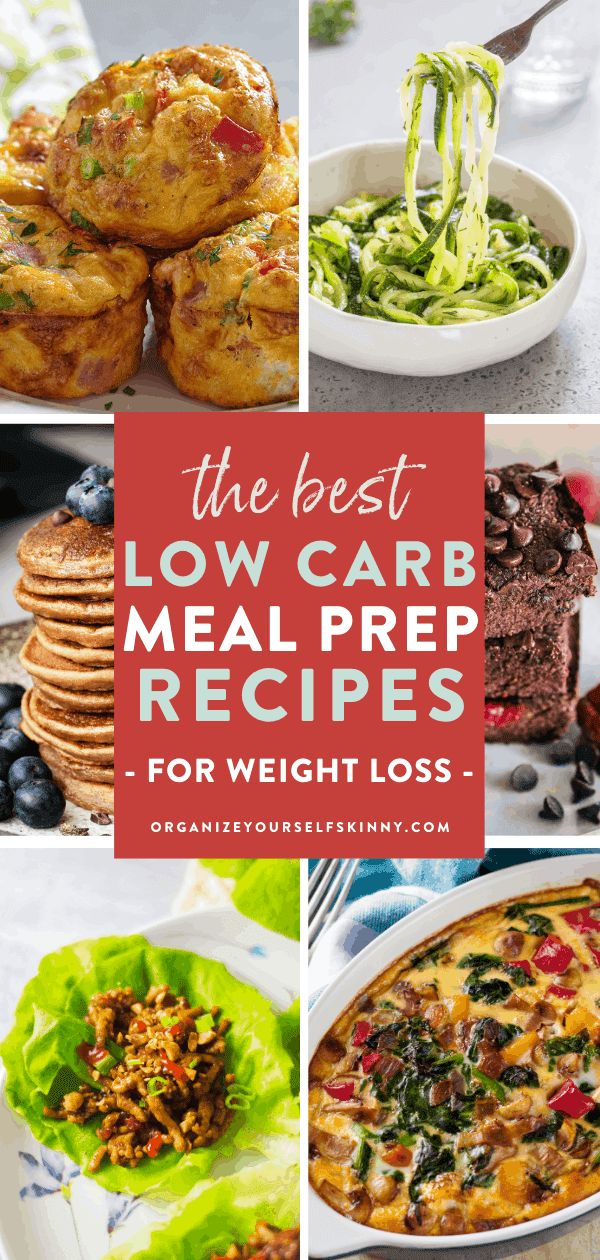 It's ironic that I'm talking about, and singing the praises of, eating a low carb diet. It wasn't that long ago I was against leaving out, or significantly reducing, any food group.
My weight loss philosophy centered more on portion control and eating ALL foods in moderation. That worked great for about 5-6 years until I hit my 40's. Then everything changed.
Losing weight after 40 became a struggle for me.
I started to feel bloated, sluggish, and had zero focus after eating high carb foods – sometimes for days afterward. I hit a weight loss plateau and any carb I ate went right to my midsection. It was beyond frustrating.
I also experienced hormonal skin rashes that got worse anytime I ate refined carbs.
Basically. into my 40's, I realized refined carbs were no longer a friend of mine. Trust me, this was a sad day.
On a positive note, I felt instantly better once I started to pay attention to the kinds of carbs I ate and the amount.
Today, this hormonal mid-forties pasta-loving woman has learned to appreciate the benefits of a low carb lifestyle.
4 Reasons to Love a Low Carb Diet
Helps with overall weight loss – I find it MUCH easier to lose weight and maintain that weight loss when sticking to a low carb lifestyle. In very simple terms when you eat carbs, especially refined carbs, it turns into sugar. If you don't burn the sugar then it will turn into fat.
Eating low carb reduces the amount of sugar in your body which means your body burns fat instead of the carbs for energy.
Reduces tummy fat – I wanted to mention his because I know tummy fat is a big issue for a lot of women over 40, including me. The older I got the more I noticed carbs settling in my tummy area. However, eating a low carb diet burns tummy fat and reduces that bloated feeling.
Increased focus and energy – When I eat carbs my brain feels very cloudy. Now I know this is caused by spikes in blood sugar from eating carbs. A lower-carb diet keeps blood sugar stabilized which helps with focus and energy. It also reduces mood swings.
It's easy to maintain – There are so many delicious low carb recipes, ideas, and substitutions to make even the biggest pasta and potato lover happy.
What is considered low carb?
Many different eating styles are considered low carb. Some are more strict than others. I don't want to go over all of them because this low carb meal prep post will turn into a 100-page dissertation. My advice is to research the different low carb diets and see which one best suits your lifestyle.
Generally speaking anything under 100- 150 grams of carbs a day is considered a low carb diet. Personally, this is what I follow. It's the perfect amount of carbs where I don't feel deprived and can still keep carbs low enough to maintain a weight loss.
With that being said it doesn't take much to get to 150 grams of carbs a day. It's amazing the amount of carbs found in foods that you'd never expect. My biggest piece of advice, when starting any low carb diet, is to track!
However, not all carbs are created equal.
To experience the benefits of a low-carb diet it's important to keep the carbs you eat whole and unprocessed. For example, eat fruits and whole grains instead of white pasta and candy.
Below I'll share some low carb food ideas to enjoy and some to stay away from. Of course, this list isn't exhaustive but it's helpful when starting out with a low carb lifestyle.
Low Carb Food Ideas
Some of these foods have more carbs than others, but, overall these foods are on the lower end of carbs. My advice is to use My Fitness Pal, or Carb Manager, to track the amount of carbs your eating.
Vegetables
Avocado
Asparagus
Broccoli
Bell Pepper
Cauliflower
Green Beans
Lettuce
Mushrooms
Spinach
Zucchini
Fruits
Berries – Strawberries, raspberries, blackberries, and blueberries.
Plums
Cherries
Peaches
Kiwi
Nuts
Pecans
Brazil Nuts
Almonds
Macadamia
Oils
Olive Oil
Avocado oil
Coconut oil
Condiments
Mayonnaise
Mustard
Homemade salad dressings
Vinegars
Foods to Stay Away From When Reducing Carbs
Reading labels is important when starting with a low carb diet. Even something that says sugar free or low carb might still have more carbs than you're comfortable with.
White refined carbs – white breads, pasta, and flour takes the cake (literally) when it comes to the worst carbs. These foods are 100% processed and filled with carbs and sugar.
Whole grain options still have carbs but include more fiber and protein. This helps you stay full longer and prevents that crash and burn experienced with refined carbs.
Sugary creamers – Do you know that 1 tablespoon of French Vanilla coffee creamer has 5 grams of sugar? If you have 3 tablespoons of creamer, in a cup of coffee, twice a day that's 30 grams of sugar and carbs just in creamer.
My advice is to use heavy cream or drink it black. I was addicted to coffee creamer for decades and I struggled with weight loss because of it. I switched to heavy cream earlier this year and it was a huge game-changer for me.
Processed foods – In general, processed foods include a lot of sugar and carbs. Brands have come a long way by offering convenience processed foods that are low carb and even somewhat healthier.
However, most processed foods are filled with additives, preservatives, and other unclean ingredients to make foods low carb. So, again, read the label prior to purchasing.
Sticking with real foods will always be your best option when looking for a healthy low-carb option.
Fast-food – Even though most fast-food chains offer "healthier" options, I think we can all agree that heading to the drive-through isn't going to work for a low-carb diet.
High sugar fruits – Fruits have a lot of sugar in them – some more than others. The fruits with the most sugar are bananas, apples, dates, pineapple, and grapes. Truthfully, I don't completely remove these fruits from my diet. Instead, I just stay intentional when I want to eat one.
Low Carb Recipe Substitutions
You'll be happy to know that just about every recipe can be transformed into a low carb meal.
Here are my favorite substitutions.
Zucchini noodles (zoodles) or spaghetti squash instead of pasta.

Cauliflower rice instead of rice or other grains.

Mashed cauliflower instead of mashed potatoes.

Lettuce leaves instead of wraps or bread.

Portabello mushroom caps instead of buns or as a pizza crust.

Sliced zucchini or eggplant instead of lasagna noodles.

Almond or coconut flour for white flour when making desserts or baked goods.
Easy Low Carb Meal Prep Ideas
No matter the eating style you choose to follow, meal prep will make it easier to get started and stick with it.
However, if eating low carb is new to you then meal prep is essential. Without it, you're more likely to reach for carb-loaded meals if other healthy low carb options aren't available.
Here are some low carb meal prep ideas.
Prepare zoodles, spaghetti squash, and cauliflower rice – These are 3 of my favorite low carb substitutions for pasta and rice. The big downfall is they take time and effort to prepare. Time and effort you probably don't have during the week. So, taking time on the weekend to prep zoodles, spaghetti squash, and cauliflower rice will assure it's recipe ready and you'll eat it.
On a side note, a great shortcut is to purchase prepped zucchini noodles and cauliflower rice at the grocery stores. This is usually found in the produce section of the grocery store. Of course, it's going to be a little more expensive but if you're short on time it's worth it.
Wash and prep vegetables – Again, when the vegetables are recipe ready, or ready to eat, then you're more like to eat them.
Prep meats – Handling raw meats during the workweek is one of the things I dislike the most. So, I make it a priority to have meats recipe ready.
Here are some of my meal prep ideas for meats.
Cook and shred chicken, beef, or pork to use in recipes.

Marinate chicken to cook during the week.

Cook and chop or slice up chicken, beef, or pork to use in recipes.

Trim and prep meat to be recipe ready.
On a low-carb diet, you'll likely be eating a lot more meat and fish, so I recommend purchasing organic and grass-fed. High-quality meat makes a huge difference when focusing on your health.
Most large grocery stores offer organic and grass-fed high-quality meats. My favorite source is ButcherBox online meat delivery. It's honestly some of the best meat I've ever taste. You can learn more in my Butcher Box Review.
Prepare homemade dressings – Store-bought dressings are convenient but many have hidden sugars and carbs. Homemade dressings are easy to prepare with clean ingredients and without any added processed sugars.
Prepare complete meals – One of my favorite ways to prepare meals ahead of time is to cook the recipe completely and put together meal prep bowls. Yes, this means it's essentially leftovers but this method allows me to heat and eat when I'm ready for dinner. This saves time and stress.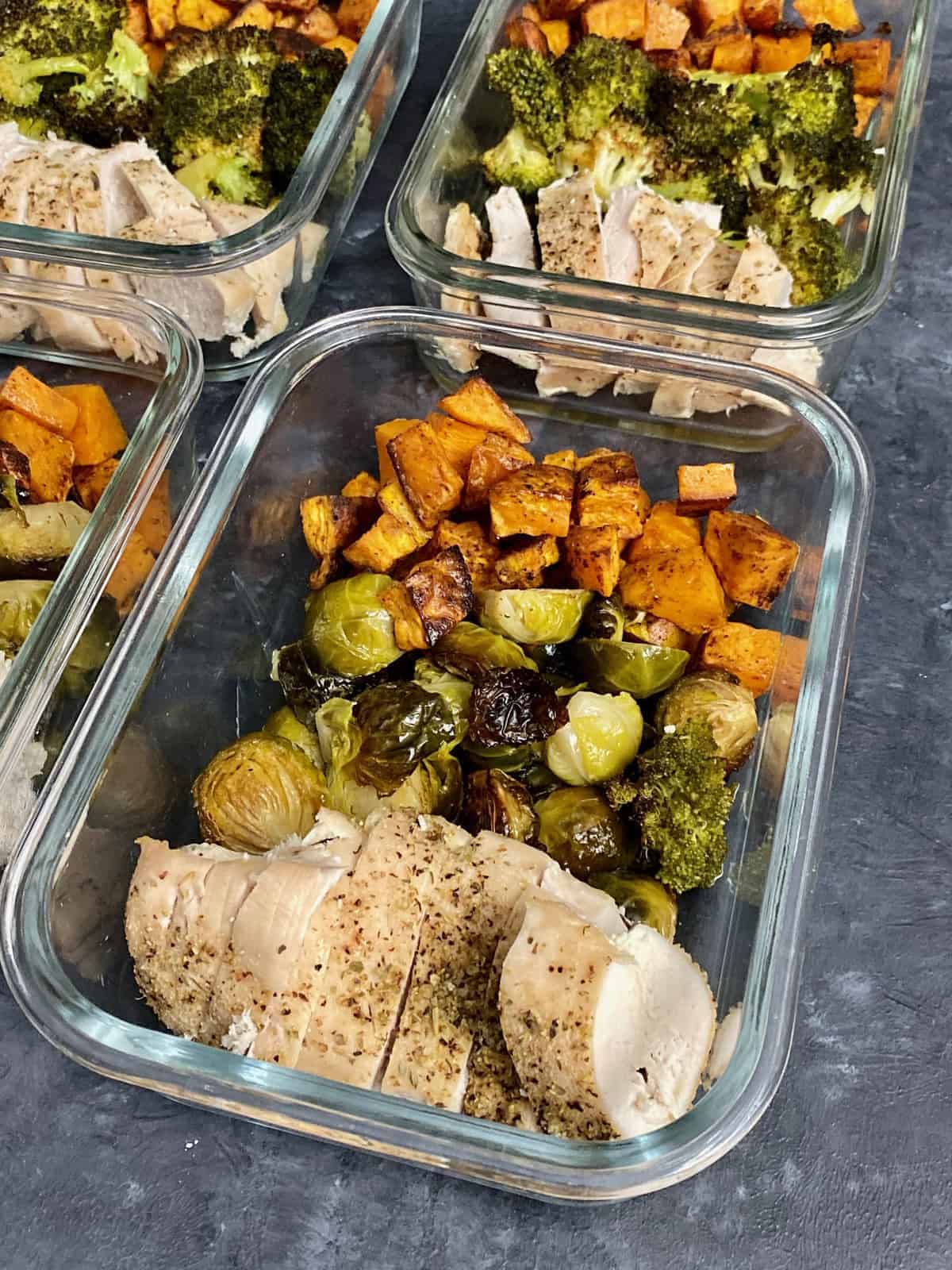 Low Carb Meal Prep Supplies
Spiralizer – make zoodles and other types of vegetable noodles.
Slow Cooker – I love to use my slow cooker for all of my shredded beef recipes.
Instant Pot – This is a great tool to have to make shredded meats or other quick low carb meals. This is the Instant Pot model I have.
Sheet Pans – If you like sheet pan dinners then grab a set of these Nordicware Sheet Pans.
Glass meal prep containers – Ello meal prep containers have become a favorite of mine. Here's the set I have.
You can see all my kitchen recommendations here.
Favorite Low Carb Meal Prep Recipes
Breakfast
Chicken Sausage and Peppers Egg Bake
Vegetarian Breakfast Casserole
Low Carb Chocolate Peanut Butter Smoothie
Low Carb Keto Pancakes by Wholesome Yum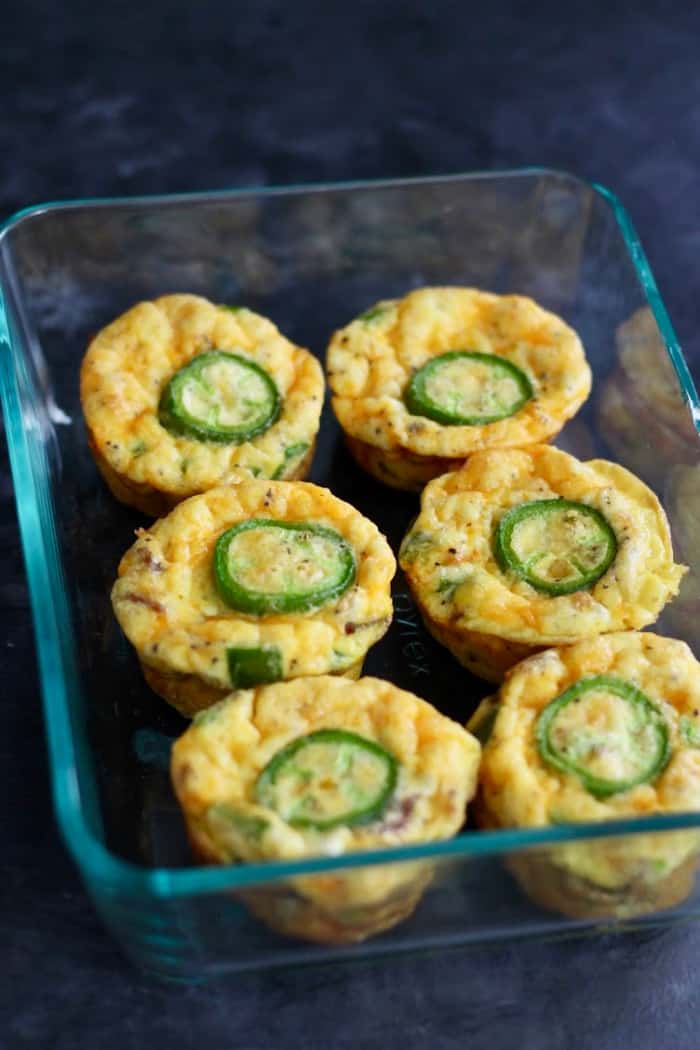 Lunch
Turkey Meatballs and Zoodles Bowl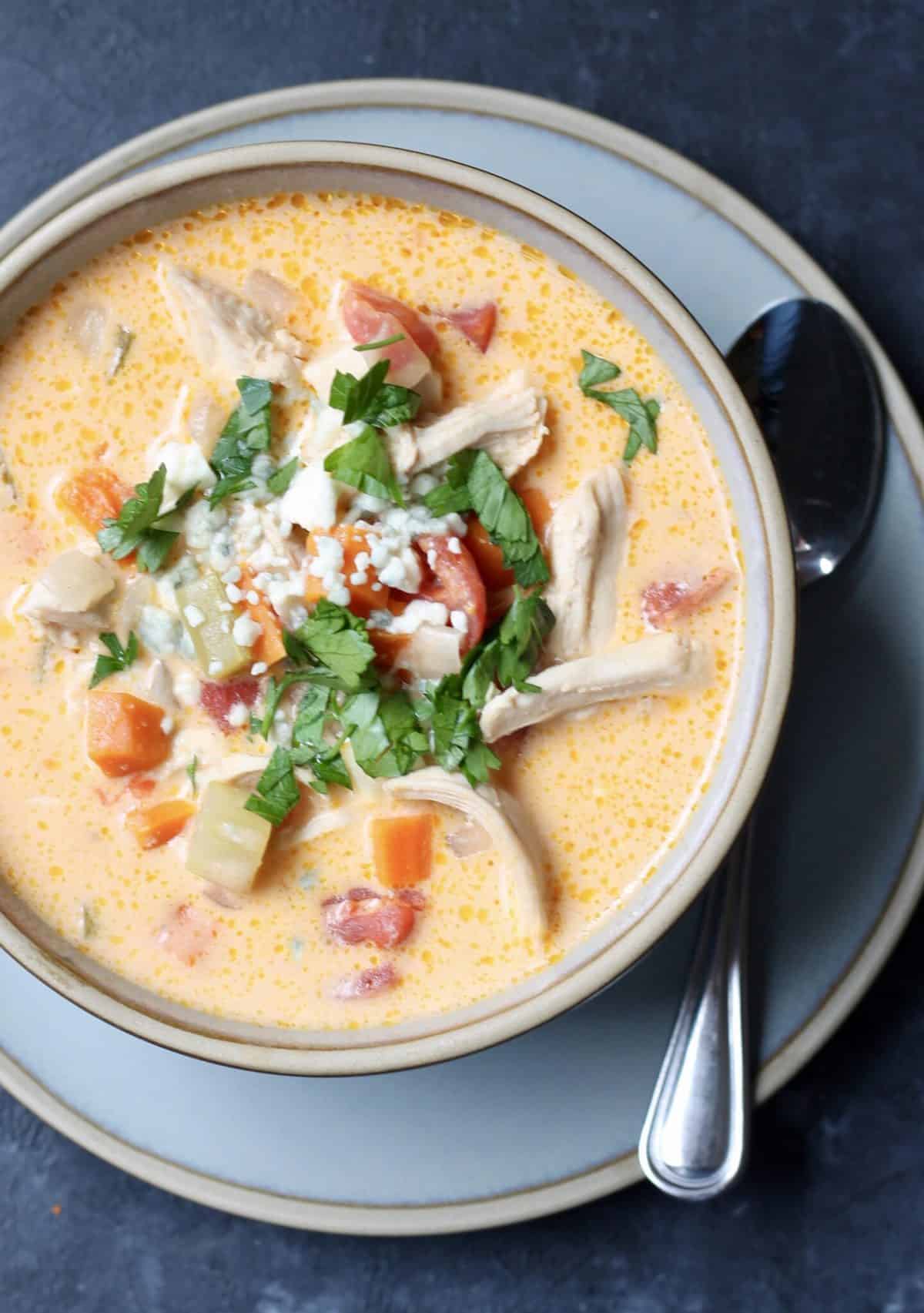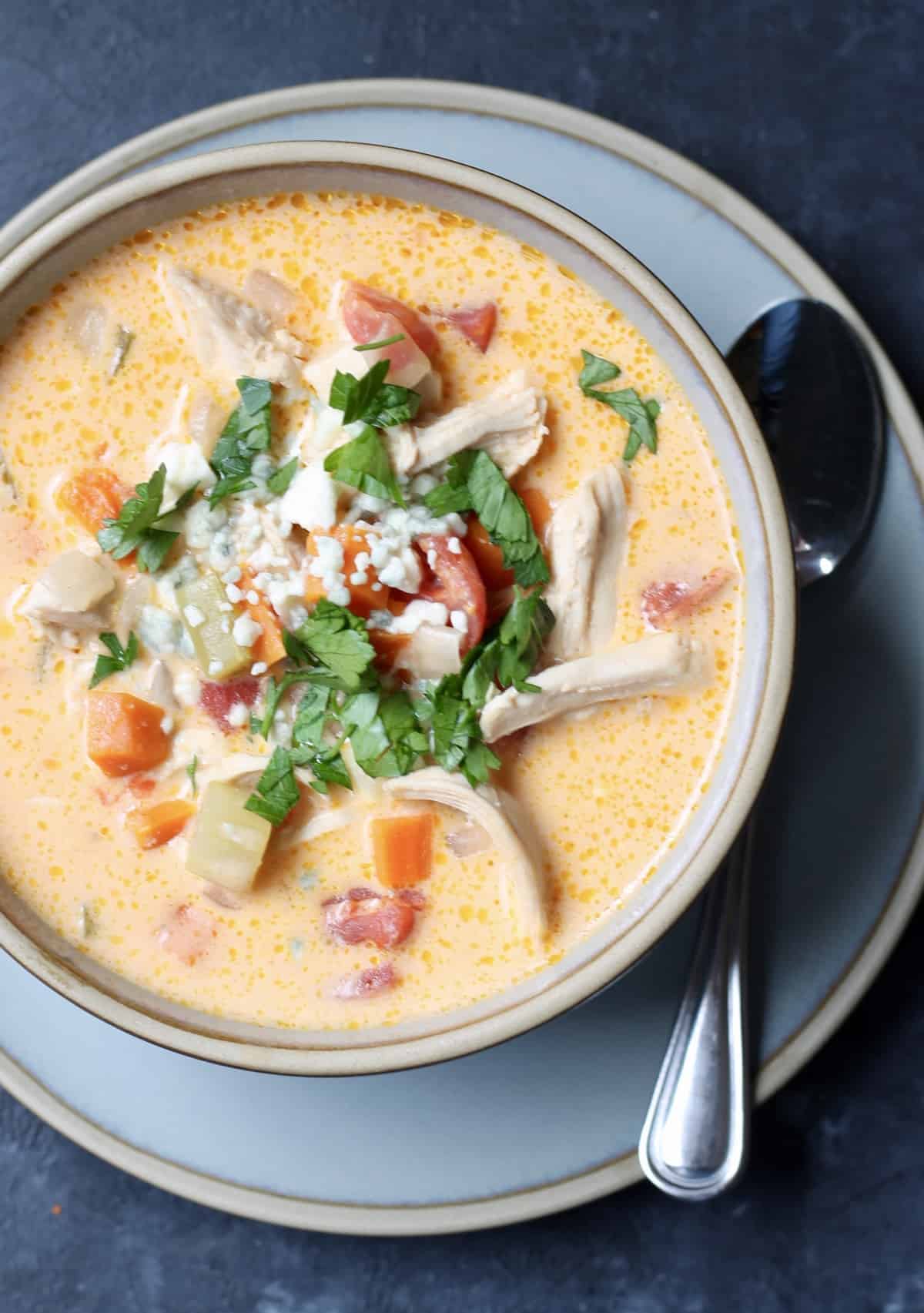 Dinner
Spaghetti Squash Alfredo with Chicken
One Pan Chicken and Veggies Sheet Pan Dinner
Caprese Portobello Mushroom Pizzas
Greek Chicken and Veggies Sheet Pan Dinner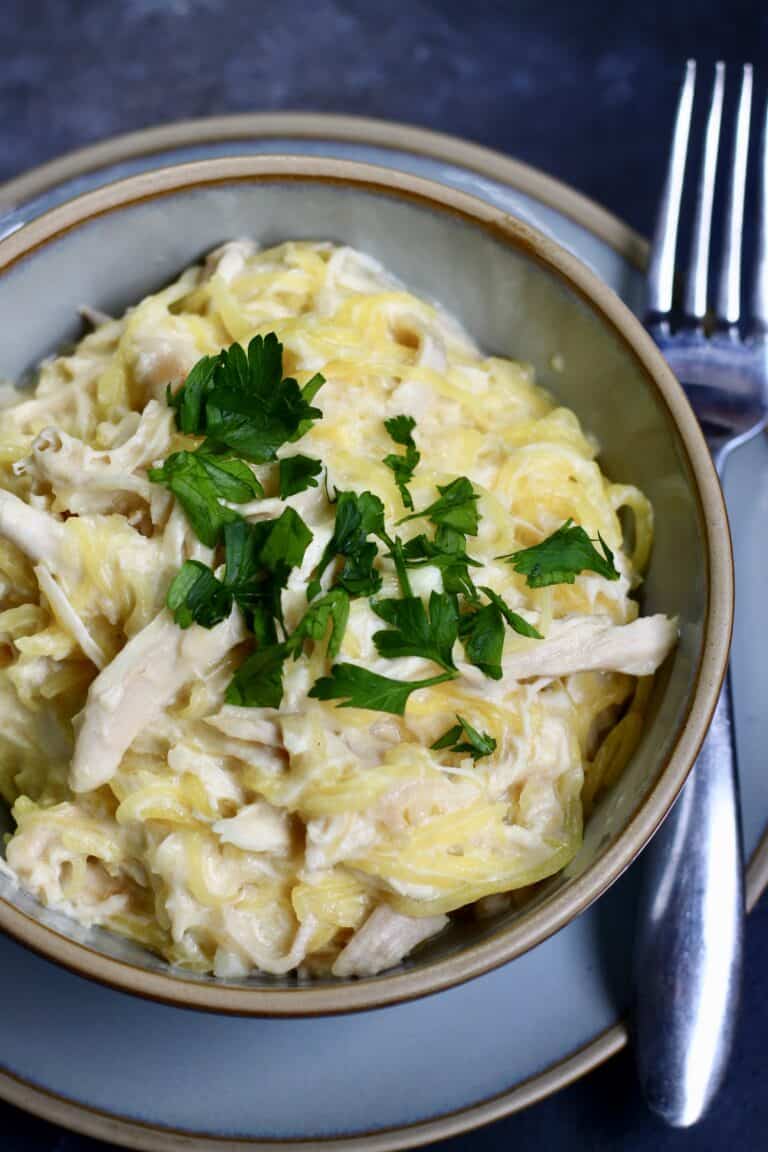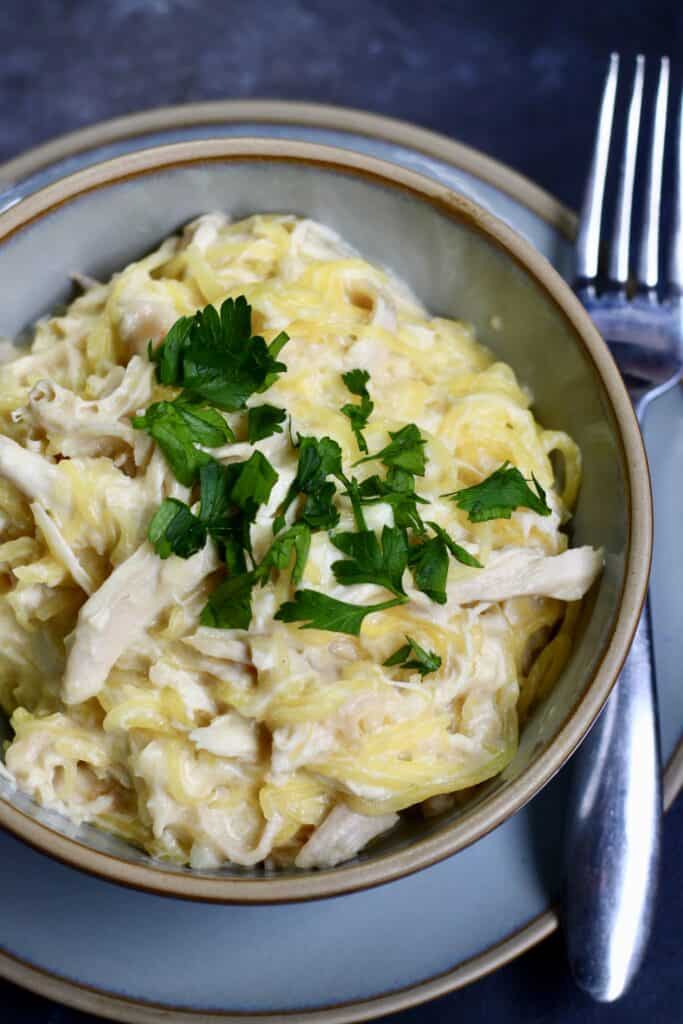 Other meal prep posts: