Eating a vegan diet has many benefits for your body and the environment. However, in our world that's dominated by meat and dairy products, it can seem close to impossible to start a vegan diet and sustain it. Meal prep is the solution I offer to anyone who's looking to eat healthier or transition to different eating styles. In this post, I'm going to share vegan meal prep tips, ideas, and recipes to keep you on track with plant-based eating!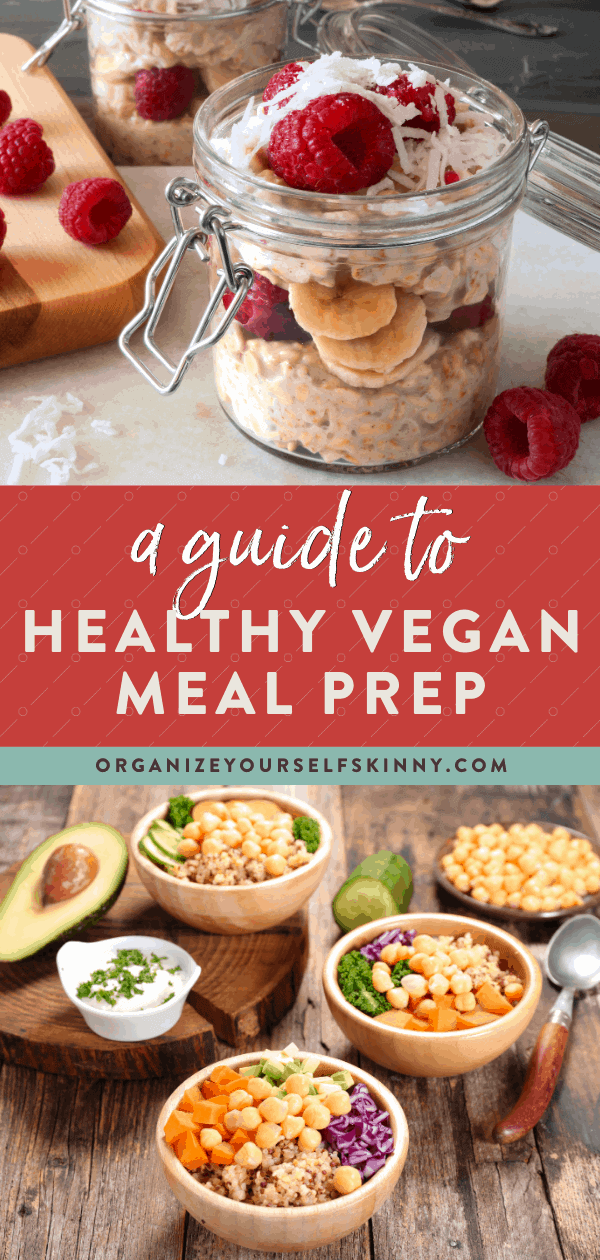 Thanks to TickTock and YouTube, my kids have found a new found love for vegan meals. They aren't 100% dedicated to a vegan lifestyle but slowly but surely, they are wanting more plant-based vegan meals and snacks.
To be honest, I can't really complain because I actually enjoy eating plant-based meals. On days I have a blueberry smoothie for breakfast and a detox mason jar salad for lunch, I feel like I can conquer the world. I'm never left feeling bloated or lethargic.
Instead, I feel energized, focused, and even lighter!
So while I'm not a die-hard vegan, I still acknowledge the benefits and work to fit vegan meals into my meal plan every week.
The challenge when starting to eat vegan is you most likely don't have the foods needed to stick with and continue with a vegan lifestyle. That's why it's so important to plan ahead of time.
How To Get Started With A Vegan Diet
You're probably not going to wake up one day and say "I'm going to eat vegan" and then poof -you've successfully transformed into a vegan. This will be especially true if you've been accustomed to eating dairy and meat.
The best way to start a vegan diet (or really any diet) is to do these 4 things.
1. Make the meals you're already familiar with but make them vegan.
In my opinion, this is one of the easiest ways to transition into any new eating style. Start with what you know and slowing make substitutions.
For example:
If making a chicken recipe, leave the chicken out, and add beans.
If it has some sort of dairy like cheese, leave the cheese out or substitute it with vegan cheese.
Substitute unsweetened almond or coconut milk for dairy milk in any recipe.
2. Research foods, ingredients, and recipes.
There are so many delicious vegan recipes available now!
Some use meat and dairy substitutes or others that use only natural plant-based ingredients. I suggest taking the time to get familiar with vegan recipes.
After you look through recipes, then put together a small list of recipes to try. You'll be surprised at the number of vegan recipes that are very similar to your family-favorites.
One of my favorite blogs that have some of the most delicious vegan recipes is Simply Quinoa! I highly recommend going over and taking a peek.
3. Create a meal plan.
When you decide to start a vegan lifestyle, one of the first things that you need to do is plan out your meals. This is because if you are used to not eating vegan, then it's likely you don't have the ingredients needed to put together different vegan recipes or foods.
So plan out your meals, put together a grocery list, and go shopping.
4. Meal prep your vegan recipes ahead of time.
I talk about meal prep all the time because I think that it is the best way to start and continue with a healthy eating lifestyle regardless of what eating style you're choosing.
When you have healthy meals ready ahead of time, you're more likely to eat healthily. After you have the ingredients for your recipes, then block out some time to meal prep. You are much more likely to succeed during the week when you start the week with your vegan recipes ready to eat or cook.
Check out this post on how to meal prep a week's worth of food all in one day!
Vegan Meal Kits
Another helpful tool to get started with eating vegan is to use a meal kit service. This will help with the meal planning process and will also send the ingredients right to your door. So, it works out great when you have no clue what to cook.
I find that meal kits are helpful for getting creative in the kitchen. I've learned so much about cooking techniques and ingredients by using meal kits. Purple Carrot is my go-to vegan meal kit company!
Their recipes are super easy to make and delicious. You can see my Purple Carrot Review for more information or if you're ready to give them a try then here's a Purple Carrot Coupon for $30 off 😉
Vegan Substitutes For Meat + Dairy-Based Ingredients
There are so many options today for people who want to eat vegan but still want to enjoy the comfort of cheesy pizzas or creamy comforting casseroles and soups, or even enjoy having a "burger". Being vegan is no longer just eating sprouts.
Here are some of my favorite vegan substitutes:
Vegan cheese – You can find shredded, blocked, or sliced vegan cheese. My favorite brand is Daiya but I've also enjoyed the Whole Foods 365 brand. While I wouldn't say it's a dead ringer for the real thing, it definitely curbs an ooey-gooey cheese craving. I've used vegan shredded cheese on pizza and in many pasta dishes. It's very good and even my kids like it! I've also purchase block vegan cheese and ate some with crackers. Again, it wasn't like the real thing but it was still very good.
Dairy-free sour cream, cream cheese, and yogurt – These substitutes work great on the side as a condiment or I've even used them stirred into sauces or soups to add creaminess.
Unsweetened coconut or almond milk – I've used both of these in cereal or just about any recipe that calls for milk. Even in this baked macaroni and cheese, I've successfully been able to substitute using non-dairy milk. In fact, I barely purchase dairy milk anymore. We use coconut or almond milk for everything!
Plant-based meats – There are many vegan "meat" options available. You can find crumbles to use in chili or tacos, patties to make vegan burgers out of, and there is also vegan chicken and chicken patties that can be used in a variety of recipes. I've used all of these plant-based meat substitutes many times and find them to work well in a variety of recipes. I like the Morning Star brand but the Impossible Burger is very good too.
Vegan Pantry Staples
Having a stock pantry is one of the best ways to assure you can always whip together a healthy vegan meal.
Thrive Market is one of my favorite online stores to purchase vegan essentials. You can get everything from dried beans, pasta, canned goods, snacks, and everything in between online from Thrive Market. You can read my Thrive Market Review for more information!
Here are some staples I recommend having on hand. Of course, you don't need to purchase everything upfront. I recommend starting with a few things and then build your pantry every time you shop.
Dried or canned beans. Beans are a staple in a vegan diet. They provide protein, fiber, and are cheap. Not to mention, they can be used in just about any recipe.
Pasta. I usually purchase whole-grain pasta. You can also stock up on gluten-free too if that's your preference.
Quinoa. Quinoa is a complete protein and is perfect to use in vegan recipes.
Rice and other grains. Again, I purchase whole grain for maximum nutritional value.
Vegetable stock. I love cooking rice, quinoa, and grains in vegetable stock for added flavor. This is also good to have on hand for soups, casseroles, or other recipes.
Olive oil. This provides good fats and can be used in salad dressing or to cook with.
Nuts, nut butter, and seeds. These are great for snacks, baking with, or to use in recipes for added fiber and protein.
Flour. I have white flour, whole wheat flour, and semolina flour on hand at all times. You can also keep almond flour or other gluten-free flours in stock.
Spices. Spices are essential to bringing flavor to any recipe. My favorite spices to have on hand are garlic powder, onion powder, Italian seasoning, thyme, chili powder, adobe chili powder. My favorite brand of spices is Simply Organic.
Canned and jarred items. Having your pantry stocked with canned items is so helpful to whip together a meal quickly. Of course, we always want to cook from scratch but let's be real- that isn't going to happen all the time. The canned goods I like to have on hand are canned tomatoes (all kinds), canned artichokes, olives, roasted red peppers, pepperoncini, pickled jalapenos, salsa, and spaghetti sauce.
Supplies Needed For Vegan Meal Prep
Here are the supplies I use when I prep vegan meals:
Rice cooker – I use this make big batches of rice and grains.
Slow cooker – I use this for numerous vegan recipes like marinara sauce and steel-cut oats.
Spiralizer – To make veggie noodles.
Food processor – For energy balls, hummus, or other recipes I need to process.
Blender – For smoothies. (These are the best blenders!)
Souper cubes – these are great for freezing individual portions of oatmeal, soups, chili, sauce, and other foods.
Freezer bags – these can be used for a variety of meal prep and freezer cooker.
Pyrex Simply Store glass containers – These come in various sizes and work great for storing recipes in the refrigerator. You can get a set or purchase the size you want individually.
Locking glass containers – These are great for storing in the refrigerator but they work well for bringing lunch to work or on the go. Since the lids lock, you don't need to worry about spillage. (These are the best glass containers!)
Mason jars – I use mason jars all the time for meal prep! The sizes I use the most are 16-ounce and 32-ounce. I prefer wide mouth but the regular mouth will work fine.
Plastic mason jar lids – Eventually, the metal lids that come with the mason jars will rust so I recommend picking up some plastic lids.
Vegan Meal Prep Tips And Ideas
Here are some basic vegan meal prep tips and ideas you can do on the weekend to help you stick with a plant-based eating style all week!
Cook rice, quinoa, and grains. Having grains ready makes it so much easier to whip together a rice bowl, cook a bake, or stir into some soup.
Cook steel-cut oats. I could've put this with grains but I wanted to list it on its own. Steel-cut oats are the perfect make-ahead breakfast. You can make a huge batch in the slow cooker and then keep some in the refrigerator to eat all week and then freeze the rest for breakfast throughout the month.
Prep vegetables. You can cut the vegetables and get them ready for snacking. Or, roast them to use in a variety of recipes all week. One of my favorite ways to eat roasted vegetables is on a pita with hummus. Yum!
Make salad dressing and sauces. These can be used in rice bowls, on salads, or in wraps.
Make soups and chilis. Most soups and chilis taste better as the days go on. So, make a big bowl of soup or chili on Sunday to enjoy all week.
The Best Vegan Meal Prep Recipes To Make Yourself
Okay, time for my favorite part!
Let's get to some of my favorite vegan meal prep recipes.
Vegan Breakfast Recipes
These are some of my go-to breakfast recipes when I am doing vegan meal prep.
Overnight Oats
Overnight oats are one of the easiest breakfast meal prep recipes you can make. You can whip together a few jars on Sunday or put together a bunch of overnight oat freezer packs to have ready to prepare.
You can view my instructions for overnight oats freezer packs to learn more!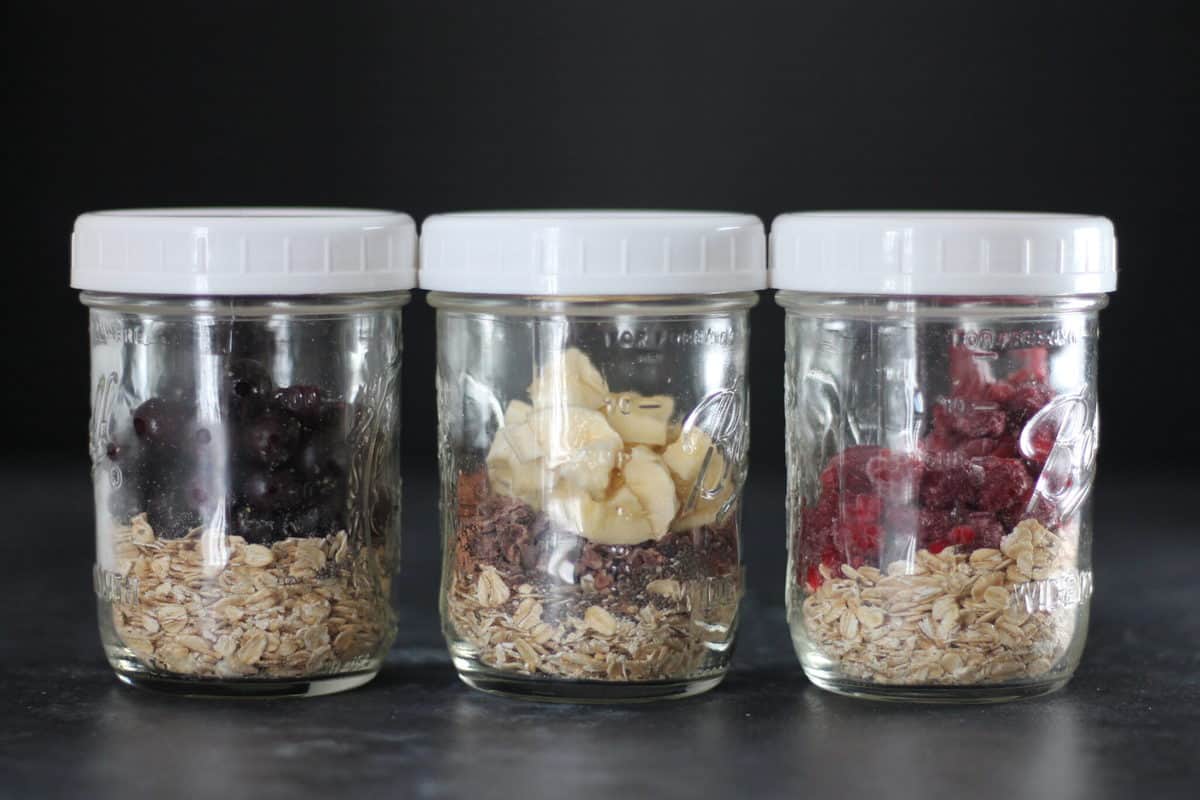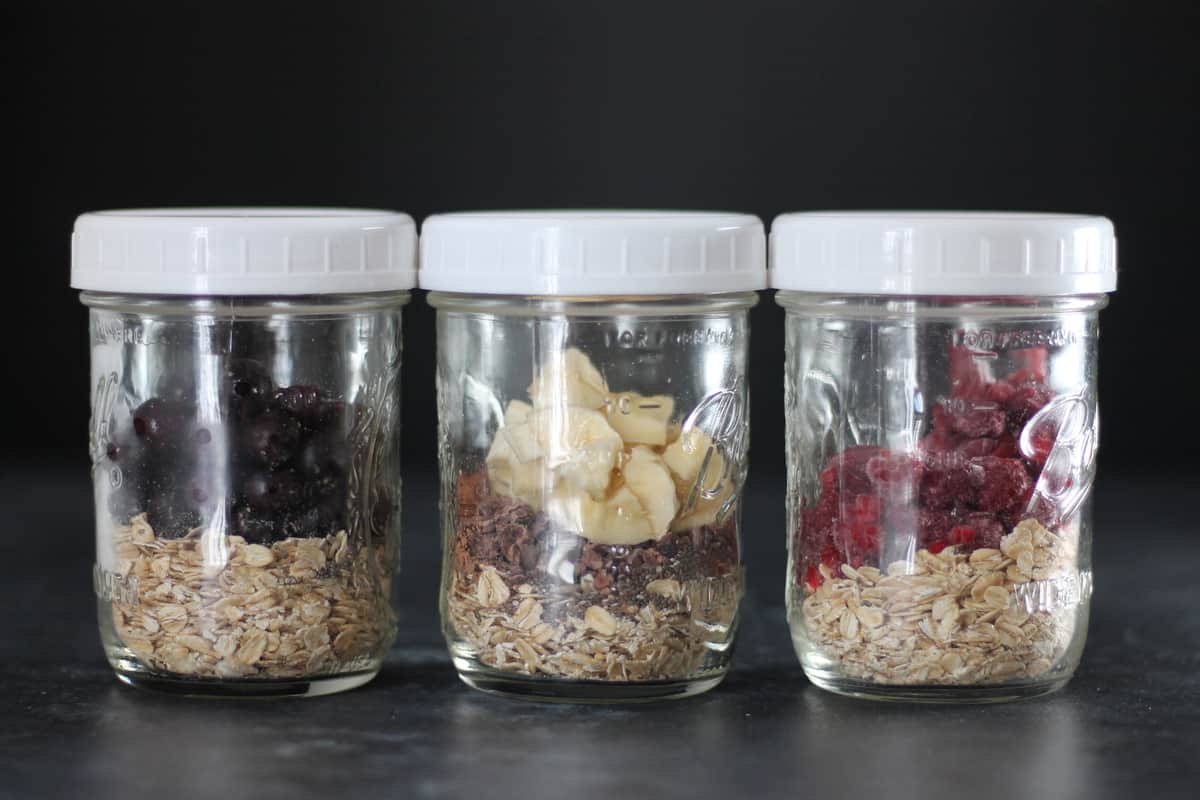 Here are my favorite recipes:
Note: You can find more vegan overnight oats recipes in this post.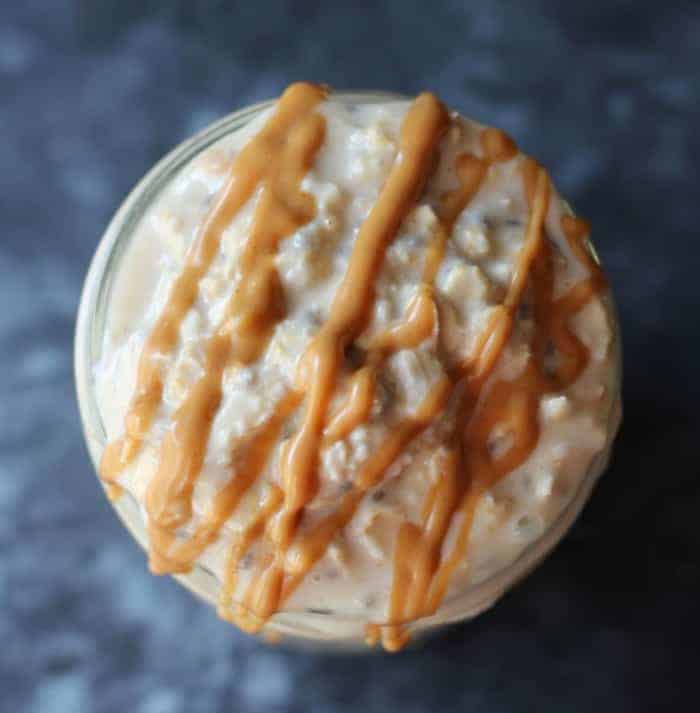 Steel-Cut Oats
A warm bowl of steel-cut oats is one of my favorite breakfast recipes. It's wholesome and hearty and you can stir nut butter, fruits, power foods, or add just about anything to add a nutritional punch.
To meal prep steel-cut oats, you can store in the refrigerator all week or you freeze into portions. I love using Souper Cubes to freeze into portions but you can also put into individual freezer bags or even use muffin pans.
Here are my favorite steel cut oat recipes: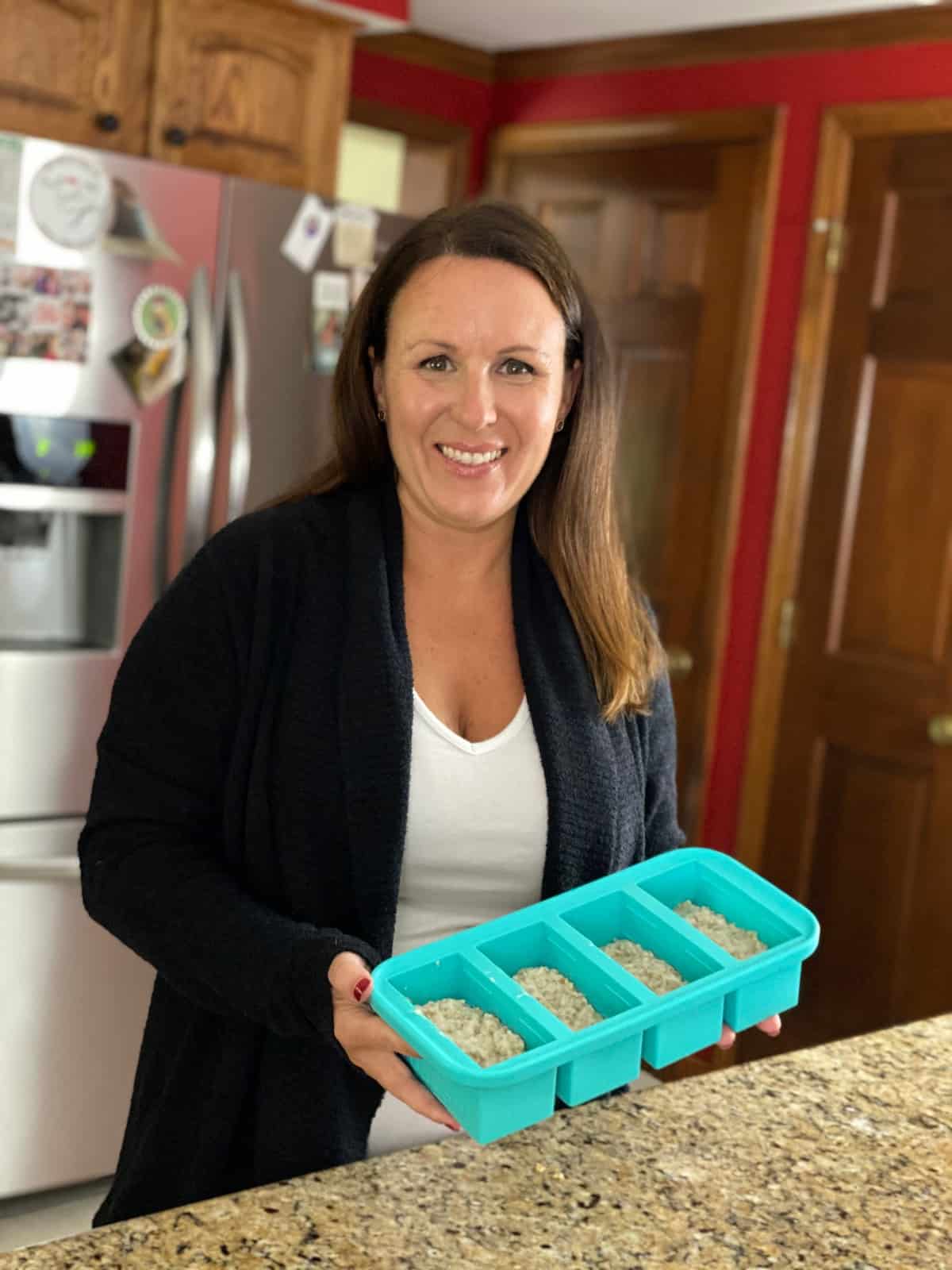 Smoothies
All of the smoothies recipes I make are vegan because I use unsweetened almond or coconut milk as the liquid and all non-dairy ingredients.
The best way to meal prep vegan smoothies ahead of time is to put together a couple of frozen smoothie packs. All you need to do is add all of the smoothie ingredients (except the liquid) into a freezer bag (disposable or reusable) and freeze. When you're ready to make the smoothie, just put all of the ingredients into a blender and add the liquid and blend.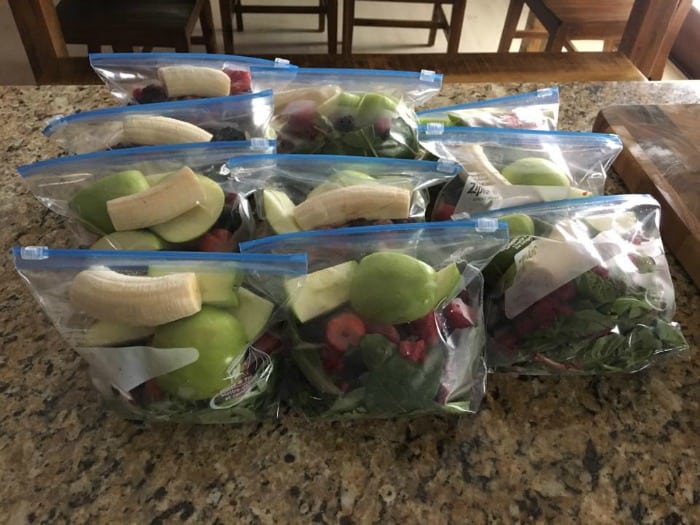 Here are my favorite smoothie recipes:
Note: If you don't like bananas, here a post on making breakfast smoothie recipes without bananas. Also, here are my thoughts on the best blender for smoothies!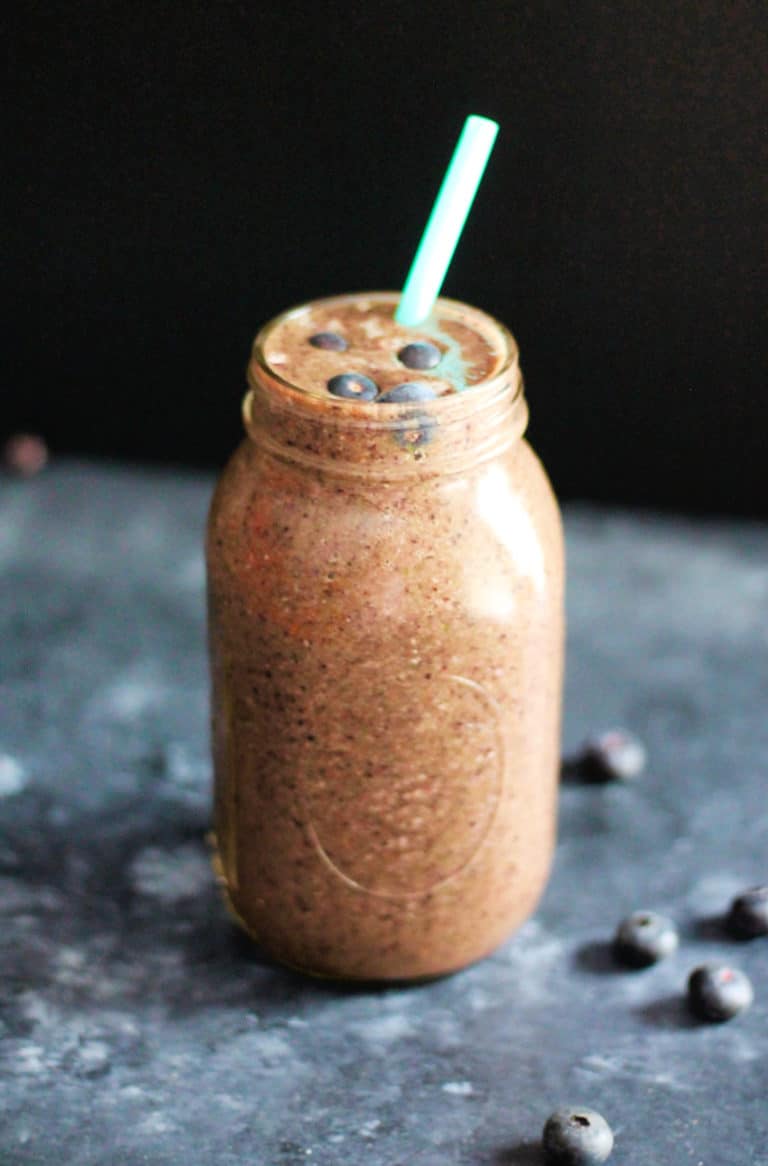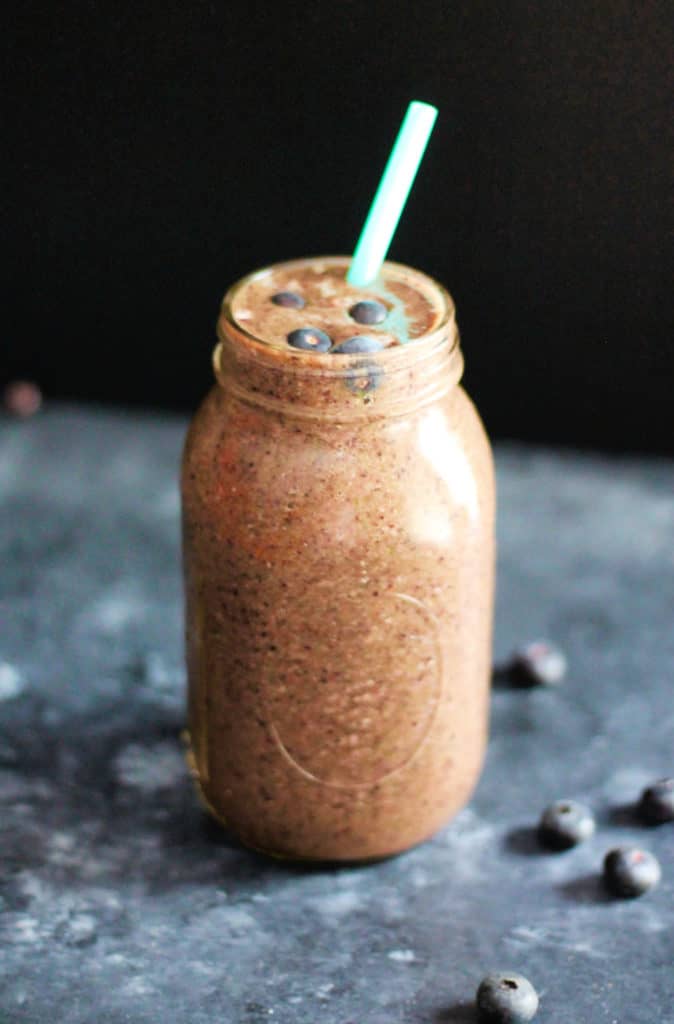 Vegan Lunch Recipes
These are some of my go-to lunch recipes when I am doing vegan meal prep.
Mason Jar Salads
What would be a blog post about meal prep without mason jar salads? They are truly my favorite lunch meal prep recipe! Any salad can be turned into a mason jar – see my instructions here.
Here are my 2 favorite vegan mason jar salads.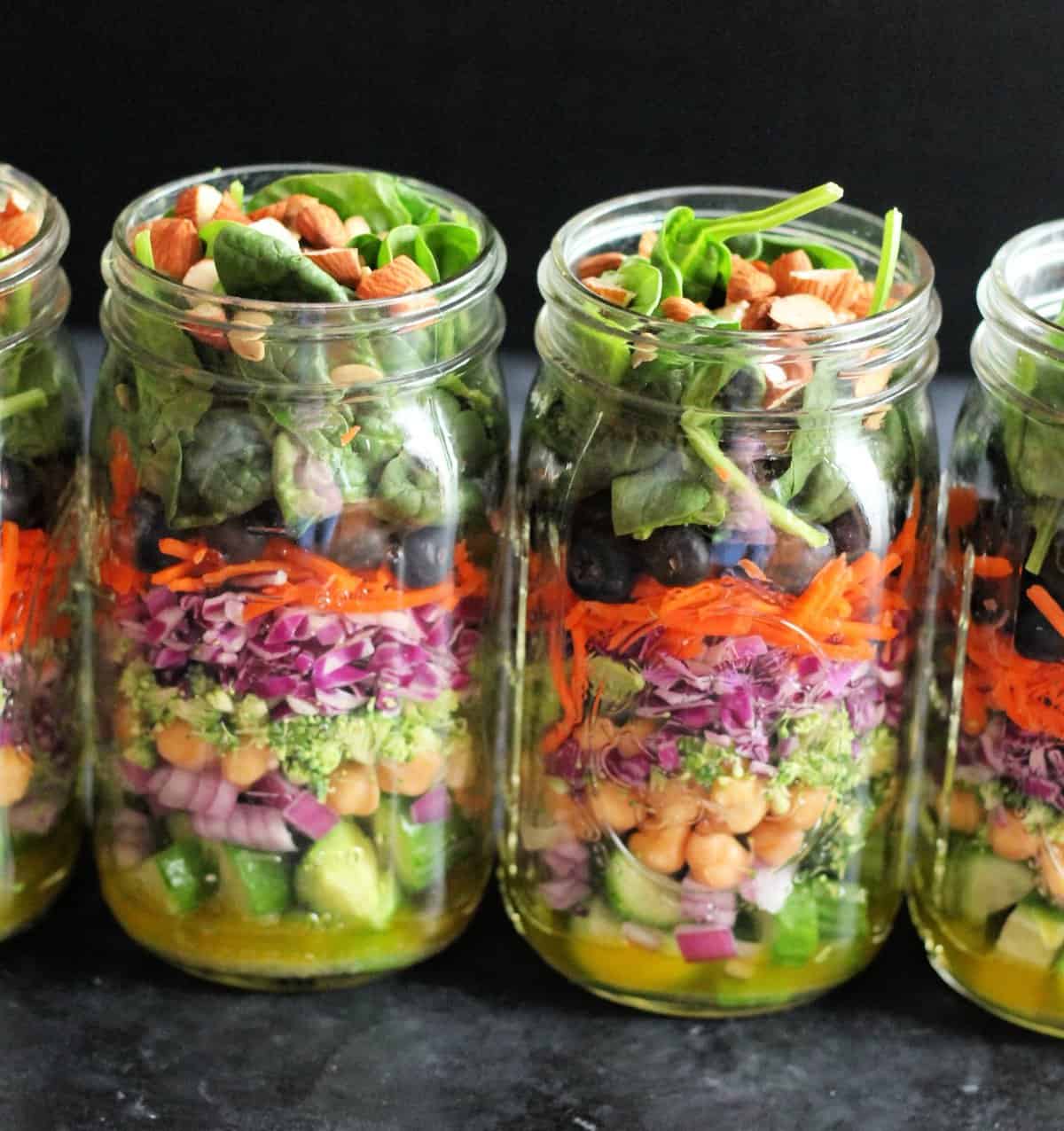 Vegan Salads
If you'd rather not layer your salad into a jar but would like a salad that will last all week in the refrigerator, then check out these salads!
I make these on Sunday, store them in a large bowl or a couple of bowls, and just scoop out what I want to each day – of course measuring it out to stay within calories for the day.
Here are 3 of my favorite salads: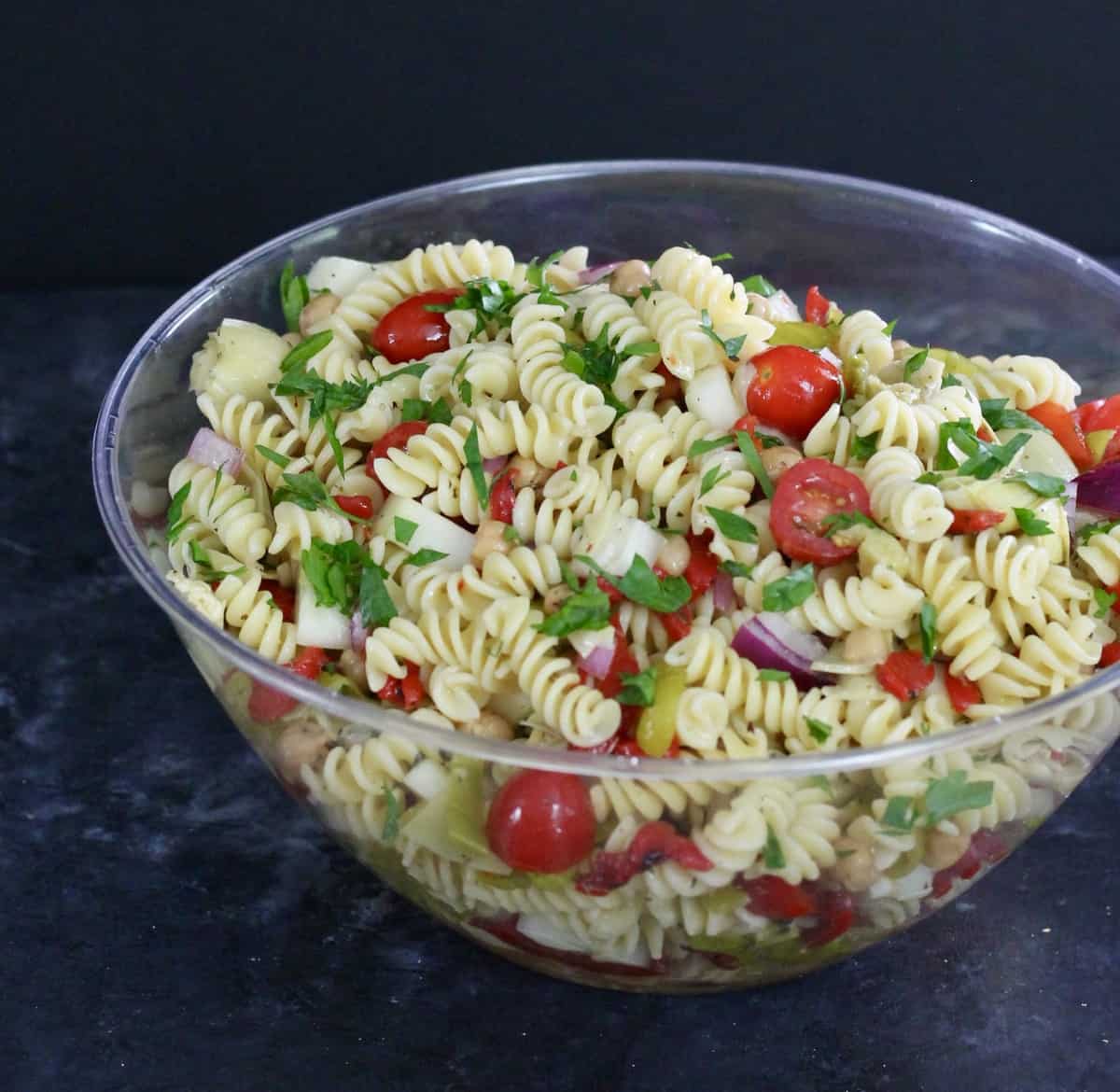 Wraps And Soups
If you want something other than a salad for lunch, then consider making a vegan wrap or soup. You can easily make any wrap or soup vegan with substitutions or leaving out the dairy or meat.
Wraps are a little trickier to make ahead of time. Most of the time, I'll just have the vegetables and/or other ingredients ready to make into a wrap. For soups, you can make a batch on Sunday and eat all week. You can also freeze into portions using the souper cubes I mentioned before or put into mason jars.
Here are my 2 favorite recipes for vegan wraps and soups:
Veggie and Hummus Wraps
Slow Cooker Butternut Squash Soup
Vegan Dinner Recipes
These are some of my go-to dinner recipes when I am doing vegan meal prep.
Note: Just like with all recipes dinners can easily be made vegan by substitutions or leaving out meat and dairy.
Soups, Chili, And Sauces
Soups, chili, and sauces are the perfect meal prep recipes to make ahead of time. You can make a batch on Sunday and keep in the refrigerator to use all week. Or, you can freeze into portions to have ready for dinners later in the month.
Here are some of my favorite vegan soup, chili, and sauce recipes:
Loaded Baked Potato Soup (Make this vegan by using unsweetened coconut milk, vegetable stock, and vegan cheese and bacon.)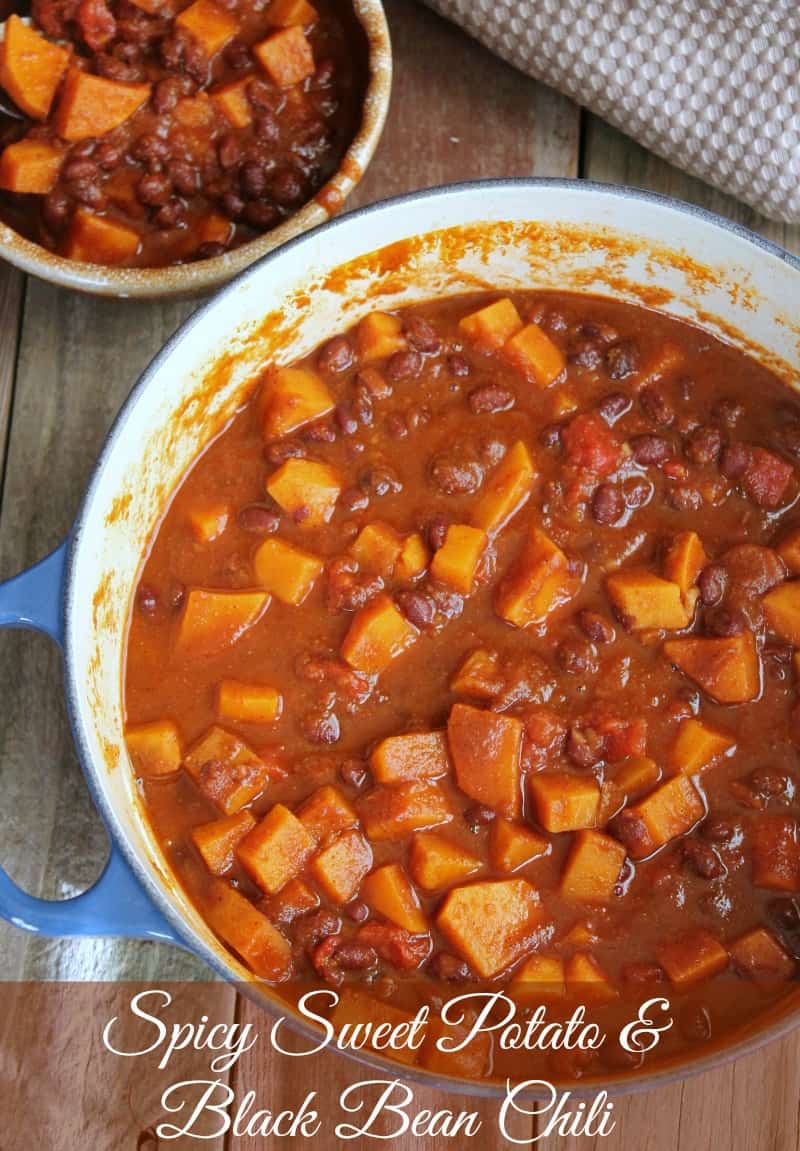 Bakes And Skillets
You don't need to give up comforting bakes and easy skillets when eating vegan. Simply substitute non-dairy milk and cheese and either leave out the meat or use a meat substitute.
Here are some of my favorites: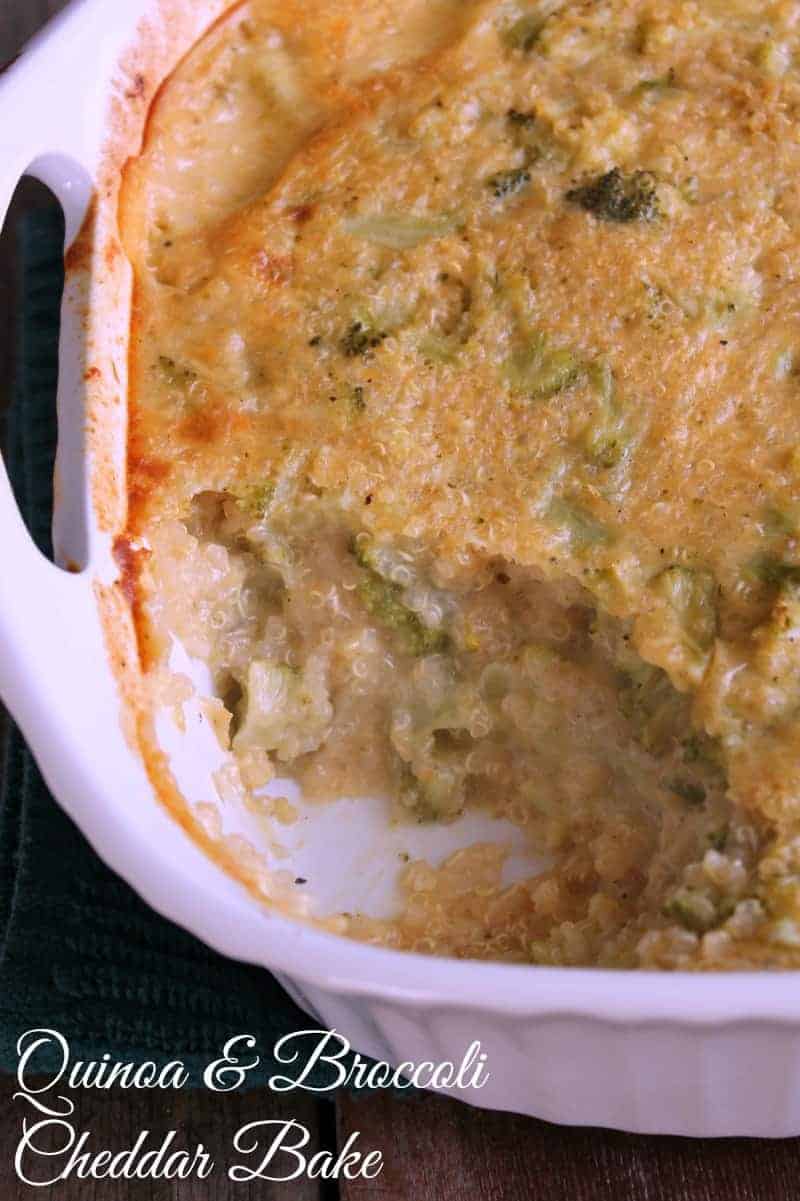 Pita Pizzas
If you're a pizza lover like me, then you'll be happy to know that pizza can still be on the menu. Simply use vegan cheese and vegan toppings. Here are all my tips for making the best pita pizzas!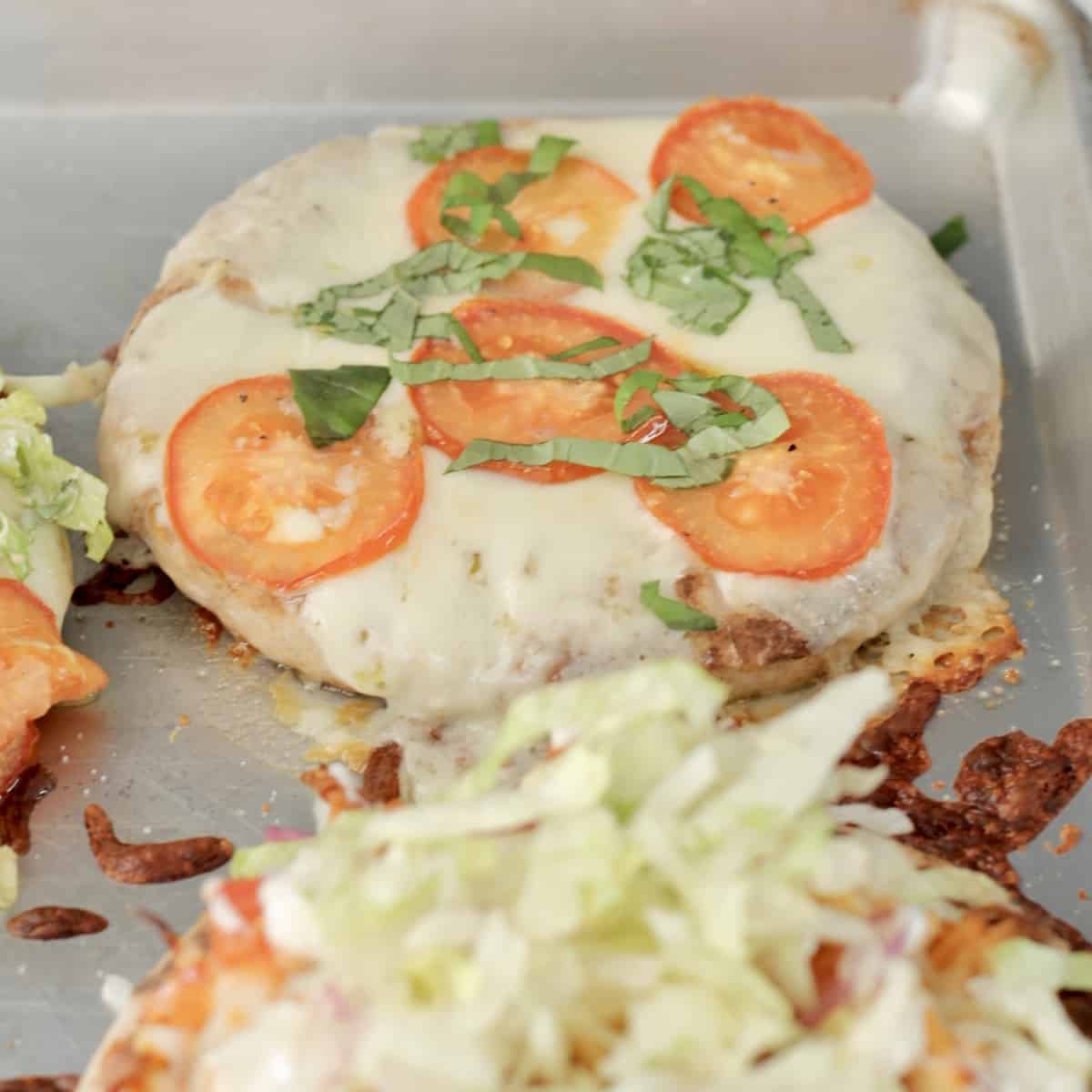 Vegan Snack Recipes
Don't forget the snacks!
I think it's so important to have a high protein snack to keep me full between meals. All of these vegan snacks can be made ahead of time and stored using a meal prep container in the refrigerator. You can even freeze snacks like energy balls and granola to have later in the month!
Energy balls
We are huge energy ball fans in my house. They are easy to make and don't require any cooking. You can store these in the refrigerator or in the freezer.
Here's a tutorial on how to make the best energy balls!
Here are my favorite vegan energy balls: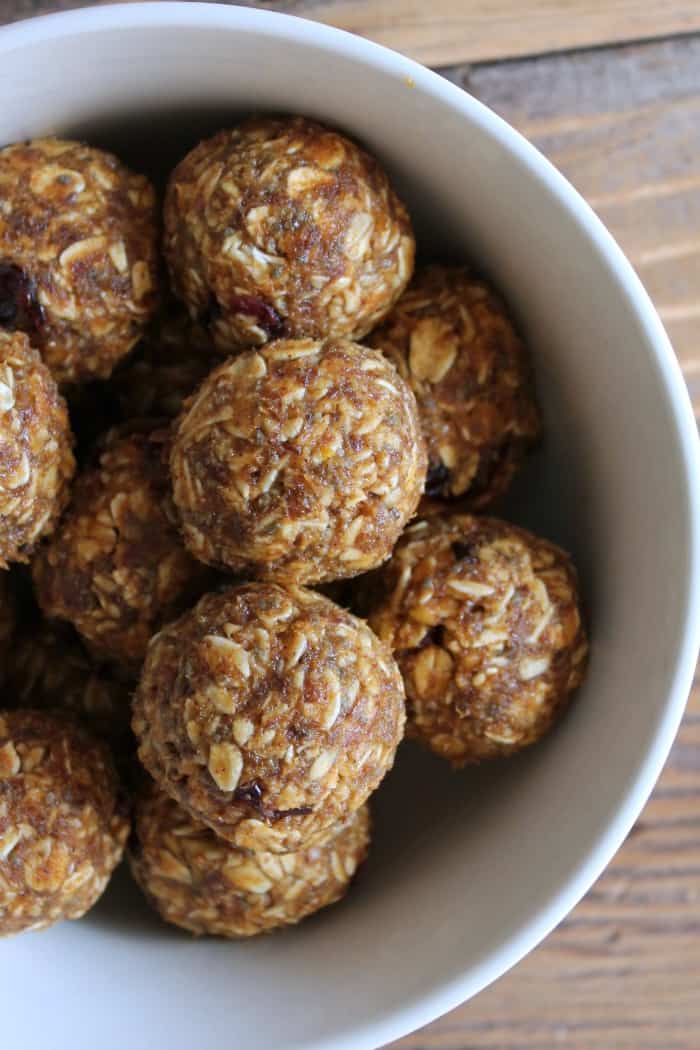 Granola
Granola is delicious in smoothie bowls, parfaits (using non-dairy yogurt), or enjoyed with some almond milk. It's easy to make and can be stored in a container all week in the refrigerator or on the counter. You can also freeze granola to have ready all month.
Here are my favorite vegan granola recipes: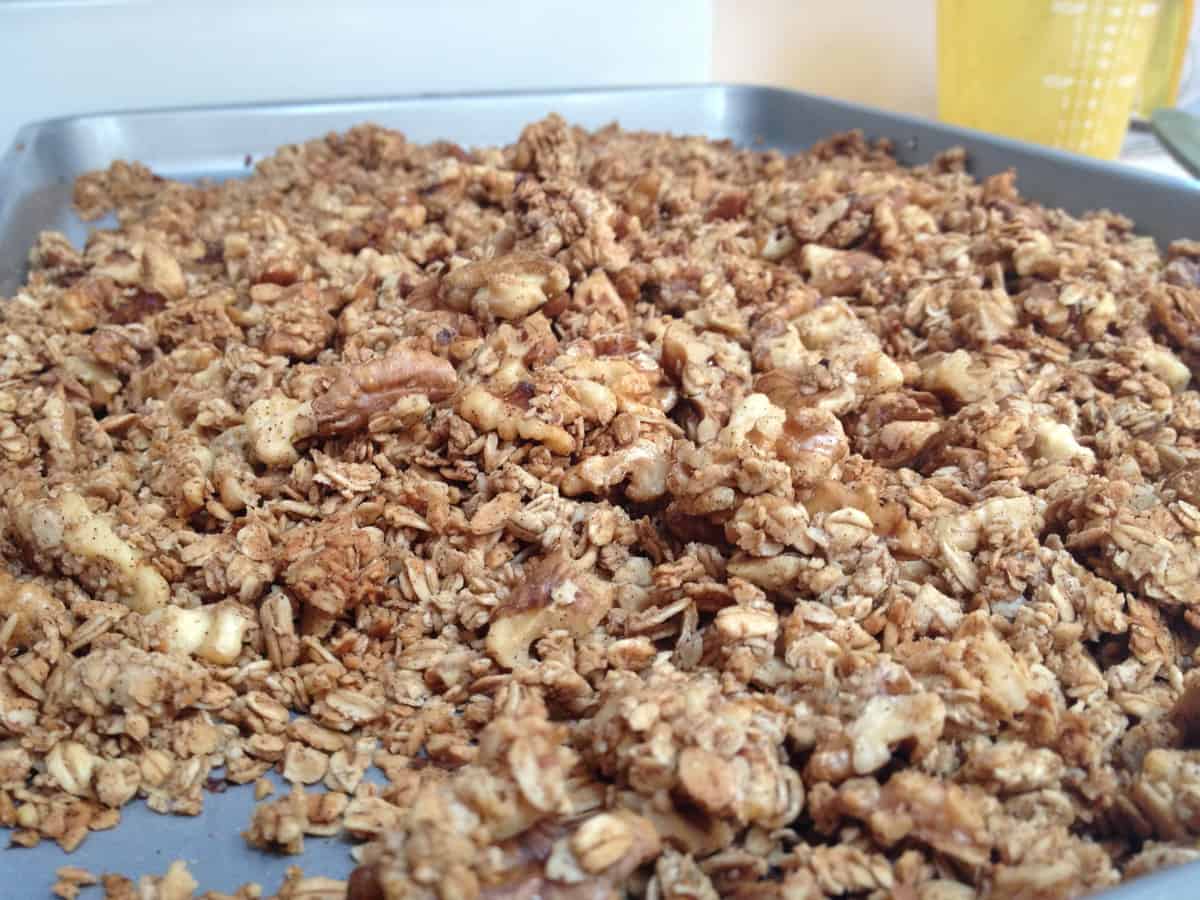 Share a picture and tag me on Instagram or Facebook if you decide to try any of these vegan meal prep ideas or recipes!