Pumpkin, tart dried cranberries, and warm spices rolled together with oats, almond butter, and pure maple syrup to create a delicious healthy energy bite recipe.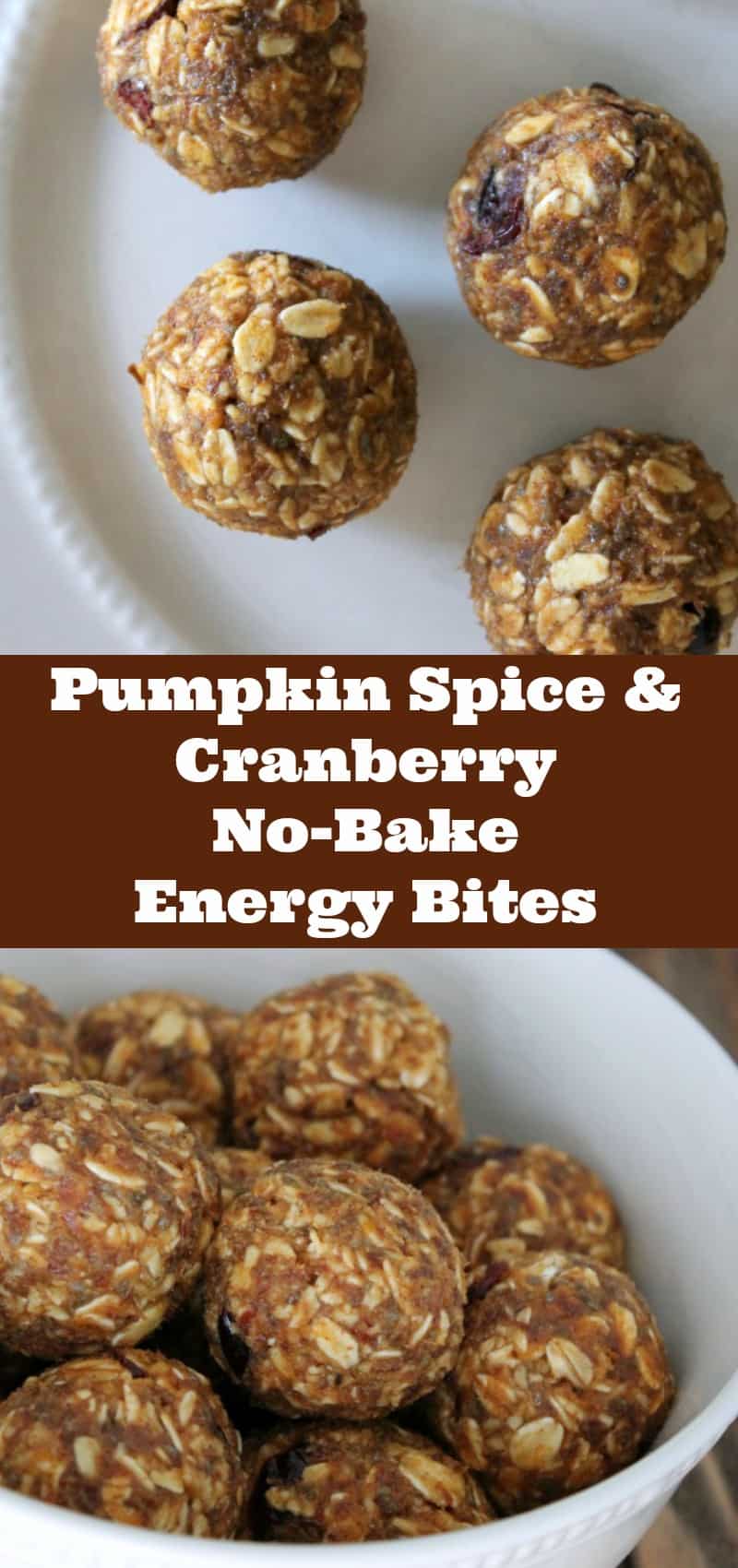 You know how it goes, right? Once I discover a new recipe I like you can bet there will be 20 different versions of it on my blog. It happened with overnight oats, mason jar salads, baked oatmeal, and now I would like you to introduce my new food obsession…energy bites. I made a no-bake peanut butter and chocolate energy bite recipe the other day using Medjool dates and oh mama those were good. Today I want to make a no-bake energy bite recipe using oats.
Since we are in the fall season I thought it was only appropriate to create a pumpkin spice energy bite. I know I said I was done with pumpkin recipes but a couple more came to me in my dreams so I must not ignore the recipe dream gods. The first one is this pumpkin spice energy bite recipe and next week I have a new pumpkin overnight oats recipe that is beyond yum. After that, I will try my hardest to move on to other fall favorites.
This recipe is simple to make. It uses basic pantry ingredients and doesn't need to bake. I do recommend letting the energy bites set for a few hours or overnight in the refrigerator thought. This gives the oats time to absorb some of the moisture and all the flavors to blend. I think these energy bites get better as the days go on.
Originally, I was going to use peanut butter in this recipe but for some reason pumpkin and peanut butter just didn't sit right with me. Plus, I've been meaning to try out almond butter for a while so I decided to pick up a jar. Just a quick side note to check out your local warehouse store for organic and/or specialty food items, I always find great prices. The almond butter, chia seeds, and vanilla extract I purchased at BJ's wholesale. I even purchase more pure maple syrup there the other day for a fraction of the cost at Wegmans.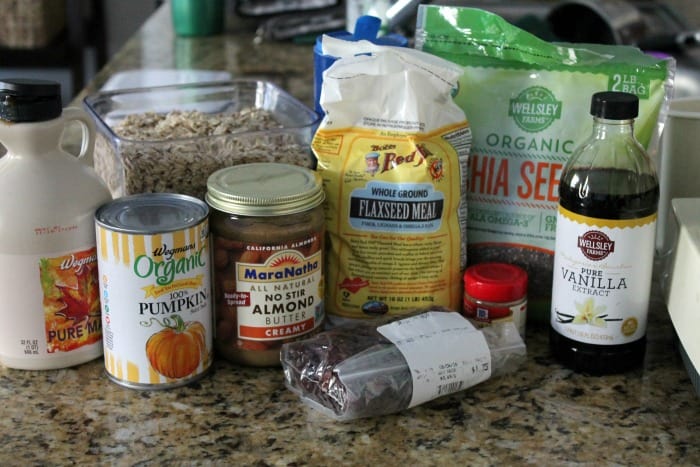 Back to the almond butter, I glad I went with it instead of peanut butter because the flavor was delicious with the pumpkin, cranberries, and spices. Speaking of cranberries I love dried cranberries in pumpkin recipes. The flavor just pops. The only issue is it's nearly impossible to find unsweetened dried cranberries anywhere. If you can find unsweetened then snatch a bag or two, if not then sweetened will have to do. Just something to keep in mind.
The rolled oats and ground flaxseed provide fiber to keep you full and energized. The chia seeds add protein, fiber, and omega-3 fatty acids. These small bites are filled with all kinds of wholesome goodness.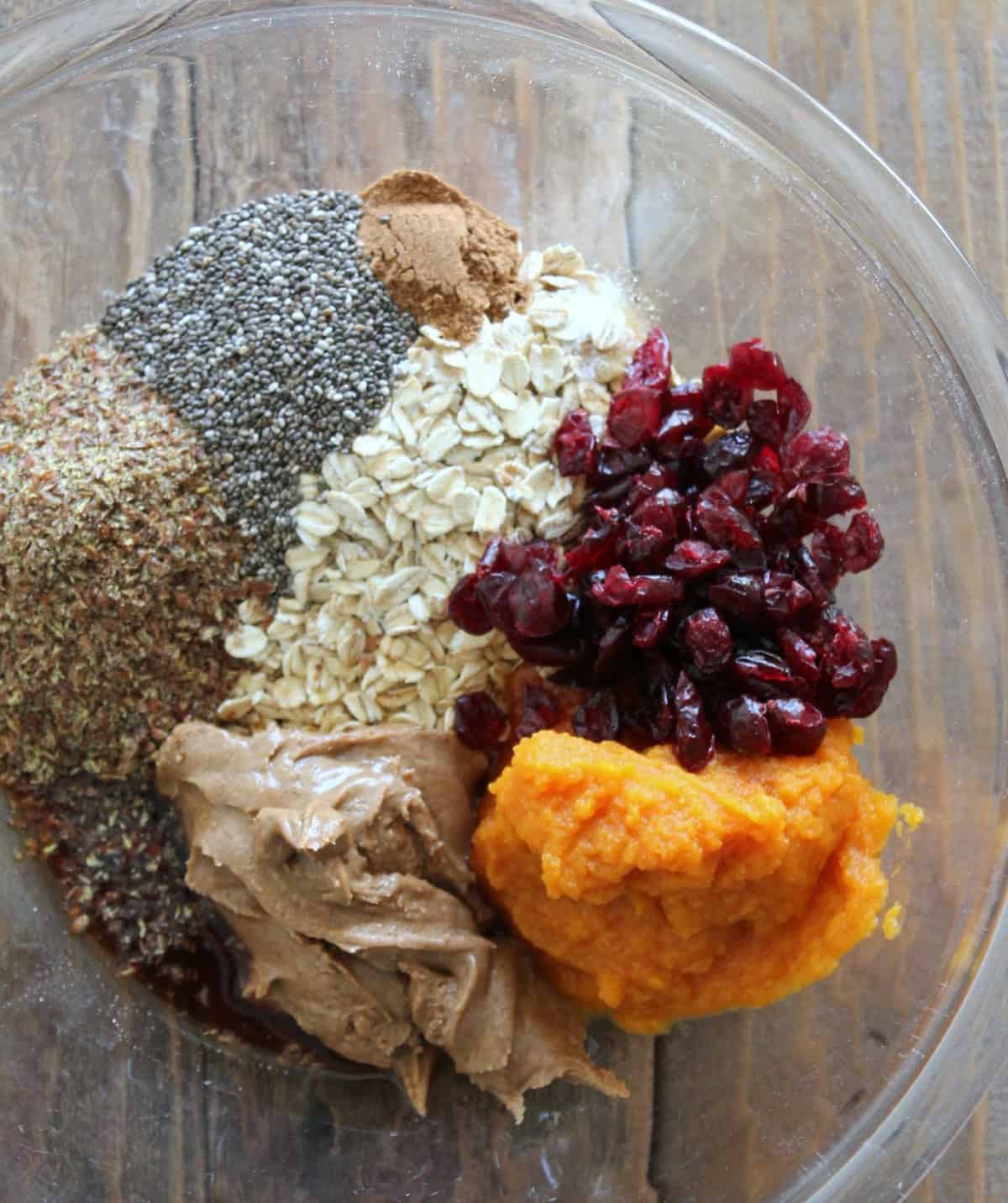 Now all you need to do is stir up the ingredients until they are combined. If you feel the batter is too wet then add a little more oats or ground flax seed. If the batter is to dry then add more pumpkin or almond butter. Keep in mind that the oats and chia seeds will absorb some liquid as it sets in the refrigerator so you don't want them to be to dry. You want it to be a little thicker than cookie batter.
After you combine the ingredients stick the batter into the refrigerator for about 1/2 hour. This gives the batter time to set and thicken up making it easier to roll into balls.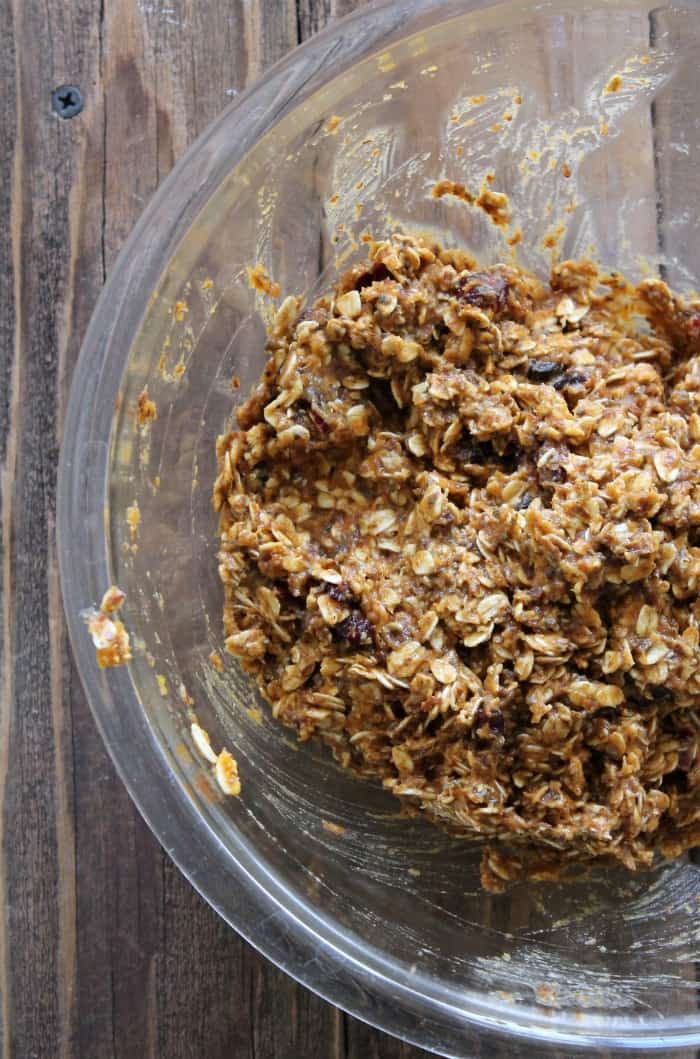 After the batter firms up roll into 20 balls and place into an airtight container and store in the refrigerator for 3 hours or overnight.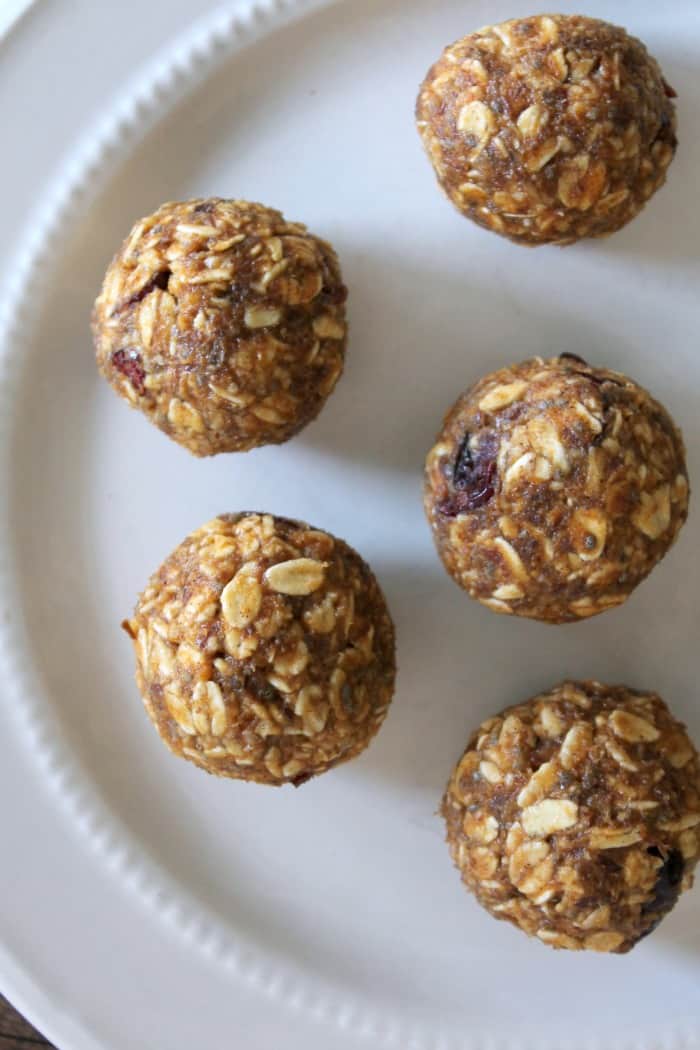 Personally, I think energy bites taste better if they sit overnight. The oats soak up the liquid and the flavors blend perfectly.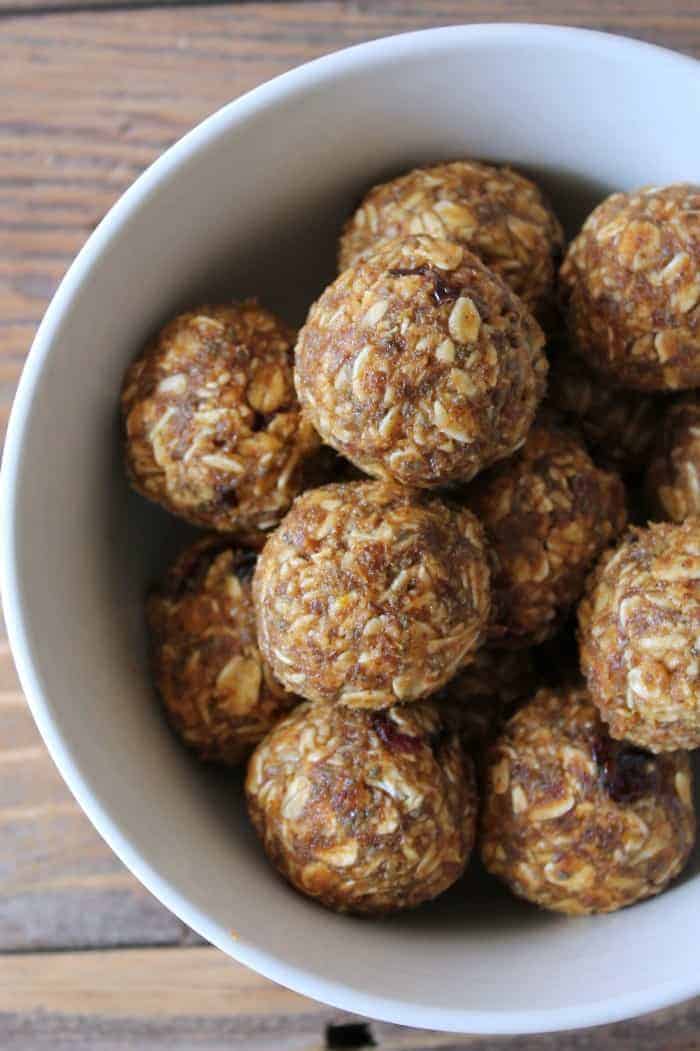 Each pumpkin spice energy bite is 90 calories with 3 grams of good fat, 14 grams of carbs, 2 grams of fiber, 7 grams of sugar, and 2 grams of protein. These are great for a quick bite before the gym or to get you through the mid afternoon slump.
I am definitely an energy bite fan. These are so easy to make and perfect for a healthy grab and go snack. My kids love them too so I can stick a couple in their lunches and I know they will enjoy a nice healthy snack during the day.
I plan to make many more energy bite variations so stay on the look out for new healthy energy bite recipes!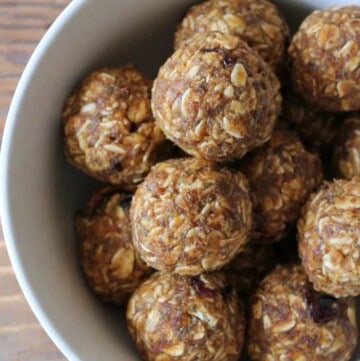 Ingredients
1 1/2

cups

rolled oats

1/4

cup

ground flax seed

1

tablespoon

chia seeds

1/4

cup

canned pumpkin puree

1/3

cup

pure maple syrup

1/2

cup

almond butter

1/4

cup

dried cranberries

1

teaspoon

vanilla

1

teaspoon

pumpkin spice

small pinch salt
Instructions
Place all of the ingredients into a large mixing bowl.

Stir until the ingredients are combined. If the batter is too wet add more oats or flax seed. If it's too dry then add more almond butter or pumpkin.

Place the batter in the refrigerator for 1/2 hour or until it firms up. This makes it easier to roll the balls.

Roll into 20 balls. Place into an airtight container. Refrigerate 3 hours or overnight.

Enjoy!
Notes
Sugar: 7 grams
Make-ahead tips
These energy bites can be made completely ahead of time and stored in the refrigerator for up to 7 days and in the freezer up to 3 months.
Nutrition
Serving:
1
g
|
Calories:
90
kcal
|
Carbohydrates:
14
g
|
Protein:
2
g
|
Fat:
3
g
|
Fiber:
2
g