Medjool dates, peanut butter, and cocoa powder blended together to create these delicious chocolate peanut butter energy balls! If you crave Reese Peanut Butter cups then this snack recipe is exactly what you need but without the added sugar or processed ingredients. You're welcome!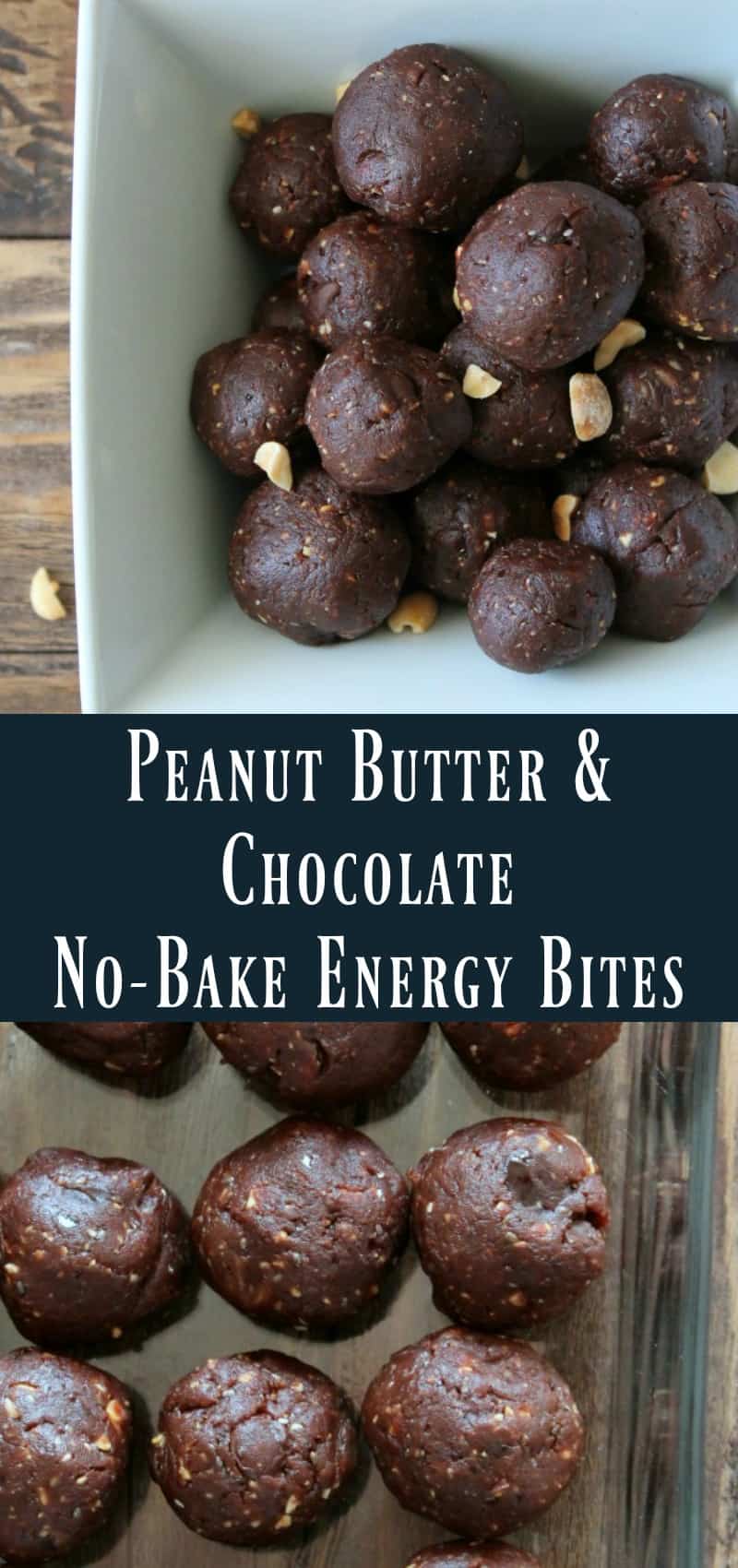 If you haven't made energy bites yet then you need to make these Chocolate Peanut Butter Energy Balls today. Like right now.
I don't know what takes me so long to get on the food blogger band wagon but once again others have been making energy bites for years and here's me just getting around to it.
There are 1000s of energy bite recipes on Pinterest. Also called energy balls or energy bites. I've seen them made with oats, Medjool dates, oats and Medjool dates, and a million ingredients thrown in to make a million different energy bite creations.
For my first energy bite recipe I decided to keep it simple with a basic recipe using Medjool dates. And by basic recipe I mean mixing it with peanut butter and cocoa powder because that's how I roll. Holla to this these Chocolate Peanut Butter Energy Balls!
I found these dates in the bulk section at Wegmans. They were right along side all the other dried fruit. Before throwing them in my food processor I decide to soak the dates in warm water to soften them up a bit.
I didn't inherently know to do this but after I touch one I thought it felt a little hard so I did research and google told me it's best to soak if blending for a recipe. So that's what I did. I soaked the Medjool dates for about 10 minutes in warm tap water.
The I drained the dates and added them, along with the other ingredients, into the food processor. You can uses a blender if you don't have a processor. I used creamy organic peanut butter, unsweetened cocoa powder, peanuts, chia seeds, vanilla, and a small dash of salt. Do you see where I'm going here? My favorite candy flavors are about to be blended into a healthy energy ball. Can I get an Amen?!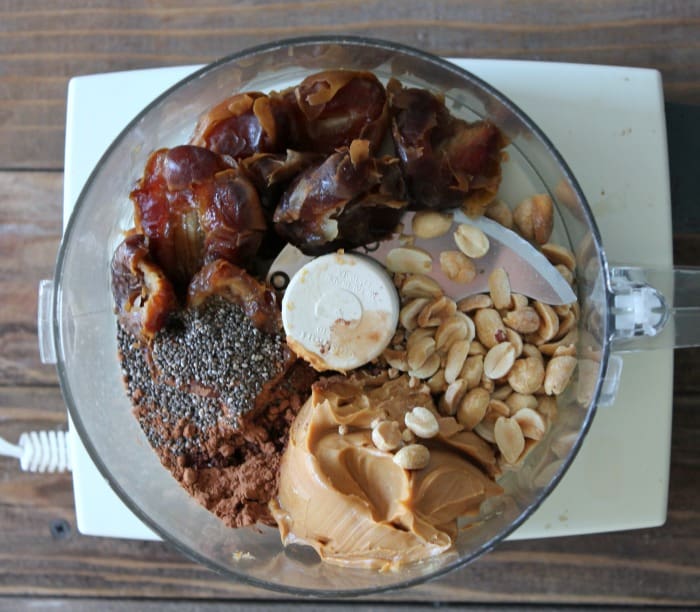 Let's do this!
Pulse the ingredients until everything is blended together and forms a thick dough. I did need to add 1 tablespoon of water for moisture. Once the dough holds together and you can form a ball you're good to go. You are going to notice that this dough resembles the consistency of a Lara Bar. That's because it basically is a homemade Lara Bar. So if you wanted to make these into bars you can lay parchment paper into a pan and press the dough out. Give it time to chill in the refrigerator and then cut into bars. Easy.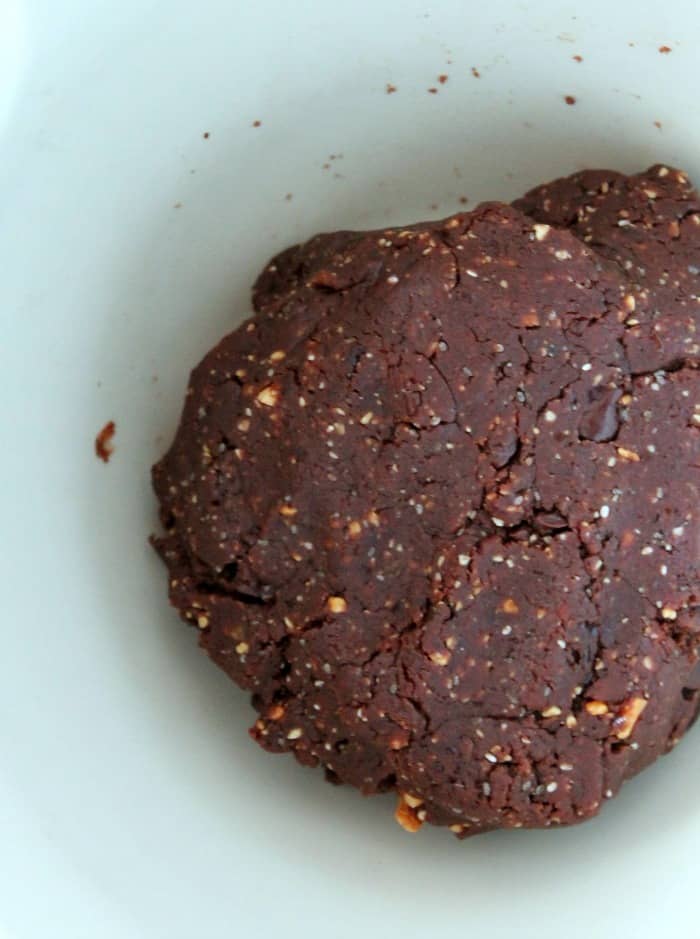 I decide to stick with energy balls. I rolled the dough into 20 energy bites, placed in a glass pyrex container, and stored it in the refrigerator. You can also freeze energy bites. If you have little self-control around anything that includes chocolate and peanut butter (like the person who writes this blog) then I recommend freezing the bites. Healthy or not eating 20 energy balls in one sitting will not be your best moment ever…just sayin.
Now lets talk about the taste. Anytime I make a recipe that includes my two favorite ingredients I have high hopes. Let me tell you this recipe did not disappoint. These Chocolate Peanut Butter Energy Balls are rich decadent bites of chocolate and peanut butter. They're almost like fudge balls. It's hard to believe that all of the sweetness comes from the Medjool dates and no added sugar. YUM! And I love the crunch from the peanuts and chia seeds.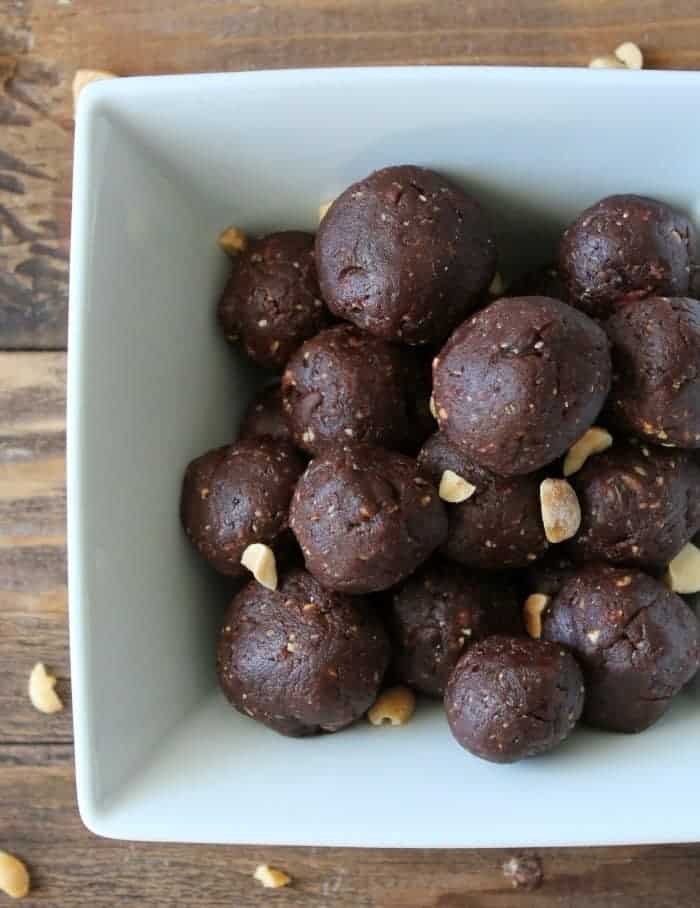 I recommend letting the energy bites set in the refrigerator for a few hours or overnight. This gives the bites more time to firm up and all the flavors to blend.
Each bite has 103 calories, 5 grams fat, 2 grams fiber, 3 grams protein, and 9 grams sugar. This week I enjoyed 2 for a mid-morning snack and felt full and satisfied. But…there's always a but…you need to be careful with these Chocolate Peanut Butter Energy Balls because they are good and do taste very dessert-like. It's very easy to keep picking at them so like I said if this is a problem I recommend portioning out into snack bags and freezing.
I hope you make these Chocolate Peanut Butter Energy Balls. It's a healthy way to curb your chocolate cravings without added sugar and processed ingredients.
Check out this energy ball tutorial which includes a list of my favorite energy ball recipes.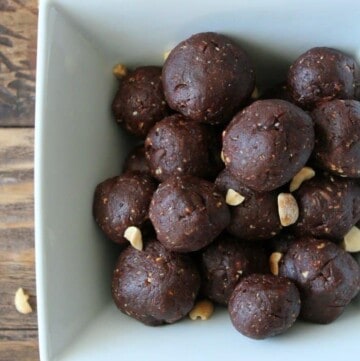 Ingredients
1 –

cup

about 14 Medjool Dates

1/2

cup

creamy peanut butter

2

tablespoons

unsweetened cocoa powder

1/4

cup

peanuts

1

tablespoon

chia seeds

1

teaspoon

pure vanilla extract

small dash of salt

1

tablespoon

water
Instructions
Soak the dates in warm tap water for 10 minutes and then drain.

Place the dates, peanut butter, cocoa powder, peanuts, chia seeds, vanilla, and salt into a food processor (or blender) and pulse until all of the ingredients are blended together and forms a thick dough. If the dough doesn't come together add 1 tablespoon of water.

Roll the dough into 20 balls and then store in an airtight container in the refrigerator. Let the bites set for about 3 hours or overnight in the refrigerator. You can also place in the freezer.
Notes
Sugar: 9 grams
Make-ahead instructions
These energy bites can be made ahead of time and stored in the refrigerator up to 7 days and in the freezer up to 3 months.
Nutrition
Serving:
1
g
|
Calories:
103
kcal
|
Carbohydrates:
3
g
|
Protein:
3
g
|
Fat:
5
g
|
Fiber:
2
g