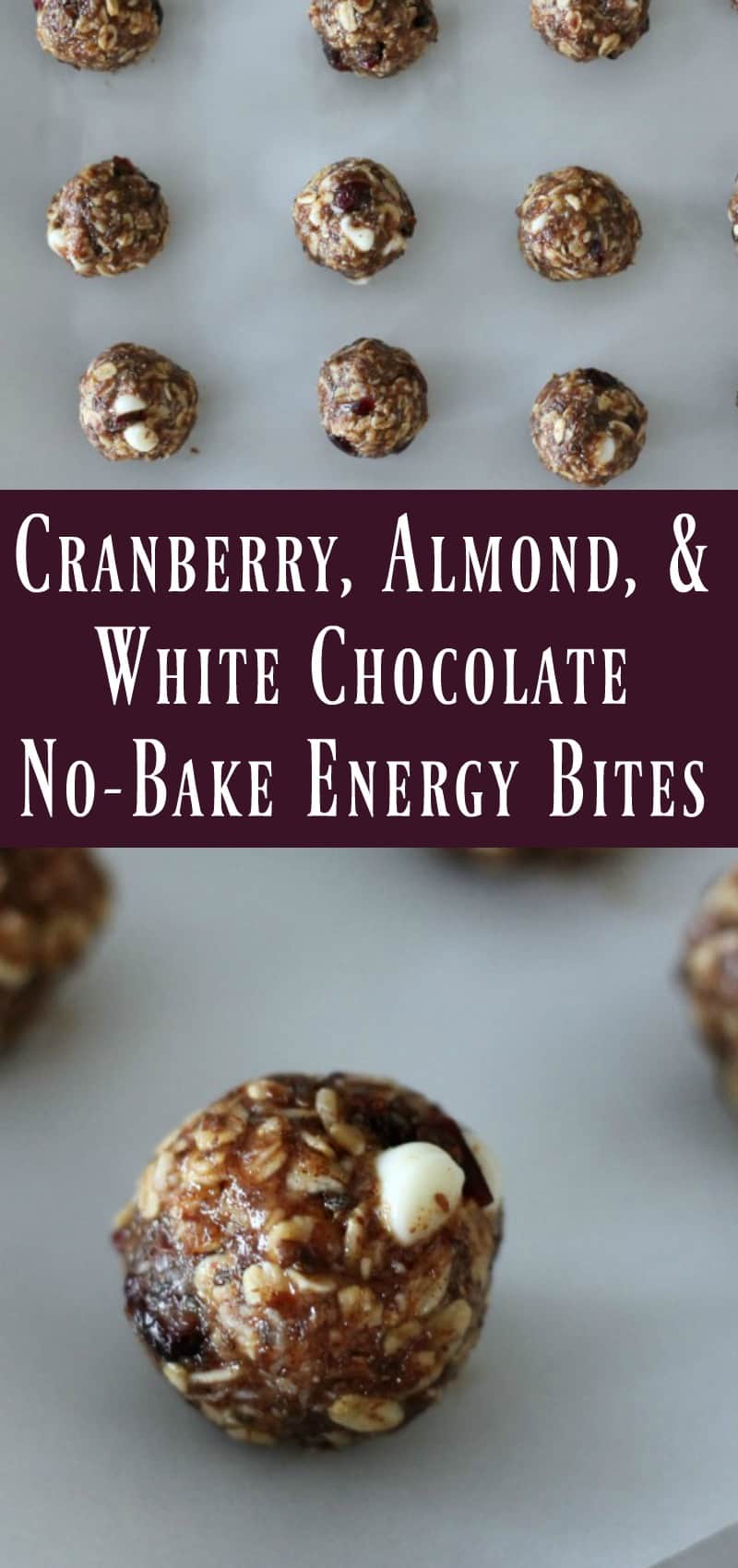 Every time I think I've exhausted all the possible energy bite recipe ideas another one pops into my head. I truly hope you love these little bites as much as I do because I have a couple more recipes after this one. Sorry, I can't help it. Energy bites are so easy to make, curb my afternoon sweet craving, and fill me up. I never feel a crash and burn after enjoying a wholesome energy bite.
Before I get to my new cranberry, almond, and white chocolate energy bite recipes let's first recap a few of my favorites.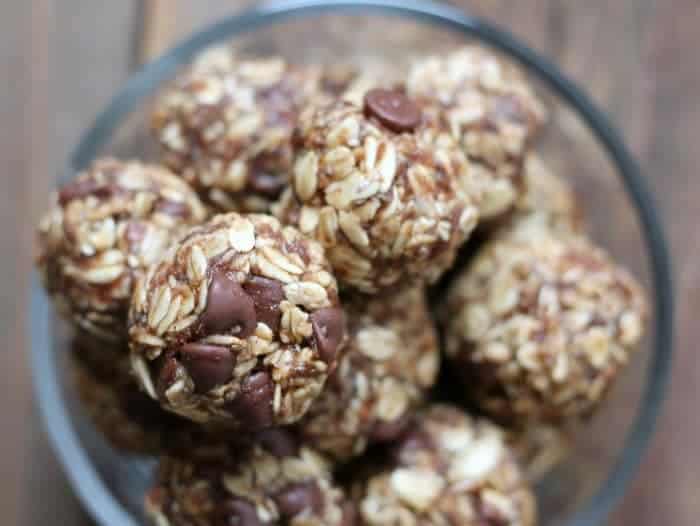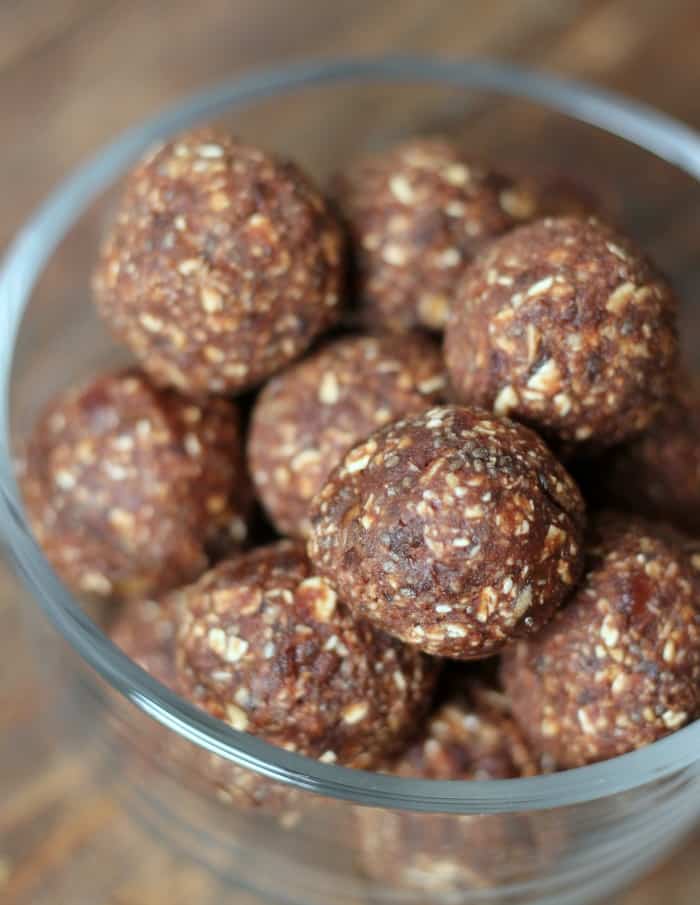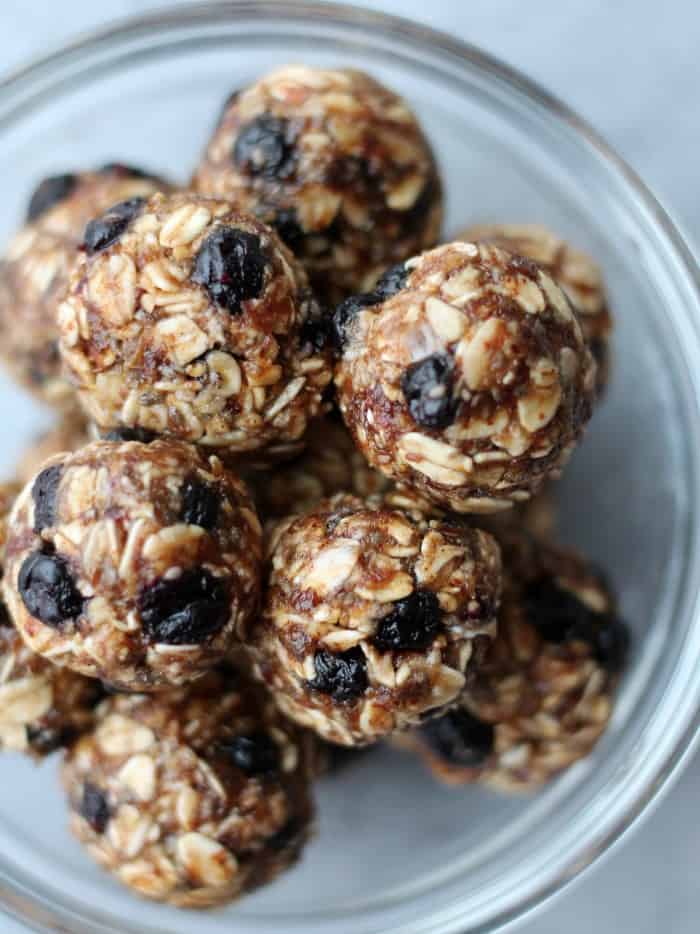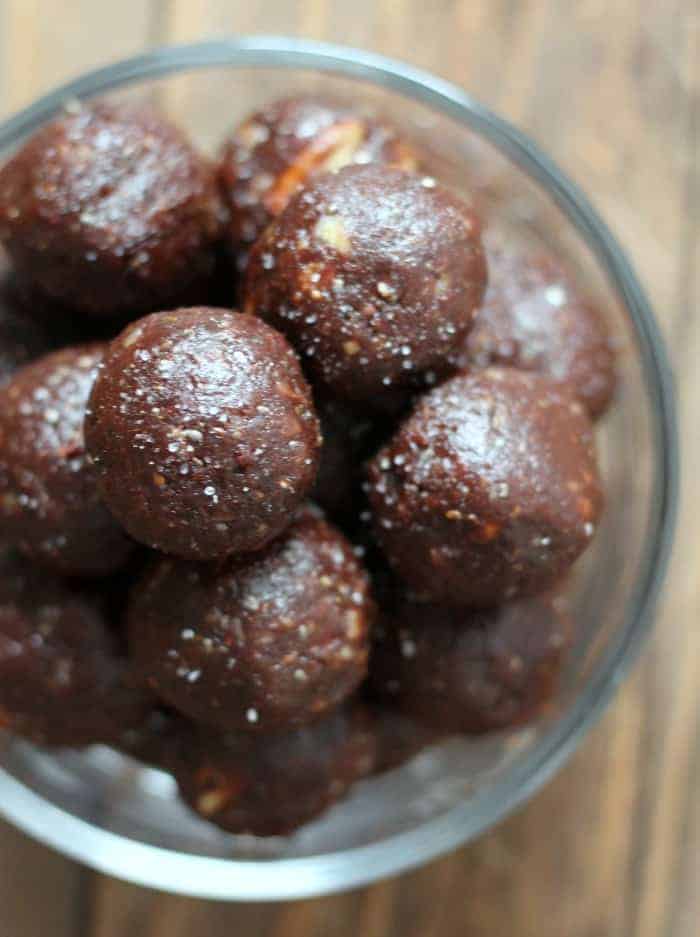 Alrighty, let's get back to my new energy bite recipe. This one is sweet, tangy, and so delicious.
For the dry ingredients I used rolled oats, unsweetened shredded coconut, ground flaxseed, dried cranberries, chia seeds, white chocolate chips, and pinch of salt. A couple things about these ingredients. First, I used sweetened cranberries because it's an act of God for me to find unsweetened. I found unsweetened ONE TIME in all my years of blogging. #truestory. So, what I'm saying is if I had unsweetened I would use them. Second, I added white chocolate chips to the mix because I love chocolate and thought it would be tasty and look pretty too – I was right to both. Plus, don't you think it's nice to get a small bite of chocolate once in a while. Yes Tammy it is. I agree. However, if you want to leave the white chocolate chips out then go for it, I won't judge.
Oh, and I decided to use shredded coconut because any chance I get to add coconut to a recipe I do. If you leave the coconut out then it's possible some of the other ingredients might need to be adjusted. How about you just leave it in? K? Good. Let's move on.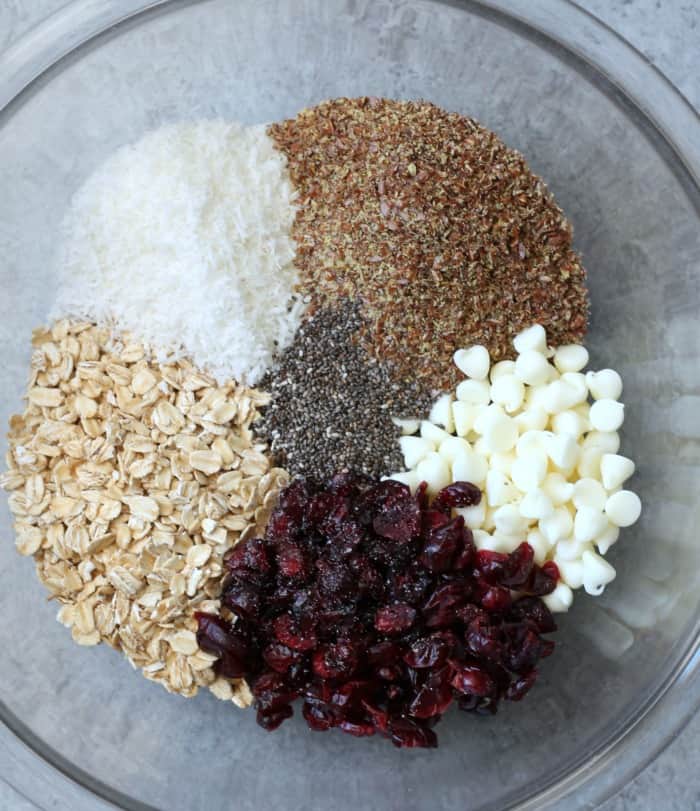 Next I added almond butter, maple syrup, and pure vanilla extract. I stirred up all the ingredients until the dry ingredients were coated with the wet. See, this is easy. At this point it might seem a little on the wet side and hard to handle. No worries, just cover the batter and stick it in the refrigerator for an hour or so. This gives the batter time to firm up making it easier to roll into balls. Be careful about letting it sit too long though. I let one batch sit over night and it turned it a giant stiff energy ball. I still made energy bites but it took a little extra effort.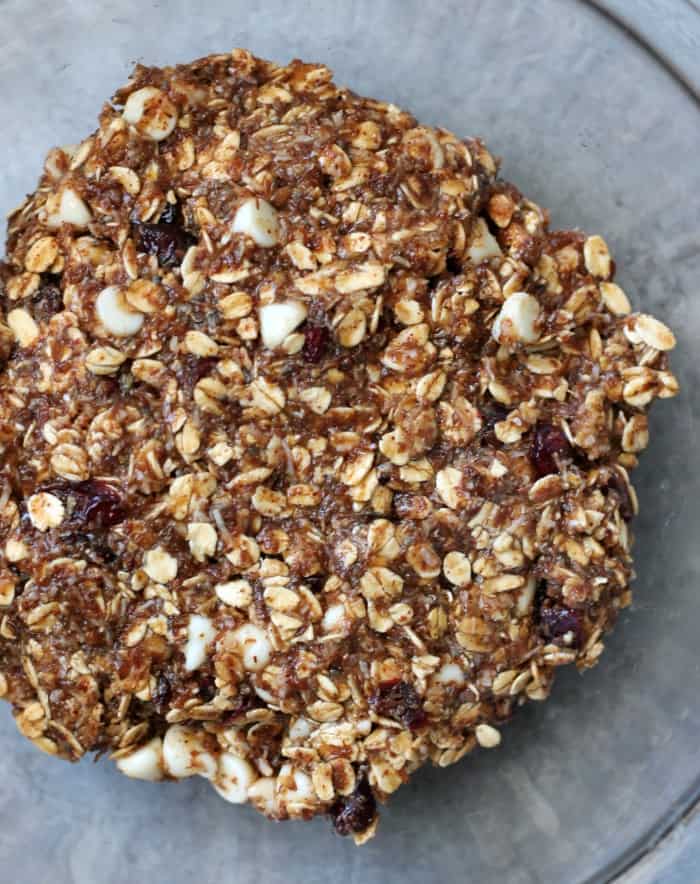 Now time to roll into balls or bites. I was able to get 20 bites out of this batch but depending how big you make them you can get more or less.
If the batter seems crumbly or a little hard to manage just dip your hands in water before rolling.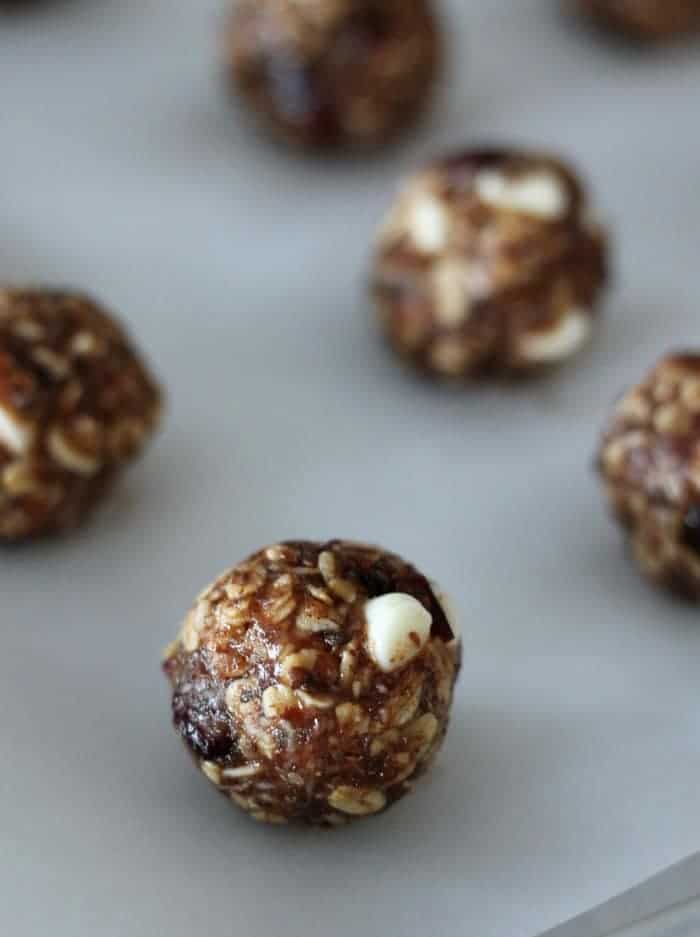 After you roll the energy bites store them in a covered container and refrigerate. These cranberry almond and white chocolate energy bites are great right away but taste even better once they sit for a bit or until the next day. All the flavors blend together and the oats take on a wonderful texture. My advice… make these a couple days before you're going to eat them.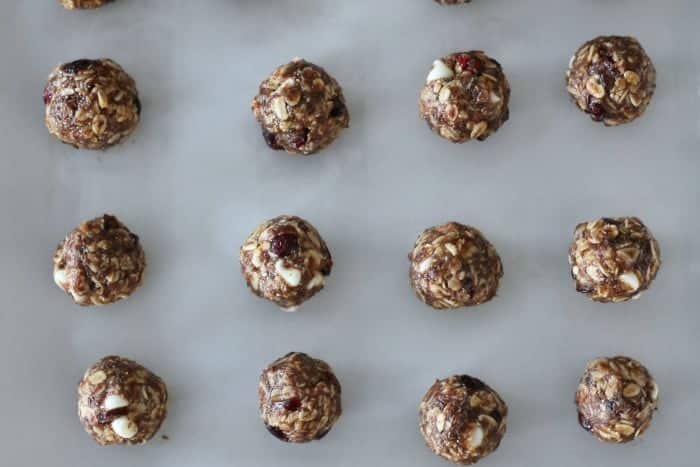 I absolutely love having energy bites in the refrigerator or freezer. They're delicious and perfect for a grab and go snack.
Stick a couple in the kiddos lunches or have ready for an after school snack. Personally, I love to enjoy one for mid-afternoon snack when my sweet tooth cravings are in full force.
If you make these cranberry almond and white chocolate energy bite recipe please share it on Instagram using hashtag #organizeyourselfskinny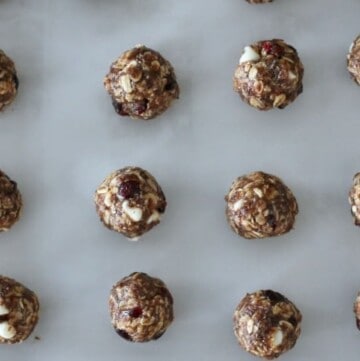 Cranberry, Almond, and White Chocolate No-Bake Energy Bite
Print
Pin
Rate
Ingredients
1

cup

rolled oats

1/4

cup

shredded coconut

1/4

cup

ground flax

1/4

cup

dried cranberries

1/4

cup

white chocolate chips

1

tablespoon

chia seeds

small pinch of salt

1

teaspoons

pure vanilla extract

1/2

cup

smooth almond butter

1/3

cup

pure maple syrup
Instructions
In a large bowl mix all the ingredients together until combined. The batter will be wet and hard to roll into balls.

Cover the bowl and stick the batter into the refrigerator for 1-2 hours. This gives it a chance to stiffen up making it easier to roll the bites.

Roll into 20 energy bites and place into a covered container and refrigerate for 1-2 hours or overnight. These energy bites get better with time.

Enjoy
Notes
sugar: 7
Make-ahead instructions
These energy bites can be made completely ahead of time and stored in the refrigerator up to 7 days or frozen up to 3 months.
Nutrition
Serving:
1
g
|
Calories:
106
kcal
|
Carbohydrates:
12
g
|
Protein:
2
g
|
Fat:
6
g
|
Saturated Fat:
2
g
|
Fiber:
3
g