Wholesome oats, almond butter, ripe banana, and dried blueberries come together to create these delicious Blueberry Banana No Bake Energy Balls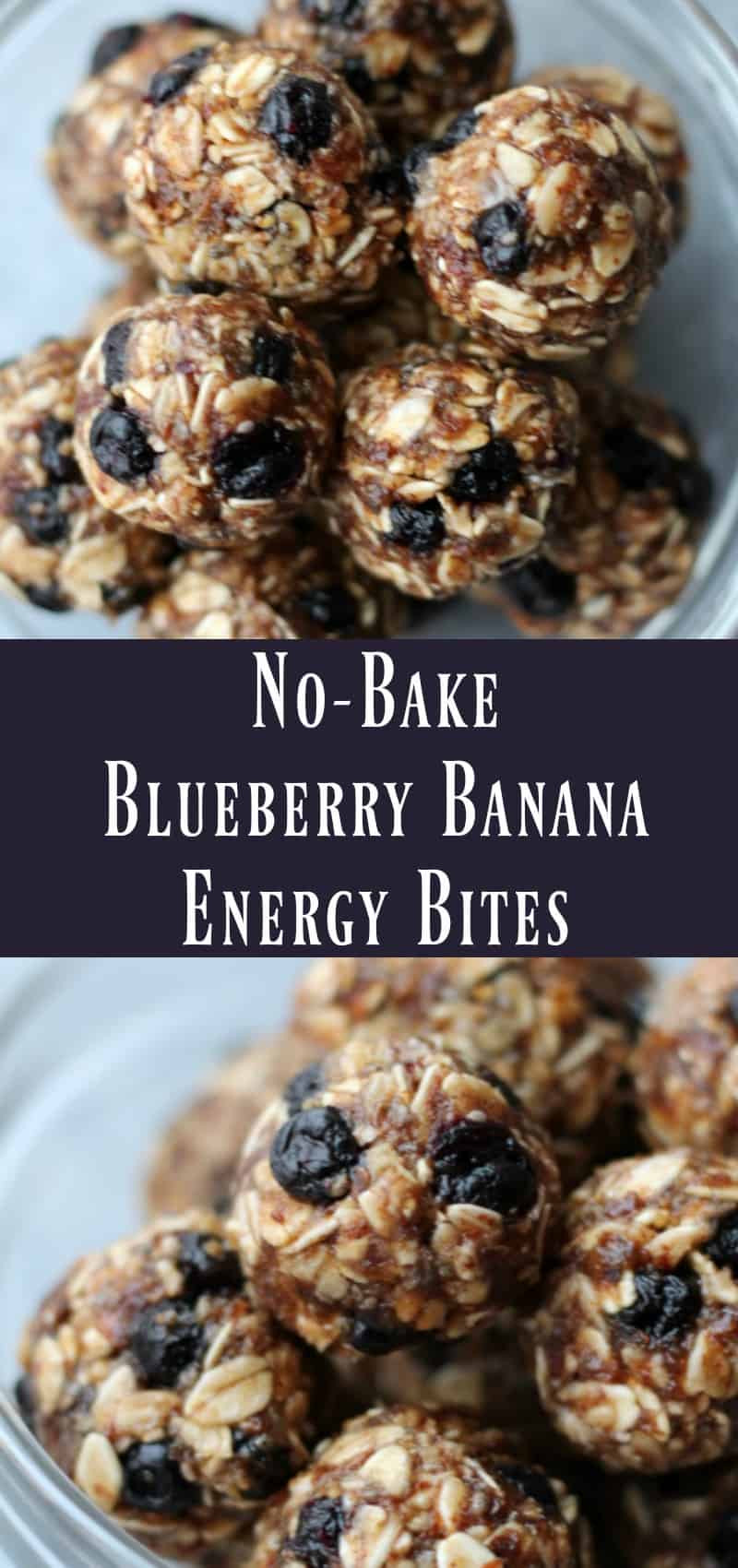 Okay I'm going to keep this post short and sweet. In the last few months I've been an energy bite (or ball) making fool and think I've said all that needs to be said about them. Here's a quick recap on why I love energy bites:
Energy balls are beyond easy to make. More than likely you have all the ingredients to make some sort of energy bite in your pantry.
No bake energy balls are well…no-bake…at least the ones I make are. Who doesn't love a no-bake recipe?
No bake energy balls are satisfying. I have two in the morning before I go to the gym and that curbs my hunger without filling me up. I also like to enjoy a couple for a mid-afternoon snack when the sweet tooth is going bonkers.
No bake energy balls are really good. In a way, you feel like you're eating cookie dough which I guess you kinda are. Think about it all you need to do is add a couple eggs, baking powder, and a little flour to these babies and you got a breakfast cookie. Maybe there's a little more baking science to it but just sayin I feel like I'm eating oatmeal cookie dough and I love it!
No bake energy bites are good for you. They are filled with protein, fiber, good carbs, and sweetened with pure maple syrup or honey.
Those are my 5 reasons I love energy bites and why I'm sharing this new banana and blueberry recipe today.
The other day I noticed a lonely banana that needed to get used up. Typically, I throw a ripe banana in a smoothie but I just made a bunch of green smoothie kits so I didn't need to save the banana for that. So I decided to make another energy bite recipe. Yay!
A few weeks ago I made a banana chocolate energy bite recipe and it was a HUGE hit in my house. This time around I decided to leave out the chocolate chips and throw in some dried blueberries instead.
This energy bite recipe includes rolled oats, ground flaxseed, chia seeds, almond butter, ripe banana, dried blueberries, cinnamon, and pure maple syrup (I forgot to add the maple syrup before I took the picture).
You can use peanut butter in place of the almond butter if you wish. Personally, I love almond butter in energy bite recipes. I think it's delicious but not overpowering. Also, you can replace the maple syrup for honey if you like.
Mix all the ingredients together and then place in the refrigerator for a couple hours. It's much easier to form into balls when the "batter" thickens a bit.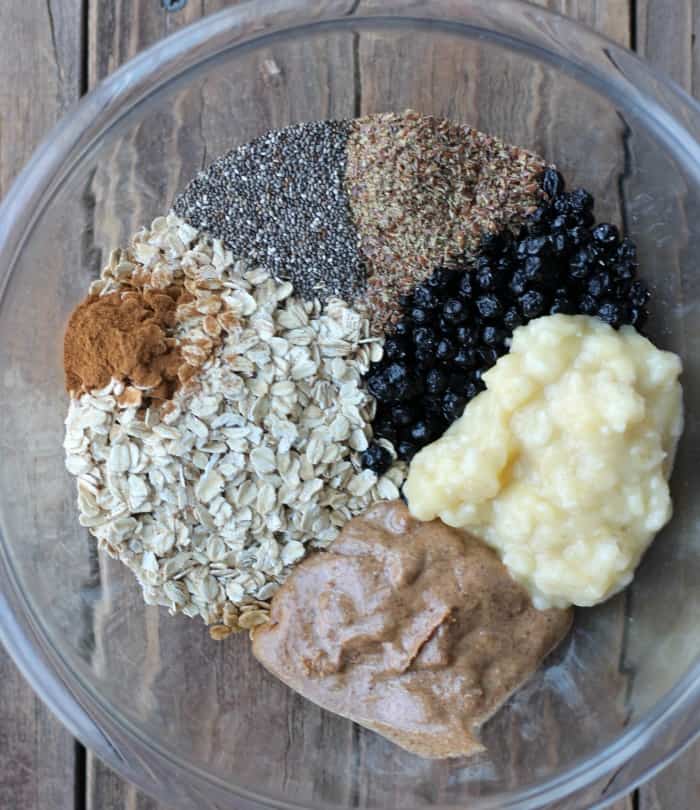 Roll into 20 balls and store in the refrigerator for up to 5 days or freeze up to 3 months.
The flavors in these blueberry banana no bake energy balls are scrumptious. The banana and maple syrup give the perfect amount of sweetness. I love the pop of blueberries!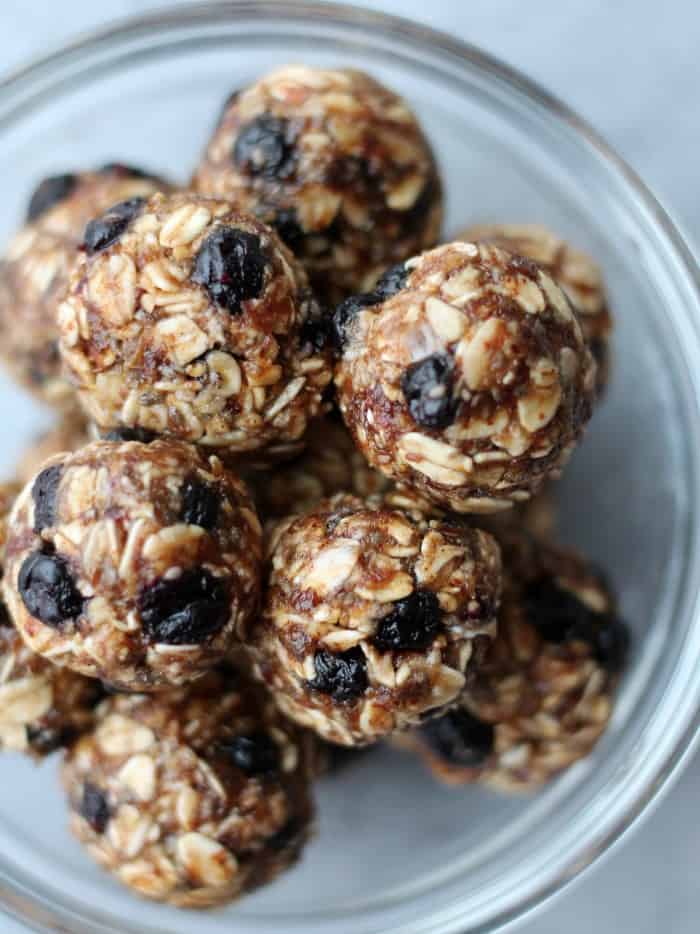 Energy bites are perfect for a quick on the go breakfast, lunchtime treat, or for a wholesome after school snack. You can make a batch or two on the weekend for a healthy snack all week.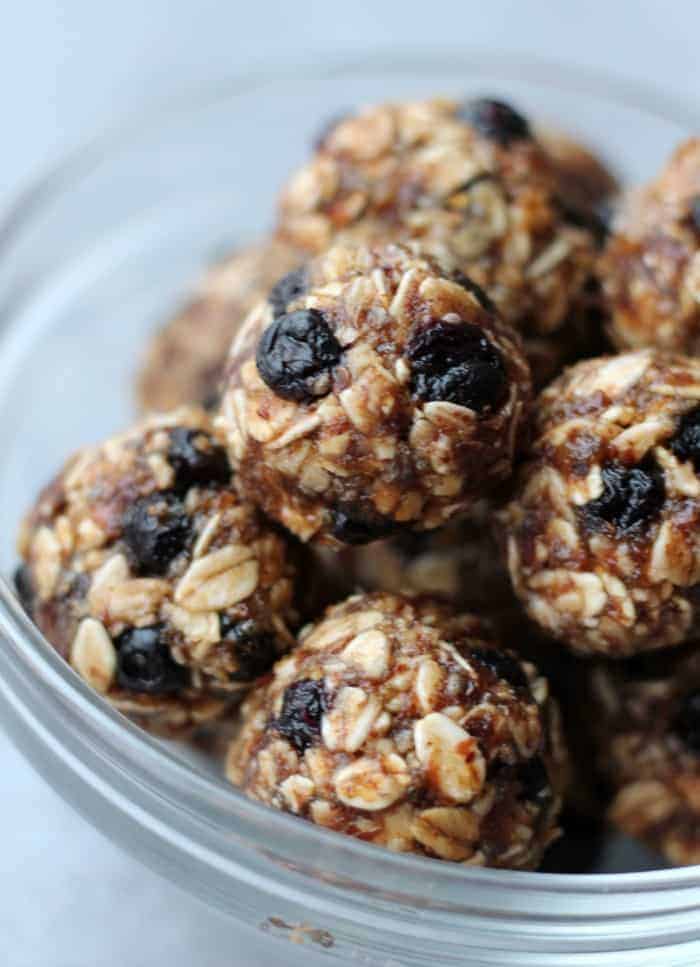 If you make this recipe, or any of my other recipes, please share it with me on Instagram using hashtag #organizeyourselfskinny.
Here are my other energy bite recipes: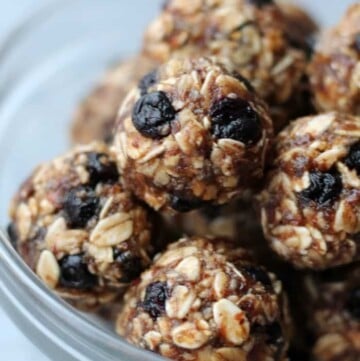 Ingredients
1 1/4

cup

rolled oats

1/4

cup

ground flaxseed

1/2

teaspoon

cinnamon

1/3

cup

pure maple syrup

1/4

cup

almond butter

1

ripe banana

1

teaspoon

pure vanilla extract

1/2

cup

dried blueberries
Instructions
In a medium bowl mix together all of the ingredients. Cover the bowl with plastic wrap and let it sit in the refrigerator for a couple hours to firm or thicken up.

Roll into 20 balls. You might need to wet your hands a little to form the balls.

Place energy bites into an airtight container and store in the refrigerator for up to 5 days. You can freeze up to 3 months.
Notes
Sugars: 8
Make-ahead Instructions
These energy bites can be made up to 5 days ahead of time. Store in the refrigerator using an airtight container. You can freeze the bites up to 3 months.
Nutrition
Serving:
1
g
|
Calories:
81
kcal
|
Carbohydrates:
13
g
|
Protein:
2
g
|
Fat:
3
g
|
Fiber:
2
g