Energy balls – ever wish you could have an instant pick-me-up in a convenient portable package? Now you can! This delicious energy balls recipe is filled with the optimum combination of complex carbs, protein, good fat, and fiber—all rolled up into a tiny ball. Try these out as a make ahead recipe and keep them on hand the next time you need a healthy energy-boosting snack.

I've always been a huge fan of healthy portable snacks like Kashi, KIND, and LUNA bars, and thought it would be interesting to try my hand at a homemade version. I quickly realized that a ball was a lot easier to make than a bar, as they tend to be less sticky and much easier to hold and eat.
I'll admit it – I'm pretty hooked on making these no bake energy balls. I've made a lot of versions through the years—see my favorites at the bottom of this post if you want more ideas!
This version, in particular, is a basic energy balls recipe that can be easily customized to your liking. Think of this one as a classic energy ball, if you will.
Jump to:
Reason's you'll love these
Energy balls can be made ahead of time.

Energy balls can (and should) be made ahead of time. They keep great in the refrigerator and can even be frozen.

This means you can make a batch on Sunday to enjoy all week or make a few batches to keep in the freezer for snacks all month. 

Energy balls are portable.

All I need to do is throw a couple of energy balls in a snack bag and head out the door. I can also put 1 or 2 in my kids' lunches. Once they're prepared, transporting energy bites is easy.

Energy balls are cheap. Preparing this energy balls recipe is much cheaper than purchasing boxes of store-bought energy bars. You can make a couple of batches for less than $5 in most cases!
Energy balls are versatile.

The ingredient options on these are endless. You could throw in any kind of nut, seed, or dried fruit you have on hand. You can also use gluten-free oats if you need to make a gluten-free energy bites recipe.

No oven required. Yep, these are perfect snacks to make on hot summer days! No need to turn on the oven with these sweet healthy treats.
Why are they called energy balls?
Quite simply, energy balls are made with ingredients that give you energy. For example, the ingredients of nut butter and nuts are filled with good fats and proteins which fill you up without making you bloated.
Rolled oats contain complex carbs that provide lasting energy. The addition of chia seeds offer lots of fiber, protein, and omega 3's.
The great thing about energy balls is they are super versatile so the options are endless with the amount of "power" ingredients you can use.
Supplies
Making these tasty energy bites couldn't be more simple. The list of items you need to create these treats is simple as well. Here's what you need to have on hand before you begin.
Food processor
This isn't necessary for all energy bite recipes, I mostly use it for recipes that call for Medjool dates. However, if you want to process oats or quickly chop up nuts, a food processor will come in handy.
I recommend this 8 cup Cuisinart food processor. You get it from Amazon from under $75. If you're look for something a little cheaper, try out this Hamilton Beach one is under $40 and has good reviews.
You'll find you reach for a food processor again and again, so it's worth the investment in my opinion.
Large bowl and spatula.
Every kitchen should have a set of mixing bowls. I use mine all the time for many different recipes so they're good to have on hand. I have this set from Pyrex and love it They are simple and easy to clean.
Of course, spatulas are another kitchen essential. If you don't already have a set, OXO makes a great set for under $13.
Glass containers.
I also recommend grabbing a couple of these 6-cup or 3-cup glass rectangle containers from Pyrex. These work great when storing the energy balls in the refrigerator.
Ingredients
Just in case you're unsure where to get some of these ingredients, or which versions of each to try, let me offer some suggestions.
Medjool Dates
A couple of years ago I had a hard time finding this essential energy bites ingredient but now these dates seem to be more popular. Medjool dates can be found in the bulk section, or dried fruit section, of any large grocery store.
They might also be in the natural food section of the grocery store. Definitely check out the bulk section because they're much cheaper there if you can find them.
Please note that Medjool dates come with pits, so those need to be removed prior to use. Also, I recommend soaking the dates in warm water for 10 minutes before processing. This softens them up and makes it easier to blend.
Rolled Oats
Rolled oats are different than instant oats. You can find rolled oats in the breakfast section of the grocery store or where the other oatmeal is.
This type of oats are often in the bulk section so check there first because again, they'll be much cheaper.
If you want to make GF energy bites, make sure to purchase certified gluten-free oats. I'd recommend buying these in a sealed package to avoid cross-contamination if you are particularly sensitive.
Nut Butters
I love using almond and cashew butter in energy ball recipes. This nut butter is alongside the peanut butter or in the nature food section. Of course, peanut butter can also be used, but the health benefits are better with almond or cashew.
Chia Seeds
These are in the natural food section either by the baking supplies or by the other nuts and seeds. I get huge bags of chia seeds from BJ's wholesale store for a great price so check your big box stores if you can. Again, check the bulk section.
Shredded Unsweetened Coconut or Dried Fruit
These items are easily found in the baking or bulk section. Make sure to get unsweetened shredded coconut – it's much healthier for you.
The types of dried fruit you choose are up to you, based on your taste preferences. However, I would suggest you purchase only unsweetnened dried fruit if you can find it. Some dried fruits to try include:
cherry
raspberry
apples
cranberries
raisins
figs
apricots
pineapple
apricots
banana
If you don't have access to some of these ingredients then consider shopping through Amazon or Thrive Market. You can read my Thrive Market review if you'd like to learn more about this online grocery store.
Energy Bites Formula
There are three type of energy balls you can try with this recipe. Each of these are fantastic, so why not make a triple batch and try them all?
Oats and Nut Butter
The base for this recipe is a combination of oats and a nut butter such as peanut or almond butter.

Chia seeds and pure maple syrup help to bind the ingredients together.

Some additional add-ins include ripe bananas or pumpkin.

I often throw in chopped nuts and/or dried fruit too.

The formula I use for an oats and nut butter energy bite is 1 cup rolled oats, 1/2 cup nut butter, 1/3 cup sweetener, and 1 tablespoon chia seeds. Depending on the recipe I'll also add things like pure vanilla extra, ground flaxseed, and chopped nuts, dried fruits, or even chocolate chips.
This is a super forgiving energy bite recipe to make. If the batter is to wet then add in a little more oats. If it's to dry then add in a touch more sweetener or even a splash of water.
Medjool Dates and Nut Butter
Rather than use oats, try M

edjool dates and nut butter as the base.

Chia seeds and chopped nuts such as almond go well with this combination.

Depending on how I'm feeling (and what's in my pantry!), I'll throw in shredded coconut and/or cocoa powder too.

The formula I use for this energy bite recipe is 1 cup Medjool dates (about 14), 1/2 cup creamy nut butter, 1 tablespoon chia seeds, and a splash of water. Depending on the recipe, I also add vanilla extract, chopped nuts, chocolate chips, or add a rich chocolate flavor with unsweetened cocoa powder. Again, this is a very forgiving recipe. If it's too dry just add a splash of water and if it's to wet then add some dry ingredients like nuts or chia seeds.
A Combination of Dates, Oats and Nut Butter
This one is the best of both worlds!
The base of this recipe include finely processed rolled oats and Medjool.

Depending on the recipe I'll throw in nuts or coconut.

Chopped dried fruit or chocolate chips can be added as well.
The formula I use for this energy ball recipe is 1 cup Medjool dates (about 14), 1/2 – 3/4 cup rolled oats. 1 tablespoon chia seeds, and a splash of water if needed.
Again, energy bites are super versatile so it possible to take any combination of ingredients to create your own unique recipe.
How to Make No Bake Energy Bites
Alright, let's get down to the nitty-gritty of making a no-bake energy ball.
Depending on the recipe, you may or may not need to break out the food processor. I only use the food processor when I make recipes that include Medjool dates.
If you prepare a Medjool date energy bite recipe then you put all the ingredients into the food processor until it's mixed together and forms a batter.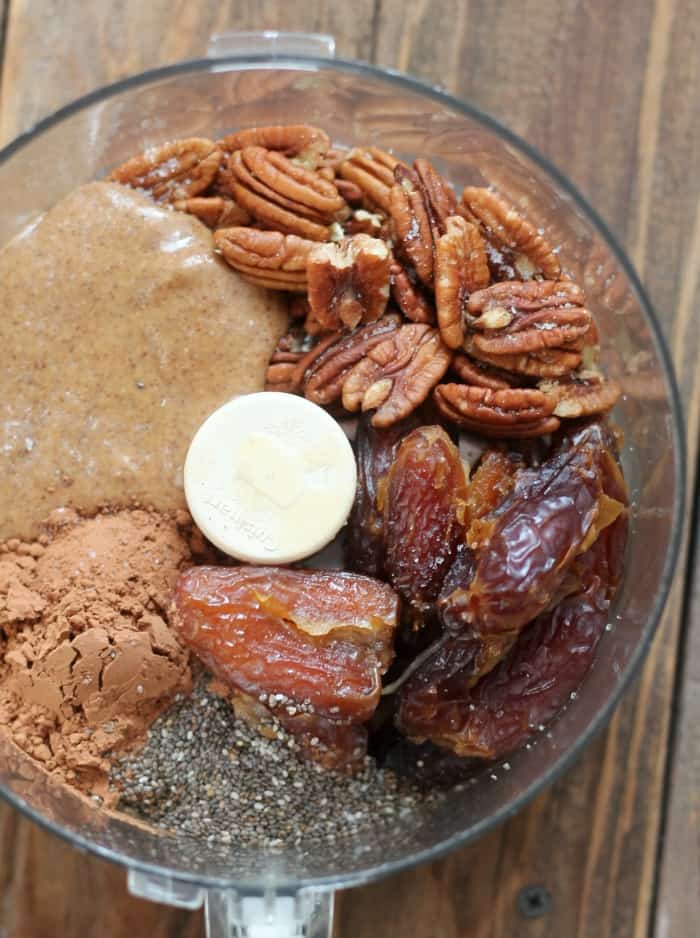 Every other energy ball recipe I simply put all the ingredients into a large bowl and then mix together. Yes…it's THAT easy. You can use a spatula to mix all the ingredients together or dig in with your (clean) hands.
This is a great recipe to utilize if you want to teach younger children how to cook as well. They can assemble this one on their own!
You want the mixture to be wet but not "soupy". The oats will soften and soak up the liquid and the chia seeds will also help firm up the batter. If you feel the batter is too soupy then add in some more oats. If it's too dry then stir in some more wet ingredients like maple syrup or nut butter.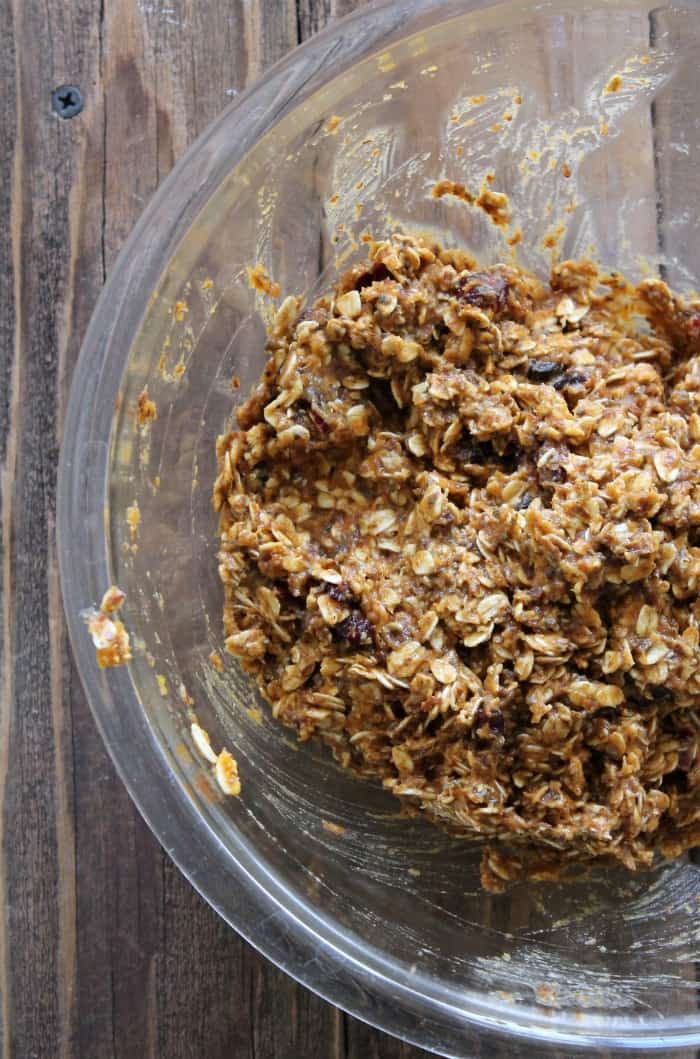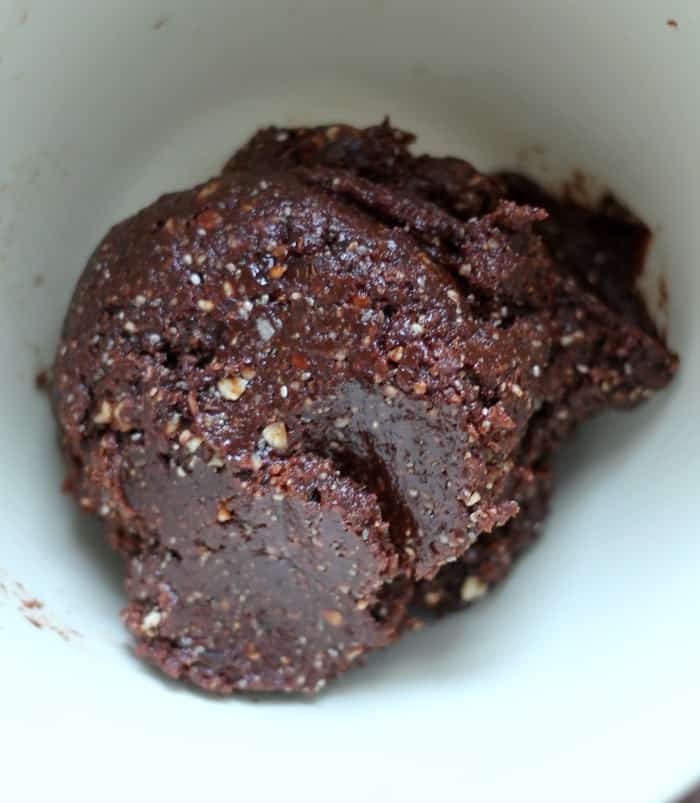 Once it's properly mixed, push the oats down with a spatula. You want all the oats to soak up the liquid.
Then place plastic wrap over the bowl and put in the refrigerator for at least 2 hours, if not overnight. This will help the oats to soften as they soak up the liquid.
If you make an energy ball recipe that doesn't require oats (only Medjool dates and other ingredients), I still recommend letting the batter sit for a couple of hours. Regardless of the energy ball recipe, it's easier to form balls if the batter been chilled for a while.
After the batter firms up roll the energy balls. If the batter seems a little dry then simply add some water to your hands to help form their shape.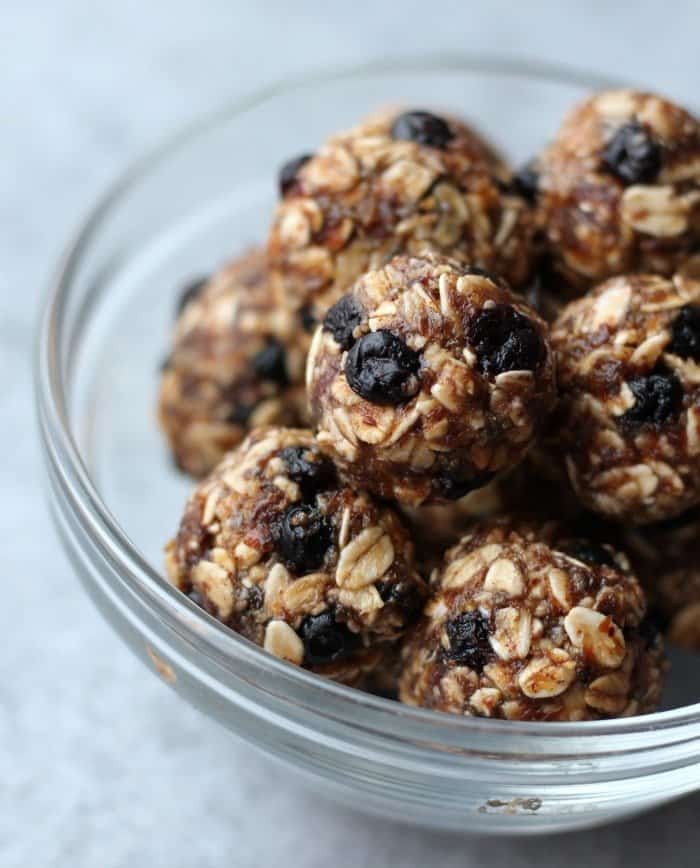 Place the balls into a glass container or Ziploc bag and store in the refrigerator.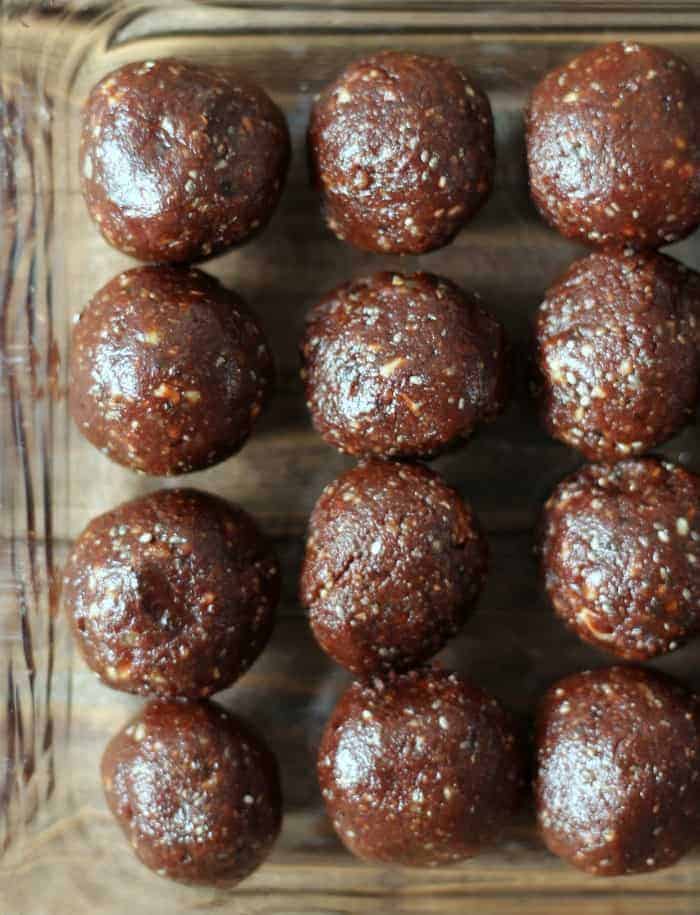 How to Freeze No Bake Energy Balls
The great thing about energy bites recipes is all of them can be made ahead of time, then frozen. This means you can make a few batches to have in your freezer all month long as healthy snacks.
To freeze energy balls all you need to do is place the balls side by side in a large plastic freezer bag. Lay the bag flat in your freezer. After the energy balls are frozen then you can move them around in your freezer as you'd like.
You can also freeze the energy balls on a baking sheet, then move into a Ziploc bag or container once they are frozen.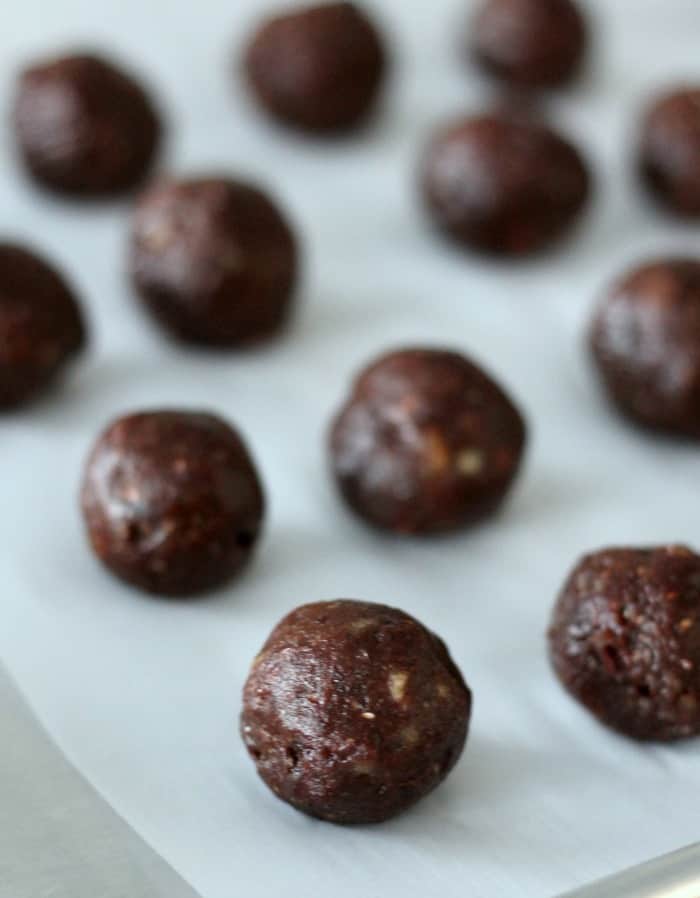 When you're ready to eat simply take the number of energy balls you want out of the freezer and give it about 20 minute or ½ hour to thaw.
Energy bites are great for morning or afternoon snacks and kids also love them in their lunch boxes. These also make a fantastic gift for a mother-to-be…after all they need energy more than any of us! 🙂
The Best Energy Ball Recipes
Almond Butter Energy Balls
Are you looking for a delicious and healthy snack that can give you the energy boost you need to power through your busy day? Look no further than these almond butter energy balls! Packed with wholesome ingredients like rolled oats, ground flax seed, and chopped almonds, these energy bites are delicious and nutritious.
Check out this recipe