Banana and coconut mixed with other wholesome ingredients to create this delicious healthy energy bite recipe.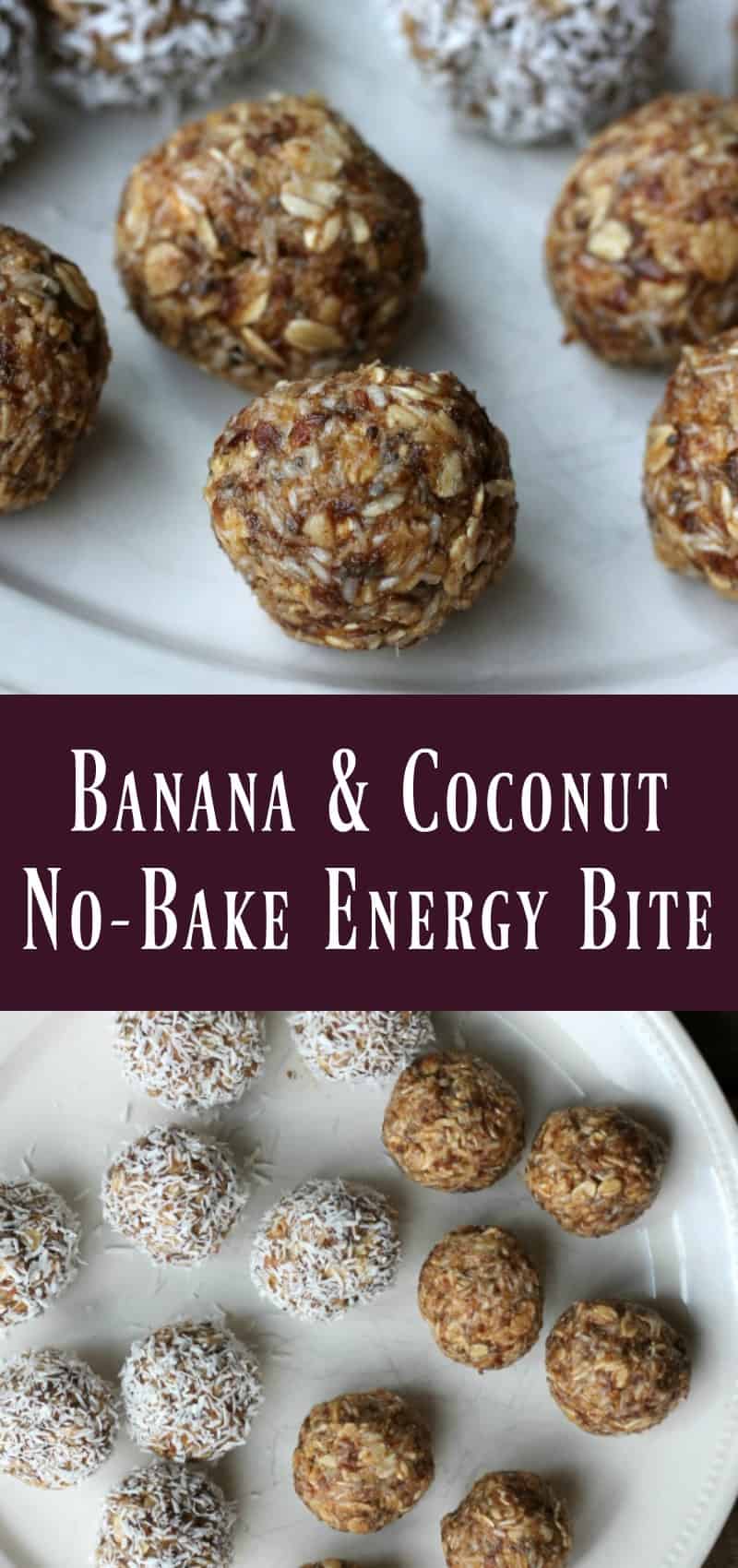 Okay I think it's safe to say I'm a huge energy bite fan. I can't help it, energy bites are everything I love about a recipe. First, they are beyond easy to make – throw all the ingredients into a bowl, mix it up, and you got energy balls!
Second, energy bites are versatile and can be made with basic pantry items you, most likely, have on hand. As long as you have rolled oats, honey or maple syrup, and some type of nut butter then the rest is up to you. Throw in any dried fruit, seed, nut, or chocolate chip.
Here are my favorite energy bite recipes:
For this new energy bite recipe I decided to keep it simple with banana and coconut. All of you seem to LOVE banana recipes – me too! If you're like me, then most likely your banana recipes are made out of necessity. What I mean by this is 1-3 ripe bananas are reaching their shelf life and either need to be created into a delicious bread, baked oatmeal cups, or energy bites or else they'll be thrown out. I don't know about you but I hate throwing any food out, especially bananas. What I'm trying to say is this recipe was created out of the need to save a banana and use up the last of the shredded coconut I had.
All of the ingredients I used for this banana and coconut energy bite recipe I had either in my pantry or freezer. I used 1 ripe banana, unsweetened shredded coconut, rolled oats, chia seeds, ground flax seed, creamy almond butter, pure maple syrup, and pure vanilla extract.
This recipe calls for a little more rolled oats than my other recipes because the banana adds more liquid to the "batter". Adding more oats helps to firm it up so it can be rolled into balls.
A quick note on the coconut flavor of this recipe. The unsweetened coconut and coconut oil give it a subtle coconut flavor. If you'd like a stronger coconut flavor consider using 1/8 teaspoon of coconut extract. I didn't have any or I would've added it to the mix.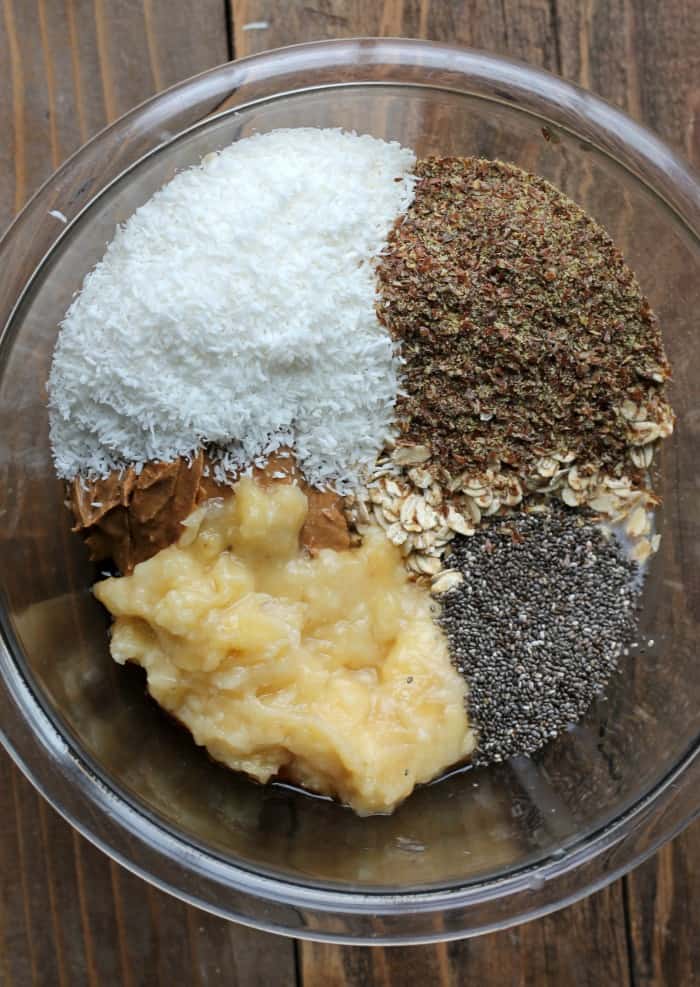 The ingredients can be mixed together using a large spoon or spatula. Often times, I just dig in and use my hands to make sure all the ingredients get evenly distributed.
After the ingredients are mixed, cover the bowl and then place in the refrigerator for 1-2 hours or until the batter is firmed up and be rolled into balls.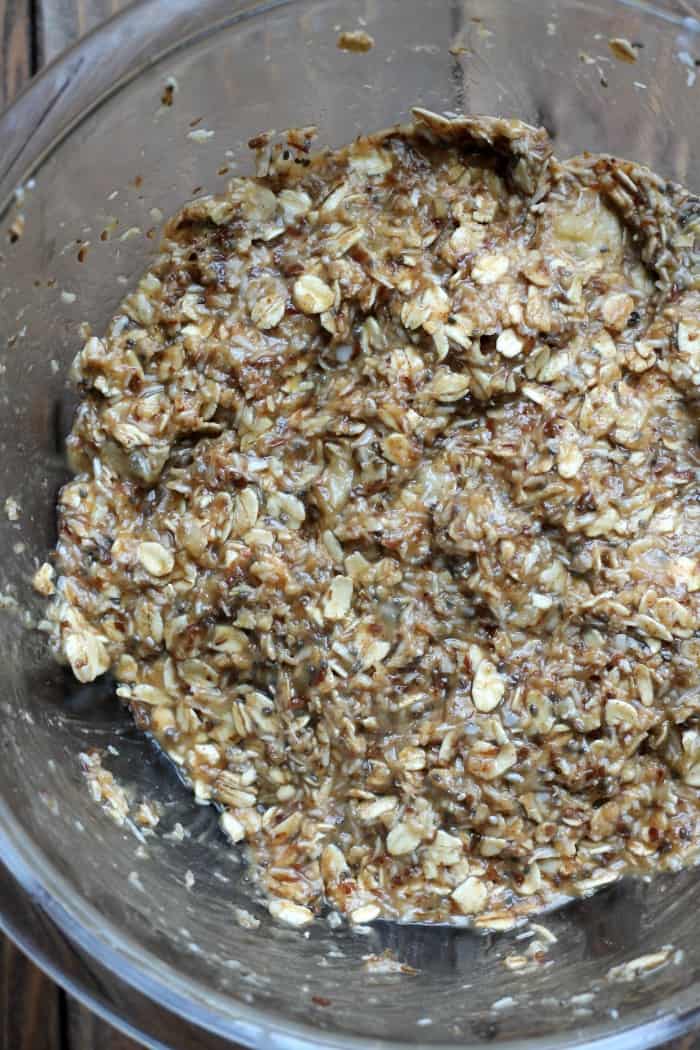 Once the batter firms up then roll into 20 energy balls. I recommend using a small cookie scoop to portion out the batter. If you don't have a cookie scoop then use a tablespoon to measure out the balls.
Most likely, you'll need to keep your hand wet while rolling these balls to keep the oats from sticking to your hands. This also helps to form the batter.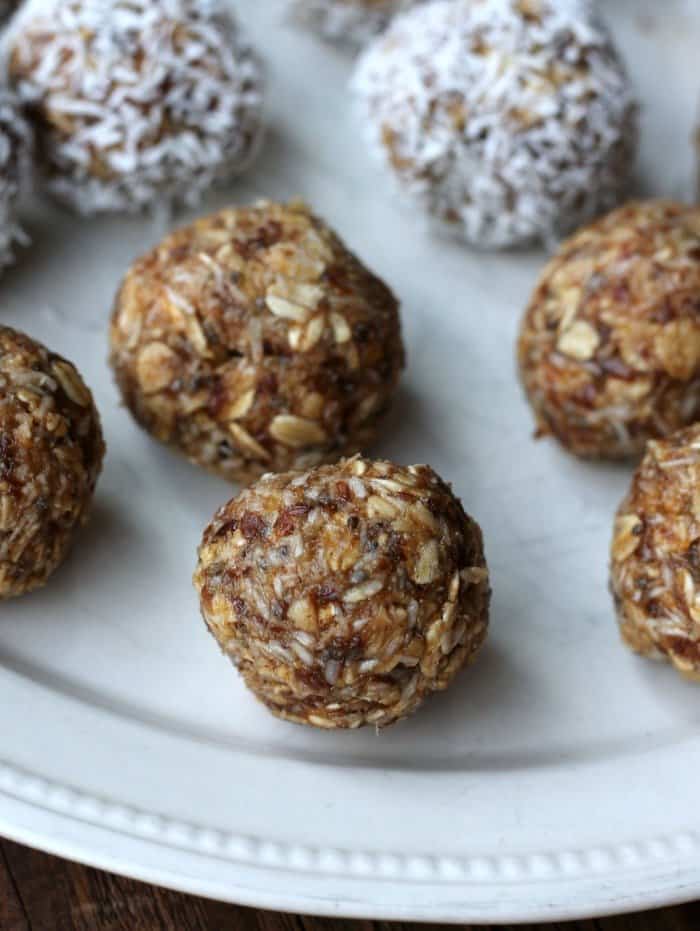 You can leave these banana and coconut energy bites as is or roll them in unsweetened shredded coconut for an extra coconut boost. I did half and half.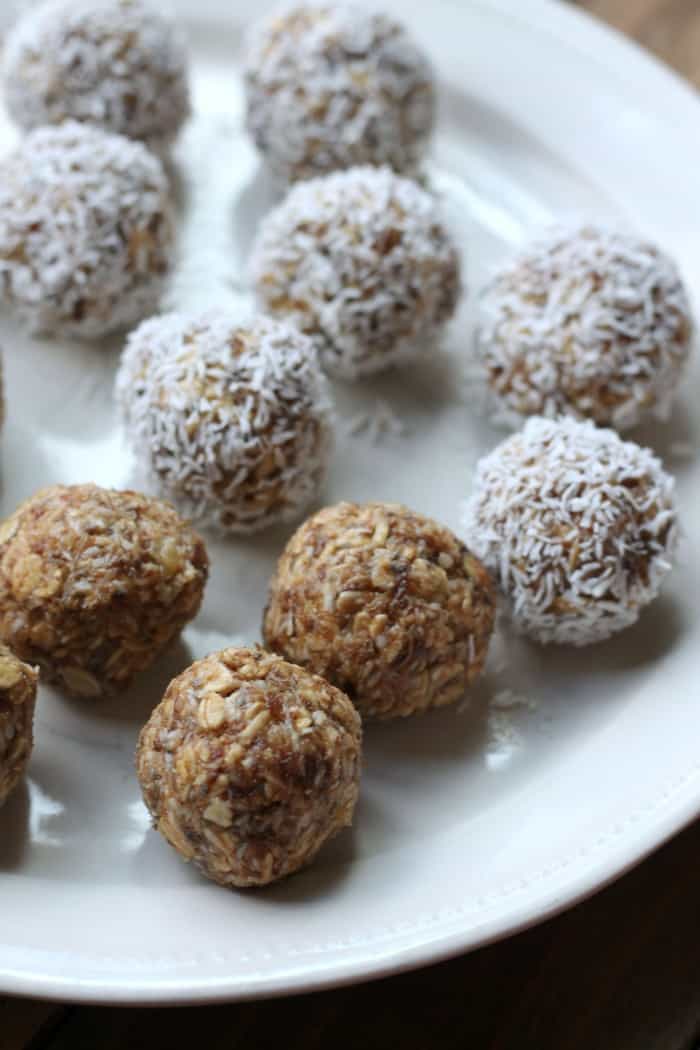 If you like the flavors of banana and coconut then you'll love these energy bites. I couldn't believe that simple pantry ingredients, and a banana on it's last leg, could make such a delicious batch of wholesome energy bites.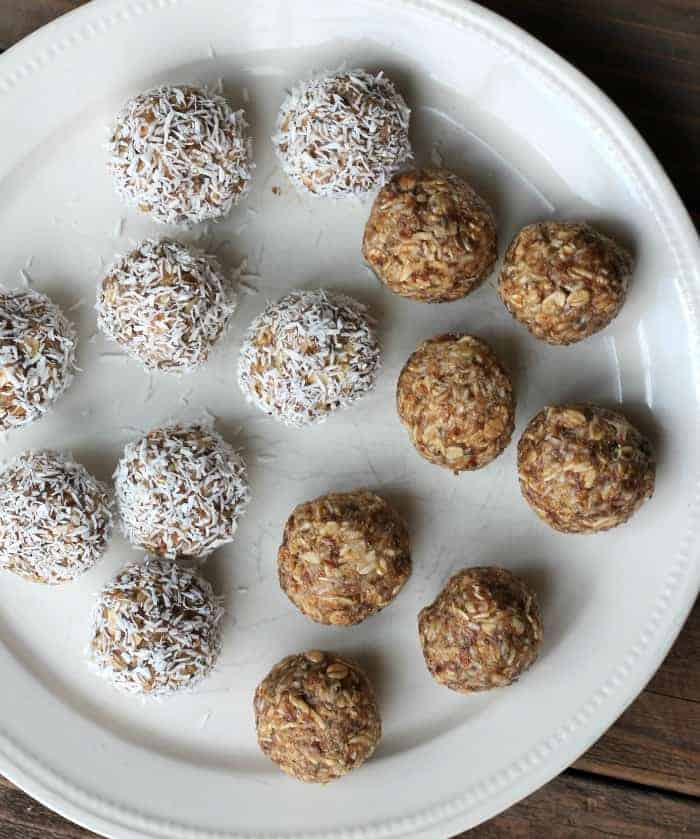 I stored the energy bites in the refrigerator using a glass Pyrex container. You could also store these in the freezer. Place the energy bites in a large freezer bag and lay flat in the freezer. After the bites are frozen you can move the bag to wherever you need to in the freezer. Energy bites take only a few moments to thaw making them perfect to grab on the way to  school and also to put in lunches.
If you're looking for a healthy make-ahead snack option, and love bananas, then I highly recommend making a batch or 2 of these delicious banana and coconut energy bites.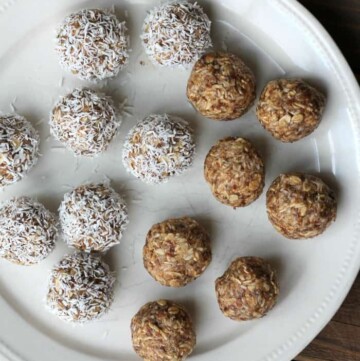 Ingredients
1 1/4

cup

rolled oats

1/2

cup

unsweetened shredded coconut

1/4

cup

ground flax seed

1

tablespoon

chia seeds

1

medium ripe banana

mashed

1/4

cup

smooth almond butter

1/3

cup

maple syrup

1

tablespoon

melted coconut oil

1

teaspoon

pure vanilla extract

extra unsweetened shredded coconut *optional
Instructions
In a large bowl mix together all the ingredients (except the extra optional coconut).

Cover the bowl with plastic wrap and place in the refrigerator for 1-2 hours or until the batter is firm enough to roll into balls.

Roll into 20 balls. Most likely you'll need to keep your hands wet as you roll the batter into balls. This prevents the oats from sticks and hold all the ingredients together.

If you'd like the energy bites can be rolled in extra shredded coconut.

Place in a container and refrigerator for up to 5 days. These energy bites can also be frozen up to 3 months.
Notes
sugar: 5
Make-ahead instructions
These energy bites can be made completely ahead of time a stored in the refrigerator up to 5 days and frozen up to 3 months.
Nutrition
Serving:
1
g
|
Calories:
89
kcal
|
Carbohydrates:
11
g
|
Protein:
2
g
|
Fat:
5
g
|
Fiber:
2
g