This is by far the best banana bread recipe! It's made with sweet ripe bananas, a touch of cinnamon, and other delicious wholesome ingredients. And it only uses 1 bowl!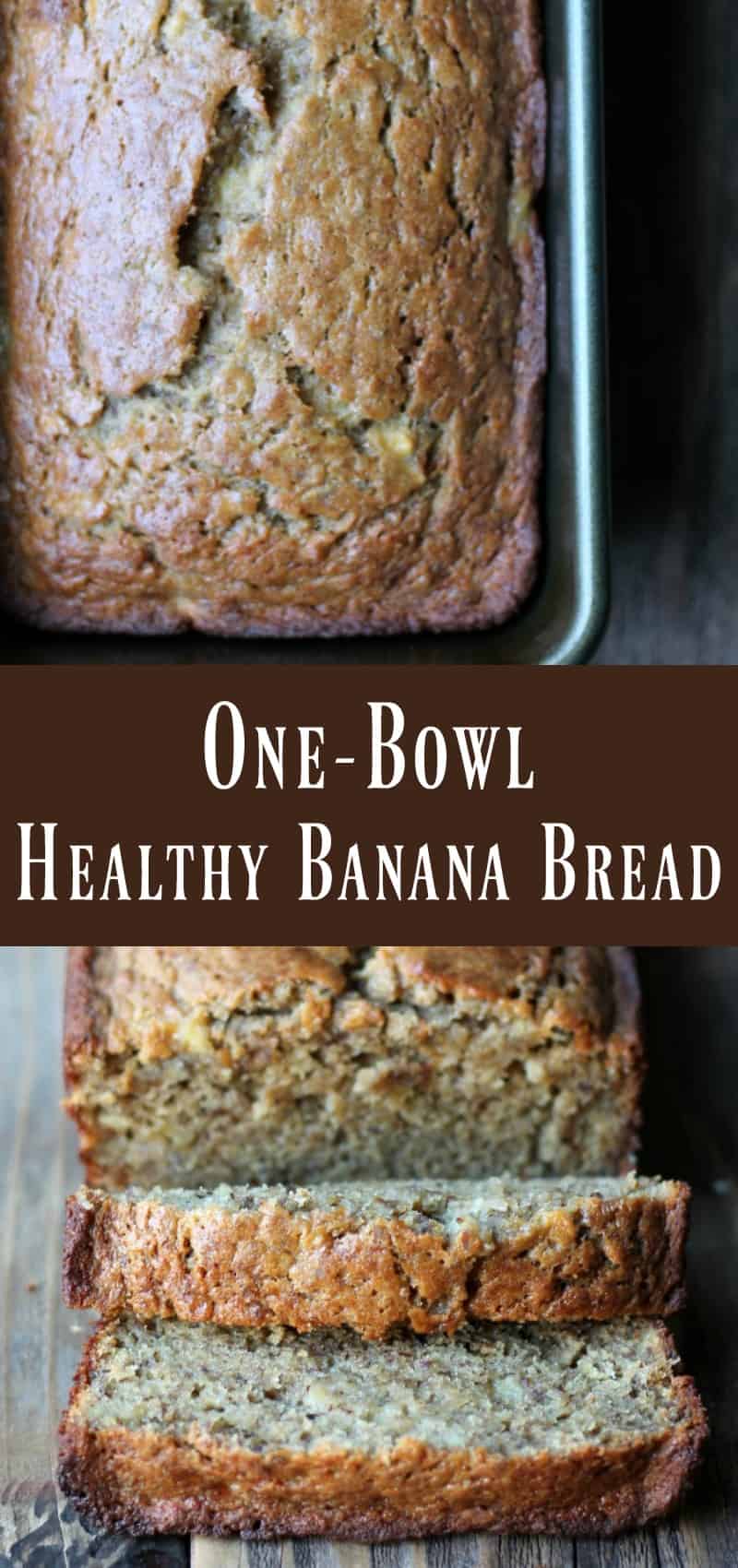 Out of all the banana recipes I've shared on Organize Yourself Skinny I can't believe it's taken this long to share my go-to healthy banana bread recipe. In my opinion the best banana bread recipe!
I found this a few years ago in this Cooking Light Way to Bake Cookbook that I received for Christmas years ago. You can get some serious steals on this cookbook over at Amazon.
Over the years, I've changed a few things here and there with the recipe. For one, I use white whole-wheat flour (my favorite brand is King Arthur) instead of white. White whole-wheat flour gives baked goods a more dense texture but the bananas and yogurt keep it tender and moist. A quick note about yogurt. I use Greek yogurt in many of my baked good recipes. It helps tremendously with texture, especially if you use white whole- wheat or whole-wheat flours.
The original recipe calls for a glaze but I never make it. I feel the recipe has enough sugar and sweetness in the bread. Last, I use all cinnamon and leave out the allspice. I like allspice but I just keep it simple with all cinnamon. Can you see why I call this the best banana bread recipe?
My favorite change to this recipe, is I only use one bowl when preparing the batter. Honestly, this was inspired out of pure laziness. But it works, so now I do it all the time.
The Best Banana Bread Recipe
I start by mixing together the eggs, mashed banana, Greek yogurt, and melted butter. The recipe calls for 1 1/2 cups of banana. This is usually 3-4 bananas depending on the size. I've also used 1/3 cup melted coconut oil in place of the butter and that works too.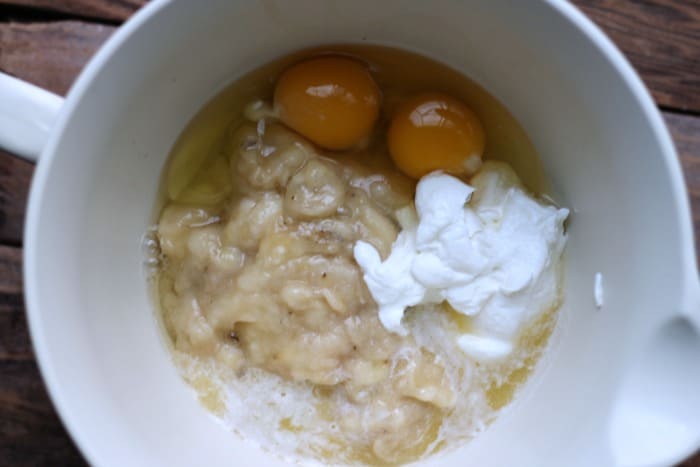 Then I mixed in the sugars until it was all blended.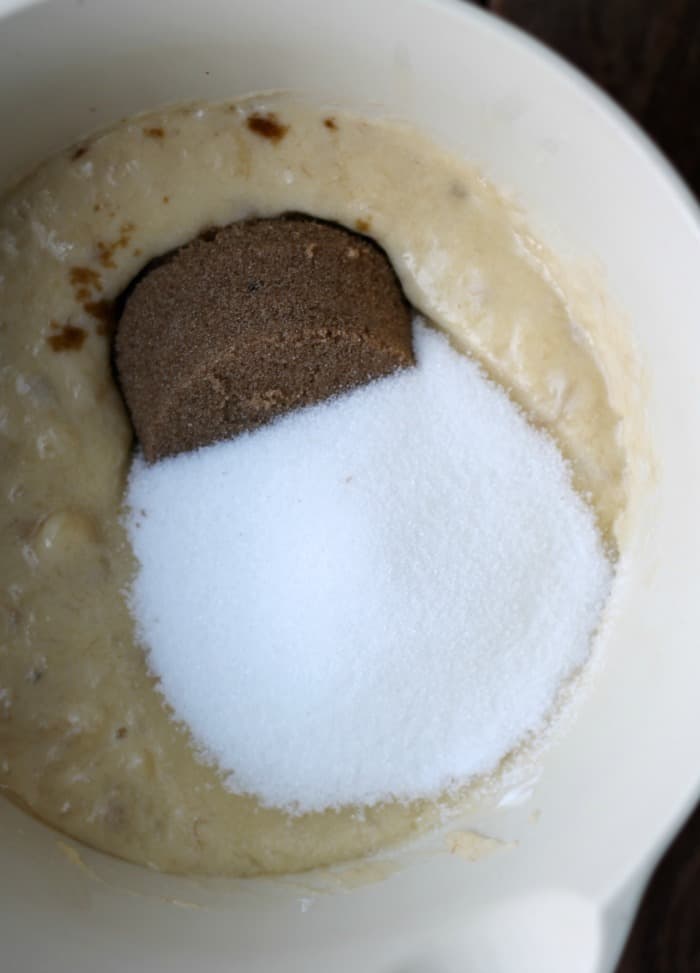 To mix it up I used this hand mixer. You can get it for $35 or under on Amazon. A hand mixer is a great tool to have in your kitchen.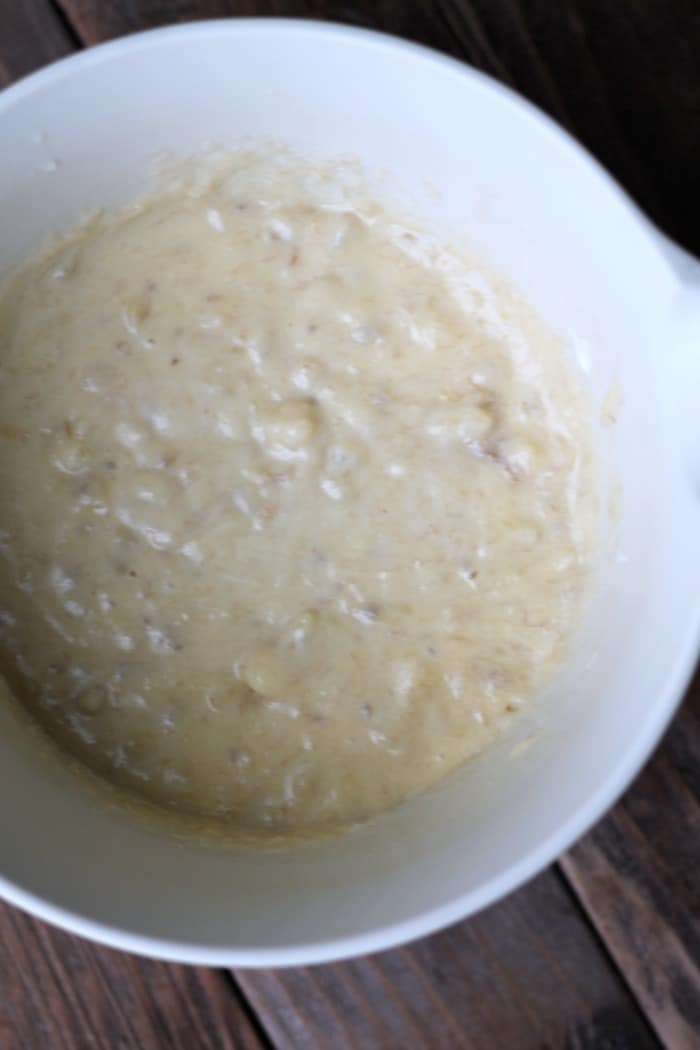 Here's where the one-bowl recipe comes into play. Instead of mixing together the dry ingredients in a seperate bowl and then mixing it in with the wet ingredients I placed all the dry ingredients on top of the wet. Easy peasy.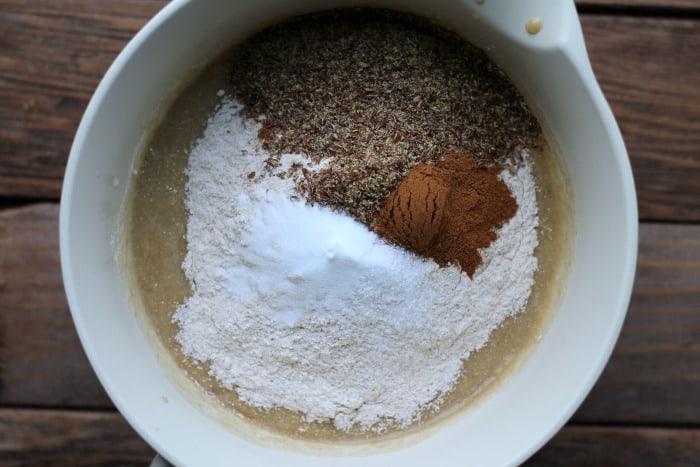 And mixed it up again. You don't want to over mix because that causes the bread to get tough. Just mix until the dry ingredients are combined with the wet.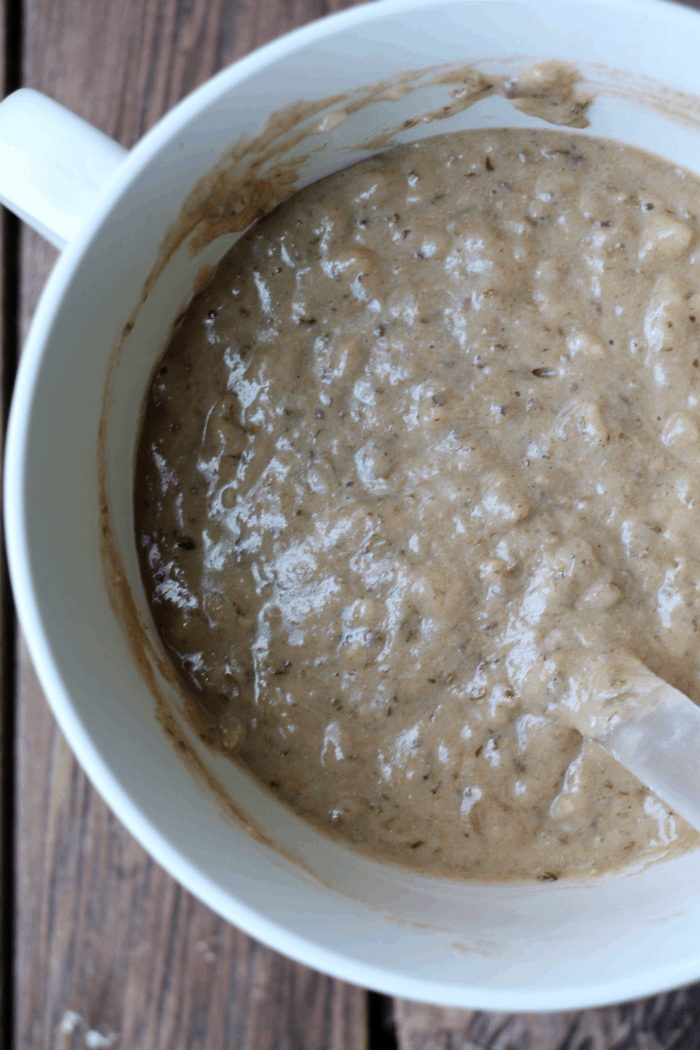 Pour the bread batter into a standard loaf pan. I love this Wilton bread pan. I get a perfect loaf every time.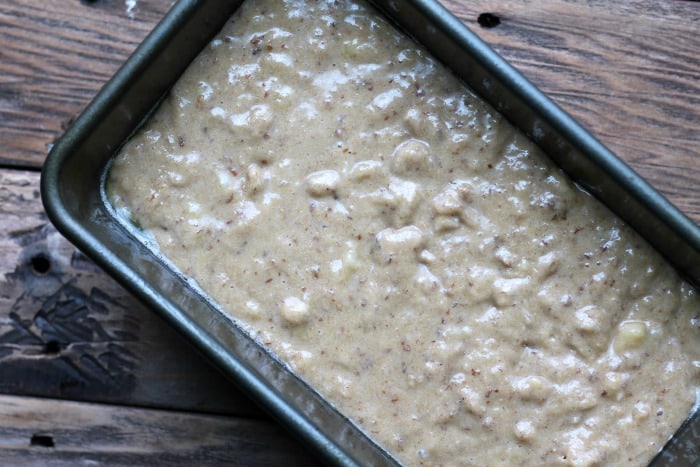 Bake in a 350 oven for 55 minutes. This might be a little more or less depending on your oven. My advice is to stick a toothpick or sharp knife in the middle and when there's only crumbs, and not batter, the bread is done.
Be prepared for your house to smell AAAmazing as the best banana bread recipe bakes. Honestly, I love to make this just for the smell.
I cut this bread into 8 thick slices and then cut those slices in half. In total you will have 16 pieces. I learned this little trick from my mom. It's easier then trying to cut 16 skinny slices of banana bread, that's near impossible.
Next time you have ripe banana's sitting around make the best banana bread recipe. It's perfect for a morning or afternoon snack. My kids also take a piece in their lunches.
This best banana bread recipe freezes great too so if you are planning to stock your freezer with healthy snacks then put this on the list to make.
One-bowl Healthy Banana Bread
Author:
Organize Yourself Skinny
Ingredients
1½ cups mashed banana (about 3-4 bananas)
⅓ cup plain greek yogurt
5 tablespoons butter, melted
2 large eggs
1 teaspoon vanilla
½ cup white granulated sugar
½ cup packed dark brown sugar
1½ cups white whole-wheat flour
¼ cup flaxseed meal
¾ teaspoon baking soda
½ teaspoon salt
1 teaspoon cinnamon
Instructions
Preheat over to 350 degrees.
In a medium to large mixing bowl mix together banana, greek yogurt, butter, vanilla, and eggs.
Add in the sugars and mix until blended.
On top of the wet ingredients place the flour, flaxseed meal, baking soda, salt, and cinnamon. Mix until all of the ingredients are combined.
Pour into a standard loaf pan, sprayed with cooking spray, and bake for 55 minutes or until the center is cooked. You can check this with a toothpick or sharp knife. If no batter sticks to the toothpick then the bread is done.
Let the bread cool in the pan for about 10 minutes. Remove from pan and let it finish cooling on a baking rack.
Cut into 16 pieces and serve.
Notes
Sugar: 16


Make-ahead instructions
This bread can be made completely ahead of time and stored in the refrigerator all week or in the freezer up to 3 months. I recommend wrapping in plastic wrap or placing into a freezer bag.
Nutrition Information
Serving size:
1 piece
Calories:
169
Fat:
6
Saturated fat:
3
Carbohydrates:
28
Fiber:
4
Protein:
4
Other healthy quick bread recipes:
Get Instant Access to My Best Weight Loss Tips & Strategies!
Sign up now for a free step-by-step 7-day email course that I created exclusively for my email subscribers! That's you. I will teach the best habits, strategies, and insider tips so you can enjoy a lifestyle that encourages and supports weight loss! Stop relying on willpower and take control back over your life! You can do this. Let me help!