Is banana bread healthy? This healthy banana bread recipe is and it's the best you'll ever eat! Made with sweet ripe bananas, a touch of cinnamon, and other delicious, wholesome ingredients. And, it only uses one bowl-so less cleanup for you!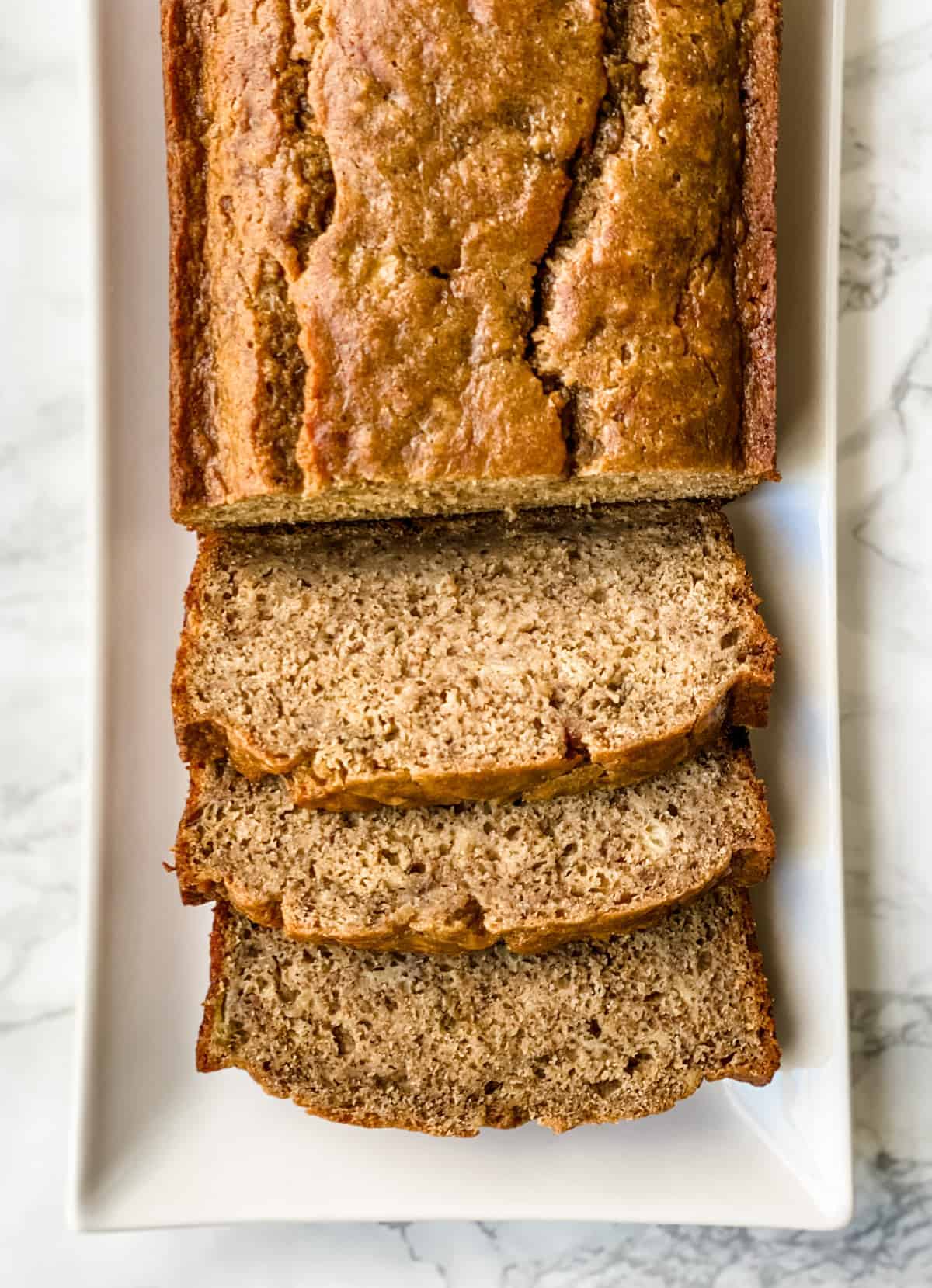 This post includes affiliate links. I'm an affiliate for Amazon and other brands I love and use. If you use one of my affiliate links to make a purchase I will make a small commission. You're by no means obligated to use my links but, if you do, thank you so much for supporting Organize Yourself Skinny.
Out of all the banana recipes I've shared on Organize Yourself Skinny, this healthy banana bread recipe is my favorite. I've made it hundreds of times! Anytime I have ripe bananas, this homemade banana bread is on the menu. 
Reasons you'll love this Recipe
Prepared with healthier ingredients. Ripe bananas create a delicious sweet and moist banana bread reducing the need for extra sugar, only a small amount of coconut sugar. White whole wheat flour is swap in place of all purpose flour for extra whole grains and fiber, and Greek yogurt adds protein along with moisture.
This easy banana bread recipe with yogurt comes together quickly using simple ingredients and one bowl. All of the pantry ingredients go into one bowl for easy preparation and clean up
The most delicious banana bread. Each slice is moist and filled with banana flavor! Trust me; your entire family will light up when the smell of banana bread is in the air.
It can be made ahead of time and frozen. Go ahead and make a few loaves to slice up and freeze for a quick healthy snack to grab as you're running out the door.
Ingredients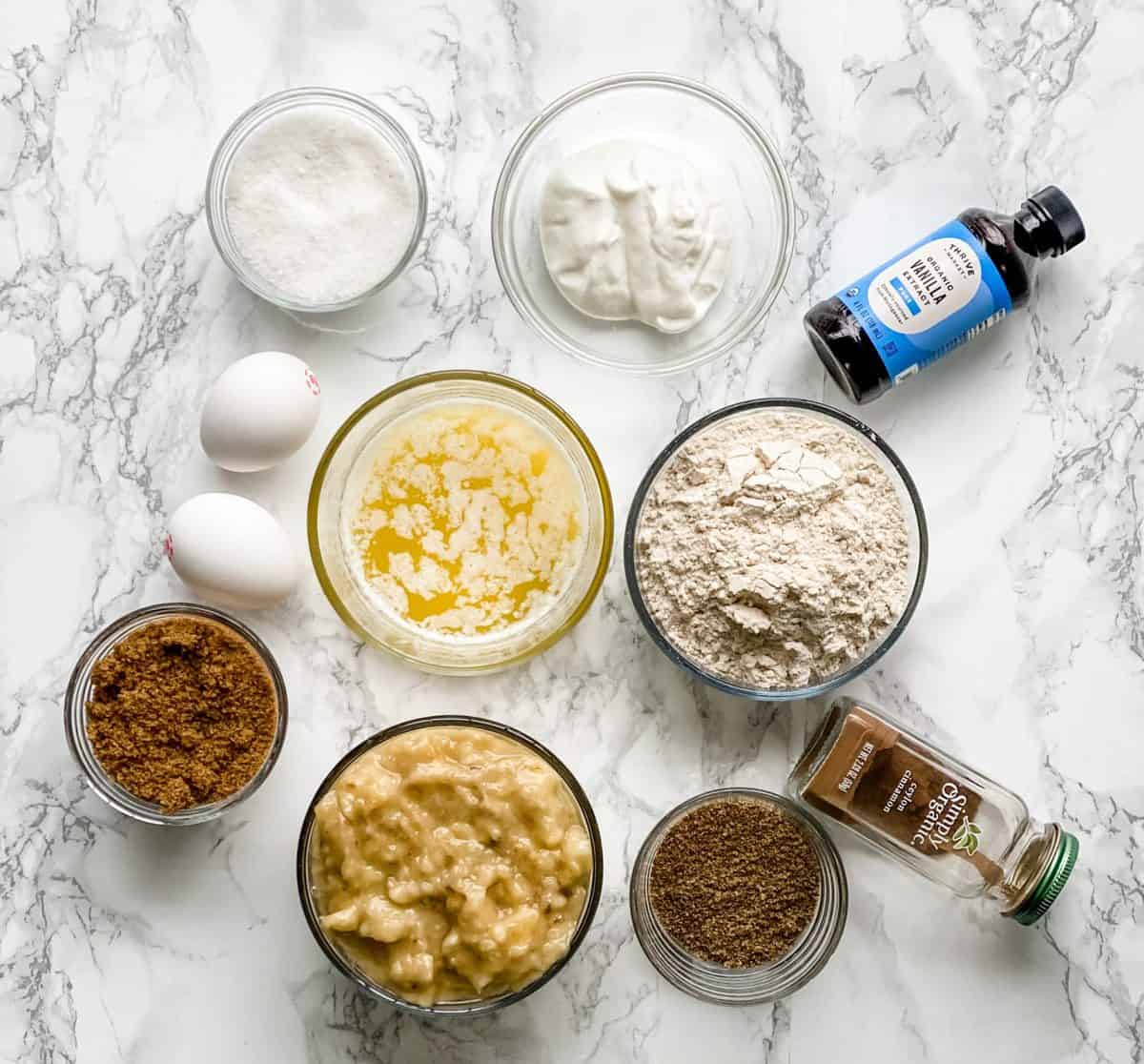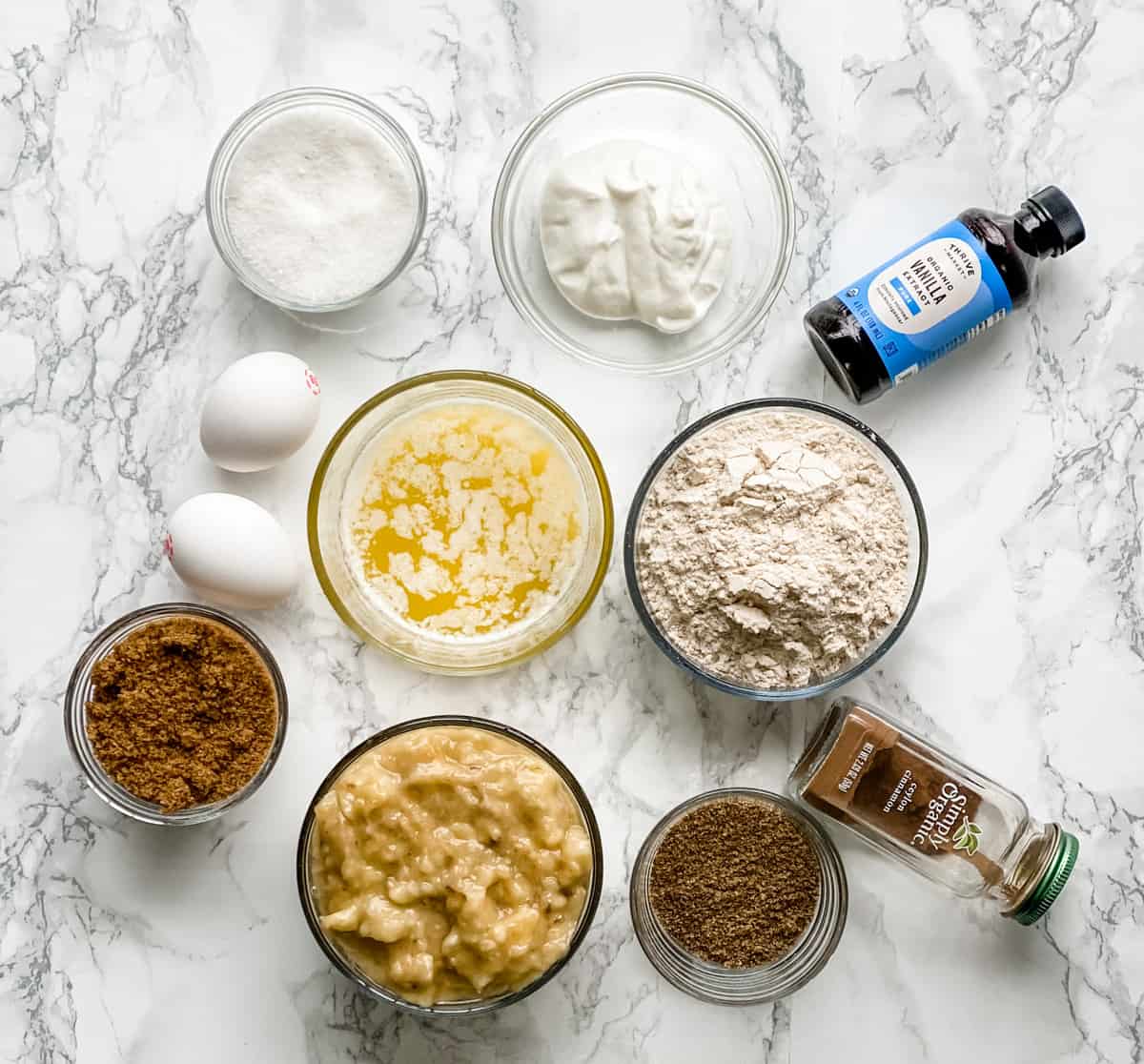 Alright, let's get to this recipe! Here is a list of ingredients you will need to make homemade banana bread with yogurt:
Mashed bananas. Remember, the riper the banana is, the sweeter and more moist the banana bread will be.
Plain Greek yogurt. My favorite Greek yogurt brands are Chobani, Fage, and Sigi's.
Unsalted butter creates a delicious tender, fluffy, and moist banana bread.
Large eggs to give structure to the bread and help it rise.
Pure vanilla extract for extra flavor.
Coconut sugar is an unrefined sugar that gives the banana bread a deliciously sweet caramel like flavor. It's my new favorite sweetener to use in baked goods.
White whole-wheat flour creates a wholesome nutritious banana bread.
Flaxseed meal for extra fiber and nutrition.
Baking soda to help the bread bread rise.
Cinnamon for a perfect warm flavor.
Thrive Market is an online natural and organic grocery store where I purchase many specialty, gluten-free, or organic baking items. They offer many of the same products found at Whole Foods but at lower prices. If you want to learn more, then read my Thrive Market Review.
Supplies
Bread Pan – I've owned this Wilton bread pan for years; it's a favorite.
Mixing Bowls – This set of Pyrex mixing bowls are inexpensive and get the job done.
Cooling Racks – this is a nice set.
Hand mixer – this is the one I have from Cuisinart.
Whisk – If I don't use a hand mixer, I'll use a whisk to blend all the ingredients. I love this OXO whisk set.
How to Make Healthy Banana Bread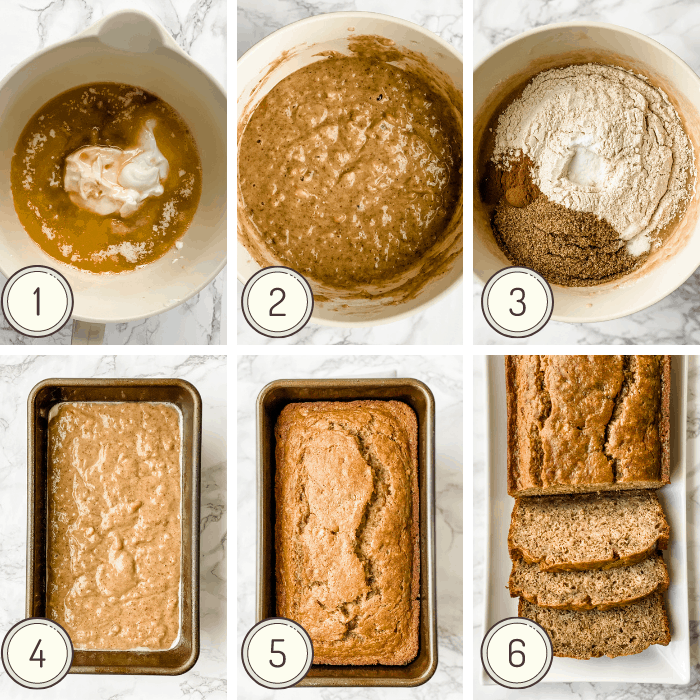 I mix the eggs, mashed banana, Greek yogurt, and melted butter into a bowl. The recipe calls for 1 1/2 cups of banana, usually 3-4 bananas depending on the size I've also used 1/3 cup melted coconut oil in place of the butter, which works too!
To mix it up, I used a hand mixer.
Here's where the one-bowl recipe comes into play. Instead of mixing the dry ingredients in a separate bowl and then mixing it with the wet ingredients, I placed all the dry ingredients on the wet.
Now, mix it up again. You don't want to over mix because that causes the bread to get tough. Mix the dry ingredients with the wet.
Pour the bread batter into a standard loaf pan.
Bake in a 350 oven for 55 minutes. The cooking time can vary slightly depending on your oven. My advice is to insert a toothpick or sharp knife into the middle of the loaf, and the bread is done when there are only crumbs and not batter.
Be prepared for your house to smell AMAZING as the best healthy banana bread recipe bakes. Honestly, I love to make this just for the smell.
I cut this bread into eight thick slices and then cut those slices in half. In total, you will have 16 pieces. I learned this little trick from my mom. It's easier than trying to cut 16 skinny slices of banana bread- that's near impossible!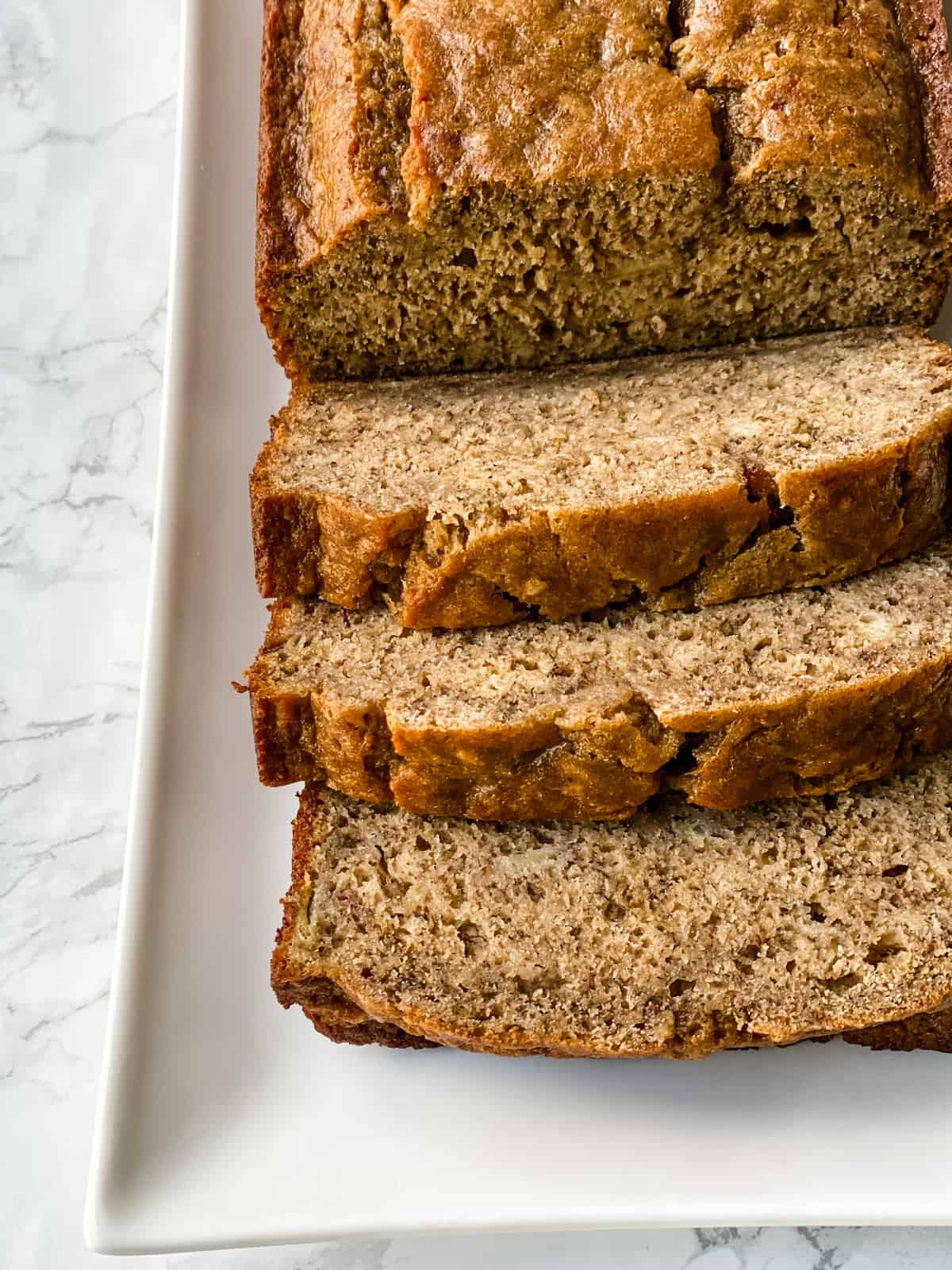 How to make healthy banana muffins?
You can easily turn this banana bread recipe into muffins.
Follow the banana bread recipe as written.
Divide the banana bread batter between a 12-cup muffin pan.
Bake in a 400 degree oven for 16 – 18 minutes.
Remove from the oven and let the muffins sit for 5 minutes in the pan.
Remove the muffins from the pan and place them onto a wire rack to finish cooling.
Cooking tips & Substitutions
This healthy, banana bread recipe is easy to adapt. I've made this a variety of ways using different flours, sweeteners, yogurts, and add-ins. My advice is to follow the recipe the first couple of times you make it and then make it your own.
Substitute gluten-free flour. When I want to prepare a gluten-free banana bread recipe, I'll substitute 1:1 gluten-free flour for the white whole wheat flour and flaxseed meal. It turns out wonderful and nobody knows the difference.
Use different flavored greek yogurts. Plain greek yogurt is my yogurt of choice with baking because it's low in sugar. If I'm out of plain greek yogurt or add more flavor to the banana bread, I'll use vanilla or other flavored yogurts.
Substitute coconut oil for butter. I prefer butter in this healthy banana bread recipe; it gives the bread a delicious subtle butter flavor and helps it brown nicely. If you don't want to use butter, then ⅓ cup of melted coconut oil is a healthy substitute.
Swap in maple syrup or honey for the coconut sugar. This will change the texture of the banana bread but it will still add sweetness to the recipe and taste good.
Storage tips
Store in the refrigerator all week or in the freezer for up to 3 months. I recommend wrapping in plastic wrap or placing it into a freezer bag.
Place it on the counter to thaw or warm up in the microwave for 10 – 15 seconds.
FAQs
Is banana bread healthy?
Traditional banana bread includes white sugar, white flour, and lots of butter. This healthy banana bread recipe reduces the amount of sugar and switches out more nutritious ingredients while still keeping a moist, flavorful banana bread.

So, this easy healthy banana bread recipe can find its way into your weekly meal plan.
How to get a flavorful, moist healthy banana bread?
The secret to a super moist and flavorful banana bread is to use ripe bananas. Ripe bananas are a darker yellow with brown spots all over the skin. When a banana looks like it only has about 1-2 days of life left, that's when you know it's ready for banana bread. 

The moisture from the bananas creates a tender, moist bread that has the most fantastic banana flavor. 
How do you keep banana bread moist?
After your banana bread has cooled down and sliced, make sure to wrap each slice tightly with food-safe plastic wrap. That way, it traps the moisture, and it doesn't dry out the bread. 

You can also store slices of banana bread in an airtight container to keep moist.
What can I stir into banana bread?
Walnuts are delicious in banana bread. Or use your favorite chopped nuts. ½ cup of nuts is the perfect amount for this recipe. For a more indulgent banana bread, stir in ½ cup of chocolate chips.
Do you eat banana bread on its own?
You can! I've also seen others add a layer of peanut butter (or any nut butter, really) onto their slice as well. Of course, be mindful of the added fat and calories when adding nut butter.

If you're eating banana bread for breakfast, it pairs nicely with a small yogurt bowl. My girls love that combination. 
Should you refrigerate banana bread?
That's mostly up to you. You don't HAVE to refrigerate it as long as you store the banana bread properly by wrapping it tightly in plastic wrap or storing it in an airtight container.

However, I'll keep banana bread in the refrigerator during hot and humid months to keep it fresh longer.
Can I freeze banana bread?
You sure can! One of my favorite things is baking a few loaves of banana bread and then freezing individual slices to have for snacks.
Other Healthy Baked Goods Recipes:
If you are looking for a couple of more baked goods recipes, take a look at this list: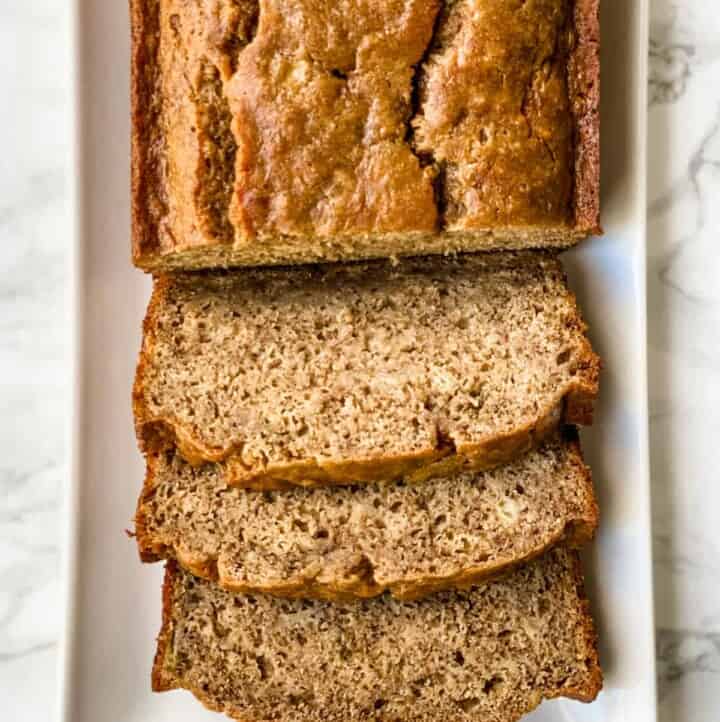 Healthy Banana Bread
This healthy banana bread recipe is the best you'll ever eat! Made with sweet ripe bananas, a touch of cinnamon, and other delicious, wholesome ingredients. And, it only uses one bowl-so less cleanup for you!
Print
Pin
Rate
Equipment
Mixing Bowls

Whisk

Large spoon or spatula

Hand Mixer

Bread pan

Cooling racks
Ingredients
1 1/2 -2

cups

mashed ripe bananas

about 3-4 bananas

⅓

cup

plain greek yogurt

5

tablespoons

unsalted butter

melted

2

large eggs

1

teaspoon

pure vanilla extract

1

cup

coconut sugar

You can also use a mix of white and brown sugar.

1 1/2

cups

white whole-wheat flour

1/4

cup

flaxseed meal

3/4

teaspoon

baking soda

1/2

teaspoon

salt

1

teaspoon

cinnamon
Instructions
Preheat the oven to 350 degrees.

In a large mixing bowl, mix together mashed banana, greek yogurt, vanilla, sugar, and eggs.

Slowly stir in the melted butter until blended.

On top of the wet ingredients, place the flour, flaxseed meal, baking soda, salt, and cinnamon. Mix until all of the ingredients are combined.

Pour into a standard loaf pan that's been sprayed with cooking spray, and bake for 55 minutes or until the center is cooked. You can check this with a toothpick or sharp knife. If no batter sticks to the toothpick then it's done.

Let the bread cool in the pan for about 10 minutes. Remove from pan and let it finish cooling on a wire cooling rack.

Cut into 16 pieces and serve.
Notes
** You can leave out the flaxseed meal and add more flour to the recipe.
Storage tips
Store in the refrigerator all week or in the freezer for up to 3 months. I recommend wrapping in plastic wrap or placing it into a freezer bag.
Place it on the counter to thaw or warm up in the microwave for 10 – 15 seconds.
Nutrition
Serving:
1
g
|
Calories:
154
kcal
|
Carbohydrates:
32
g
|
Protein:
4
g
|
Fat:
5
g
|
Saturated Fat:
2
g
|
Fiber:
3
g
|
Sugar:
13
g
Next time you have ripe bananas sitting around, make the best healthy banana bread recipe. It's perfect for a morning or afternoon snack. Share a picture and tag me on Instagram or Facebook if you decide to make this recipe for banana bread!