This double chocolate pumpkin muffin recipe is made with whole-grains, nutritious pumpkin, and a hint of fall spices! If you need a chocolate fix then try these!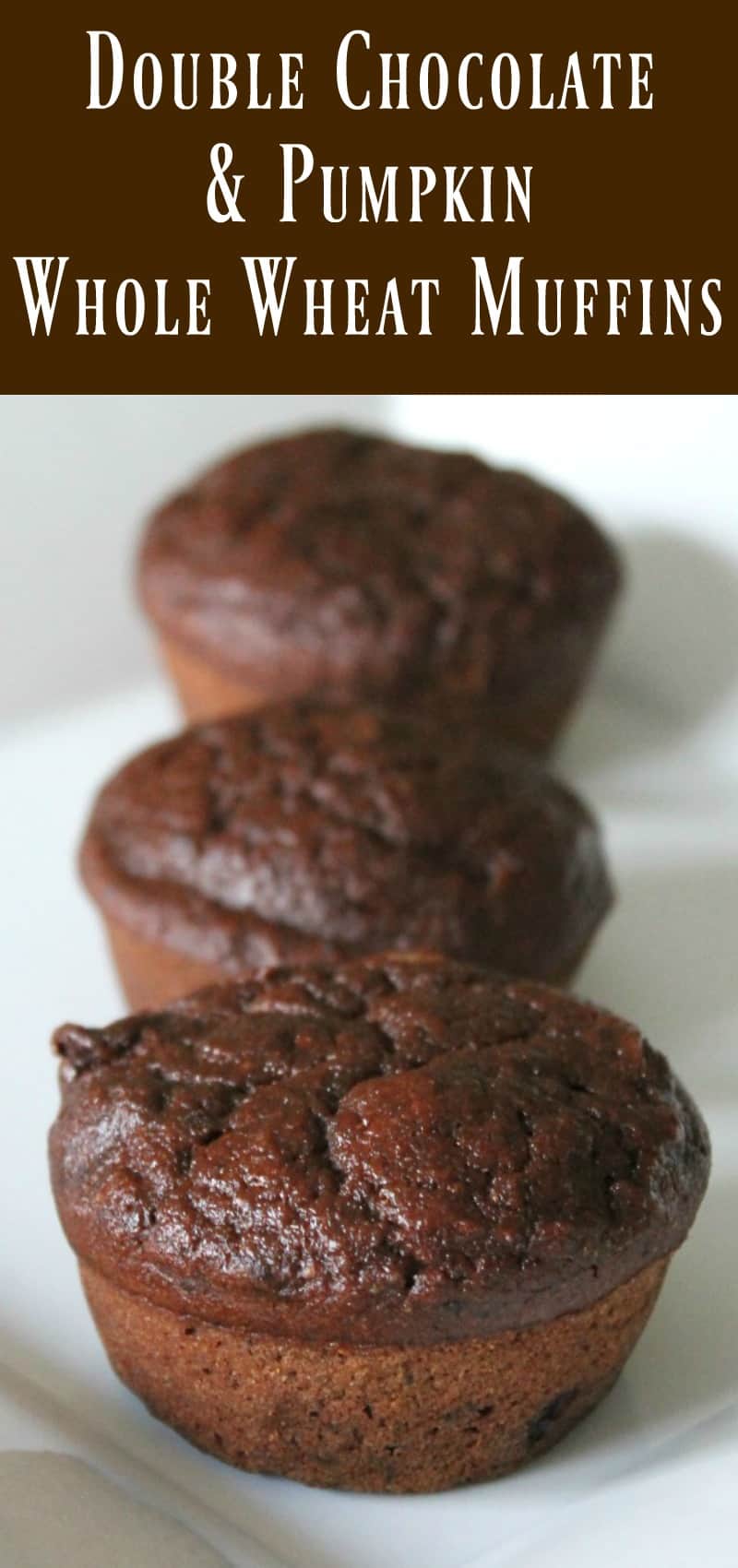 I told you this week is pumpkin and chocolate week. Yesterday I shared my new chocolate and pumpkin baked oatmeal recipe and today I give you the same ingredients but turned into a rich chocolate muffin. Friday I'm sharing a pumpkin brownie recipe and Saturday you will get a chocolate and pumpkin overnight oats recipe. How many more ways can I use pumpkin and chocolate in a recipe? I actually have a huge list but I think that's gonna be it for now. Starting next week I move on to slow cooker recipes. Woohoo! I know slow cooker recipes excite you just as much as me.
But before soups, chilis, and other comfort foods lets get through the rest of my pumpkin recipes. Now I don't want to brag or anything but I must say this new chocolate and pumpkin muffin recipe is pretty darn good. It's has more of a chocolate flavor than pumpkin buuuut using canned pumpkin in a muffin recipe will create the most tender moist rich muffin you ever ate. YUM! This muffin almost melts in your mouth.
The ingredients are basic and I had all of them – except canned pumpkin – in my pantry.
I started by mixing together the sugar and melted butter. Then I slowly mix in the eggs.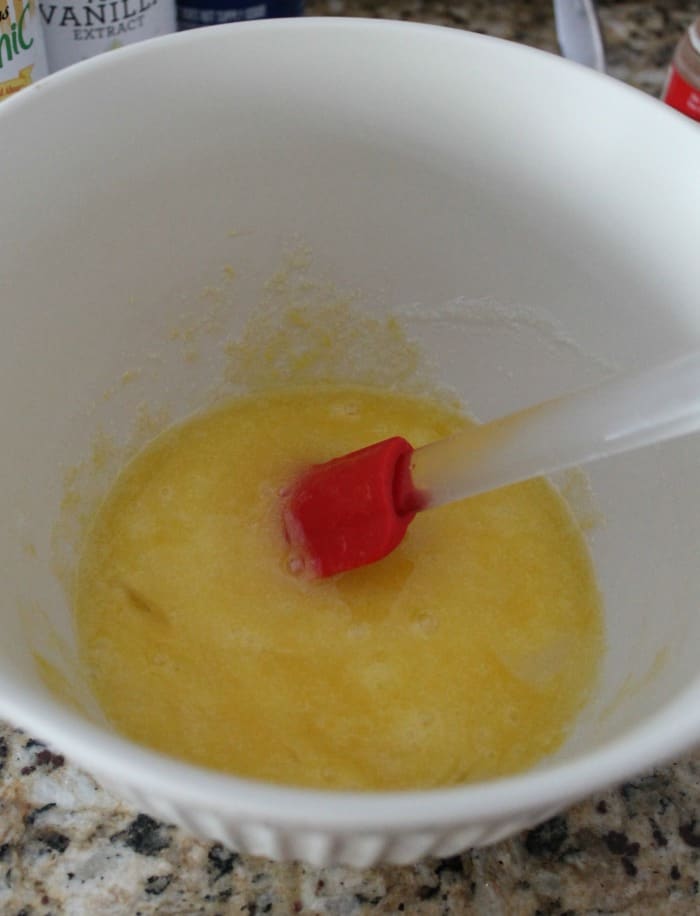 I added vanilla, unsweetened coconut milk, and cocoa powder and then mixed together until rich and chocolatey. This is already looking like something I want to inhale with a spoon.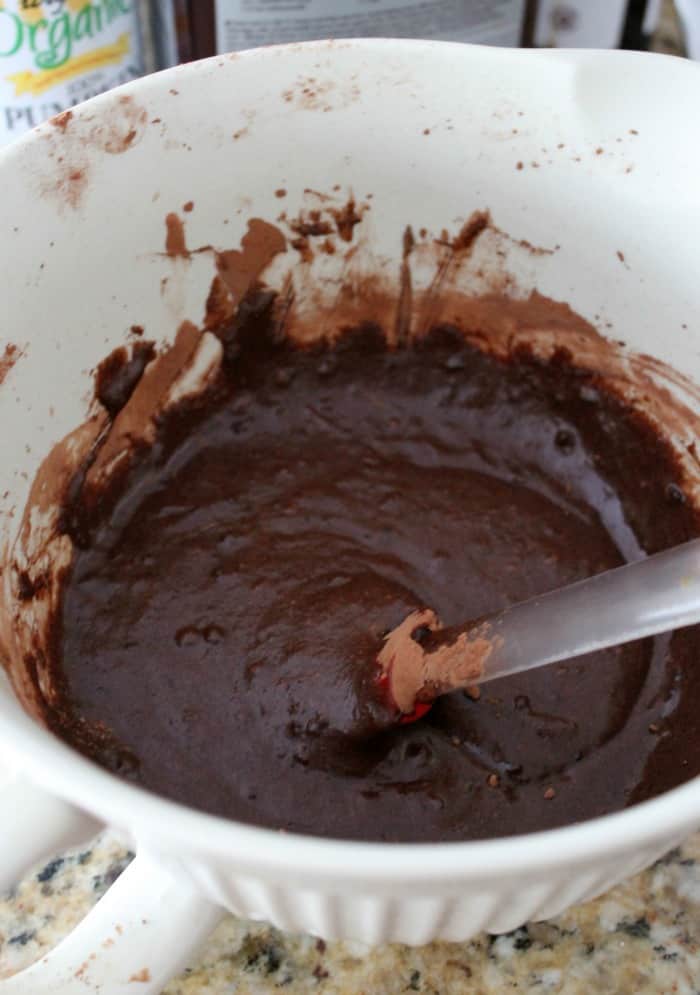 Then the pumpkin gets stirred in. I used 1-cup of pumpkin for this recipe and most baked good recipes that call for pumpkin. I've found more than that will result in a very dense baked good. That's just my experience.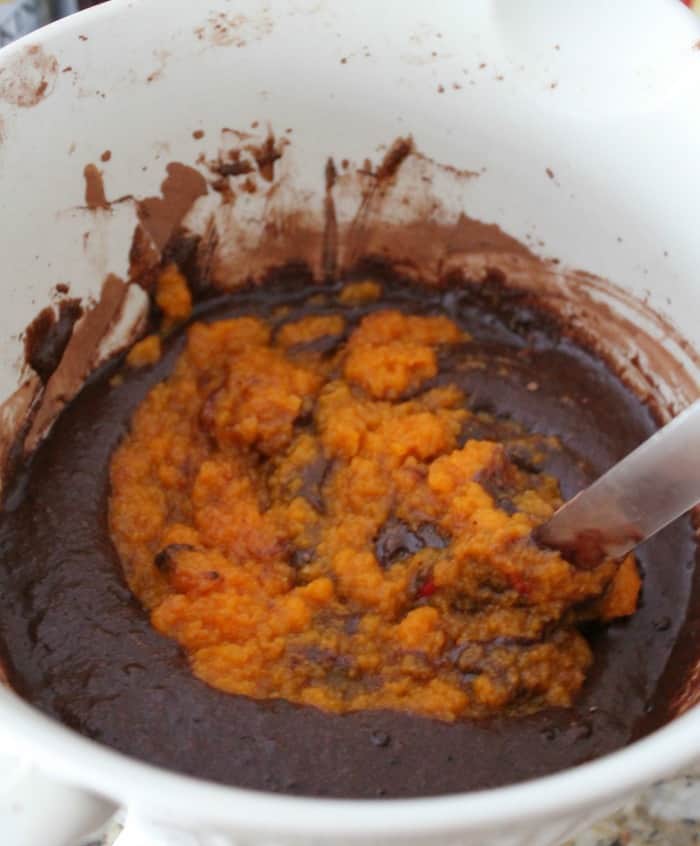 Next, I placed all the dry ingredients on top of the wet. I love 1-bowl recipes, it makes my life so much easier.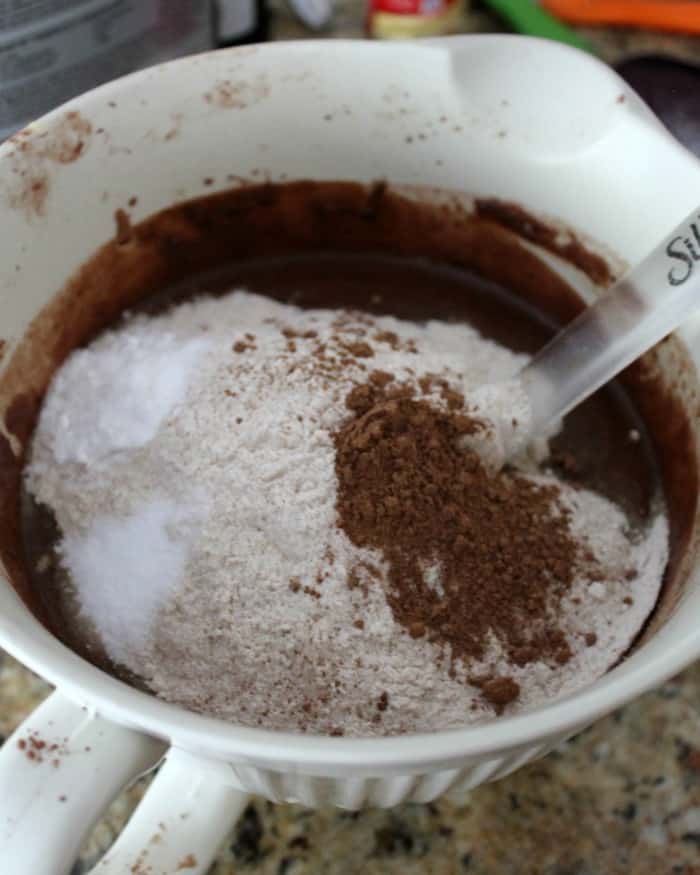 I stirred it up until all of the ingredients were combined and then slowly stirred in the chocolate chips. I only used 1/4 cup of chocolate chips. This is the perfect amount to get a sweet chocolate bite in each muffin while keeping the calories below 200.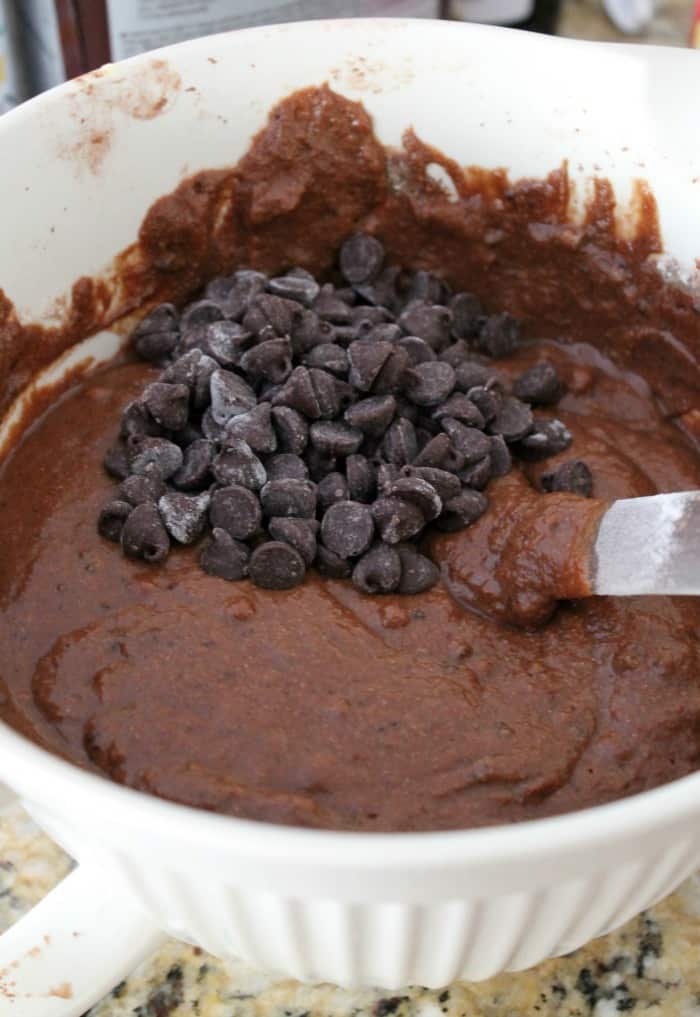 I divided the muffin batter equally among a 12-cup muffin pan. I used about 2 medium cookie scoops of batter per cup and each one was filled to the top. I baked the muffins for 20 minutes in a 350 degree oven. Please note I have an electric oven so your time might be a little more or less. Bake until a toothpick comes out of a muffin with just a few crumbs stuck to it.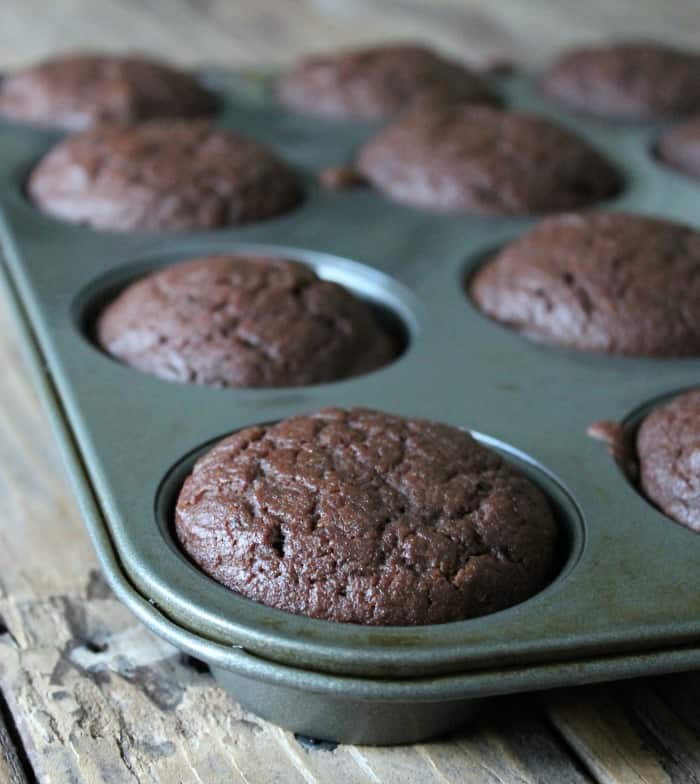 These muffins don't rise a whole lot because they have so much moisture in them. But the result is a rich moist chocolate muffin that is beyond scrumptious.
Let the muffins cool completely on a wire cooling rack.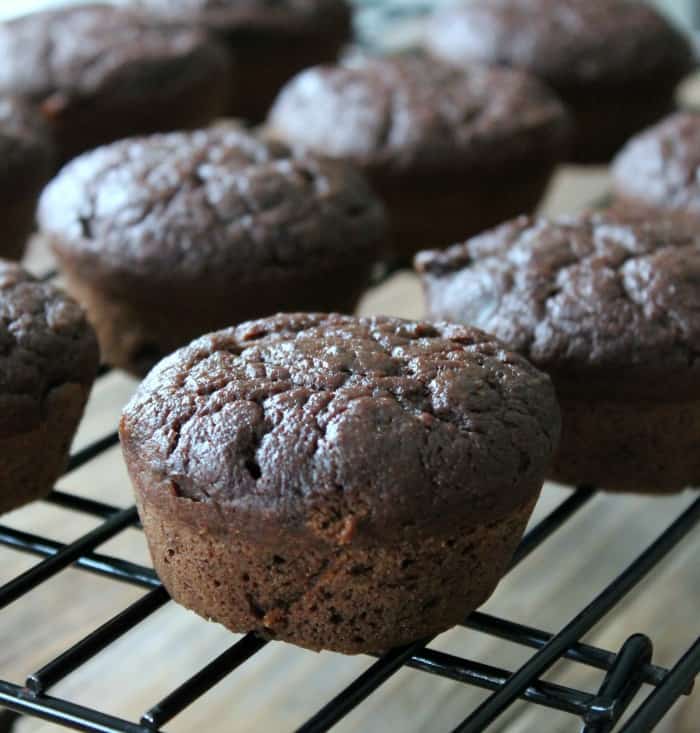 After the muffins are cooled you can stick them in the freezer. I recommend doing this or you will be tempted to eat the entire batch. Just sayin…
You can take one out and throw in the kiddos lunches or let it thaw on the counter to enjoy for a midmorning snack. I warmed mine up in the microwave for about 15-20 seconds and it was absolutely delicious!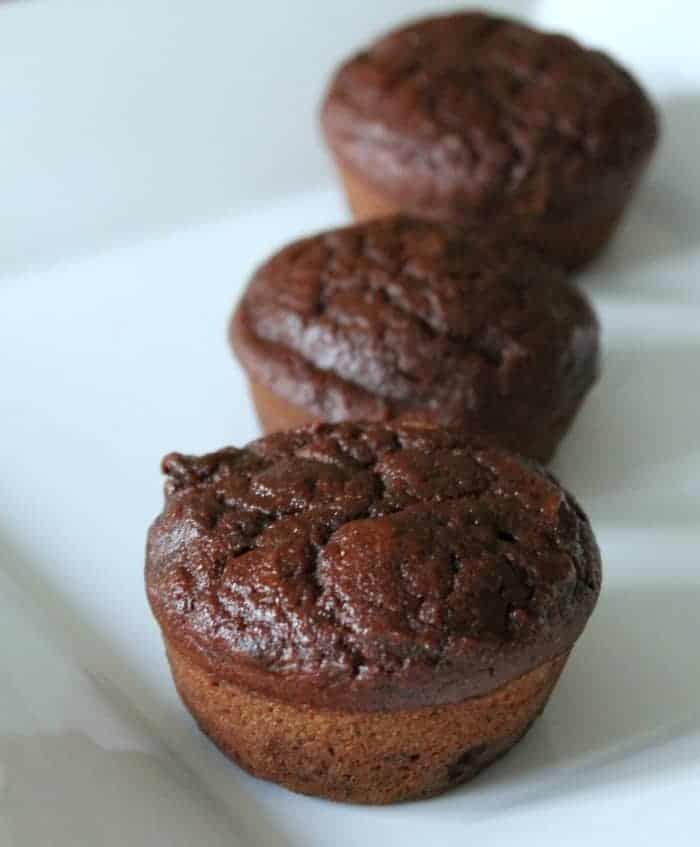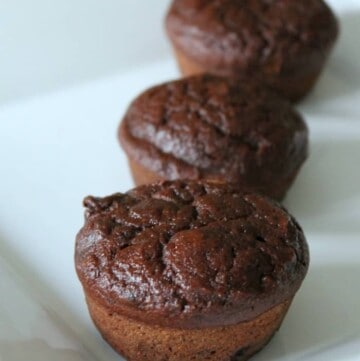 Ingredients
1/4

cup

unsalted butter

melted

1

cup

white sugar

2

eggs

beaten

1-

cup

unsweetened coconut milk

or any milk

1

teaspoon

pure vanilla extract

1/2

cup

unsweetened cocoa powder

1-

cup

canned pumpkin

not pumpkin pie filling

1 1/2

cups

white whole-wheat flour

1

teaspoon

pumpkin pie spice

1

teaspoon

baking powder

1/2

teaspoon

salt

1/4

cup

semi-sweet chocolate chips
Instructions
Preheat oven to 350 degrees.

In a large bowl mix together melted butter and sugar. Stir in the eggs until it's creamy.

Stir in the coconut milk, vanilla, and cocoa powder until dark and chocolatey.

Stir in the pumpkin.

Place on top of the wet ingredients the flour, pumpkin pie spice, baking powder, and salt. Stir until all of the ingredients are combined.

Slow stir in the chocolate chips.

Spray a 12-cup muffin pan with cooking spray and divide the batter among the 12 cups.

Bake for 18 - 20 minutes.

Let cool for 5 minutes in the pan and then finish cooling on a wire cooling rack.
Notes
sugar: 19
Make-ahead tips
After the muffins cool place into a gallon size freezer bag and lay flat in the freezer. Once the muffins are frozen you can place bag anywhere you need to in the freezer. Take out and let thaw on the counter or warm up in the microwave for 15- 20 seconds.
Nutrition
Serving:
1
g
|
Calories:
197
kcal
|
Carbohydrates:
32
g
|
Protein:
4
g
|
Fat:
7
g
|
Saturated Fat:
4
g
|
Fiber:
4
g