Ripe bananas, greek yogurt, and double chocolate make up these deliciously moist rich low-calorie healthy muffins.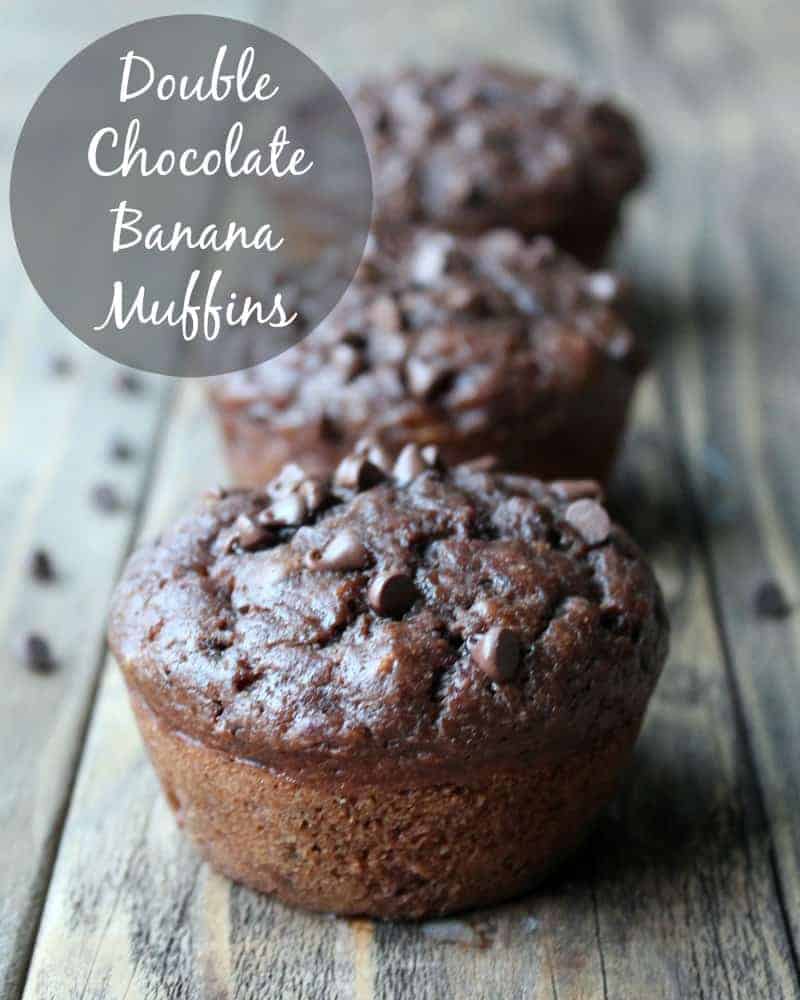 These might be the best muffins I ever made! Each one is sinfully rich, super moist, and beyond chocolaty. I was inspired to make these by accident. Don't you wish all accidents ended with a chocolate muffin? Me too!
Here's the quick story.
I've been trying to create a new recipe video for a one-bowl banana bread. Well I screwed up every. single. time. I know videos are the new thing to do – and I plan to make some – but omg I can't seem to get it together when making one. Each time I missed a step or ingredient. Ugh! Anyway, as I tried to make it again…and missed a step again..I decided to live on the wild side and throw some cocoa powder and mini chocolate chips in. Why not? Chocolate always makes me happier.
Let me just say. Adding chocolate to a banana muffin recipe was the right thing to do. They are meant to be together.
Because this recipe started as a video but did not end with a video I don't have my usual step by step photos. I will update this recipe when I make it again. But I wanted to get this muffin recipe to you asap because I know you love chocolate as much as me.
Anyway, let me still talk a little bit about the recipe.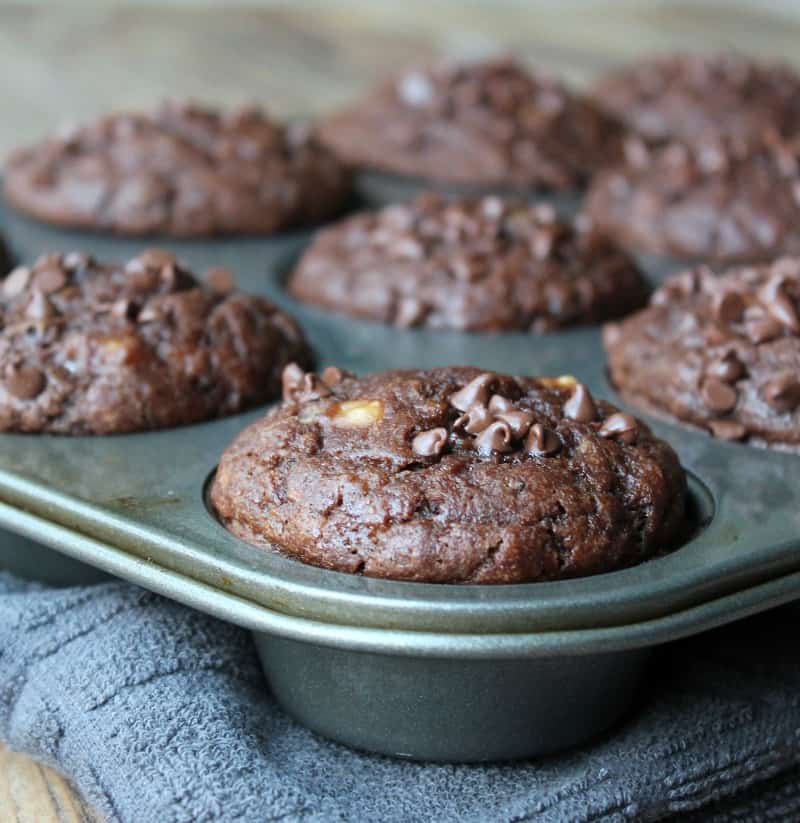 The basic foundation I took from my double chocolate zucchini recipe I made over the summer. That recipe was da bomb too!
In this double chocolate banana muffin recipe I used 4 medium sized ripe bananas. In previous banana bread recipes I used three and felt it could use more banana flavor. 4 bananas, in my opinion, is perfect. The bananas add the perfect amount of natural sweetness to the recipe. In fact, I only need to use 1/4 cup of sugar in this whole recipe.
Another ingredient I love using in muffin recipes is greek yogurt. I think it brings nice flavor to the muffin along with giving it a nice moist texture.
Two more "secret" ingredients I use in my baked goods are coconut oil and coconut milk. Both of these ingredients work wonderfully in baking recipes. I prefer coconut oil over vegetable or canola because it's not as processed and is healthier. I like coconut milk because it's rich like whole milk but lean like 1%. If you haven't tried coconut milk or oil in a baking recipe I recommend giving it a shot. Personally, I don't think the muffins taste like coconut at all. Even friends of mine that hate coconut (I know strange) had no clue I use it in the recipe. #tammywin
Coconut oil can be found in most grocery stores but if you struggle getting to the store then you can get great prices online at Amazon or Thrive Market.
This recipe creates about 15 muffins. And the best news of all is each muffin's only 137 calories and 4 weight watchers points. That made my day because when I took a bite I thought there is no way these are less than 200 calories. Not only are they under 200 calories but each muffin is under 150 calories! So grab a rich delicious double chocolate banana muffin, sit back, and enjoy life. Life is good!

Double Chocolate Banana Muffins
Author:
Organize Yourself Skinny
Ingredients
2 cups white whole-wheat flour
½ cup unsweetened cocoa powder
½ teaspoon salt
½ teaspoon cinnamon
1 teaspoon baking soda
2 eggs
¼ cup granulated sugar
4 ripe medium bananas, mashed
1 (5.3 ounce) container vanilla greek yogurt
1 teaspoon pure vanilla extract
1 cup unsweetened coconut milk
⅓ cup melted coconut oil
¼ cup mini chocolate chips, divided
Instructions
Preheat oven to 350
In a large bowl whisk together flour, salt, cinnamon, and baking soda. Set aside.
In a medium bowl whisk together the eggs and sugar until creamy.
Stir in the bananas, yogurt, vanilla extract, coconut milk, and coconut oil.
Pour wet ingredients into the dry ingredients and stir just until all the ingredients are combined and moist.
Stir in about ¾ of the chocolate chips.
Spray a 12-cup muffin pan with cooking spray and divide the batter among the 12 cups. You will have enough batter for about 15 muffins total. Sprinkle remaining chocolate chips over the top of the muffins.
Bake for 18 – 20 minutes or until you can stick a toothpick in the center and it comes out with a little bit of crumbs attached. Don't over cook the muffins.
Let the muffins cool in the pan for about 5 minutes then transfer to wire rack to cool completely.
Notes
Make ahead instructions


After the muffins cool completely wrap individually in plastic wrap and freeze. Take out one 1 hours before you want to eat and let it thaw on the counter.
Nutrition Information
Serving size:
1 muffin
Calories:
137
Fat:
7
Carbohydrates:
18
WW Points +:
4
Fiber:
2
Protein:
2
Get Instant Access to My Best Meal Prep Tips & 20 Delicious Make-ahead Recipes!
Sign up now to receive your FREE ecookbook that I created exclusively for my email subscribers! That's you!