Make-ahead breakfast burritos are perfect during the busy week when you need a quick, healthy grab-and-go breakfast option. These can be prepped on the weekend or every few weeks to stock your freezer for an easy breakfast on the go!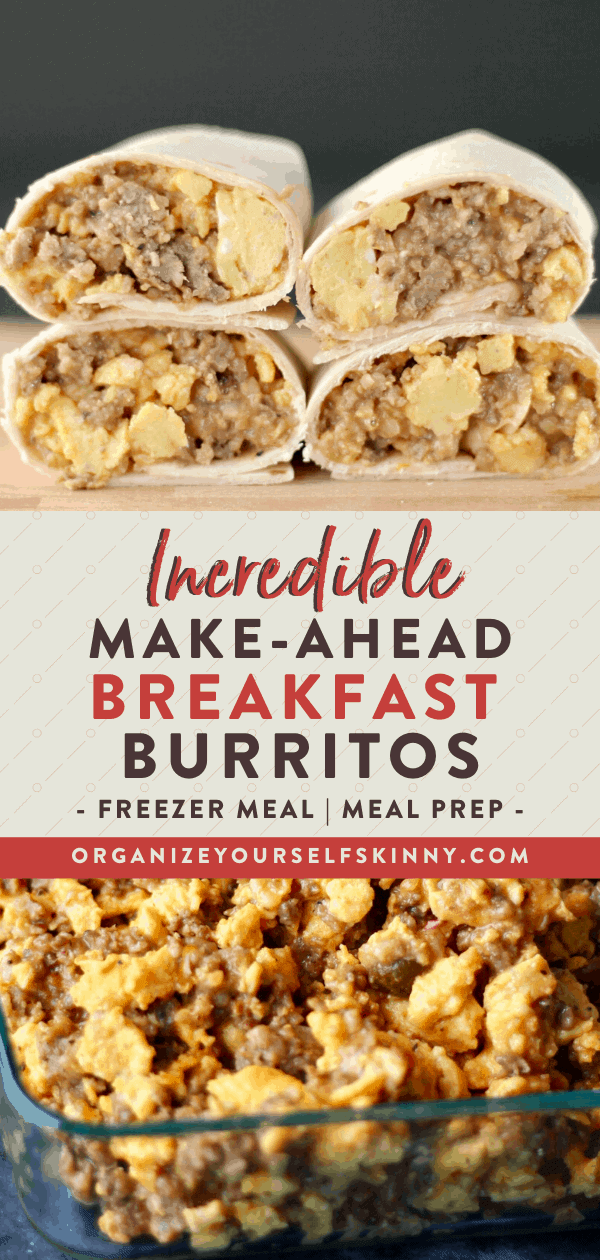 Breakfast burritos were one of the first recipes I stocked my freezer with. Truth be told, I used to head to the morning drive-thru for a breakfast burrito or sandwich just about every morning. Even though I'm a big breakfast smoothie fan, I still often like eggs for breakfast, especially when they are wrapped in a tortilla filled with sausage, egg, cheese, and veggies! Yum!
Anyways, I knew back then if I wanted to lose weight, I needed to find an alternative to my fast-food breakfast burrito. I also knew that I couldn't make a homemade breakfast burrito every single day…
That's when I discovered not only could I make delicious breakfast burritos at home, but I can make a bunch at once to freeze for a quick healthy breakfast all month!
This was a game-changer for me considering the amount of time, money, and calories I spent going to the drive-thru every day for years.
If you find yourself in the same scenario, then this post is definitely for you!
In this post, I'm going to show you how to make-ahead breakfast burritos to have on hand for breakfast any day of the week. I'll go over weekly meal prep tips along with how to freeze them. I'll also offer my best reheating tips so you don't have to worry about rubbery eggs or dried out hard tortilla shells 😉
Frequently Asked Questions About Breakfast Burritos
I've been making these breakfast burritos for 10 years so I've learned a thing or two about how to prepare the best make-ahead breakfast burrito. Before I jump into all of my tips and hacks, I wanted to answer a few questions I've received about these awesome burritos…
Which Is The Best Tortilla To Use?
The tortilla I use most often for these make-ahead breakfast burritos is the flour tortillas from Mission Soft. They are the perfect size!
They hold the filling really well and freeze and reheat great. I know they are white flour and not low carb but each tortilla is only 140 calories which is on the lower side compared to other tortilla shells and wraps.
Also, the main reason I use these tortillas is that I can buy them in a bulk pack from my local wholesale store. So, when I'm ready to stock my freezer with breakfast burritos, it's less expensive and easier to grab a big package of these tortillas.
Plus, my kids eat breakfast burritos too and they prefer white flour tortillas. Actually, they won't even eat the ones made with wheat wraps. Hey, I gotta pick my battles!
Low Carb Alternatives For Tortillas
Now, there are many times I'll making some with low-carb wraps just for me. I've tried many low-carb wraps and the two I prefer are Mission Low Carb Balance and Father Sam's Low Carb Wheat Wraps. I actually prefer Father Sam's brand but those are harder to find so I mostly stick with Mission Brand.
The size you need to look for is 8 inches because that's the best size to hold burrito filling without busting.
Can I Use Egg Whites?
To be honest, I wouldn't recommend it. Egg whites don't freeze that great and they often turn out rubbery after reheating.
If you want to reduce the amount of fat in this recipe, then I suggest removing some of the yolks – but not all of them. For example- If you use 12 eggs, then use 9 eggs with yolks and 3 egg whites.
Can I Put Vegetables Into Breakfast Burritos?
Yes, most vegetables work great with breakfast burritos! Actually, if you just want to completely omit the meat from these burritos and want something that is healthy and hearty, take a peek at my vegetarian burrito recipe. It's SO good!
My advice is to cook the vegetables prior to putting them into the burrito.
You can do this by:
Cooking in a pan on the stove. Saute the vegetables in a little olive oil and cook until tender. Drain the liquid and then mix it into the eggs.
Roast the vegetables. Mix the vegetables with a little olive oil and roast for in a 425-degree oven for about 30 – 40 minutes. Again, drain the liquid.
Steam vegetables. You can do this on the stove or in the microwave. You can also use the steam in bag vegetables found in the freezer section.
The biggest thing to remember is to drain the liquid that comes from the vegetables. Too much liquid will result in a mushy burrito. I use a mesh strainer to strain cooked vegetables in.
Another tip is to cut the vegetables into small pieces so they mix evenly into the eggs. Big pieces will just come right out of the burrito with the first bite.
Should I Use Any Sauces Or Seasonings?
Honestly, the ideas are limitless for the number of burrito variations you can create. I like to season the eggs with garlic powder, onion powder, salt, and pepper. Often I like to mix in salsa but you can also mix in taco sauce, chipotles, pesto, or any sauce you want.
I also love to use fresh cilantro or basil! However, you can just keep it basic with a little salt and pepper.
The thing to keep in mind is you don't want the filling to be too wet or that could result in soggy burritos.
How Do You Keep Breakfast Burritos From Getting Soggy?
This is the million-dollar make-ahead breakfast burrito question.
Nobody likes a soggy burrito!
Here are my tips:
Don't use too many liquids. Like I mentioned before, you can use different sauces and salsa to add flavor but don't overdo it. I use about 1 cup or less chunky salsa and about 1/4 – 1/2 cup of other liquids.
Drain veggies! I can't stress this enough. Especially, if you're using frozen spinach or greens. Make sure to squeeze out as much liquid as possible before string into the cooked eggs. If you cook or steam vegetables, make sure to drain the liquid before adding. Please note that certain water-based vegetables like zucchini and other squashes might not freeze well. I suggest sticking to other heartier veggies like peppers, onion, broccoli, and mushrooms.
Let the burrito filling cool before preparing the burritos. Putting hot filling into a tortilla and then sticking in the freezer will cause the tortilla to steam and get soggy.
Wrap them tightly in plastic wrap and then foil before sticking in the freezer. This keeps moisture out.
How Long Will Breakfast Burritos Last In The Fridge?
I wouldn't leave premade burritos in the fridge longer than a couple of days because it will all get soggy. If you'd rather not freeze them, then make the burrito the night before or make it in the morning.
Other Ingredients You Can Add To Your Burrito Filling
Besides eggs, meat, cheese, and veggies, you're probably wondering: What else can I add to a burrito?
Here are some other ideas:
Beans
These are great in vegetarian burritos for extra fiber and protein. I use 1 (15-ounce) can per 12 eggs. You can use more or less-just depends on your preference.
I love black beans in breakfast burritos but use your favorite!
Quinoa Or Rice
These whole grains add bulk, protein, and fiber. You can mix this right in with the cooked eggs. I use about 1/2 cup to 1 cup with 12 eggs. Please note, you need to cook the grains first before adding to the eggs.
Sometimes, I'll make my greek quinoa breakfast bowl but add it as a filling inside of a tortilla to make a delicious breakfast burrito!
Hash Browns Or Potatoes
If you're using frozen hash browns, you can just add them right to the burrito. Or, you can layer them before or after you put the egg filling. If you want the hashbrowns to be crispy, then you'll need to cook them before using it in the burrito.
Tofu Or Meatless Crumbles
If you're trying to eat less meat or are vegetarian, then scramble up some tofu or meatless crumbles to add to the eggs. Both can be found in the organic/vegetarian food section of any grocery store.
How To Meal Prep Make-Ahead Breakfast Burritos
Now let's talk about how to make-ahead breakfast burritos. You can do this in a couple of different ways.
You can either prep the ingredients and/or burritos for the week and store in the refrigerator
Or, you can prep everything and stick all of your burritos in the freezer for a later time.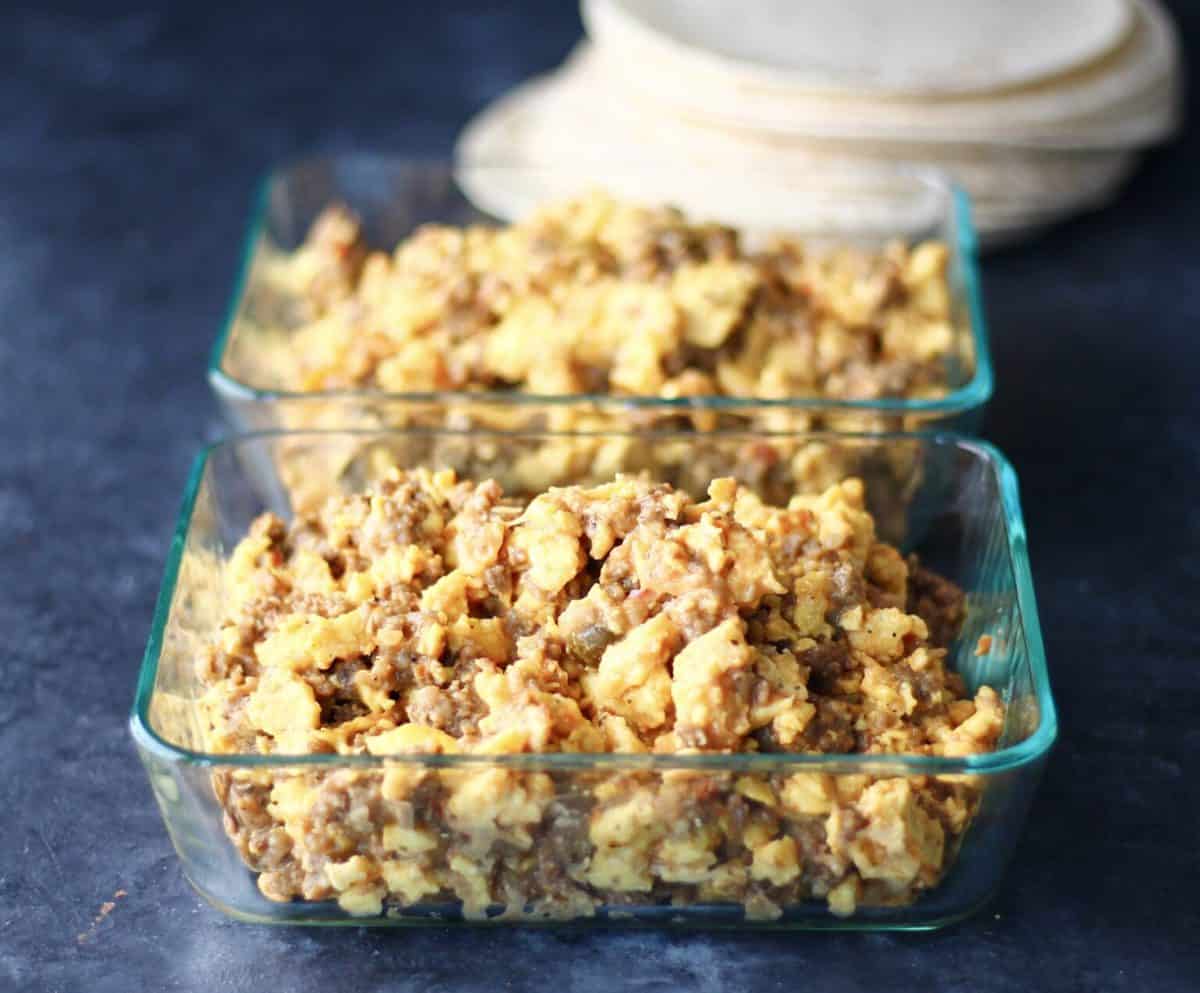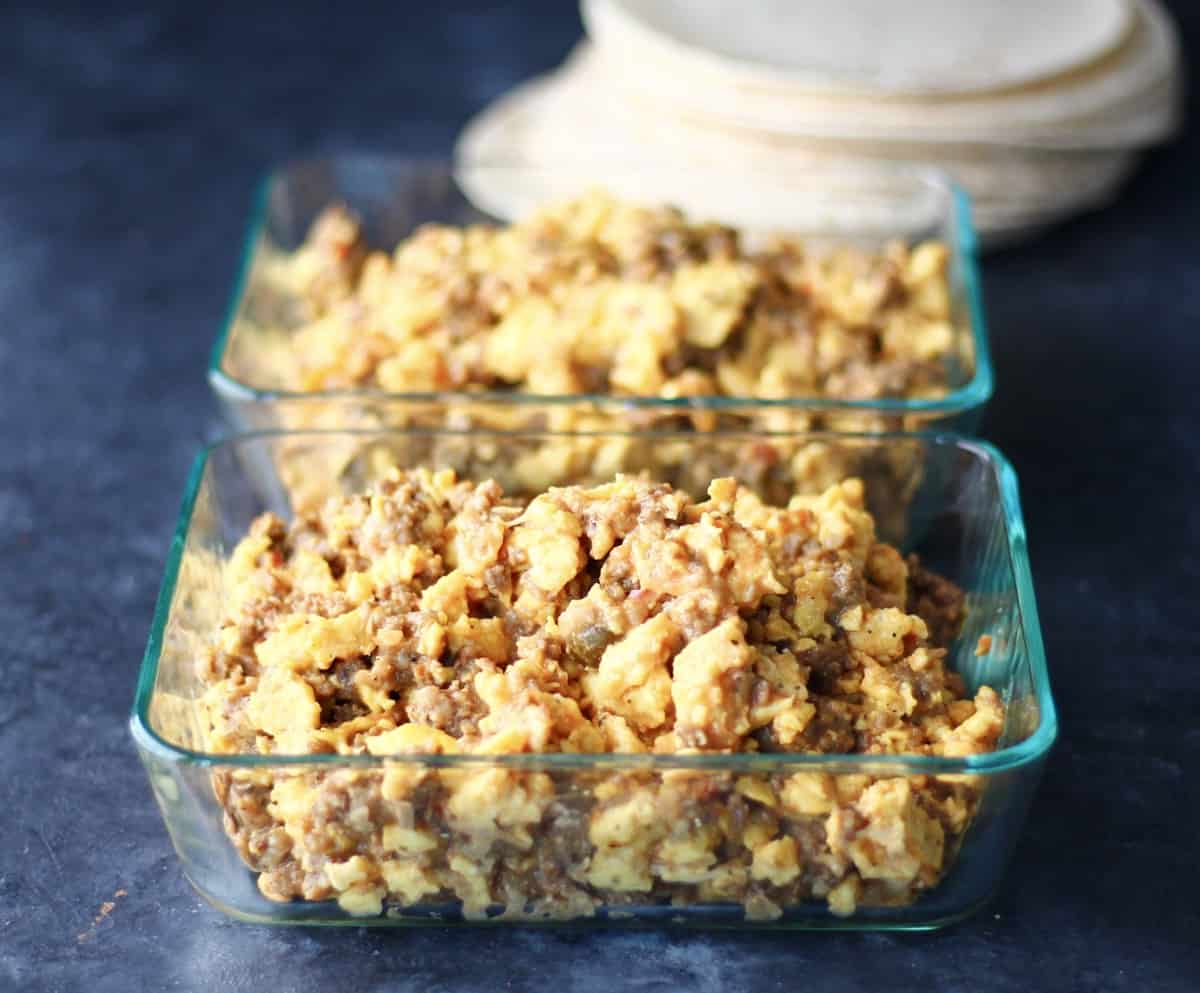 Let's first chat about prepping for the week.
If you want to make burritos throughout the week but don't want to freeze the burritos, then I suggest preparing the filling during the weekend and store it in the refrigerator using glass meal prep containers.
In my experience, glass containers keep food fresh the longest. When you're ready to eat, add the amount of filling you want into a bowl and warm it up. Then, put together the burrito and eat it!
Or, you can put the burritos together and wrap tightly in plastic wrap and store in the refrigerator for 1-2 days. Remove the plastic wrap and heat in the microwave when ready to eat. This is good for grab and go!
How to Freeze Prepped Breakfast Burritos
Freezing breakfast burritos is my favorite way to make them and the one I do most often.
Here are the steps:
First, put together the burrito filling and let it cool.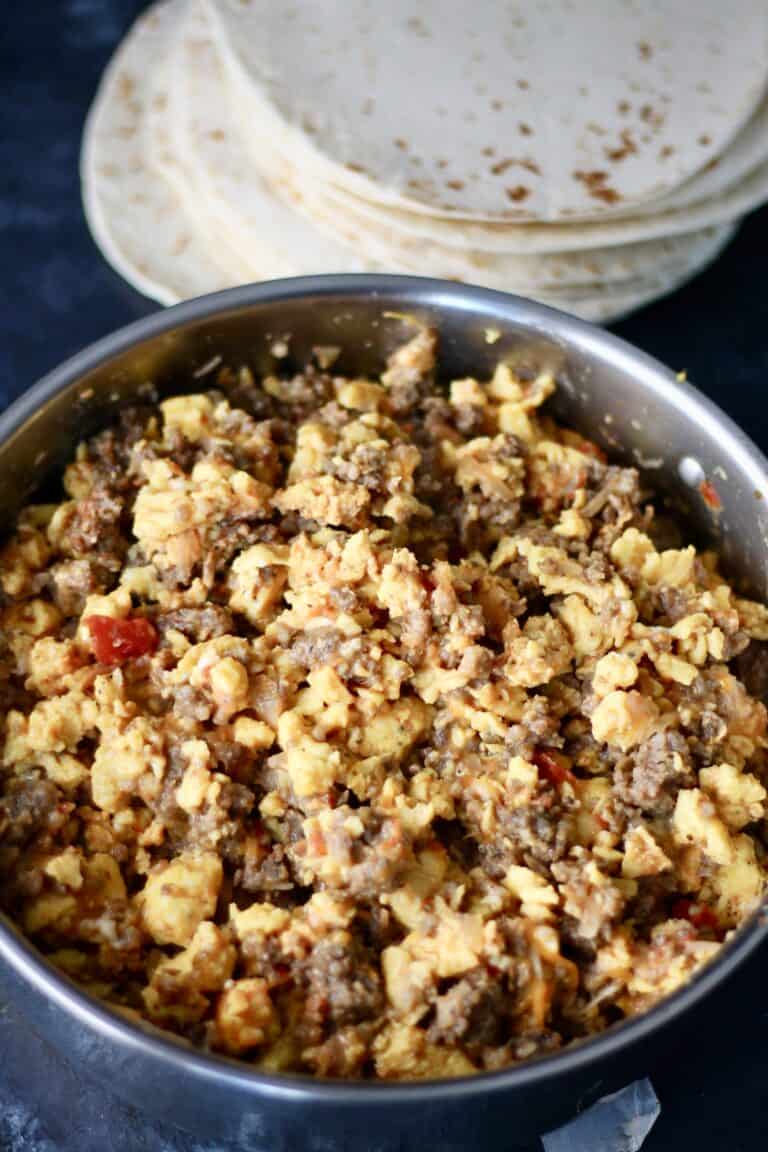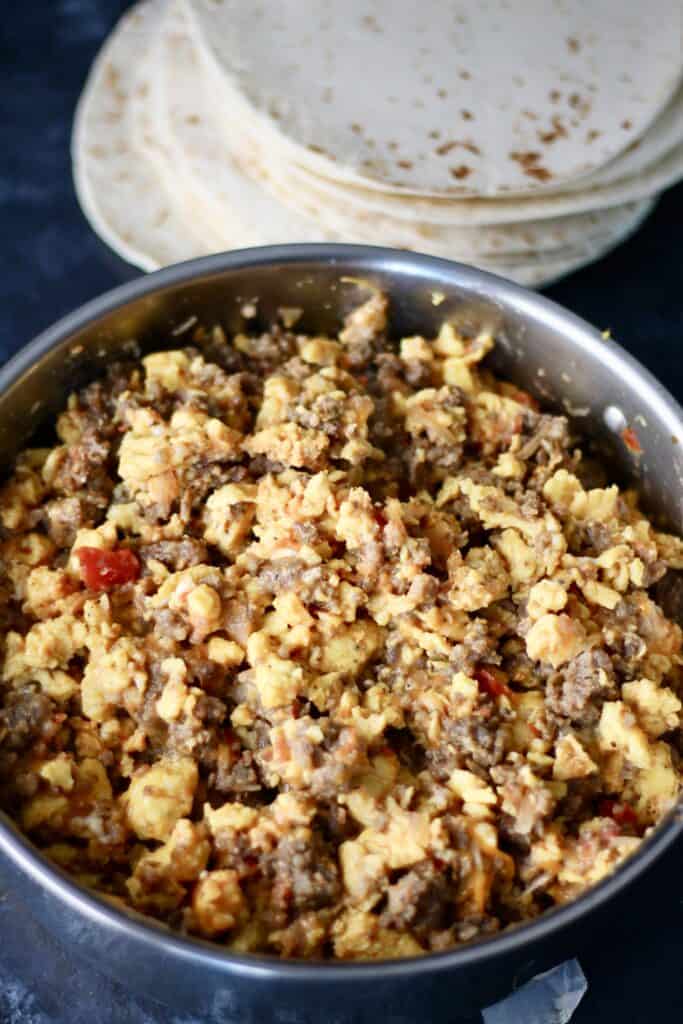 Lay flat an 8-inch tortilla and fill it with 1/3 cup of filling. If you're using potatoes or hashbrowns, then add 1/4 cup to the filling. fold in the sides and then roll it up.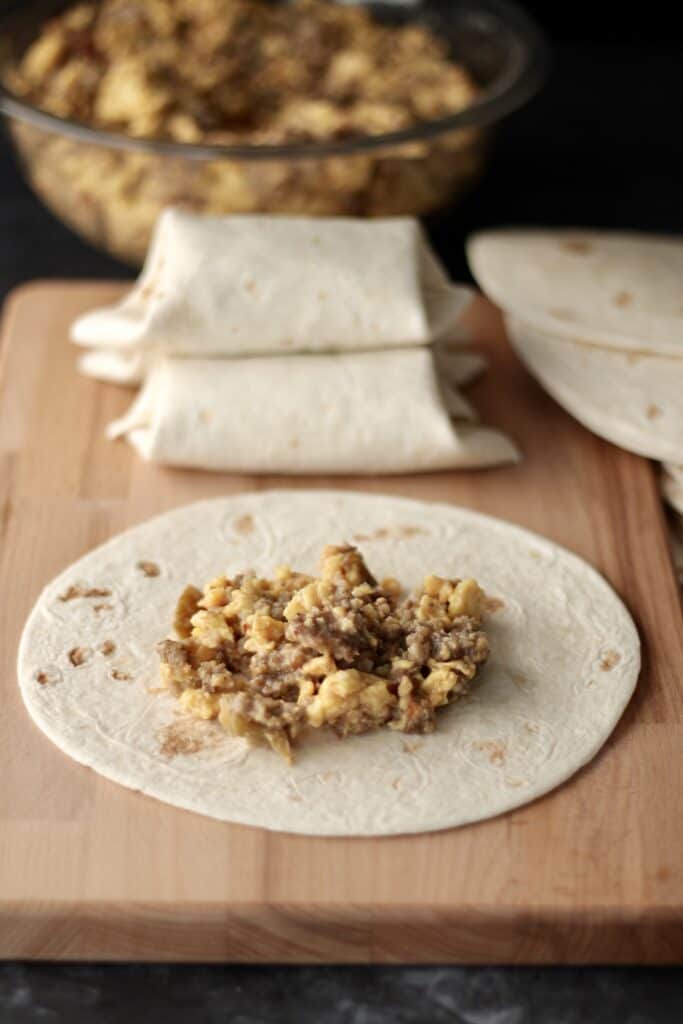 Wrap tightly in plastic wrap or foil.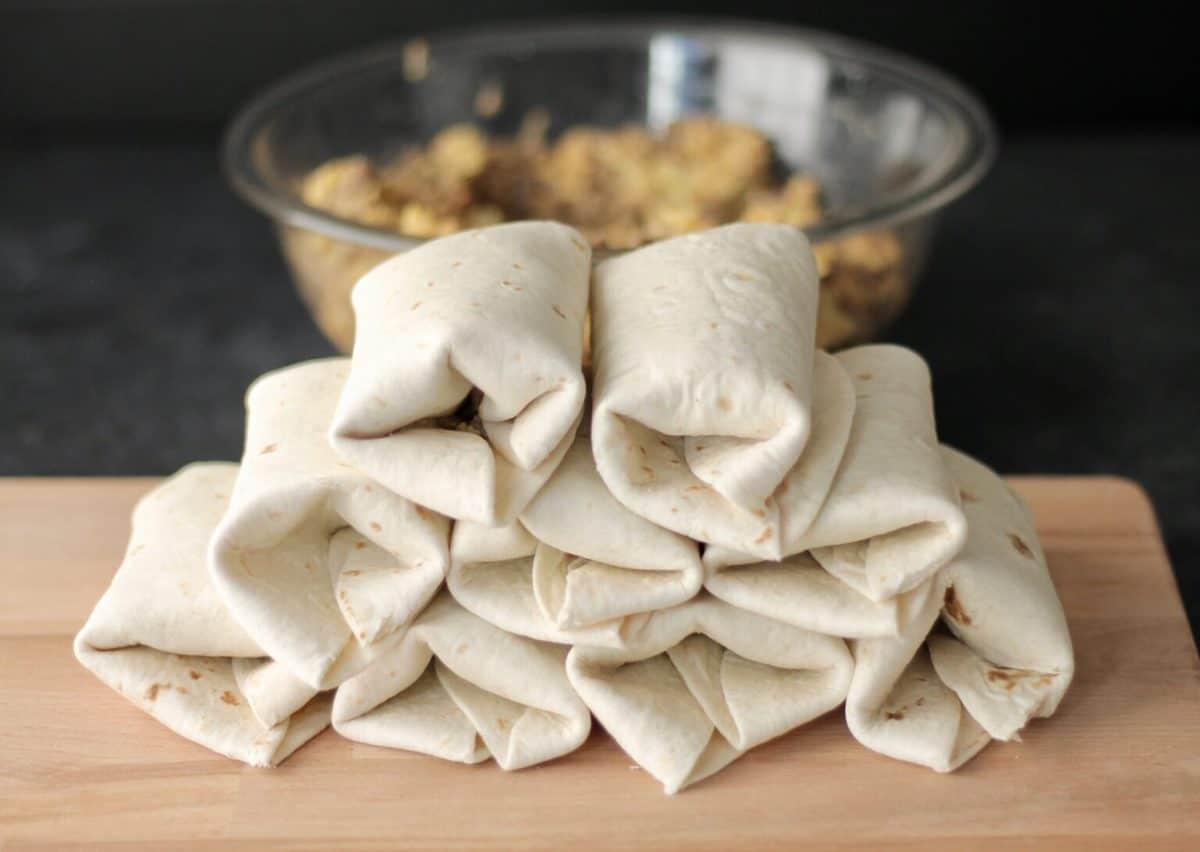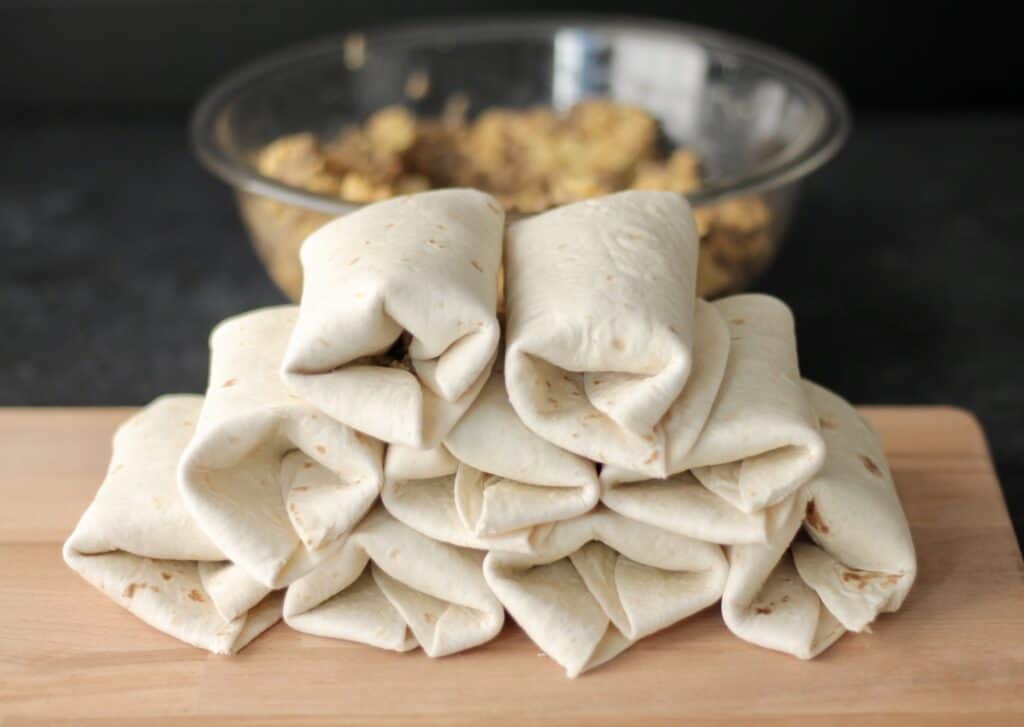 Place all the breakfast burritos into a large gallon size freezer bag. Depending on how many burritos you make, you'll probably need to use more than one bag.
Label and freeze!
Cooking Tip: These breakfast burritos will last 3 months in the freezer!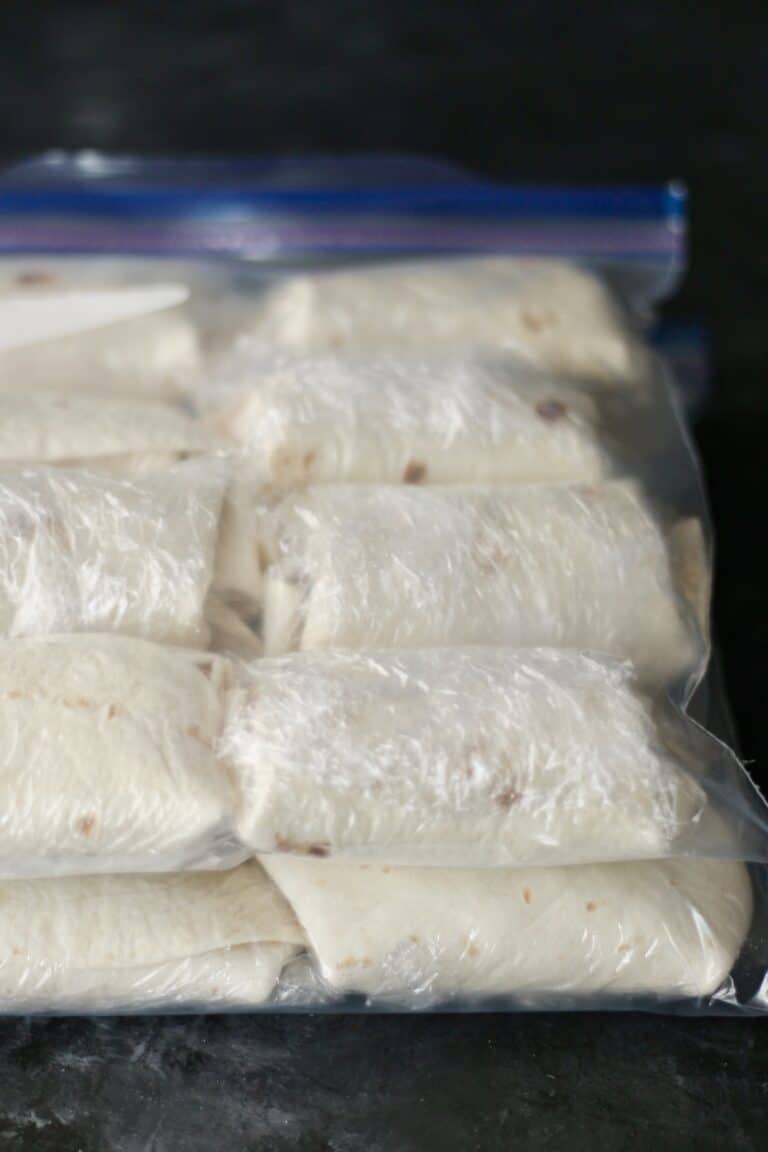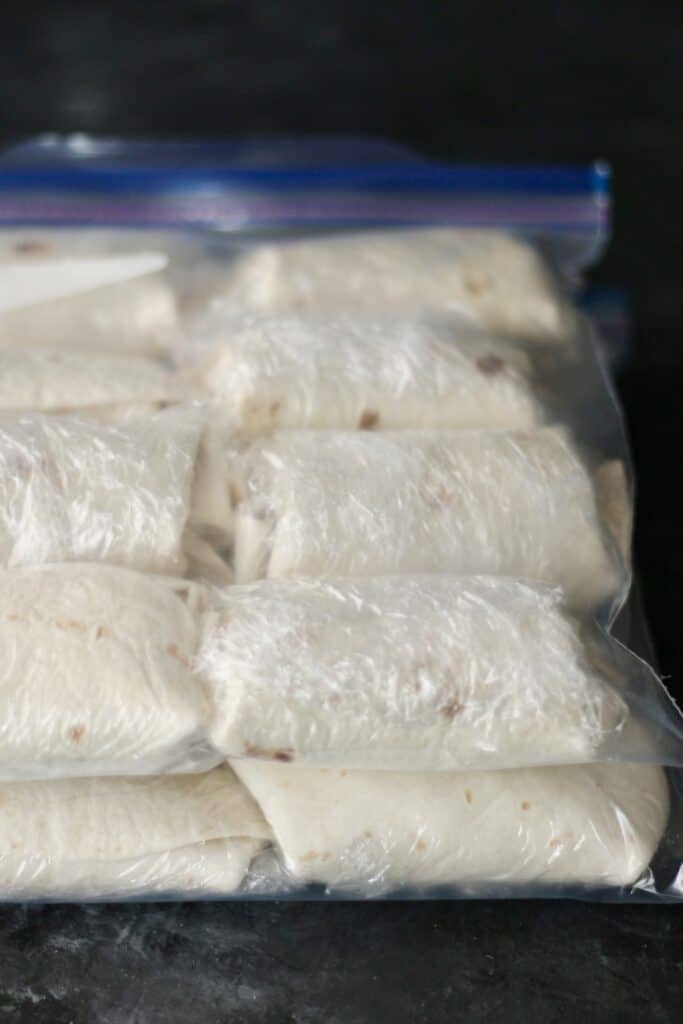 How To Reheat Breakfast Burritos
Here are my best tips for reheating a frozen make-ahead breakfast burrito.
If you can remember to take the burrito out the night before, then do that and let it thaw some overnight in the refrigerator. This will reduce the cooking time in the microwave and will cook more evenly and prevent the tortilla from drying out.
However, if you're like me, then you never remember to take it out. So, in this case, remove the burrito from the plastic wrap or foil. Then, wrap in a paper towel and cook in the microwave for 3-4 minutes.
The best way to keep the tortilla from drying out is to place a coffee cup of water in with the burrito as it cooks in the microwave. This releases some steam, keeping the tortilla soft and you can completely avoid it from becoming hard and chewy.
Warming up the burritos in the oven will create a crispier tortilla but it takes a lot longer. If you plan to do it this way, I suggest wrapping the burritos in foil and taking it out the night before to thaw in the refrigerator. If you do have plastic on the burrito, then remove the plastic wrap before putting it in the oven. To reheat the burrito in the oven, place it in a 350-degree oven for 20 minutes – it could take longer if the burritos are still somewhat or completely frozen.
Basic Make-Ahead Breakfast Burrito Recipe
Now it's time to out these meal prep tips to the test!
Here are the ingredients you will need to make these sausage and egg breakfast burritos:
Breakfast sausage
Large eggs
Garlic powder
Onion powder
Salt
Pepper
Salsa
Cheddar cheese
Tortilla shells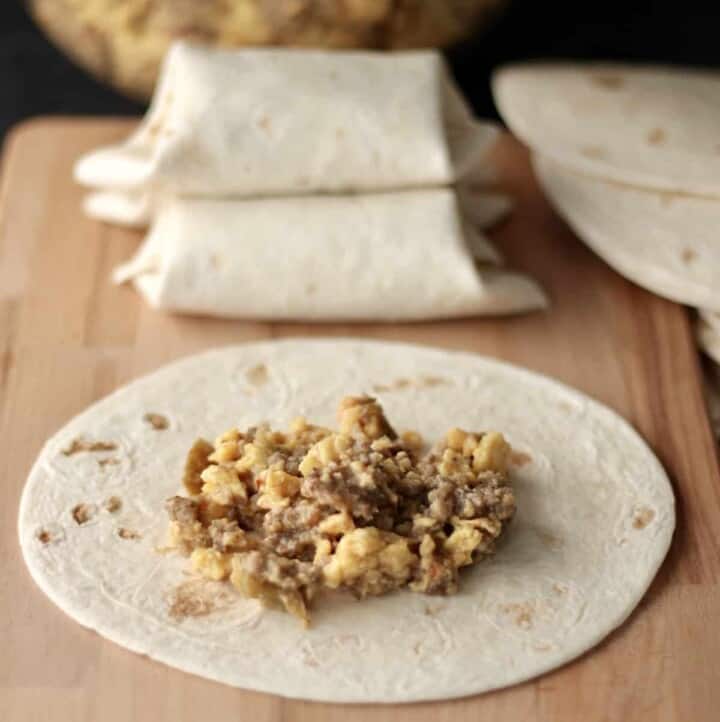 Make-Ahead Breakfast Burritos
These make-ahead breakfast burritos give you a pack of protein to keep you fueled throughout the day. Plus, learn how to make them ahead of time so your freezer is always stocked and ready with breakfast burritos!
Print
Pin
Rate
Ingredients
2

lbs

breakfast sausage

18

large eggs

1

teaspoon

garlic powder

1

teaspoon

onion powder

1

teaspoon

salt

1

teaspoon

pepper

1

cup

salsa

1 1/2

cups

cheddar cheese

20 to

rtilla shells
Instructions
Heat a large pan, sprayed with cooking spray, over medium high heat and cook the sausage until completely cooked through and no longer pink. Break into crumbles as it cooks. The sausage takes about 10 minutes to cook.

As the sausage is cooking put together the egg mixture. Whisk together the eggs and spices. Set aside.

After the sausage is done cooking remove it from the pan with a slotted spoon to drain as much grease as possible. Place into a bowl and set aside.

Clean out the pan and spray again with cooking spray.

Heat over medium heat and pour in the egg mixture. As the eggs cook move them around with a spatial to scramble the eggs. Once the eggs are cooked remove from heat.

Stir the sausage, salsa, and cheese into the eggs.

Put together the breakfast burritos. Place 1/3 cup into the center of a tortilla. Fold in the sides and then roll up. Continue with the rest of the burritos.

Wrap the burritos in plastic wrap and store in the freezer.

To heat up remove the plastic wrap and then wrap in a paper towel. Heat for 3-5 minutes in the microwave or until completely heated through.
More Freezer-Friendly Breakfast Burritos
If you want to switch it up, just keep the egg portion as is and then swap out the other ingredients. Here are a couple of ideas!
These tips for meal prepping make-ahead breakfast burritos will completely change how your mornings from now. Once you try them, share a picture and tag me on Instagram or Facebook!