Deliciously sweet breakfast smoothie recipes made without bananas – is it possible? It sure is! Today, I'll be sharing tips on making a sweet tasty smoothie without bananas or any added processed sugar.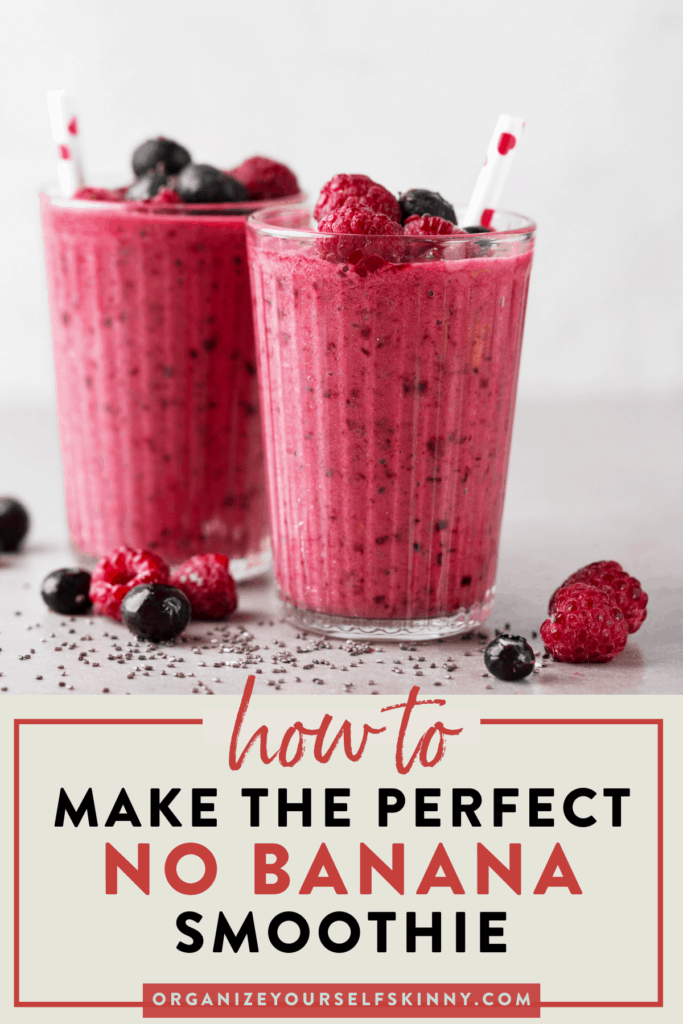 Over the last decade, I've become quite the smoothie connoisseur. Basically, I've enjoyed a smoothie just about every day at that time.
I get a lot of questions about smoothies from many of you. A popular one is: How do I add protein without protein powder? You can see all of my tips in this post!
Also, another common question is how do I make a smoothie without banana? What, no bananas? I love bananas. However, I've learned there are MANY people out in the world that either don't like bananas or are allergic to them. Or, they simply want to leave them out of a smoothie because they're trying to cut back on the sugar.
Why Use Bananas In Smoothie
First, let's talk about what role a banana plays in a smoothie.
Adds a smooth creamy texture. Most fruits are high in water so they create more of a slushy texture when blended. Not to say that's a bad thing but if you're looking for thicky creamy smoothie, bananas are a great choice.
Adds sweetness. The more ripe a banana is the more natural sweetness this brings to a smoothie. This makes a smoothie more palatable especially if you're adding ingredients like kale, spinach, or other greens that tend to add some bitterness.
Cheap and easy to find. Let's be honest, it's a lot cheaper to add a banana to your smoothie than an avocado. Bananas are readily available in any grocery store and even the organic ones are very affordable.
Easy to freeze. Did you know that ripe bananas can be frozen? Yep! Simply, peel and put them into a freezer bag. When you're ready to use one just take it out and throw it into the blender or put them into a smoothie freezer pack. You can read more about freezing bananas in this post.
For these reasons, bananas are a popular choice when making smoothies.
Best Tips For Making The Best Smoothie Recipe Without Bananas
With that said, I believe you can make a nutritious and tasty breakfast smoothie recipes without using bananas. Here are some suggestions and substitutions you can use in your smoothie recipe to replace a banana!
Texture
Let's first tackle the texture of a smoothie. Like I mentioned above, bananas add a smooth thick texture to smoothie recipes. To get a similar texture, I recommend using fruits such as:
Peaches
Mango
Papayas
Pineapple
These are "meatier fruits" and will help provide a thicker smoothie!
Another option is to add 1/4 – 1/2 cup of avocado. Of course, avocado doesn't add any sweetness but it will help to provide a thick smooth consistency.
Smoothie Tip: Freeze the mango, papayas, pineapple, and/or avocado before using them in a smoothie. This helps with the consistency and also reduces the need to use ice which can water down your smoothie.
Sweetness
Bananas are often used to sweeten up a smoothie. The fruits I mentioned above do provide a good amount of flavor and sweetness so you might not need to add anything else.
Another fruit I love to add to smoothies are apples! I think these bring great flavor to all of my smoothies. Personally, I love gala apples for sweetness but I also love the tart flavor of granny smith apples.
You can also flavor with:
Spices (cinnamon, nutmeg, pumpkin spice, or apple pie spice)
Vanilla or almond extract.
Blending in 1-2 pitted dates
Adding 1-2 teaspoons of pure maple syrup.
Affordability And Easy To Freeze
Bananas are really affordable and that's one of the main reasons people reach for them. However, if you're skipping the bananas, here are some other affordable options:
Go to the freezer section. Purchasing frozen fruit is so much cheaper than purchasing it fresh. You can get bulk size bags of mangos or tropical fruit mix (mango, papaya, and strawberries) for half the price of purchasing fresh.
Go to your local wholesale store. I shop at BJ's wholesale and they offer 3lb bags of organic fruit. I can get everything from strawberries to cherries to tropical fruit and I can also get huge bags of organic apples and greens. This is where I stock up on all of my smoothie ingredients!
Freeze fresh food before it spoils. If you do purchase fresh mango, peaches, or other fruit, then you can freeze it all before it spoils. Any fruit can be frozen so there's no need to waste fruit! Just stick it in a freezer bag and freeze before it spoils. I recommend removing any pits and cutting into chunks or slices prior to freezing.
Smoothie Tip: Frozen fruit also works so much better to create a thick cold texture in breakfast smoothie recipes.
How to Make Breakfast Smoothie Recipes Without Banana
A basic formula for putting together breakfast smoothie recipes (that don't include banana) is:
2 Cups Frozen Fruit
If you use fresh fruit, then you'll need 1 cup or so of ice.
You can use a combination of any frozen fruit! As I said, if you're looking to make a thicker smoothie, then using a combination of meatier fruits (like mangos) with more water-based fruits (like strawberries) will be your best option.
1 Cup Of Greens
You don't need to add any greens but smoothies are definitely a great way to sneak in some extra greens into your diet!
My favorite to use is baby spinach because it's not as strong as kale. You can also use swiss chard, romaine, beet greens, or any leafy green.
Superfood Add-ins
Adding superfoods to smoothies is what makes smoothies so powerful – literally! You can add all kinds of nutritional boost without even changing the flavor or texture.
My 3 favorites superfoods to add to my smoothies are:
Chia seeds: For omega-3 fatty acids, fiber, protein, and antioxidants. I put in 2 teaspoons to 1 tablespoon.
Hemp hearts: Also for omega-3 fatty acids, fiber, protein, and antioxidants. I add 1 – 2 teaspoons.
Coconut oil: For heart health, fat burning, to reduce hunger, and to help with hair, skin, and nails. I only put in 1 tablespoon because it is high in fat (even if it's good fat) and calories.
You can also add in flax seeds, cacao powder, goji berries, matcha powder, or greek yogurt. I recommend looking over different kinds of superfoods and seeing which one would best work with the goals you're trying to achieve.
1 Cup Of Liquid
My favorite liquid to add to my breakfast smoothies is unsweetened coconut milk – the one you find in the dairy section. Coconut milk is creamier and helps provide that creamy consistency.
You can also use almond milk or any other non-dairy milk you like! If needed, add more liquid until you get the consistency you want.
What Type Of Blender To Use
The last thing I want to cover is the type of blender I recommend for making breakfast smoothies at home.
When I started to make smoothies, I had a cheap blender that I had bought for about $40. This blender did not meet my smoothie needs!
First, it didn't blend the greens into the fruit so I always had chunks of kale or spinach. Ick!
Second, it only lasted about 3 months. I use frozen fruit and this is really hard on the motor so it couldn't handle making smoothies every single day.
If you're just starting out with smoothies and are not sure if you'll stick with it, then a cheap blender should work fine. However, if you're planning on making smoothies 3-5 times a week, then I highly recommend investing in a high-speed quality blender.
Here's A List Of My Top 3 Recommend Blenders:
After my 3rd $40 blender broke in the middle of making a smoothie, I got the Ninja Professional Countertop Blender. It's under $100 and I thought it worked great!
It crushed up the frozen fruit and blended in the greens no problem. My only complaint is I really didn't like all the blades in the blender. I thought it was hard to wash and, I was honestly scared I'd lose a finger doing so.
Regardless, it was a good functional high-speed blender that worked great for smoothies.
This is another blender option for under $100. In full disclosure, I've never used the NutriBullet but a couple of my close friends both bought one and they swear by it!
They've had it for years and they rave about how it blends all the frozen smoothie ingredients and greens into a nicely blended smoothie.
Vitamix
I upgraded and got the Vitamix Professional Series about 6 years ago and absolutely love it!
Just to show how strong, reliable, and powerful this blender can be, I've used it 3-5 days (if not, everyday) for 6 years straight and never had one issue with it. So, if you're going to be a serious smoothie drink, then investing in a Vitamix might be worth it. Also, Vitamix has a 7-year warranty which the other big-name blenders don't have.
So, they stand behind their product!
Here is my favorite breakfast smoothie recipe that doesn't include banana.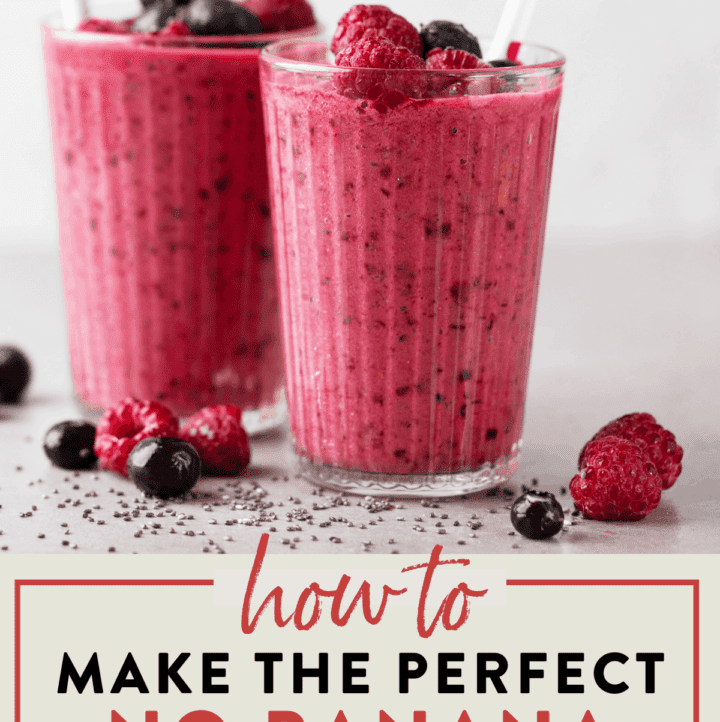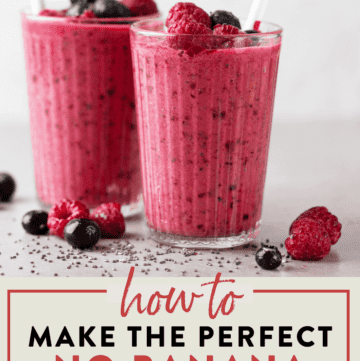 Mango Strawberry Smoothie
A delicious breakfast smoothie made without banana and packed with superfoods.
Print
Pin
Rate
Ingredients
1/2

cup

frozen mangos

1/2

cup

sliced strawberries

whole is fine too

1

tablespoon

coconut oil

1

tablespoon

chia seeds

1

cup

unsweetened coconut milk

water

if needed
Instructions
Add ingredients to a blender and blend on high until smooth. Add water, if needed, to get the desired consistency.
More Breakfast Smoothie Recipes
If you loved this recipe, you'll love some of these healthy easy smoothie recipes!
Share a picture and tag me on Instagram or Facebook if you decide to make this, or want to share any other smoothie recipes with me. I'd love to try them!