These High Protein Smoothie Recipes are made with only natural ingredients (no protein powder!) and are a great way to start your day with a nutritional boost. They will help keep you satisfied all morning!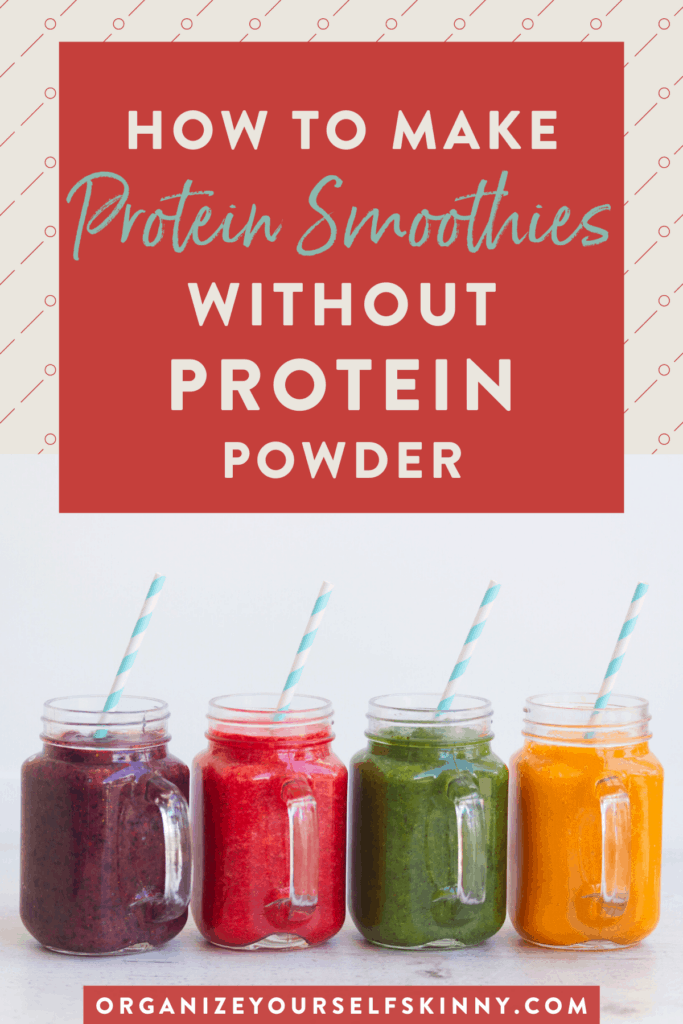 I discovered smoothies a couple of years after I started my weight loss journey and they've been a part of my lifestyle ever since. So, it's safe to say that I've been drinking smoothies just about every day for almost a decade!
The day I started to drink smoothies, I felt more energized, better focused, less bloated, and all-around healthier. And now that I'm into my 40s, drinking smoothies helps so much with keeping my hormones in balance.
Why I Drink A Smoothie Every Day
Honestly, smoothies were such a game-changer for me! Drinking one a day has changed my life for the better and for these reasons, I make smoothies a priority.
Smoothies Keep Me Hydrated
Prior to drinking smoothies, I had no idea I was dehydrated. What I did know is I was tired a lot and struggled to focus which I now know is a sign of being dehydrated.
However, once I started to drink smoothies it was like a fog lifted and I got a shot of energy. I started to see and feel the world much differently.
It Helps Reduce Bloating And Keep Me Regular
Not to be TMI here but smoothies help keep the pipes moving and that always makes me feel better.
My Skin Is Glowing And Clear
Between the hydration and all the fruits, vegetables, and superfoods, my skin gets all it needs to look it's best!
Smoothies Make It Easy To Get In A Lot Of Fruits And Vegetables
Without smoothies, I would never eat the amount of fruits and vegetables that are in 1 smoothie. Prior to smoothies, I'm lucky if I had an apple a couple of times a week.
Now, I consumed more fruits and vegetables in a day than I did in a month back then!
They Make It Easy To Get In Power Foods
The great thing about smoothies is you can blend just about any food into it! So, if you want to get more of a certain nutrient or want to add a power food into your diet, then blending it into a smoothie is a great way to do so.
Frequently Asked Questions About Protein Smoothie Recipes
A question that I get quite often about smoothies is "Do they fill me up?" or "Is there enough protein to keep me satisfied?".
My answer to this is yes! My smoothies are filled with fiber and protein and this helps to keep me full until morning snack time and sometimes all the way to lunch.
The second question after this is "What kind of protein powder do you use?".
My answer to that is I don't. I'm not saying that adding protein powder to a smoothie is a bad thing (there are many great brands out there) but personally, I don't like using protein powder and here's why.
I Never Found One That Tastes Good
This is the truth! Over the years, I've tried different protein powders because I wanted options.
I liked the idea of adding a big nutritional or protein boost with a scoop of protein powder but I never found one I liked! Many of them have an artificial taste to them – even the "natural" or "organic" ones and I just couldn't get past that.
I Prefer Natural Sources Of Protein
No matter how organic the protein powder is, it's still processed. My smoothies are about as organic and clean as you can get, so adding a processed powder to it isn't something I want to do.
I'd much rather add whole ingredients!
Protein Powders Are Expensive
When I can get better nutrition by using wholesome ingredients, I don't see the point in paying an astronomical amount every month on something processed.
I Don't Like Depending On Supplements
The only supplement I take is my multivitamin and collagen. And, that's basically to enhance what's already going in my body.
When it comes to something like protein, I feel much more comfortable getting that from natural sources. Our bodies process it better when it comes from natural sources and not processed powder.
When you use the whole food, you are able to get all the nutrients from that food and not just the protein.
Best Ingredients To Add Protein To Your Smoothie
With that said, there are so many different ways to add protein to smoothie recipes without using protein powder!
You'll be happy to know that many of these ingredients are available at your local grocery store.
Kale
Believe it or not but kale has 3 grams of protein per cup! So the first thing you can do to up the protein in a smoothie is to make it green.
Not only do you get protein but kale is high in Vitamin A, C, and Calcium.
Avocado
Did you know 1/2 of an avocado has 2 grams of protein and 7 grams of fiber? It also provides good fats to your smoothie and all three of these things will work together to keep you full between meals.
Greek Yogurt
One of the first ways I started adding protein to my smoothies was with greek yogurt. My favorite greek yogurt to use is Siggi because it's lower in sugar than many other brands! That's one of the things you need to be careful with when adding yogurt- all of the sugar content.
Some yogurts have over 20 grams of sugar. 1 (5.3) ounce container of plain Siggi yogurt has 90 calories, 16 grams of protein, and 0 sugar. One (5.3 ounces) container of vanilla Siggi yogurt has 110 calories, 15 grams of protein, and 9 grams of sugar.
Your best option is to use the plain yogurt and then add a little pure vanilla extra for flavor. This keeps the sugar under control 😉
If you want to keep your smoothie dairy-free, then use a dairy-free yogurt alternative. Siggi offers a dairy-free yogurt and so does So Delicious. Unfortunately, both of these have at least 10 grams of sugar per 5.3 ounce cup.
Nut Butters
Adding a tablespoon of nut butter is a great way to boost the protein in a smoothie!
1 tablespoon of almond butter or peanut butter equals out to be about 4 grams of protein.
A couple of things to keep in mind with nut butter:
Use organic natural nut butter. You don't want to use anything with added sugar or hydrogenated oils.
You need to measure out the nut butter. 1 tablespoon of almond or peanut butter is 100 calories and 9 grams of fat.
So, as you can imagine, it's very easy to go overboard with nut butter if you're not paying attention.
Chia Seeds
Chia seeds are one of my favorite superfoods to add to my protein smoothies.
They are packed with all kinds of nutrition. 2 tablespoons of chia seeds can provide 4 grams of protein. They are an excellent source of omega-3 fatty acids, antioxidants, and other nutrients!
This is my go-to for adding a power punch to all of my smoothie recipes.
Hemp Hearts
Hemp Hearts are another superfood I absolutely love adding to my smoothie! Adding 2 tablespoons to your smoothie will give you 7 grams of protein and are amazing sources of omega-3 fatty acids, fiber, antioxidants, and other nutrients.
Hemp hearts are great for heart health and help keep your hair skin and nails looking healthy and fabulous.
Collagen Powder
Now I know this is technically a powder but it's not a type of processed protein powder.
Collagen is made from the hides of cattle which I know that sounds totally gross but collagen has many huge benefits! It can help in many ways; from skin health and elasticity to bone health to helping your hair look amazing.
I use collagen peptide powder online at Thrive Market which is made from grass-fed pasture-raised cows. Just like with everything- quality is everything! One scoop is 20 grams of protein and 40 calories.
Also, this collagen is actually tasteless and doesn't really leave a texture behind. You can stir it into anything and you'll never know it's there!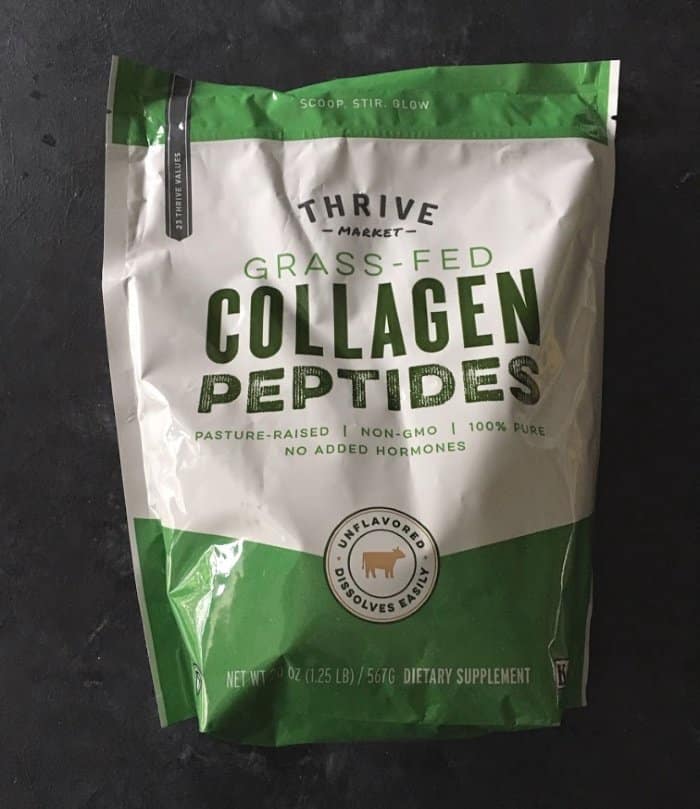 How To Make High Protein Smoothie Recipes Without Protein Powder
You can add any of these ingredients I mentioned above to any smoothie recipe to boost the protein and nutrients in a recipe. All you need to do for each of these protein smoothie recipes is add your ingredients into the blender and serve immediately.
Here is my favorite high protein smoothie recipe to make without protein powder!
Chunky Monkey Protein Smoothie
This smoothie recipe has 19 grams of protein and 14 grams of fiber. It's high in good fats and the sugars come only from the banana.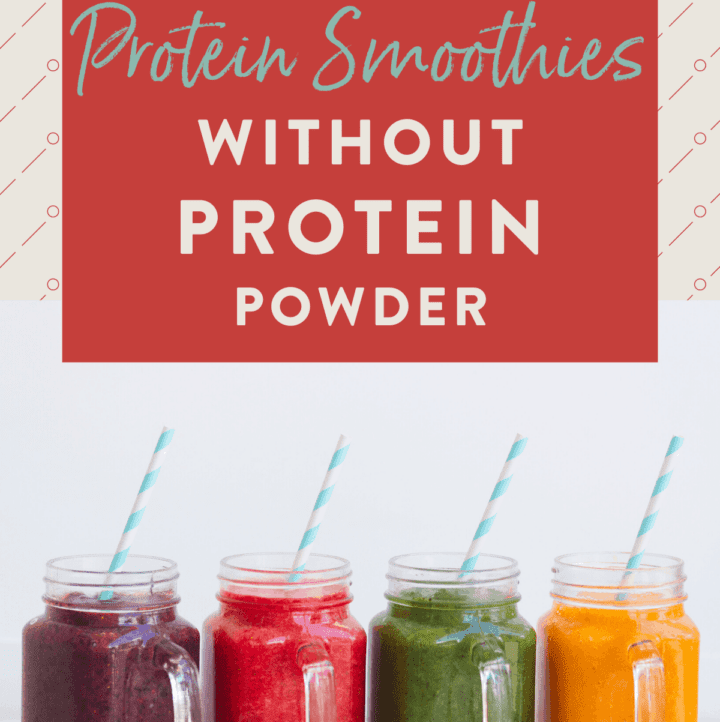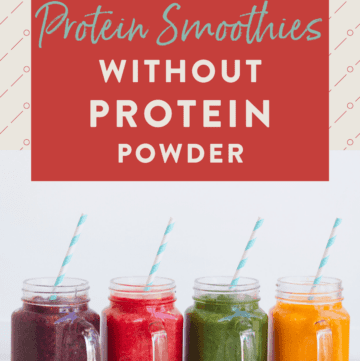 Chunky Monkey Protein Smoothie
Banana, peanut butter, and chocolate blended with superfoods to create a delicious high protein smoothie recipe
Print
Pin
Rate
Ingredients
1

Frozen banana

1/4

avocado

1

tablespoon

Peanut butter

1

tablespoon

Unsweetened cacao powder

1/2

cup

Plain yogurt

2

teaspoons

Chia seeds

1

tablespoon

Hemp hearts

1

cup

Non-dairy milk

coconut or almond

1

cup

ice
Instructions
Place all ingredients into a high-speed blender and blend. If you need more ice or liquid then add a little at a time until you get the consistency you want.
Nutrition
Serving:
1
g
|
Calories:
474
kcal
|
Carbohydrates:
49
g
|
Protein:
19
g
|
Fat:
26
g
|
Fiber:
14
g
|
Sugar:
21
g
More Healthy Smoothie Recipes
If you look all over my blog, you'll see how much I love smoothies!
Here are a couple of more recipes I think you will enjoy as well:
Try one of these High Protein Smoothie Recipes the next time you want to add a little more natural protein to your meal plan! Share a picture and tag me on Instagram or Facebook if you decide to make this!