This new Cherry and Blueberry Green Smoothie is my latest "leftover ingredient" recipe addition. I always have fruit in the freezer for my green smoothies. Love them. Well, I had a bag of frozen blueberries for my blueberry and kale smoothie and a bag of cherries for my cherry vanilla or cherry chocolate almond smoothie. Anyway, as I was organize my freezer I noticed I had left only a little of each fruit. So, the next morning I decided to throw them into my blender (I have this Vitamix btw) and whip up a new green smoothie recipe.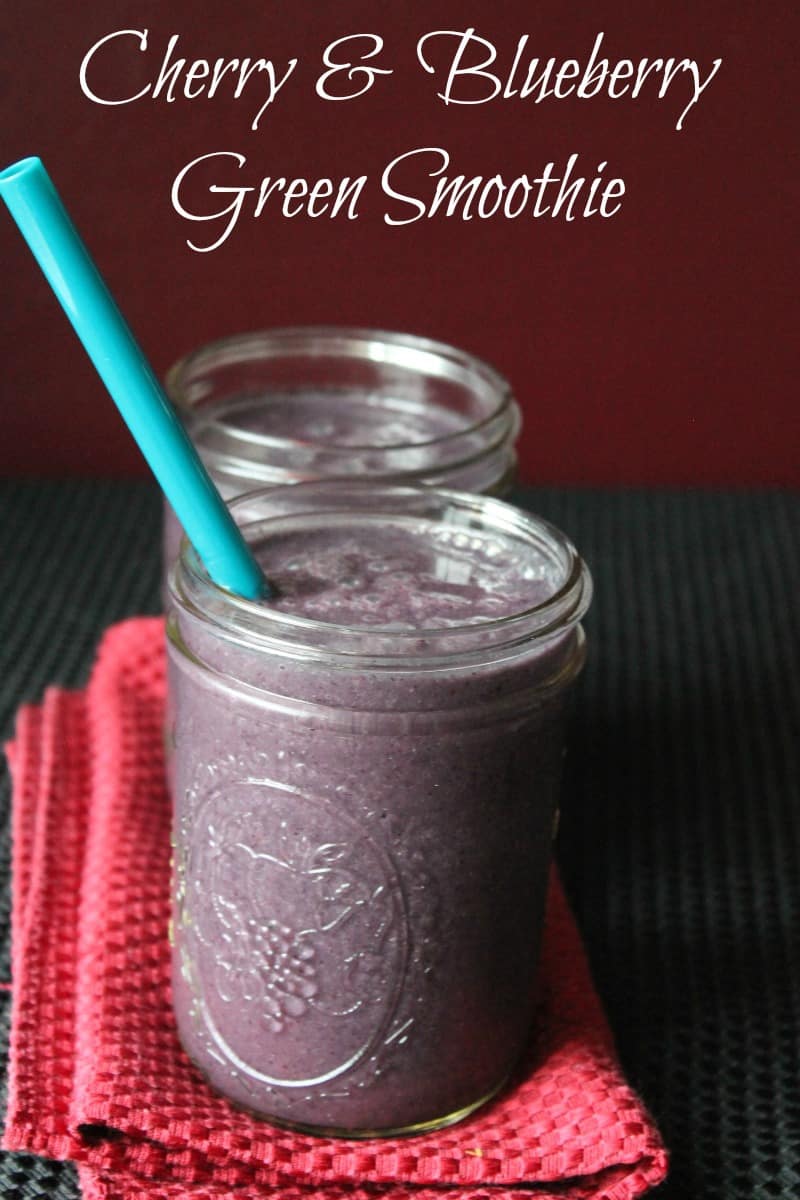 Get instant FREE access to my green smoothie recipe e-cookbook here! I share 20 of my best green smoothie recipes along with tips, tricks, and a tutorial.
I cannot tell you the number of recipes that have been created as a result of leftover ingredients. Taco pizza, cuban pizza, chicken broccoli alfredo quesadillas, pumpkin spice overnight oats, pumpkin spice granola, and even my no mayo egg salad was born out of two lonely eggs needing to be used up. I guess I have a thing with not wanting to waste ingredients.
I really love frozen cherries in my smoothies. They are so good and create such a pretty color. Add some blueberries and there is no way you could tell this smoothie has kale in it. This is a perfect "not so green" smoothie for the person who can't get past the green in a green smoothie. Wow that is a lot of green in one sentence.
With the cherries, blueberries, and ½ a banana I did not feel the need to include any additional sweeteners. It was perfect just the way it was. I did add in a little pure vanilla extract for flavor and chia seeds for fiber and protein. Did you know there is 5 grams of fiber and 3 grams of protein in one tablespoon of chia seeds. That is quite the nutritional punch for such a small amount. No wonder it is considered a power food.
This cherry and blueberry green smoothie has definitely earned a place in my green smoothie rotation. It makes a little less than 4 cups. I usually drink the whole thing for breakfast but you can certainly share it too. The nutritional information is figured for the entire recipe.
You can see the rest of my green smoothie recipe in this tutorial and recipe round up.
I'm often asked about the type of blender I use for my green smoothies. I have the Classic Vitamix blender 5200 Getting Started Blender– that's what you see in all my green smoothie recipes. This specific blender costs $450. In general a Vitamix blender in the Classic series range from $350 – $720. I know this is a lot of money to spend on a blender. But let me just say this. I've had this blender for over 4 years, use it 4-7 times a week, and NEVER had one malfunction with it. I can honestly say that my Vitamix blender creates a perfectly smooth green smoothie every time. I've also used it for other recipes beside smoothies.
Prior to getting a Vitamix I went through about 3 cheap blenders. Not only did they last a measly 3 months but didn't even come close to creating a perfectly blended smoothie – I was always left with chunks of fruits and leftover spinach. If you plan to make green smoothies a part of your daily diet then I strongly suggest you invest in a Vitamix.
Vitamix also come with a up to a 10-year warranty. So if it breaks they will fix it or send you a new one. Personally, I think it's totally worth the extra investment. Learn more about Vitamix blenders by checking out their website.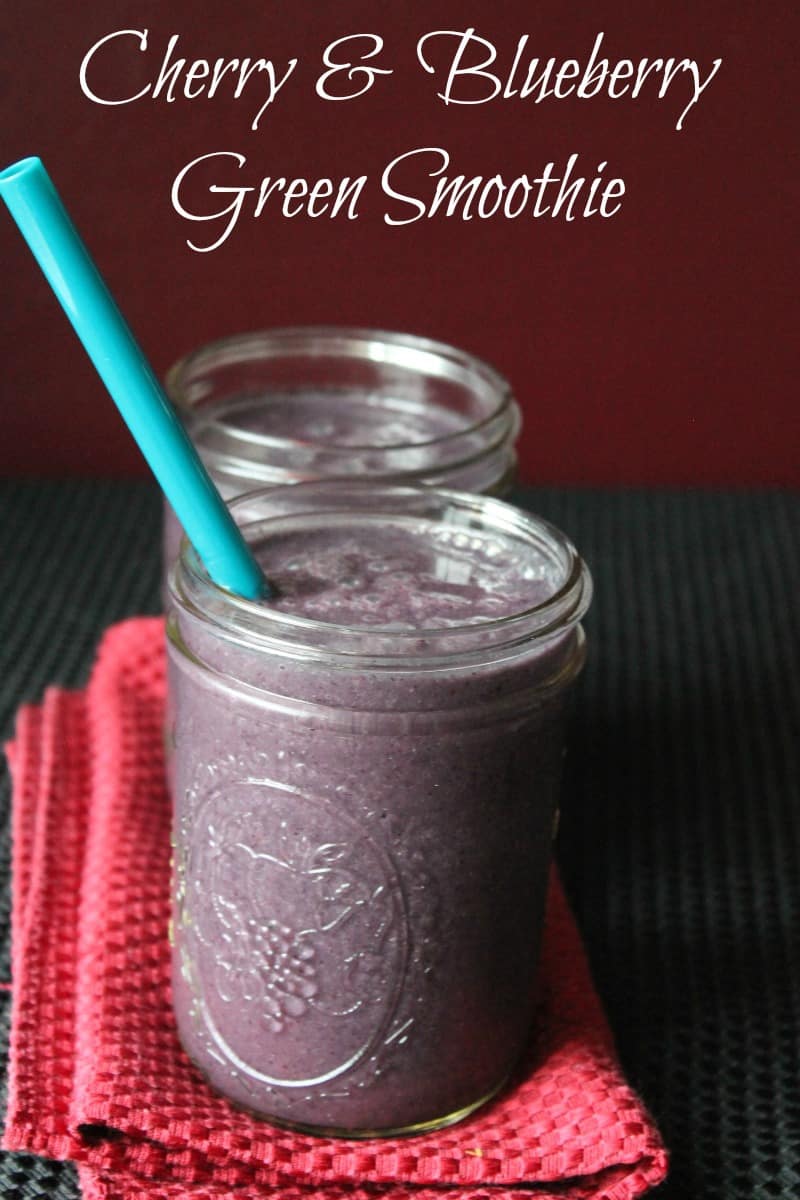 Ingredients
1

cup

frozen dark sweet cherries

1/2

cup

frozen blueberries

1

cup

chopped kale

1/2

banana

1

cup

unsweetened coconut milk

1

tablespoon

chia seeds

1/4

teaspoon

pure vanilla extract

optional

water for consistency
Instructions
Place all ingredients into a blender and blend until smooth. Add water till you get the desired consistency you want.
Notes
This smoothie is best enjoyed right away. If let to sit the texture will change. Just stir or shake if that happens.
Nutrition
Serving:
1
g
|
Calories:
337
kcal
|
Carbohydrates:
57
g
|
Protein:
7
g
|
Fat:
9
g
|
Fiber:
13
g
|
Sugar:
8
g