This mango smoothie is creamy, thick, and super refreshing. Not to mention after one sip, you feel like you got a shot of vitamin C. It's a great smoothie to enjoy any time of the year but I recommend making this on a hot muggy summer morning!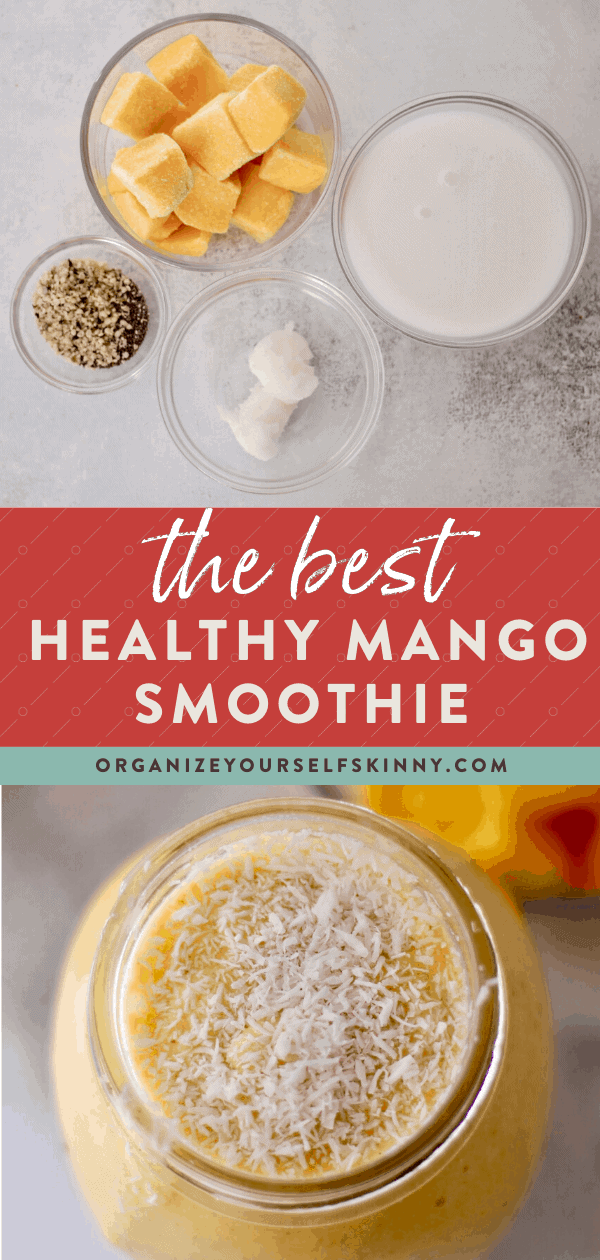 In the last 6 months or so, my oldest daughter has become quite the mango fan. Don't ask me how she discovered mangos or why she all of a sudden needs to have mangos in the refrigerator or freezer at all times but it is what it is. And now, mangos (both frozen and fresh) are a staple in my household.
I'm definitely not complaining because mangos have become one of my favorite fruits too! I especially love to use them in smoothie recipes.
I especially appreciate their thick meaty texture as it creates a very creamy smoothie. I actually recommend mangos as a substitute for bananas in smoothies because it provides the same type of texture.
Mangos also have a delicious tropical flavor that's very refreshing. It's filled with antioxidants and has other health benefits like promoting gut health and digestion, boosts immunity, and helps clear up skin.
It's also low on the glycemic scale which is good if you're concerned about too much sugar. All of these things make mangos a great option for smoothies!
Frequently Asked Questions About Frozen Mango Smoothies
Before I jump into this recipe, I wanted to answer a few questions I received about this delicious frozen mango smoothie.
Should I Use Fresh Or Frozen Mango For Smoothies?
Whenever I make any smoothie recipes, I'm often asked if I should use frozen or fresh fruit.
In all honesty, as long as you're using organic fruit, there's really no difference in frozen or fresh fruit as far as nutrition goes. Most frozen fruits you have purchased has been frozen at its peak and could very well be fresher than the fresh fruit you purchase at the store.
I live in Buffalo, NY so it's very difficult for us to get organic fruit that is fresh and reasonably priced. So, therefore I purchase frozen organic fruit to use in my smoothies.
Also, another reason why I choose frozen over fresh fruit is that when you use fresh fruit in smoothies, you need to use ice to give it that slushy smoothie texture. This can sometimes create a watered-down smoothie. Using frozen fruit doesn't cause this problem.
With that said, I prefer to use frozen mangos when making a mango smoothie!
Where Do I Purchase Frozen Mangos?
Now you might be wondering where the heck does one purchase frozen mangos.
Mangos are definitely not as easy to find as it is finding frozen strawberries or frozen blueberries or even frozen peaches. In fact, most grocery stores that I have gone to don't even have frozen mangoes (regular or organic ones). If they do, it's these tiny, tiny bags that are completely overpriced.
The only store that I have found a large bulk bag of frozen organic mangoes has been Whole Foods so that is where I typically will purchase frozen organic mangos.
Of course, you can always purchase fresh mangoes and cut them into chunks or slices and then freeze the mangoes yourself to use in smoothies later on.
Keep reading on to find out how to cut a mango properly 😉
How Many Mangos Should I Use?
One medium-sized mango will give you 1-1/2 cups of chopped mango pieces. I use about 1 cup of mango per smoothie. So one medium-size mango should give you 1 smoothie!
You're going to use the same amount of mango regardless of whether you're using fresh or frozen mango.
Can I Make This Smoothie Vegan?
Yes, it's so easy to make this mango smoothie recipe vegan!
In fact, most of my smoothies are actually vegan. I use unsweetened coconut milk or unsweetened almond milk in all of my smoothie recipes.
Personally I don't use or recommend dairy milk in smoothie recipes because they are meant to help with gut health and digestion. Dairy milk will get in the way of that.
If you want to add yogurt to your smoothie to bulk up the protein, then I recommend using a plant-based yogurt like a coconut or almond milk to keep the mango smoothie recipe vegan. Many plant-based yogurt companies offer mango-flavored vegan yogurt so that's a great option just to enhance the mango flavor even more in your smoothie recipe.
What Else Can I Add To This Mango Smoothie?
One of the reasons I enjoy drinking smoothie recipes is because I'm able to add so many different superfoods to really bulk up the nutrition of smoothie recipes. And this mango smoothie recipe is no exception.
Here are some of my favorite flavors and superfoods to add into my mango smoothie:
Coconut Oil and Shredded Coconut – Coconut gives this mango smoothie recipe an awesome tropical flavor! So not only do you get all the health benefits from the coconut but you also get that great flavor that goes so well with mango. You'll feel like you're sitting in the Caribbean drinking this mango smoothie with a hint of coconut.
Berries – Mango has a very subtle sweet flavor so if I'm looking to counterbalance that flavor and just add some more fruit to it, I will add fruit like blackberries and raspberries. The berry-mango combo is super refreshing. If that sounds like a smoothie you would enjoy, take a peek at this mango berry green smoothie!
Chia Seeds and Hemp Hearts – If I'm looking to add some omega-3 fatty acids, fiber, and more protein to this mango smoothie recipe, I'll add in a couple of teaspoons of chia seeds and hemp hearts.
Those are just a few of the superfoods I add to my mango smoothie. You can add just about anything you like!
Can I Make This Smoothie Ahead Of Time?
You can definitely put together mango smoothie freezer kits. Of course, you can purchase a bag of frozen mango and put together a bunch of kits but it's also a great way to preserve fresh mangos that you can get in season or on sale.
Simply cut up fresh mangos and divide them among freezer bags. Add the other smoothie ingredients you want to use and then freeze them! Make sure to write the dates on the bags.
When you're ready to make a smoothie, put the ingredients into a blender, add the liquid, and then blend. That's it!
How To Cut A Mango Properly
One of the things that I like about purchasing frozen mangoes is that the mango is already cut into chunks and it's smoothie-ready. However, when I do purchase a mango I need to obviously cut it myself to be able to use it. Being from Buffalo, I didn't grow up with mangos so when I first came across a fresh one I wasn't sure how to cut a mango.
In case you happen to live somewhere with lots of fresh mangos (lucky you!), I wanted to teach you quickly how to cut a mango to use for smoothies.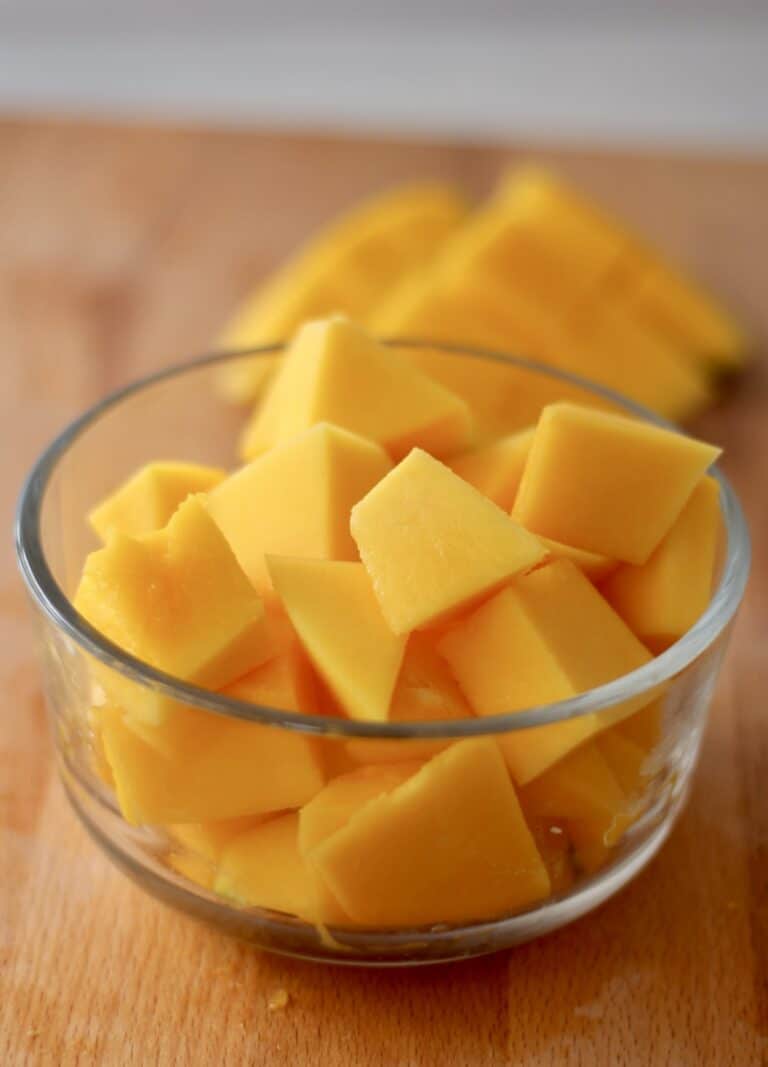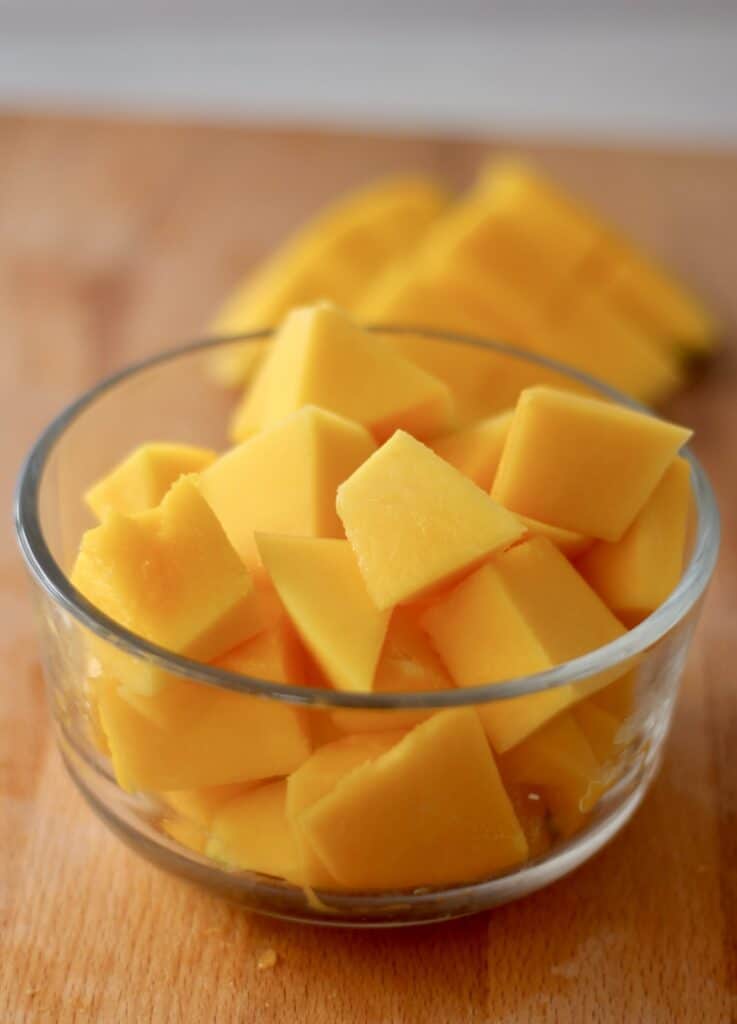 The first thing you want to do is start with a ripened mango. You want it to be firm and not too mushy, yet tender where you can push on it a little bit and it has some give. If it's too ripe, then it will be mushy and you're not going to be able to cut it into cubes or slices. If it's too firm, it's going to be really difficult to cut around the pit and get off the flesh of the mango.
Mangos have a flat pit in the center of the fruit so the object is to cut around that pit on both sides of the mango. You're going to want to cut as close to the pit as possible without hitting the pit and then removing the flesh from the mango.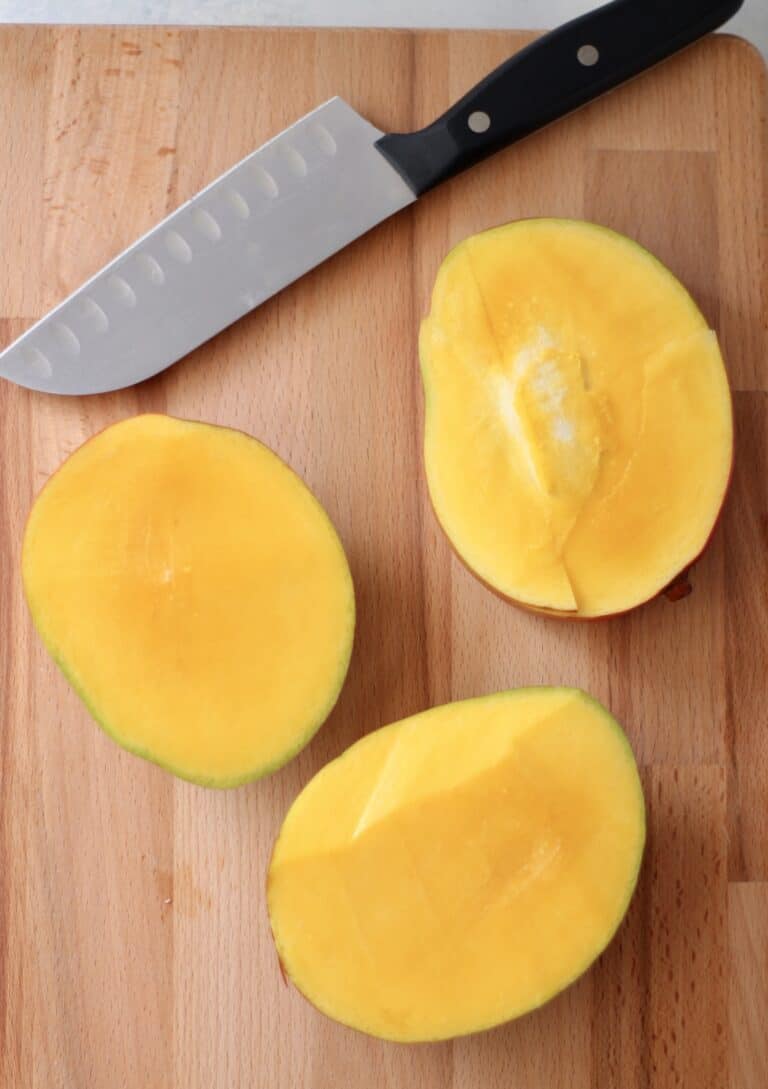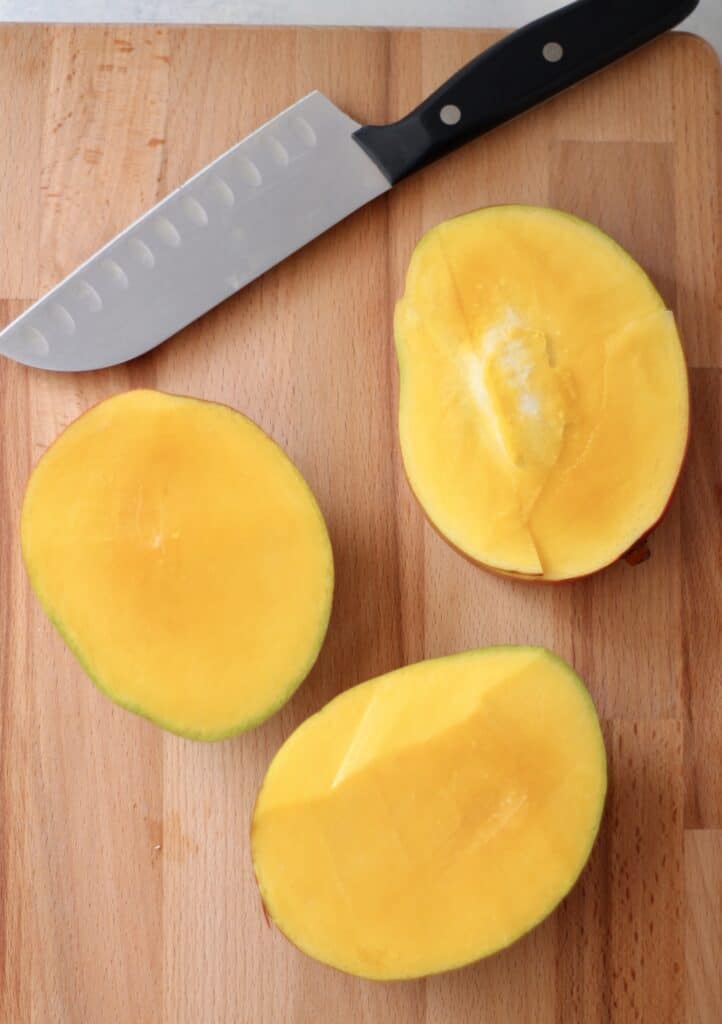 After you cut the mango into pieces, you will then need to cut the mango into cubes against the flesh.
Then, push the cubes out and slice them at the base. That's it!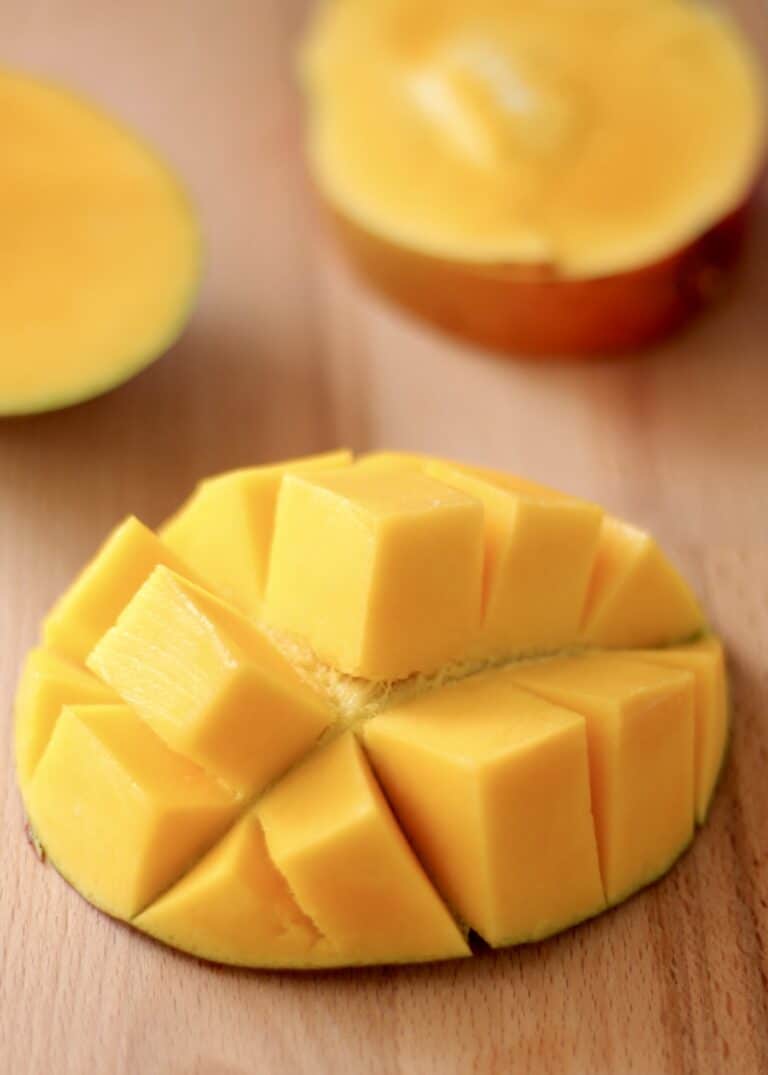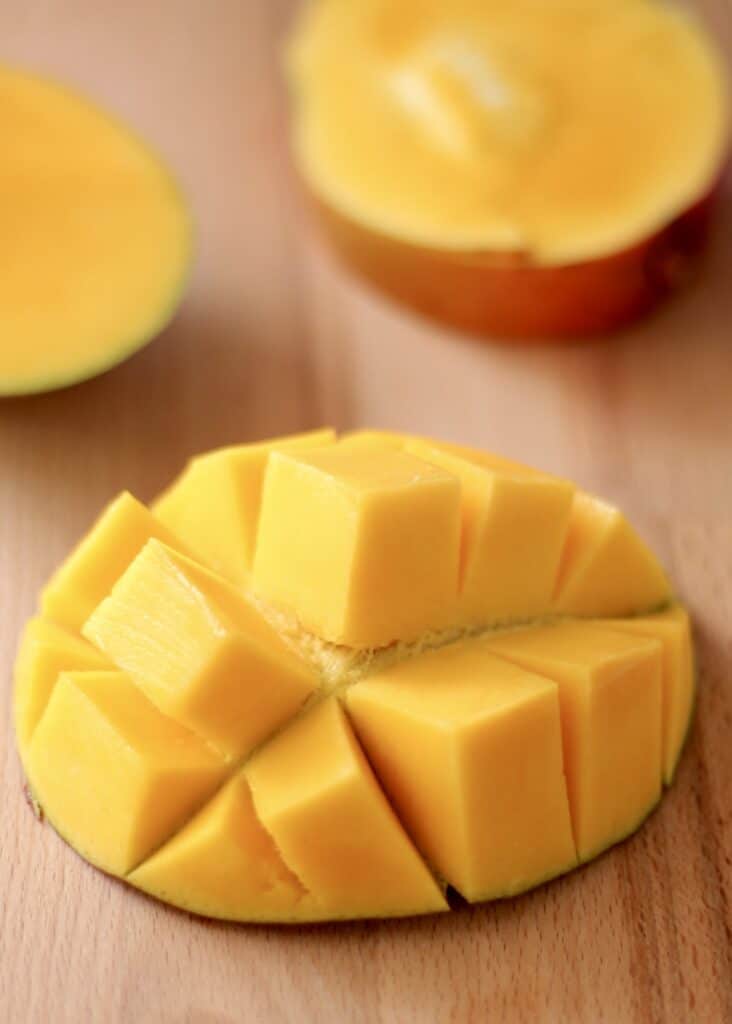 Delicious Healthy Mango Smoothie
This is one of the easiest smoothie recipes to make. You only need a few simple ingredients and a blender.
Here they are:
Frozen mango
Shredded coconut
Chia seeds
Hemp hearts
Coconut or almond milk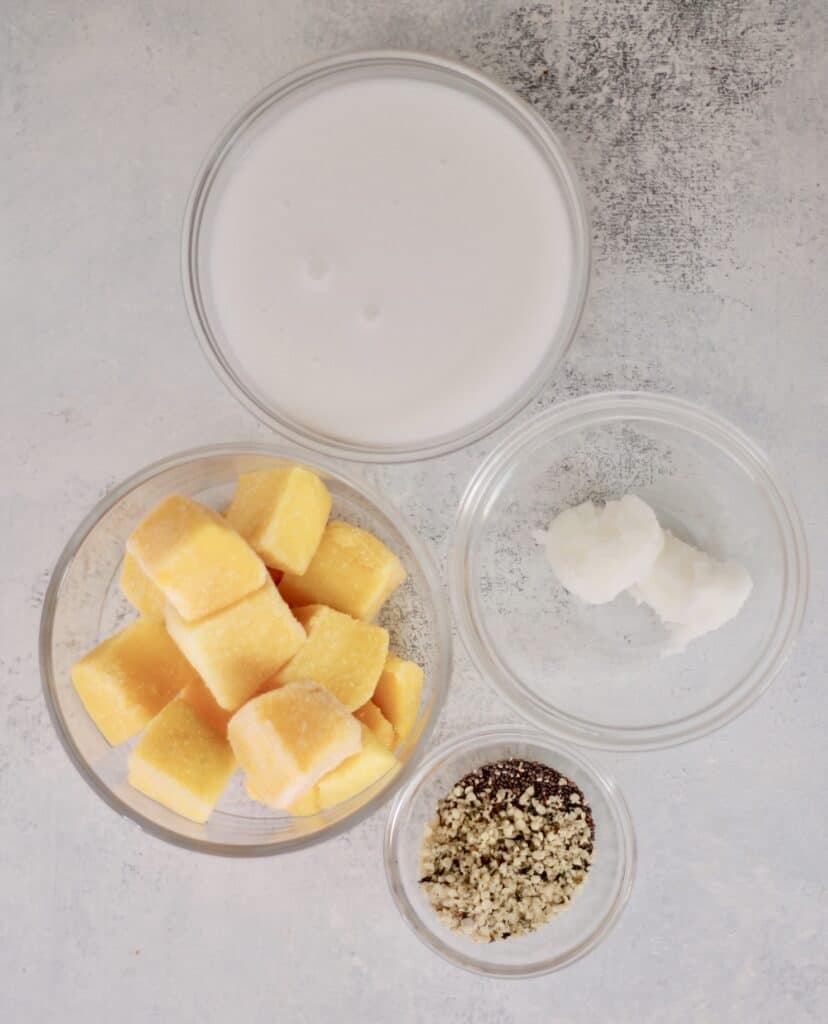 How To Make A Homemade Mango Smoothie
Place all the ingredients you want into a blender and blend everything together.
Slowly add in more liquid until you get the desired consistency.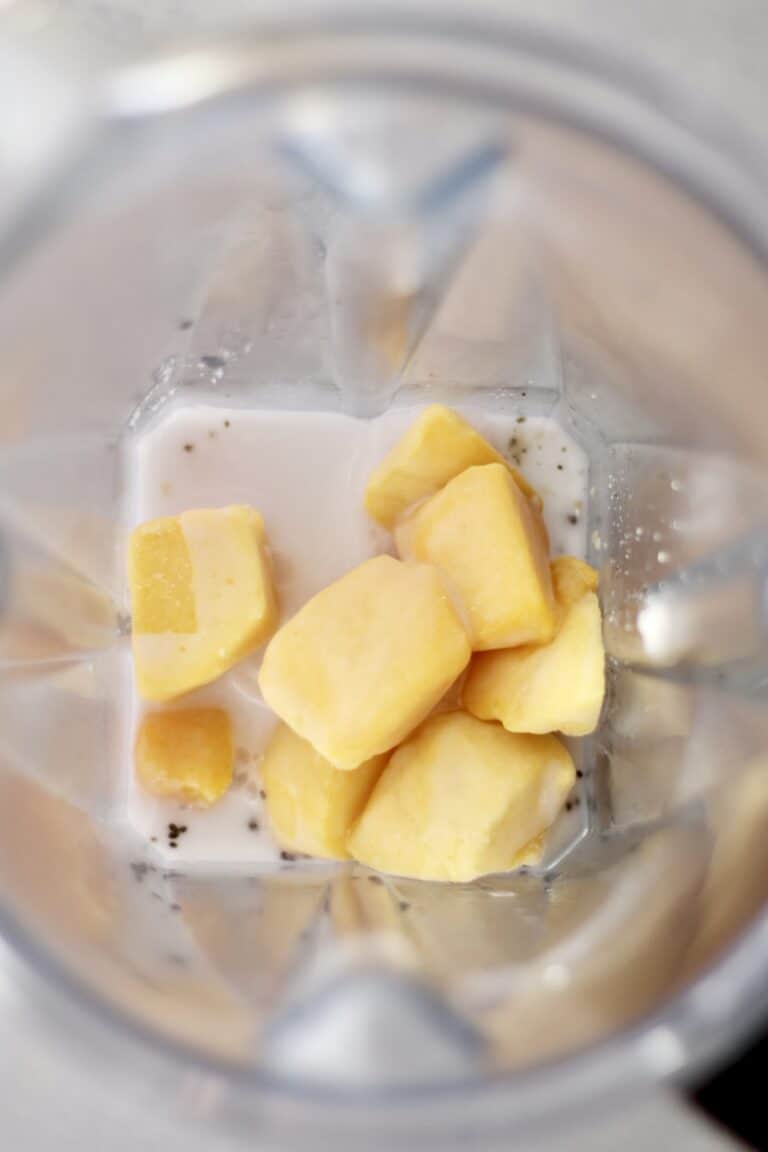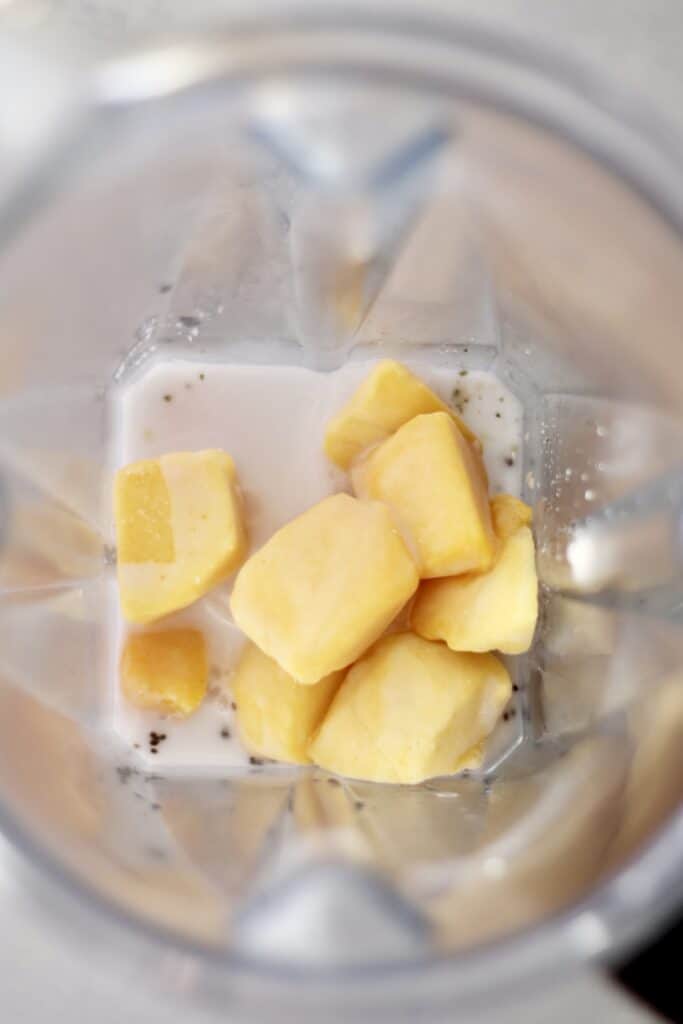 Add some shredded coconut to the top and enjoy!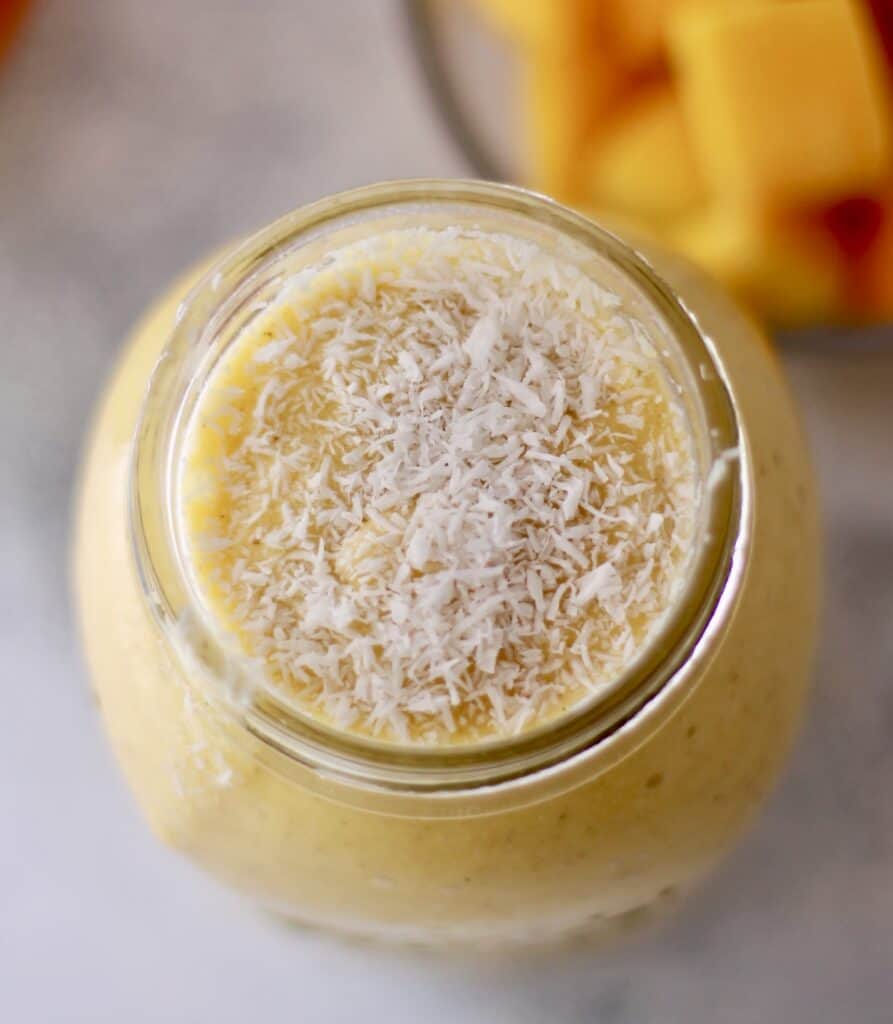 More Healthy Smoothie Recipes
If you loved this recipe, you'll love some of these easy healthy smoothie recipes!
Enjoy this tropical-themed mango smoothie and imagine yourself on a beach somewhere in the Caribbean. You'll love it! Share a picture and tag me on Instagram or Facebook if you decide to make this!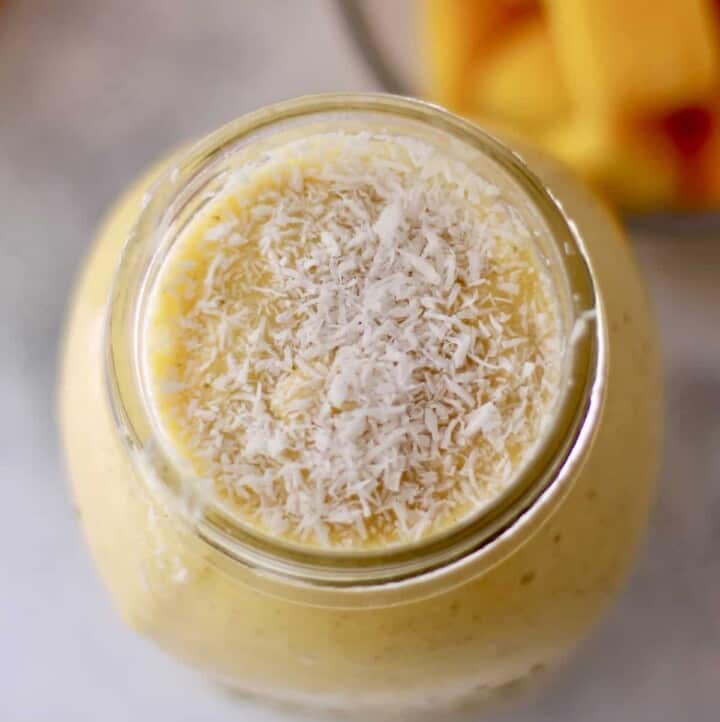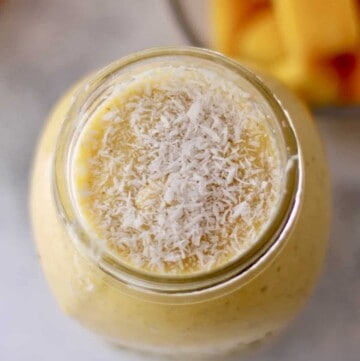 Mango Smoothie
This tropical mango smoothie is creamy with lots of flavor. Although this smoothie is vegan, it's filled with protein and healthy fat.
Print
Pin
Rate
Ingredients
1 ½

cups

frozen mango

1

tablespoon

coconut oil

1

teaspoon

chia seeds

1

teaspoon

hemp hearts

½

cup

coconut or almond milk

1

tablespoon

shredded unsweeten coconut
Instructions
Add all the ingredients into a blender and blend. If needed add more liquid (coconut milk or water) until you get the desired consistency.
Nutrition
Serving:
1
g
|
Calories:
358
kcal
|
Carbohydrates:
39
g
|
Protein:
2
g
|
Fat:
19
g
|
Saturated Fat:
14
g
|
Fiber:
5
g
|
Sugar:
33
g