If you want to boost your immune system or are just looking to clean up your diet, make this Blueberry Smoothie to help detox your body and start the week right! The best thing about this smoothie is that it has 17 grams of fiber and is packed with antioxidants, healthy fats, and vitamins.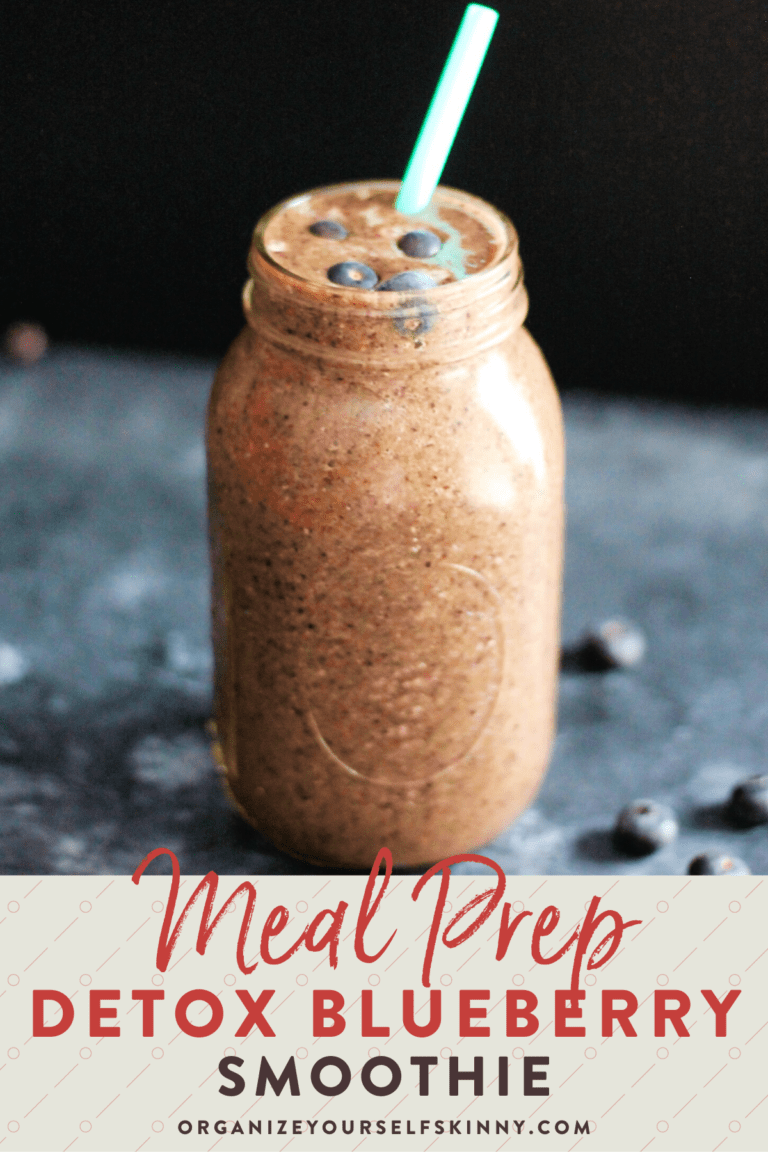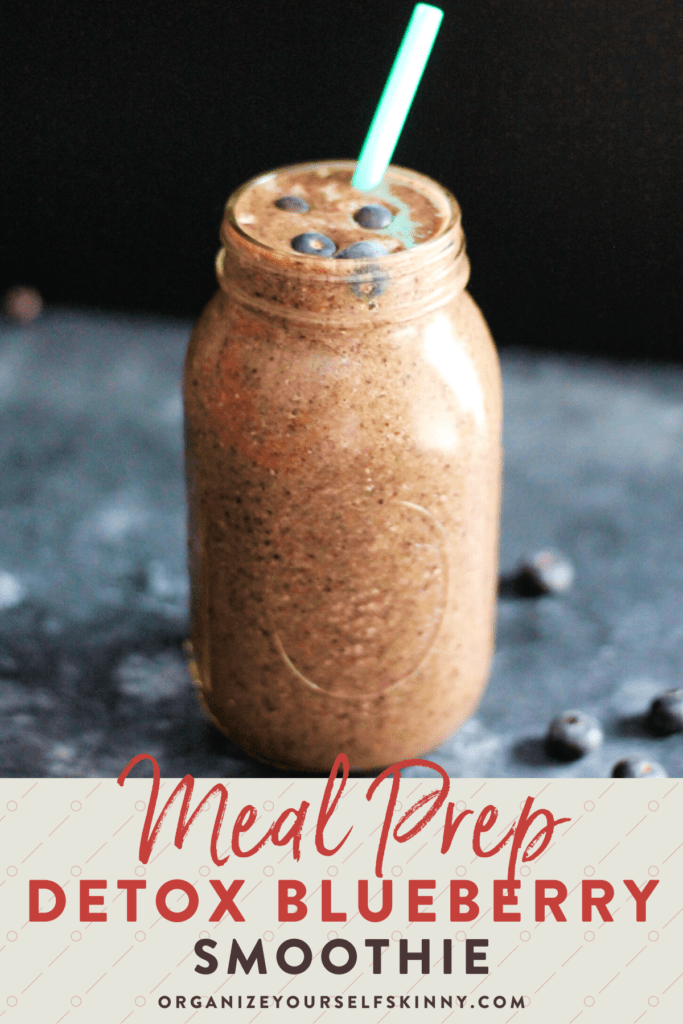 When I'm feeling bloated and sluggish from a weekend (or week) of getting off track from my meal plan, I always immediately turn to a smoothie. I've found that the best way to fit in a cleanse and pack in a ton of nutrients all at once is to make a smoothie, especially green smoothies. Most of the time I use fruits that I have on hand but there are a few favorites I tend to turn towards, and this detox blueberry smoothie is one of them.
There are so many added benefits to drinking a detox smoothie such as:
Less belly bloating
Hormonal regulation
Healthier weight loss or maintenance
Easy way to pack in nutrient-dense foods
PLUS, as an added bonus, all of the ingredients can be created into a frozen smoothie pack. This is a great way to make sure you have smoothies ready for the week – or month!
Get instant FREE access to my green smoothie recipe e-cookbook here! I share 20 of my best green smoothie recipes along with tips, tricks, and a tutorial.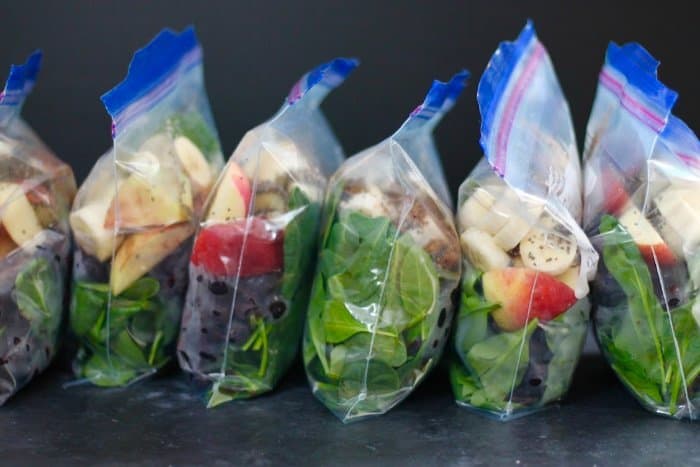 Frequently Asked Questions About Blueberry Smoothies
What is the best base for a smoothie? 
There are many things you could use for the base of the smoothie. It honestly just depends on the consistency and you are looking for as well as the ingredients you intend to use.
The basic four bases for a smoothie are:
Water
Milk (dairy or non-dairy)
Juice
Tea
For this blueberry smoothie recipe, I went ahead and used coconut milk. It has a ton of nutrients and leaves smoothies extra creamy. Plus, coconut milk is packed full of protein, potassium and good fats called medium-chain fatty acids.
If you are wanting to go the extra mile, matcha is amazing when you are trying for natural detoxification. With one scoop, it can help increase your metabolism and is also a good source of fiber. It has been shown to help stabilize moods and keep mental focus.
Why does my blueberry smoothie curdle?
When you blend fruits, such as blueberries, with a dairy base, that smoothie needs to be consumed immediately. If not, that is when you will find your smoothie will curdle. This happens because of a protein enzyme found in milk called casein and it does not react well with berries.
It doesn't mean you have to throw it away!
You can just plop it back in the blender and blend it for a few more seconds. If you plan on taking your blueberry smoothie to work, blend everything without the dairy and just take your dairy base with you for when you are ready. Then, all you have to do is mix it together when you are ready to drink so your smoothie won't curdle.
When should I freeze bananas for smoothies?
Bananas are an excellent addition to your detox smoothies. If you have found yourself with too many fresh bananas, you can always freeze them to use later for smoothies or baked goods. The question is when to do so.
The best time to freeze bananas is when they are ripe, with brown spots all over the peel. They are typically sweeter at this point and are perfect to save for smoothies! You can freeze them whole if you have a powerful blender like a Vitamix, or sliced up in a freezer-safe plastic bag or container.
If you decided to leave them whole, make sure to peel them before you freeze since it will be harder to remove the peel later on.
Detox Blueberry Smoothie
Some of the best benefits I have ever gotten from this smoothie is how much this drink has helped me stay hydrated, focused, and energized. With just a few simple ingredients, I was able to give my body exactly what it needed.
Here are the ingredients to make this detox smoothie recipe with blueberries:
Blueberries – packed full of antioxidants and helps protect cholesterol
Fuji apples – rich in vitamin C and fibers to help maintain low cholesterol
Spinach – contains iron and calcium to help strengthen and support bones
Chia seeds – provide antioxidants, fiber, iron, and calcium
Banana – can help with digestion and energy
Coconut Milk – contains MCTs (medium-chain triglycerides)
Cinnamon – lowers blood sugar and works as an anti-inflammatory
Water – cleanses the body of impurities and promotes healthy skin
If I had to choose my favorite go-to ingredient from this list, it would have to be the chia seeds! I always use them in my green smoothies because it adds a huge punch of fiber, protein, and omega 3 fatty acids.
Healthy tip for this detox smoothie: I highly recommend purchasing all organic ingredients. By purchasing organic, you don't need to worry about any chemicals or weird ingredients seeping into your foods. It may be a smidge more expensive but definitely worth it, in my opinion!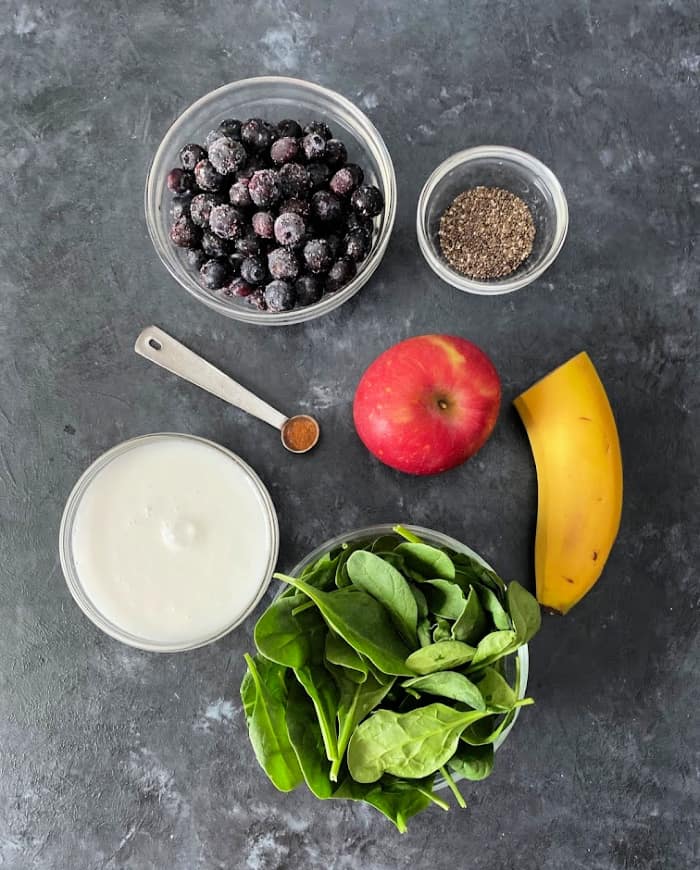 How to Make This Blueberry Spinach Smoothie:
Place all the ingredients into a blender, starting with your fruit on the bottom, then adding greens and liquid to the top.
Blend until smooth.
If needed, add small amounts of water until you get the desired consistency.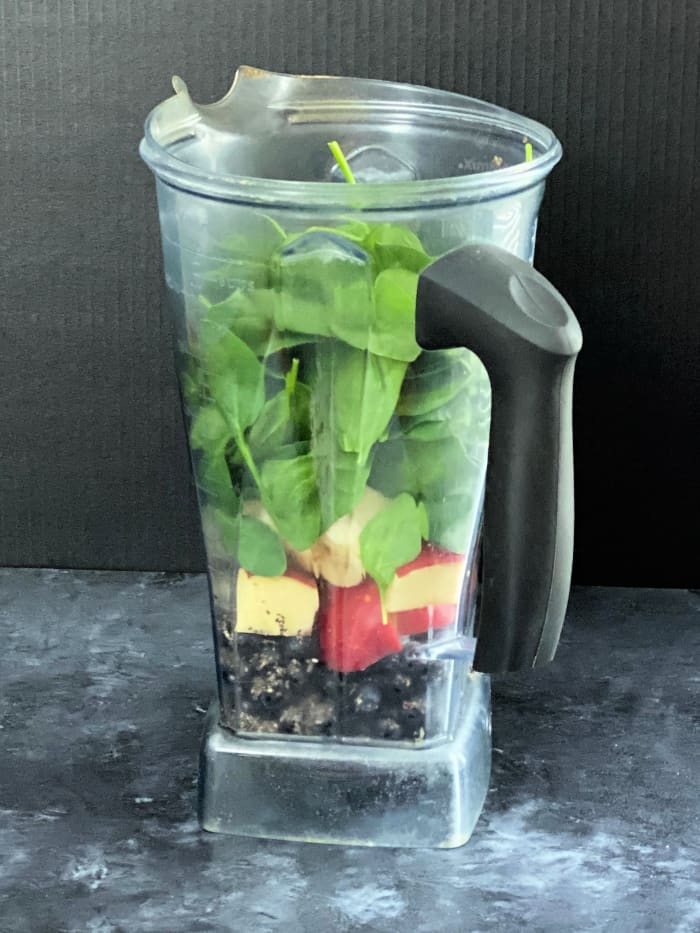 Helpful Tips for Making This Blueberry Banana Smoothie:
If you are not the biggest fan of coconut milk, you can substitute it for almond or oat milk. You can substitute it for regular cow milk but I would recommend for you to keep it dairy-free if your intentions are to detox. Dairy tends to slow down the detoxification effects!
I know I mentioned using frozen bananas, but for the blueberries, you can use frozen or fresh ones. Whatever you have on hand or is easier/quicker for you is the way to go in my opinion! I will mention that if you are using all fresh ingredients, then you'll need to add some crushed ice to get that slushy smoothie consistency.
In most green smoothies, I do prefer baby spinach over kale because I find it has a much milder flavor and doesn't overpower the rest of the ingredients.
As for apples, you can use any kind you like! Some of my favorites to use in smoothie recipes are fuji, gala, or granny smith. I keep the skin on, but you can add them either way.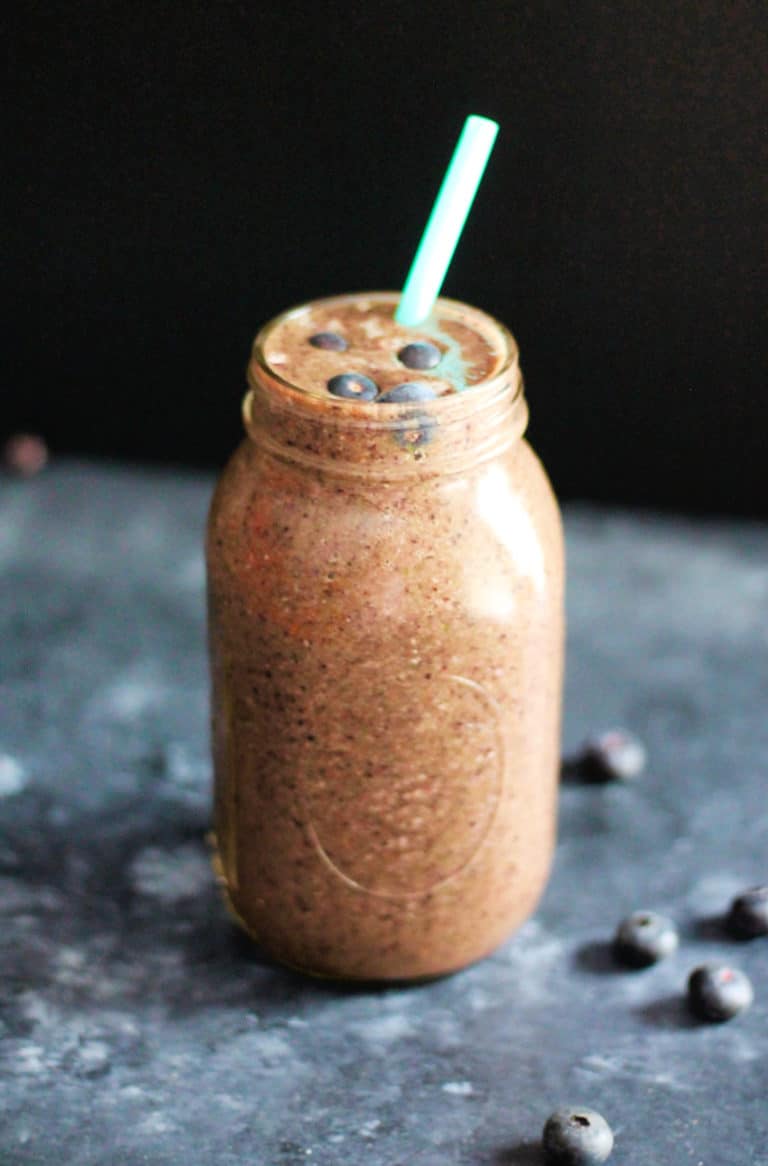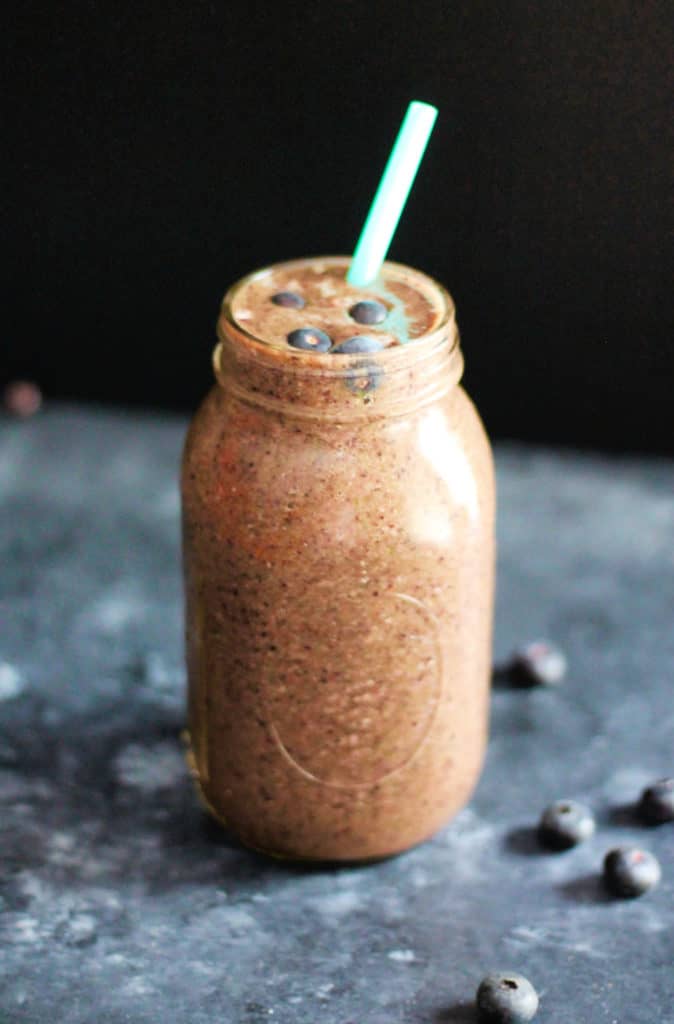 More Vegan Smoothies To Try:
For some more vegan smoothie recipes to help you through your next detox or simply give you the nutrients you need for the day, you should take a look at these:
If you are looking for some new detox smoothie recipes, then this blueberry smoothie should be the next one to try on your smoothie list. Share a picture and tag me on Instagram or Facebook if you decide to try it!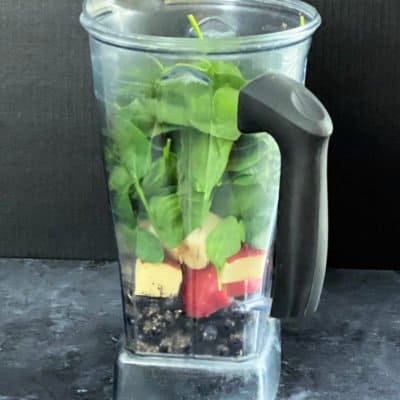 Blueberry Detox Smoothie
This delicious blueberry smoothie is packed with tasty, nutrient-rich ingredients to help you fight against sluggishness and bloating. This vegan-friendly drink is one of my favorite detox smoothie recipes.
Print
Pin
Rate
Ingredients
1

cup

Frozen blueberries

1

Fuji apple

3

teaspoons

Chia seeds

1/2

Banana

1

cup

Unsweetened coconut milk

Handful of spinach

frozen or fresh

1/4

teaspoon

Cinnamon

Filtered water

as needed
Instructions
Place all the ingredients into a blender in the order above, and blend until smooth. If your smoothie is a bit too thick, add small amounts of water until you get the desired consistency.