This strawberry banana yogurt smoothie is a thick and creamy kid-friendly smoothie recipe that's perfect for a summer breakfast or healthy afternoon snack!
You guys know me and my breakfast smoothies. It's a must-have…and so is this smoothie recipe!
I've been making this breakfast smoothie recipe for just about a decade so I can't believe I haven't shared it yet. I'm thinking it's because this is the smoothie I make most often for my kids and to be honest, I never really thought of it as a recipe. But, as I was making it this past week for my youngest, I realized I really need to share it with all of you.
First, it's like the easiest smoothie recipe ever. It uses basic smoothie ingredients like strawberries, bananas, and yogurt. I don't know about you but I always have these ingredients on hand.
Second, I can hide all kinds of superfoods.
Third, the kids love it and they have no idea I'm hiding any type of superfood.
Mom-win all around!
Typically I don't put yogurt in smoothies. I like to enjoy them dairy-free but when I'm making them for my kids, especially on a school day, I like the smoothies to have extra protein to keep them full longer. So I add in a scoop of greek yogurt.
Plus it's a great way to get in some probiotics, protein, and extra calcium.
Frequently Asked Questions
Before I jump into this recipe, I wanted to answer a few questions I received about this healthy strawberry banana yogurt smoothie.
Which Yogurt Is The Best For Smoothies?
My favorite yogurt to eat and use in any smoothie recipe is Siggi's Greek yogurt.
Siggi's Greek yogurt has less sugar than other Greek yogurt brands by about 10 grams of sugar or more. Also, I prefer Siggi's plain Greek yogurt over the flavored ones because it has only 4 grams of sugar and 16 grams of protein for 5.3-ounce containers.
However, for this smoothie recipe, I like to use Siggi's strawberry or vanilla greek yogurt. I've even tried using Siggi coconut Greek yogurt in this smoothie and it tasted delicious!
My best piece of advice when it comes to choosing a Greek yogurt is to read the label. Some greek yogurts are very high in sugar so be careful when adding them to your smoothies. The goal is to add to the nutritional value of the smoothie, not turn it into a strawberry shake.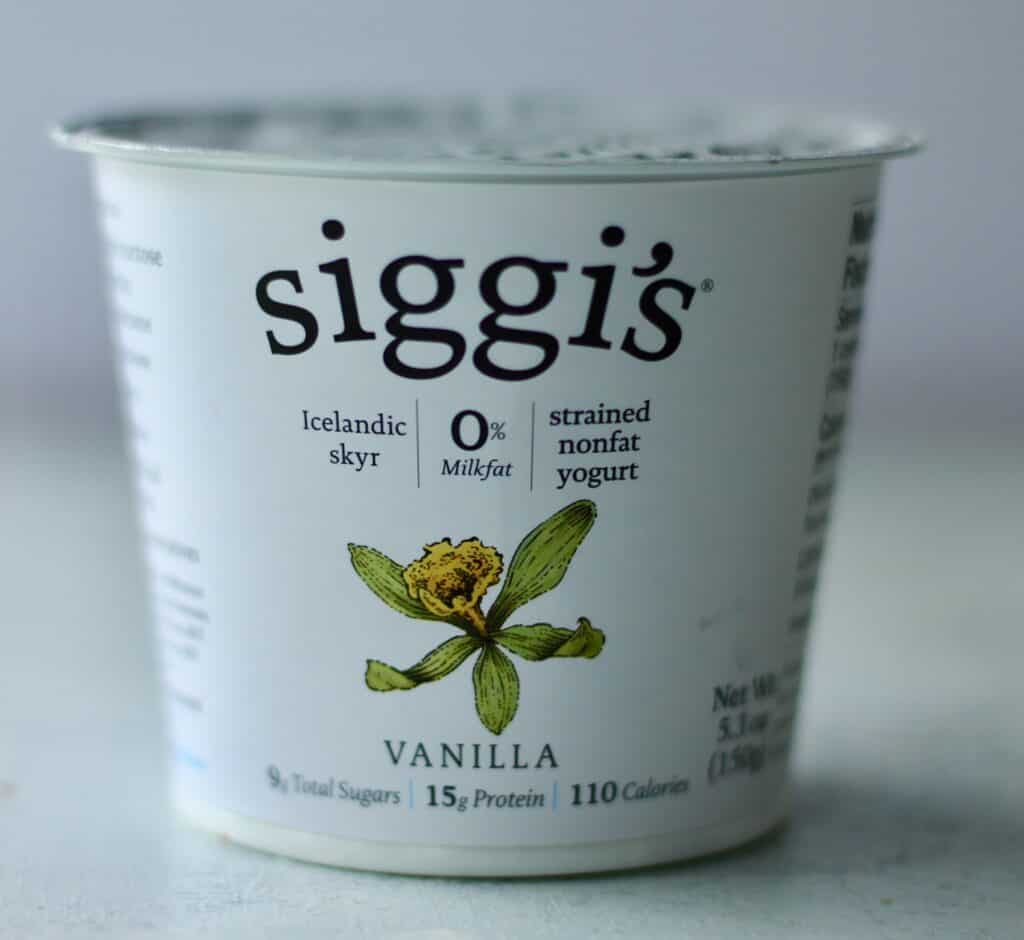 Can I Add Sweetener To My Smoothie?
If you need an extra sweetener for your smoothie, I recommend using:
Dates (remove the pits)
Honey
Pure maple syrup
Start with a small amount like 1-2 teaspoons and then see if you need more. If you're just starting out with smoothies, then you might feel like you need more sweetness. However, the goal is not to add any extra sugar to your smoothie.
The most natural way to infuse a lot of sweetness into your smoothie is by using ripe bananas. The riper they are, the sweeter they will be.
So don't ever throw those brown bananas out! Remove the peels and then put them in the freezer to use for smoothies.
Here's a post on how to freeze bananas.
Can I Make This Smoothie Vegan?
Yes of course! You can always use dairy-free coconut milk or almond milk yogurt.
Siggi's has a new plant-based yogurt that's really good but you can also find dairy-free yogurts by So Delicious, Silk, and Chobani. I would recommend trying different ones and see which one you like best.
But, just like with dairy Greek yogurt, you need to read the labels to make sure it's not too high in sugar. I think anything with more than 12 grams of sugar is leaning towards the high side.
Should I Use Fresh Or Frozen Fruit?
This is always the million-dollar question.
In my experience, frozen fruit always works better with a smoothie recipe because it creates a thicker consistency. When you use fresh fruit, you'll need to use ice to get that thick smoothie consistency. Also, ice has the tendency to water down a smoothie.
So I prefer frozen over fresh strawberries.
If you get your hands on a lot of fresh strawberries then I recommend freezing them before you use them for smoothies.
Here's a tutorial I put together on how to freeze strawberries!
With the bananas, it doesn't matter whether you use fresh or frozen. Like I said you just want to make sure they're ripe so you get that added sweetness. Although, frozen bananas will create a thicker creamier texture for your smoothie.
It's up to you!
Can I Add Other Superfoods To This Smoothie?
Yes, that's the beauty of this smoothie.
The kids love it and they'll never know you snuck in some superfoods.
My 3 superfood smoothie add-ins are:
Chia seeds – I add chia seeds to every single smoothie I make. They are little power seeds! They are filled with omega 3 fatty acids, protein, and fiber so they do wonders for digestion along with making your skin, hair, and nails look wonderful. You can find chia seeds in just about any grocery store but, the best deal I've found on chia seeds is at BJ's wholesale store. So, if you live near a BJ's Wholesale, Costco, or Sam's club then check there for organic chia seeds. You can purchase these in just about any grocery store. If you can't find them at your local grocery store then they can also order chia seeds online at Thrive Market.
Hemp hearts – Hemp hearts are super nutritious. They include fatty acids and are a great source of vitamin E making this awesome to take for hair skin and nails. Hemp hearts are also known to help prevent heart disease, skin issues like eczema, and may even help out with PMS and menopause. I've been putting hemp hearts in my smoothies for a few months now and I've experienced many of these benefits.
Coconut oil – Coconut oil is high in saturated fat but it's still known for reducing the bad cholesterol and blood sugar. It also helps with digestion and is known to be the fat that burns fat helping with weight loss. I add about a 1 tablespoon to my smoothies.
These are my favorite smoothie superfood add-ins- and with good reason! The yogurt adds extra fat and calories so I decided to simply go with the chia seeds to keep the calories and fat under control.
How to Make a Strawberry Banana Yogurt Smoothie
These are the ingredients you will need to make this nutritious smoothie.
Strawberries
Ripe bananas
Greek vanilla yogurt
Chia seeds
Unsweetened coconut milk
Place all of the ingredients listed above into a blender and blend together.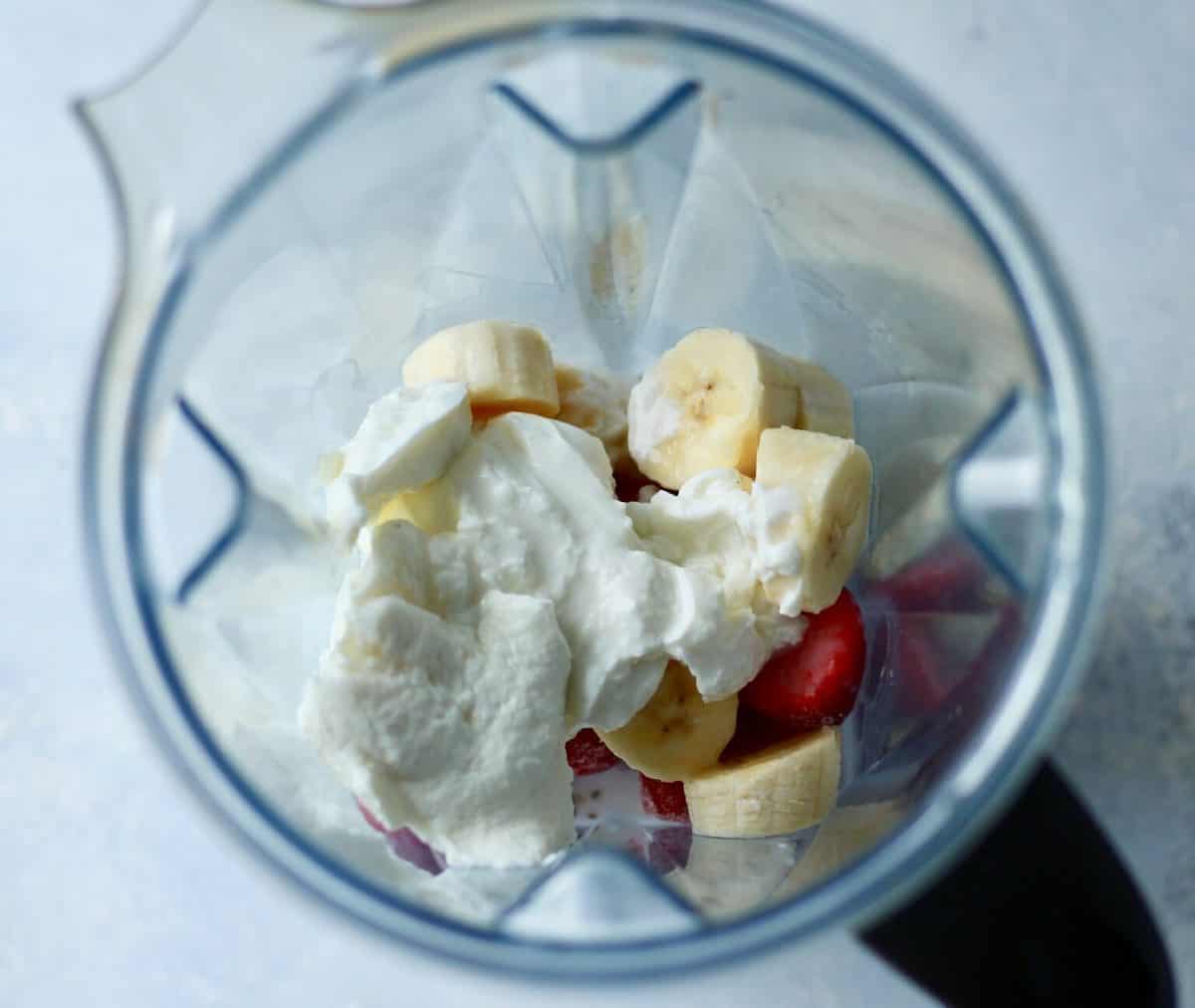 If the smoothie is too thick, then add more liquid (coconut milk or water) until you get the desired consistency.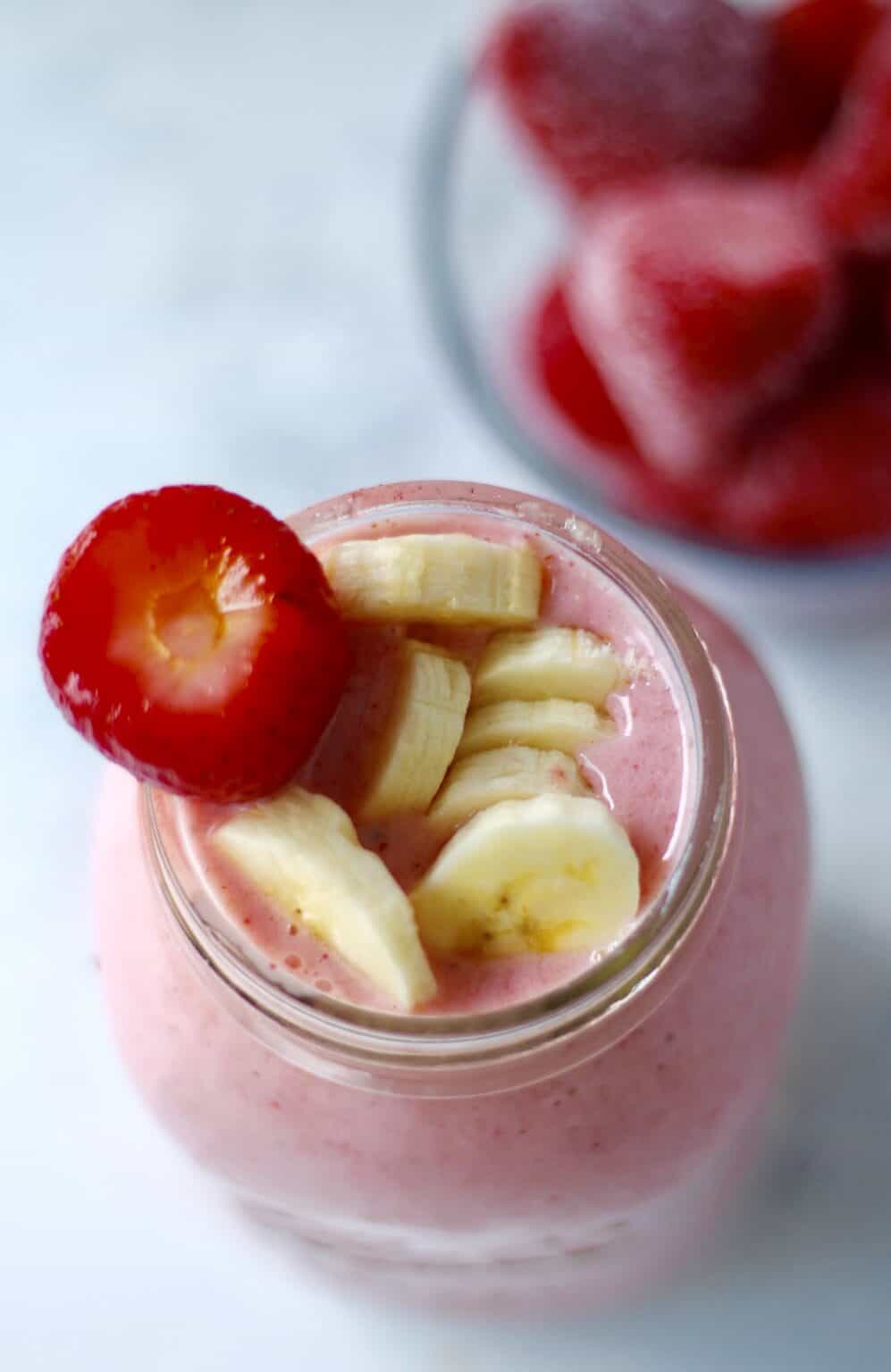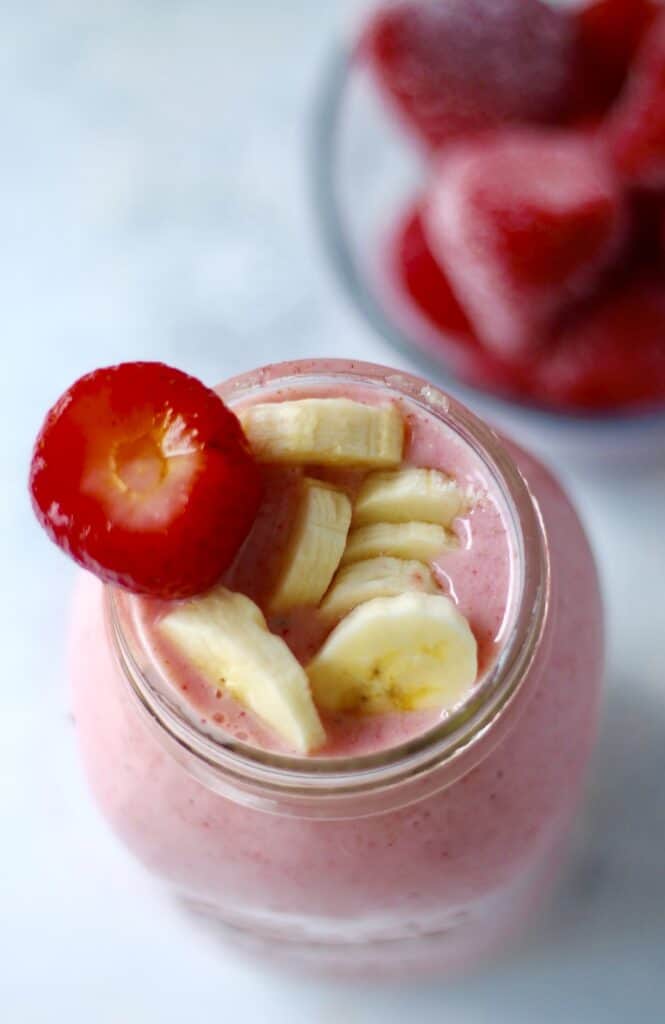 This strawberry banana yogurt smoothie is thick and delicious! It's super smooth shake like consistency makes you feel like you're indulging in something naughty. However, you can enjoy this one guilt-free.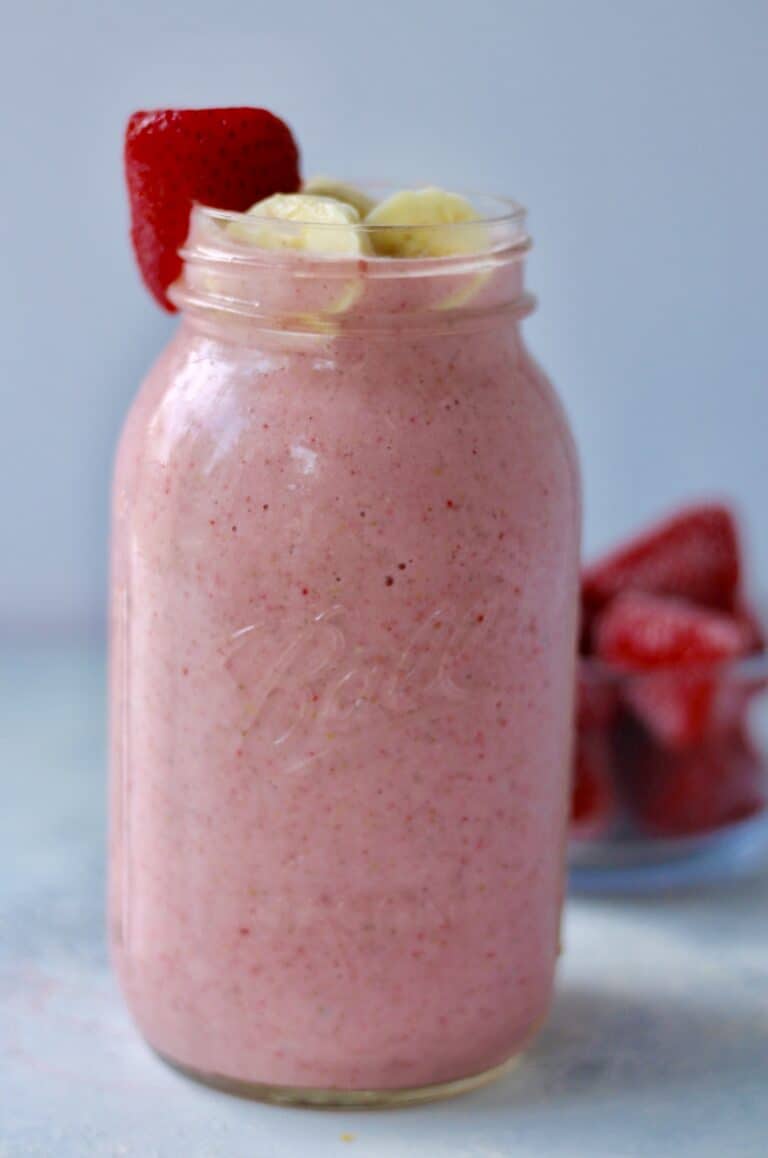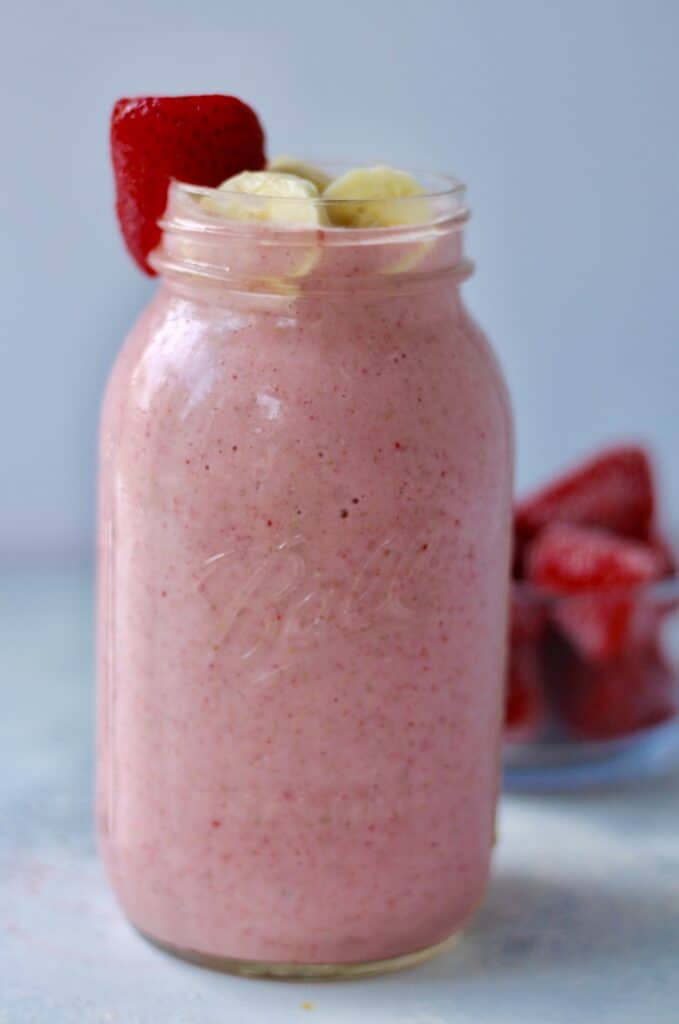 More Healthy Smoothie Recipes
If you loved this strawberry banana recipe, you'll love some of these easy healthy smoothie recipes!
Make this healthy and nutritious strawberry banana yogurt smoothie for breakfast to make sure your family starts their day off right. Share a picture and tag me on Instagram or Facebook if you decide to make this!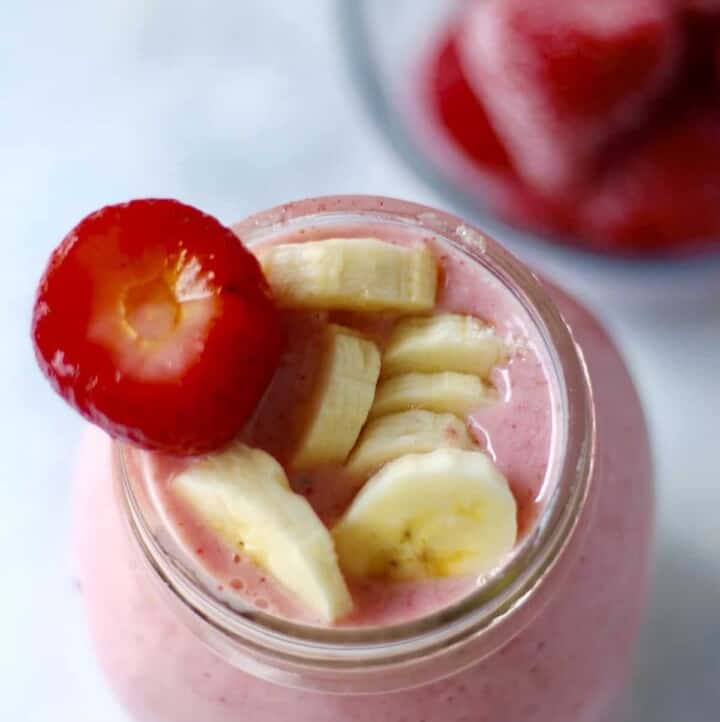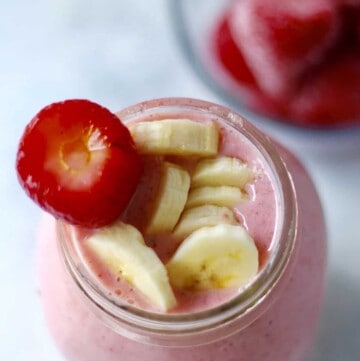 Strawberry Banana Yogurt Smoothie
This strawberry banana smoothie will make you feel like you're indulging, when in fact you're making a healthy treat!
Print
Pin
Rate
Ingredients
1

cup

strawberries

1

ripe banana

½

cup

greek vanilla yogurt

1

teaspoon

chia seeds

1

cup

unsweetened coconut milk
Instructions
Add all the ingredients to a blender and blend. If needed, add more liquid (coconut milk or almond milk) until you get the desired consistency.
Nutrition
Serving:
1
g
|
Calories:
371
kcal
|
Carbohydrates:
62
g
|
Protein:
20
g
|
Fat:
6
g
|
Fiber:
11
g
|
Sugar:
37
g