How to freeze strawberries – my simple step by step instructions for freezing fresh strawberries so you can stock up when in season to enjoy them all year-round. Freezing is also a great way to save strawberries before they turn bad.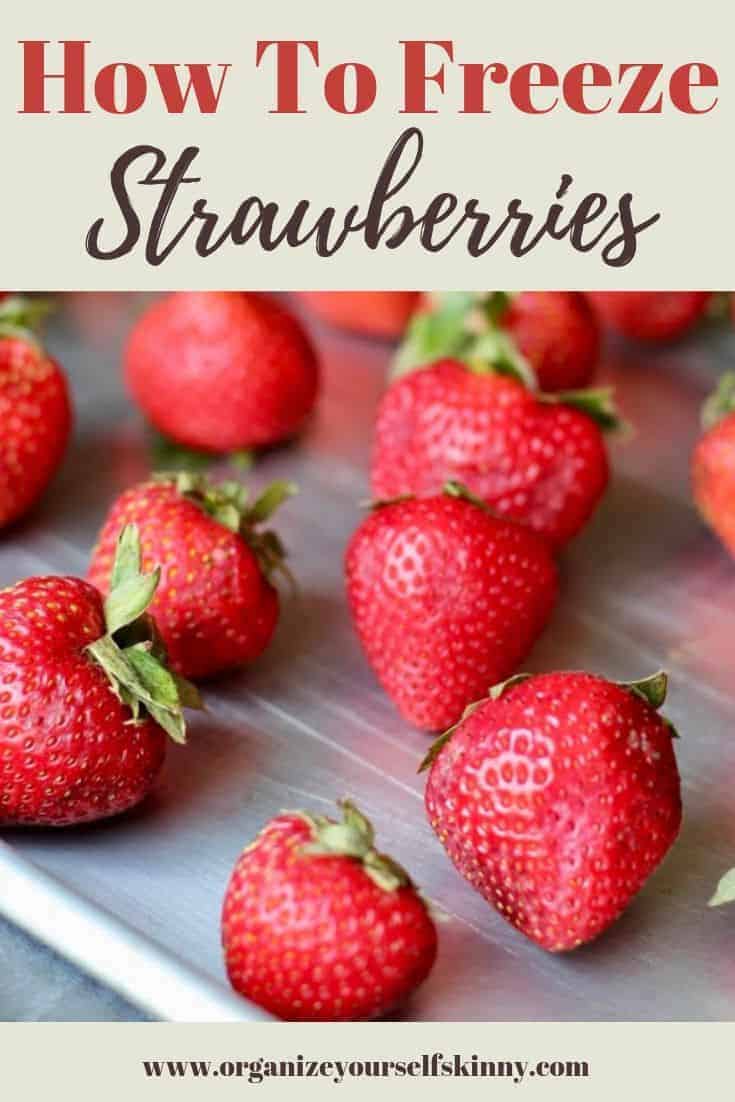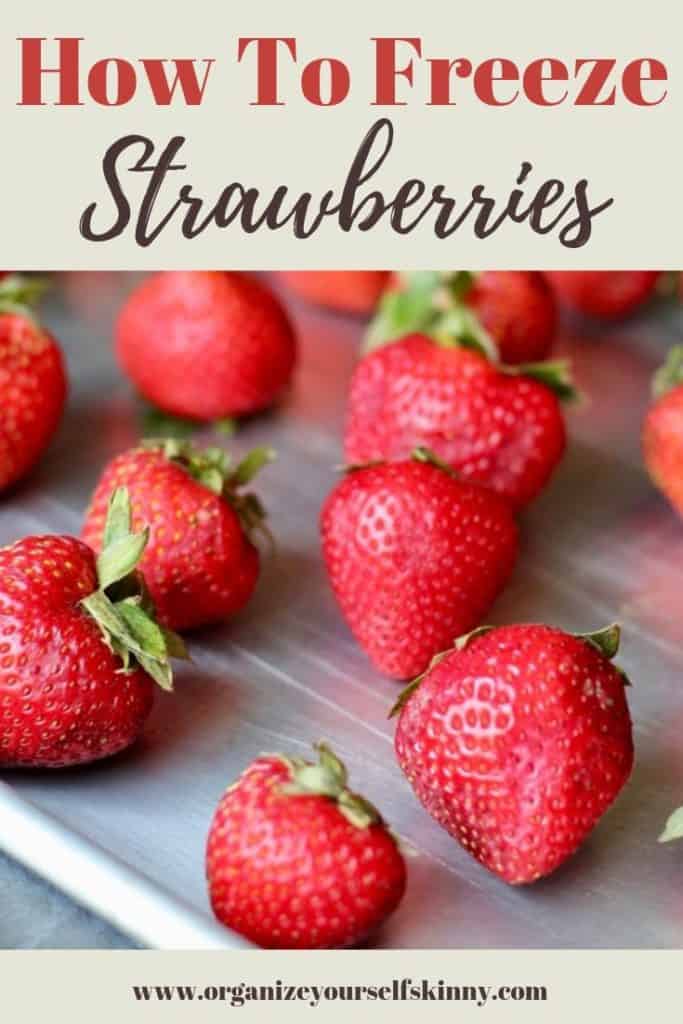 This is the time of year when there's an abundance of strawberries. Even if you don't have a bunch of strawberry plants growing wild in your garden you can easily find a farm somewhere to pick a basket full.
Or if spending hours in the hot sun picking strawberries isn't your thing then it's still likely your super market is offering great deals on strawberries or the local fruit stand has plenty to choose from.
Regardless, at some point during the summer, you'll have more strawberries than you can possibly eat in a few days. At least, that's how it is for us.
This is when I turn to my freezer.
I know a lot of people like to make and can strawberry jam or pie filling for the winter months but that's a little too much work for me. Not to mention, I've never learned to can, only admired it on Pinterest.
So, my go-to for preserving strawberries is freezing. Freezing strawberries is super easy and when time is limited in the summer it's my best option.
Before I jump into the instructions I want to answer some common questions and share my favorite recipes to use frozen strawberries in.
Should strawberries be washed before freezing them?
Yes. You want to wash you strawberries prior to freezing. See step 1 below for further instructions.
Can you freeze strawberries and thaw them?
Yes. However, the consistency and texture will be a lot softer. They won't feel like fresh strawberries but will still have the farm picked fresh taste. My daughter loves eating frozen strawberries that are slightly thawed. Also, frozen strawberries release a lot of juices as they thaw. This doesn't interfere with the taste and, in fact, makes some recipes like overnight oats or yogurt jars taste even better.
How do I thaw frozen strawberries?
When I use frozen strawberries in meal prep recipes like overnight oats, yogurt jars, or make-ahead steel cut oats I'll put them in frozen. As these recipes sit in the refrigerator the strawberries will thaw and make everything scrumptious.
If I want to use frozen strawberries for muffins or bread then I either thaw overnight in the refrigerator or put them in the microwave for 30 – 60 seconds. I will drain the juice a little before using in the recipe.
Should I remove the green stem?
Mostly, I use frozen strawberries in smoothies so I just leave the stem on. However, if you plan to prepare strawberry recipes that call for no stem then remove it. Like I said, you want to freeze strawberries to be recipe ready.
How long do strawberries last in the freezer?
As long as they are properly stored strawberries will last in the freezer for up to 12 months.
What recipes can I use frozen strawberries in?
Unless the recipe specifically calls for fresh strawberries then frozen strawberries can be used.
Should I thaw frozen strawberries before using?
It depends on the recipe. For smoothies, overnight oats, yogurt jars, or homemade berry sauces you can use frozen strawberries without any problems.
If you plan to use them in baked goods then I'd thaw the strawberries and even drain a little bit. Like I said, juices are released from frozen berries as they thaw and that could interfere with a baked good recipe. Also, you might want to cut the strawberry into smaller pieces and this would require the strawberry being thawed.
Here are some of my favorite strawberry recipes:
Strawberry Banana Overnight Oats
Banana Split Overnight Oatmeal
Strawberry Chocolate Overnight Oats
Strawberry Lemon Greek Yogurt Jar
Strawberry Cucumber Mint Smoothie
Berry Sauce
Strawberry Banana Bread by Averie Cooks
Strawberry Dole Whip by Dashing Dish
How to Freeze Strawberries
When it's comes to freezing strawberries there are just a few simple steps.
Step 1: Wash and dry the strawberries.
Simply put the strawberries in a colander and wash under cold water. Then pat dry with a paper towel. You can also lay the strawberries on a paper towel to dry for a few minutes.
The strawberries need to be completely dry before freezing to prevent any ice crystals from forming.
During this step, you can remove the stems and throw away any rotten strawberries. Again, if you're using the strawberries for smoothies (like me) then leave the stems on. Again, the strawberries should be frozen recipe ready.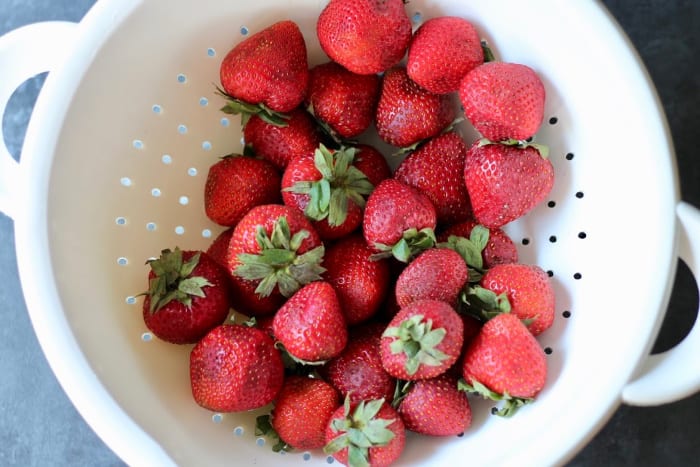 Step 2: Spread the strawberries onto a sheet pan and then put into the freezer for about 2-3 hours. You can also do this step before bed and then freeze overnight.
Either way, this step is necessary because you don't want all of the fresh strawberries to stick together once frozen. Chiseling out the amount of strawberries you need from a freezer bag is never fun, don't ask me how I know.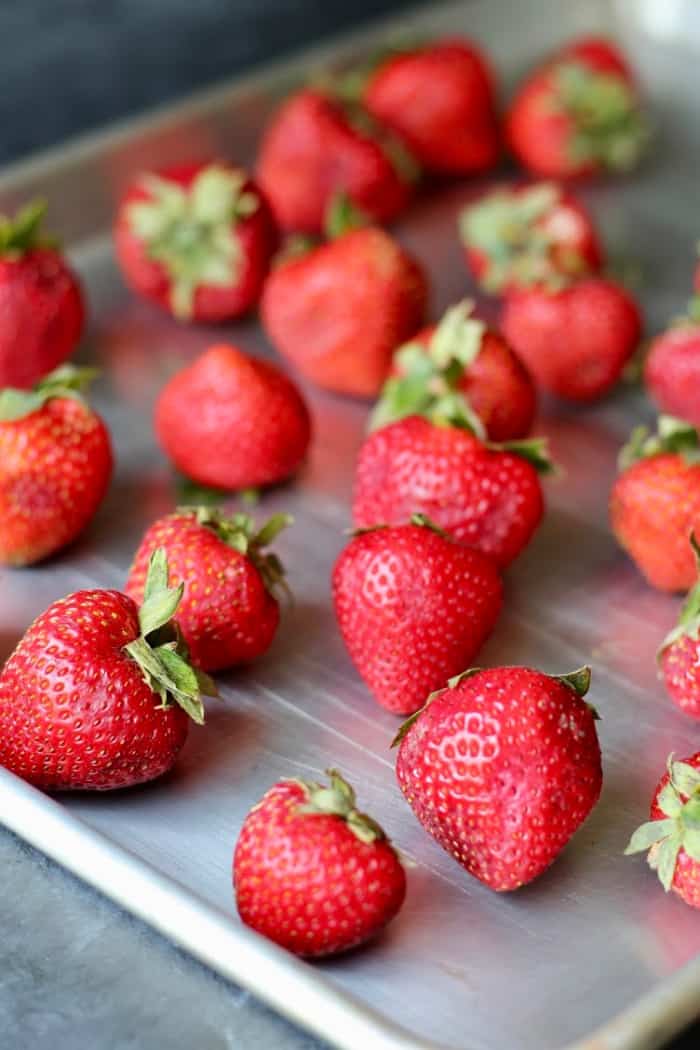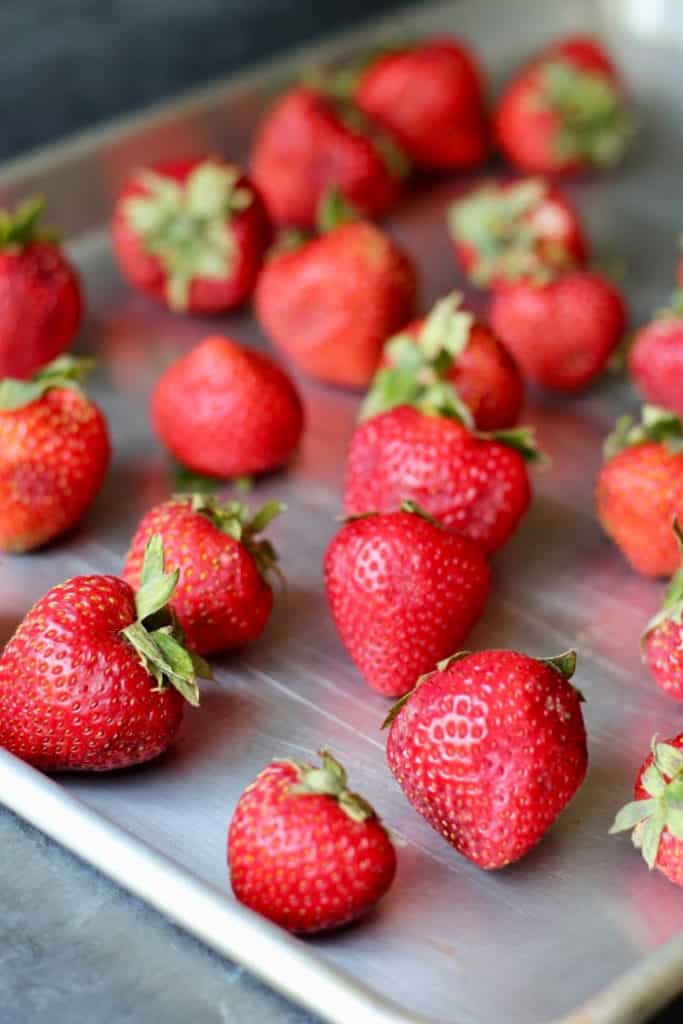 Step 3: After the strawberries are frozen then place into a large freezer bag and freeze.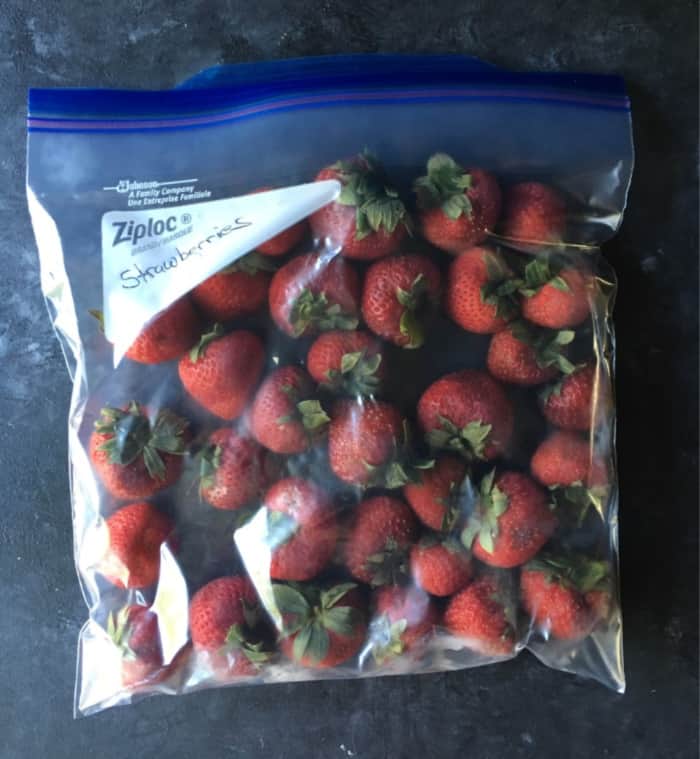 Another way I freeze fresh strawberries is I put them into frozen smoothie packs. In this case, I just throw the fresh strawberries in with the other ingredients since it all gets blended up anyway. Here are my full instructions for frozen smoothie packs.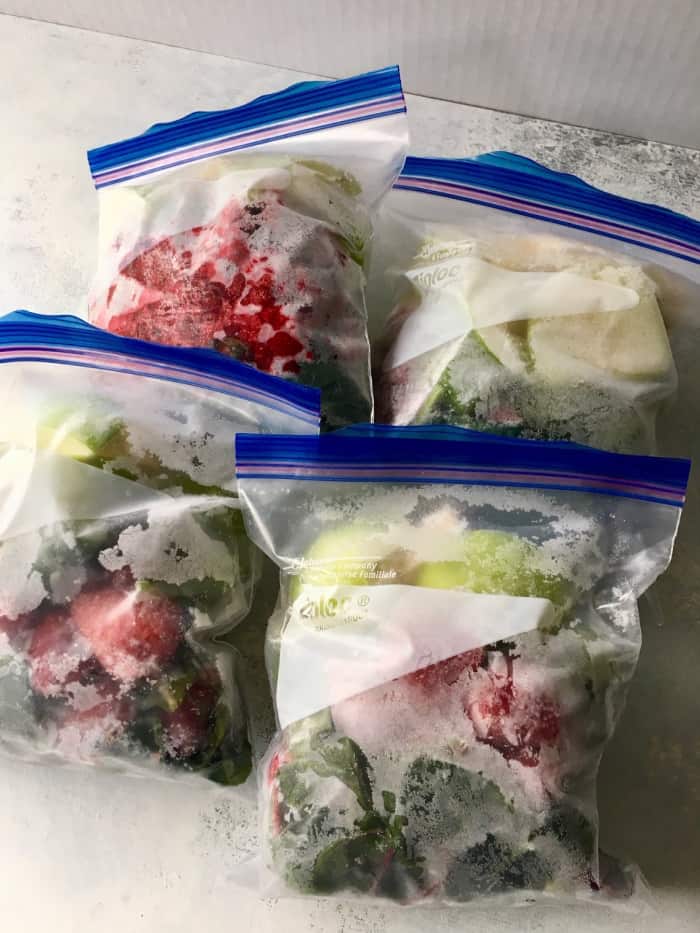 Supplies used for freezing strawberries
Colander – to wash the strawberries.
Half Baking Sheets – to flash freeze the strawberries.
Heavy duty freezer bags and black sharpie marker – to store the strawberries and label bags.
Freezing strawberries is the easiest way to preserve strawberries during their peek season. However, it's also great way to save money throughout the year by saving store-bought strawberries before they go bad.
Do you stock up and freeze strawberries during the summer? What are your favorite ways to use frozen strawberries?
Other posts you might like: