Vanilla Greek yogurt, fresh strawberries, shredded coconut, and lemon layered into a delicious make-ahead breakfast jar. These are perfect to prepare on Sunday to enjoy all week.
Now that summer's here I wanted to share some simple kid-friendly recipes you can make-ahead of time. Most of my recipes I would consider "kid-friendly" but there are certain ones I've created specifically for my girls. This Strawberry Lemon Greek Yogurt Cup is one of them.
My oldest loves fruit and yogurt cups, it's one of her favorite things to order at Tim Horton's. It's definitely a healthier option, compared to other menu options, but it's expensive. Over $3 for a rather small cup of yogurt and fruit. To keep our budget under control, and to provide an even healthier option, I decided to prepare a homemade version of this snack.
Just like with some of my other recipes, this is kind of a recipe idea instead of an actual recipe. However, these fruit and yogurt jars do make life easier, help to save money, are delicious, and super easy to make. Sooo I decided to share them with you.
Let's talk about the recipe. For each jar I used 3/4 cup vanilla Greek yogurt, 5-6 large strawberries, 1 tablespoon of shredded unsweetened coconut, 2 teaspoons of lemon juice, and about 4 almonds.
I started with some strawberries, 1 teaspoon of coconut, 1 teaspoon of lemon juice and then 1/2 the yogurt.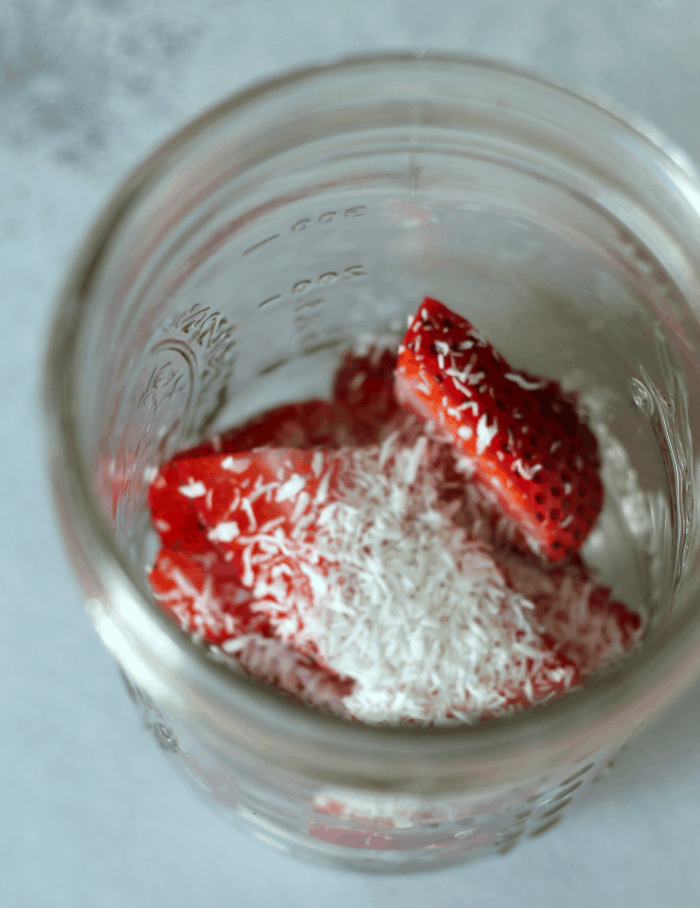 Then I repeated the layer and ended with strawberries, coconut, and a little lemon zest. It's not necessary to add lemon zest but if you have it then use it.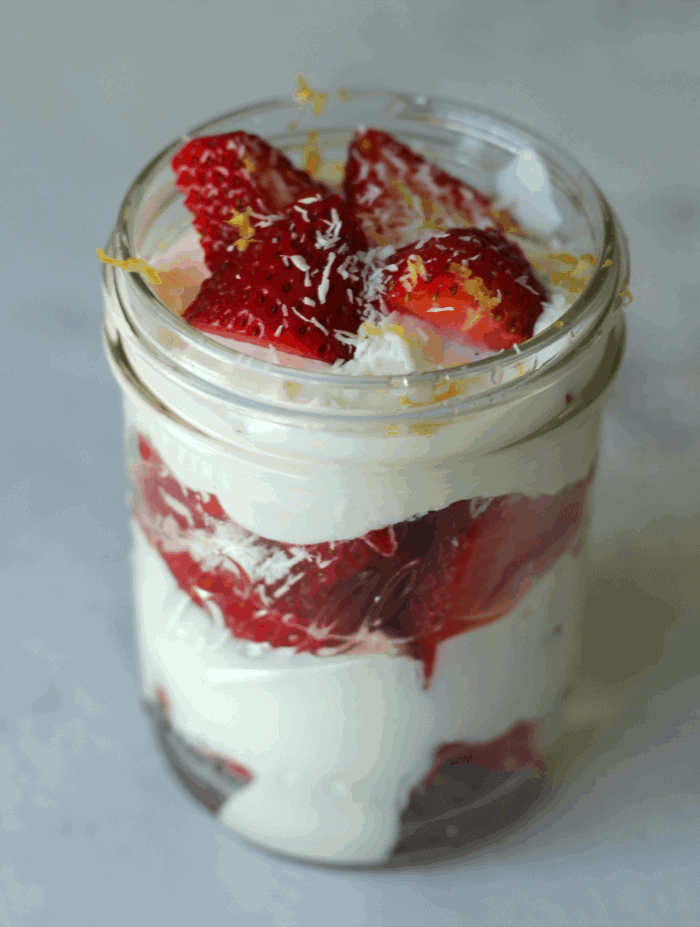 I put the lid on and stored it in the refrigerator. I should mention I used 16-ounce mason jars for this recipe. Mason jars are some of my favorite containers to use for meal prep.
I enjoyed my fruit jar with chopped almonds – I like a little crunch. You can use any nut you like or leave them off.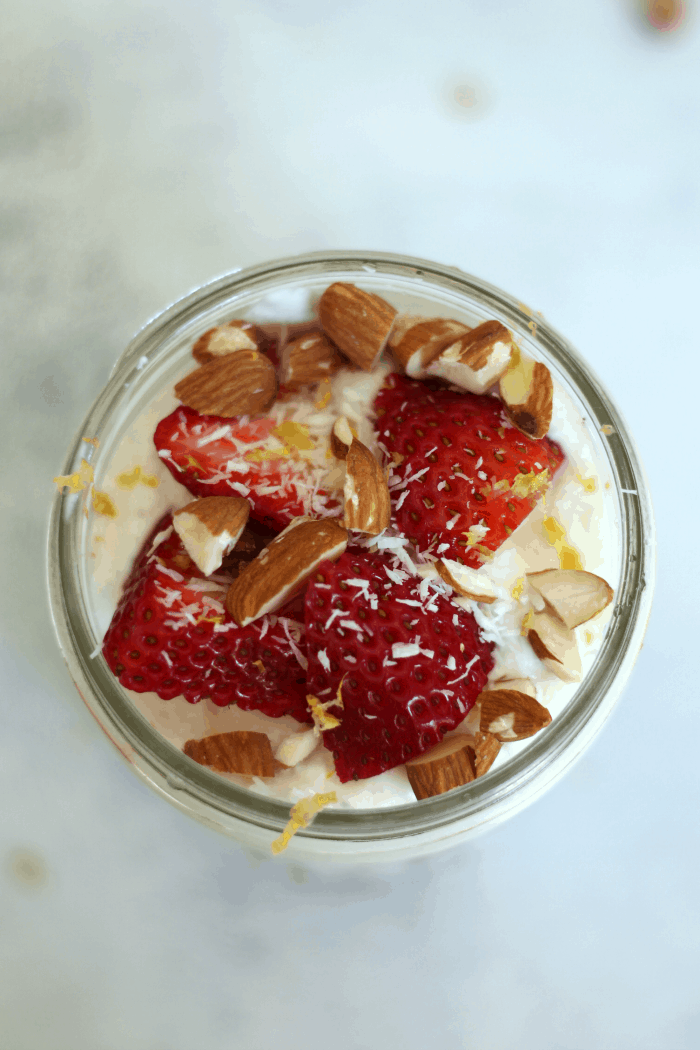 I absolutely love these Strawberry and Lemon Greek Yogurt Jars – so do my kids. I recommend making them ahead of time because the juice from the strawberries and lemon infuse into the yogurt and it's delicious. There's not a strong coconut flavor, only a subtle hint of it. If you're not a coconut fan then leave it out. But if you like a small coconut surprise as you're enjoying this treat then keep it.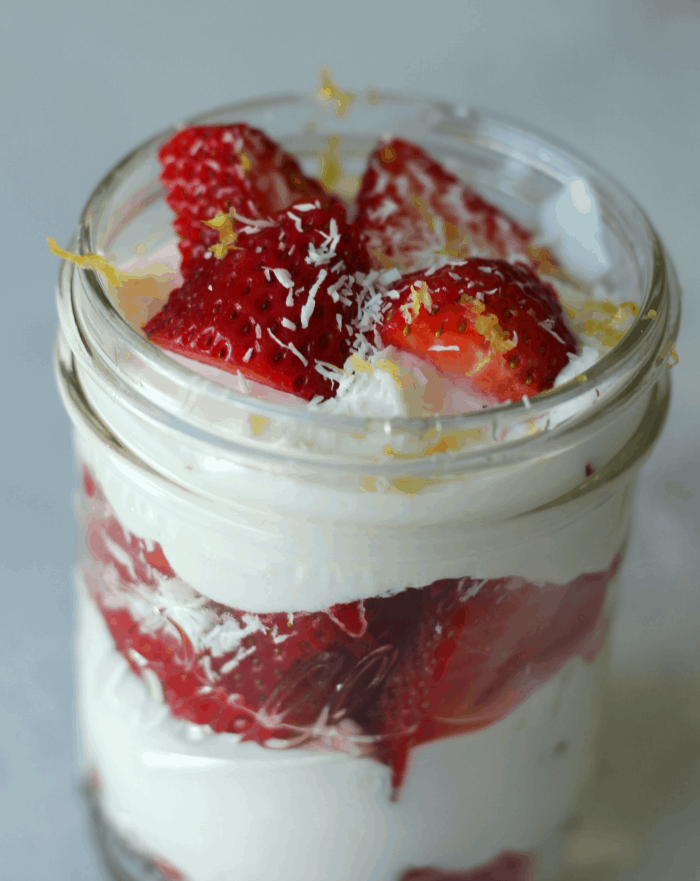 This Strawberry and Lemon Greek Yogurt Jar can be enjoy for breakfast or a snack. They're great to have in the summer time when you're on the go. I've put a jar or two in the cooler on our way to the pool or for a road trip.
If you need a healthier snack or breakfast option then give these Greek yogurt jars a try.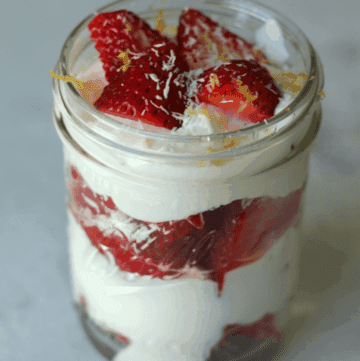 Ingredients
3/4

cup

vanilla greek yogurt

6

large strawberries

sliced

2

teaspoons

lemon juice

divided

l/2 teaspoon lemon zest.

1

tablespoon

unsweetened shredded coconut

divided

4

almonds

chopped *optional
Instructions
In a 16-ounce mason jar layer the ingredients. Start with some of the strawberries, 1 teaspoon lemon juice, 1 teaspoon coconut, and top with half of the yogurt. Repeat the layer. Finish with strawberries, 1 teaspoon coconut, and some lemon zest. Top with almonds, if using.
Notes
Sugar: 21
Make-ahead instructions
These jars can be made 3-4 days ahead of time.
Nutrition
Serving:
1
g
|
Calories:
264
kcal
|
Carbohydrates:
30
g
|
Protein:
18
g
|
Fat:
8
g
|
Saturated Fat:
3
g
|
Fiber:
4
g